[mailchimp_subscriber_popup baseUrl='mc.us17.list-manage.com' uuid='65577aab050feef873a2f05e0′ lid='b88cf8f322′ usePlainJson='true' isDebug='false']
Lets break down and discuss several techniques to help keep those creative juices flowing; and ensure you continue to blow minds with your images.
Whether you are new to the game or have been in it long before it was ever "cool", it can  become difficult to remain on the cutting edge of creativity. In this article I am going to be breaking down and sharing several techniques to help keep those creative juices flowing; and ensuring you continue to blow minds with your images.
I am going to be sharing 5 tips on how you can begin improving your edits. These 5 tips include:
Keeping It Simple

Establishing a subject

Establishing DEPTH

The Importance Of Colours

Light VS. Dark

*(A SNEAKY BONUS TIP)*
Although these tips are listed from numbers 1 through 6, don't consider one more important than another. Each of these techniques need one another to create an exceptional image. Think of these tips as more a checklist!
Keeping It Simple
First lets define simple. Simple means easily understood, or easily done. Key word: Understood. If you keep your ideas simple to begin, it becomes much easier to break down the image in your head and eventually execute. But, how can we break down our ideas more simply?
Lets quickly begin by breaking down literally EVERY SINGLE EDIT you have ever seen. Ever.
Every edit has these 3 things. Now these may seem ridiculously obvious, but bare with me, I have a point!
Every edit EVER:
Takes place in a location: city, mountains, lake, space, desert etc.
Takes place during a certain time of day/year: sunset, night, winter, summer etc.
Based in reality or in fantasy
"Ya no sh*t", I can hear all of you saying. I wasn't kidding around when I said to keep it simple when beginning your idea! Every idea you have, before starting work on it, you MUST consider where you want the image to take place. Defining the location beforehand will narrow down what images you can consider using from stock sites, or shooting for yourself.
Whether I am basing my image off of a real or fictional place, nailing down a location helps me to define the type of landscape to create. Rolling hills or Nepalese peaks? Alpine lakes or a city side swamp? What do the surrounding areas look like. These are all important things to consider and will drastically shorten the amount of time you spend searching for stock images. Likewise, it creates a more realistic looking world, helping your audience to remain captivated by your image!
Next I mentioned a time of day/year. When creating composite images from scratch, you have to be familiar with how nature looks at different times of day or year. For example, a sunset will appear 'warmer' with stronger tones of pink, red, orange, and purple, while a sunrise appears much 'cooler' and will have stronger tones of yellow, blue, and red. If you don't believe me here are two photos of the same location, one at sunrise, one at sunset:
Lastly, you must decide whether your photo takes place in reality or in fantasy. If it takes place in reality, the clothing your subject wears, the surrounding conditions, the colour of light hitting your subject, all must work together. You can't use a photo of someone in snow gear, then put them in a desert scene. I mean you could… but why would you want to?
If your image is based in fantasy then you are the master of the universe. You can dictate the colour of light sources, you could blend two seasons, you can put someone on the moon or on mars. In a fantasy image, you don't need to strongly consider how nature behaves and you can get away with bending the rules a bit further.



Okay, so we just talked about 3 of the most insanely BASIC facts about every edit you've ever seen. Although basic, considering location, time period and fact or fiction is important. These 3 things must be considered before you grow your idea. While on the topic of growing ideas, LETS MOVE ONTO THE NEXT STEP OF IDEA BUILDING.
Establishing A Subject
I'm sure nearly all of you know what a subject is in regards to photography so I'm not going to beat a dead horse here. However, I am going to discuss how to understand where to place your subject, how to draw attention to them, and a few extra bits.
Now that we have established the setting for our image, lets think about our subject! A subject is the main point of interest in our image. A subject could be a person, a waterfall, a mountain, a cabin, anything. If you are unsure what your subject is, ask yourself:
What or who is my photo about?
What am I wanting my audience to look at?
These questions can also be considered later when you design your colour palette and exposures. We will get into that stuff later.
An image can have multiple subjects. If you decide to have more than 1 subject in your image, it becomes more difficult to work your composition around them. If you are new, I would stick with 1 subject until you really begin to understand what makes a great composition. If you want to include multiple subjects, it's important to rank them in importance. Who's the superhero of your image and who's the side kick?
Here are some images I have created with multiple subjects. Use multiple subjects to compliment one another in your frame: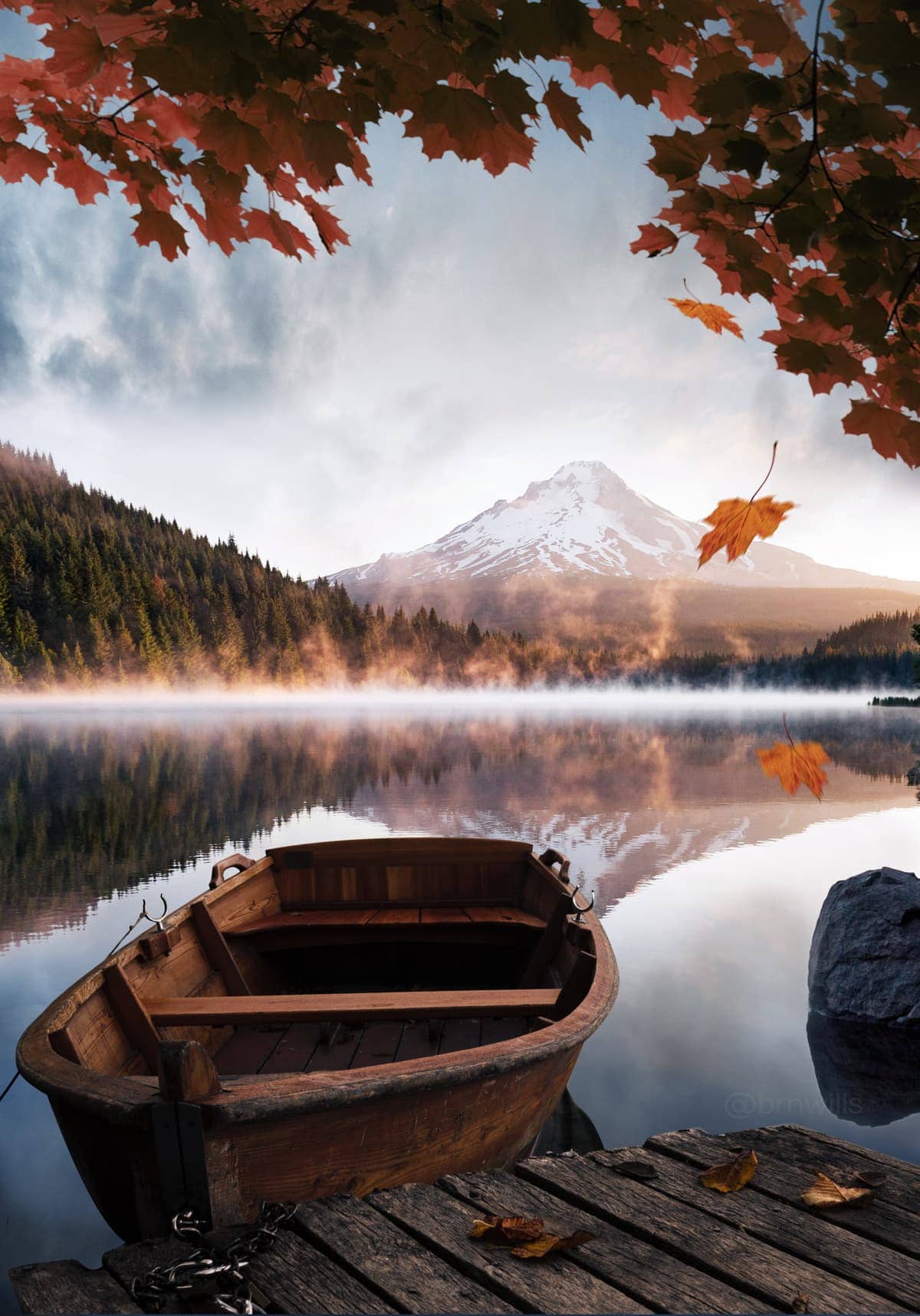 The placement of your subject is a key in building not only your idea, but your composition. I'm not going to go much into composition in this post, however, I recently wrote a post diving deep into compositions and how to improve yours! CLICK HERE TO READ.
Establishing Depth
Depth is one of the most important things to create while designing an idea/image. Depth can be created in 2D space through layering. Defining a clear foreground, mid-ground and background.
So we have settled on a location, subject and time for our image. Now we can use those to establish what may lie in the front, middle, and back of our image. Keep in mind, our subject will almost always be in our mid-ground. For example, if your location is a beach, you might put a rock in the foreground, a person walking in the mid-ground, and a colourful sky in the background. This would work to create several interesting layers, leading from front to back in our image.
This pairing of foreground, mid-ground, and background is crucial in creating an interesting image. It can also help you to fill your frame; which can sometimes be challenging when starting from a completely blank Photoshop document.
---
Here's a written thought process for an example image:
CREATIVE BREAK DOWN 
Location: Lake in the forest     Time: Sunset
Subject: Person swimming     Complimentary Subject: Waterfall
Layering For Depth:
Foreground: Rocks  |   Mid-Ground: Swimmer in lake  |  Background: Waterfall
---
Now with this basic break down of the image in our head, we can begin to piece together the image with a clear direction of where we are going to be taking it. Here's how I ended up interpreting the above creative break down:
This creative break down is completely interchangeable but is a great place to begin forming your ideas. Having a clearer direction of travel for your image can be motivating!
Try using the above breakdown to help build your future ideas!
The Importance Of Colour
Unless you are all about the Black and White life, you're going to have to deal with some colour. There is a seemingly infinite amount of colours you could include in your edits but which ones are right? Let's talk about complimentary colours.
Complimentary colours are exactly what they sound like. Two colours that are visually pleasing together and when paired right, can add a lot of style to your image!
Lucky for us, we don't have to remember every colours complimentary partner. If we look on any colour wheel, the direct opposite colour is its complimentary colour. As the diagram shows above, purple and yellow are complimentary colours and are located opposite from one another. This applies to all colours on the colour wheel.



Now you may be wondering about the significance of complimentary colours in edits. Understanding colours that pair well together will help you to decide things like the hue of your sky, the colour of your models jacket and so on. Here is an image with complimentary colours at play: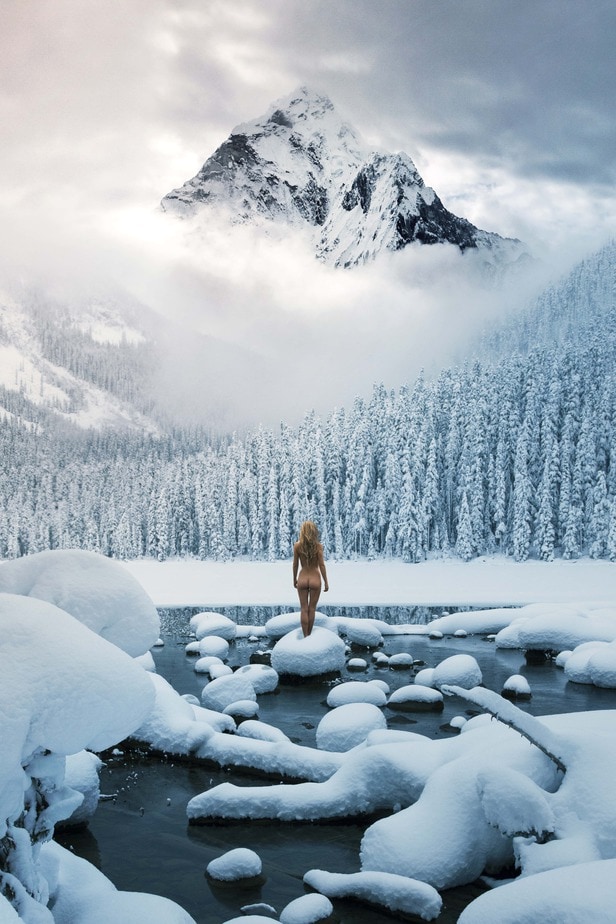 Okay so we get complimentary colours but is that it? Theres an infinite list of things I could talk about regarding colour, but the next colour tip is one of the most useful.
Complimenting a colour with itself. Sounds weird right? How is that possible? Let me show you some examples: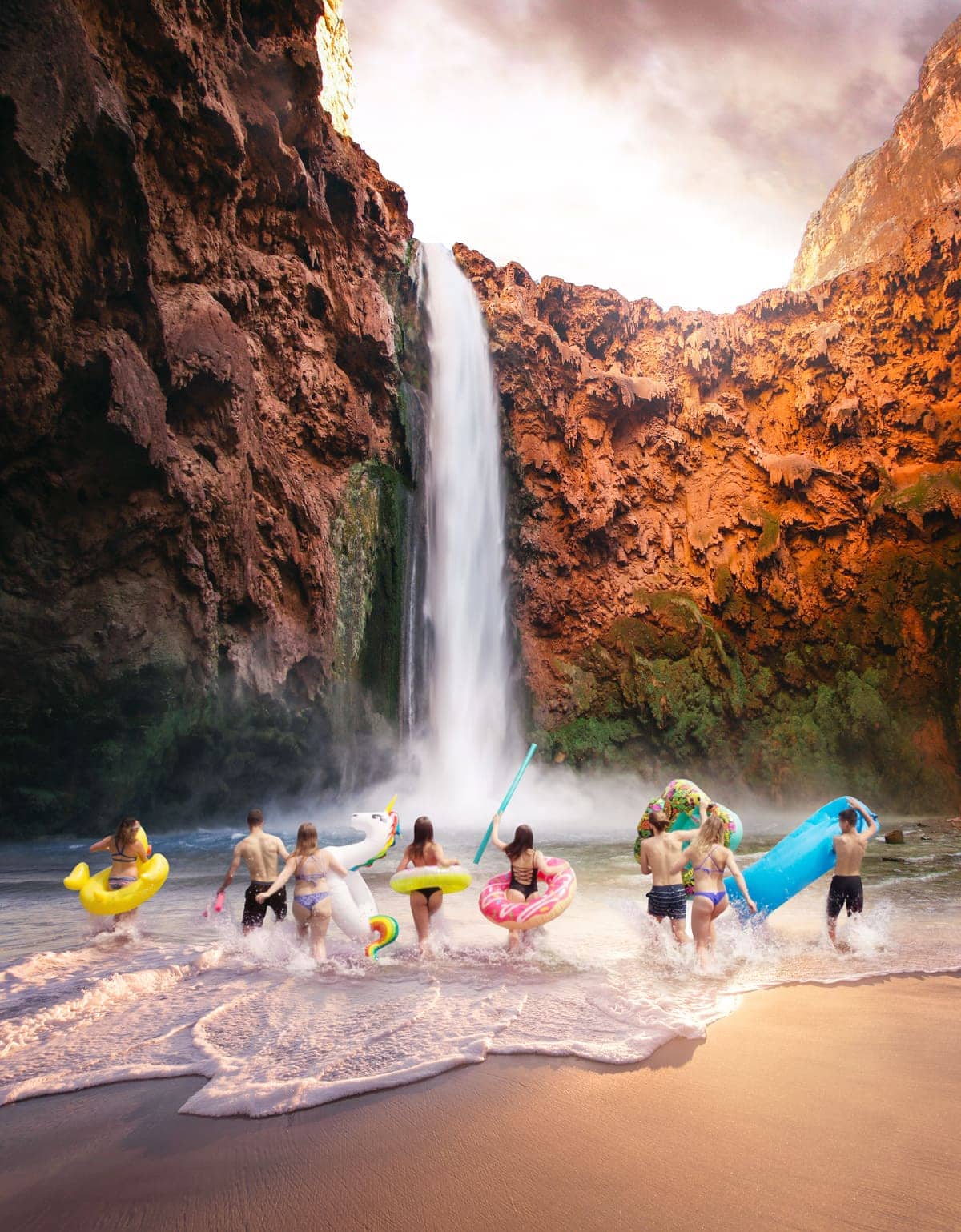 As described in the captions above, if there are a lot of similar colours in your edit, try to play around with hues, saturations and lightnesses to add a bit more variation. Remember if your colours aren't working well together, its going to take down your entire image with it!
Light and Dark:
One of the most important things to execute well. Our eyes are automatically drawn to lighter areas. In our images we can use darkness, contrasted by light, to direct the viewers eye to our subject. If you are a bit confused, let me show you some examples of light and dark.
Keep an eye out for each images SUBJECT and how your eyes are directed there with light and dark.
Contrasting lights and darks is my favourite technique to making my images come to life. Light and dark can not only draw attention to the subject but can also improve how much depth appears in your image.
I typically use the dodge and burn tool to finalize the dark and light areas in my image. I recommend you build your image up until near completion before you try playing around with this technique!
BONUS TIP: Drawing Your Ideas
"Draw my ideas? Are you kidding me? I can hardly draw a stick figure". Trust me, I am no picasso when it comes to drawing, but, sometimes putting your ideas down on paper can help!
Once you have come up with your general idea using my above first few tips, you can begin to draw how you IMAGINE your image will look when finished. You will quickly come across compositional errors, elements that don't work together, or perhaps make you scrap everything and start all over. All of this well before you even create your first layer in Photoshop!
Personally, I draw many of my ideas ahead of time. I simply use the brush tool on a white layer in Photoshop. Here are a couple examples of what my horrendous drawings turned into:
Remember guys, it's not about the beauty of your drawing, its about getting your ideas down on paper! Plus nobody ever has to see the drawings… unless you're me and save them to laugh at later on.
So those are my 5 tips(plus one) on how to improve your edits. Work through these tips sequentially or go at them randomly, either way I guarantee putting these tips into practice will improve your ideas and your images!
---
If you enjoyed this lesson I would love if you SHARED and LIKED this post so I can continue to make more like this! Also I would love to hear your thoughts on this lesson, any questions you have, or just hilarious jabs at my drawing. Comment below!
Happy editing all! 🙂
-Brendan