Although Adobe Lightroom has ranked at the top of the industry standard, it is certainly not the end-all-be-all editing software. For photographers and artists considering something a bit different, there are various Lightroom alternatives for Mac and PC users! These options range from free for those dabbling or cutting overhead costs to paid programs that may offer something worth investing in.
Image
Program
Features
Price

AI-powered editing
Subscription free
An impressive array of tools
Easy-to-use interface

Check Price

Feels very similar to Lightroom
Non-destructive edits
Open-source program with regular improvements
Camera tethering is available

Download Now

Extensive file management
Easy to use with other programs
Supports Camera RAW
Highly customizable

Download Now

Advanced RAW processing
One of the best color grading platforms
Reliable camera tethering
Easy to use

Check Price

Powerful editing tools
Non-destructive editing
Compatible with a wide array of cameras
Has helpful AI tools

Check Price

Very beginner friendly
Able to edit RAW
Very impressive auto-editing function

Download Now

A fusion of Lightroom & Photoshop
Affordable lifetime license
Layer based editing
Has a wide array of tools

Check Price

Cheap
Fast rendering & editing processes
Includes a layered workflow
Can run on most computers easily

Check Price

Doesn't require huge computer specs
Great color grading options
Well designed interface
Open source with regular updates

Download Now

Powerful RAW processing
Many similar features to Lightroom
Impressive editing tools unique to DxO

Check Price
Best Free Lightroom Alternatives
With Lightroom being a subscription program, the cost increases over time. Creatives looking to dabble in photo editing or save costs can consider these free alternatives to Adobe's program.
1. Darktable (Best Free Lightroom Alternative)
Familiarity is certainly the easiest way to transition from one program to another, and Darktable has quite a recognizable interface. Appearing very similar to Lightroom Classic on the surface, Darktable is arguably the best free Lightroom alternative out there. You can even customize the workspace to fit your needs and preferences, making the program fully adaptable.
Darktable is an open-source platform developed by photographers dabbling in programming. The program continues to grow and improve as a result. Because the creators were in the photography world, the developers translated many of Lightroom's most beloved features into Darktable. These features work just as well as in Adobe's software.
These features include file management and organization, photo editing capabilities with sliders and various tools, RAW image processing, mapping, printing, and even tethering your camera for instant image previews. Most importantly, Darktable does non-destructive edits in the same fashion as Lightroom. The original file is never altered. You simply export a new file when done!
Where Darktable finds its faults tends to lie in performance. However you spin it, Lightroom is a lighter and faster program. Users that don't have a Lightroom-based frame of reference will find Darktable fast and efficient, so long as it doesn't crash (which is often reported)! Equally, some of the tabs and their names aren't as logical as Lightroom, so utilizing the interface for the first time can confuse new users.
One of the best aspects of Darktable is its compatibility with almost any operating system (from Mac and PC to lesser-known Solaris 11 / GNOME and BSD).
Pros:
Open-source program leads to further improvements and innovation
Many similar features to Lightroom, including file management and editing
Camera tethering is an available feature
Non-destructive edits on the files
Fully modular workspace
Cons:
Lacks in performance speed and power when compared to Lightroom
Crashes are common
Confusing interface for first-time users
2. Adobe Bridge (Best Free Image Organizer)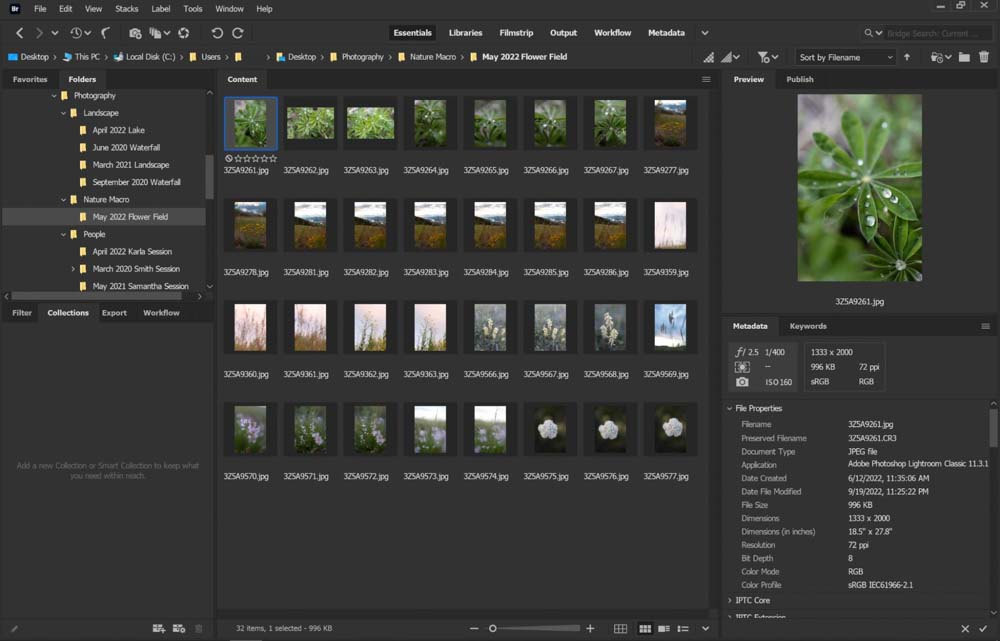 Adobe Bridge is one of the company's slightly lesser-known offerings, typically overshadowed by Lightroom and Photoshop. Adobe Bridge shares many of the same useful organizational tools as Lightroom does in a cost-free package! Bridge is a program that (depending upon the user's priority) can step above Lightroom in its ability to organize non-image assets such as PDF files and documents.
Bridge and Lightroom Classic have the same functionality for organizing images; the only difference is in the user interface. But with Bridge's ability to manage more than just image files, users considering Lightroom solely for its organizational capabilities will be thoroughly happy with Bridge. Bridge is also fully compatible with more programs than just Photoshop and can work within workflows of Adobe Portfolio and Adobe Stock.
As such, the most common uses of Bridge are to batch-alter file metadata quickly and efficiently, mark and flag files, automate export workflows, integrate files into Adobe products rapidly, and preview files.
On the downside, there is no built-in editing functionality in Adobe Bridge. You must export the file(s) to other software. Adobe Camera RAW, which has an interface similar to Adobe Lightroom Classic, is the standard program accessible for image editing export over Bridge. However, Adobe Lightroom Classic still offers many extra editing tools and features that Camera RAW doesn't have.
Available for both Mac and PC, Adobe Bridge can be downloaded for free from the Adobe website or included with any Photoshop subscription.
Pros:
Thorough, powerful, and extensive file management and organization system (including non-image files)
You can program custom workflows and automate tasks
Easily import files into additional programs
Camera RAW software for image editing works well for most types of edits
Operates as a very advanced file explorer
Cons:
No image editing directly in the program. Photos must be exported to Camera RAW or another program
Complicated layout for those not familiar with Adobe software
3. Apple Photos (Best Alternative For Mac + iPhone)
Mac users rejoice. There is a free photo app available exclusively to you! New updates to Apple Photos allow the processing of RAW photographs captured through various Apple products, such as the iPhone and iPad Pro. Although you can't expect a massive library of features, Apple Photos does the trick for everyday editing work (for free!).
The interface is simple, intuitive, and great for beginners. The workspace will look rather familiar if you've used any mobile editing software before. Importing photographs in Apple Photos is easy, whether the files are local on the device or through plugging in a memory card. With the program's ability to handle RAW files, you can also process those now.
What's also of note for Apple Photos is that the program's auto-editing is quite intelligent. Most AI editing decisions tend to brighten images (even if they don't need brightening), but Apple Photos is superb at determining which images could use a bit of darkening instead. The app also has plug-in support, facial recognition, GPS for photos, and more.
Unfortunately, all image-sharing features are exclusive to the Apple ecosystem and incompatible with other operating systems. The editing program lacks chromatic aberration and lens corrections as well.
Pros:
Very beginner-user-friendly interface
Great features such as facial recognition, GPS mapping, and support for plug-ins
The auto-editing function is surprisingly brilliant and capable
Able to edit RAW format
Cons:
Lacks professional features such as chromatic aberration and geometry correction
Exclusive to the Apple ecosystem
A lesser-known program on the list, RawTherapee, can be described as a mixture between Lightroom and Photoshop with the interface shell of Camera RAW. Basically, a fusion of Adobe programs. Similar to Darktable in that RawTherapee is open source, both programs have the same perks of being consistently updated and refined by passionate programmers.
This program touts itself as being an excellent blend of file management and RAW editing, helping those photos become their final versions. Many of the editing tools are those you'd expect (and demand) in editing software, such as noise reduction, tonal adjustments, histograms, and various exposure sliders.
However, RawTherapee excels at color grading and management with many advanced tools. Chromatic aberration and artifact removal also excels due to the advanced color management system.
RawTherapee works on PC, Mac, and Linux but is best optimized for PC. For those operating on Windows, the program is designed to be able to function with weaker computers. RawTherapee is well-programmed for all consumers, so your computer doesn't have to be perfectly optimized and built for editing to work great with this software.
There are a few caveats to this free program, which you'd only notice when beginning to integrate RawTherapee into an editing workflow. Previewing changes such as noise reduction only works when you zoom into an image at 100% rather than seeing a general application on the whole frame. Presets and masking features are also missing in this program.
Pros:
Free and open source
Works well on weaker PCs
Excellent color grading and management capability
A decent combination of file management tools and photo editing tools
A nicely designed interface that is reminiscent of Adobe programs
Cons:
Some odd caveats, such as being unable to live-preview specific edits on a full frame (requires zooming to 100%)
No presets, masking brushes, or advanced features like that
Optimized best for PC despite being compatible with Mac and Linux
Cheaper Alternatives To Lightroom
There are a handful of alternatives to Lightroom that do cost money but tend to be less expensive in the long run.
1. Luminar NEO (Best Subscription-Free Alternative)
With subscriptions taking over the creative industry, finding a subscription-free program is rare. Luminar NEO (read my in-depth review here) is one of the best standalone software, requiring just one solid payment! Created by Skylum, this company is frequently recommended as an Adobe alternative, with a roster of programs to compete against various editing software.
Luminar NEO is the company's most recent release. But to best understand NEO, it's good to look at the program for what it is rather than pitting specific features from Lightroom against one another. Luminar NEO combines artificial intelligence programming with a relatively straightforward layout, encouraging the program to automate most of the editing process. Many of the edits are one-click processes!
Because of the AI inclusion, Luminar NEO is excellent for beginner photographers as the program is designed to make the best decisions on the user's behalf. Professionals seeking to save time in their workflow can also benefit. But, for those still wanting to hold more significant editing control, NEO does feature a relatively comprehensive toolbar of edits and sliders similar to Lightroom.
Luminar NEO falls short in its limited organizational and management tools, lack of detailed export options, and lacks of a proper mobile app. However, whether or not these features impact the user depends on where the priorities lie in using Luminar NEO!
Priced at $120 for a lifetime-use license (for one computer), Luminar NEO is far less expensive in the long run than Adobe's subscriptions which renew every month or year (depending on your plan). Luminar NEO is available for both Mac and PC.
Pros:
A beautiful software design with an easy-to-use interface
Lots of one-click AI tools for photo editing
Very realistic and flattering presets
Regular photo editing features, such as a vast amount of tools and sliders
Subscription-free one-time purchase for unlimited use
Cons:
Lacks organizational tools that Lightroom has
Limited exporting options
The mobile app needs lots of improvement
For the professionals reading this article, ON1 Photo RAW is geared toward you. Full of detailed editing adjustments, presets, and a slew of AI tools to help make that workflow expertly efficient. This being said, the program is geared towards professionals and requires a powerful computer to utilize, so this isn't something for beginners.
ON1 Photo RAW is already full of various editing tools, but the newest 2022 version adds even more. Enhanced Sky Swap AI, the liquify tool (famous in Adobe Photoshop), smart albums, and the inclusion of a Snapshot tool all lend their hands to making sure photo editing is as advanced as possible. Many of these far surpass the capabilities of Lightroom Classic and Lightroom CC.
Editing in ON1 is fully non-destructive, just like in Lightroom. The Snapshot feature adds, even more, acting like a History tool that allows you to go back to previous stages of the edit. File management and organization are also present in ON1, another competitive fact.
ON1 Photo Raw is compatible with Mac and PC and requires a one-time payment (not a subscription program). At only $99.99, this is a steal for such a powerful program.
Pros:
Potent editing system
Brilliant AI edits as well that far surpass Lightroom
One-time purchase at a far less expensive price than Lightroom
Non-destructive editing, with the Snapshot tool acting like a History panel
RAW compatibility with an extensive array of cameras
Cons:
Not very user-friendly for beginners
Requires a powerful computer to run; otherwise, the program will not work
Recognize the name or not, kids from the 80s may find the name vaguely familiar. This is the same company that created CorelDRAW, which was once the earliest computer-based graphic design program. Today, most renditions of Corel Aftershot Pro still appear a bit outdated in the interface, but the newest Corel Aftershot Pro 3 attempted to remedy this.
Designed recognizably to Lightroom's interface, Corel Aftershot Pro 3 tries to compare itself to Lightroom CC on its website. However, Corel's specific comparison to Lightroom CC shows that it cannot thoroughly compare to Lightroom Classic because some features are missing. Adding features such as layers is quite nifty, as Lightroom does not have layers (only masks).
The primary feather in Corel Aftershot Pro 3's hat is that this program can run on weaker computers more easily than Lightroom Classic. That's because Corel made the software as lightweight as possible, allowing computers to save much of their processing power when necessary. This is a big plus for those dabbling in photo editing and getting frustrated with slower processing times of Adobe software on computers not built for such renders.
With a one-time fee of $63.99 for a perpetual license, Corel Aftershot Pro 3 is significantly cheaper than Adobe's Lightroom. The program is compatible with both Mac and PC.
Pros:
An inexpensive one-time fee
Lightweight program that works on weaker computers
Extremely fast rendering and editing processes
Beneficial inclusion of layers in the editing workflow
Cons:
Lightroom is much better at processing shadows and highlights than Corel
Missing some editing features
4. Affinity Photo (Best Layer-Based Alternative)
Although I am specifically looking for program alternatives for Lightroom, Affinity Photo is more of an alternative for Photoshop, but it has Lightroom-type features in it as well, which makes it a reasonable consideration for replacing both programs. Think of this program as a way to alleviate the in-between step of exporting files from Lightroom to Photoshop for more advanced editing capabilities.
Photoshop users will instantly recognize the layers, masks, and smart object tools in conjunction with beloved Lightroom adjustment sliders and RAW image processing options. That being said, one of the biggest perks to Affinity is that this program has layer-based adjustments, which are useful for layering effects, organizing your adjustments, and making it easier to refine your edits. You can also undo your edits an unlimited amount of times.
It sounds like this program is the perfect all-in-one solution, except for a few caveats. For starters, it is important to note that Affinity is a powerful program that does require a powerful computer to operate efficiently. The interface design is pretty confusing, with relatively small text to read, which may discourage beginners from this option. There is also a lack of organizational structure that Lightroom is known for.
That being said, at a one-time fee of $50, you can't beat this price for the feature-full program that Affinity photo is. Affinity is also compatible with both Macs and PCs.
Pros:
A brilliant fusion of Photoshop and Lightroom
At $50 for a lifetime license, the low price is a significant benefit
Editing tools are precise
The inclusion of Layers, Masks, and Smart Objects adds an even more refined editing capability
Images process fast on well-equipped computers
Cons:
A powerful computer is required to run the program properly
The interface design could use a lot of work
Not beginner friendly
DxO Photolab is easily boasted as one of the most powerful RAW photo processing engines! Photographers in message boards can often be seen picking DxO over Lightroom for this reason alone.
RAW images may be fully edited utilizing various global and local correction tools, with the ability to make precise changes. When you begin viewing a folder of RAW files, the application immediately does all the usual processing modifications and adds lens corrections without any manual effort. DxO can also automatically hunt for any missing camera and lens correction profiles.
Although the photo management side of this program is not as detailed as Lightroom Classic, you can still conveniently organize your images. Many features are shared between the two programs, like non-destructive editing, the same sliders, and even the familiar interface.
DxO Photolab requires a powerful computer, as running the RAW processor significantly impacts the computer. Available for both Mac and PC, DxO Photolab has a one-time fee of $219 for the Elite version, which is the only version you'll want to look at if you are a photographer. The Essential version (which is limited) is a flat fee of $139.
Pros:
One of the most powerful and efficient RAW processors out there
Will automatically apply RAW corrections upon loading the folder
Very similar features as Lightroom, including in the image organization front and non-destructive edits
A similar interface makes this program easy to switch over to from Lightroom
Cons:
Requires a powerful computer to run properly
A bit on the pricey side for the Elite version (with the Essential version not being worth it for photographers)
Photographers perusing job boards may come across Capture One knowledge being a requirement for certain companies. This program is often used as a replacement for Adobe software in professional environments. As much as Affinity Photo above is a closer replacement for Photoshop than Lightroom, Capture One is a closer replacement for Lightroom than Photoshop.
This program is fairly gatekept to professionals, as the interface is complex, the features very advanced, and few proper tutorials exist. So many professional environments call for Capture One because of the program's incredible tethering feature, allowing real-time image uploads direct from the camera seconds after capture.
Capture One excels in a slew of capabilities beyond Lightroom Classic and even offers the ability to import Lightroom files and customize the interface to mimic Lightroom and make the transition smoother.
Color grading options are more advanced than in Lightroom, offering extensive manipulation of RAW image files. Capture One has a Pick Color tool that allows you to pick any color or color range in the photo, removing the eight-color limit in the HSL panel of Lightroom.
Available for both Mac and PC, Capture One is quite pricey but may be more worthwhile in the significant long term. Your options include a lifetime license at about $299 or a subscription paid for monthly or annually.
Pros:
Absolutely brilliant handling of RAW photo files
Incredibly detailed color grading platform, including a color picker to remove the eight-color limit of the Lightroom HSL panel
The camera tethering is highly reliable
Able to import Lightroom files for seamless transfer
Cons:
Expensive, but at least it is a one-time fee
Not beginner friendly at all, the interface is complex and challenging, and the program is exclusively geared toward professional users
In conclusion, Darktable is the best free alternative to Lightroom Classic and Lightroom CC, having been created by program-savvy photographers. The result is pretty great when software is developed specifically by the intended users. Adobe Bridge is an excellent cost-free option for those needing to use Lightroom for organization, as Bridge far exceeds Lightroom's capabilities in that department.
For paid programs, Luminar NEO is a definite favorite, with AI features that help speed up the workflow tremendously. To get a more in-depth view of NEO in action, check out my Luminar Neo review here.