Most photographers will agree that the best time to take pictures outside is golden hour. It's vibrant colors, and warm glow makes it the obvious choice for us photographers to go wild.
Now obviously you want to chase down the perfect light for any photos you take. The trouble is, it's a little inconvenient to only have one hour of your day with 'perfect' light. Contrary to popular belief, there are a variety of weather conditions that make for great light in your pictures. You just need to change up how you shoot!
In this article, I'll break down the best times to take pictures outside, the worst, and some great photography tips for when the light isn't in your favor. With the knowledge gained here, you'll be able to nail your shoots no matter the lighting conditions!
The Best Time To Take Pictures Outside
There is never a 'bad' time to take pictures outside, but there are definitely some more favorable conditions you can aim for. Let's dive into some of the best times for photographers and get out shooting!
Golden Hour
Golden hour is hands down the most magical time to take pictures. If you're unfamiliar with the term 'golden hour', it's a word photographers use for sunset. It's the hour at the beginning and end of the day where the sun is low in the sky.
At this point in the day, colors are more vibrant, and the sky is a beautiful gradient of warm hues! If you've ever sat and watched the sunrise or sunset, you'll understand why it's called 'golden' hour.
Golden hour is excellent for landscape photographers since it's the one time of the day where a scene will look most epic and inspiring. It also works great for portrait photography where the warm light really looks great on a subject's body, especially when backlit!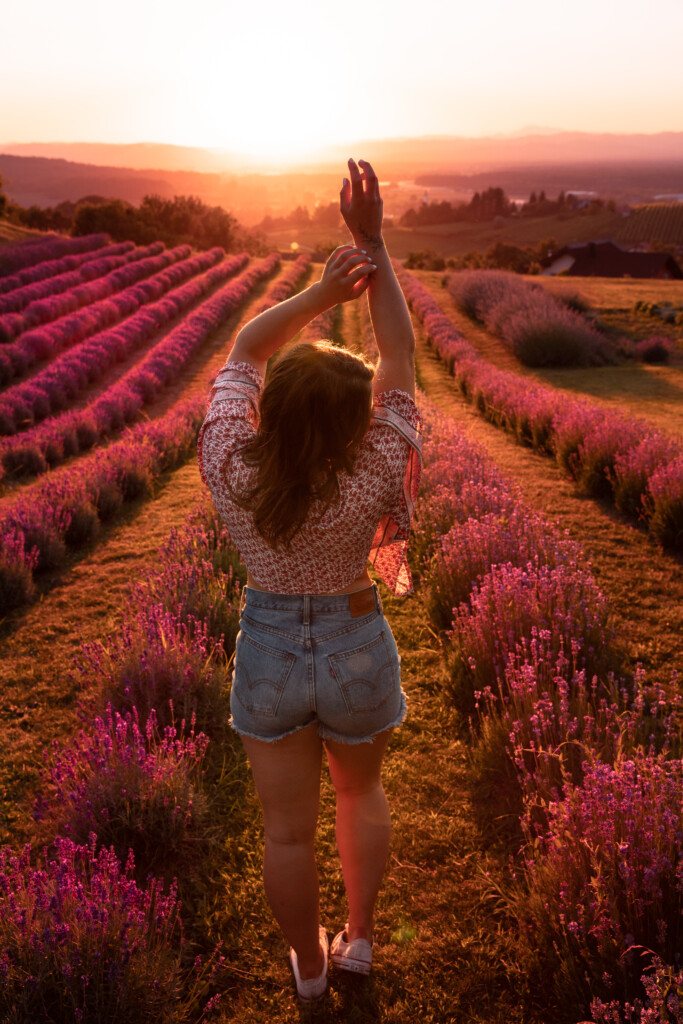 The downside to golden hour is in the name itself; it only lasts one hour.
It's much harder to capture candid moments when the sunlight is quickly fading. After all, the best colors often only last a couple of minutes.
That's why it's important to arrive well before the sunset to plan out your shots or setup whenever possible. That way once the show begins, you're poised and ready to snap some incredible pictures.
Golden Hour Photography Tip: Arrive early and plan out the shots you want to get before golden hour starts. Do your research online before to learn what time the sun sets. Also, be sure to check what direction the light will be shining by using the Photographers Ephemeris.
Learn More: The Best Camera Settings For Golden Hour Photography
Blue Hour
Blue hour is often forgotten about yet still one of the best times to take pictures outside. This is the hour just after golden hour when there is just a little bit of light in the sky.
With the sun hidden behind the horizon, everything takes on a cool blue hue. This is the time where most photographers pack up and head out, but in reality, it's just part two!
Blue hour is great to capture more moody images and offers an interesting sense of serenity. This is an ideal time to practice shooting silhouettes or experimenting with practical light sources such as fires, headlamps, or car headlights.
Merging together the cool darkness of blue hour with a bright light source can make for some incredible images.
Blue Hour Photography Tip: Utilize some sort of light source to illuminate your subjects' like a flashlight or a campfire. If you are shooting a landscape scene, bring a long lens to capture the silhouettes of faraway mountain peaks or even the moon!
Early Morning
It'd be no fun to only limit yourself to only 2 hours for taking photos (sunset and sunrise). Luckily, you don't have to be taking pictures during golden hour to get good light!
The early morning is another great time to take pictures outside. On a sunny morning, the light is still low enough that there aren't any unflattering shadows.
This is an excellent time for shoot portraits since there is ample light to take photos while taking advantage of the flattering light. Shooting photos in the early morning can work well in direct light, or even from the shadows. The contrast between shadows and early morning sun can create some cool effects in your landscape photography.
Early Morning Photography Tip: Look for long shadows being cast to add more interest to your composition. Try going to grassy areas where you can capture the morning dew being lit up!
The 'Worst' Time To Take Pictures Outside
There is never a time where you should completely avoid taking photos(unless you're in a hurricane, then maybe stay in…).
With that said, there are definitely some less ideal times to be shooting. Let's go over some of the less ideal times to be taking photos outside and some tips to still capture great images!
Overcast Days
Unless you live in the tropics, you probably have to put up with a lot of gloomy days, especially in the winter! The light during a cloudy day doesn't really change much, and golden hour becomes non-existent. It's definitely a little trickier to get those 'epic' shots during a cloud day, but that's not to say it's impossible!
Overcast days may not be the best for landscape photographers, but they can certainly work great for portrait or macro photographers!
All those clouds act as a giant light diffuser, making shadows less visible and light more even. This means that you'll be able to get nice even light across your subjects, without dealing with unflattering shadows.
Overcast days can offer an easy way to capture more moody images. Since the light hardly changes through the day, you can get out to shoot whenever you feel like it.
Score!
Cloudy Day Photography Tip: Get creative and try to shoot something where an even light source will work to your advantage. Portrait and macro photography are great examples!
Rainy Days
Shooting in the rain can be pretty terrible… if you aren't prepared for it!
On rainy days it's great to opt for more urban areas or near the ocean. Here you'll find a ton of beautiful rain photos waiting to be captured!
Shooting in the rain isn't ideal for shooting landscapes or close up portraits, but it makes for an excellent opportunity to capture still life and empty streets during a rainstorm.
Rainy Day Photography Tip: Dress for the weather. Nothing will ruin your day faster than being wet and cold. Go out with an open mind and try to keep your camera packed up whenever possible! You can also get a rain cover to protect your camera from any water.
Mid-Day
Shooting in mid-day is not always ideal since there are a ton of harsh shadows. A lot of photographers will hide away during the mid-day sun, but that doesn't mean you have to!
With the high sun comes a lot of dark shadows and bright highlighted areas. This can seem like an issue at first, but with a little creative effort, you can work these harsh shadows to your favor.
You can still take great pictures in the middle of the day but it takes some practice. Check out this post to help you take better pictures in the middle of the day.
Mid-Day Photography Tip: Try to look for interesting, uniform shadows in a scene. These can really add a lot to your composition! If the light is really harsh, you can wait for a cloud to cover the sun to soften out the light.
The Best Time To Take Photos During The Summer
The summertime is fantastic for camping trips, spending time outside, and has more daylight. More daylight means you gain more time to take pictures!
With all the extra sunlight and cloudless days, you should definitely get out to shoot during golden hour as often as you can.
Just remember that sunrise can be brutally early in the summer. Unless you want to get up at 3am for that perfect sunrise shot, sunset is the better bet for you at this time of year.
During the summer, everything becomes far more accessible as the snow begins to melt. Make sure to use this to your advantage and look out for some backcountry hikes in your area. Hiking is by far the easiest way to find beautiful views to snap pictures of.
A fun challenge you can try during the summer is to never miss a sunset. Always make time to get out somewhere new to take photos. You can even spice it up by switching between genres every few evenings!
Do you mostly shoot landscapes? Try shooting sunset portraits or wildlife photography instead, for example. This is a fun way to get outside, get some exercise, and improve your photography in the process!
Summer Photography Tip: Carry a polarizer filter whenever you can. The harsh sun can wash out a lot of color in your photos, but a polarizer can help counter that problem. You can check out my review of a great magnetic polarizing filter here. 
You Might Like: Must-Try Summer Photography Ideas
The Best Time To Take Photos During Winter
Winter is the season that many of us have a love-hate relationship with. For photographers, it can be an interesting time of year to test how bad you really want a photo.
With cold hands, quickly dying batteries and filters getting frozen to your lens, it can be a real pain in the butt.
So why should you even bother?
Winter photos can offer an incredibly unique light since snow acts as a giant reflector. The sunlight reflects off the snow and creates a beautiful glowy light on your subjects.
An additional bonus is that snow fills in all of the boulders and underbrush to give the landscape a pristine appearance. This makes it easy to focus on your subject and reduce distractions in your scene. There is truly nothing more magical!
The best part about winter is a little something called alpenglow. Alpenglow is when mountain peaks become a vibrant reddish-pink color just after the sun dipped beneath the horizon. It's absolutely spectacular and the perfect time to capture some beautiful pictures outside!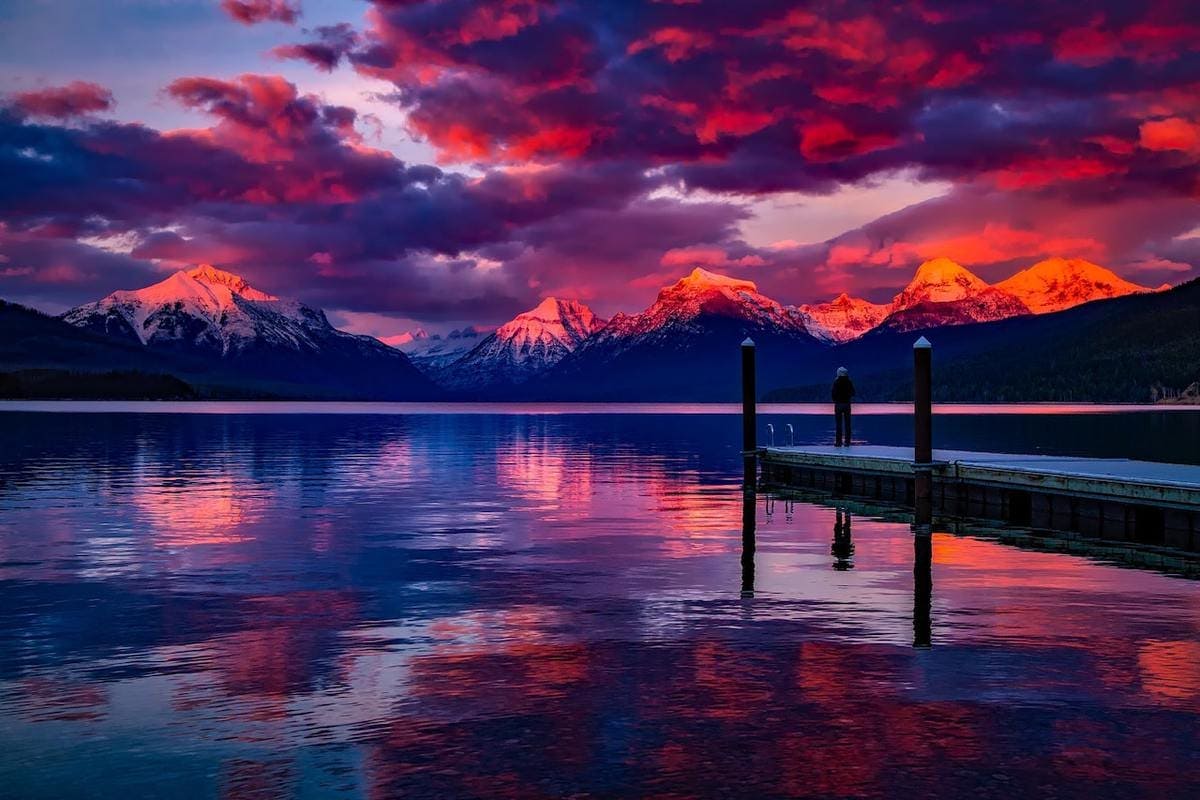 Next time you have the opportunity to shoot a winter sunset, don't forget about the alpenglow! Unfortunately, this only occurs in more mountainous areas.
Winter Photography Tip: Keep your camera batteries in your jacket pockets to keep them warm. A warm battery will hold its charge much better than a cold one!
The Best Time To Take Photos During Spring
Spring is an excellent time of year for all photographers, especially wildlife and macro photographers. There's an abundance of new life, and everything looks lusher than any other time of year.
During the spring, it's important to get out and take advantage of everything coming back into season. Finding wildflowers beginning to blossom, leaves coming back onto trees, or animals coming out of hibernation. These are all great things to try to photograph during the spring.
In the spring, early morning is a perfect time to photograph all the new plants, flowers, and animals springing back into action (pun intended). With frequent spells of rain and sun on the same day, rainbows can be quite frequent as well. So keep an eye out whenever you can!
It's not a bad idea to bring a small camera with you just about anywhere you go. You never know when that perfect light might show up!
Spring Photography Tip: Be prepared for quickly changing weather and always bring a raincoat! Take advantage of early morning dew and fog that can really enhance a scene.
The Best Time To Take Photos During Fall
Fall is an incredible time of year for vibrant colors. There is already an abundance of yellows and oranges during this time of year, so shooting at golden hour really makes everything pop!
If you don't live nearby trees that change color, I would highly recommend planning a road trip to an area with better colors. If you are serious about your photography, you won't regret the decision.
This is a great time of year to capture the changes in sweeping landscapes or some cozy portrait photos. Definitely make a point of getting out for sunset or sunrise whenever you can during the fall, you won't regret it!
Fall Photography Tip: Try to find colorful forests or trees around where you live. These photos scream 'fall' and are likely to garner more attention online!
How To Pick The Best Time To Take Pictures Outside
As you learned in this post, there a ton of options you have for getting outside to take pictures. The best times of day are typically golden hour or blue hour.
The trouble is, how are you supposed to know exactly when each of those starts and ends.
Luckily, there are a variety of apps out there for photographers to plan their days and track the best light. The two best options are The Photographers Ephemeris or PhotoPills.
The Photographers Ephemeris is a free online application that tells you where and when the sun and moon will rise and set. By placing a pin on a map, you can easily see where the light will come from.
This tool is invaluable because it not only tells you when golden hour will be but also where the light will be shining from. This is vital to know before any golden hour shoot!
Click here to see the Photographers Ephemeris Web App
The other option is PhotoPills. This is a mobile photography app that is similar to the previous but significantly beefed up. You can track everything from sunrise, sunset, moon phases, stars, you name it. There are even some pretty incredible augmented reality features to help you see where the sun will be, hours before it happens!
This app costs around $10 at the time of writing this article and is worth every penny. I have used this app on just about every photography trip I've been on and is my go-to planning tool. I'm not affiliated with Photopills in any way, but I am a serious fan.
Click here to learn more about PhotoPills
Conclusion
What I hope you learned most out of this article is that there isn't really a bad time to take pictures outside. Of course, some conditions will be more ideal than others, but that doesn't mean you can't capture a great photo.
Golden hour will always be the best time to take pictures outside since that's when everything appears most colorful and vibrant. However, you can still capture some great shots during a rainy day that you could be proud of as well.
At the end of the day, it's all about getting out as often as you can with your camera. That's how you're going to get better and refine your personal style. Another great way to supplement your photography learning is with my FREE Photography Essentials Ebook. This book is full of everything I wish I knew when I first started with photography and lays the essential groundwork to start stepping up your photography game. I can't recommend this ebook enough to you, and right now, it's totally free! Click here to get your hands on it.
If you enjoyed this article, then make sure to LIKE and SHARE it with someone who may find it useful!
Happy snapping,
-Brendan 🙂