Freewell Magnetic Filter Review: Are they worth it?
Ladies and gents, I have some news for you. The Freewell magnetic filter system is officially on the market. Gone are the days of having to screw on your filters like a measly peasant. 
When I first heard about Freewell's magnetic filter system I had a lot of questions. Particularly with how well the filters would actually stay on my lens. I was having visions of accidentally knocking off the filter and losing it over a cliff. To put my concerns to rest I put this worry to the test… but I will get to that later.
Freewell sent me their new magnetic quick swap 10 stop ND filter and a Polarizer to put to the test and share my thoughts. To make a fair review of the Freewell magnetic filter system, I compared them to my most trusted filters by NiSi. Comparing colour cast, ergonomics, quality and cost to other filters on the market.
So, let's dive into what this Freewell magnetic filter system review, and discover if they are actually worth your money.
Video Review + Unboxing
How The Freewell Magnetic Filter System Works
This Freewell filter system actually comes in two pieces. The actual filter (ND, POLA ETC.)  and a magnetic clear UV filter. The clear UV filter has a magnetic ring that screws into the threads of your lens and can stay attached permanently if you wish.
Once this clear UV filter is threaded on your lens, you can swap your magnetic filters on and off in a matter of seconds. This instantly became a luxury I never knew I wanted. Being able to swap out filters in an instant or quickly remove them to reframe or focus is a real game changer.
In colder temps and time restricting locations, being able to just pull off a filter and slap another one on saves a ton of time. It would save your numb hands from trying to thread on and off filters, like you've had to do in the past.
If you're anything like me, numb hands are dumb hands and they can't accomplish anything useful. Especially not threading on and off a filter in reasonable time. This magnetic filter system by Freewell has a serious advantage in this case.
What Comes With The Freewell Magnetic Filter System?
Compared to other filter brands, there is a lot more in the box when you purchase these magnetic filters.
Each Freewell magnetic filter you purchase comes with your filter, a clear UV filter with magnetic ring, magnetic lens cap and a spiffy filter case.
A few additional bits include a filter cloth, stickers, filter guide and a QR code to a few free online tutorials by Freewell Gear.
Comparing The Freewell Magnetic Filter System 10 stop ND Vs. NISI 10 stop ND
The circular 10 stop ND by NiSi Filters has been my go to filter for some time. It's quality, favourable colour cast, weight and filter threads has proved its usefulness and value to me. The 10 Stop ND by Nisi and Freewell Filters each sit at around $100 USD so I thought it would be the perfect comparison.
The main things to consider when looking at filters are: colour cast, quality, ergonomics and sharpness.
In the tests I put each of these filters through I did not notice any significant differences in quality and sharpness. Rather than wasting your time talking about those two aspects, let's focus on the areas that stood out; colour cast and ergonomics.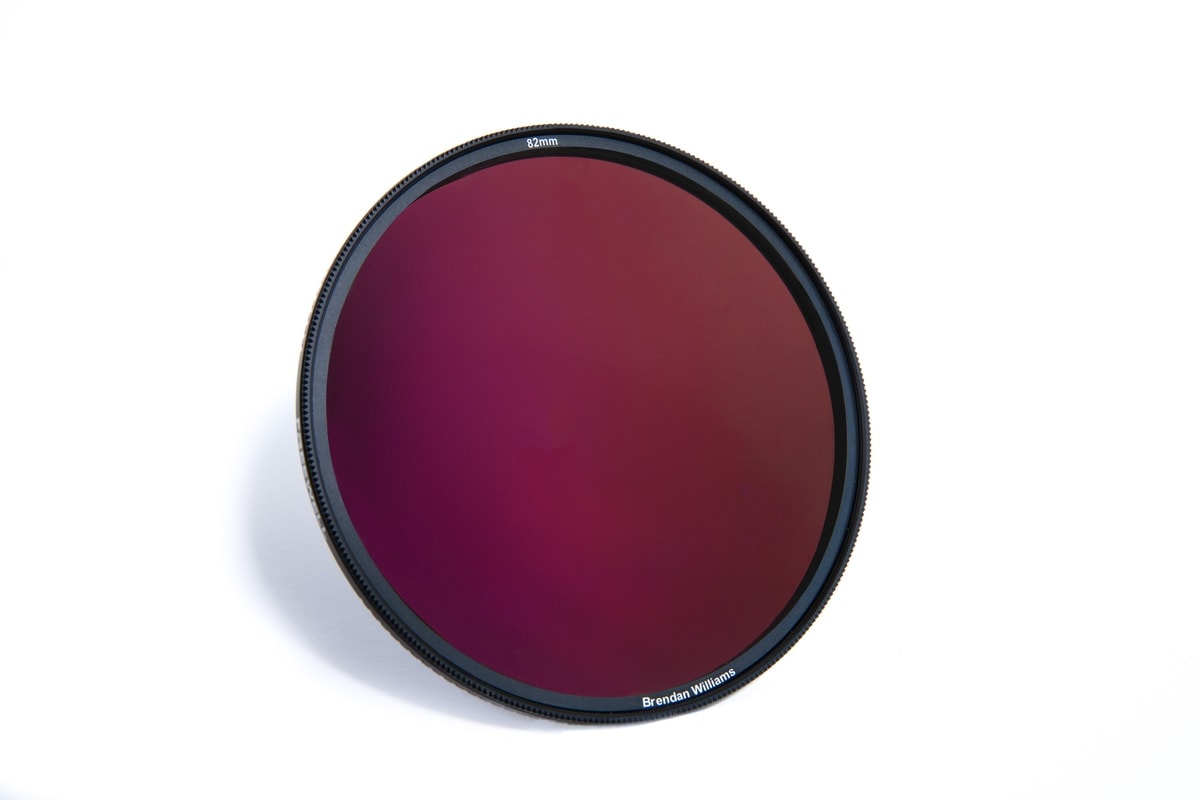 Colour Cast Of Freewell Magnetic ND Filter Vs. Nisi ND Filters
Colour cast is the hue that the filter gives your image. Kind of like how your sunglasses change the tint of everything you see, filters do the same for our cameras. Colour cast isn't always a bad thing, however; some colour casts are more pleasing than others.
My previous Nisi 10 Stop ND Filter has a purple colour cast as shown below:
The Freewell 10 Stop Magnetic ND Filter I discovered to have more of a green colour cast:
Here's how each photo compares to no filtration at all:
This Freewell 10 Stop Magnetic ND Filter does have a green colour cast, but nothing unpleasing in my opinion. This is a simple fix in post by adding more magenta. Either way, it's important to be aware of a filters colour cast before purchasing one!
Freewell Magnetic Filter System Ergonomics
This is a bit of a toss up, since there are some pros and cons to each filter in this review.
The Freewell magnetic 10 stop ND filter was extremely useful when reframing, checking focus, and packing up the camera. The simple reason being that I could pull on and off the filter in an instant, no time wasted with threading.
Freewell's magnetic quick swap filters are threaded to add non magnetic filters onto. I found these threads to hold equally as well as other threaded filters I own. This makes stacking your magnetic and threaded filters together a totally viable option. Score!
The downside to this filter is the colour cast. I personally am not a big fan of the green cast so I'll have to correct that in post, each time I use this filter. If you do not like to post process your images, this may be a bigger issue to you.
How Do These 10 Stop ND Filters Stack Up?
Each of these filters do exactly as they are intended to do. They darken the image by 10 stops allowing for longer exposures in brighter conditions. Each filter has it's own unique colour cast, like nearly all ND filters on the market.
Ergonomics wise, I do prefer having a magnetic filter system for ease of use. The magnetic filter by Freewell made it a breeze to reframe, check focus and pack up my gear. No time wasted with threading on and off.
If you are using other standard threaded filters, these Magnetic Freewell filters don't have as deep of a thread as I would have liked to see. If you are going all in on the magnetic filter system, this won't be an issue since you can continue to stack these magnetic filters on top of one another.
If you are totally new to ND filters, check out this article to learn what ND filters is best for you.

Putting The Freewell Magnetic Polarizer Filter To The Test
My ultimate worry with magnetic filters was actually trusting the magnet. After thinking about the best place to put these fears to bed and accurately test out the filters capabilities, I came to only one answer: rock climbing.
I took the Freewell Magnetic Polarizer Filter on a multi pitch adventure up the Stawamus Chief in Squamish, BC. I thought if I had no issues with it while dangling 2000ft above the ground, then there certainly would be no problems at ground level.
What's The Point Of A Polarizer In Photography?
A polarizer is a great filter to help cut glare and enhance colours. By rotating the filter you are able to target different areas of glare in your frame. A polarizing filter is also extremely useful when shooting in an area with lots of highlight since it helps to get a more balanced exposure.
Advantages to the Freewell Magnetic Polarizer Filter
After taking this filter out climbing, I was immediately thankful to have a magnetic filter. There was no fussing around with screwing on and off the filter, just a simple tug was enough to get the filter off.
That being said, it's near impossible to accidentally bump this filter off. The magnets are quite strong and definitely require a firm hold to come apart. Since this polarizer is magnetic, it's perfect to rotate in either direction with no worries of the filter unscrewing.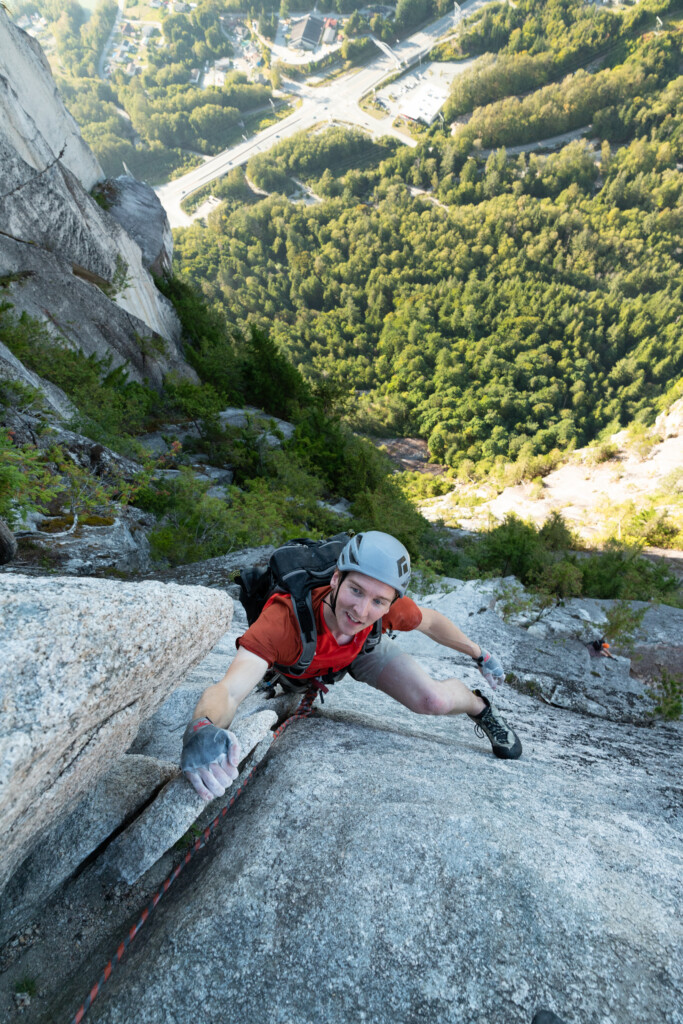 I initially didn't think much of having a clear UV filter to attach these magnetic filters onto. After nearly 15 hours on the move between climbing and hiking, I found a huge advantage to this additional filter.
Gear and rope constantly bumped against my camera while I had it out. The clear UV filter gave some nice peace of mind to know that the glass of my actual lens, was totally safe.
Colour Cast and Quality Of The Freewell Magnetic Polarizer Filter
Like the Freewell Magnetic ND filter, the polarizer also had a green hue to it; admittedly less noticeable than the 10 stop ND. Performance wise, it did exactly as it should. Cut glare, enhanced colour and balanced exposure with no loss in image quality.
Below are raw images with and without the Freewell Magnetic Polarizer:
In the above images it's easy to notice how much richer the trees below look. There is also substantially less glare from the sun and on the water. The rocks appear slight more green due to the green colour cast of this filter.
Should You Buy The Freewell Magnetic Filter System?
Short Answer: Yes! 
But here's why…
After testing out these filters in a variety of situations I found them to be extremely handy for quick set ups and ease of use. The quality is on par with any other filter in similar price ranges and offers a unique system that's compatible with any other filters you currently own.
I personally found the Freewell Magnetic Quick Swap Polarizer Filter to be the real star. Being able to rotate this magnetic polarizer in either direction, with no worries of unscrewing from the lens, was a treat. The magnetic system saved a ton of time taking on and off the filter while on the move during our climb.
If you are looking to get into your very first filters, this Freewell Magnetic Filter System is a totally viable option for you. Better yet, if you change your mind down the road, these filters are compatible with standard screw on filters. You can stack your magnetic and screw on filters till your heart's content!
You can get your hands on the filters I talked about and used today for $99 on Amazon. The filters are available in 67mm, 72mm, 77mm and 82mm sizes.
Make sure you order the correct filter size for your lens! The thread size for your lens will be displayed on the front of your lens.
I hope this helped you settle on your next filter purchase or even just opened your eyes to a totally different type of filter system!
What filters do you currently use and LOVE? Let me know in the comments below!
Happy Shooting!
-Brendan
This article was sponsored by Freewell Gear. By clicking on and making purchases through certain links in this article I may receive a small commission at no extra cost to you. This commission fuels more articles and reviews on Brendan Williams Creative. Thank you for your continued support!
I do not review products I do not find valuable and give only honest, personal thoughts of a product. Freewell Filters has in no way influenced the words in this article. My goal is to review products that my audience may find interesting or useful in their own work.