How Do Photographers Take Pictures Of Themselves?
When looking at a self-portrait photographer, you may wonder how they take such amazing pictures of themselves. How can someone take great photos, and also be a great model? It's no lie when professional photographers say that it's harder to take photographs of yourself than it is to take photographs of other people. So what's the trick?
When photographing others, you can step back. But, in order to take a self-portrait, you really have to tap into your inner life. A self-portrait has different characteristics than a portrait of another person. In self-portraiture, you are trying to go beyond describing what is visible. This challenge is what draws so many photographers to take pictures of themselves.
The beauty of self-portraits is that you don't need the best photography skills or the most expensive equipment. Using something as simple as your smartphone, you can take stunning images of yourself, judgment-free. After all, you're the only person who ever has to see them.
Better yet, this style of photography helps builds a lot of unique skills that are extremely valuable. To help get you started, this post will teach you how photographers take pictures of themselves, and actionable tips to help you do the same!
So let's get into it!
How Do Photographers Take Self-Portraits? (Step-by-Step)
1. Choose A Camera
The obvious first step you'll need to take is to choose a camera. You can take a self-portrait with any kind of camera – DSLR, mirrorless, smartphone, or even action cameras. We're going to focus on DSLRs/Mirrorless in this article; since they offer the most options for camera settings, and are what most photographers take photos of themselves with.
2. Set Up A Tripod 
Make sure you set your camera on a tripod. A tripod assures good stabilization in any light condition, no matter what settings you are using; say, for example, if you have a really low shutter speed. If you don't have a tripod, you can always use a desk or a table. But make sure it's stable enough. 
Besides just keeping your camera stable, a tripod is a crucial tool for taking self-portraits. Since it can hold your camera in any position for you, it allows for hands-free shooting. That way you can focus on your poses rather than whether or not the camera is looking in the right direction. I recommend a few of my favorite tripods here if you've yet to purchase one.
3. Adjust Your Camera Settings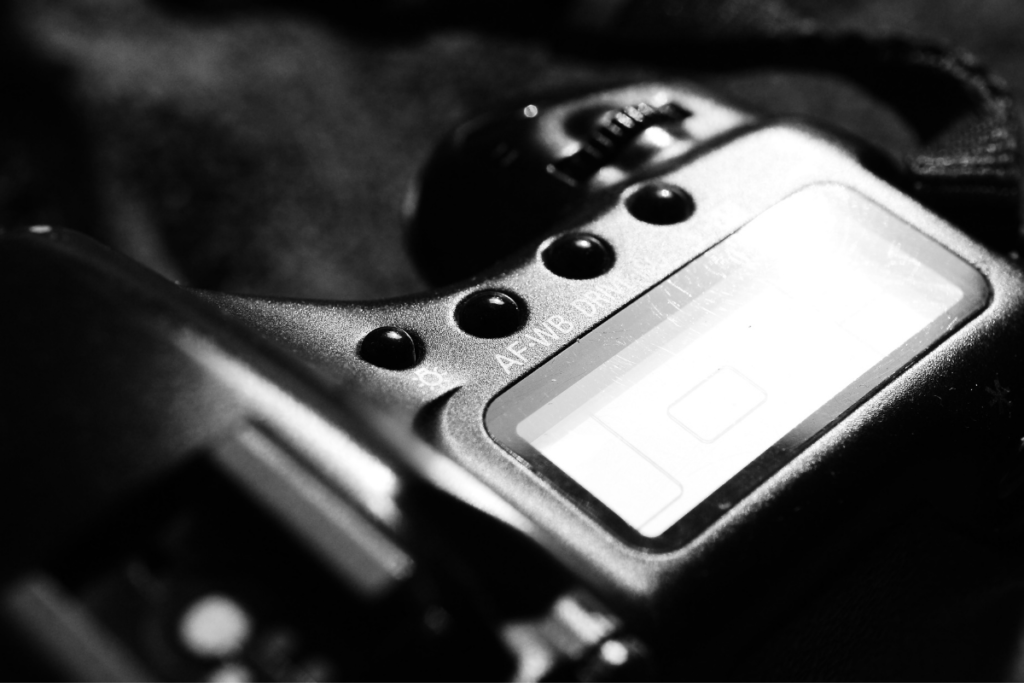 Before you think about getting in the frame, make sure your camera settings are in order. Adjust the ISO, shutter speed, and aperture to the situation you're in to ensure you get a proper exposure. If you're not sure how to balance these settings, try using the exposure triangle, or opt for an automatic camera mode.
For a more artistic look, aim for a wider aperture (smaller F-number) so you can get a blurry background. Alternatively, if you want more in focus for a sharper image, use a smaller aperture (larger F-number) to increase your depth of field.
Once your exposure looks good and the light meter reads a balanced exposure, take some test shots to make sure everything is how you like.
4. Use A Self-Timer Or A Remote Trigger 
This is the most essential step. You can't take a self-portrait without using a self-timer or remote control. When using a self-timer, remember to set your focus beforehand and lock it. If your camera can connect to wifi or Bluetooth, you can use an app to control the autofocus points or camera settings.
With these apps, your camera will connect to your mobile phone or tablet. This way you can handle every setting from the screen of your smart device and you can use the self-timer/ trigger incorporated into the app. It's as easy as it gets!
However, for cameras that don't have this remote control functionality, there are other options to use. The easiest one is to use a shutter delay. Most cameras offer a 2-second or 10-second delay meaning it will take a picture a few seconds after you press the shutter release. This gives you more than enough time to make your way into the frame and experiment with different poses.
The downside to a shutter delay is most cameras will only take one photo; afterward, you'll need to press the button again. To solve this, you can use a shutter release cable to preset a shutter delay with more specific timing. Although these tools are usually used for timelapse and long-exposure photography, they are also used by photographers taking photos of themselves.
By setting a shutter interval, you can take photos infinitely every 1-2 seconds if you wanted. Then you can flow through poses rather than going back and forth to hit capture on your camera.
5. Make Sure The Lighting Looks Good
Without good lighting, you're putting yourself at a disadvantage. Once everything is in order, make sure to compose your photo in a way that works with the light in your scene. You don't have to be using flashes or strobes, working with the natural light available will make do. You'll just have to work your poses and camera angles accordingly!
Place yourself next to a window or any other light source like a lamp for example. Establish where you want the light to hit you – from the front or the side – and if you want to use additional lighting gear. Professional photographers will incorporate flashes into their photos when they take self-portraits, but it can be a steep learning curve if you're new. If you don't already own an off-camera flash, just stick with natural light for now.
Before you start taking photos for real, try taking a few practice shots with yourself in the frame. Adjust the angle of your body in different orientations to the light and then review which ones look best. That way you'll know exactly where's the best place to face when you start posing for real.
6. Start Posing!
Now that everything is set up and ready to go, all that's left is to start posing! I find it extremely difficult to strike the perfect pose naturally. So I'll let you in on a little secret that self-portrait photographers love to use:
Try to flow through your poses as movements, rather than fixed, static positions.
Rather than being completely stationary in your poses, it's easier to give yourself an expression or action to do. For example, you could pretend like you just ate something terrible so you look off-put. You could hop around and spin to help accentuate feelings of care-free in your images. Giving yourself an action makes it far easier to act naturally in front of the camera while getting captivating poses you wouldn't find otherwise.
Ultimately, don't get hung up on all the technical details so much that you miss the big picture. It may seem counterintuitive, but I find that the more I think about all the particularities, the more mistakes I make. Remember: The more you enjoy the process, the more creative and innovative you can be. The road to a good self-portrait is as important as the result. 
With a bit of practice and time in front of the lens, you'll be amazed by how much your self-portraits will improve!
Why Do Photographers Take Pictures Of Themselves?
Photographers take pictures of themselves as an outlet for self-expression and to challenge their creativity. Rather than being stuck behind the lens, photographers can take self-portraits to portray their inner feelings or challenge what they can create. Without the luxury of photographing a model, a photographer is left in control of every creative aspect of the photo. This ultimately challenges their skills and can help elevate their work professionally as well.
We spend most of our lives with ourselves but don't always show all of our sides to the people around us. Not even to the ones we hold closest. We present a confident exterior while fostering inner doubts. I find that self-portraits are used to convey both of these sides. What we want to show to the world vs what we want to disclose about ourselves to others.
You can tell your story in many different ways. You can use words, gestures; or you can tell it visually.  Self-portraits can be a means to discover your most authentic self and encourage others to do the same. It can be a way to actualize or accept yourself. It can even bring awareness, encourage body-positivity, or just prove a point. It all depends on the kind of self-portrait you are going for.
Moreso, by photographing yourself, you can be an actor in your story and bring your own vision to life. You can convey a thought you've had and do your best to express it to others. After all, you're the best person to make it come to life, right?
Another purpose is to connect with others. Photographing yourself can be a way to communicate with others and form a sense of community. It can be a way in which you can find common ground and shared values. Knowing that your vision sparks an emotion in another person can give you a sense of belonging, and that can make you feel less alone.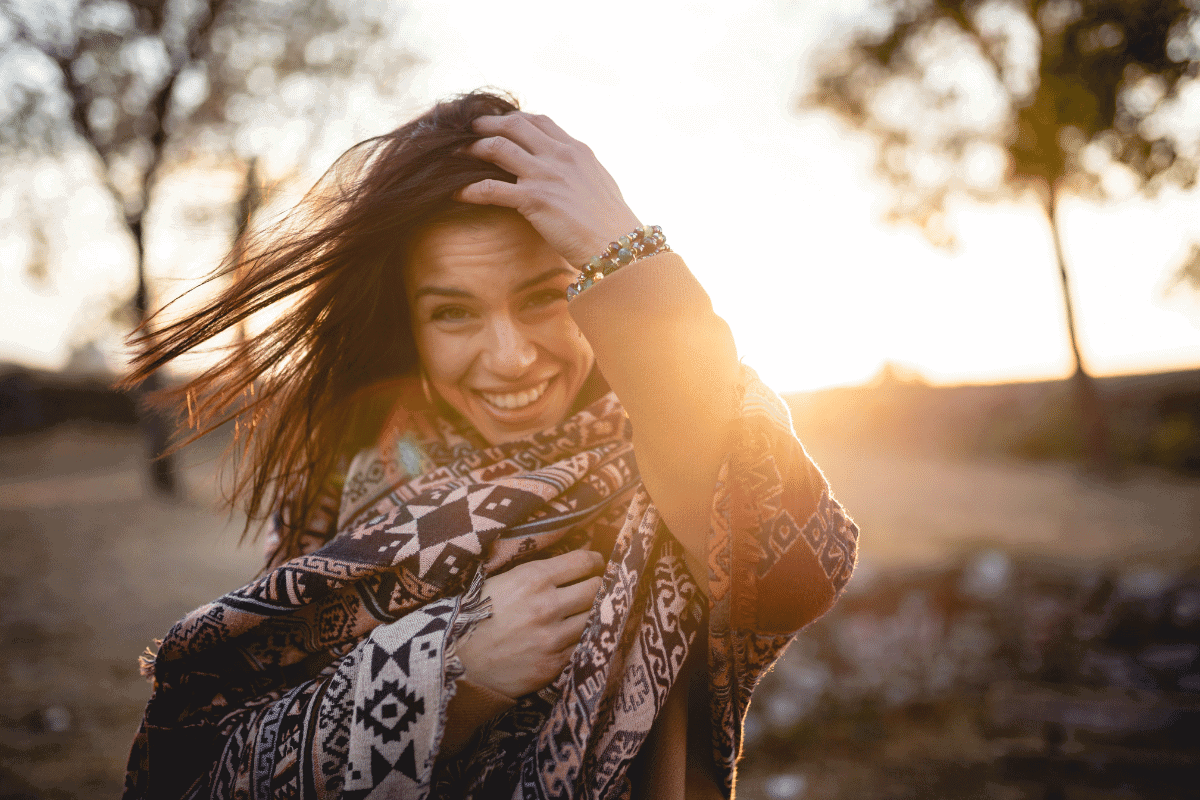 Apart from showing yourself to the rest of the world, taking self-portraits just for the sake of it can bring intrinsic satisfaction. You don't always have to share your photographs with others. You can take self-portraits for the sole purpose of feeling good about yourself. For example, it can help you see your body more positively or allow you to express yourself more freely.
Besides the personal advantages of taking self-portraits, it also offers a way to enhance your skills professionally. By understanding things from the perspective of a model, you can better communicate what you need for a photograph to work. I've found that by taking photos of myself, I am more effective at getting the emotion I need out of the models I work with.
5 Tips For Better Self-Portraits
Now that you know how to take self-portraits, let's go through a few useful tips to help you improve your own!
1. Have A Clear Vision 
Be "a man with a plan," as they say. Think about what you want to convey to your viewer. What is the message you want to send to the rest of the world? What's the purpose of your photographs? What are the actions that you need to follow to get the result you want? The clearer the vision, the more satisfying the result is.
If you try to take self-portraits without an idea of what you're going for, it's a less than satisfying experience. Before you start, try to find inspiration from other people online. There are a ton of great social media apps out there for this. I find that looking at lifestyle images in particular offer a lot of inspiration for self-portraits!
2. Use A Continuous Delayed Shutter 
Like you learned earlier, using a delayed shutter is essential for taking photos of yourself. The more photographs you take in a limited amount of time, the more options you have to choose from. And all that preparation between frames gives you enough time to be more natural and relaxed.
It's particularly useful to work with a shutter release cable. That way you can set a photo interval over a longer period of time than what's offered in most cameras. For example, you could take one photo every 2 seconds for 30 minutes. Then you could really go to town with active poses, flowing between each movement!
3. Remember Your Composition 
Make sure to learn the main rules of composition and use them whenever you see fit. The most important ones to take into consideration are the rule of thirds, symmetry, framing, reducing clutter, and leading lines. These rules offer guidance for framing a more captivating image using the objects in a scene to draw the eye to the subject (aka you!)
Even with the perfect camera settings, a neglected composition will only result in a sub-par photo. If you want people to truly stop and stare at your self-portraits, you'll need to put a bit of thought into your composition. To help get you started, check out this post.
4. Change The Perspective Every Once In A While
Go beyond taking standard self-portraits at eye level. Try to raise your camera high, or place it directly on the ground. You can even try to turn your camera sideways to shoot landscape instead. Adjusting the perspective builds off of your composition, and is an easy way to spice up your photos.
Rather than capturing an angle that everyone has seen, try to find a more unique place to set up your camera.
A few ways you can change perspective is with the camera height, lens choice, orientation to the subject, and adding foreground elements into your image!
5. Remember To Have Fun!
I learned this one the hard way. I know that we photographers tend to be a highly focused bunch. This ends up making us strive for perfection and we feel unfulfilled if things don't go exactly to plan. Unfortunately, this is a surefire way to have a terrible time taking photos of yourself.
The first self-portraits you take are going to suck; there's no way around it. Don't let that discourage you so you completely give up. Instead, enjoy the process that comes with these kinds of photos. Laugh at your terrible poses or funny faces and don't take yourself too seriously.
Try not to put too much pressure on yourself and let yourself make mistakes. They pave the path to being a good photographer and it's the best way to grow. 
But don't take my word for it, go out there and get your creative juices flowing!
Now you know the reasons why photographers take pictures of themselves, and tips to help you do the same. Self-portraits are harder than they first seem. By putting yourself in charge of the technical aspects but also the emotional, it poses a unique challenge for your work.
With that said, you'll find a huge difference is made in your portrait photography and ability to work with models. By getting a feel for what it takes to portray a specific emotion yourself, it's far easier to coach others into getting the reactions you want. Ultimately you'll end up with a more effective way of posing others in your images.
So whether you're shooting with a professional camera or your smartphone, give self-portraiture a try and see what it can do for you!
Happy Shooting!