How To Store Your Camera In A Backpack
There's no denying that storing your camera gear in a backpack is the most comfortable way to carry your gear, but how do you store everything? Although some backpacks are designed to store camera equipment, most are not. Does that mean that your regular everyday backpack won't work for storing gear? Luckily, not.
There are various ways you can safely store your camera gear in a backpack, whether it's designed for it or not. In this post, you'll learn the different ways you can safely store your equipment in your backpack so you can cart your camera around without damaging anything!
The safest way to store your camera in a backpack is by using a dedicated camera backpack. Rather than having large open compartments like a regular backpack, camera backpacks have velcro dividers inside. These divers help you make customized compartments that will fit lenses, camera bodies, and other accessories securely. 
To start things off, let's first talk about how to store gear in a dedicated camera bag, then we'll dive into converting a regular backpack into a camera bag. Using a regular camera bag offers far more convenience; however, converting a regular backpack can be more cost-effective. By the end of this post, you'll know the pros and cons of each option and which storage method is right for your camera!
The Best Way To Safely Store Your Camera In A Backpack
The safest and more effective way of storing your camera in a backpack is by using a dedicated camera backpack. These bags are designed with photography gear in mind, coming with built-in dividers and ample storage room. There is a wide arrange of styles you can choose from, depending on whether you want added room for everyday gear like snacks or a jacket.
The way a camera backpack keeps your gear safe is by using customizable dividers and inserts. Using velcro strips, they can be freely moved around to suit your specific gear needs. The idea with these dividers is to create a secure hold around your gear, so it doesn't wiggle around while you're wearing the bag. For example, you would have a divider located tightly against the front and back of your lens. That way, it can't shift around or get damaged.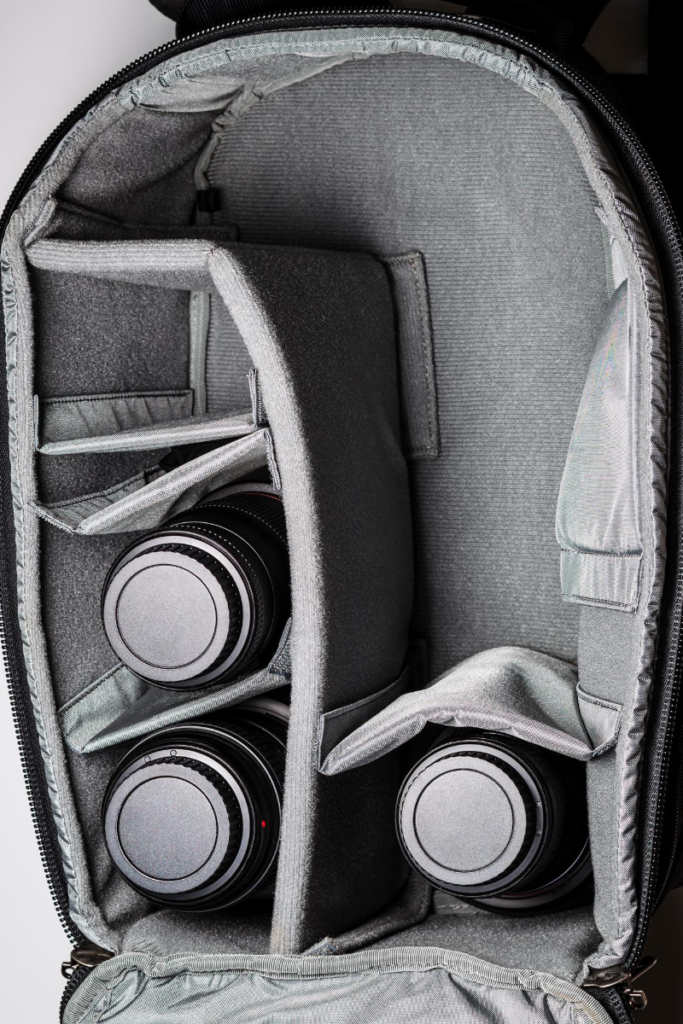 Besides the dividers, these camera backpacks come with zipper pockets to hold smaller accessories. Things like SD cards, memory card cases, extra batteries, cables, filters, and whatever else.
When kept loose, these small items have a habit of getting tossed around in your bag. They end up bumping into other equipment and can get broken under the weight of certain gear, especially when your bags bobbing up and down as you walk around.
Luckily with zipper pockets, all those loose items can stay secure and are easy to find later on.
When you first purchase a camera backpack, you'll have to consider how you want to organize the bag. I like to start by removing all of the foam inserts and laying out my equipment in different ways. Ideally, you want your camera to be the most accessible so keep that in mind as you pack. Once you have a good idea of what you're looking for layout-wise, start adding the foam dividers around your gear.
Once you're done, all your camera gear should have a home that matches its exact shape. The snugger the fit, the safer your equipment will be. After all, you don't want things wiggling around! The camera bag I currently use (and love) is the MindShift Backlight 26L Camera Bag. It's been perfect for the type of adventure photography I typically find myself shooting.
How To Turn A Regular Backpack Into A Camera Bag
The best way to turn a regular backpack into a camera bag is by using a camera cube. These foam cubes have built-in dividers and storage pockets, allowing you to store equipment like a traditional camera bag. They can be found in various sizes, depending on your backpack and how much storage you need. Since they are removable, you can easily use a single camera cube with all the backpacks you own!
Camera Cubes are amazing for travel photography or while taking photos on backpacking trips. Rather than loosely storing your gear in a bag, a camera cube keeps everything safe and secure. Using the same foam dividers style as a regular camera backpack, you can make a custom fit for all your equipment.
Another huge advantage to using camera cubes is that they keep all your gear in one place. When you're trying to use a regular backpack as a camera bag, the problem is there just isn't enough room for everything. Especially when you have all the smaller accessories, it's easy to lose them in large, open pockets. Camera cubes keep everything consolidated and easy to find in any bag.
The way these cubes work is you store your camera gear inside them, then place the entire cube within your backpack. In most cases, you'll have to take out the entire camera cube to access your equipment, but at least you know it's safe. Especially when on a hiking trip, using a camera cube is a must. Rather than digging through all your camping gear to find equipment, it's all ready to go in one place.
– Camera Cube Recommendations
One of my favorite camera cubes is the MindShift Gear Stash Master 13L Camera Cube. This option is a larger cube, making it ideal for overnight packs or suitcases. When it comes time to get out and shoot, it comes with a sling strap making it easy to carry around. This option is a great all-in-one solution by offering safe storage to multiple lenses, filters, and your camera body.
With that said, the MindShift may be a little too large for everyday, casual backpacks. Instead, the Tenba BYOB9 Camera Insert has a low-profile design making it more portable. If you don't have a larger camera body or don't have many lenses you carry with you, this is a great option. Especially for commuters walking around the city, this is a perfect alternate camera cube to the MindShift.
Ultimately, if you want an effective way to safely store your camera gear in a regular backpack, camera cubes are the answer. Without them, your left with loose gear jangling around in the bottom of your bag, a surefire way to damage your equipment.
Tips To Safely Pack Camera Equipment In A Backpack
Whether you're using a regular camera backpack or a camera cube, the way you pack your camera should be the same. The 5 tips outlined below are essential to ensure all your equipment stays in mint condition, no matter where you take it!
1. Keep Your Lens Caps On
One common mistake people make is to leave their lens caps off when they store their lenses. It's easy to be fooled by the soft felt interior of a camera bag or cube, but that doesn't mean it can't cause scratches! Especially if you accidentally get a bit of sand or dirt in your bag, all that will be left to rub against your glass.
The result? A bunch of unnecessary scratches that could have been avoided.
Instead, make sure to keep your front and back element lens caps on at all times when storing your lenses. With them on, there's no way your glass can get damaged, even if the lens shifts around in your bag. Whether you're using a dedicated camera bag or a camera insert, remember your lens caps!
2. Make Sure Your Equipment Doesn't Shift Around
If you want to store your camera gear as safely as possible, you want to avoid unnecessary movements. By making sure your dividers are adjusted to tightly fit your lenses or camera body, none of your gear will be able to move around. Even if you were jumping and doing backflips, the dividers would prevent anything from moving out of place.
By limiting the amount of shifting your gear can do, you further protect your gear from bumping into things or vibration damage. For example, if a lens gets shaken around too much, it's possible to damage some of the internal components. By restricting its movements with tightly fit dividers, you dramatically reduce this risk.
3. Store Loose Accessories In Zipper Pockets
Like you learned previously in this post, small items like memory cards or camera batteries can get tossed around your camera bag when stored closely. This can ultimately cause damage to not only your small accessories but to your lenses or camera bodies as well. Instead, keep all your smaller items stored in zipper pockets so they can't move around.
Besides preventing them from roaming around your bag, having a single pocket for accessories makes them easy to locate. By storing them loosely, you wouldn't believe how easy it is the "lose" them in a crevice in your bag or under other equipment.
Make your life easy, and use those zipper pockets to your advantage.
4. Keep Your Equipment In Separate Compartments
When you're organizing your camera bag, make sure to avoid putting more than one piece of gear in a single compartment. For example, you would never want to keep two lenses stored side by side without a foam divider between them. If loosely kept together, they'll bump and end up damaging one another. The same thing goes for all your other equipment.
To keep everything safe, make sure your lenses, camera, filters, flashes, or whatever else, have their own compartment. Adjust your foam dividers so that everything has a specific home, and there's only enough room for that one particular thing. This is the safest way to store your camera and will help improve the lifespan of your gear.
5. Don't Overfill Your Bag
When you're running out of space, you may tend to just shove things in to make it all work. When it comes to camera gear, you definitely don't want to do this. Everything should have a home, and nothing should be bursting out of your bag when you open it. That's because this is not only annoying to work with but increases your chances of dropping something from your bag. Instead, make sure everything fits securely and easily.
If you run out of space, go through your gear list and evaluate what you can get rid of. There's always a way to make more room for yourself!
Now you know how to safely store your camera in a backpack, whether it be a dedicated camera bag or a regular street backpack! I prefer using a dedicated camera backpack since they make it easier to access your gear. With that said, I do like using camera cubes in situations where a regular camera backpack isn't possible, like with hiking photography. If you aren't sure where to start, I'd suggest going with a camera cube and then upgrading to a regular camera backpack if it feels necessary!
Happy Shooting!
– Brendan 🙂