To split an image in half in Photoshop, you can easily do so vertically, horizontally, or diagonally. Using the marquee tools and the Polygonal Lasso tool, your images can be split in just a couple of clicks. Before we dive into the nitty-gritty of the process, here's one of the easiest ways to complete this process.
To split images in half in Photoshop, select the marquee tool by pressing M, then click and drag over half of your image to create a rectangular selection. With the selection active, right-click and select New Layer Via Cut. This will cut the image in half and place the selected half on a new layer.
Now to make this process even more accurate, you'll learn how to use guides to help make your cutouts absolutely perfect. So by the end of this tutorial, you'll be an image splitting pro and even know how to export your split images into different files to finish everything off!
How To Split An Image In Half In Photoshop
This first section will cover how to split a photo in half horizontally or vertically using the Rectangular Marquee Tool. Although I am creating a horizontal split in this example, the same steps can be followed for a vertical split. Here's how you do it:
Step 1: Import Your Image Into Photoshop
Open Photoshop, click on File > Open, or press Command/Control + O on your keyboard.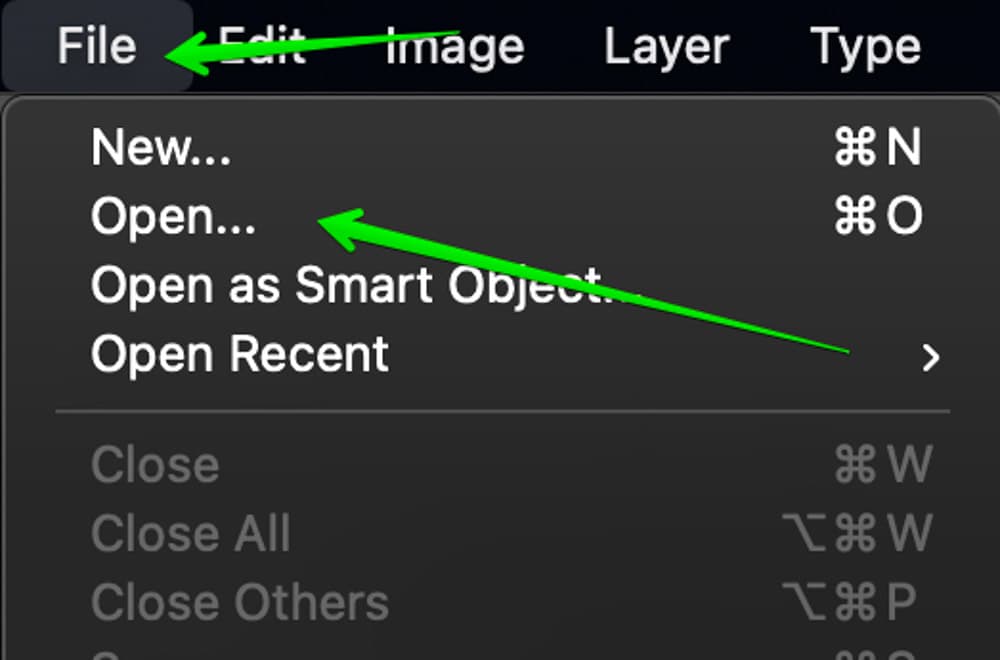 Select your image and then click on 'Open' to bring it into Photoshop. If you already have a project open, you can drag and drop your images from your computer into the Photoshop workspace instead.
Step 2: Create A Guide In The Middle Of Your Image
Guides are like little helpers that will help you create an accurate split of your image. To create a guide, first, enable the ruler by pressing Command or Control + R.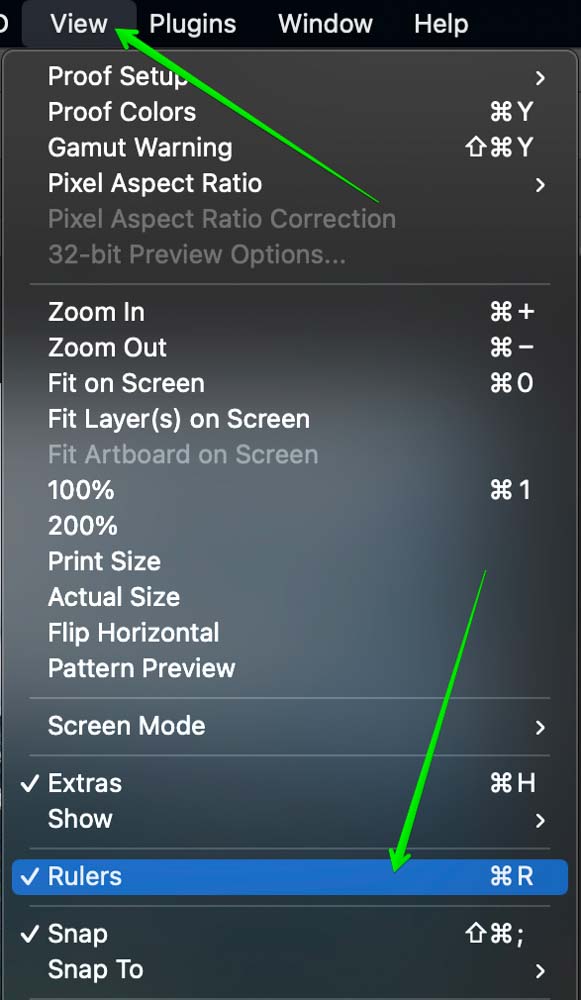 Next, take your cursor to the ruler and drag it down from the ruler and a guide will be created.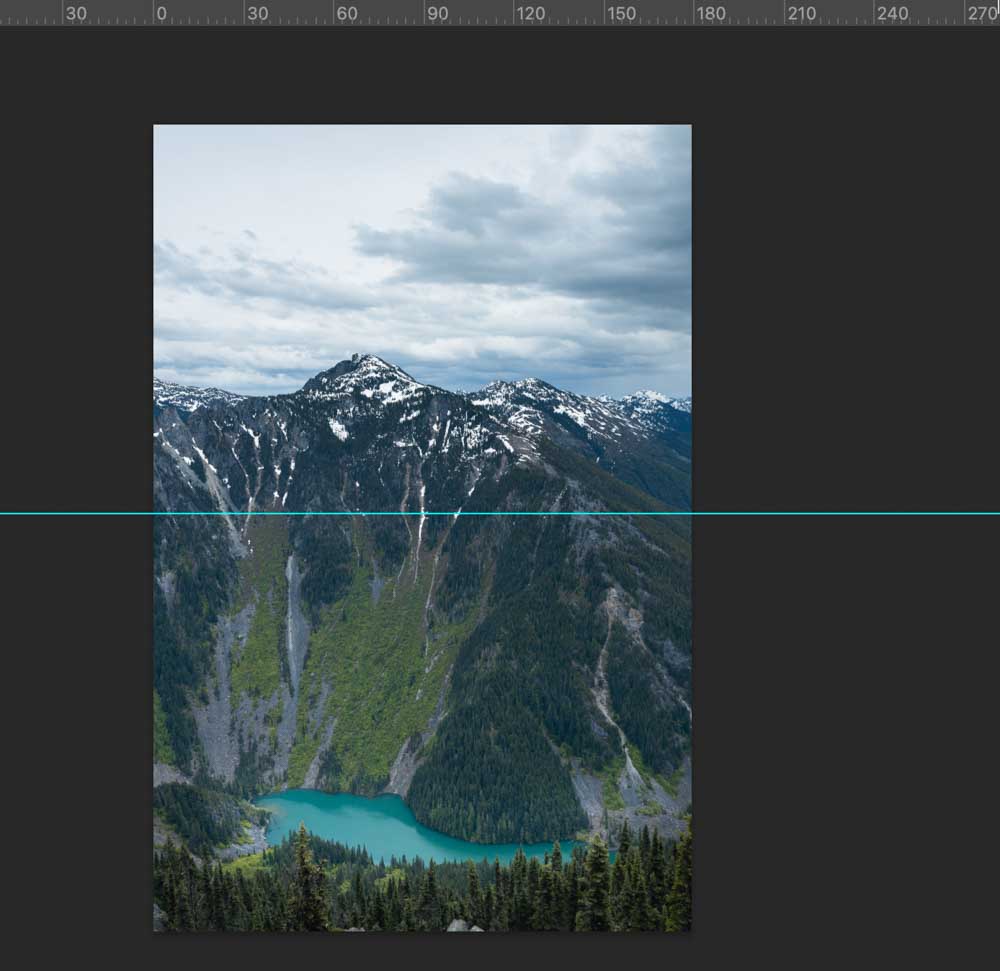 An even better way of doing this is by going to View > New Guide.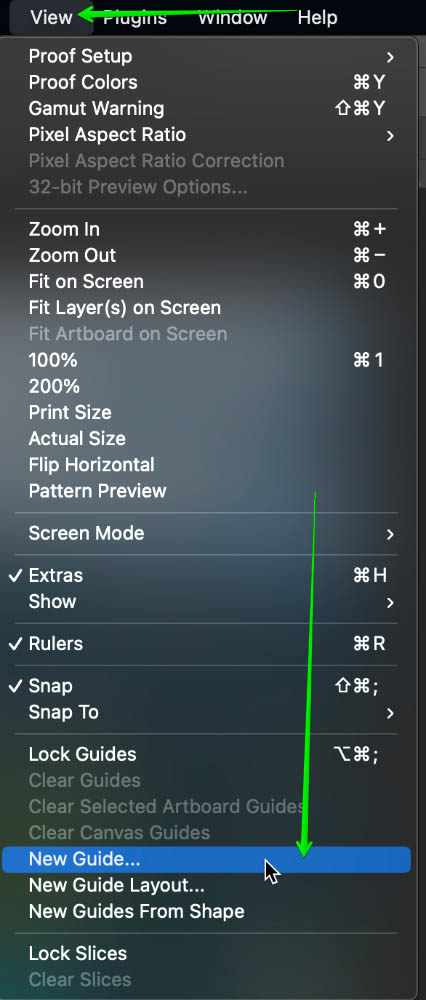 With this method, you can place a guide in an exact location automatically. In the new guide popup that appears, you can select the option that says Horizontal and set the position value to 50% to place a horizontal guide in the center of your photo. If you wanted to create a vertical split, simply select the 'Vertical' option instead. Click OK to place your new guide on your image.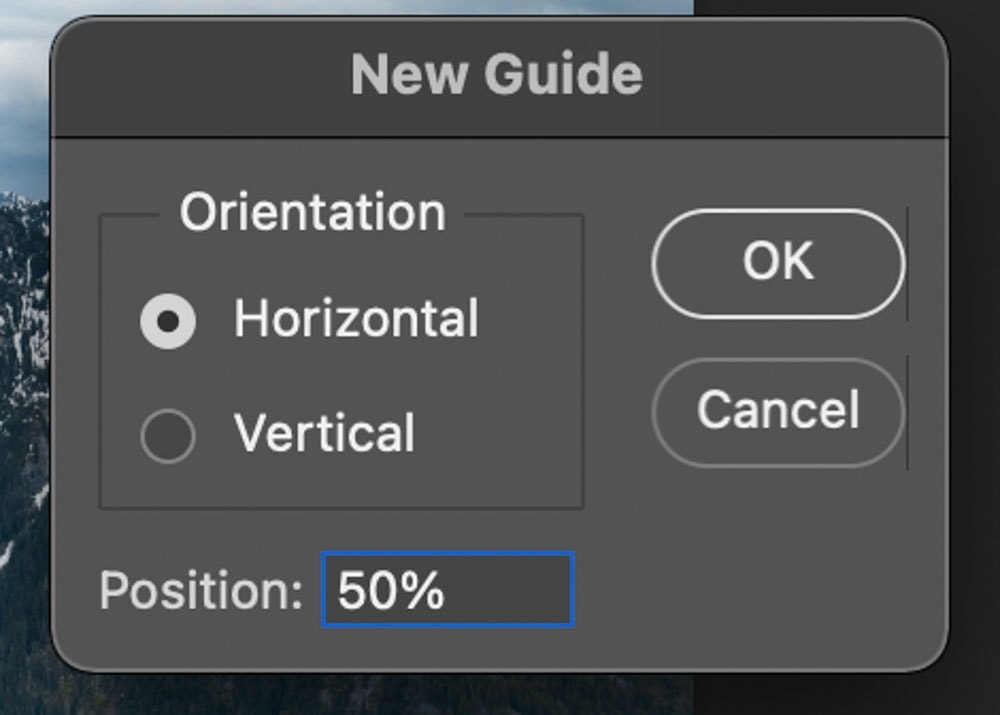 Step 3: Split Your Photo With The Rectangular Marquee Tool
Now select the Rectangular Marquee Tool and make a box around the part which you want to split.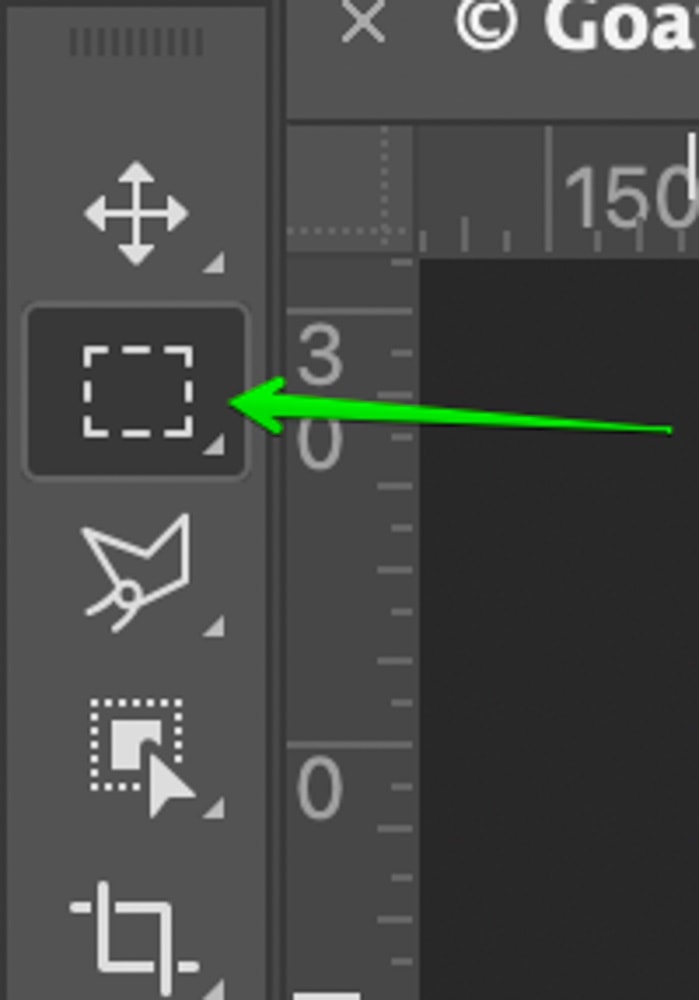 Make sure to follow the guides for accurate splitting. Luckily the Marquee Tool will snap to your guide making it easy to make your selection match up.
Once you have the area selected, select the move tool (V), then go to Layer > New > Layer Via Cut.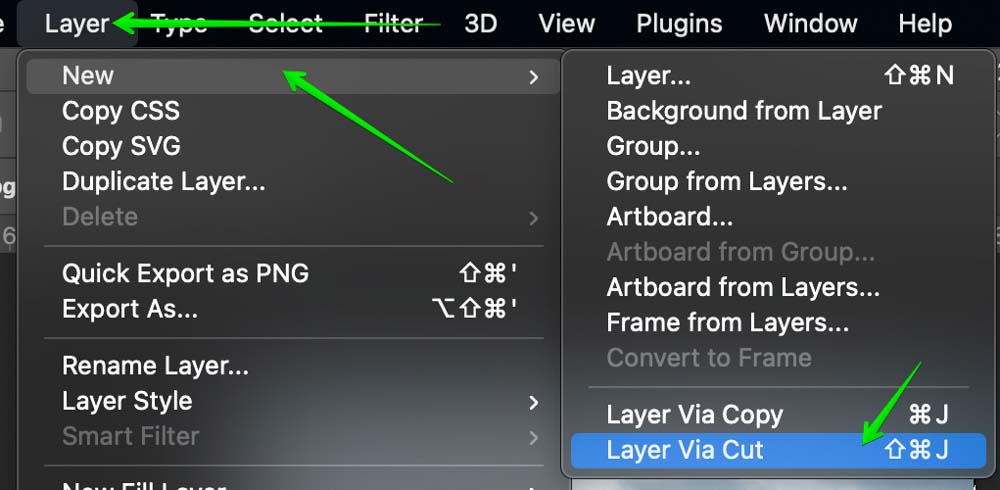 You can also use the shortcut Command or Control + Shift + J
What this does is separates the layer from the original image and makes a new layer from it. In the layer panel, you can see how the selected area of the image was removed from the original image, and placed on a new layer (Layer 1).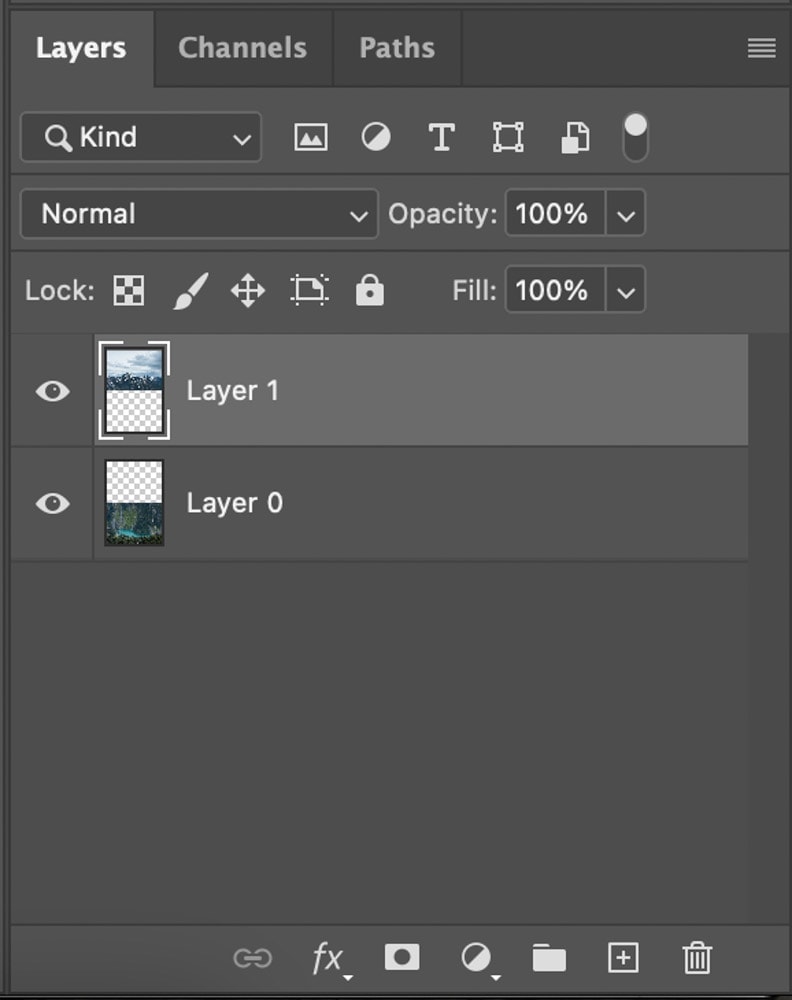 If you select the 'Layer Via Copy' then it copies the image and makes a new layer without removing the selected half from the original photo. If you didn't want your image to be split between two different layers, this option would only create a copy of your selected area while leaving the original image untouched.
In this example I wanted the two parts of my image to be on separate layers, which is why I used layer via cut instead.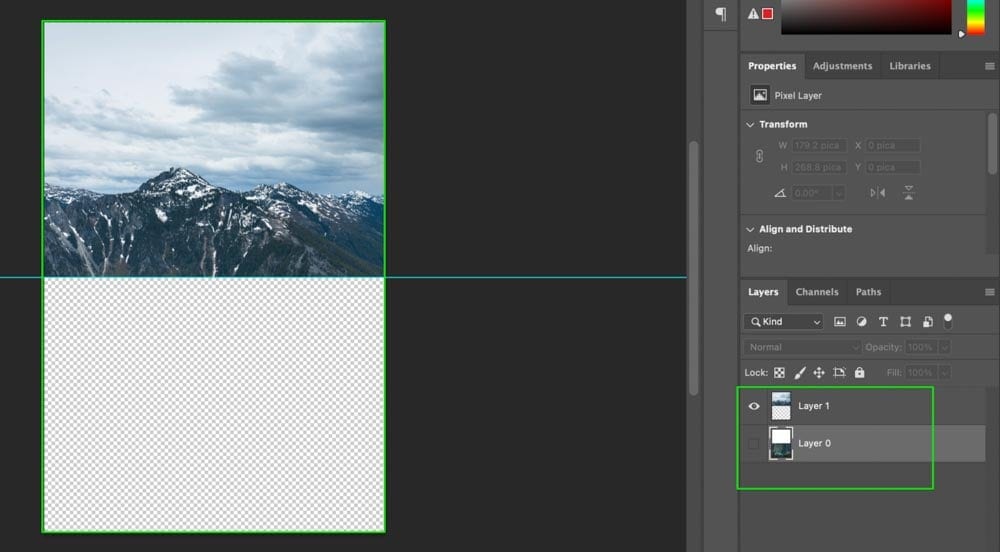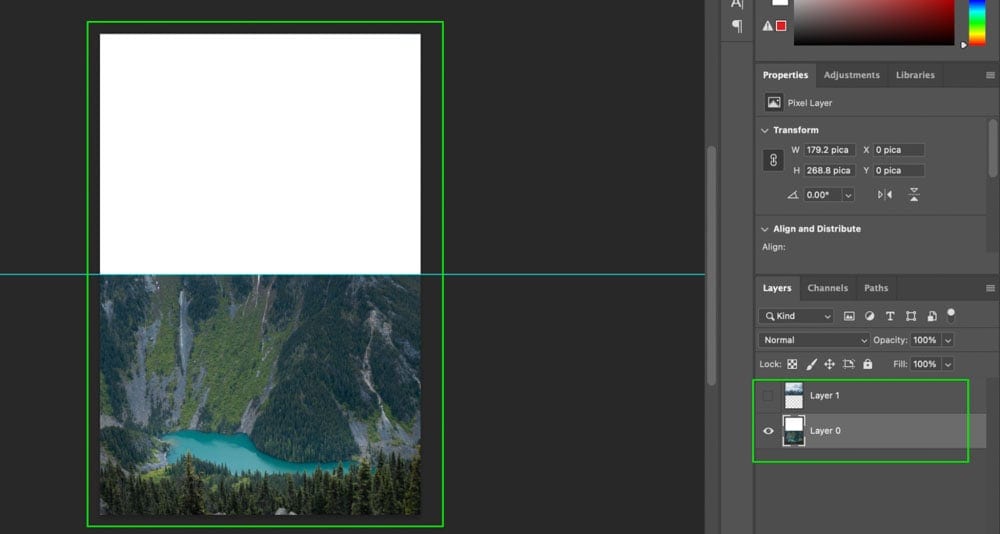 How To Split An Image In Half Diagonally
If you want to split the image diagonally, then the rectangular marquee tool isn't a good fit. Since this tool only creates vertical lines, it doesn't quite work for diagonal cuts in Photoshop. Luckily you can use something called the Polygonal Lasso Tool which is perfect for the job.
To split an image in half diagonally, select the Polygonal Lasso Tool and click between the two corners of your image to create a diagonal split. Then go around the edge of your photo to make a selection. With the selection active, go to Layer > New > Layer Via Cut to split the image in half.
Step 1: Select The Polygonal Lasso Tool
The Polygonal Lasso Tool is just under the Lasso Tool. If you don't see it, right-click on the icon under the Lasso Tool and select Polygonal Lasso Tool from the drop-down menu.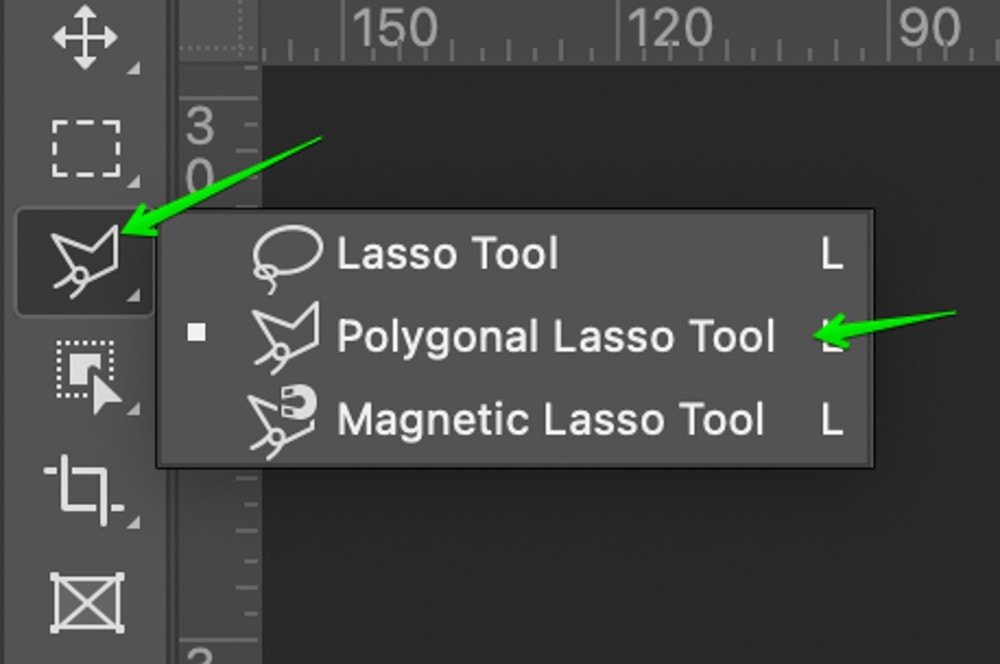 Step 2: Make A Diagonal Selection
Armed with the Polygonal Lasso Tool we are going to make a diagonal cut. To do so, just drag your cursor to make a selection. You can also make an anchor point by clicking on your mouse so that you can adjust the shape of the selection drawn. Here's what the diagonal selection looks like in my case: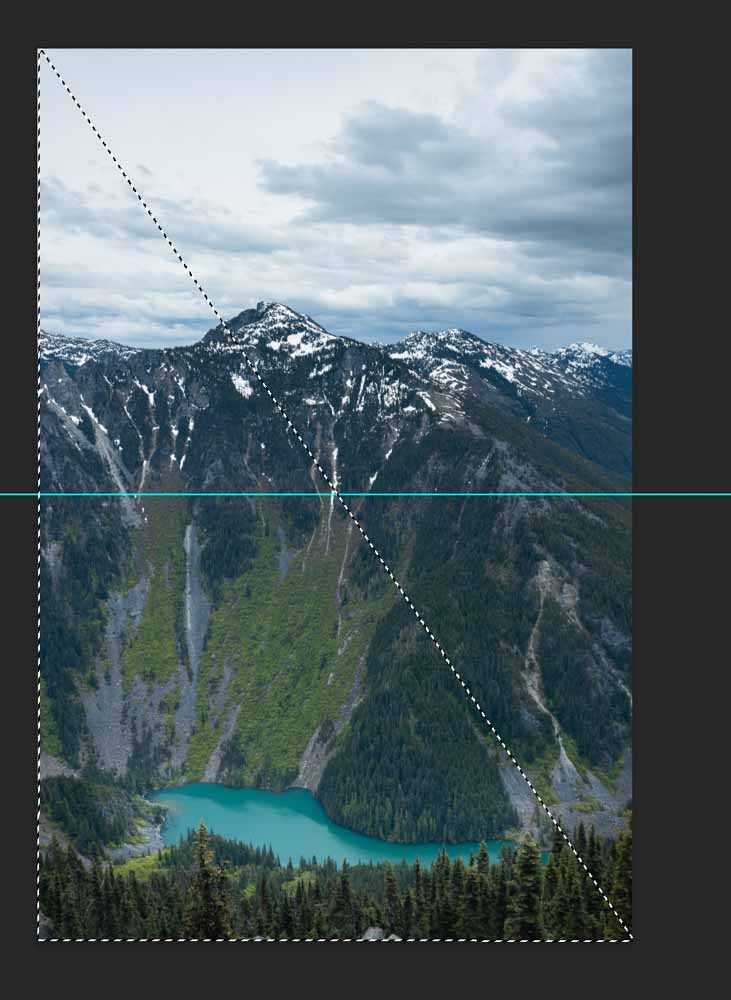 Step 3: Make The Split
Now to split the image in two, go to Layer > New > Layer via cut. Alternatively use the keyboard shortcut Shift + Command/Control + J.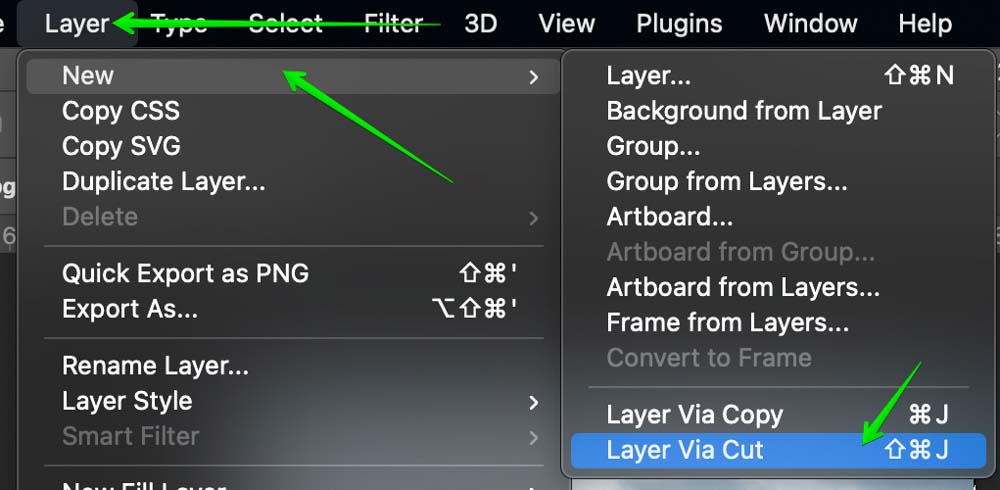 And now you'll see the layer panel adjust accordingly.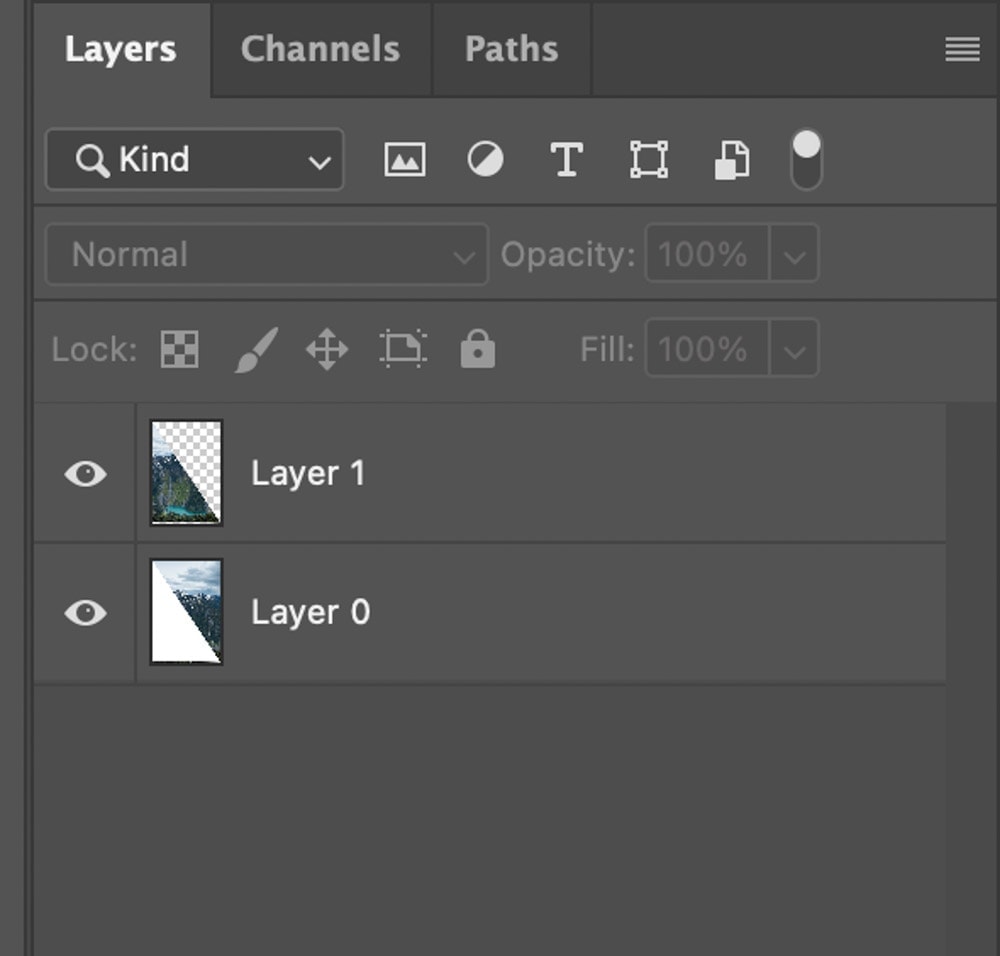 Here's how our image looks like when it's diagonally split: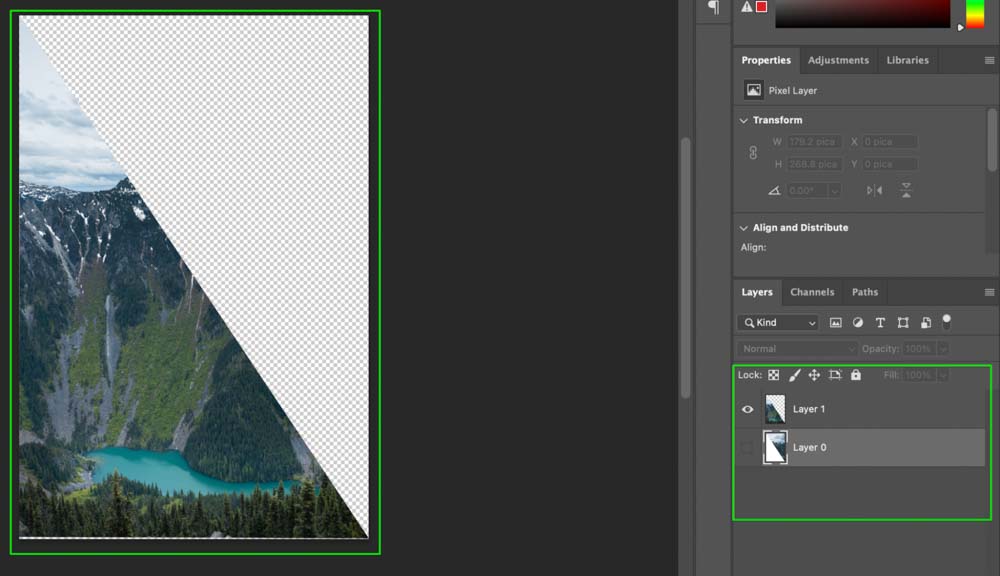 Now you can use each half of your photo independently!
How To Save Slices As Separate Images In Photoshop
If you want to export the different split images there is an easy way to export layers to files in Photoshop.
Step 1: Go To File > Export > Layers To Files
Once your image is split, in the top bar go to File > Export > Layers to Files.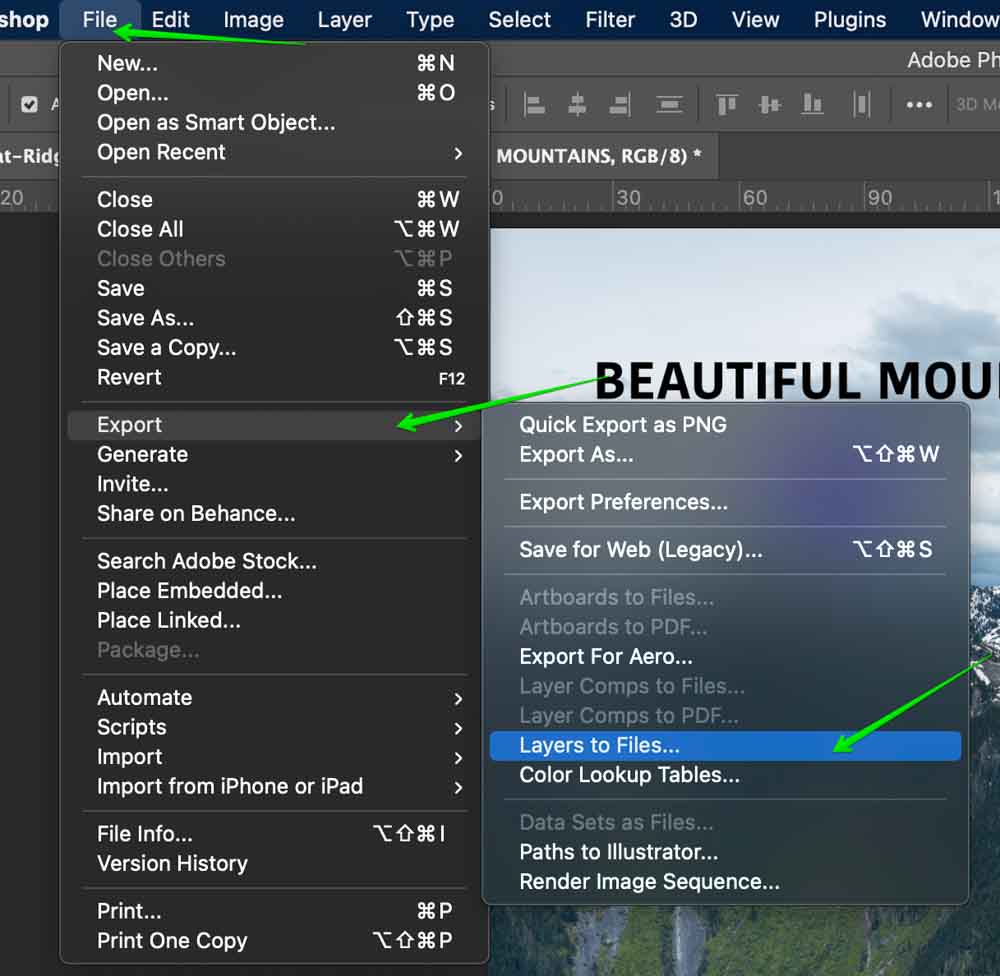 Step 2: Select A File Format
Now you will see a box where you will have various export options.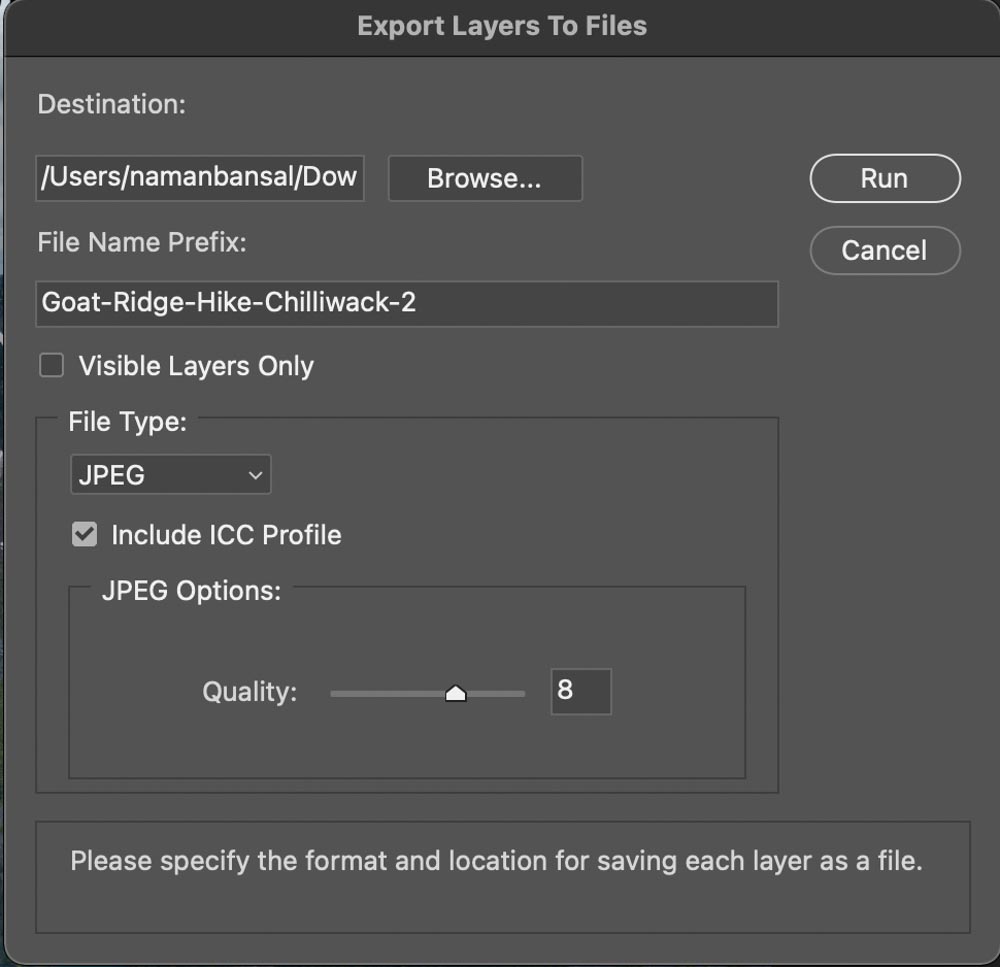 First of all, you need to select the file format you want to export the layers in. Photoshop has a lot of file formats available. Here's a breakdown of the popular ones:
JPEG: This is probably the most common image format along with PNG and it compresses your images a bit for lower file sizes but it isn't noticeable to the human eye under normal circumstances. This file type is best for general use and is compatible with any device or program.
PDF: PDF stands for 'Portable Document Format'. This was developed by Adobe. These files are mostly used for printing and document purposes and the best part is that these files are highly portable and do not mess with the contents of your images. These are mostly used for legal and business purposes or to create multi-page documents in Photoshop.
PSD: PSD stands for Photoshop Documents and this is the format that is used to store Photoshop projects. These files are supported by many image editing programs and store your files in high quality while remembering layer information. You can learn more about this file type here.
TIFF: TIFF stands for Tag Image File Format and is used mostly for storing high-quality graphics meant for editing. It isn't used on the web but works well to save RAW images since it retains all of the color information without compression.
PNG: This is one of the most popular file formats and is used a lot on the web. This stores your images without compression and makes them high-quality. It is also used for transparency.
Step 3: Choose An Export Location
Now select the location where you want to save your exported layers. Click on the 'Browse' button to select a location from your computer.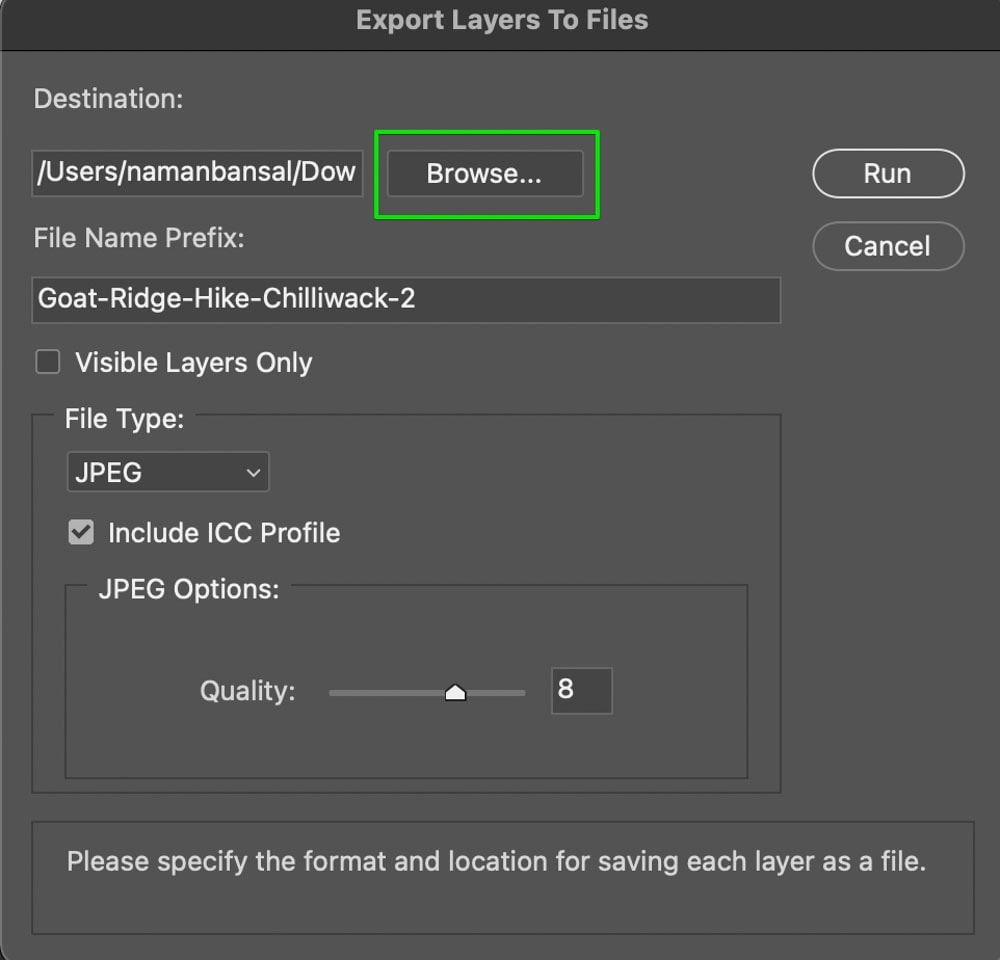 Step 4: Create A Name For The Exported Layers
Next, select the file name prefix for the name of exported files. This will be the name of your exported layers found in your export location.
Step 5: Click "Run" To Export The Layers
Now, to export those layers, click on 'Run'. Now Photoshop will export your split image into two different files in your export location.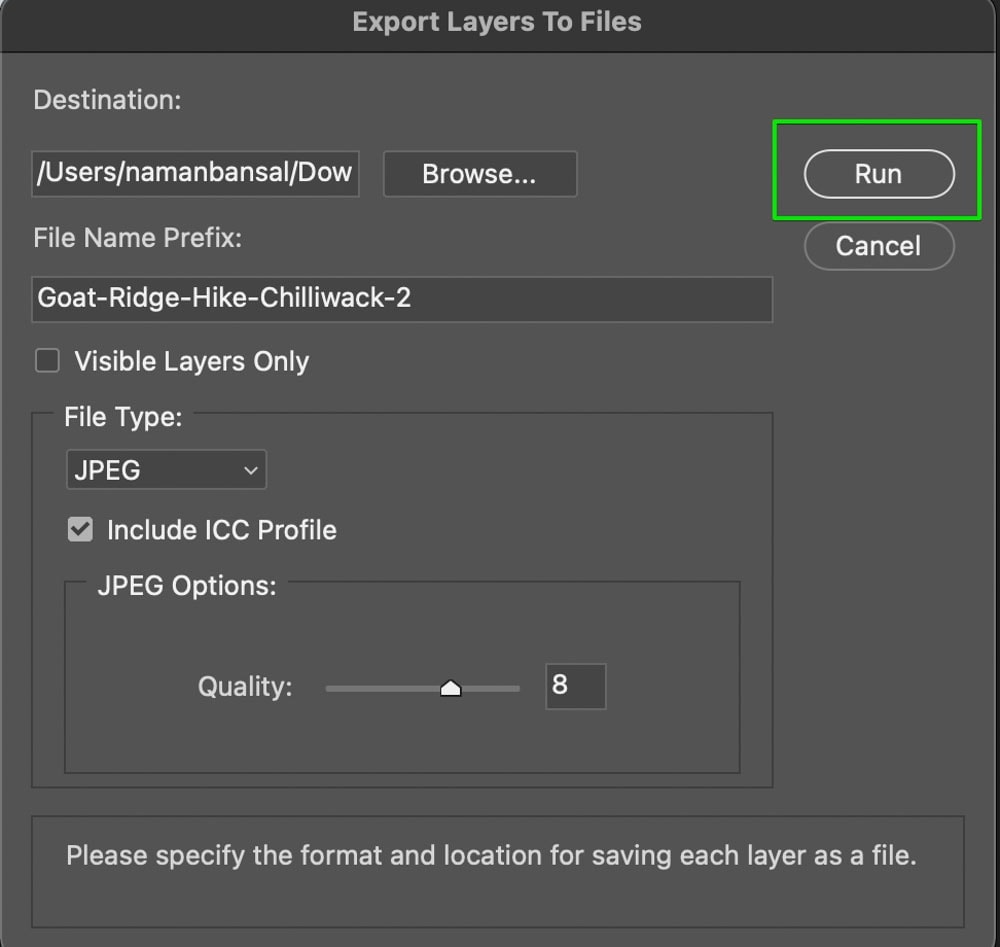 So with these easy techniques, you can quickly split an image in half vertically, horizontally, or diagonally in Photoshop. Then with the export layers to files technique, you can easily have your images are two separate files to use later on. I recommend exporting your split images as PNG files to preserve the transparency and make it easier to work with the two files later on.
Happy Editing!