Knowing how to download a video in Canva correctly is important since if you get the wrong settings, you may end up with a much lower-quality video than expected. Luckily, you don't need to be a videographer with pro-level skills to export a high-quality video using Canva.
In this guide, I'll first show you how to make a video in Canva and export it at the highest quality, then explain why you should choose MP4 or GIF file formats for your export. I'll also explain what you need to do to remove the Canva watermarks on some clips you might want to use if you run into problems with those.
Let's get started!
How To Download High-Quality Video From Canva
To ensure that you end up with a high-quality video by the end of this section, I will walk you through the entire process, from picking out your template to finding clips to choosing the correct settings.
Step 1: Select "Video" From The Canva Home Page
Before you download a high-quality video in Canva, you must make your video.
To create a video, go to the Canva home page. Below the search bar at the top of the page is a series of shortcut buttons. You'll find the Videos shortcut in the list.
Click the Videos button to open up the complete list of video templates you can choose from. There's an exact size for whatever type of video you need. If you're making a standard video, select the one labeled Video.
A blank video canvas will open up in a separate tab.
Below the canvas, you'll find the timeline where you can see all of your "scenes."
If you need more scenes, click the Plus button to add as many scenes as you need.
Step 2: Add Video To Each Scene
If you have your own video that you want to use, you can upload it to Canva by clicking the Uploads tab in the Side Bar, then clicking Upload Files at the top. You'll be prompted to locate and select the video files on your hard drive.
If you want to use the videos that Canva provides, you can browse through them in the Side Panel when you open up a video template.
If you're looking for a specific type of video clip, you can search for the theme you need in the search bar at the top.
To add a clip to your project, simply click on it. The clip will be added to the scene you selected in your timeline.
One clip fits per scene. Later on, all these clips will be stitched together to create a cohesive video.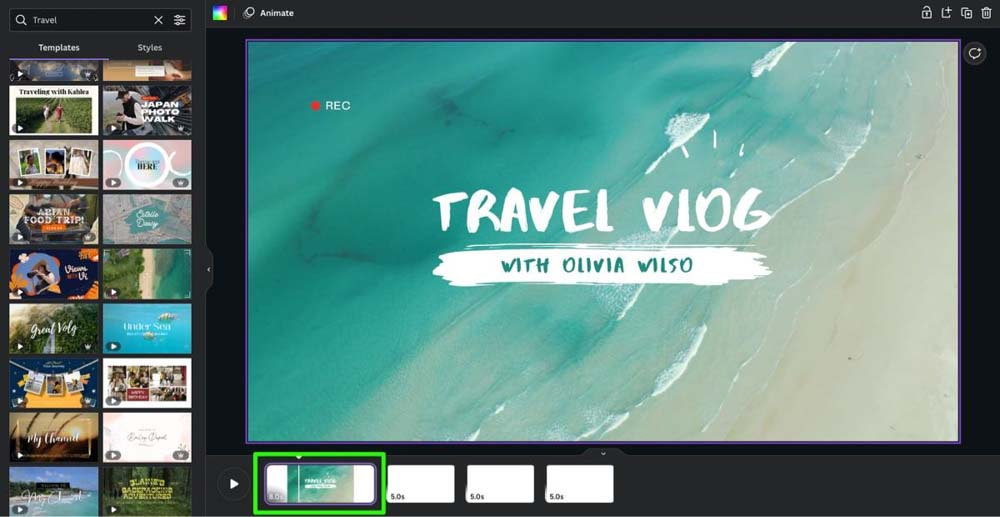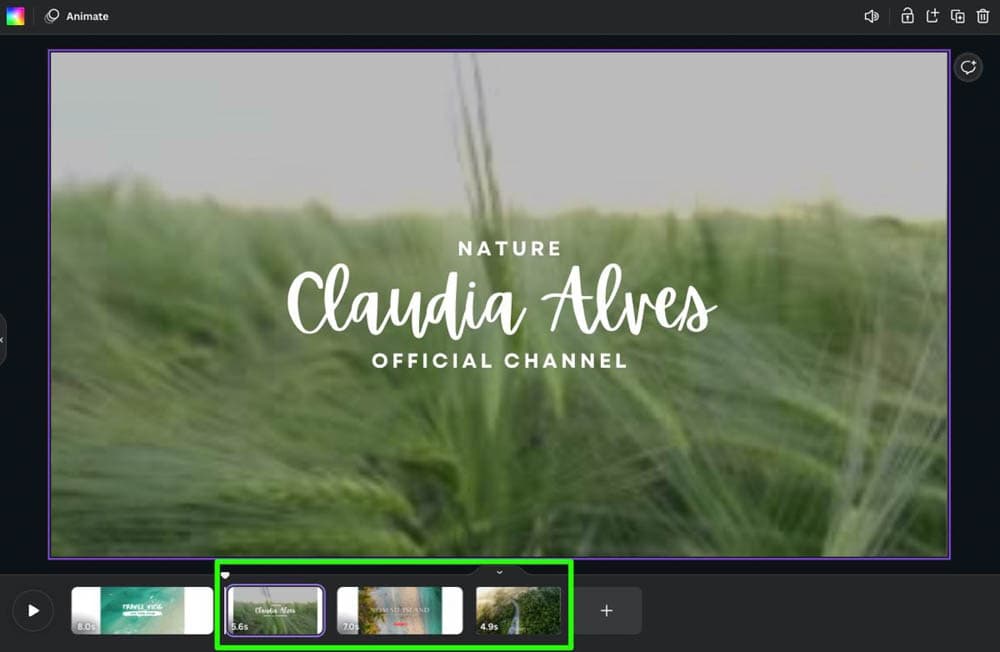 Step 3: Preview Your Video Before Exporting
After you're finished compiling your scenes, preview your video before exporting. You don't want to waste time exporting it again after finding and fixing a flaw.
To preview your movie, click the Play button at the top right of the screen. The Play button will also show you the duration of your video.
Step 4: Click Share, Then Select Download
To start the process of exporting your video, first click the Share button. You can find the Share button in the top right corner of the screen next to the Play button.
Then, in the menu that pops down, select Download.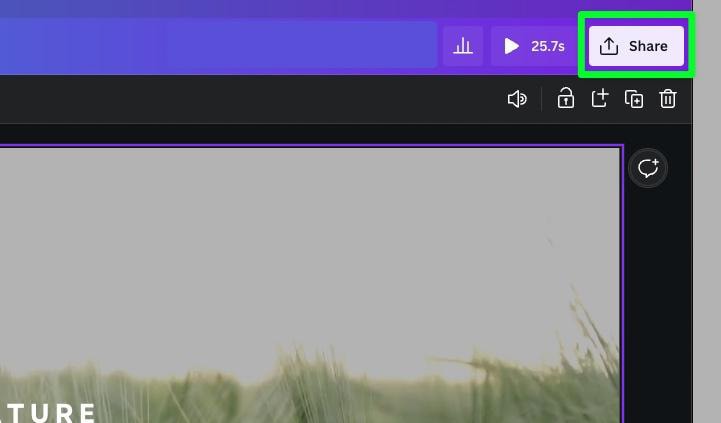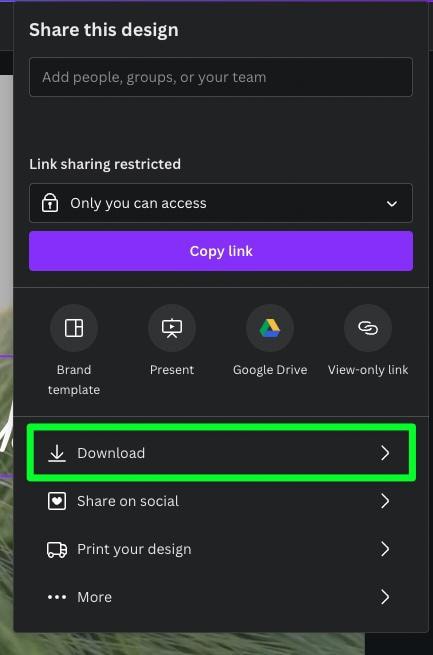 Step 5: Select Your Download Settings
This step needs the most attention to download a high-quality video.
In the File Type menu, choose MP4 Video.
Most of the other options under this menu are for static images, and the only other video option is GIF. The GIF format is suitable for short videos that loop, so for a high-quality video, select MP4.
The next important setting is the Quality setting. For high-quality video, there are two settings: 1080p (HD) and 4K (UHD).
If you plan on showcasing your video on YouTube, or any other video-based platform, choose 1080p. This setting is best used with smaller screens, like computers and cell phones.
Just make sure to go at least 1080p for your quality. Any lower will result in a blurry, low-quality video.

If you plan to showcase your video on a big-screen TV, choose 4K under quality. 4K will give you the proper resolution to prevent your video from looking blurry. Just keep in mind that if you are using video files recorded in 1080p, exporting them as 4K will not improve the quality of the video. It will instead upscale the media files and possibly lead to quality loss.
After setting your File Type and Quality, make sure that All Pages is selected under Select Pages.
Finally, click Download to export your video to your computer.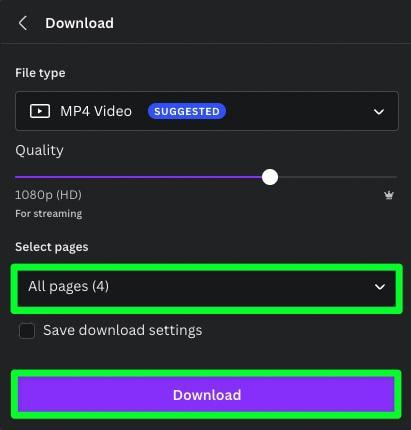 MP4 vs. GIF Downloads For Canva Videos
MP4 and GIF are two of the most popular video formats used for sharing content on the internet. MP4 stands for "Moving Picture Expert Group 4", while GIF stands for "Graphics Interchange Format."
MP4 files are best used when a high-quality video with sound is needed, as they can store audio and video data. Audio is not required when exporting to MP4, so don't worry if your video is silent.
GIF files are best used when a looping animation or a short video clip is needed. GIFs are limited to 256 colors, so they can't provide the same level of detail as MP4 files. They have a much smaller file size, making them better suited for social media platforms.
A GIF file can only store up to 8 bits of color per pixel. That's why it's best to avoid this format if you need to create a high-quality video. This lack of bit depth often creates banding or unperfect color displays in your exports.
Download Limitations Between Free And Pro Canva Users
There's one more thing worth mentioning about these two formats. If you're a free Canva user, your download limits are much more limited than a Canva Pro user. 
Free Canva users can only download up to 30 minutes of an MP4 video and only 1 minute of a GIF.
Canva Pro users can download 3 hours of an MP4 video and up to 2 minutes of a GIF.
Once you know your limitations, keep an eye out for the duration of your movie with the Play button. Keep the length just under your download limitation. You can see the other extra perks you get from upgrading to a Canva Pro account here.
Which Video Files Are Not Supported In Canva?
Canva's video capabilities are impressive and getting better all the time.
It's not perfect yet. There are still many video formats that are not supported. Here's the official list of video formats that are not supported, according to Canva:
HDV 720p60
ProRes 4444 (ProRes 422 Supported)
Apple Intermediate
Go2Meeting3 (G2M3)
Go2Meeting4(G2M4)
Also, you can't upload videos with a transparent background. Canva suggests uploading them as GIFs to get around this limitation.
How To Remove Watermarks From Videos In Canva
If you're using a free version of Canva, you may notice the Canva watermark on some of the video clips.
As a free Canva user, you don't have the rights to use that clip as it is only available to users on the paid plan.
To remove any watermarks, click the Remove Watermarks tag in the top right corner of the video clip.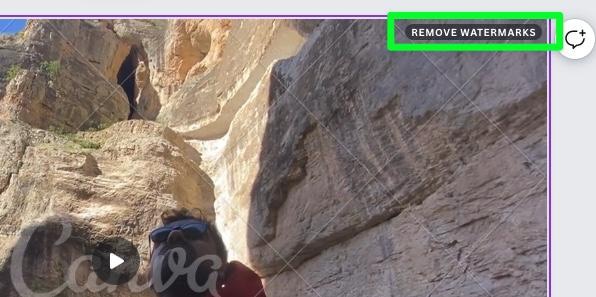 In the menu that pops down, you will find the price of the clip.
You can click Purchase and input your payment details to buy the rights to use that clip only. This will remove the watermark instantly for that clip and that clip alone.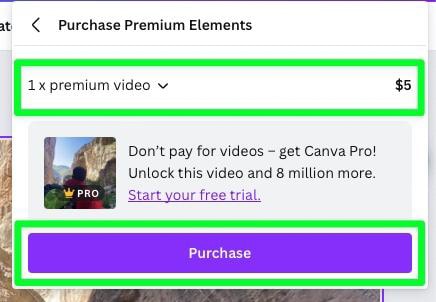 Don't try to get around the watermark by downloading the video. If you attempt to download a clip with a watermark, Canva will warn you that you're trying to download premium content.
If you click the Three Dots next to the Try Canva Pro For Free button, you can purchase the pro license for the clip or download a free watermarked draft.
The free watermarked draft lets you download the clip with the premium content, but the watermark will remain on the clip. This lets you see how the video will look with the content, but you'll have to purchase the element or clip to remove the watermark.
If you want to use premium clips from Canva in your content, purchasing a Canva pro membership is the best idea. 
Currently, it's around $13 a month for a monthly Canva Pro subscription, so it's a much better deal than spending $5 on each clip if you need more than two premium clips.