What if I told you that you don't need to repeat the steps of creating your favorite effect every time you need it? Fortunately, Photoshop Actions make it possible. This article will teach you what actions are and how to install and use them. I will also tell you where to find excellent actions for your projects.
How To Install Photoshop Actions
Actions are a sequence of recorded steps that make up an effect and can be applied to one or more images. Using actions saves you the effort of creating an effect from scratch and allows you to have the formula of your favorite effect recorded and available at any time.
Before installing an action in Photoshop, you must have it stored on your computer.
If you don't have any actions yet, I have several available in my store here.
In addition, I recommend you look for more actions from Envato Elements or Creative Market.
These websites offer you actions that produce incredible effects. On the Envato website, you can find actions for various effects for images and text.
The Creative Market website also offers thousands of actions you can use for various projects.
Once you have an action on your computer, open Photoshop to install it. Typically, the Action panel appears on the right side of the Photoshop workspace, represented by a play button icon.
Click on the icon to review the Action panel.
If you can't see the Action panel in your workspace, go to Window > Actions. Alternatively, press Alt + F9 (Win) or Option + F9 (Mac).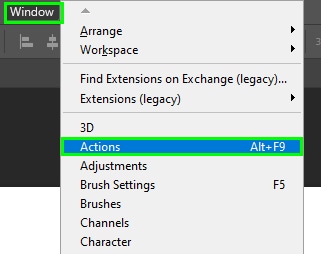 The Actions panel will appear, containing default actions that come with Photoshop and actions of yours if you have any.
To install an action saved on your computer, click the options menu within the Actions panel and choose Load Actions.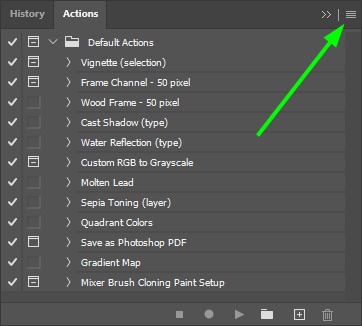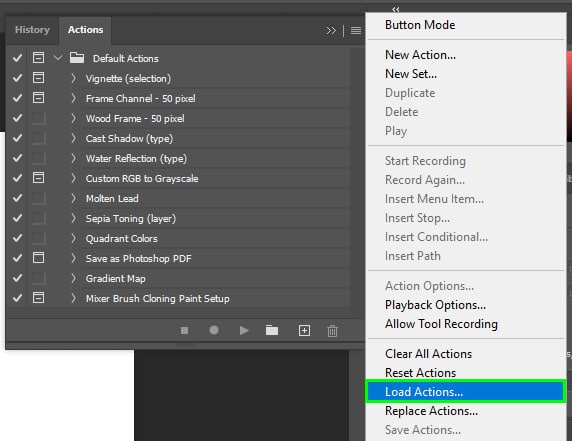 You must look for an .ATN file. Once you find it, click Load to import it into Photoshop.
The set of actions you loaded will appear under other existing actions.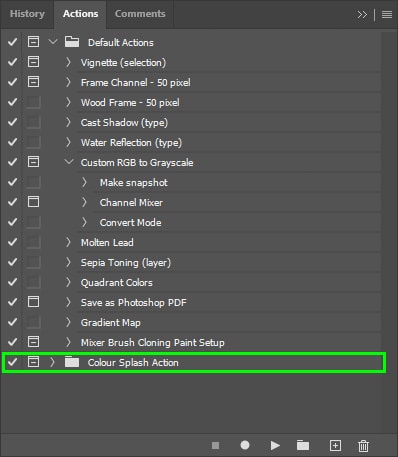 How To Use Photoshop Actions
Using actions is fast and easy, as you will see next.
First, open the image you want to apply an action to. Then open the Actions panel and locate the action set of your choice.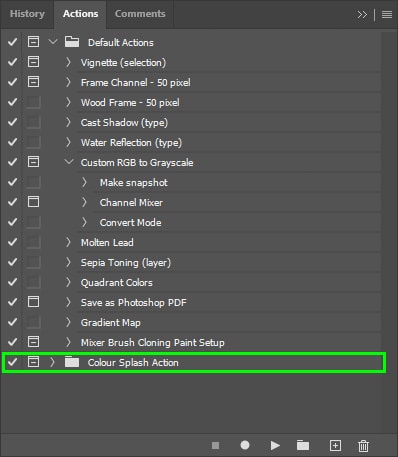 Click the arrow beside the folder to reveal the list of actions within the action set.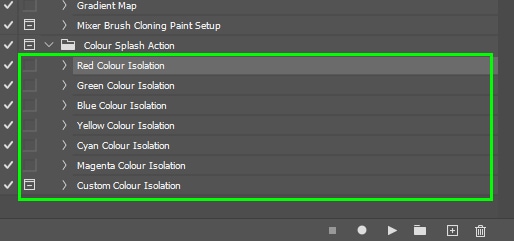 To run an action, click on it and then click the Play button in the Actions panel.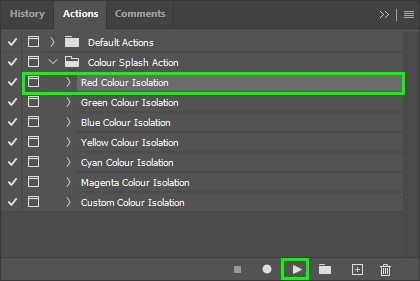 The action will be instantly applied to your photo like magic, as it happened to mine.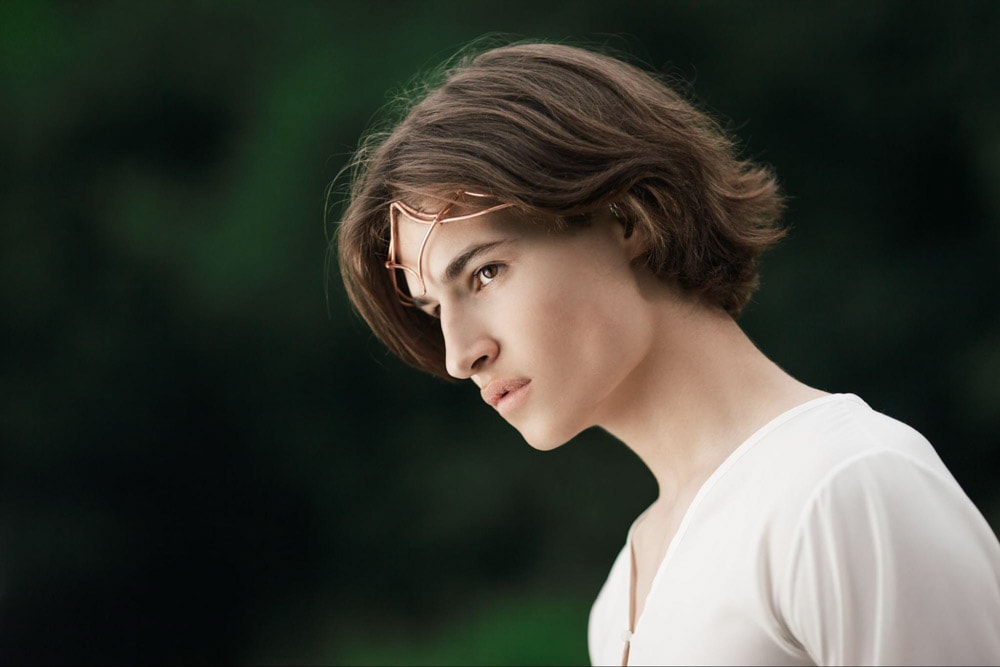 Several layers appear in the Layers panel when the process is completed. These layers correspond to each step of the action. These layers will be grouped together, as in the example below.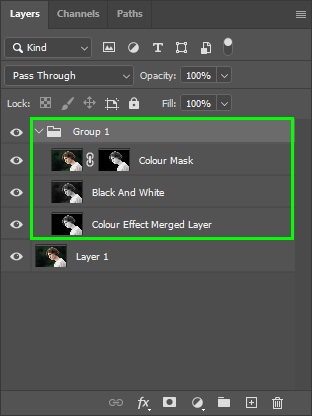 – How To Modify An Action
Modifying an action is very simple, and you can do it in many ways.
To delete a step from an action, click it and press Delete. Alternatively, click the trash bin icon at the bottom of the Actions panel.
Click the arrow next to it to see which effects have been applied to an action.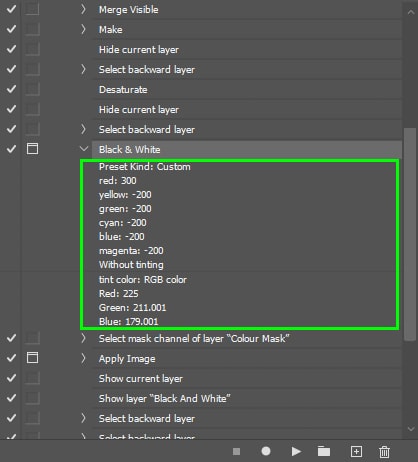 Double-click the applied effect to adjust its values within the action, so any time you use it, the new settings are applied. For example, Photoshop brought me a black-and-white adjustment panel when I double-clicked the corresponding effect.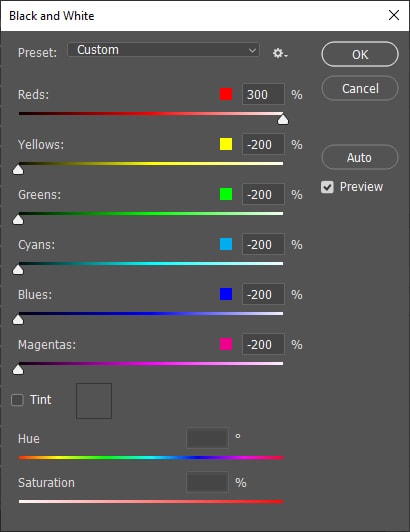 You can also modify an effect applied by an action in the Layers panel itself, such as adjusting a layer opacity. These changes will only affect your image in the workspace and won't alter the action.
For example, I found the color mask effect too harsh, so I lowered its opacity to 85%.
How To Apply A Photoshop Action To Multiple Images
When you need to apply the same effects to multiple images, you can automate the process by batch-applying the effect.
To do this, go to File > Automate > Batch.
A dialog box will pop up with some options for you to choose from.
In Set, choose a set of actions you want to draw an action from.
Choose the action you wish to run in the Action drop-down menu.
In Source, you can choose between Folder and Opened Files. Choose Folder if you want to apply the effects to a folder created on your computer or Opened Files to apply to images opened in Photoshop workspace.
In my case, I chose Folder, and that enabled the Choose button that opened the files on my computer so I could look for the folder I wanted.
After choosing the images you want to apply the effect to, it's time to select the Destination where the resulting photos will be stored. You should save the resulting images in the same image source folder for better organization.
Finally, hit OK to apply the effect to all the selected images.
As you saw here, using Actions is a great way to streamline your workflow. With Actions, I don't waste time on repetitive processes that I'm already familiar with and can instead focus on developing new ones. Once you find the right ones to use in your projects, they are a super valuable addition to Photoshop!