iMessage Text Bubble Asset Pack For Photo + Video
Finally, an iMessage Text Bubble Asset Pack to save you time! These iMessage bubble overlays have become increasingly common in mainstream media content. From video graphics to fun photo overlays, it's easy to see why the iMessage bubble effect has taken hold. iMessage text bubble overlays are a great way to further the narrative in your frame and add a unique point of interest.
The Huge Problem
Perhaps like you, I found myself interested in this photo effect but didn't really know where to begin. I'd waste endless amounts of time trying to make different bubbles and working to fit text. All while struggling to create a realistic iMessage HUD that I could easily edit. What a complete pain in the… yeah.
This was, what I now realize, a completely inefficient way to do a simple job.  Rather than aimlessly working on iMessage bubbles until I forgot what year it was, I created a custom asset pack to fast forward the entire process. Now what took me all day takes me less than 5 minutes to complete!
So that's it, I just wanted to let you know how insanely useful this pack has been for me. Now have fun spending all day creating text bubbles by yourself!
Juuust kidding.
The Solution
If you've been wanting to learn the easiest and fastest way to create iMessage Text Bubbles, this Photoshop Asset Pack is going to blow your mind. With over a dozen unique text bubble smart objects, 'one-click' interchangeable bubble colour and easy to edit text. Not to mention the fully customizable dates, times, read and delivered receipts… the list goes on!
Here's what's included in this iMessage Bubble Photoshop Asset Pack:
14 fully customizable Easy-Edit iMessage text bubbles, interchangeable between blue and grey with one click
iMessage text bar
Read receipts
Delivered receipts
Easy-Edit time stamps
Blue and grey iMessage bubbles
Easy-Edit Contact Photo and Name
User friendly editable smart objects and text
Before we dive into this tutorial, do yourself a favour. Check out this asset pack and turn this entire process from a 2+ hour ordeal, to a 5 minute breeze. Click here to learn more.
Psst, Scroll to the bottom of this page for an exclusive gift just for you…
Creating The Glowing iMessage Bubble Effect
Alright, now that you have my super bangin' iMessage Bubble Photoshop asset pack, it's time to start learning about a fun additional effect to add. The glow effect!
Video Tutorial
How To Create iMessage Text Bubbles
Selecting Your iMessage Text Bubble
Select an image you want to add the iMessage Text Bubble overlay to. Images with somebody on their phone work best but you can get creative with this of course!
Select whichever text bubble you'd like to have in your image. Since I just want a short message, I will pick a smaller bubble. I also selected a read receipt and iMessage bar that I want to include in my image.
Drag and drop the iMessage assets into your photo.
How To Edit iMessage Bubble Text
All of the bubbles in this asset pack are smart objects. This makes them extremely easy to edit! To begin editing an iMessage bubble, double click on the layer thumbnail. A new tab will open with editing options for that bubble.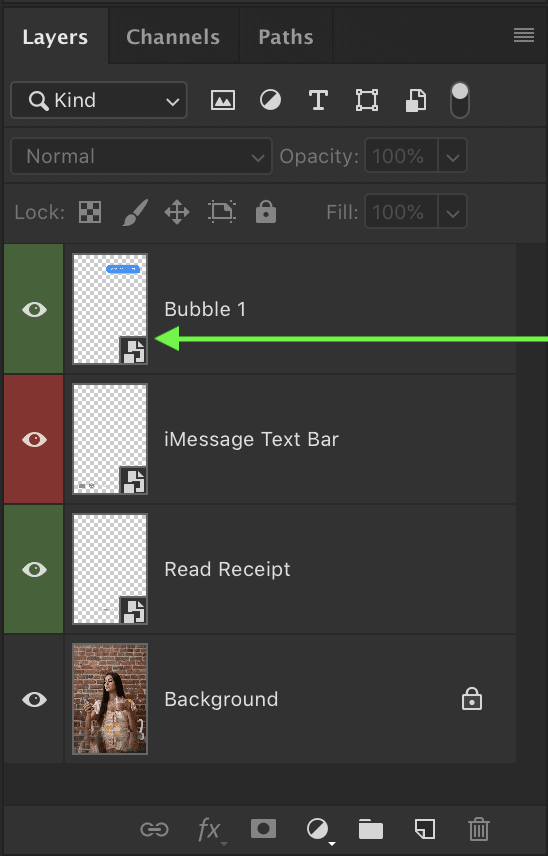 Now let's edit the text! Select your text layer and grab your text tool by pressing T on your keyboard. Click on the text in the bubble to begin writing. Writing text in Photoshop works exactly the same as any word program you've used before.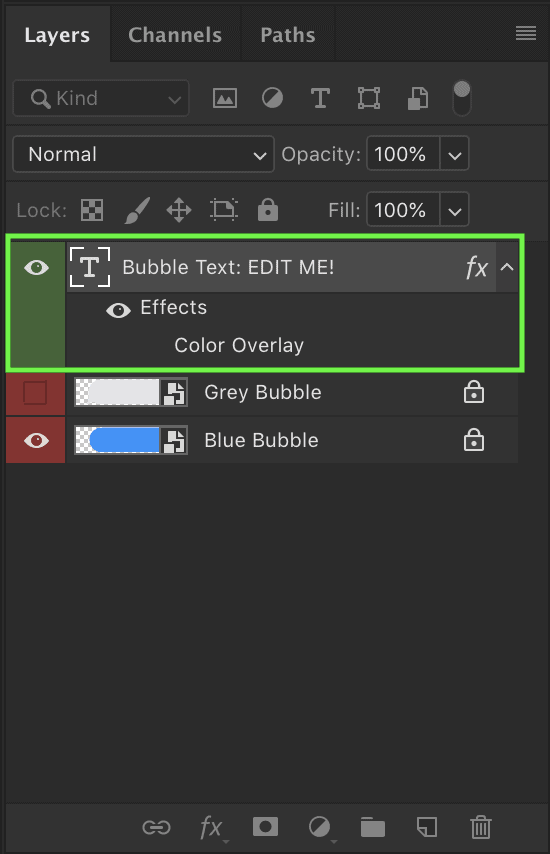 Once you are happy with your text, press ENTER on your keyboard or click the check box on the top tool bar. This commits to your changes and sets the text.
To have your text show up in your original photo, you need to save the smart object. After committing to the text press COMMAND + S (MAC) or CONTROL + S (PC) to save your changes. Now your text will save into your photo as shown below.
Create New iMessage Text Bubble Or Duplicate Original Bubble
Now you can't have a good text conversation with just one person! Time to add a second bubble to your photo. In this case, I am going to use the same bubble for my second message. If you want a different sized bubble, go back to the iMessage Asset Pack and select a new bubble to work with. Follow the same steps as previously.
If you're wanting to work with the same bubble, here are the steps to follow:
Duplicate your text bubble by selecting the layer and pressing COMMAND + J (MAC) or CONTROL + J (PC). Rename your layers according to their colours (or soon to be colours)
2. Since we cannot edit the copy bubble without effecting the original we need to rasterize the original bubble. In this case, that is the "blue bubble" layer. To rasterize the layer right click on the layer and go to "rasterize layer". The smart object icon will disappear from the layer thumbnail indicating it is now a normal layer. See Below:
Note: Be sure about your text before you rasterize a layer. You will not be able to edit the bubble after you rasterize the layer!
Quickly Change iMessage Text Bubble Colour
This is where the asset back really shines. With just a few clicks you can change the bubble and text colour from blue to grey (or vice versa). Simply turn on the "grey bubble" layer and make the "colour overlay" layer FX visible as shown below.
Once you have changed the bubble colour, change the text once again following the previous steps.
Likewise, be sure to press COMMAND + S (MAC) or CONTROL + S (PC) to have your changes appear in your photo document.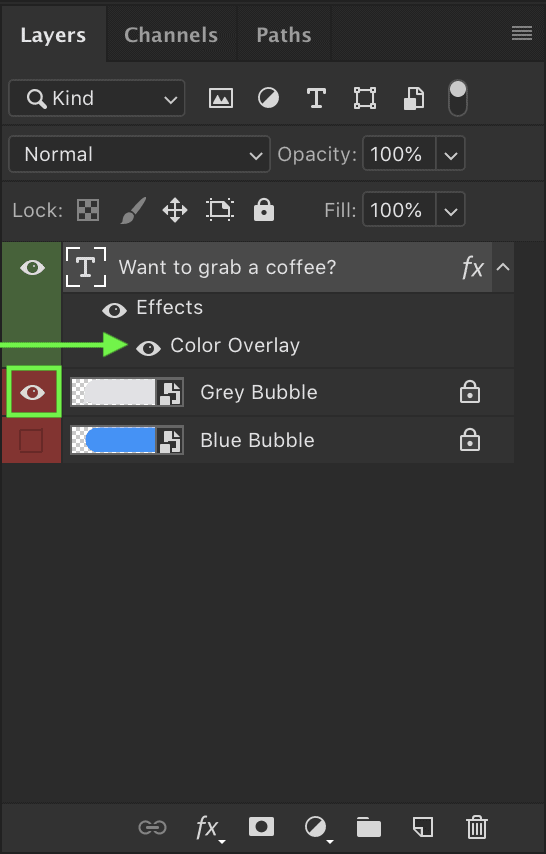 How To Position iMessage Text Bubbles
Continue the previous steps until you have finished the text conversation. Now take a moment to position all the bubbles and iMessage assets around your photo. You can reposition and scale all of the elements using the move tool, accessible by pressing V on your keyboard.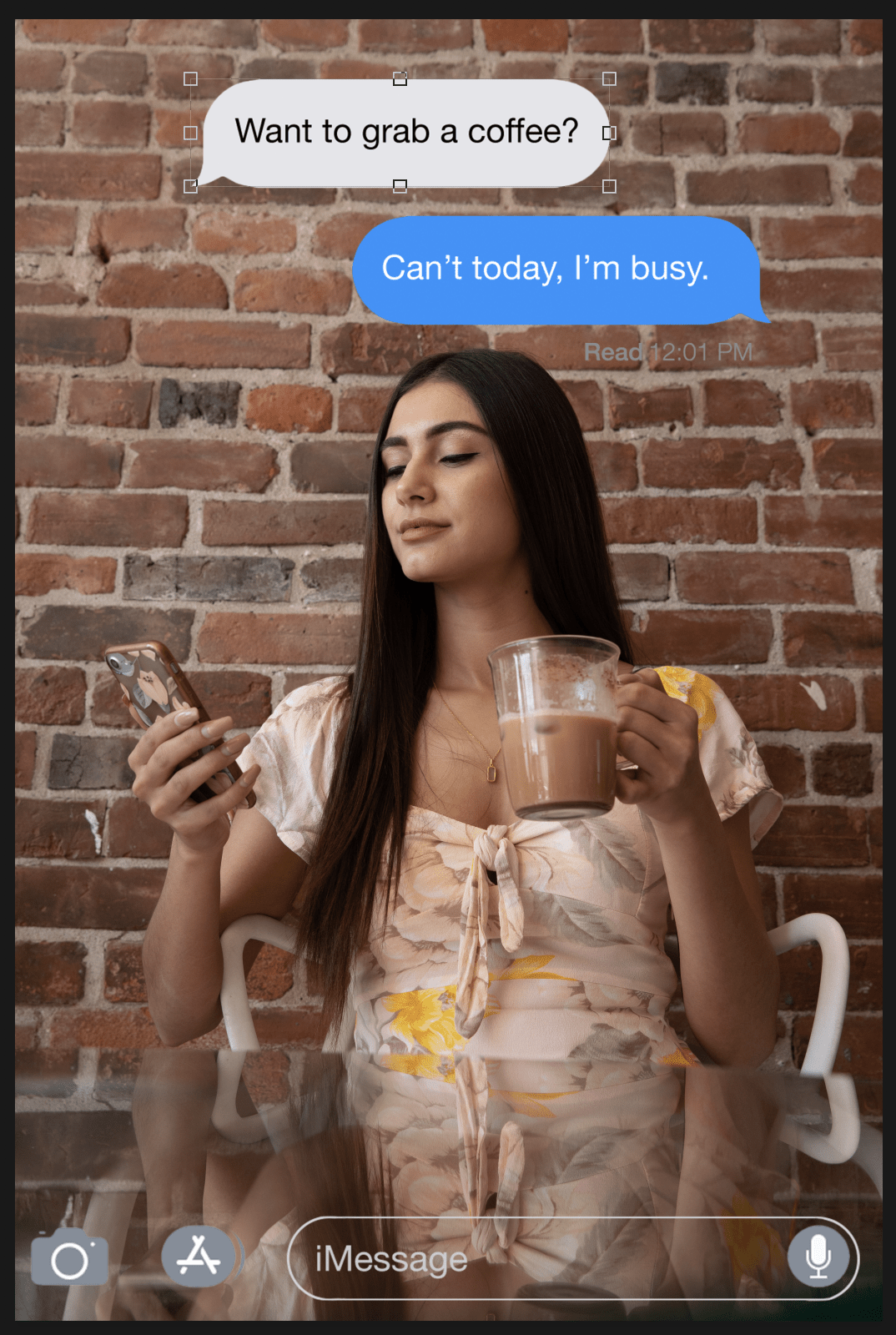 How To Edit Read Receipt On The iMessage Text Bubble Pack
For my photo, I am including a read receipt. You may be using a different receipt or skipping this step all together. In that case, continue through!
If you are using a read receipt, lets customize it! Just like the text bubbles, we need to double click on the layer thumbnail to edit it. Ahh, the beauty of smart objects keeping our workspace tidy.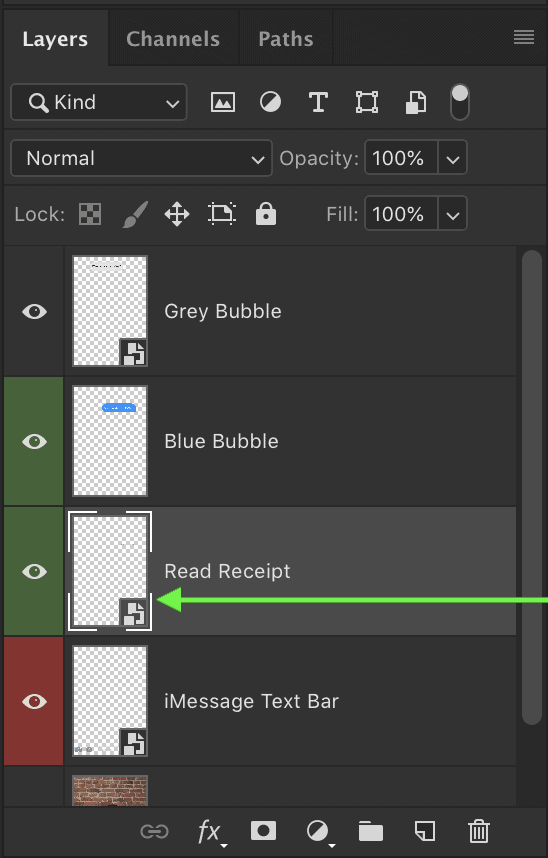 You can quickly edit the time of the read receipt with just a few clicks. I want my time to be 10:17 AM. I will turn on the AM layer visibility and make the PM layer invisible. Next I will edit the time by selecting my time layer and grabbing my text tool by pressing T.
Click on the text to edit the time, just like you did when writing the text bubbles!
Once complete, remember to save the read smart object by pressing COMMAND + S (MAC) or CONTROL + S (PC).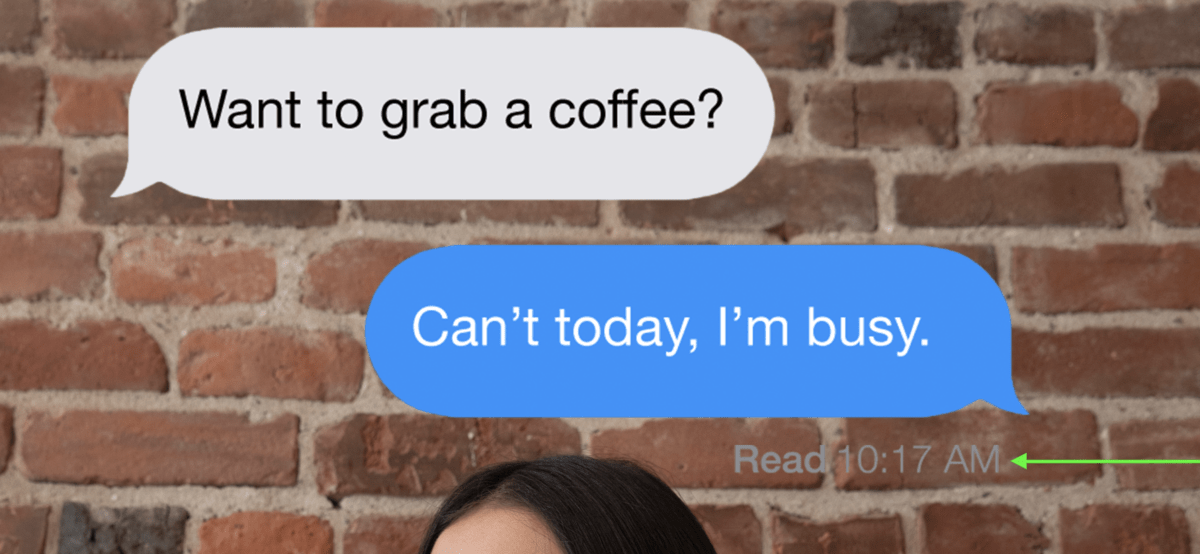 Organize Layers Into Groups and Create New Layer
We are about to move onto the next stage of this effect, but first we need to organize.
Select both your bubble layers by holding shift and clicking between them, then press COMMAND + G (MAC) or CONTROL + G (PC) to group the layers. Rename this group to bubbles.
Follow the same steps to add all other iMessage related layers into a separate group from the bubbles. Rename this group to texts.
Once you have these two groups, create a new layer on the top of your layer stack. Rename this layer to blue glow.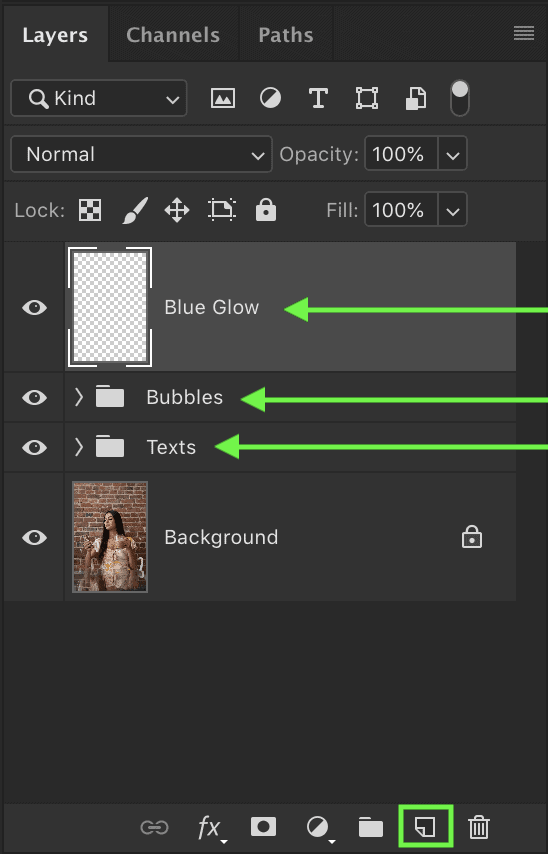 Adding The iMessage Text Bubble Glow
Now for the fun part. Let's add a glow to our iMessage text bubbles! This is a surprisingly easy effect to create, all you need is your brush tool.
With the Blue Glow layer selected, grab your brush tool (B) and sample the blue iMessage bubble colour. You can sample by holding ALT or OPTION and clicking over the blue colour. Your active colour will change to the sampled colour.
With a brush at 100% opacity and 0% hardness, click in the centre of your photo to make a blue dot.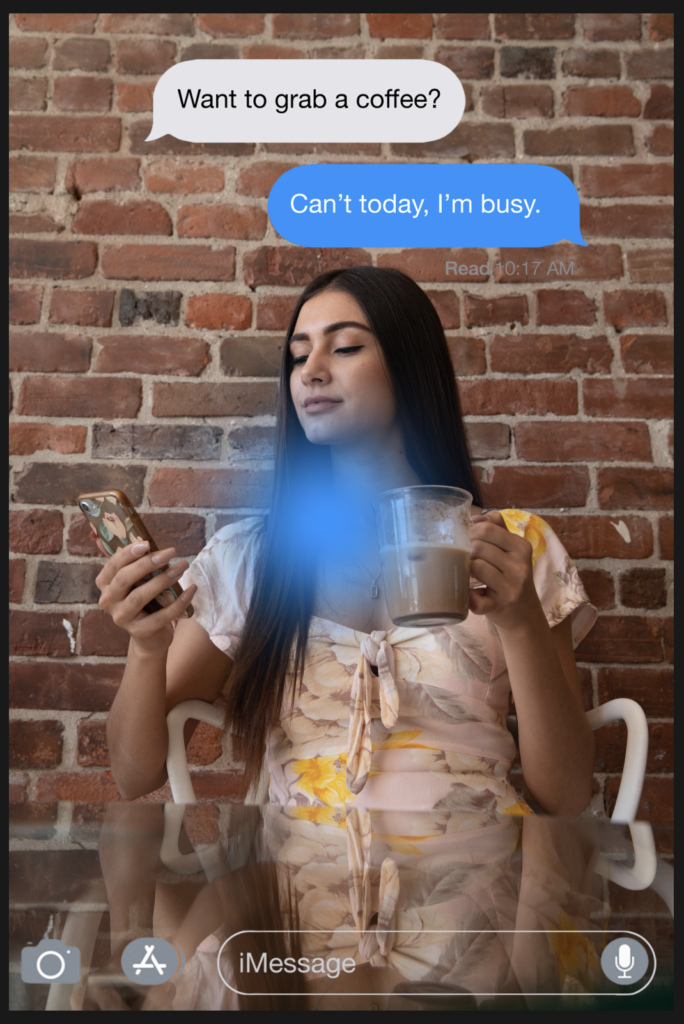 Go to your colour palette in the top corner of your screen and select a lighter blue colour. Downsize your brush and click in the centre of the blue dot. Continue to lighten the colour and downscale the spot until you have a layered blue dot shown below.
Change Glow Layer Blending Mode
To make this blue orb really look like a glow effect, we need to change the layer blending mode. With the Blue Glow layer selected, change the layer blending mode from Normal to Linear Dodge (Add). Your blue orb should become bright and more transparent.
Position Glow Over iMessage Text Bubble
Grab the move tool by pressing V and re-scale the blue orb to fit over the blue iMessage bubble(s). To free transform the orb hold Shift + Alt or Option to stretch and narrow according to the iMessage bubble.
Once you have gotten the blue orb into position, change the layer fill down to a more suitable level. There is no right or wrong for this, just use your best judgement for what looks good! For my image I brought the fill down to 33%.
Repeat these same steps, on a new layer, with a white colour; to create an additional glow for the grey bubbles.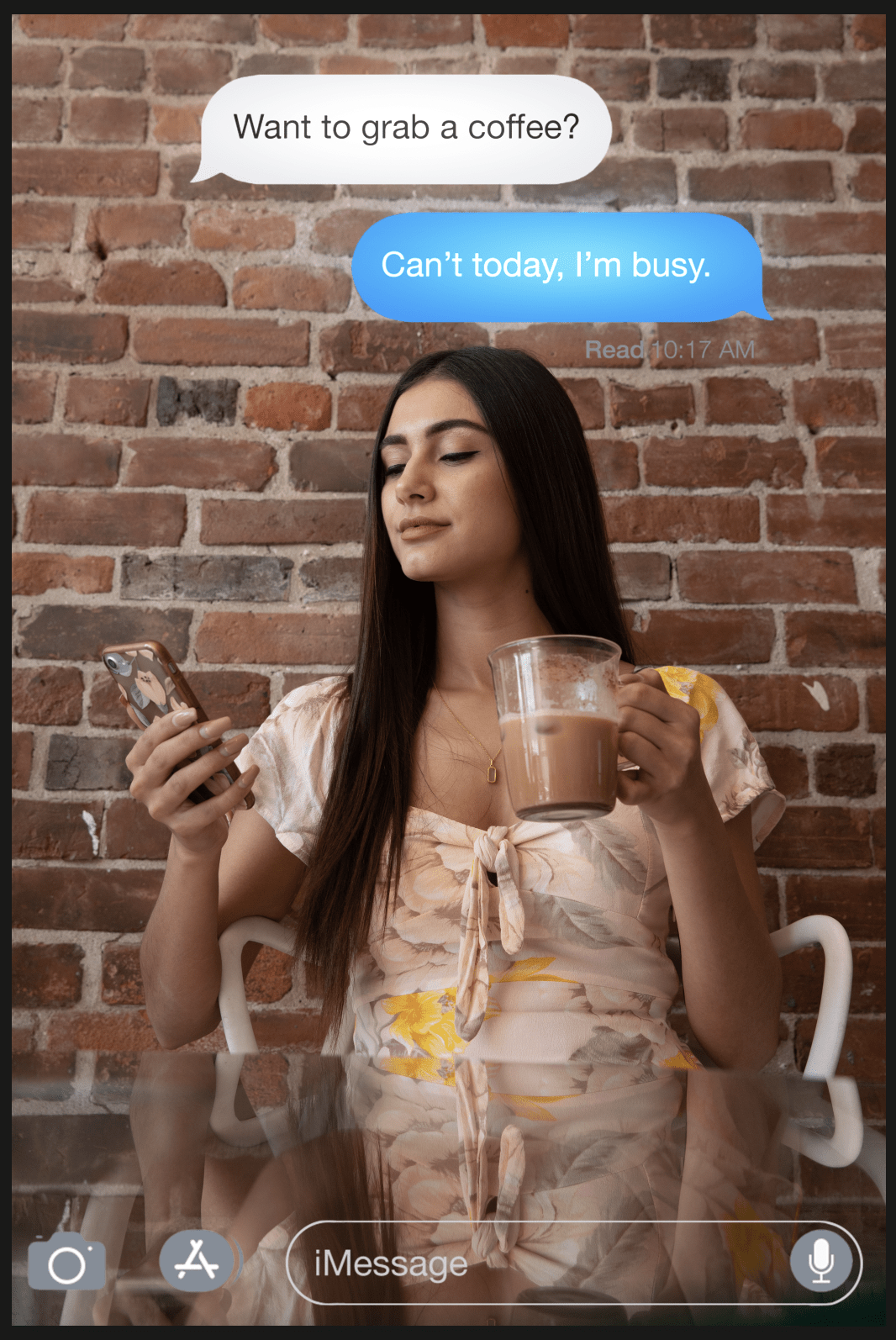 Great Additional Text Bubble Effects
Still thirsty for more wicked cool effects? Let's talk about a couple additional effects you can use to really make this iMessage Bubble Asset Pack come to life. These extra effects are guaranteed to add some serious style points to any photo. Let's get started!
Add A Gaussian Blur To The iMessage Text Bubble Asset Pack
Adding a blur to the iMessage text bar and text receipts are a fun way to include some extra depth into your photo. To add a gaussian blur select your desired layer and go to FILTER > BLUR > GAUSSIAN BLUR.
Select a blur radius that blurs the text without making it unrecognizable. Subtlety goes a long ways with this one! Click OK when you want to commit to your blur.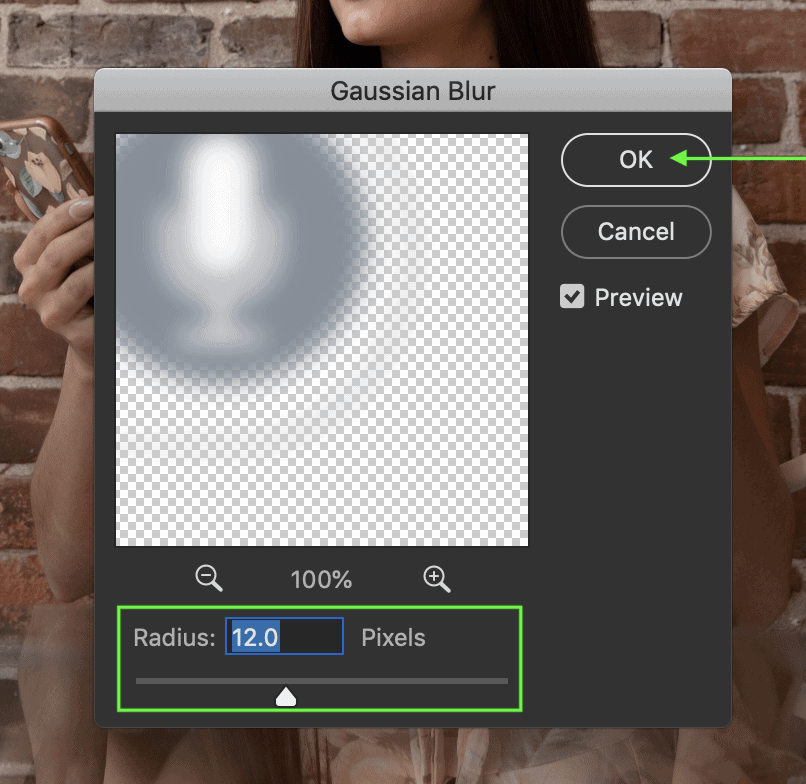 Boom! Now you got a bit of added depth to your iMessage text bubble overlay.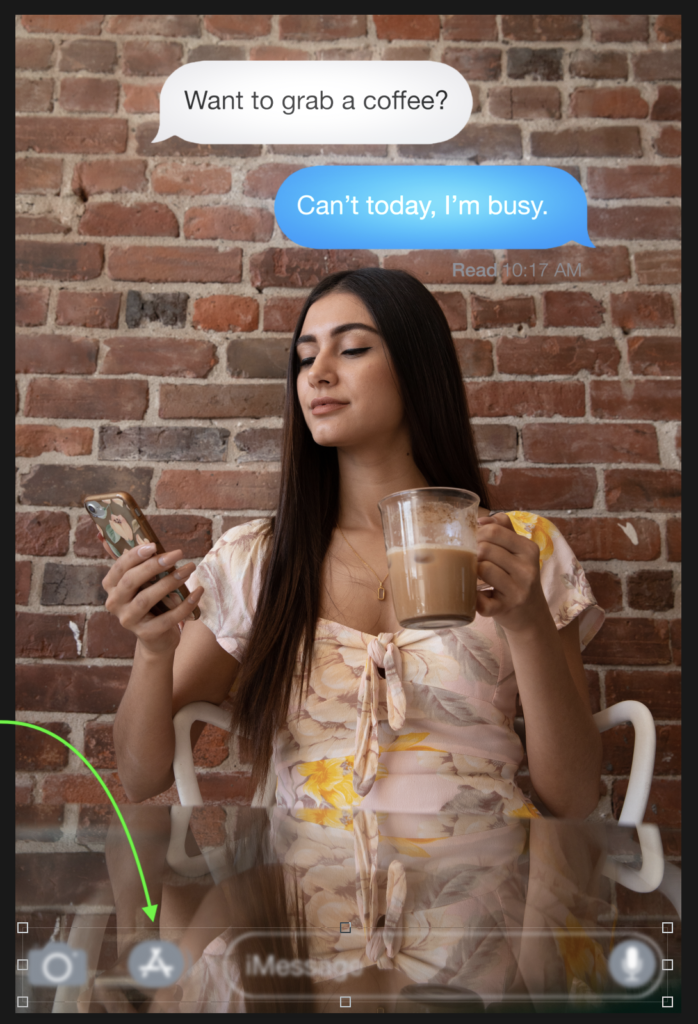 Add Some Colour And Contrast To Your Photo
If you're going to go through the trouble of making the glow effect, why not go ALL in, am I right?
Add some extra colour and contrast into your photo to really make your bubbles pop, and create a photo with some serious WOW factor. Try experimenting with a few of my favourite tools in Photoshop:
With the help of these 3 tools I was able to turn my image from flat and uninteresting, to colourful and eye catching. It'd be crazy if you didn't choose to do the same!
Still With Me? I Have A Gift For You!
Still with me? I have the perfect gift for you! Use the discount code 'BRNWILLS2'  to save 30% at checkout when purchasing the iMessage Text Bubble Asset Pack For Photoshop. I can't wait to see the incredible images you create with this effect! Click Here To Get Access!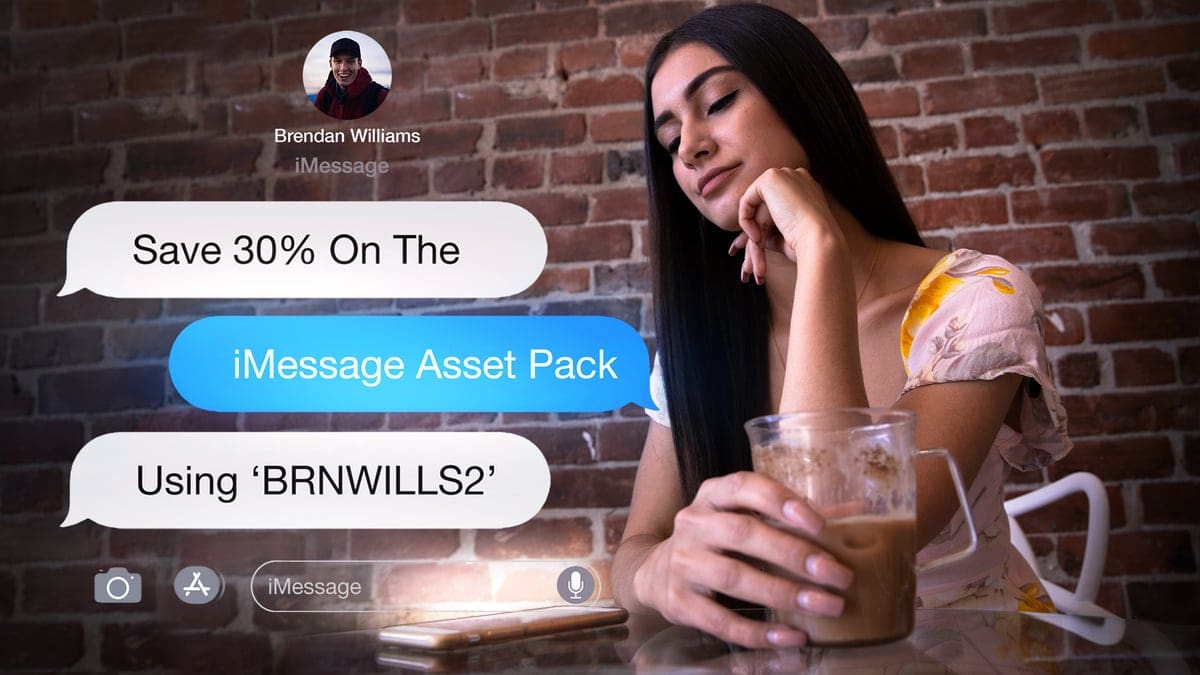 I hope you enjoyed learning how to create this fun photoshop effect with the iMessage Asset Pack For Photoshop.
Happy Editing!
-Brendan