Is Lightroom Difficult To Learn?
If you're looking to get started with a photo editing software, Lightroom is one of the most obvious choices; but how difficult is it to learn? At first glance, it might seem overwhelming how many tools, panels, and features Lightroom offers. With so much going on, surely it must be pretty challenging to learn, right? The truth is, Lightroom is one of the most beginner-friendly editing programs on the market. In this post, you'll see what makes Lightroom simple to use and why it's worth using as a beginner photo editor.
Lightroom is not a difficult program to learn for a beginner photo editor. All panels and tools are clearly labeled, making it easy to identify what each adjustment does. Even with limited experience, you can drastically improve the look of a photo with the most basic Lightroom adjustments.
Now let's take a closer look at what it takes to learn Lightroom and if it's something you should try for yourself.
How Many Hours Does It Take To Learn Lightroom?
The basics of Lightroom can be learned after 1-2 hours in the program. Things like importing, exporting, and basic image adjustments will seem easy to you relatively quickly. However, more advanced and technical editing techniques in Lightroom will take longer to learn.
I've been editing photos in Lightroom for over 5 years now and still pick up new techniques every day. There are so many subtle nuances to the program that it keeps you engaged no matter how advanced you become. Although you can quickly learn how to make basic color and exposure adjustments, it will take time to develop a workflow and style as a photo editor.
Beyond that, improving your editing skills comes down to your speed. As you practice and spend more hours in Lightroom, you'll develop a more efficient workflow. With a better workflow, you can get from point A to B in your edit faster than before. When editing a large number of photos at once, being efficient is key.
And the only way to become more efficient is to practice more in Lightroom!
Tips To Make Lightroom Easier To Learn
Here are a few tips to try when first using this program to help make Lightroom easier to learn.
1. Learn About File Organization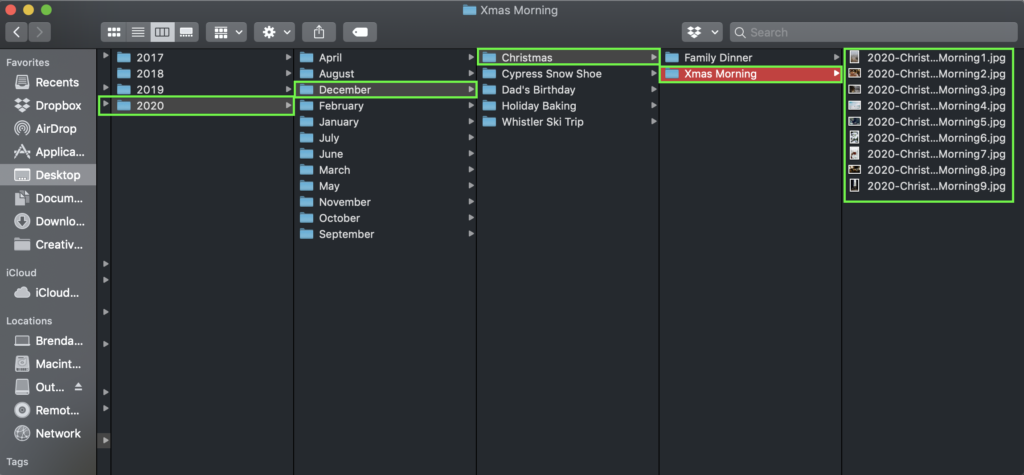 Before you can edit a photo in Lightroom, you need to make sure your photos are organized. Luckily, Lightroom makes this process feel intuitive by matching the folder structure from your computer. By importing well labeled and organized folders, you'll have a much easier time finding the photos you want to use in Lightroom.
The way Lightroom organizes folders is with three different methods called Catalogs, Parent Folders, and Subfolders.
Catalog: A Lightroom Catalog is like a photo album for your images. You can create multiple catalogs to sort different themes of photos. For example, you might create a catalog for client photos and another for personal. When a particular catalog is open, you will only see the images imported directly to that catalog. These are a great way to organize your photos and keep things more manageable.
Parent Folders: A Parent Folder is an overarching category for a particular set of images. A parent folder often has a broader topic such as the year or a location. Within Parent Folders are further categorized subfolders, also known as child folders.
Subfolders: Subfolders further organize your images into more specific categories. These folders will contain your images related to a more specific topic and are found within a parent folder. For example, a subfolder might be called "Mexico Vacation" containing all your travel photos.
Since Lightroom uses the folder structure from your computer, it's best to organize your photos ahead of time. I share exactly how to keep all your photos organized on your computer in this post. Once your files are imported, they'll be easily accessible in Lightroom. Keeping everything organized makes it a lot easier to find and edit the photos you're looking for.
Although many people like to forget about this step, keeping Lightroom organized is an essential first part of learning how to use Lightroom effectively.
2. Start With The Basic Panel
When you're ready to edit a photo, click on the Develop Module to start making adjustments. At first glance, there's a lot going on with many different panels filled with varying adjustments. Rather than letting yourself get overwhelmed, start with the Basic Panel and start to get comfortable with the adjustment there.
This panel contains all of the most basic exposure, contrast, white balance, and vibrance adjustments. Since everything is broken down into different sliders, this panel feels more manageable when just starting.
With that said, don't let the simplicity fool you for lack of usefulness. These exposure and contrast sliders will make a huge difference in your photo. Just by using this panel, you'll be impressed at how much your photo will improve.
3. Use The HSL Adjustment To Edit Colors
The HSL panel lets you adjust the hue, saturation, and luminance (HSL) of every color in your photo. In layman's terms, that means it provides an incredibly easy way to make colors pop while stylizing your image. By going through each option, you'll end up with a more professional looking edit even if you're a complete newbie.
To help give you an idea of what each adjustment does to your colors, let's break them down:
Hue: Alters a particular color to favor a different, but closely related, color tone. For example, you could change the yellows in your photo to favor a more orange or green color. Since orange and green are close to yellow on a color wheel, that's why you can shift to those hues. The same goes for all other colors.
Saturation: Changes how rich a certain color looks. A more saturated red will look far more noticeable and colorful, while a less saturated red will appear more dull and grey. By adjusting the saturation of different colors, you can add a stylized look to your photo.
Luminance: This controls the brightness of colors in your photo. By increasing the luminance, you'll make a particular color appear brighter. On the other hand, decreasing luminance will make a color look darker.
Even though the HSL adjustment is super easy to use, it's an amazing way to stylize your pictures. If you're just starting to learning Lightroom, these adjustments will feel relatively straightforward and help you build confidence in the program.
That's why it's a must-use tool when starting to use Lightroom!
4. Understand How To Export Images
There's no point in making a beautiful edit if you don't know how to export your photos from Lightroom! That's why this is another essential skill of learning how to use this program.
Exporting photos is a very simple process, but there are a few things to keep in mind. The file type, resolution, and save location, in particular, are all essential parts of properly remember.
The best export settings for Lightroom are a bit beyond the scope of this post, but I share an in-depth guide to the entire process in this post.
5. Take A Set Of Photos To Experiment With
When you're ready to try Lightroom for real, you'll obviously need some photos to work with. The problem is, what photos do you use?
Rather than going through your archives and trying to find a random batch of old photos, go out and take some pictures to practice with. Go into your backyard, take a walk around the neighborhood, or go on a hike to snap a few pictures. Just shoot the photos as you normally would, but try to experiment with underexposing and overexposing certain photos. That way, once you get into Lightroom, you can see what exposures can be fixed with image adjustments.
Try to aim for a batch of 20-30 photos, so it's enough to get into the swing of using Lightroom. This is the perfect number to get a good handle on importing, editing, and exporting images, without getting overwhelmed.
(Bonus) 6. Make Sure To Edit RAW Files
To make the most out of any photo editing software, working with RAW files is super important. A RAW image is uncompressed and can be edited further without any loss in quality. If you only edit JPEG photos, you won't get the same idea of how far you can push an image. Since a JPEG file will start to lose quality faster after certain adjustments, it's always best to edit RAW photos.
Unfortunately, you can only change photos into this file format on your camera. By going through your camera's menu settings, you'll find an option to switch the recording format from JPEG to RAW. From there, all the photos you take will be in a RAW format and become better to edit in Lightroom.
How Expensive Is Lightroom?

Although there are multiple plans to choose from, Lightroom itself costs $9.99/month with 1TB of cloud storage included. Unlike older versions of the program, you cannot buy Lightroom outright anymore. Instead, it's become a subscription-based program within the Adobe Creative Cloud.
One of the more popular plans among photographers is called the Photography Plan. This offers both Lightroom and Photoshop together for $9.99/month with 20GB of cloud storage.
To compare available Lightroom plans, click here.
Even if you don't feel that you'll get much value out of Photoshop, you'll be amazed at all the things it's capable of. I find that these two programs together are the ultimate photo editing suite for both beginners and professionals since there's almost nothing you can't create. Each program balances out the disadvantages of the other, making it a perfect combination.
To give you a better idea of the differences between Lightroom and Photoshop, check out this post.
Is Lightroom Good For Beginners?
So now it all boils down to one question. Is Lightroom good for beginners? In short, the answer is yes!
Lightroom is perfect for beginners because it has an easy to follow and intuitive interface. Even with limited knowledge and experience, you can enhance a photo and make it look far better than before. Since Lightroom has so many features, you can experiment with new techniques and tools as your skill levels improve.
With so much room to grow in this program, it's an incredibly versatile tool. Whether you're a hobbyist or a full-time photographer, you'll still find a ton of value in Lightroom. It's all possible in this program from file organization, specific image adjustments, or batch editing. If you're worried about how difficult Lightroom is to learn, rest assured that you'll get the hang of it relatively quickly.
To help get you started, check out my guide on how to edit photos in Lightroom!
Happy Editing!
– Brendan 🙂