Luminar AI has proved itself to be an extremely unique and user-friendly photo editing program, but is it better than Adobe Lightroom? Lightroom has long been the head honcho of the photo editing space, serving the beginner to professional photographers alike. It was hard to imagine anything rivaling the program, offering just about every photo editing adjustment and organization option under the sun. Luminar AI, however, managed to do just that by spicing up the regular editing adjustments you may be used to with AI-powered adjustments. These advanced features and time-saving adjustment options have begun to bring up the question of can Luminar AI actually replace Lightroom?
The primary difference between Luminar AI and Lightroom is workflow speed and ease of use. Luminar AI offers photographers an easier way to pro-level editing with AI-powered adjustments. With similar features to Lightroom at a cheaper price, Luminar AI is very beneficial for many photographers.
Now I'll be breaking down the prices between the two programs later on in this post, but let's first focus on what's most important: editing capabilities. This article will make the choice easy whether you're on the fence about using Luminar AI as a Lightroom plugin or switching over to Luminar AI completely. So let's start by breaking down the features of Luminar AI and Lightroom side by side.
Want to try Luminar AI for yourself? Try Luminar AI FREE for 7 Days
Luminar AI VS Lightroom – Feature Comparison
– File Management
The first way I'll compare Luminar AI and Lightroom is in terms of file management. Before ever editing an image, you and I both know how much organization needs to be done. Proper organization is crucial for a fast and seamless workflow with thousands of images to work through after a shoot.
Both Luminar AI and Lightroom have great options for sorting images after importing, but there are a few important differences.
Luminar AI File Management
In Luminar AI, you can organize your photos very simply by adding a Favorite or Rejected flag to an image. For example, adding a favorite flag to a select group of images will allow you to only view those images later on. Alternatively, a Reject flag allows you to quickly weed out the bad photos while having the option to delete them permanently from your Luminar Catalog.
Setting the flag option in Luminar AI is easy. Hover over an image in the grid view and click on the heart icon to add it as a favorite. Alternatively, you can press P with the image selected to give it the same rating.
To add a reject flag to an image in grid view, you have to right-click on the photo and choose Set Flag > Rejected. For a faster way of doing things, you can press X on your keyboard instead. Once marked as a rejected image, it will appear greyed out with an X icon in the bottom corner of the photo.
Using these keyboard shortcuts, you can quickly choose your favorite images in a Luminar Catalog. Then set the Showing option to "Favorites" or "Rejected" to filter all your images to only view those photos.
Besides organizing individual photos, all your imported images are further sorted into folders matching the file structure on your computer. So, for example, if you had a folder of images called "Hiking" and imported that into Luminar AI, there would be a Hiking folder now within your catalog. Of course, you can create new folders and add images to them directly inside of Luminar AI, but these changes will also reflect on your computer.
In short, Luminar AI mirrors the folder structure of the imported files from your computer.
Lightroom File Management
In Lightroom, there are quite a few more ways of organizing your photos compared to Luminar AI. Beyond just adding picked and reject flags, you can also add 5 different color labels, as well as star ratings to your images. For professional photographers especially, this offers a lot more versatility when sorting your photos. Rather than having a single sorting method, you can easily sort photos in multiple stages. For example, adding a picked flag to your best images, adding a 1-star rating to images you need to edit in Photoshop and a color label to any images you need to export for print.
You can quickly add any flag, star rating, or color to your images by pressing X (reject) or P (add picked flag), 1-5 numbers to add equivalent star ratings, and 6-9 for adding color labels.
In terms of folder structure, Lightroom follows a similar way of doing things as Luminar AI; but with more options. By default, your images will be imported into Lightroom matching the same folder structure that they are in on your computer. However, you can create new folders and move images directly inside of Lightroom while having the option to make changes only within Lightroom or on your computer as well.
This way, you can do organizing within a single Lightroom Catalog without having those changes reflect on your hard drive.
Winner: Adobe Lightroom
Although each program allows you to organize your photos, Lightroom has more options to provide a more professional workflow. For more professional photographers, a simple favorite or reject option isn't going to cut it. For a hobbyist or a beginner photographer, however, this wouldn't be much of a concern.
– Photo Editing Capabilities
Once your photos are sorted, the next stage in the workflow is to edit your images. Both Luminar AI and Lightroom have many editing adjustments, most of which are like comparing apples to apples.
Each program has all the basic editing adjustments you'd expect from photo editing software, such as exposure, contrast, color, white balance, split toning, sharpening, selective adjustments, and more. However, Luminar AI sets itself apart in a big way by providing AI-powered features that you wouldn't find in Lightroom OR Photoshop.
Rather than the run-of-the-mill adjustments you're probably used to by now, Luminars AI-powered adjustments allow for complex edits with a single slider. Things like skin retouching, sky enhancements, sky replacements, texture overlays, and more. If you've never used any of these features before, you're in for a big shock. What takes 10+ minutes in Lightroom or Photoshop is done in less than 10 seconds in Luminar AI. I highly recommend getting the 7-day free trial to see some of these features for yourself.
One of my favorite AI-powered tools in Luminar AI is the portrait AI adjustments. With these sliders, you can quickly enhance portraits in ways that Lightroom could never do. From adding bokeh to the background of a photo, smoothing skin, enhancing eyes, editing body shape, and more all with sliders. Even Photoshop doesn't make it that easy.
And these AI portrait enhancers only scratch the surface of what's available in Luminar AI. Compared to Lightroom, Luminar has every adjustment Lightroom has and more. So if saving time by relying on accurate AI adjustments sounds up your alley, you'll be blown away by Luminar AI.
With that said, there is no doubt that Lightroom can also create beautiful and professional-looking edits. However, there are a lot fewer creative editing options compared to Luminar AI. With Luminar AI really pushing the boundaries of what traditional photo editing can be, it is definitely the winner in overall photo editing options and capabilities.
Winner: Luminar AI
– Exporting Files
After the edits are made, it's time to export. Both Luminar AI and Lightroom are extremely easy to export from, but Lightroom does offer a few more export options.
In Luminar AI, you can export a photo by clicking on the Export module in the upper bar. Here you can choose between various export options such as exporting to your disk, email, text messages, SmugMug website, or 500px. Although the social media and portfolio site options are a nice touch, let's focus on just exporting to your disk.
Within the export window, you have various basic export options like file name, save location, export sharpening, sizing options, color space, and format. These options will suffice in most cases, but for specific export situations, they can be limiting. For example, you cannot easily control the size of your exported files or edit exported metadata.
Comparing this to Lightroom, you can export your files by going to File > Export. In the export dialogue box that appears, you have far more options than what is available in Luminar AI, including ways to limit file sizes or change metadata preferences. With these added options, it's much easier to control exactly how your export will be. For professional photographers particularly, the export features inside of Lightroom are a must-have.
Winner: Adobe Lightroom
– Creative Uses
Photo editing can simply enhance an image, but it can also transform a photo completely. For example, many photographers like to add elements into their images or replace skies to give them a more artistic feel. In Lightroom, there are very few options available for doing this type of thing. The only real creative change you can add to this program would be to change the color of clothing. Beyond that, you end up needing Photoshop to do any proper creative editing.
Luminar AI, on the other hand, offers a few amazing and beginner-friendly creative editing adjustments. In particular, the Sky AI and Augmented Sky AI features. The Sky AI tool will automatically select and replace the sky in your photo using any of the installed sky templates in the program. Without making as much as a selection, Luminar will cut out and replace your sky with impressive accuracy. In most cases, there is zero noticeable fringing around the edges.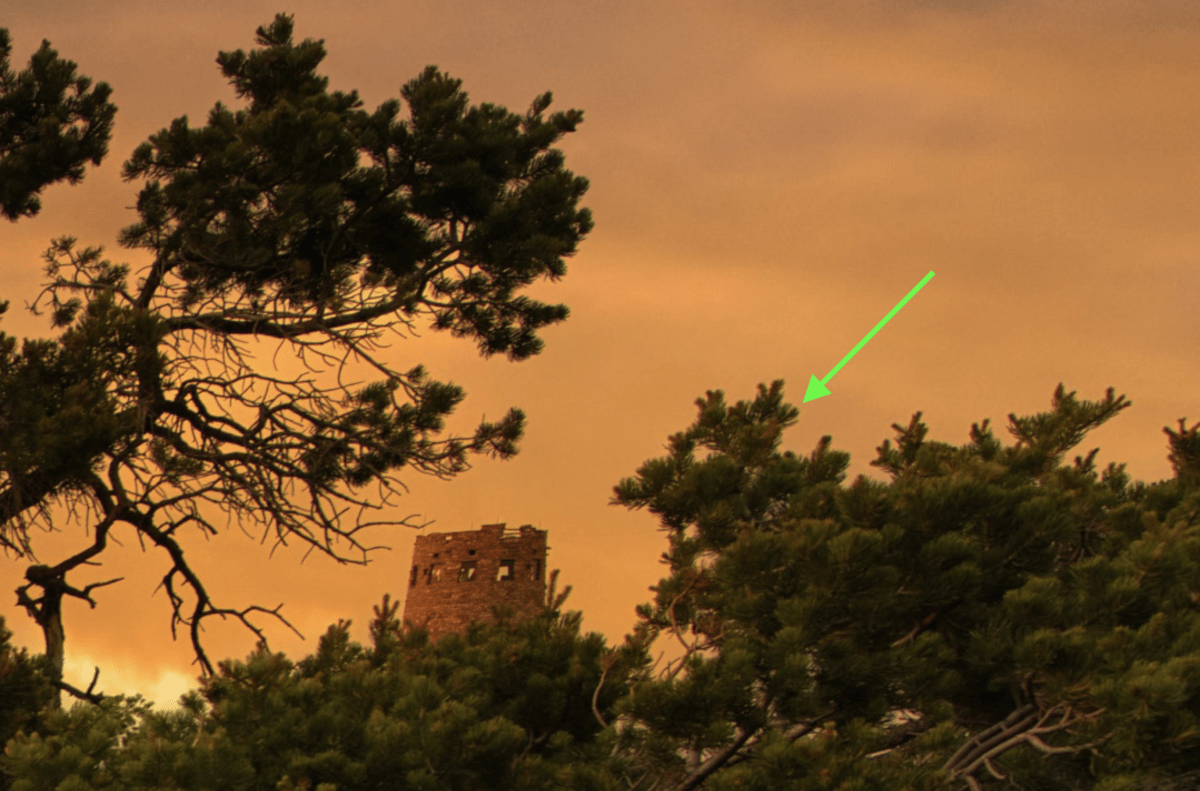 The Augmented Sky AI tool takes things one step further by adding objects to your image. Things such as lighting bolts, fireworks, planets, airplanes, and more! Once again, without needing to make any complex adjustments like what's required in Photoshop.
There are even more creative tools available in Luminar AI, like Atmosphere AI and a Sunrays tool. Luminar AI blows Lightroom out of the water in terms of pure creative editing options. Better yet, they're incredible beginner-friendly.
Winner: Luminar AI
– Ease Of Use
The last area of comparison between Luminar AI and Lightroom is the simplicity of using either of these programs. Regardless of your skill level, I think we all can agree that easier is always better for photo editing. Both Lightroom and Luminar AI have very low learning curves and can offer great results even after just an hour in the program.
In terms of layout, each program has a similar structure. In the upper bar, there are various editing modules depending on what you need to do with your images.
Within the editing adjustments, every tool is clearly labeled and simple to use with your photos.
And lastly, the exporting options are relatively self-explanatory; however, Luminar AI does feel a bit less intimidating.
Even though some settings in Luminar AI are reduced to a slider or two, it doesn't make it significantly easier to use than Lightroom. Instead, it just makes your workflow faster and saves you some time. Since both Lightroom and Luminar AI are so comparable in simplicity for first-timers, I'll have to call this one a tie.
Winner: Tie
Luminar AI Templates Vs Lightroom Presets
If you're already familiar with Lightroom, you probably know all about presets. These handy tools basically save your editing adjustments into a single "preset," which can be later used on other images. This allows you to achieve any of your favorite editing looks in just one click.
In Luminar AI, there is a similar feature to presets, but they're known as "templates." Unlike a regular preset, Luminar Templates use AI to scan your image and choose custom adjustments to suit it. Compared to a Lightroom preset, templates tend to offer more advanced adjustments in a single click. Things such as skin retouching, sky replacements, sunset enhancers, and more.
Using the unique AI-powered tools within the program, Luminar AI templates offer a lot more to your edits compared to a standard Lightroom preset. Although both serve a similar purpose of saving time and enhancing images, Luminar AI templates can provide more creative editing effects.
If you're already a Luminar AI user, you can download additional templates directly from Skylum. These other templates offer more options than what's available by default in the program, so they're definitely worth checking out!
Cost Of Luminar AI Compared To Lightroom
With the features of both programs compared, the big remaining question is cost. Lightroom and Luminar AI have two different pricing structures. Lightroom is a monthly or annual subscription, while Luminar AI is a lifetime license.
The most popular Adobe Lightroom plan, the Photography Plan, costs $9.99/month or $119.88/year. This includes Adobe Lightroom, Adobe Lightroom Classic, Adobe Photoshop, 20GB of cloud storage, and access to Adobe Portfolio, Adobe Fonts, and Adobe Spark. You also get free access to any updates that are provided for these programs. Typically Adobe does a large overhaul of each program once a year with small bug updates in between.
Luminar AI, on the other hand, only costs $79 for life. This gives you access to one seat of Luminar AI, all of its AI-powered tools, along with a handful of built-in templates, augmented skies, and sky templates. Since Luminar can work as a stand-alone photo editor, this price point is a great option if you want to avoid monthly fees. After all, in 8 months of paying for Lightroom, Luminar AI will have already paid for itself.
Now you can also knock $15 off the price of Luminar AI simply by using code BRNWILLS at checkout! So you can get Luminar and buy yourself lunch at the same time. 😉
Can You Use Lightroom And Luminar AI Together?
If you're like me and already use Lightroom for your photo editing, giving up on Lightroom might seem a bit daunting. Luckily you can use Luminar AI as a Lightroom plugin, so you can still take advantage of all the AI-powered tools in the program.
Although I detail the entire process more in-depth in another post, here are the basics.
After Luminar AI is installed, all you need to do is right-click on an image in your Lightroom Library and choose Edit In > Luminar AI.
This will open your image in a Luminar AI plugin window where you can take advantage of any templates or regular editing tools you wish. I love doing this for skin retouching or enhancing landscapes. With many complex adjustments boiled down to a single slider, Luminar AI saves me a ton of time compared to Photoshop in many cases.
Once your edits are complete, click Apply in the upper corner to save your changes back to Lightroom. This creates a duplicate TIFF version of your file and places it beside the original in the Lightroom Catalog.
So even if you aren't sure about using Luminar AI as a stand-alone program, it works incredibly well as a plugin for Lightroom.
Can Luminar AI Replace Adobe Lightroom?
Although Luminar AI offers just about everything someone might need to organize and enhance photos, it lacks a few key things. As I mentioned earlier, one of the biggest downsides is the lack of organizational options compared to Lightroom. If you are working in large batches of photos, only having the option to favorite or reject photos simply isn't enough. There are also no means of tagging or editing metadata in your images.
In terms of actually editing a photo, both Lightroom and Luminar AI are very comparable. With a lot of the same exposure and color adjustments, you can easily enhance a photo either way. The difference, however, is that Luminar AI has a variety of AI-powered tools that save you a ton of time for creative adjustments. Especially for beginner photo editors, these AI tools will make all the difference in what they can accomplish.
Now for exporting, Lightroom offers a few more options to give you more control over your exports. For specific projects or delivery requirements, this is an important thing to consider.
Overall, Lightroom has a more robust workflow that is better suited for serious photographers. However, Luminar AI could work as a standalone program for more beginner or hobbyist editors. In that sense, I wouldn't say that Luminar AI can replace Lightroom, but it sure works as an incredible plugin extension to Lightroom.
If you are already a Lightroom user, you don't have to decide between one program or the other. Since Luminar is equally as capable as a plugin, you can still take advantage of the AI-powered tools without fully switching programs. That's what I ended up doing and have been loving getting the best of both worlds!
You can purchase Luminar AI for $79, but be sure to use my discount code BRNWILLS to save yourself $15 on top of that. If you aren't completely sure if Luminar AI is for you yet, then be sure to take advantage of their 7-day free trial as well!
Happy Editing!
Brendan 🙂