Luminar AI Vs. Luminar 4 Comparison Review
If you've been looking at purchasing one of Skylum's new editing programs, you're likely left wondering what the difference between Luminar AI and Luminar 4 is. On the surface, both these programs seem to do a lot of the same things, with AI-powered tools as the primary selling point against Adobe products. However, there's actually a significant difference between Luminar AI and Luminar 4 that we'll break down in this post.
Luminar AI is a photo editing program designed with simplicity in mind. By utilizing AI-powered tools, it allows even the most beginner photo editors to create pro-level edits. Luminar 4, on the other hand, is a more complete photo editing program with layer-based editing, more manual control, and organization options. Luminar 4 offers slightly more for intermediate to advanced editors.
With that said, there is a lot to love about both programs. Better yet, they can be used as plugins alongside many other editing programs that you may already be using. In this comparison, you'll learn the pros and cons of Luminar AI vs Luminar 4 to help you decide which one is right for you!
NOTE: Luminar 4 is no longer supported by Skylum. Please refer to my most recent comparison of Luminar AI vs Luminar Neo for a more up-to-date comparison.
What Is Luminar AI?
Luminar AI is a photo editing software that aims to save you time in your workflow. By reducing complicated tasks to AI-powered sliders, even the most beginner editor can make pro-level adjustments with ease. Unlike other programs, Luminar AI focuses heavily on AI-based editing to make the editing process more straightforward to any photographer.
– Why Use Luminar AI?
The biggest reason to use Luminar AI is for the simplicity. Rather than dealing with complex masking, selections, or image blended, this program does it all for you. From AI-powered skin enhancements, sky replacements, or basic exposure and contrast adjustments, everything is reduced to the click of a slider.
In short, here are a few great advantages of using Luminar AI:
Extremely Beginner Friendly
Challenging Adjustments Reduced To Sliders
More AI-Powered Tools Compared To Luminar 3 And 4
Lightweight & Fast
Templates For One-Click Image Editing
Works As A Plugin Extension To Other Commonly Used Editing Programs
If you're familiar with other editing programs such as Lightroom or Photoshop, you know how overwhelming they can feel, especially when it comes time to make selective adjustments or create masks.
With Luminar AI, everything is much more manageable. Every adjustment is clearly labeled within its own tab and broken down into a few different categories. These categories are called Essentials, Creative, Portrait, and Professional, similar to what's found in Luminar 4.
Without suffering from choice paralysis, Luminar makes the workspace easy to digest and work through. Simply by clicking on a specific adjustment, you can adjust the slider to fit the look you're going for. Whether you're adjusting the white balance or smoothing skin, it's still broken down into a single slider. There's truly no other program that makes photo editing that simple.
If you're a photographer who wants to save time in your workflow or a beginner who wants an easier way to edit photos, Luminar AI provides an answer.
– Are There Any Downsides To Luminar AI?
Like with anything, there is always a downside. Luminar AI has a few cons that are definitely worth being aware of:
No Layer-Based Editing
Limited Exporting Options
Limiting Image Sorting Options Compared To Other Programs
Cannot Edit Photos While Exporting Images
Cannot Be Used With Previous Luminar 3 or 4 Catalogs
No Option For Editing Image Metadata
Depending on whether you shoot professionally or as a casual hobbyist, some of these cons may carry more weight than others. I've always been a huge fan of layer-based editing as it's easier to keep track of adjustments as I go. Unfortunately, that's not available in Luminar AI, but it is in Luminar 4.
The second notable issue for me is the lack of image culling options. Although we'll touch on this more later in the post, Luminar AI only has the option to favorite images. This single level culling process would create a lot of problems if you tried to use this as your one-and-only photo editing program.
What Is Luminar 4?

Luminar 4 is a stand-alone photo editing program that merges traditional photo editing and AI-powered tools into one program. From organizing, editing to exporting, Luminar 4 is extremely capable in all aspects. With a clean and easy-to-use interface, it's a viable option for beginners to professionals alike.
– What's So Great About Luminar 4?
Luminar 4 is extremely useful in the sense it offers a complete image library and photo editing solution in one place. With a wide array of culling options, you can easily sort through thousands of images from a client shoot or a recent vacation. When it comes time to edit, all the adjustments are easy to find and straightforward to use.
With that said, a unique aspect of Luminar 4 is that there is always more to discover. When I first began using this program, I only found myself using a fraction of the tools that were available. As you begin to feel more comfortable in the program, there are countless ways you can further improve and enhance your workflow. Acting as a complete photo editing solution, it's a perfect alternative to other similar programs such as Lightroom.
Some advantages to Luminar 4 are:
Powerful Image Library
Advanced Editing Tools With AI-Powered Options
Layer-Based Photo Editing
Simple To Use
Offers Enough For Both Professionals And Beginners To Enjoy
Works Equally Well As A Stand-Alone Software, Or As A Plugin To Other Common Programs.
Ultimately, Luminar 4 offers a more complete package for photo editors. As helpful as AI-powered tools can be, Luminar 4 offers a nice blend of manual adjustment options as well. By getting the best of both worlds, it's a program that any photographer could find value in.
To learn more about Luminar 4, check out my full review.
– The Cons Of Luminar 4
When comparing Luminar 4 to other pro-level editing programs on the market, there are a few downsides that come up:
No Metadata Editing Options
Limited Export Options
Slightly Slower Than Other Programs
For some reason, metadata editing has been a big sticking point with Skylum software. Between both Luminar AI and Luminar 4, there is no useful way to edit metadata in your photo. Instead, all you can do is view the EXIF data.
There are enough basic options to get the job done for exporting, but I would love to see more. Things like creating export presets or setting export file size limits would be very helpful. Unfortunately, you'll have to do without with Luminar 4.
Lastly, Luminar 4 does seem to take up a lot of processing power. Especially when working with RAW files, things can get bogged down a bit. Luckily, Skylum has added new updates to Luminar, including some notable speed upgrades. Although it's still not perfect, it has come a long way.
Is Luminar AI An Upgrade To Luminar 4?
Luminar AI is a completely separate program from Luminar 4, not an upgrade. Luminar AI sets itself apart from Luminar 4 by offering the world's first fully AI-powered editing software. By completely eliminating the convoluted steps and techniques of past editing programs, Luminar AI makes your workflow faster than ever before.
Unfortunately, what that means for Luminar 4 users is that there's no special discount for switching. Unlike when upgrading from Luminar 3 to 4, you'll have to pay full-price if you want Luminar AI.
Luckily you can save yourself $10 off Luminar AI just by using code BRNWILLS at check out! Hopefully, that will help take the sting off the lack of upgrade discounts.
Comparing Luminar AI Vs. Luminar 4
To give you a better idea of whether you should get Luminar AI or Luminar 4, let's break down some key aspects to look for in an editing program.
– Importing & File Organizations
Besides editing images, being able to organize and catalog your images is crucial. Whether you're working with a few dozen or a few thousand images, an effective culling method helps you single out your best images faster. Both Luminar AI and Luminar 4 have an image library with catalog options, but there are some differences in rating/flagging options.
Catalogs
Both programs allow you to create catalogs to further organize your files. The only problem is, if you are currently a Luminar 4 user, you won't be able to move your catalogs over to Luminar AI.
Luminar AI has its own catalog system, so it's not compatible with others you might have made in Luminar 3 or 4. However, if you don't have any older catalogs you want to use, this won't be a problem.
Folder Structure
In Luminar 4, you'll find all of your folders in the Library Module, while in Luminar AI, they are found in the Catalog Module.
On the surface, both programs offer much of the same folder systems as the other. Each will import your photos and match the folder hierarchy that's on your disk.
To make your images even easier to find, there are shortcuts to view you recently edited photos and recently added. If you need to access a specific folder, year, or album, you'll be able to find that below.
You can further sort your photos within your Luminar Catalog by creating new folders and manually adding images as you wish. In terms of folder structure options and layout, Luminar 4 and Luminar AI are very similar.
Rating & Flagging Options
This is where things start to change. Luminar AI offers a very basic flagging system with the ability to set flagged and reject images. However, you cannot add star or color ratings to photos for further sorting. For professionals with a specific culling workflow, this is nothing but a major pain.
For most casual photo editors or hobbyists, this aspect may not be as important. With flagging options, you can still do a rough cull to pick the good photos from the bad.
Luminar 4 picks up the slack and offers a more well-rounded rating and flagging features. In Luminar 4, you can add star ratings 1-5, add flagged and reject photos, or choose between 5 different color labels. In that sense, it's spot on with the features available in other programs such as Adobe Lightroom.
Who Wins?
In most aspects of file organization, Luminar AI and Luminar 4 are very comparable. However, Luminar AI has far fewer culling options making it less than ideal for image sorting as a professional. That's why I'll be giving the win to Luminar 4.
If you need the ability to organize your photos with more options than just a simple picked or rejected flag, then Luminar AI will be less than satisfactory.
Click Here To Learn More About Luminar 4
– Basic Image Editing
Next on the list is image editing. Each program has a whole whack of amazing tools to choose from, so let's start with the basics—things such as exposure, contrast, HSL, and other color adjustments.
Exposure Adjustments
The primary exposure adjustments in Luminar programs are found within the "Light" tab. Both Luminar 4 and Luminar AI have very comparable Light tab.
As for exposure, smart contrasts, blacks, whites, shadows, highlights, and tone curve, both programs have everything that you'd expect. The only weird thing is that the Light Tab is found slightly buried in the edit modules of Luminar AI. With Luminar 4, it's the first thing you see, as it's the natural first adjustment you'd want to make to a photo.
Color Adjustments
In Luminar 4, the two basic color adjustments you have are found within the "Color" tab of the Essentials Module and the "Split Toning" tab within the Professional Module. Within the Color Tab, you have the option to adjust the saturation or vibrance via individual sliders, with the HSL options found below.
One convenient aspect of the Color Tab in Luminar 4 is that there are masking options available at the bottom of the settings. You can add brush, radial, or linear gradient masks to help isolate your color adjustments quickly. Having it all in one place makes life exceptionally easy, especially while working between multiple layers.
Luminar AI, on the other hand, has a similar layout. With saturation and vibrance sliders available, and HSL adjustments found below. The only difference is that there are no masking options available directly inside the color tab.
Instead, you'd have to apply a mask from the Masking Module and then come back to adjustment. This feels like a bit of an unnecessary and roundabout way of doing things, but the option is still there nonetheless.
Who Wins?
The basic photo editing adjustments are very equal between both programs. Luminar AI has some advantages with sampled white balance settings, while Luminar 4 has faster masking options. Since they're both so comparable, I'm giving it a tie between the two.
If you want to make quick, accurate exposure and color adjustments, both Luminar 4 and AI will work well.
Click Here To Download Luminar AI or Here For Luminar 4
– AI-Powered Editing Tools
If you aren't already familiar, Skylum has changed the game of photo editing with AI-powered editing tools. Rather than having to learn complex manual techniques, AI-powered tools do the legwork for you. By reducing complex adjustments such as skin smoothing, body figure adjustments, or even eye enhancements, to a single slider, you save a ton of time.
With Luminar 4, they found a nice blend between traditional (manual) photo editing options and AI-powered tools. There are a few great AI tools available, but they don't take over your workflow.
With Luminar AI, things are completely different. Luminar AI is the world's first photo editing program built around the power of AI. The majority of the adjustments in this program are AI-powered, offering far more options than Luminar 4. Particularly with portrait editing, Luminar AI offers tools such as Body AI, Skin AI, Iris AI, and Face AI, all of which are not found in Luminar 4.
Additionally, more common adjustments such as cropping have been improved in Luminar AI. Rather than having to manually crop your images for the best composition, Luminar AI does it for you. By using Composition AI, you can automatically find a better framing for your photo.
Who Wins?
Luminar AI offers far more options for the use of AI-powered tools. Whether you're a beginner photo editor or using this program as a plugin to Lightroom or Photoshop, these added options are game-changing. Rather than spending prolonged periods of time making manual selections or blended adjustments, in Luminar AI all it takes is the click of a slider.
Although Luminar 4 does have some AI adjustments, it fails in comparison to what's found in Luminar AI.
After all, AI is in the name, so is it really a surprise which is the winner for this one?
Click Here To Purchase Luminar AI
– Creative Adjustment Options
Another huge bonus to Luminar programs is how easily you can create composite images or apply sky replacements into a photo. With AI-powered tools in both Luminar 4 and AI, you can change the look of your entire photo in seconds.
Within both programs, you'll find two options called AI Sky Replacement and AI Augmented Sky.
AI Sky Replacement allows you to pick a sky template, and Luminar will automatically blend it into your image. If things don't look quite right, you can make further color and lighting adjustments to make it blend perfectly. This feature works the same in Luminar AI and 4.
AI Augmented Sky takes things a little further by allowing you to add objects to your photos. Things such as planes, birds, planets, or whatever else you feel like. There are a ton of options built into each program, but you can create your own or purchase additional ones from Skylum.
Since each program is very comparable in these tools, it seems like there's not more that differs in this category. However, things change when you start to look into something called Templates in Luminar AI.
Luminar AI Templates and like presets of steroids. They provide advanced creative adjustments beyond just changing the tones of a photo. Instead, you can apply realistic light flares, sky replacements, and more with a single template.
Luminar 4's closest feature to this is called Luminar Looks, but these don't provide nearly as many options as Templates. Luminar Looks simply adjust the color and exposure of your photos rather than adding more creative elements.
Who Wins?
There is a lot you can do within both Luminar AI and 4. Since they both have similar creative tools such as AI Augmented Sky and Sky Replacements, you could be happy working with either program.
However, Luminar AI raises the bar with Luminar Templates. By not only adding color and exposure adjustments but also creative elements like Augmented Skies, you can take your image further with a single click. Since it makes life that much easier, Luminar AI offers slightly more than Luminar 4 in creative editing options.
Click Here To Purchase Luminar AI
– Exporting
The exporting capabilities in Luminar 4 vs Luminar AI are identical. The export dialogue box looks exactly the same in each program, making it easy to navigate if you're a previous Luminar 4 user.
A great feature about Luminar AI and Luminar 4 is you can export directly to social media platforms such as 500px or your portfolio site on SmugMug.
Unfortunately, in both programs, you don't have the ability to continue editing after you export your photos. So if you have a batch export that will take a while, you can't let that run while you continue working on other images.
Since both of these programs are exactly the same, it's a tie.
Click Here To Learn More About Luminar 4 or Here For Luminar AI
Who Is Luminar AI Meant For?
Luminar AI is primarily meant for beginner to intermediate photo editors who want a fast and less intimidating way of editing photos. With added AI-powered tools, you can make beautiful edits in less time. For professionals, Luminar AI serves as a valuable plugin for other editing software to speed up more complex edits.
Since this program has limited culling options, it's not ideal for professionals; particularly not as a stand-alone program. However, Luminar AI can be used as a plugin to Lightroom or Photoshop, for example, so you can still take advantage of the AI-powered tools.
With that said, if you are a casual shooter looking for an editing program that can get you stunning images, Luminar AI is a solid option. Since you don't need to worry about culling options or more complex adjustments, this program has everything you would need. The only problem is that it may start to feel limiting as you progress your skills.
Who Is Luminar 4 Meant For?
Luminar 4 is meant for all levels of photographers, from beginner to professional. It works well as stand-alone software or as a plugin alongside other common editing programs. By blending AI-powered tools with more traditional manual adjustment options, you get the best of both worlds while speeding up your editing workflow.
Luminar 4 feels like a far more complete editing program that can be enjoyed by any level of photographer. Rather than being limited to mainly AI-powered tools, you get access to more manual adjustments as well. Even if you're a total beginner, the layout is simple to understand and allows you to build a pro-level workflow.
Whether you want to use this program as your one and only program or a plugin with another software, it's totally possible. Rather than going from Lightroom to Photoshop, for example, you may start going Lightroom to Luminar 4 instead. The program offers many of the same adjustments people commonly make in Photoshop, but with less complexity.
I share a complete comparison between Luminar 4 and Adobe Photoshop Here.
Which Program Is More Affordable?
Luminar 4 costs USD $89, while Luminar AI costs USD $79 for a single lifetime license to either program.
The huge benefit to using either of these programs is that they're a one-time payment: no subscription model, no yearly fees, no added charges. What you see is what you get, making either ideal for anyone not wanting to spend heaps of money on editing software.
For example, the popular Adobe Creative Cloud Photography Plan costs USD $9.99/month or USD $120/year. By the time you've spent a year with Luminar, you've already saved nearly $40 compared to going with another editing program.
Discount Code For Luminar AI & Luminar 4
Now, if you want to knock a little more off the price of Luminar, you can use the discount code BRNWILLS at checkout to save $10 off Luminar AI or Luminar 4. This is an exclusive discount for readers of this site given to me by Skylum, so make sure to take advantage!
Should You Choose Luminar AI or Luminar 4 For Your Photo Editing?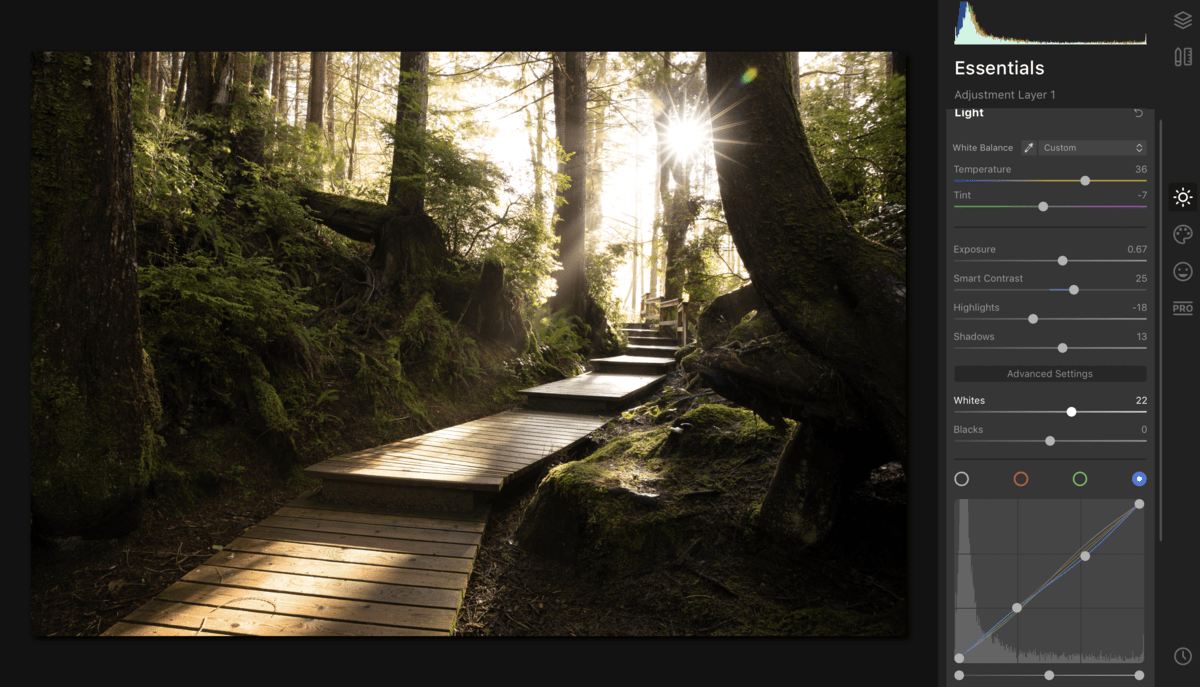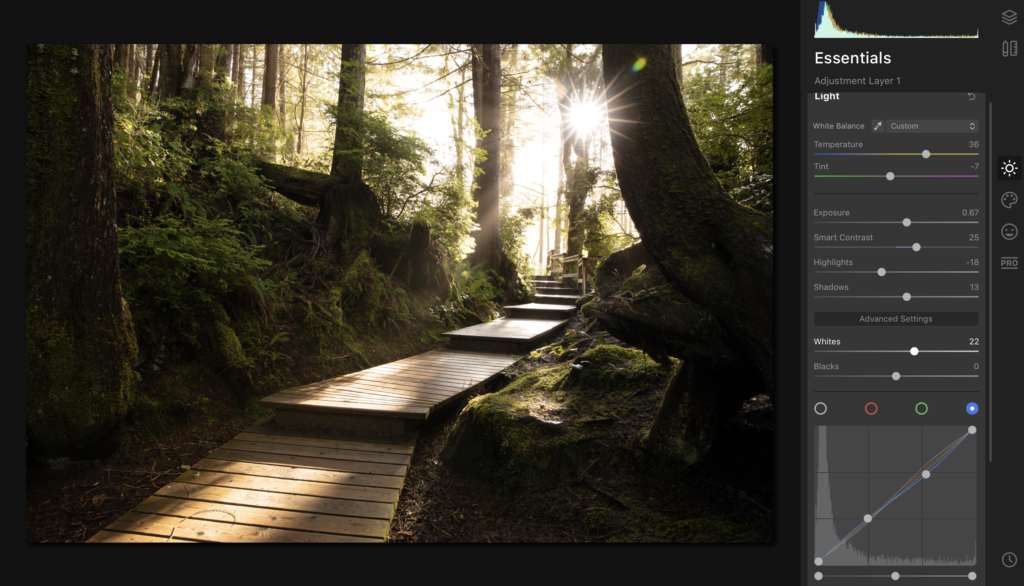 Now there's one big question remaining, which program should you choose? After comparing Luminar AI to Luminar 4, it's a pretty balanced match. However, each program was designed for a slightly different purpose.
Luminar AI is meant for speeding up complex editing techniques and getting the full-value of AI-powered photo editing. For beginner to intermediates, this offers the perfect opportunity to make pro-level adjustments with beginner level knowledge. Luminar AI flattens the learning curve and offers a simpler way of photo editing.
Luminar 4, on the other hand, is meant for getting the best of both worlds between traditional photo editing and AI-adjustments. This program offers a more complete professional workflow and offers more room to grow as a beginner. It's still quite easy to learn, but there is lots to discover that will add additional value to your edits.
Ultimately, the right program depends on your needs as a photographer. If you want a more complete stand-alone editing software, Luminar 4 is the better option.
However, if you're looking strictly for an AI-powered plugin to go along with your other editing programs, I would suggest Luminar AI.
Whichever you choose, remember to use the discount code BRNWILLS at checkout to save $10 off Luminar AI or Luminar 4!
Happy Editing,
– Brendan 🙂