Adobe offers various programs for photographers, designers, illustrators, and other creatives. There are so many options that it can take time to decide which is the right program for you. I will compare Photoshop vs. Photoshop Elements, which are two high-level programs for photographers and graphic designers.
The main difference between the two programs is that Photoshop CC (Creative Cloud) is a subscription-based program aimed at professional photographers looking for complex editing capabilities. Photoshop Elements is a beginner-friendly program that offers automated editing processes, organizational features, and requires a once-off payment.
I will put these two programs head-to-head to compare various features, including the interface, ease-of-use, editing and graphic design capabilities, exporting options, and cost differences. By the end of this article, you will be able to determine which program is perfect for your needs.
Photoshop VS Photoshop Elements Key Differences
While the two programs have a lot of similarities, there are significant differences that could be the key to which program you decide to buy.
Comparing Photoshop CC VS Photoshop Elements
To help you decide which program to buy, here are some of the main features of each program in a head-to-head comparison. When it comes to photo editing and design software, there is seldom a better program than another. Each program is better suited for certain types of creatives.
While I will determine an overall winner for each category, you may prefer the other program for your needs, so I will give detailed descriptions of the functions to help you note the differences.
Interface
The interface of the two programs is vastly different. Photoshop CC has a home page that offers user tutorials and a few of your recent projects. You also have options to open or start a new project.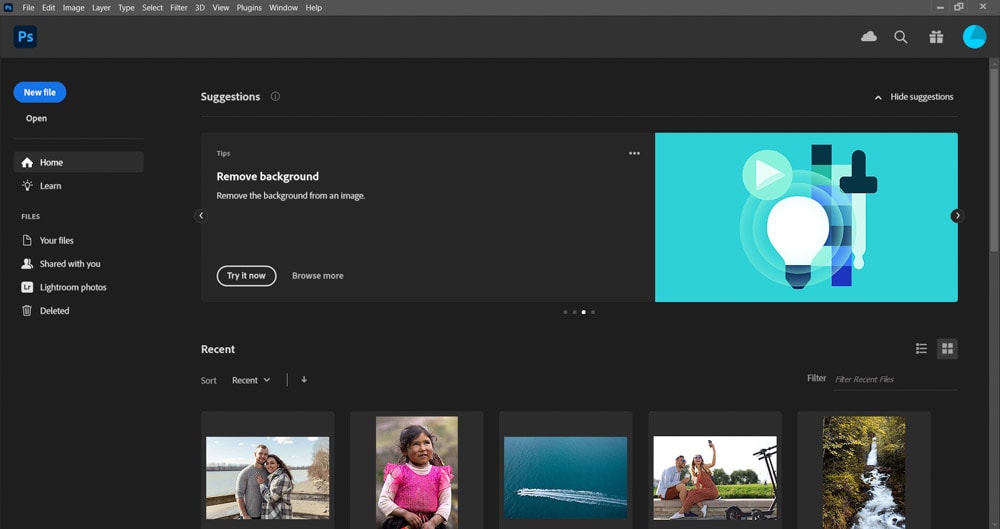 Once you open an image or start a new design, you will be in the Photoshop workspace. This area is where you will add all the edits to your photos or create new designs.
The Photoshop workspace can confuse first-time users, but once you learn the basic panels and toolbars, you can find the features you are after.
The interface breaks down the functions into main categories, such as the Toolbar on the left, various panels on the right, including the Layers panel, a Menu bar at the top, and an Options bar below the Menu bar offering settings for each tool you use.
While the interface is complex and requires a steep learning curve, the features are well-organized and useful for a professional editing workflow.
The Photoshop Elements interface is not as straightforward and may require more exploring to navigate. However, the editing workspace is cleaner and has fewer icons and panels to confuse users.
When opening Photoshop Elements, you will find yourself on the Home Screen, which offers in-depth tutorials, quick edit actions, and the option to open the organizer, the photo editing program, or the video editing program (Premiere Elements) if you bought both programs. You can also access your recent files.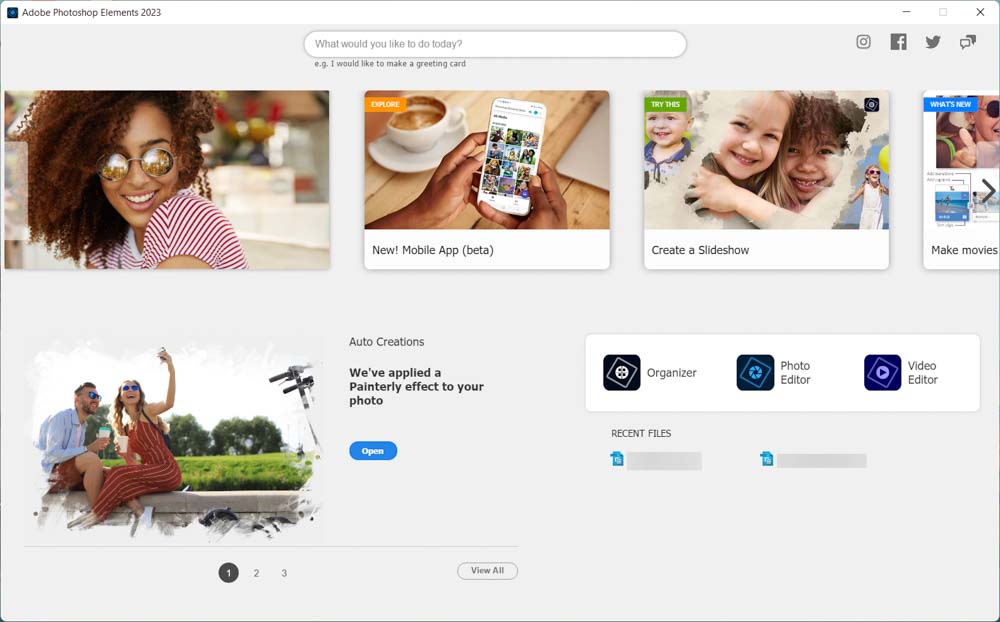 Once you open the Photo Editor, you will be in the Photoshop Elements workspace. Here you have three tab options, Quick, Guided, and Expert.
In the Quick tab, you have a few tools to work with on the left, some tabs to switch between Adjustment, Effects, Texture, and Frame options on the right, and more features in the Menu bar at the top. When you select a tool, an Options bar appears at the bottom with different settings you can adjust.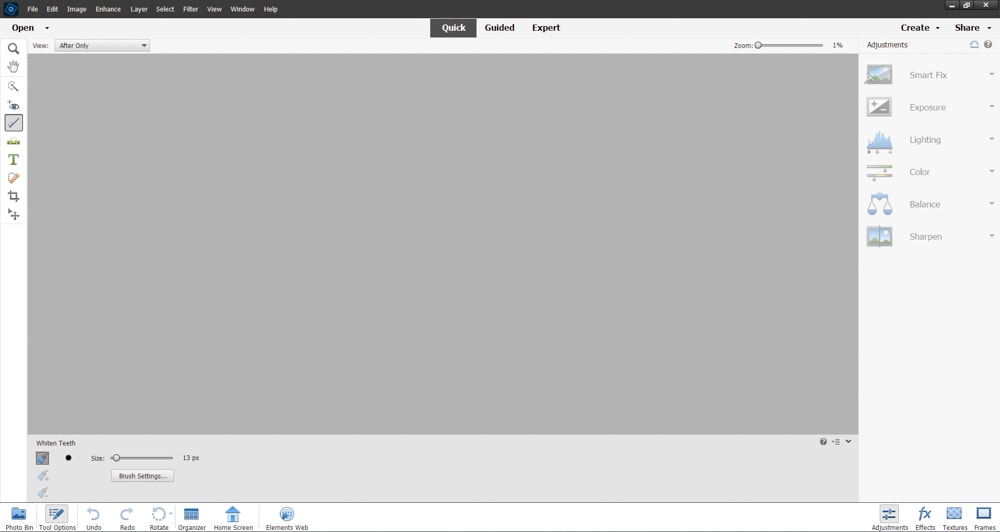 The Guided tab offers different quick actions you can add to your photo without editing the image yourself. Once you choose a quick edit, you will be in a simple workspace with a few settings to adjust the edit on your photo.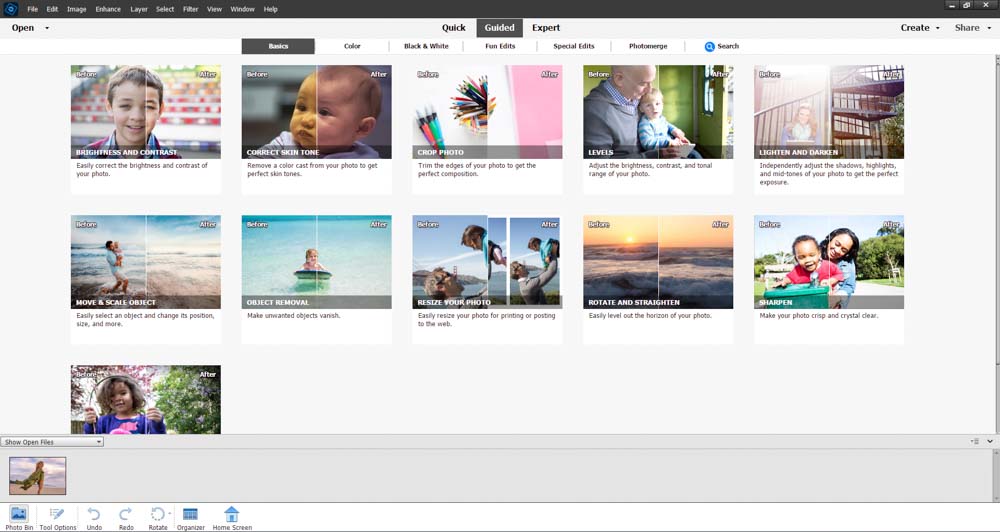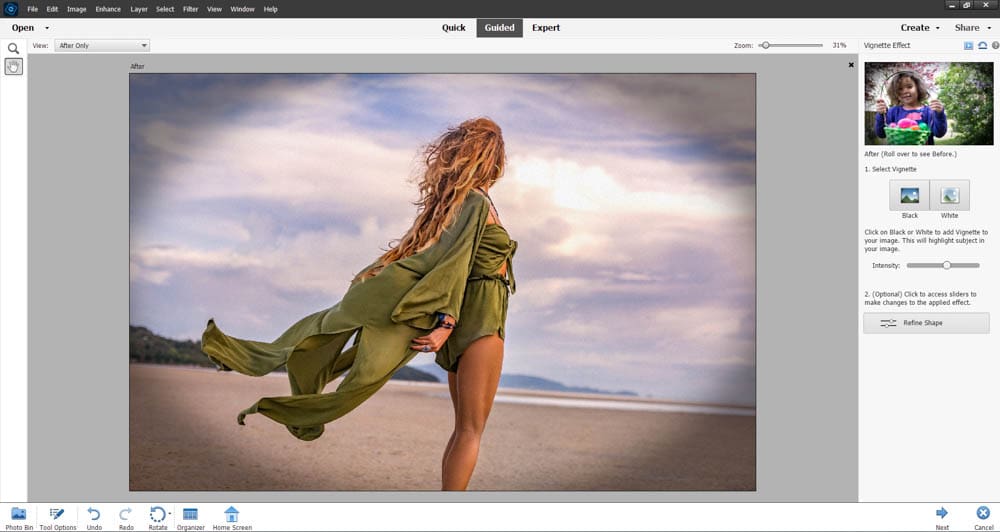 The Expert tab is designed for users with experience editing photos and features more tools and panel options such as layers, effects, styles, and graphics. The Expert tab is closer to Photoshop but has fewer features.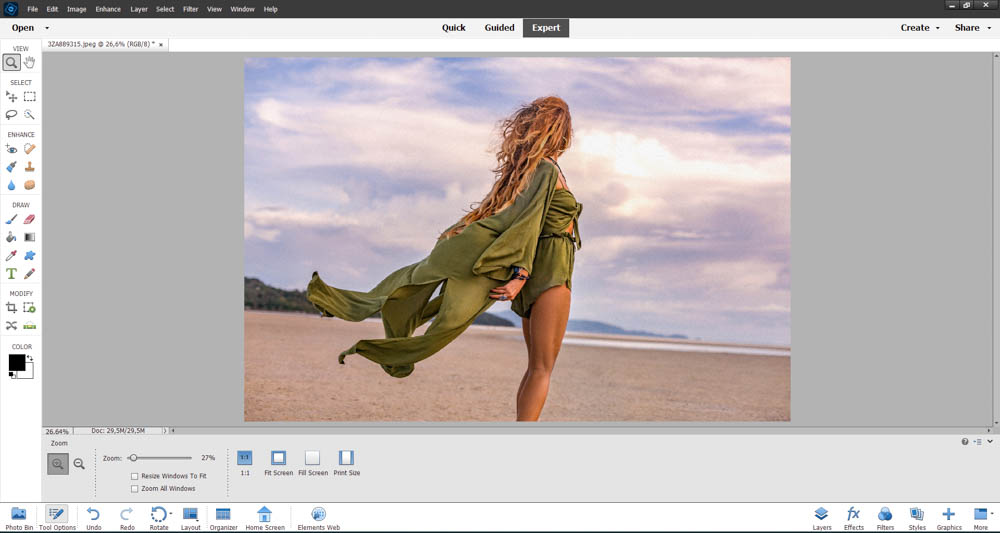 Photoshop Elements also has a separate Image Organizer workspace for storing and keeping track of your images in albums. This space also allows you to set tags and keywords to images to group similar photos together.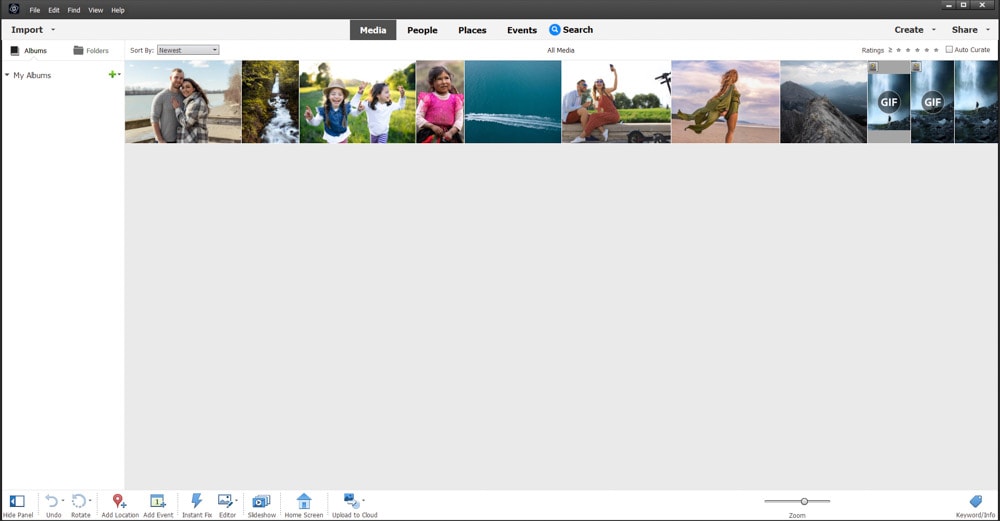 Photoshop CC is the winner for the interface because once you are in the editing workspace, you have everything available for simple and complex editing. In the clutter-free and well-organized interface, you can easily open panels, windows, and more to complete the edit you need.
The Photoshop Elements workspace is simple because there are few tools and panels, but it takes more time to find the tab and space you are looking for. You need to navigate between tabs and windows to find various features.
Winner: Photoshop CC
Ease Of Use
Photoshop CC is a high-level editing tool for professional photographers, offering complex and in-depth editing down to individual pixels. To edit images so precisely takes multiple steps, which are often complex. This makes Photoshop CC a challenging program to learn for beginners.
While there are simple processes and quick actions to speed up the workflow, you will need to delve into the complex processes to use the program to its full capability.
The learning curve for Photoshop CC is steep, and the program is often known as the proverbial iceberg since most users only see the tip of the program's capabilities. Even experts don't use every aspect of the program and are consistently learning to keep up with the updates and new features added to the program.
Beginners need to follow multiple Photoshop tutorials over a few months to get comfortable using the program and experimenting with more complex techniques. However, once you have learned the basics and continue into the more complex processes, there is very little that you can't do with Photoshop.
Photoshop Elements is a beginner-friendly editing program designed for users who are learning editing techniques, are hobbyist editors, or are looking for quick editing techniques that don't require complex steps to achieve.
This program has several quick actions for users to use on their images, and within these actions is a detailed step process with sliders and buttons that clearly state what the action does and how to customize it.
Photoshop Elements does offer more complex processes in the Expert tab. Still, even these are easier to learn and navigate than Photoshop CC because the tools are clearly marked in categories. The available tools are also geared to do most of the work for the user, making editing techniques much easier and quicker.
Photoshop Elements is the clear winner as the program is designed as a simpler alternative to Photoshop CC.
Winner: Photoshop Elements
Photo Editing Capabilities
When it comes to Photo editing, the two programs offer many of the same capabilities. However, the processes differ quite a lot.
Photoshop CC provides the basics for users to edit their photos, such as cropping, color correction, basic color adjustments, and more. For instance, you can adjust the exposure of an image by lightening or darkening it.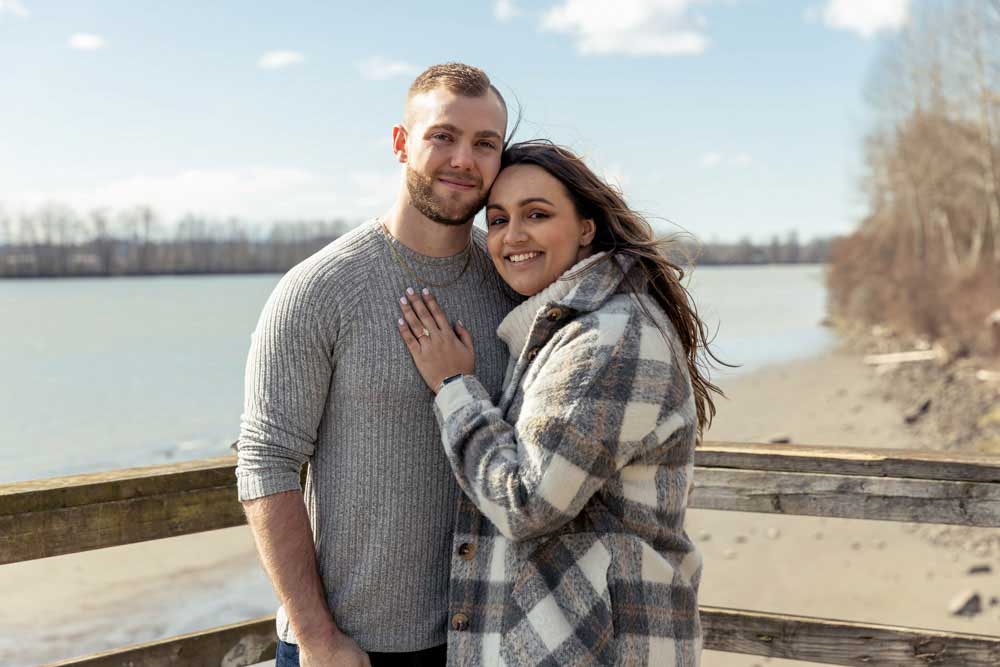 You can also add more complex edits, such as hiding the background and replacing it with a different background. This process requires you to select the subjects, add a mask to the background, and add a new layer with the new background.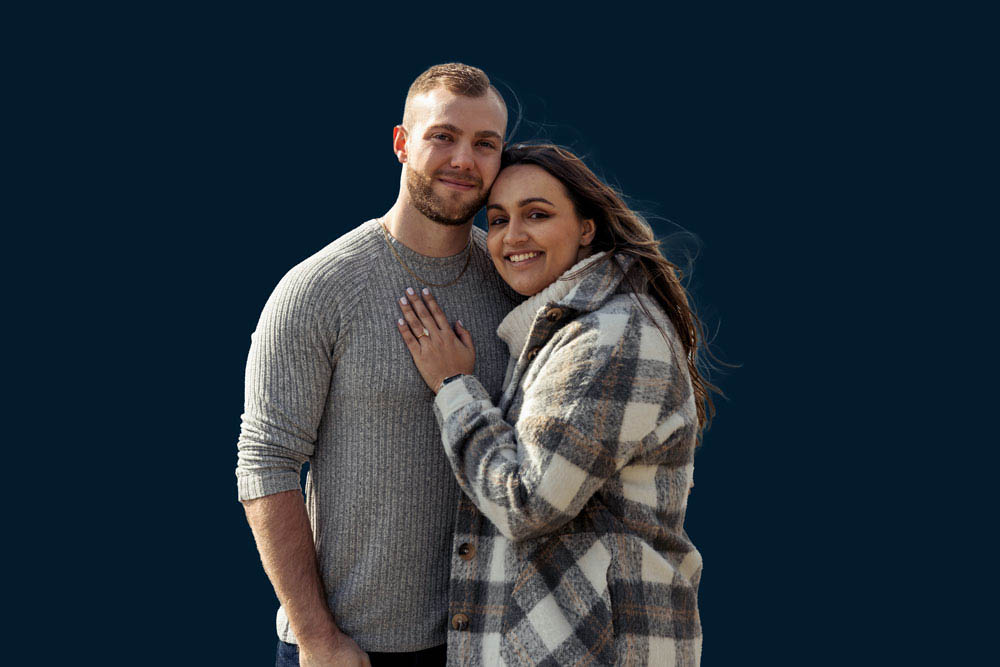 You can also change the entire tone of an image or add a duotone effect using a gradient map adjustment layer. This technique lets you blend two or more colors into your image to create a new feel.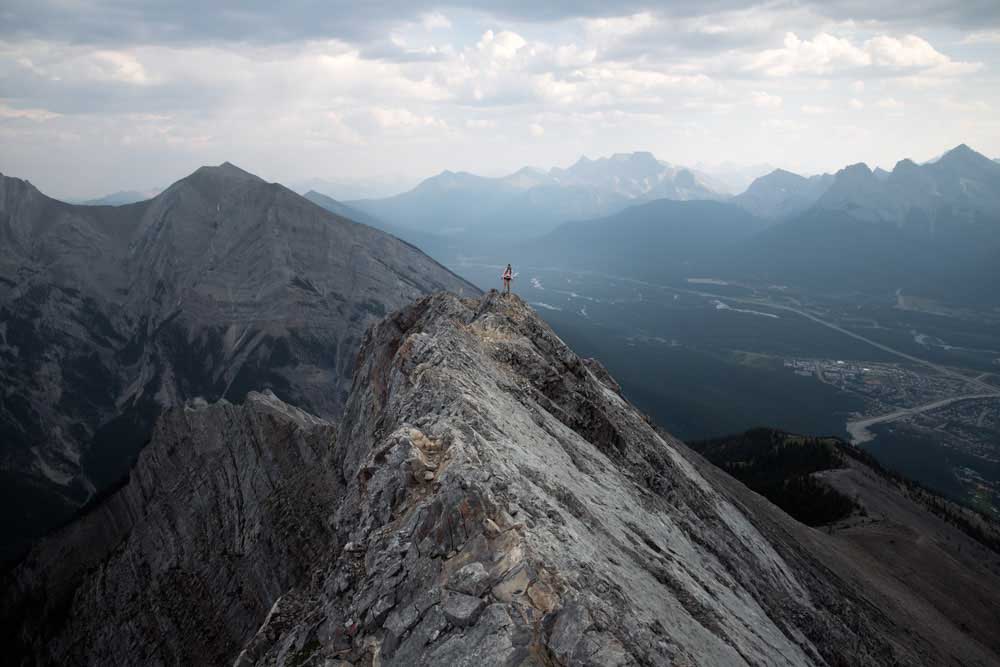 Then you can get into more complex processes in Photoshop, such as creating a glow effect, creating smoke, adding lightning to an image, and adding various lighting effects to your photos.
Photoshop CC processes require you to manually add adjustments and filters, use tools, and create the effects yourself.
These techniques are time-consuming, but the results are non-destructive, allowing you to re-edit most of the processes at any stage. These techniques also produce high-quality images in RGB or CMYK color modes with the choice of editing using 8-bit, 16-bit, or 32-bit color channels.
Photoshop Element's Expert tab is the closest to what Photoshop CC offers, but even this tab doesn't have the more complex and in-depth editing features that Photoshop CC has. However, in this tab, you can use things like the Quick Selection Tool, which selects the subject (but doesn't have the cloud option that offers a more accurate selection).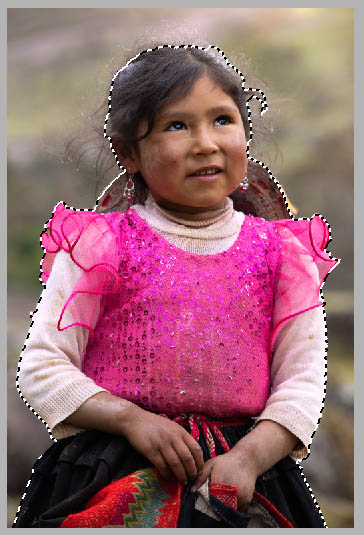 You can also use layer masks to remove the background or add selective edits to your photo.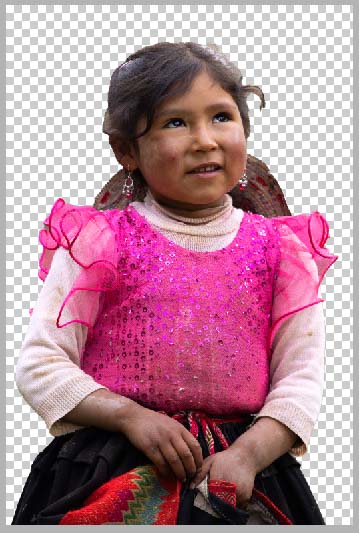 The expert tab also offers a Layers panel, which is the base of any detailed edit since you can stack various adjustments, layers, and filters to create composites on your images.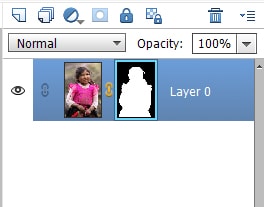 While you can add some of the same adjustment layers to your photos that you can in Photoshop, there are fewer options in Photoshop Elements. However, the program does offer various filters and effects that you can quickly add to your image.
These destructive processes offer little customization in the form of a few sliders. The effects are similar to the filters you will find on Instagram or phone editing apps. These filters are useful for quick edits for beginners and hobbyists but don't offer the necessary finesse for professional photographers.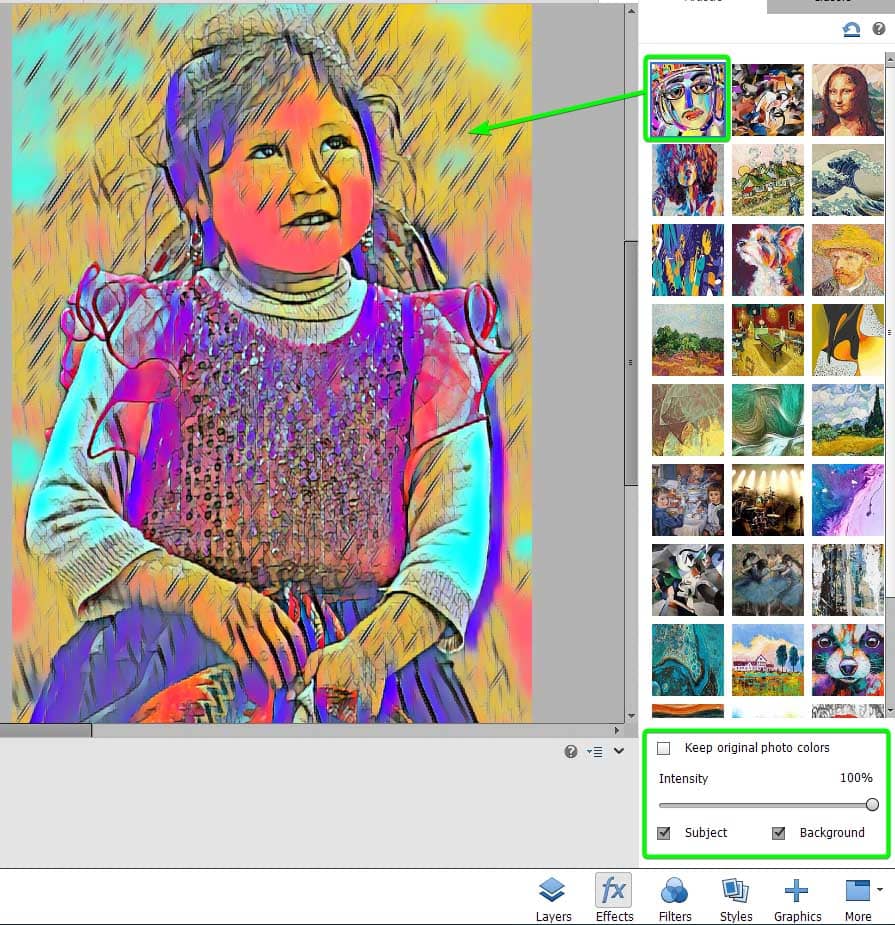 Where Photoshop Elements shines and offers something that Photoshop doesn't is the number of quick actions available. Photoshop CC provides basic actions such as background removal, subject selection, smooth skin, and more. Photoshop Elements, on the other hand, provides a lot more quick actions in the Guided tab.
These guided actions allow beginners to create more complex edits. However, the user doesn't need to carry out multiple steps and manually make the edits. The downside is that the edits are destructive and don't produce the high quality that Photoshop CC does.
You can add a peek-through effect for your images, which places an overlay that adds depth to the photo.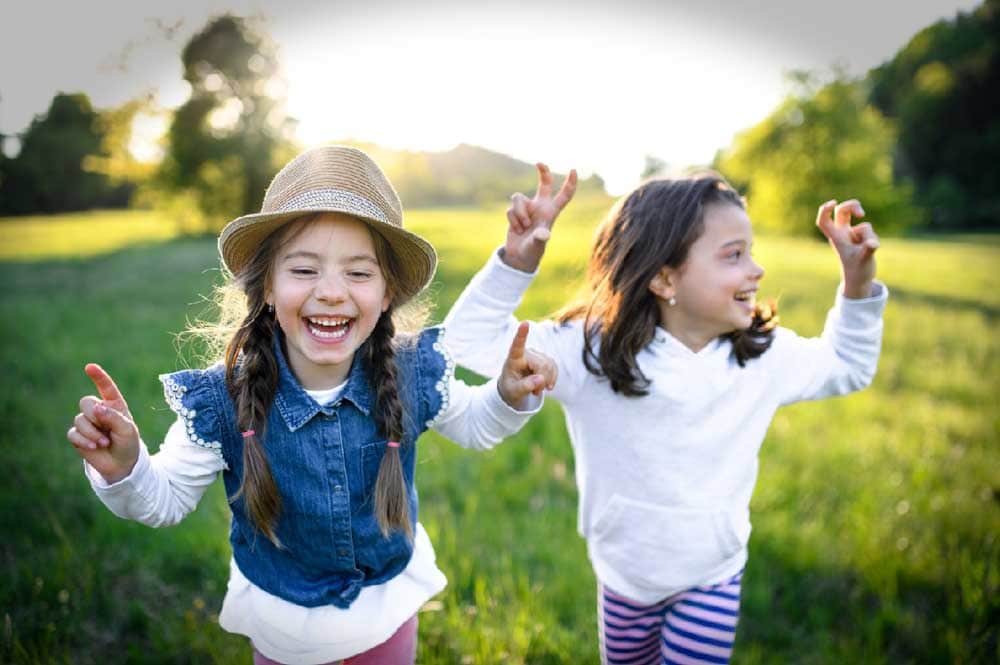 There is also a Moving Elements feature that allows you to determine an area of the image to apply movement to. You can then save the file in GIF or MP4 format.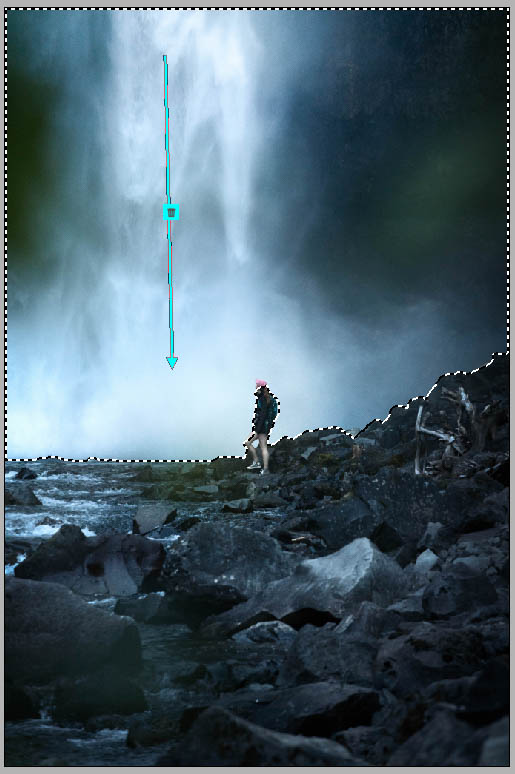 Photoshop Elements offers several automatic processes that do most of the work for you. This is helpful for social media posts and casual editing. However, the destructive nature of the edits and the lower quality output is not up to standard for professional editors. This makes Photoshop CC the winner when it comes to photo editing in a professional environment.
Winner: Photoshop CC
Graphic Design Capabilities
Both programs offer certain graphic design capabilities for professional and hobbyist designers.
Photoshop CC offers multiple tools for creatives to design digital layouts and posts. The program is often used alongside Adobe Illustrator and Adobe InDesign to complete a professional graphic designer's toolbox.
Photoshop CC is often used to design website buttons as you can easily copy the CSS for a webpage. The program is also used to design website layouts and other web elements. You can use Photoshop to design social media posts.
Switching to a CMYK color mode allows users to create high-quality designs for print, whether making a collage in Photoshop or creating basic designs for personal use.
To create layouts, you can add text to the designs and other features, such as gradient fill layers and outlines.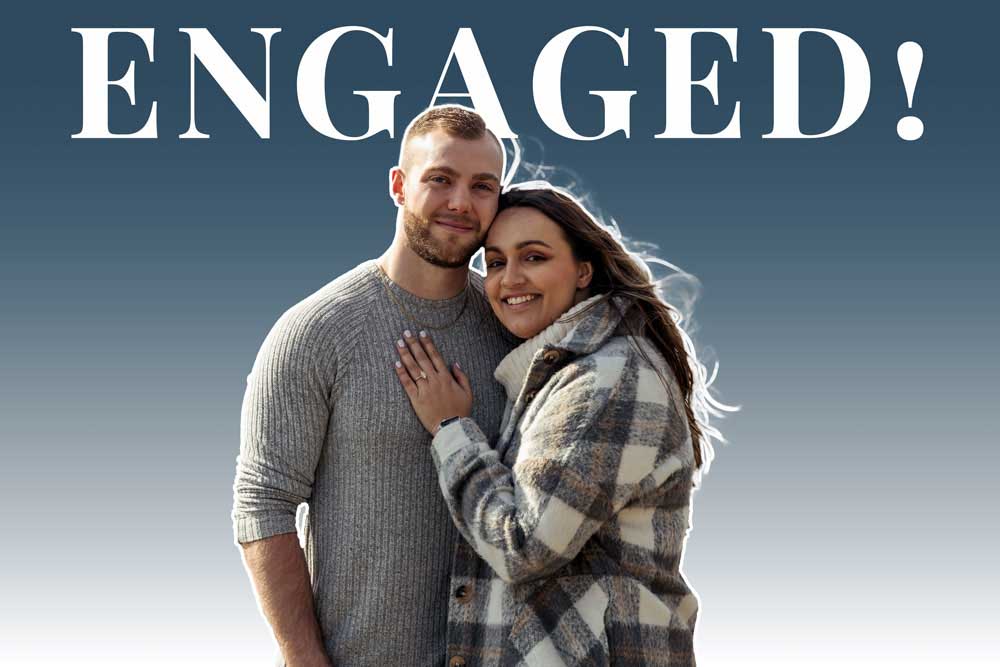 You can also get creative with images and create torn effects on the photo.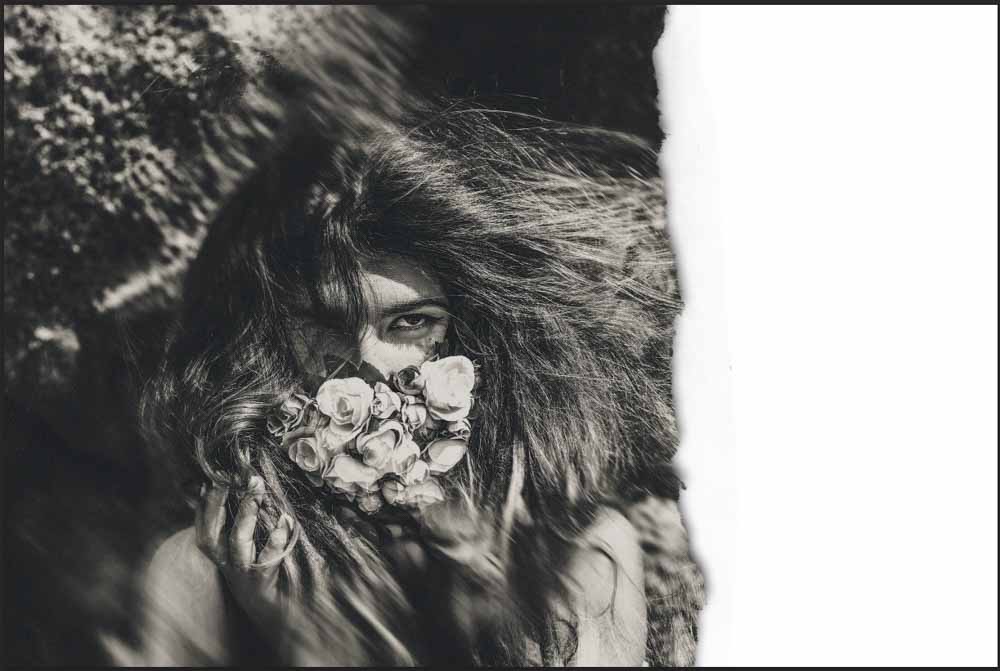 There are many more graphic design capabilities, such as adding a border, adding texture to text, and creating a glitch effect.
Much like photo editing abilities, Photoshop Elements offers basic tools to create graphic design layouts along with multiple quick actions. The features allow users to make layouts and designs. However, the program's quality and features aren't enough to produce professional work.
In Photoshop Elements, you can create design layouts using quick actions, such as using the Meme Maker to create a funny meme.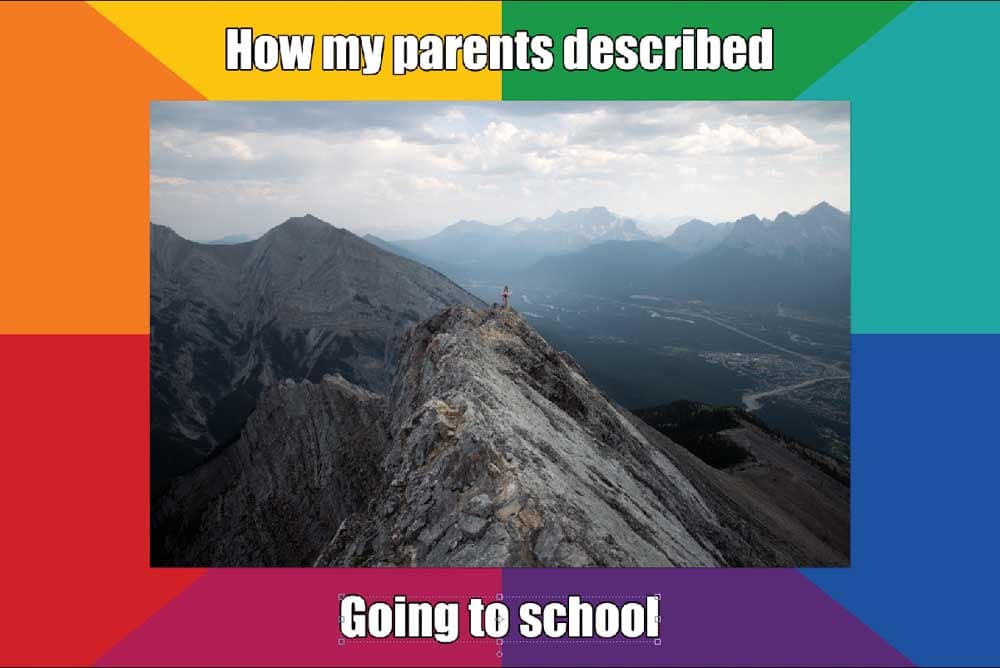 You can also use the Photo Text action to add an image to custom text. This offers creative aspects to a layout.
You can also add Pattern Brushes to a photo to create Instagram-worthy posts.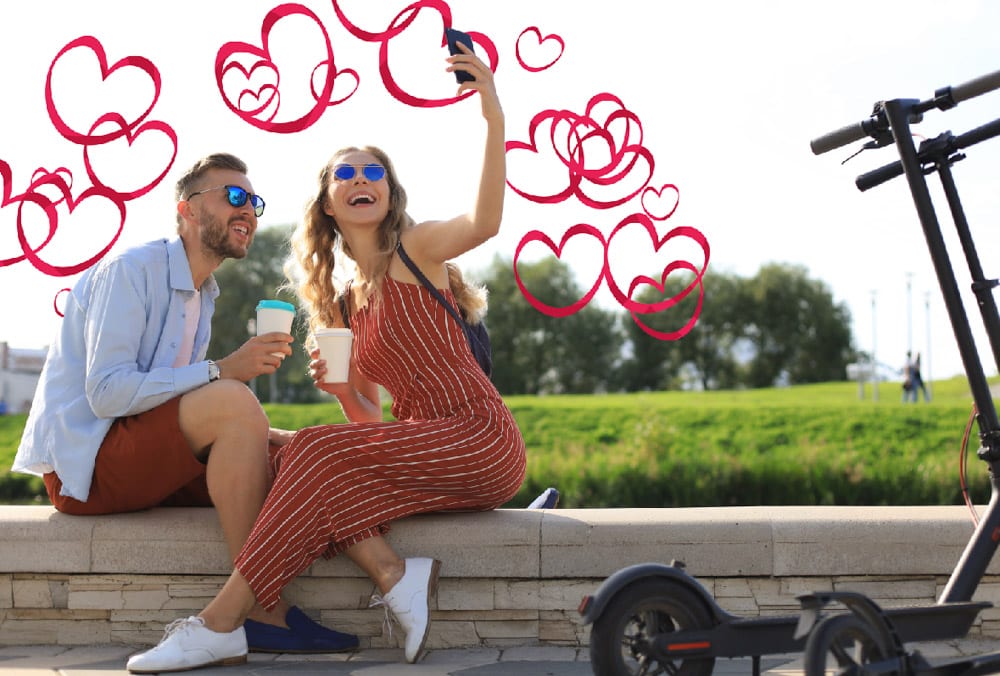 While you can create graphic design elements in Photoshop Elements, the quality is lower, and most processes are automated, limiting your customization options. Professional designers use Photoshop CC as a major tool in their workflow when creating high-quality designs.
Winner: Photoshop CC
Exporting Formats
Photoshop CC offers several exporting formats to choose from, including digital formats such as PNG, JPG, GIF, WebP, TIFF, and PSD. You can also export files for print in PNG, JPG, or PDF format. The key for print formats is that you can convert the document to a CMYK color mode before exporting to ensure the colors are correct for printing.
There are several formats to choose from when saving a document in Photoshop CC, including PSD, PSB, TIFF, PDF, and more.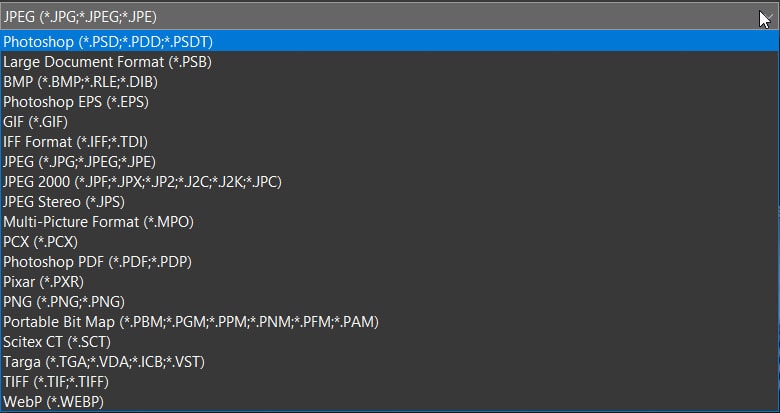 Photoshop Elements is more limited in exporting formats as it allows you to save your images as PSD, JPG, PNG, TIFF, GIF, and MP4 files. However, the inability to use a CMYK color space limits users when exporting for print purposes.
You can also save your project in various formats, including PSD, PDF, GIF, TIFF, and more.

Photoshop CC offers more options for exporting and saving projects, including the ability to prepare files for print. Photoshop Elements is more limited in terms of export and save options.
Winner: Photoshop CC
Cost
The purchase models for these two programs are entirely different, as one is a subscription-based service, and the other is a once-off payment.
Photoshop CC switched to a software-as-a-service model in 2012, meaning users have to purchase a monthly subscription to use the software. Various payment options are available, but users ultimately have to pay a monthly or yearly fee to access the services. When a payment is missed or stopped, the service is no longer available.
The three payment types from Adobe include an annual subscription paid yearly, an annual subscription paid monthly, or a month-to-month payment schedule. The month-to-month option is the most expensive, although you can cancel your subscription anytime without paying a cancellation fee.
Here are the prices for an annual subscription paid monthly, but you can find all the costs on the Adobe website.
You can buy Photoshop CC as a stand-alone product at US$20.99 per month. You can buy it as part of the Photography bundle along with Lightroom for US$19.99 per month (with 1TB cloud storage). Lastly, you can purchase the All Apps plan if you plan to use a few of the apps for US$54.99 per month.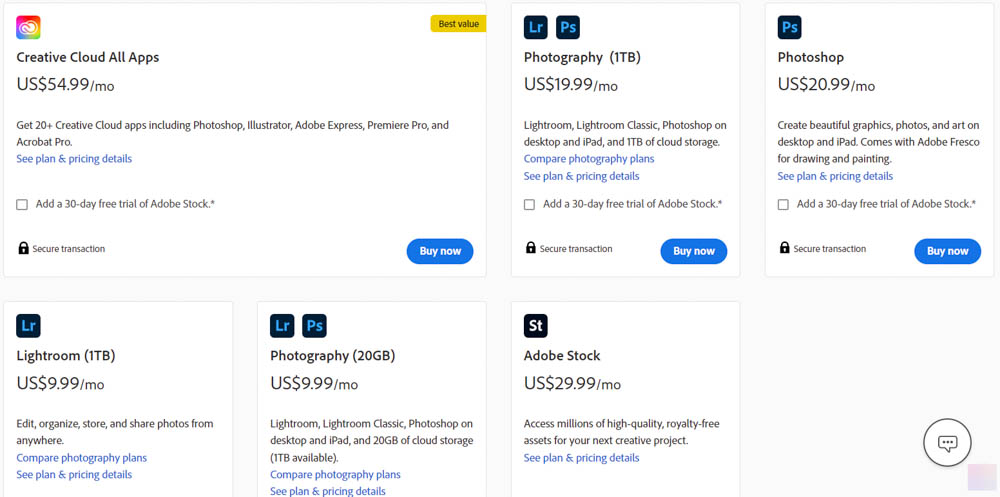 Photoshop Elements requires a once-off payment to use the app. Once you buy the software, you won't need to pay again unless a new update is available at a price. You have two options when purchasing the program: either buy the image editor on its own for US$99.99 or the bundle, which includes Premiere Elements, a video editor similar to Premiere pro, for US$149.99.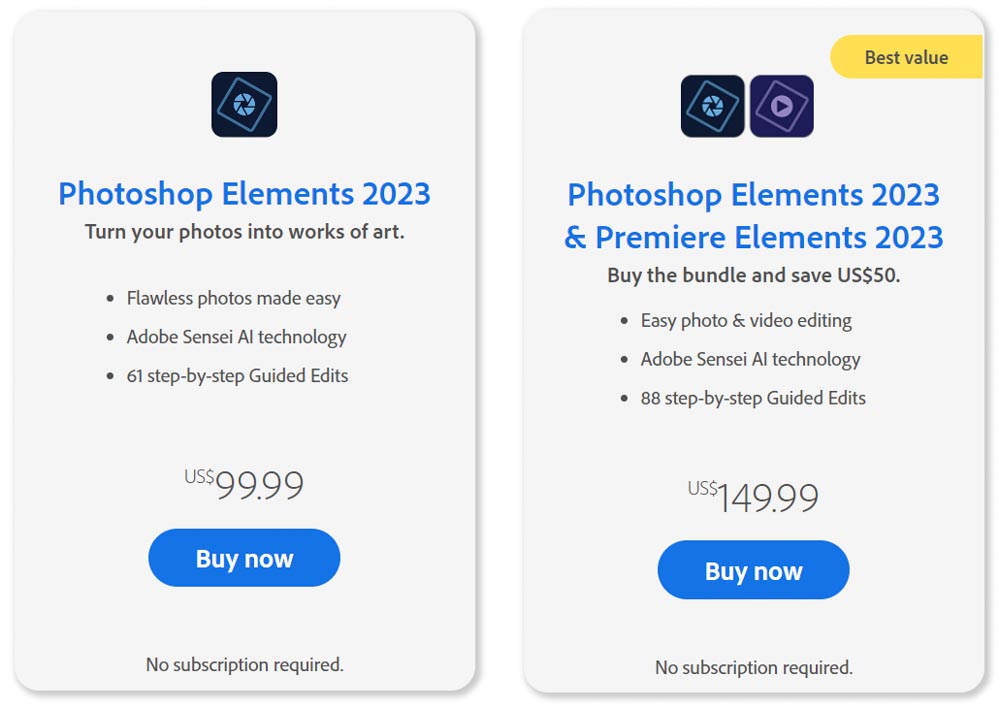 Photoshop Elements is cheaper in the long run after the once-off payment, so from a cost point of view, this program is the winner.
Winner: Photoshop Elements 
Is Photoshop Elements Better Than Photoshop CC?
Photoshop Elements is not better than Photoshop CC as a professional photo editing and design tool. However, the program is better suited for some people depending on what they want out of the program.
Photoshop CC is the better program for highly detailed and complex editing down to individual pixels. It's also better to edit images for print because it offers the CMYK color mode.
However, Photoshop Elements is better for those who want to start learning photo editing with an easy-to-use program. This software is better in terms of learning basic editing techniques and getting a feel of the editing processes before committing to a program such as Photoshop.
Photoshop Elements is a more affordable option for freelancers, business owners, and influencers who only need to create basic images or designs for digital use. The program may also be a great option for professionals who own Photoshop but want a quick and easy editing tool to create posts for social media or their website.
Should You Choose Photoshop CC or Photoshop Elements?
Whether you choose Photoshop CC or Photoshop Elements depends on your skill level, budget, and intention for the program.
You should buy Photoshop CC if you have experience with photo editing or want to invest the time to learn photo editing and graphic design at a high level. If you have the budget or will be earning money for your photo editing and graphic design, then Photoshop CC is the best choice to produce professional products for your clients.
Photoshop CC is for you if you are a professional photographer, freelancer, or small business owner in a creative field looking to edit photos and create graphics at a professional level.
You should buy Photoshop Elements if you are a hobbyist or beginner photo editor looking for an affordable platform to start learning photo editing. The program is also a great solution for small businesses, influencers, and freelancers who need basic and simple graphics to market their services.
Photoshop Elements is suitable for you if your desired output is simple graphics and photo edits and you don't mind the slight downgrade in quality due to the destructive editing.