Productive Ideas For Photographers
If you're feeling bored out of your mind and craving some sort of purpose during these times or social distancing and quarantine, then these productive ideas for photographers will do just the trick.
It's a safe bet to assume that you've never had this much spare time in recent memory. Weddings have been canceled, events postponed, and all those photo trips you had planned were swiftly thrown out the window by this global pandemic.
Rather than sitting at home and wallowing in your sorrows of having all your work canceled, you can use this spare time to get productive and do a bit of 'house-keeping' you've never had time for. Let's dive into 10 productive ideas for photographers stuck in quarantine.
1. Update (Or Create) Your Website
The one thing I've heard every photographer say is, "I really need to update my website," followed by a handful of reasons why they are too busy or lack the motivation. There are no more excuses to fall back on my friend, the time is now to update your website!
Keeping your website up to date is essential to ensure any potential clients will see your best and most up to date work. Nobody wants to see how much you've improved over the years, ditch your old photos and replace them with your high caliber 'money-shots' to blow people's socks off. Take this spare time to add images of recent projects or trips you've been on and delete any older pictures that aren't 'wow.' Remember, the photos on your website are a direct representation of everything you do or will do for someone. Quality absolutely trumps quantity when it comes to your photography website and online portfolio.
If you're on the other side of the spectrum and have been struggling to build a website, then the time is still now! Take the time to build your theme, write a personal and engaging 'about' page, and start sharing your best work divided by simple and clear categories. Updating your website is one of many highly productive ideas for photographers to tackle as soon as possible.
Creating A Website For Your Photography
If you sell prints, have paying photography clients, or looking to start a photography business, you're shooting yourself in the foot if you don't have a proper website. We live in the best time imaginable for website creation, and you don't need to be tech-savvy to create kick-butt portfolio websites.
There are quite a few options out there that are great for photographers. I use Smugmug for my portfolio website and am very happy with it. It's affordable and has some great options for online print sales directly through the website if that's something you're looking to get in to. You can get a 14-day free trial and save 20% off your annual subscription by clicking HERE.
If SmugMug isn't your thing, some other great platforms to build your website are Squarespace, Zenfolio, or Photoshelter.
2. Try Creative Photoshoot Ideas At Home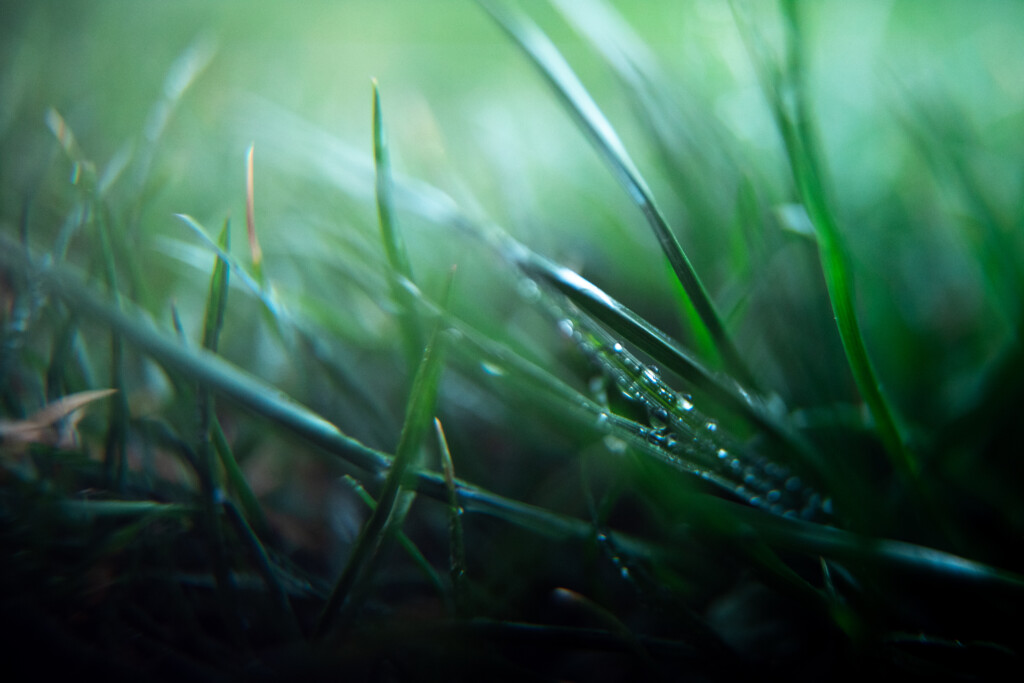 Being stuck inside all day isn't as glamourous as it once seemed. It's become increasingly difficult for photographers to get outside and shoot in the places you want. You may think that there are no options left but to resign to your couch when there are actually countless incredibly fun photoshoot ideas that you can do without leaving your front door.
Ideas like photography challenges, DIY projects, or lens effects are all great ways for photographers to stay creative during self-quarantine. I cover 8 incredible photography projects and ideas to try at home in my previous article that you can find here.
Getting creative at home helps to not only give you something to do, but it's a great way to keep your photo skills sharp. Trying these photoshoot ideas at home as an easy way for photographers to stay productive and fight off boredom during self-quarantine!
3. Clear Out And Reorganize Your Hard Drives
If you've already cleaned your entire house during self-quarantine, then your hard drives are a great next step. Over the months, it's easy to get complacent and not organize your files are well as they could be. If you're bored and looking for something to do, this is a super productive task that your future self will thank you for.
Take the time to clean out any old files or images that you aren't using anymore. Clear up space on your hard drives to help make way for another onslaught of photos that will need storage space in the future. Although a little monotonous, reorganizing your hard drives may be the most productive thing you can do for yourself on this list.
4. Begin Building A Mailing List
If you're a photographer with paying clients or regulars that often hire you, starting a mailing list could be a super productive way to boost your business leads in the future.
A mailing list is a group of people that want to hear from you and what you've been doing. You can keep them updated on new projects, print sales, or promotional offers you could be doing to help generate more business. Email marketing is the most powerful tool for any business to have, including photographers! You could be missing out on a ton of easy leads by not having one.
Staring a mailing list is super easy and completely free in some cases. I operate my mailing list through Converkit because of its simplicity, automation capabilities, and integration. You can get started for free with Converkit by clicking here. You'll be able to start gaining contacts and send emails right away after you sign up! Convertkit is particularly great if you have a blog or sell physical or virtual products.
Another good (and free) option to build your mailing list is with Mailchimp. I used Mailchimp for a few years when I first got started with my mailing list. It's easy to use and has a ton of template options for your emails. My only issues with Mailchimp was the list integration and organizing my contact efficiently. It's still a worthy option if you are looking for another provider to get started with. You can browse pricing and sign up by clicking here.
5. Clean Your Gear
Some more productive ideas for photographers to do is to thoroughly clean your gear! When I say clean, I don't mean wipe your lenses off and make the glass look pretty again. Although still a good idea, I'm talking about cleaning everything else!
You'd be amazed at how much dust, dirt, sand, and who knows what else gets all over your gear. Use this spare time to take apart your tripod and clean out any debris in the legs, head, or buckles. Taking it apart ensures everything gets cleaned out and helps your tripod to work smoothly again.
Empty out your camera bag, vacuum out any dirt that's found its way in and make your bag look like new! You've probably never done this deep of a clean to your camera gear, but it could be a productive way to spend your time and give your camera gear an extra pristine place to stay.
6. Update Your Social Media
It's easy to fall off the social media train when you're busy with jobs and life in general. If you haven't been posting any of your recent work on social media, now would be a great time to do it! It's essential to keep your social media up to date as a photographer to show people the most up-to-date examples of your work. Just like your website, your social media becomes a representation of you, your business, and what you are capable of. Make sure it looks good!
If you've been struggling with social media for your photography business, click here to read my guide to building your Instagram following.
7. Learn Something New
When you're feeling bored and have nothing to do during self-quarantine, take the time to learn something new! If you've been curious about how specific settings work on your camera, learning to edit photos a certain way, or just how to edit pictures in general, taking this spare time to learn something is a super productive idea for photographers to utilize.
There are a ton of great resources online for you to get your photography learning started. Here are a few great resources for you to try out right now!
8. Practice Using Light
One of the most essential things for all photographers to understand (besides their cameras) is light. After all, that's what you are trying to take pictures of in the first place. A productive idea for photographers is to find a small object to photograph, such as an apple, action figure, or coffee cup, and challenge yourself to create as many lighting setups as you can.
You don't need a fancy studio to do something like this. If you have a window and a few small lamps, you'll be amazed at how many lighting effects you can create. Set your camera on a tripod to point at an object on the table; move your lights around in different ways to see the effects. The knowledge you'll gain from doing this can translate into more real-world examples with an actual model as your subject. Learning how to use and manipulate light in your photography is a crucial way to take your work to the next level.
9. Write Down Your Goals
Goal setting is one task that most of us neglect to do, and regret it later. For photographers looking to improve their photos or even their business, writing down your goals is essential. Take this spare time to write down your goals and plan for what you want to achieve. Don't just write the first thing that comes to mind, but really think about it and the actionable steps you can take to achieve the goal. Goal setting is one of the less considered but highly productive ideas for photographers to lay the groundwork for what's to happen in the future.
If you're new to writing down goals, start with something huge and scary, but be specific. Something like "I want to make $100,000 a year from my photography by the time I am 30". Now work backward from here to break down what essential milestones are needed to achieve that goal. By writing it down and visualizing the process, it becomes super easy to define a path to follow and feel like you're breaking ground in the right direction as you continue your photography.
10. Perfect Your Workspace
Your workspace, aka your desk, is likely where you spend a lot of your time. For me, I spend more time at my desk than I do actually taking photos. From editing, answering emails, writing content, or producing videos, the time really adds up. That's why your workspace should be like a small oasis that's clean, comfortable, and helps you to stay focused.
You don't need to spend piles of money on a beautiful workspace, all you need is basic functionality and tidiness. I keep my workspace decorated with photos from my favorite local places, small gifts from clients, some speakers, a notebook, and that's about it. It's simple and to the point, so I don't get distracted. Try to do something similar with your own workspace and turn it into a place that makes you feel relaxed and ready to get things done.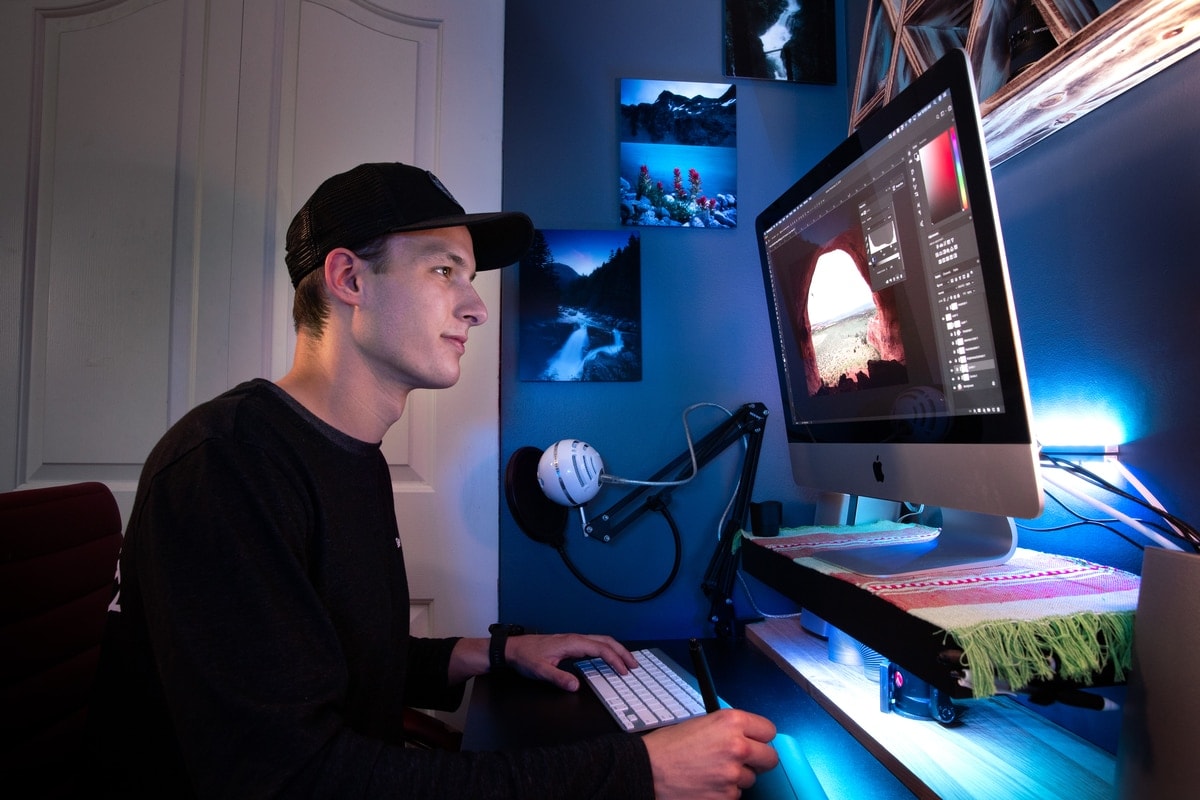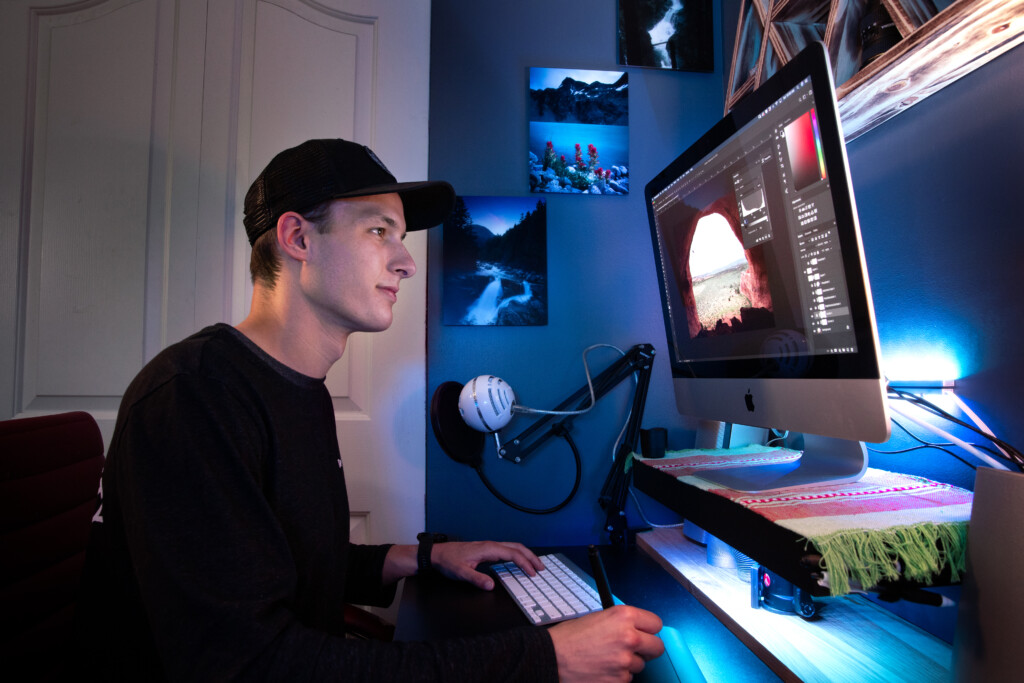 One cheap, yet excellent addition, to your workspace, are LED Light Strips. Place these around your desk, behind your computer, or on shelving to really make things pop! Using these productive ideas for photographers to clean up their workspace can help you to feel more 'at home' the next time you're at your desk.
Conclusion
Being in self-quarantine feels pretty dull, but that doesn't mean you can't stay productive! By implementing these productive ideas for photographers, you'll be able to make some quality improvements for yourself or your business, without even leaving the house.
If you know someone who is looking to beat their boredom and stay productive, then make sure to share these 10 productive ideas for photographers with them! What are you doing to stay productive during self-quarantine? Let me know in the comments!
Happy Quarantining,
-Brendan 🙂