Is It Best To Start Editing In Lightroom Or Photoshop?
When you first start editing photos with the Adobe Creative Cloud, it's not exactly clear whether you should edit your photos in Lightroom or Photoshop first. Both of these programs change exposure, color, and stylize your pictures, so why would you need both? Once you better understand each program's strengths and weaknesses, it starts to become clear which program you should use first.
It's often best to start editing your photos in Lightroom since it's easier to organize many pictures at once. After choosing which pictures you want to edit, you can use the basic tools in Lightroom to make your starting adjustments. Afterward, you can bring it into Photoshop to make more advanced adjustments such as removing objects, cutting out backgrounds, or adding text and graphics, if need be.
To help you see why you may choose to start editing a picture in Lightroom or Photoshop, let's break down these programs' purpose.
What Is The Purpose Of  Lightroom?
Lightroom is a photo editing tool designed to organize, edit, and export photos all in one place. It's a fantastic tool for photographers since you can easily manage thousands of photos at a time while making detailed editing adjustments to each one. Better yet, Lightroom automatically saves and catalogs your images and adjustments, so you never have to worry about saving changes.
For most photographers and editors, Lightroom is the place to apply general adjustments and stylize images. With a wide array of simple to use adjustment sliders, you can quickly transform a photo in seconds. Unlike Photoshop, Lightroom lets you organize images before you edit them. Similar to your computer's hierarchy, your photos can be saved based on the Lightroom Catalog, image folder, sub-folders, or by keyword.
This is a life-saver when you're importing a large number of photos at once. With easy access to each photo in certain orders, you can quickly find the exact ones you want to edit.
As for adjustment options, Lightroom keeps it simple. Rather than dealing with different tools, layers, and layer masks like Photoshop, Lightroom only requires you to move a slider. With every adjustment broken down for you, Lightroom is far more beginner-friendly and approachable. There are tools such as the radial filter, gradient filter, and adjustment brush to further fine-tune an image to make more targeted adjustments.
What Is Photoshop?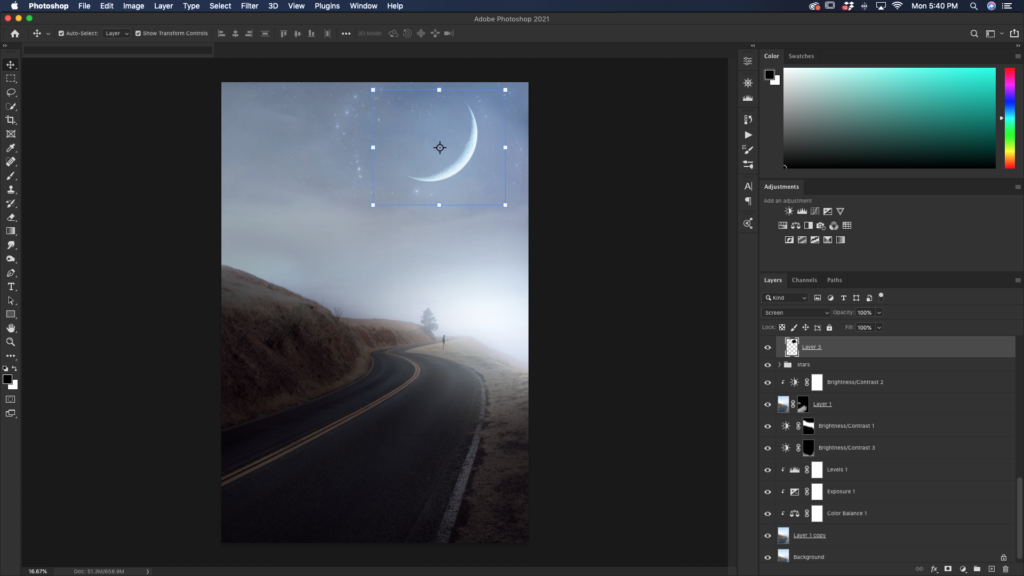 Photoshop is an advanced editing program not only capable of editing color and exposure but also can create more specialized image adjustments. Things such as removing backgrounds, adding lighting effects, graphic design, and more are all possible in this program. Although it doesn't thrive at organization and bulk editing like Lightroom, its in-depth adjustment tools are unparalleled by any other program.
The easiest way to think of Photoshop is as a specialized photo editing tool. Adjustment wise, it's capable of everything Lightroom can do and so much more. Besides the organization of course!
With the ability to create layers, masks, and smart objects, it's far easier to manipulate your pictures. Whether you just want to change a few colors or completely change the sky, it's all possible with Photoshop.
As a standalone program, there are a lot of flaws to Photoshop. Odds are, you don't want to edit just one or two pictures from an entire set. Instead, you want to sort through, see which ones you like, and edit your favorites. With Photoshop alone, you'll struggle to sort through your pictures. There's no built-in organizational tool besides layers and new projects. Neither of these offers much help when culling photos.
With that said, Photoshop should be reserved for images you really need to make an impact with. Since you gain more adjustment options, your imagination is the limit; assuming you only have a small handful of pictures to edit.
Should You Use Lightroom Or Photoshop For Photo Editing?
Now that you understand each program's pros and cons, one question arises: which one should you use? Unfortunately, there's no definitive answer. In fact, the only reasonable answer to give is both. The tools Lightroom has that Photoshop doesn't, and vice versa, make them the perfect duo. By starting to edit your pictures in Lightroom, you can make your base adjustments, then get a little more specific with the help of Photoshop.
As you gain more experience with both Photoshop and Lightroom, you'll have a hard time using one over the other. Luckily the Adobe Creative Cloud has an affordable Photography Plan giving you access to both programs under one subscription. It's hard to get the exact look you need with just one program, but your options are limitless with both.
As a beginner, start with Lightroom and begin to learn the basics of the program, along with the more important adjustments. To help get you started, check out this post. Since Lightroom is so beginner-friendly, just a couple of hours in the program will set you up with a decent amount of confidence. Although the learning never stops, you'll at least have a good grasp of how to take your photo from point A to B.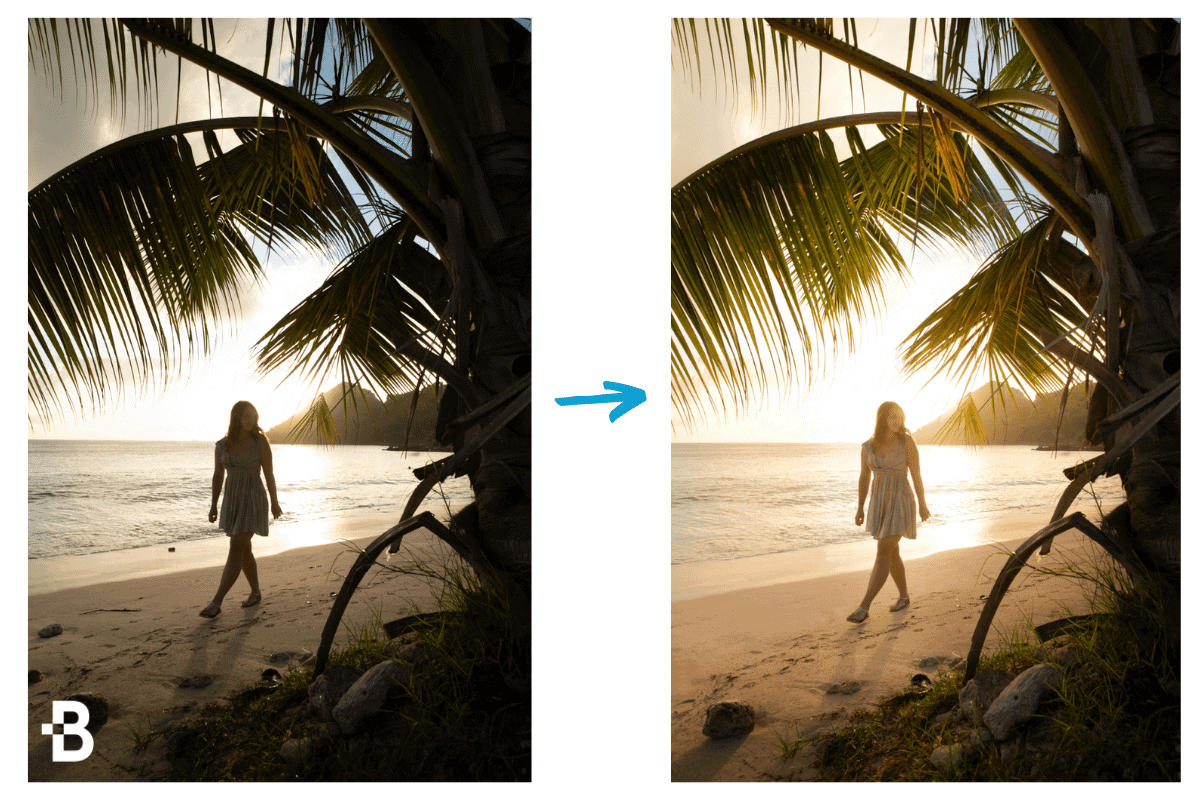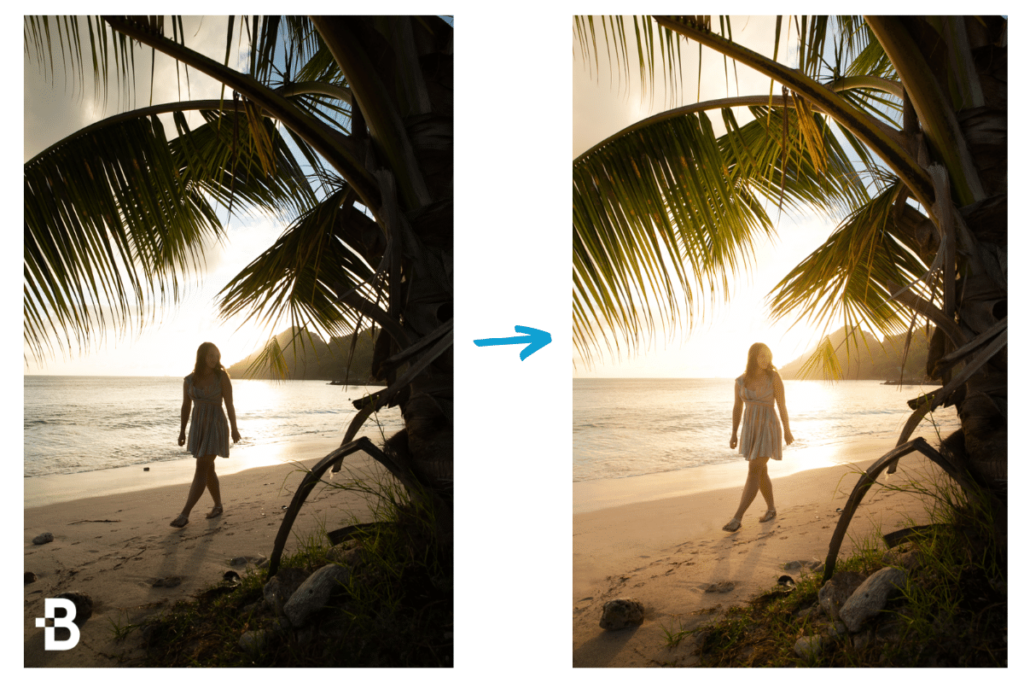 Once you're feeling confident in Lightroom, it's time to take your skills into Photoshop. The learning curve between these two programs is steep. So don't feel bad if you feel lost at sea when you first open Photoshop. There are many more technicalities to Photoshop that you need to understand before you can really edit photos in it. Things like layers, layer masks, adjustment layers, and layer organization are all key to make learning Photoshop less stressful.
Photoshop will take you a bit longer to get the hang of, so I've created an easy 10 step workflow that you can check out here. It's a must-see for any beginner photo editor!
How To Edit Photos Between Lightroom And Photoshop
Adobe makes it easy to work between Lightroom and Photoshop. With the click of a button, you can begin working in Lightroom, make a few adjustments in Photoshop, and be back to Lightroom before you know it. All with the same photo!
Once you learn how each of these programs works, going back and forth between them is the best way to get a full-value editing workflow. Here's how it's done.
After you've imported and organized your photos in Lightroom, right-click on any image in your library or filmstrip.
Go to Edit In > Adobe Photoshop.
Your selected image(s) will be automatically transferred to Photoshop with the same adjustments you've already made in Lightroom. That way, you're building off of your edit, rather than starting all over.
From here, you can make whatever adjustments you want to the image. Once you're done, simply hit Command + S (Mac) or Control + S (PC) to save your image. Alternatively, you can go to File > Save.
Since your photo came from Lightroom, saving from Photoshop will send your photo back into Lightroom, this time with the updated adjustments. Now you can continue to edit in Lightroom or export your photo instead!
The nearly seamless transition between the programs makes it easy to go all-in on your adjustments. Rather than choosing to edit in Lightroom or Photoshop first, you can just use both! The decision process doesn't get simpler than that.
With that said, it's best to start in Lightroom, so all your photos are organized and able to go back and forth. It's much harder to start in Photoshop and transition to Lightroom afterward.
Learn How To Edit Photos In These Programs
Now that you know whether you should edit photos in Lightroom or Photoshop first, all that's left is to learn the programs! Below are a handful of great beginner-friendly tutorials to help get you started in both programs.
Editing In Lightroom:
Editing In Photoshop:
Happy editing!
– Brendan 🙂