As a photographer, I know how tricky storing photographs can be, especially when you want a secure online space to keep your images. Since there are many options available, it becomes difficult to decide which platform to trust with your images. With two extremely popular options being SmugMug and Flickr, I have broken down the pros and cons between each to help you decide which is better suited to you.
SmugMug and Flickr are both photo-storing and sharing platforms that allow you to create a sharable portfolio of your work. SmugMug has the added benefit of letting you sell your images through the platform and have them printed for your buyer to collect. While both programs offer unique benefits to photographers, there are limitations.
Read on to learn all you need to know to decide whether you should buy a SmugMug or Flickr subscription for your photography.
What Is SmugMug?
SmugMug is a subscription-based online photo/video-storing hosting platform. Users can set their devices to automatically upload their media files to the platform that offers unlimited storage capacity. The platform also facilitates the sale of photos and videos for amateur and professional photographers.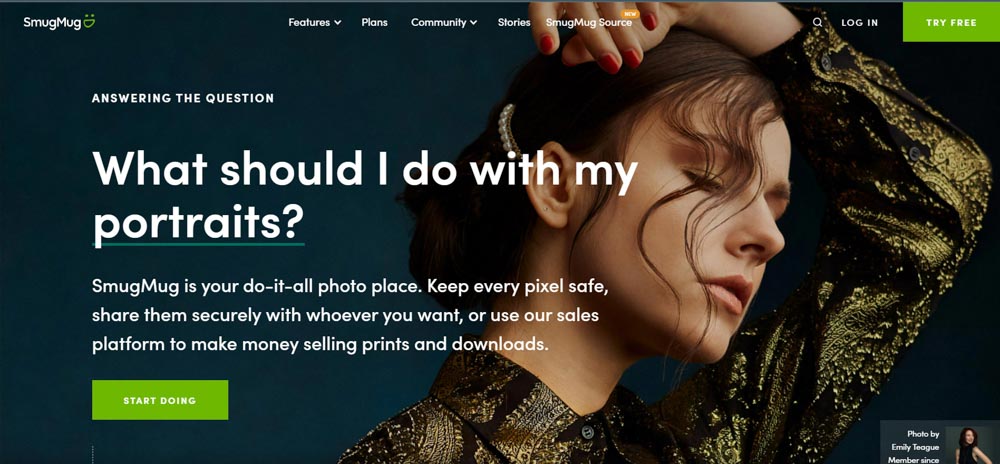 SmugMug was started in 2002 by the father and son duo, Don and Chris MacAskill, and is still owned by the original owners.
Apart from storing your images, SmugMug also allows you to create a private or public portfolio of your finalized images to share with clients. This offers clients the opportunity to browse through photography collections and select the images they would like to buy digitally or in print form. The sales are conducted through SmugMug's secure online platform and sent to verified printer partners around the world.
SmugMug links to Android, IOS, and Lightroom for automated uploading and storing of your images.
Pros:
Unlimited storage opportunities
Easy-to-use template options for your portfolio
Sell your images and videos with ease
Set up your site in an hour
Plenty of customization options
Built-in SEO features
Supports all file formats
Custom-domain options
Cons:
No free version, only a 14-day free trial
Fewer template options than other platforms
Limited to printing companies verified by SmugMug
What Is Flickr?
Flickr is an online photo/video hosting and sharing platform as well as an online community for amateur and professional photographers. Flickr offers free or paid subscription plans for users to choose from. The free plan is limited to a maximum of 1,000 media files, whereas the paid plans offer an unlimited storage option.
Flickr was started by a Vancouver-based company founded by Caterina Fake and Stewart Butterfield as a way to embed and share images. In 2005, Flickr was acquired by Yahoo! as a replacement for Yahoo! Photos. In 2018, SmugMug bought the company and migrated the platform to Amazon Web Services (AWS).
Media uploaded to Flickr can be sorted into galleries and shared publicly or set to private if it is used as a storage place for your images. Images on the platform can be tagged, categorized, and added to specific photography groups filled with community members who share similar interests.
Flickr doesn't offer the option of buying and selling media, although you are able to contact a photographer directly.
Pros:
Free version available
Can set to automatically upload new images
Built-in image recognition
Good search filters
Cons:
The free version has storage limitations
No offline view
Limitations of file sizes
Doesn't support lossless file types
SmugMug VS Flickr Feature Comparison
While the two platforms are owned by the same company and have a similar purpose, they have multiple differences too. When choosing between the two platforms it is important to determine your needs, budget, and long-term goals as a photographer.
1. Photo Storage & Supported File Types
SmugMug offers unlimited storage with all four of the subscription plans available. This allows you to easily store all the images and videos you need in a safe and secure environment. At no point will you have a limitation on the number of media files you store on the platform.
SmugMug allows you to upload files in any format you want, including lossless file types. However, to upload RAW files, you need to sign up for SmugMug Source.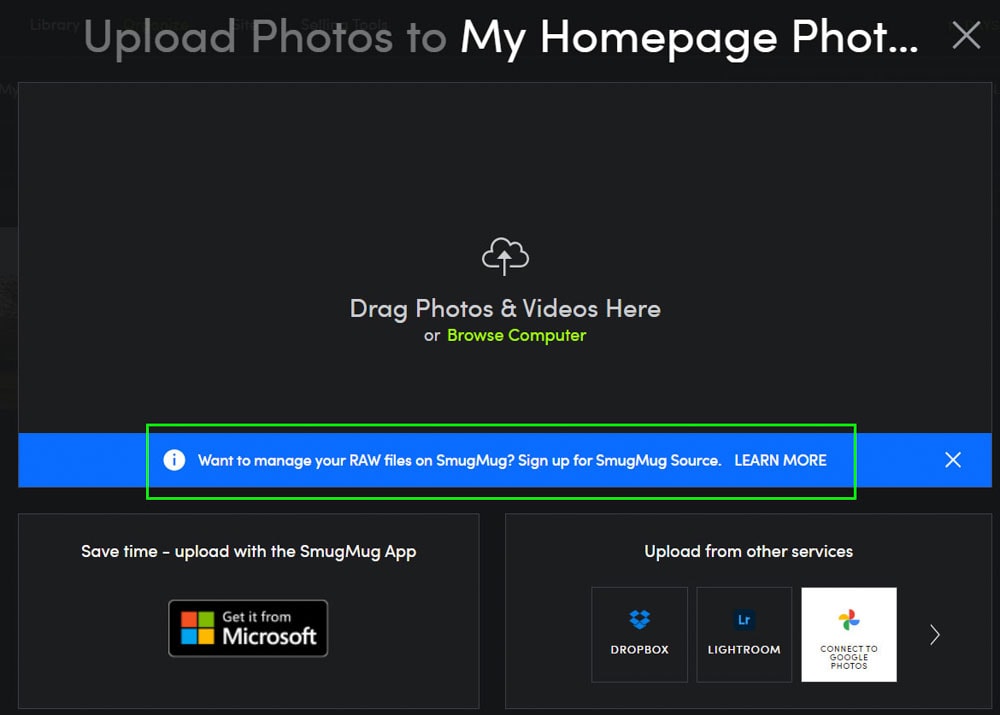 The free version of Flickr has an overall upload limit of 1,000 files. If you would like to store more files than this, you will need to upgrade to a paid subscription. The free version also has an upload limit of 100Mb per month. The paid subscription offers unlimited upload volumes per month.
The free version of Flickr doesn't give you access to the full-size version of your images. The free and paid version of Flickr only supports uploads of JPEG, GIF, and PNG images as well as videos.
Since both paid versions have unlimited file uploads, but SmugMug allows for uploading of any file type, it is the clear winner here. RAW files are large in size making them quickly fill up your local hard drives.
Photo storage & supported file types winner: SmugMug
2. Gallery Creation For Your Portfolio
SmugMug offers customizable templates to choose from to create your portfolio. These templates allow you to create a display page for your images that suits your branding. There aren't too many template options, but you should find something that suits your needs.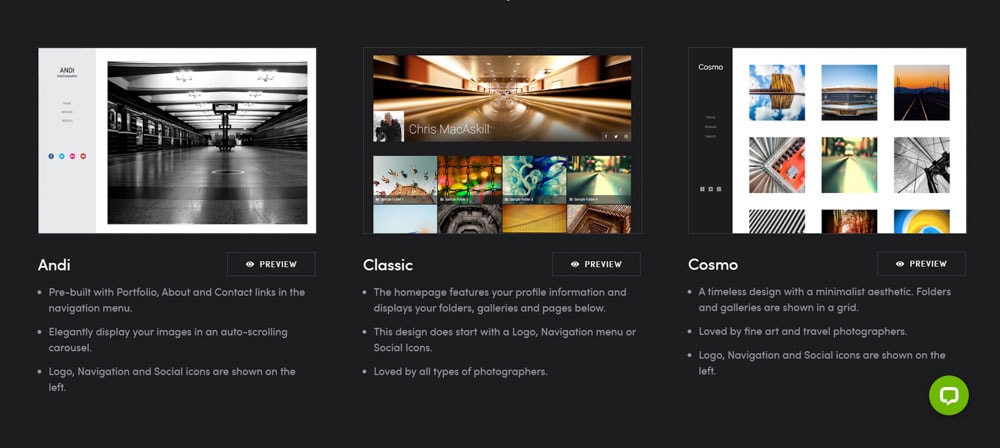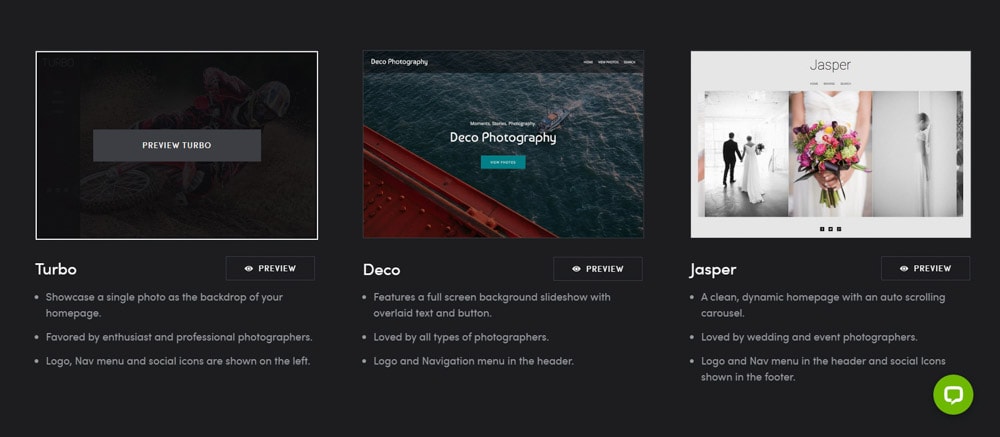 When signing up for SmugMug, you will be prompted to select the template for your profile. Once you choose a template you will be shown an example of the template in action.
You will then be asked to add details to your profile such as the gallery name and additional information for the site. You can then upload your first few images and select "Show me my site" to start your profile.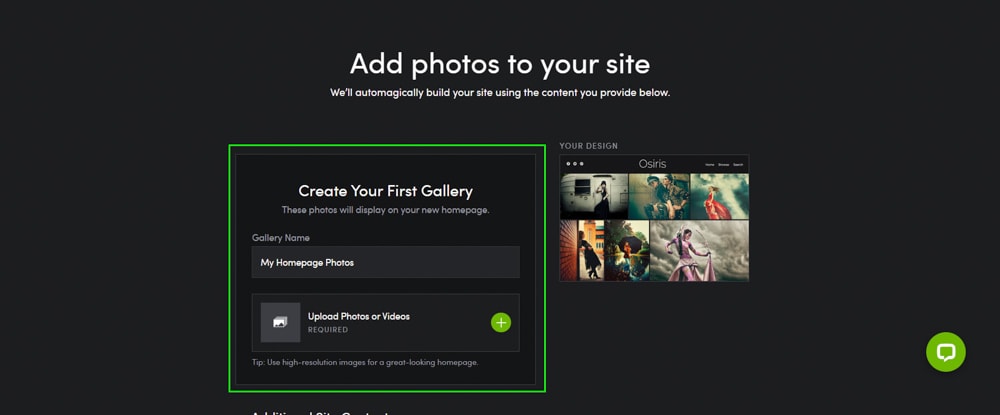 The gallery creation on SmugMug is easy to set up and creates a unique gallery that suits you and is then added as your own 'site' with a domain created for you with the SmugMug URL. You can also choose to add your own domain if you already own one.

Flickr offers multiple options for sorting and storing your images such as in Albums, Favorites, Galleries, your Camera Roll, or you can add them to Groups where other photographers also add similar images.

Your public images can be added to the Photostream where it becomes your public gallery or portfolio. Flickr doesn't offer much customization for the presentation of your galleries and photostream. This results in most Flickr profiles looking almost identical.
If you are looking to create a pro-level site to display your images in a unique manner, then SmugMug is the better choice. Unless you are looking for a storage area where you can group multiple images in various folders with different privacy settings, then Flickr may be better for you.
Gallery creation for your portfolio winner: SmugMug
3. Print Selling Options
SmugMug has eCommerce capabilities on the website and gives you the opportunity to sell your images to your site's visitors. You can sell your images both digitally or printed in various sizes for your clients.
This feature makes SmugMug a great tool to use when showing images to potential clients who would like to look through your collection. Buyers can simply choose the images they would like and select how they would like to receive the images.
SmugMug has verified printers that service the United States, UK, Africa, and Asia. When selling images for print, they will be sent to one of the verified printers only, since there is no option to choose your own printing company outside of SmugMug's verified partners.
The eCommerce section of SmugMug offers options to brand your site and to add watermarks to your images to prevent people from stealing your images.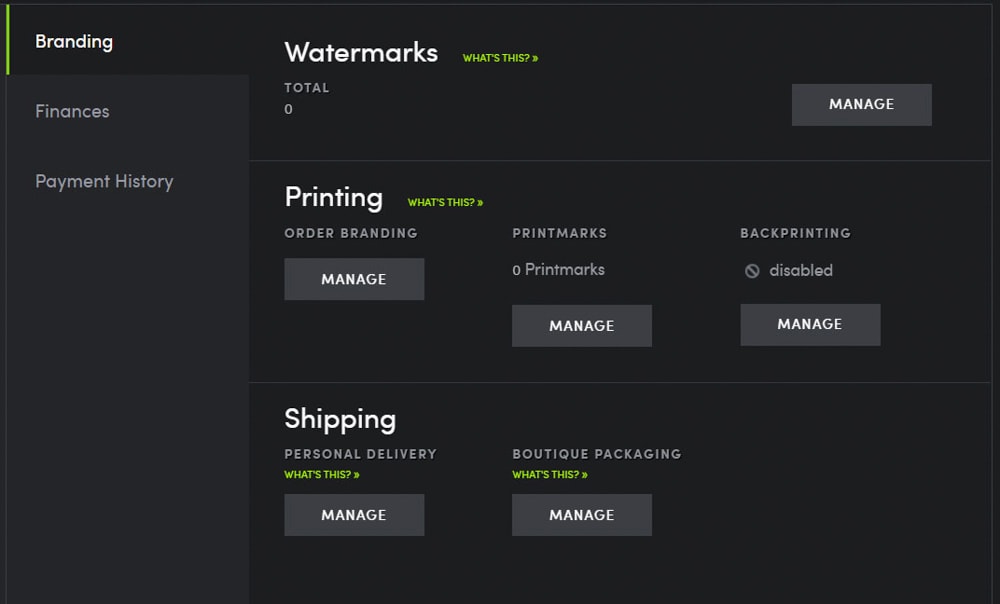 SmugMug also allows you to add passwords to specific galleries which makes it easy to share your images privately with friends or clients who can then easily buy your images. You can customize the pricing for each gallery you set up. SmugMug offers an example price sheet, and you can add your own ones too.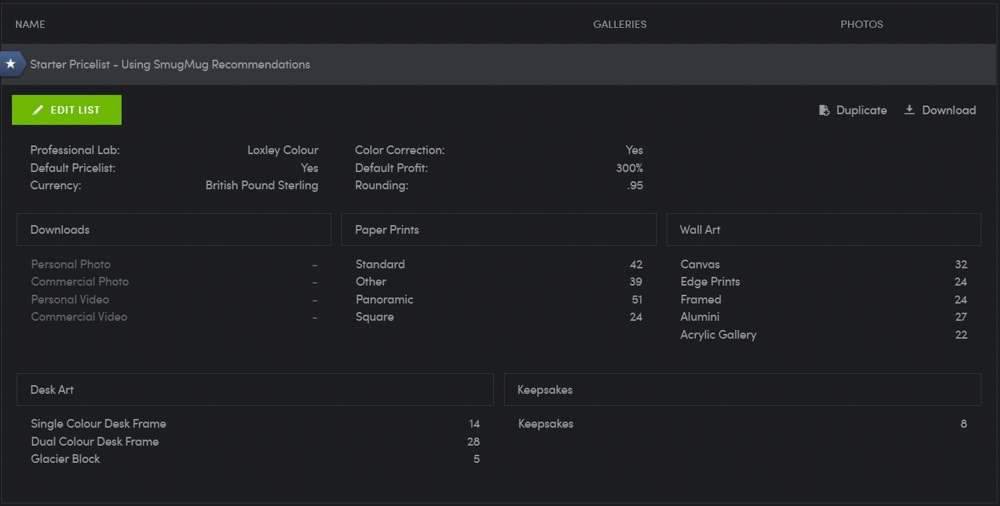 SmugMug handles the selling of the images and works with the printers, once you have set up your store, you leave it up to the platform to process. You will then receive your money from the sales after SmugMug takes 15% of the sales as commission.
Flickr has the option to print your own images but doesn't allow you to print images from other accounts. What this essentially means is that you can't buy or sell images through Flickr.
Flickr does offer different printing options for you to print your images, such as metal prints, paper prints, and canvas prints. Flickr has also partnered with Blurb to give you the option of creating your own photo book.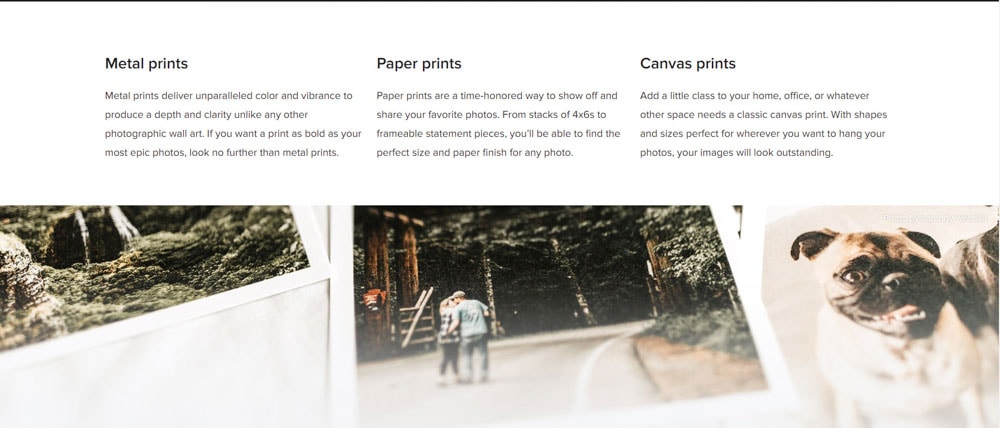 Since Flickr allows you to print your own images but doesn't allow you to sell your images and fulfill orders, SmugMug is the clear winner. SmugMug offers simple yet extensive eCommerce functionality for photographers.
Print selling options winner: SmugMug
4. Cost
SmugMug offers a 14-day free trial, after which you will need to select a paid subscription plan to continue using the service. There are four subscription plans to choose from, Basic, Power, Portfolio, and Pro.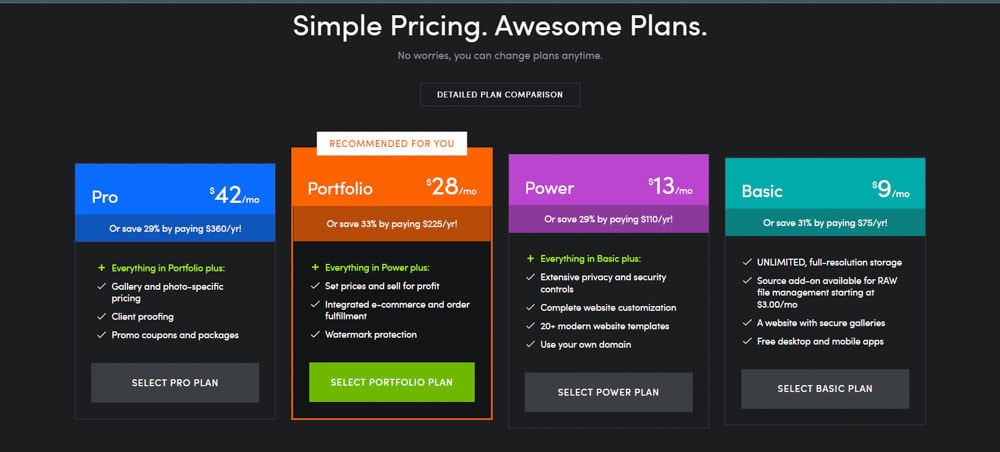 If you are simply looking to store your images on a secure online platform, the Basic plan will work well for you. However, if you are looking to showcase your portfolio to potential clients and sell your images, you should consider a Portfolio or Pro plan.
SmugMug Source can be added to any of the four plans at an additional cost, and it allows you to upload RAW images to the platform. The Basic plan is currently $9 per month while the Pro plan is currently $42 per month.
Flickr offers a free version or a Pro plan which is a paid-subscription version. While there is only one paid plan, it comes with three subscription options where you can choose the Monthly plan, Annual plan, or 2 Year plan.
The subscriptions each offer full use of Flickr which includes unlimited storage, a desktop uploader, and no ads. However, the cost works out cheaper if you purchase the Annual or 2 Year plan. All subscriptions on Flickr are non-refundable.
The Monthly Plan is currently $8.49 per month and the 2 Year plan is currently $5.99 per month.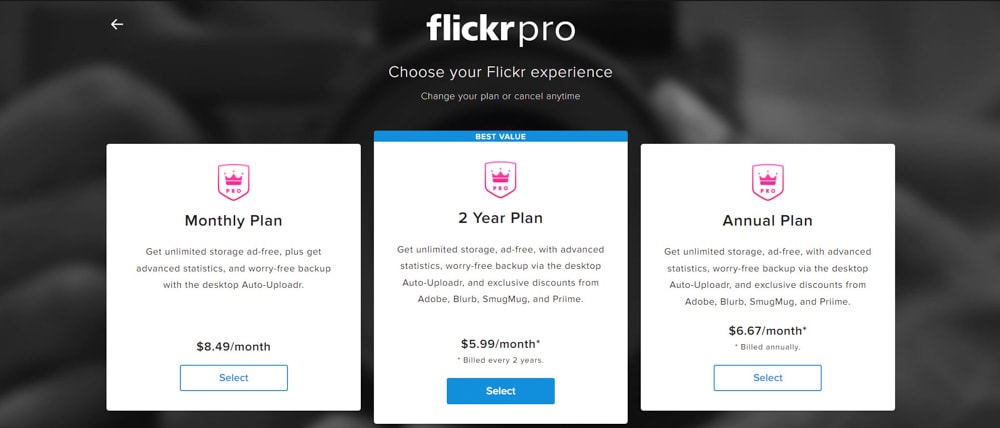 While SmugMug has more options when it comes to subscription options, Flickr offers a cheaper Pro plan than SmugMug's Basic plan and you can get a decent amount of storage on the Free plan on Flickr.
Cost winner: Flickr
Comparison Summary Of SmugMug Vs Flickr
| | SmugMug | Flickr |
| --- | --- | --- |
| Photo storage & file types | Unlimited storage on all plans and supports all file types including RAW. | Limited storage on the free plan (up to 1,000 files) and unlimited storage on the paid plan. Only supports JPEG, PNG, GIF, and video. |
| Gallery creation | Highly customizable gallery options to create a pro-like site. | Standard gallery option with no customization options. Although plenty of options to store images in various groupings. |
| Print selling options | A customizable eCommerce site with the ability to sell images to clients in digital or print format. | Can print your own images but can't sell images to other users or clients. |
| Cost | Four subscription options from $9 to $42 per month. | Free version and a Pro plan. The Pro plan is between $8.49 and $5.99 per month based on the length of the plan. |
Which Platform Is More Popular?
Both SmugMug and Flickr are popular programs that are visited for different reasons by users. While SmugMug is more focused on professional photographers who are selling their work, Flickr is more community-based for amateur and professional photographers.
SmugMug receives roughly 611k visitors per day with 5.8 million page views each day as of writing. These numbers suggest that SmugMug is likely accessed by photographers sharing their page links with followers or potential clients.
Flickr receives about 5.5 million visitors per day with 32.6 million page views each day as of writing. This shows that Flickr is the more popular site based on how many visitors are accessing the site each day.
However, this does not show who is accessing the sites. While the purpose of the platforms suggests that SmugMug is accessed by professional photographers for business purposes, Flickr is accessed by amateur and non-photographers to browse images and use the community features of the platform.
Should You Use SmugMug Or Flickr For Your Photos?
Our Pick

SmugMug is the most complete option for photo storage, portfolio creation and display, print sales, and more. SmugMug ticks all the boxes for photographers who want a professional portfolio and client area. After using SmugMug for my own portfolio the last 6 years, I can confidently say it's worth every penny; especially with the unlimited photo storage which is helpful since client galleries can add up!
The choice between the programs will depend on your reason for using an online platform for your images. If you are simply looking for a basic place to store and share your images that are in JPEG, PNG, or GIF format then Flickr is a good option, however, you will need the Pro Plan if you are looking to store a lot of images.
Flickr is also good if you are looking to learn more about photography by viewing other photographers' images in a community setting.
SmugMug is the superior option for professional photographers who are looking for a secure platform to store all their images including RAW files, deliver images to clients, and create a customized portfolio. This platform is also better as it allows you to take your photography further by selling your images professionally with multiple selling options.
SmugMug is highly customizable, giving you the opportunity to showcase your images in the manner that suits your style of photography, giving you a sense of individuality and unique branding. 
Overall, I would suggest using SmugMug if you are looking for a long-term platform for your photography portfolio and client deliveries. To give it a try for yourself, click here to get a 14-day free trial of SmugMug and see if you enjoy it as much as I do!