As an amateur or professional photographer, you may be looking for a trustworthy platform to store, exhibit, and sell your images. Since there are so many online platforms for this, it can be difficult to choose the right one for you. Having experience with both SmugMug and PhotoShelter, I can help you choose.
These two programs both offer a secure platform on which you can store high-resolution images, create a personalized site to display your photos, and sell them to clients and other buyers.
However, there are a few key differences between these programs that will help you decide on which subscription is best for your needs.
Comparing SmugMug Vs PhotoShelter For Photographers
Since both these platforms are popular, and excellent for photographers, you should choose the one that meets your needs as a photographer, based on what is most important for you when uploading your images to the site.
Here are the top five categories to consider between the platforms and which is the better option for each category.
1. Image Storage Options
These platforms have been designed to offer photographers additional storage options with a cloud-based solution. They work by allowing users to upload photos in low or high-resolution and access them at any time. The images can be portrayed on your online gallery or kept hidden if you are simply storing images.
SmugMug has four subscription options available with each plan offering unlimited storage for images and video. At no time during your subscription with SmugMug will you be limited on the number of media files you upload to the program.
SmugMug also allows you to store all types of image files, including lossless file types and PSD files. In the case of adding RAW images to the platform, you will need to sign up for SmugMug Source which is an additional benefit to the platform.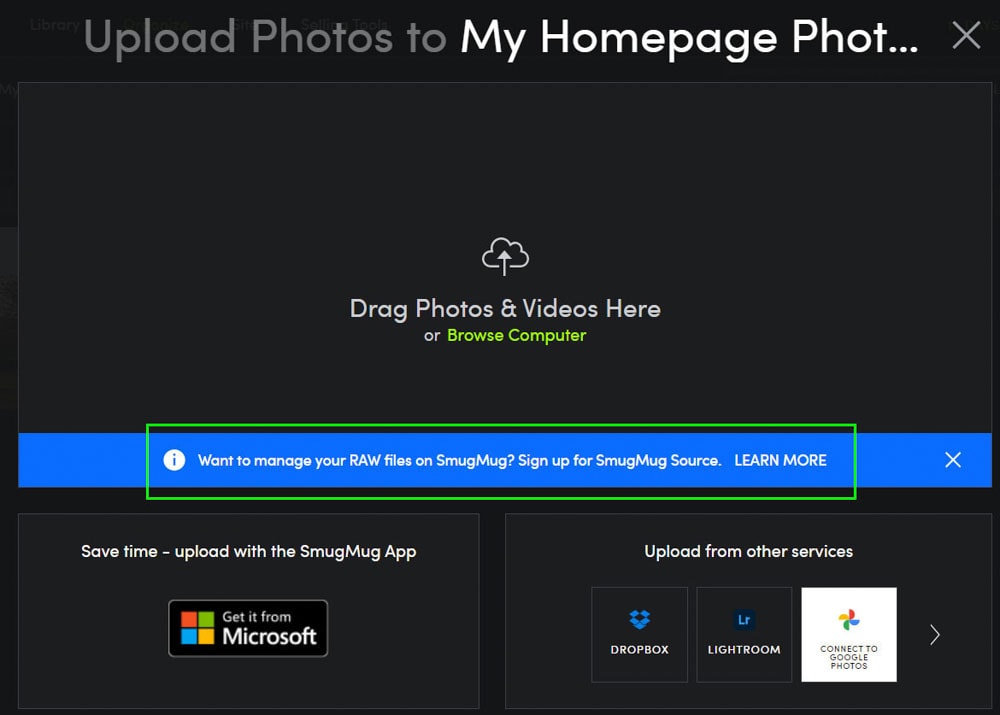 PhotoShelter, on the other hand, offers limited or unlimited storage based on the subscription you purchase. You can start with a basic plan which only offers 4GB of storage, which won't get you very far. You could choose the standard plan which offers 100GB of storage which is a bit better, or you can go for the pro plan and get access to unlimited cloud storage.
PhotoShelter does offer storage packages where you can upgrade your storage limit by 10GB or 35GB for an additional monthly or annual fee. At this stage, PhotoShelter doesn't support the upload of videos, but it does allow you to upload images in any file format including RAW and PSD for archival purposes.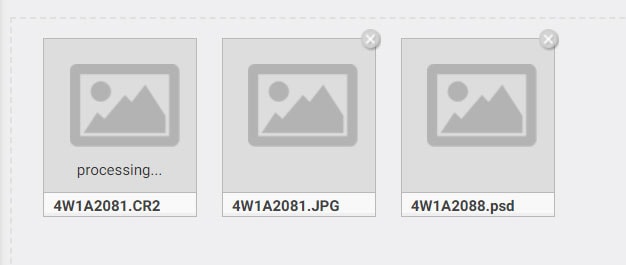 Since SmugMug offers unlimited storage in all of its subscription plans, it is slightly better in this regard than PhotoShelter. SmugMug also allows for the uploading of video files which is useful for photographers who also need to store these files.
Winner: SmugMug
2. Website & Portfolio Builder Simplicity
The two platforms are used by photographers to create personalized sites without needing to build and purchase a professional website. This not only cuts costs but also allows photographers to design their own site with easy-to-use customization tools with little to no coding knowledge required.
SmugMug offers an intuitive and simple website builder which allows users to create a unique online portfolio to display their images. The portfolio builder process is simple and you can have a customized portfolio within an hour of signing up.
The platform offers over 25 customizable template options for you to choose one that suits your needs, which you will be asked to select upon signing up.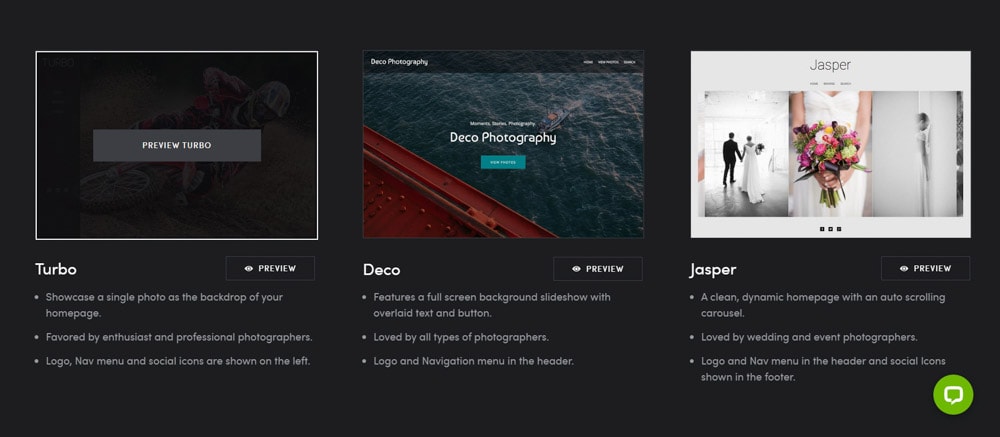 Once you have selected the template you like you will need to add a name for the gallery as well as additional information before selecting "Show me my site".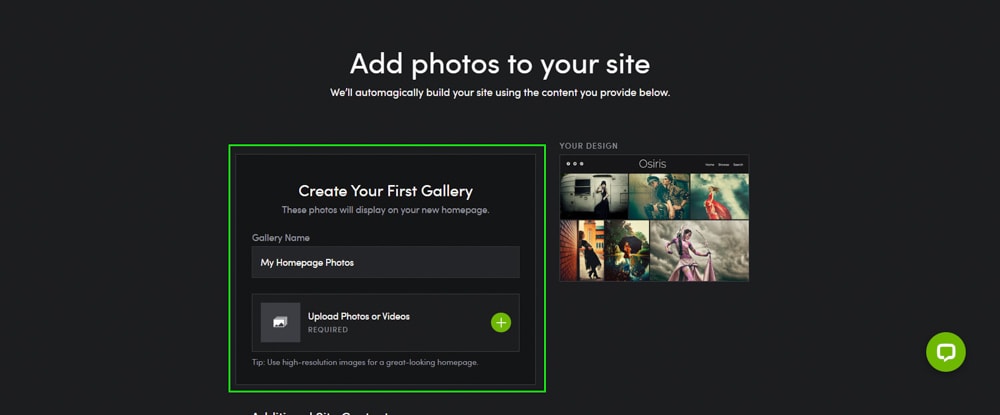 The new gallery is created with a customized domain with the SmugMug URL. However, you can also add your custom domain if you already own one from another platform such as GoDaddy.
PhotoShelter has a populated demo gallery setup when you sign up to the platform. This gallery gives you an idea of how your portfolio can look when you add your images. You can then simply replace the demo images with your own and have your gallery up and running.
You can then further customize your gallery by clicking on any of the pencil icons to edit and customize the information including adding links to your social media pages, including contact info, adding links to the rest of your site, and changing how you feature your work.
You can also change the template (there are only nine customizable templates), font, and colors on the page with the menu on the left-hand side.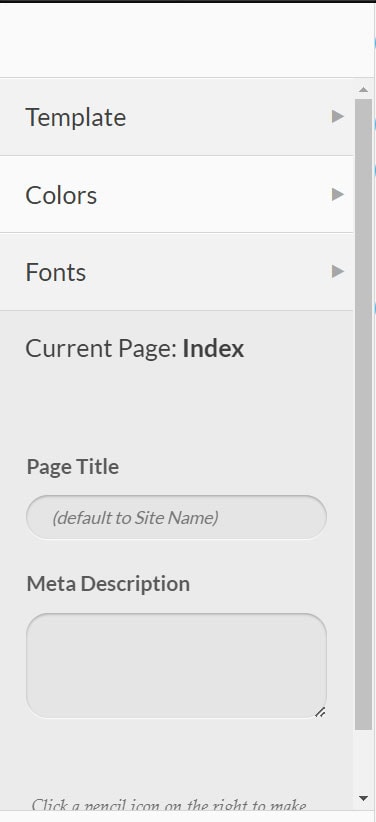 You will have the option to give your site a domain name with the PhotoShelter URL or to add your custom domain with an SSL certificate. However, the custom domain is only used for the home page and not the rest of the site.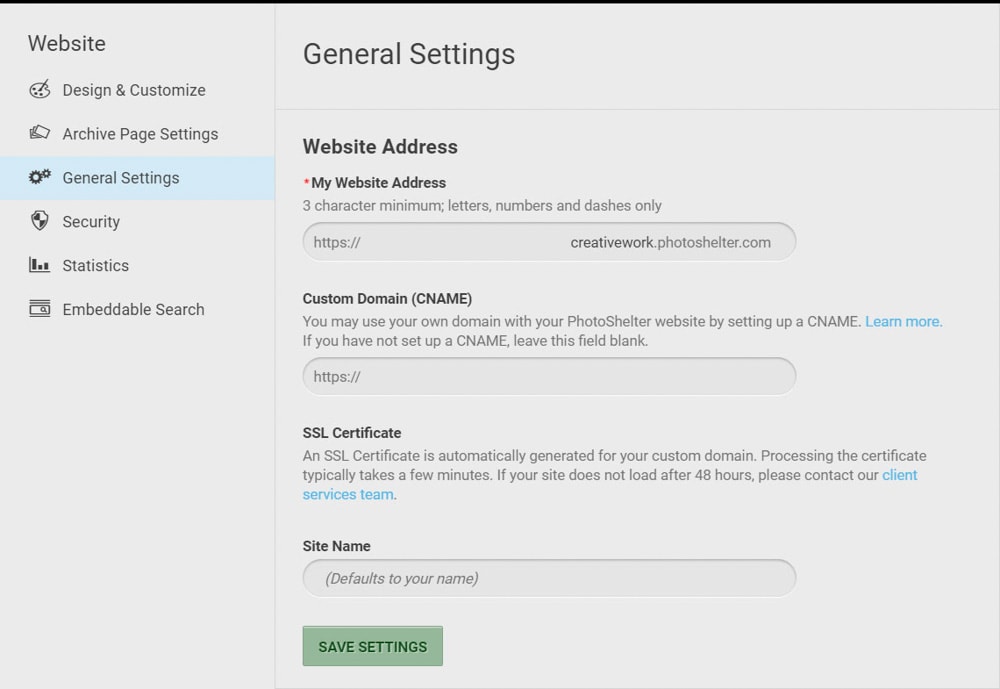 Both platforms are easy-to-use and you can have a portfolio site up and running in no time on both sites. However, templates are the simplest way to create a page and since SmugMug has more to choose from, it is the winner in this category.
Winner: SmugMug
3. Selling Options
These sites have eCommerce capabilities that you can use to sell your images to clients and one-time buyers. This creates a safe way for you to sell images without needing to chase clients for the money owed.
SmugMug lets you set up private galleries where clients can choose to download images and videos with a license or to have images printed by one of SmugMug's verified printers that are available in the United States, Asia, UK, and Africa. When buying images there is no option to use printers outside of the company's printing partners.
SmugMug allows you to add watermarks to images, set up your pricing options, and offers a pricing guide for first-time sellers. When images are sold, SmugMug takes a 15% sales commission.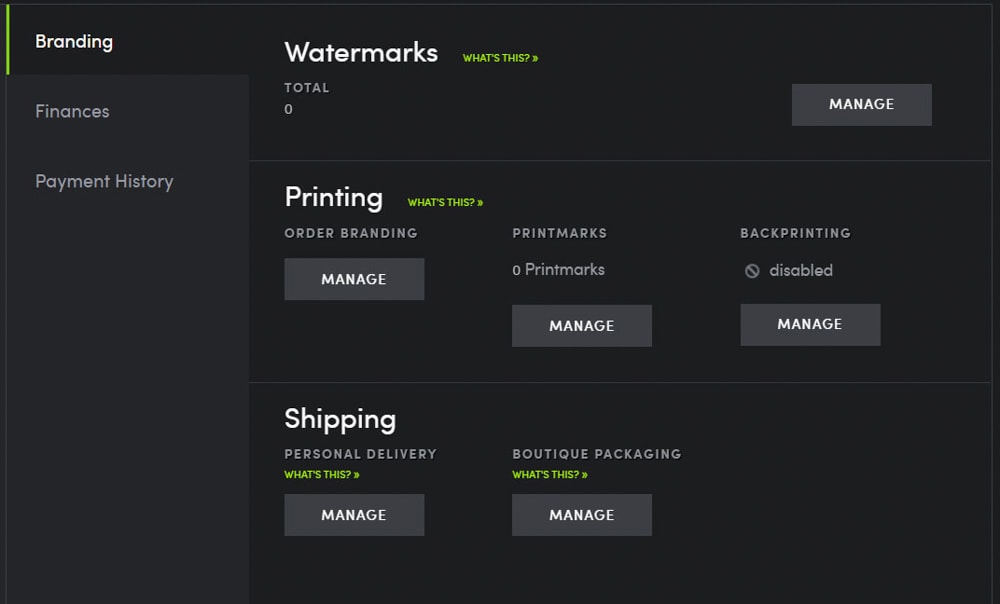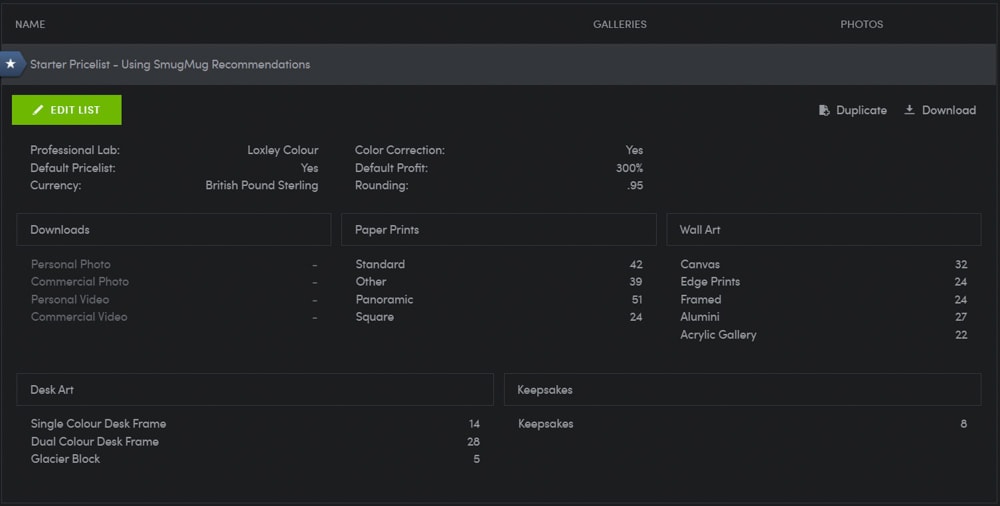 PhotoShelter also has in-depth eCommerce functionality on the site where clients can purchase images to download with a license or to have printed. You can add various pricing profiles to set different prices and markups based on usage rights or regions.

PhotoShelter has partnered with almost 200 printing outlets worldwide that you can choose from to have the images printed and sent to yourself or your clients. You can also choose to access the Print Vendor Network and add your own trusted printers or find new printers to use.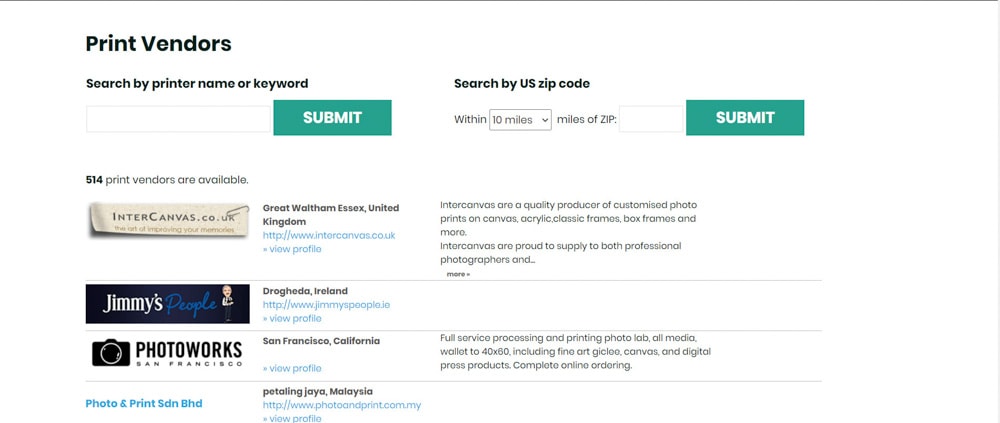 The platform charges transaction fees based on the subscription you have: 30% for a starter account, 10% for basic, 9% for standard, and 8% for a pro account.
The platforms both offer a customizable pricing plan for clients to purchase images, however, the charges for PhotoShelter are lower and you can outsource your own printers to deliver images, making PhotoShelter the winner in this category.
Winner: PhotoShelter
4. Client Proofing
An important aspect of selling images is the client proofing process, allowing the client to choose certain images and request particular edits for the images they would like to buy.
SmugMug allows users to access password-protected galleries where the client can select images to either download or print. The galleries are shared through a link that is only valid for two weeks. The images are presented as the original files only and clients can't select images or choose various sizes and formats.
PhotoShelter also allows for the sharing of galleries to clients who can log in through a free buyer account. The clients can then choose to download or print images much like SmugMug,
However, PhotoShelter has the added benefit of allowing clients to select their favorites from a batch of images before choosing to buy them. As a photographer, you can then do further edits before the client actually buys the image. You can set the duration of how long the gallery is available as well as image size, format, and visibility options.
Since PhotoShelter has created a great proofing solution to allow clients to choose the images they want from larger batches, it is the better option in this category.
Winner: PhotoShelter
5. Cost
While both programs don't have a free plan for subscribers, they do offer a 14-day trial, where you can test out the platforms. After the free trials, you will need to sign up for a subscription to carry on using the platforms without losing your images.
SmugMug offers four subscription plans with various benefits on each plan. However, all the SmugMug plans have unlimited storage for images and videos and the Source add-on can be added to any plan at an additional price.
The plans range from $9 to $42 with a minimum of the Portfolio plan needed to sell images.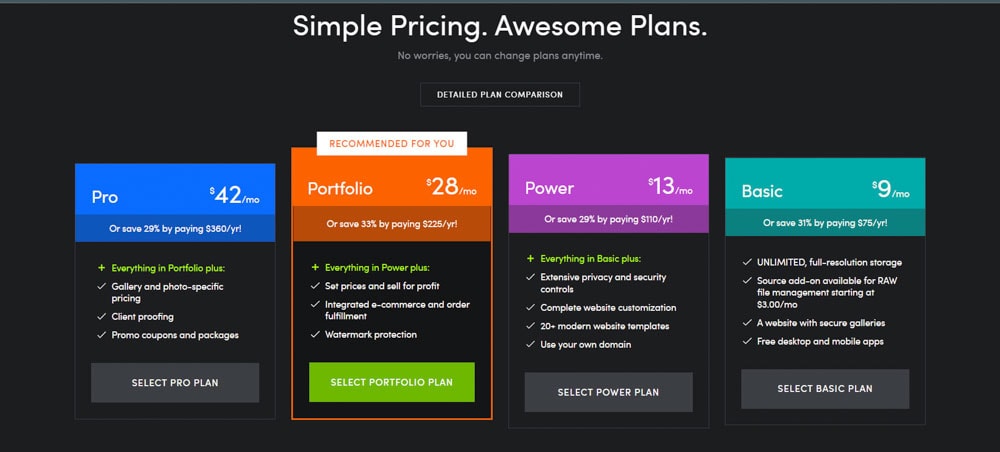 PhotoShelter offers three different plans which range from $10 per month up to $45 per month with various benefits on the subscriptions. The eCommerce capabilities are available for all plans, and the main difference between the next two up is the client proofing tool and then the increase in storage.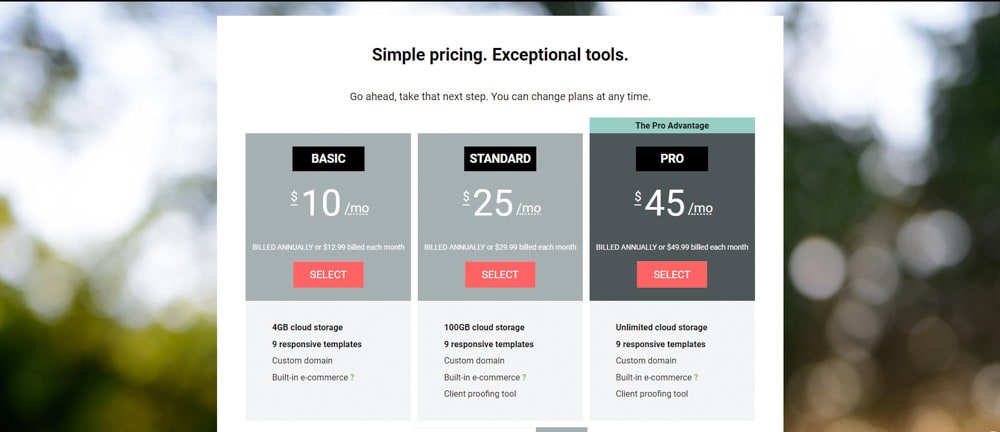 While there is a slight difference in pricing, the winner here depends on what you are looking for. If you are needing a lot of storage, then the basic plan on SmugMug will work for you. However, if you are looking for eCommerce capabilities at a lower price, the PhotoShelter would be the better option. However, the winner here is based on cost alone.
Winner: SmugMug
SmugMug Pros & Cons
SmugMug is a great platform for photographers who primarily need a secure online platform to store lots of images and videos due to its unlimited storage options. The platform is then suited for amateur to professional photographers who are looking to display their work and possibly sell some of their images.
SmugMug is also well-suited for creators looking for a quick and easy website design to portray their portfolio on.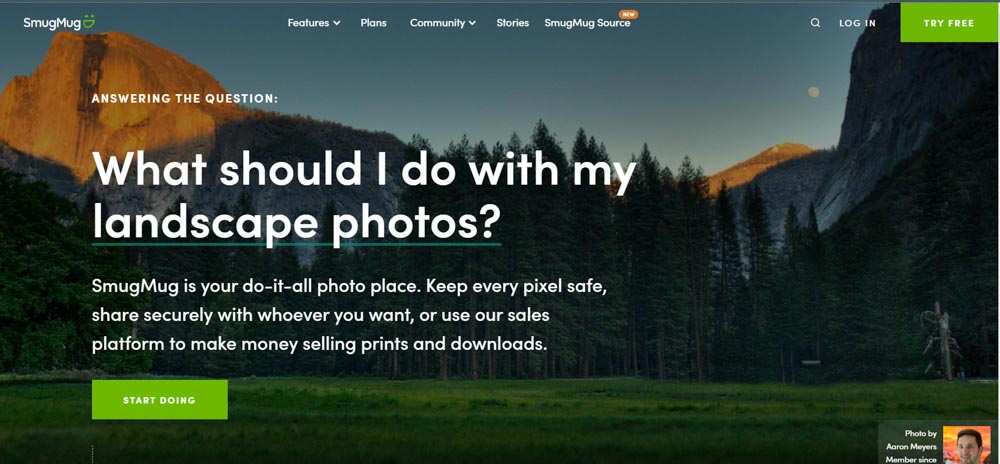 Pros:
20+ customizable template options
Unlimited storage available
Easy site set up with a custom domain
Effective built-in SEO
Customizable eCommerce functionality
All file types supported including video
Cons:
No free version is available
Doesn't support self-fulfilled printing
Client proofing options are limited
PhotoShelter Pros & Cons
PhotoShelter is best suited for professional photographers who are looking for a serious eCommerce platform to sell their images, rather than focusing on a storage system. The platform offers a better printing system where photographers have several more options of printing vendors as well as self-fulfilled printing capabilities.
The platform also offers a few customizable templates to create a stunning portfolio and proofing galleries for clients to navigate through.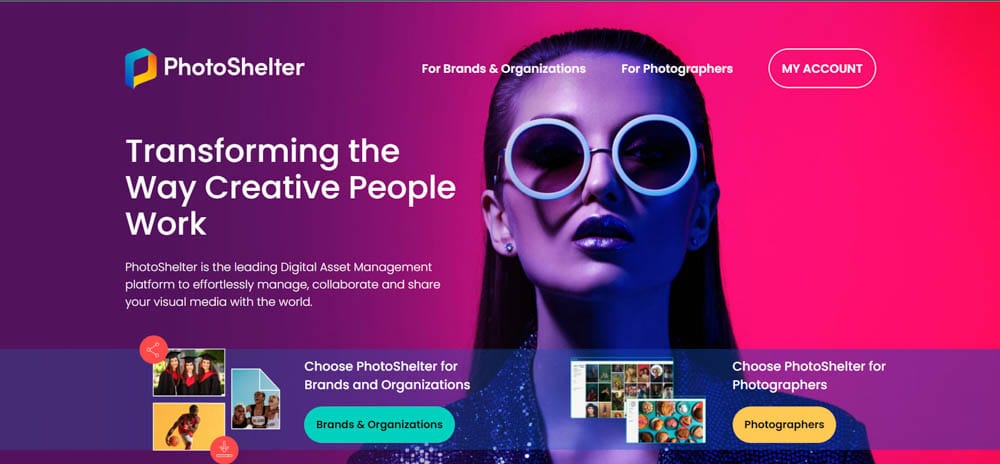 Pros:
Offers useful guides, photography content, and market tips for photographers
In-depth eCommerce capabilities
Extensive proofing tools for clients
Self-fulfilled printing
Supports all image file types
Low sales commission charged on pro plan
Cons:
Limited storage on lower plans
Doesn't support video files
Only nine customizable templates
Which To Choose?
Our Pick

SmugMug is the most complete option for photo storage, portfolio creation and display, print sales, and more. SmugMug ticks all the boxes for photographers who want a professional portfolio and client area. After using SmugMug for my own portfolio the last 6 years, I can confidently say it's worth every penny; especially with the unlimited photo storage which is helpful since client galleries can add up!
Choosing the right platform between these two depends on your needs and future goals as a photographer. They are both great platforms that give you the ability to portray a professional photographic portfolio to showcase to clients and easily sell your images without the risk of dealing directly with clients.
PhotoShelter is a good overall platform for professional photographers looking to set up an extensive eCommerce site to sell images to clients worldwide. The platform is geared towards photographers who want more control over the selling of their images because of the self-fulfilled printing process. PhotoShelter does fall short in storage limits on the lower plans.
SmugMug is a suitable platform for amateur to professional photographers who want to create an online profile for their images to sell. This platform is also perfect for those looking for a secure storage space to keep images and videos secure. SmugMug has its drawback in the limited printing options for clients, making it difficult to service clients in certain countries.
The option I have gone with for myself is SmugMug as it checks all the boxes for my needs. You can see if it does the same for you by getting the 14-day free trial of SmugMug here.