Great Summer Photography Ideas To Try
If you need some summer photography ideas to try, then you've come to the right place! Summer is one of the best seasons for photography since there is always great weather and more time to be outside. To help you take advantage of the endless sunshine and perfect temperatures, here are 12 excellent summer photography ideas to try!
1. Play Around With Sun Flares
Sun flares can add a lot to your photos, but they do require something very specific to work… the sun!
Take advantage of clear skies and sunny weather and work to create the perfect sun flares. No matter what type of photos you like to take, sun flares are a ton of fun to capture.
There is a bit of hidden technique behind capturing perfect sun flares. Unfortunately, it's not as easy as just pointing your camera towards the light and hitting the capture button.
You'll need to make sure you're using a smaller aperture of F/16 or above!
To help you get started, here's an actionable guide to capturing sun flares in your photography!
2. Capture Silhouettes
Take advantage of the sunshine and try your hand at silhouette photography. Silhouettes are a lot easier to capture when the sun is lower in the sky to backlight your subject.
If the sun is still out, try to position your subject directly in front of the sunlight. This subject adds a magical glow around your silhouettes for a great effect!
Believe it or not, one of the best times to capture silhouettes is right after sunset. At this time, the sky is still light and colorful, but most of your surroundings are in shadow.
This makes for the perfect opportunity to capture a silhouette of just about anything you can imagine.
From mountains, people, or trees, these silhouettes are all easily captured after the sun goes down. On nights with a full moon, you can even utilize that to create silhouette effects!
3. Try Photographing The Milky Way
There is no better time to photograph the night sky than during the summer. In North America, the best time to of year to capture the milky way is during the summer months. This is when the galactic center is most visible, making for incredible midnight views.
The challenge with milky way photography is that you need to do some planning. You won't be able to capture it by stepping out to your backyard and pointing your camera to the sky.
That is unless you happen to live a pretty good ways from any type of city. The further from light pollution you can get, the better your photos will be.
If you want to get started with capturing the night sky, check out this post to help plan an astrophotography adventure.
Milky way photography is one of my favorite summer photography ideas on the list! An absolute must-try if you haven't done it before.
4. See What You Can Do With Shadows
One of the struggles for photographers in the summer is there's a whole lot of sunlight. Learning how to deal with midday sun can be a challenge if you don't know where to start. A lot of photographers try to fight against the harsh sunlight or wait until later in the day to shoot.
Fortunately, there's a better way you can go about this.
Rather than fighting against the midday sun, embrace it! The reason so many people don't like shooting in midday is because of shadows.
Yes, shadows can be distracting, but you can also use them creatively!
Become more aware of shadows and how you can incorporate them into your photos. Clean edged or patterned shadows can add a unique point of interest in your composition.
To highlight this idea and how you can do this, be sure to read my guide to photography at midday.
5. Take Advantage Of Golden Hour
Summer is the perfect time to capture incredible golden hour photos. Since the weather is consistently nice, it's usually a safe bet that there will be a great sunset or sunrise.
Shooting golden hour is a great summer photography idea for any genre of photography. With better light and more vibrant colors, it adds an enhanced look to your photos. The trouble with golden hour is that it doesn't last very long. If you're unprepared for the photo you want, it will feel like the fastest hour of your life!
Rather than scrambling around and hardly having the time to get the shots you want, think ahead. Arrive early and familiarize yourself with the area. See what types of shots may prove to be worthwhile and how you can capture them.
With a bit of pre-planning, you'll be dialed in and ready to go once the light gets good. It's good to arrive at least an hour before golden hour begins for just about any location.
That means about 2 hours before the actual time of sunset!
To help you make sure you capture the perfect photo, check out this post, sharing the best camera settings for golden hour.
6. Find New Waterfalls To Photograph
One way to practice your long exposures and find some adventure this summer is with waterfall photography! Waterfalls are not only fun to photograph but are beautiful to visit.
Trying to find new waterfalls to shoot is the perfect summer photography idea for landscape or nature photographers. If you love getting outside with your camera, you'll love this idea!
There are waterfalls in just about every corner of the world. If you live near a river, there's a good chance there's a waterfall nearby.
Now photographing the most popular and touristy waterfalls can get old quick. Luckily there are so many waterfalls out there that few people have ever heard of!
So how on earth do you find these waterfalls?
With the help of the worldwide waterfall database, finding new waterfalls is easy. This free website allows you to see thousands of waterfalls in your area and tips to get there. The Waterfall Database is a must-use tool if you want to find the perfect waterfall to photograph this summer.
If you're wondering how to capture more professional looking waterfall images, you'll love my complete guide to waterfall photography. That post will teach you the ins and outs of how to capture stunning waterfall images even as a total beginner!
7. Try Using A Polarizing Filter
One of the easiest ways to improve your photos on a sunny day is with a polarizer. These lens filters help to enhance color, reduce glare, and balance your exposure.
In the middle of summer, there can be a lot of glare reflecting off of your surroundings. From tree branches, water, clothing, windows, you name it. This glare ends up making a washed-out look in your images.
With a polarizing filter, you can bring back those colors and improve the contrast in your photos with ease. No fancy photo editing tricks required!
Since there's a whole lot of sunlight during the summer months, carrying a polarizer is a wise idea. You'll be thankful you have one.
I wrote about how a polarizer works in this post and its effects on your photos. You'll be surprised at the difference they can make!
Two of my favorite polarizers on the market right now are the Freewell Magnetic Polarizer and the Tiffen Threaded Polarizer. Both are great options, but I love the magnetic filter for ease of use.
You Might Like: Freewell Magnetic Filter System In-Depth Review
8. Try Photographing A Sport
Trying to photograph something new is the perfect summer photography idea to keep you feeling creative. One way to do this is by shooting a sport or activity!
Whether that be mountain biking, rock climbing, kayaking, skateboarding, trail running, kite surfing…
The list goes on!
If there's an activity you love to take part in, then bring your camera along next time you go. Take photos of your friends and experiment with creative ideas and fresh perspectives.
If you want to photograph something, but don't know who to shoot, dive into social media! There are countless talented weekend warriors out there who love getting photos of themselves. Send out a DM or put a post up to a local Facebook group expressing your interest.
If you already have some images to show you're a capable photographer, the chances are high people will be interested.
I outline this further in my guide to adventure photography if you want to learn more about how to connect with new athletes!
9. Experiment With Lens Whacking
When the weather is clear, it's an excellent opportunity to experiment with lens whacking. Lens whacking is a technique where you hold your detached lens slightly away from the camera. The result is a dreamy shallow focus image that's difficult to capture in any other way!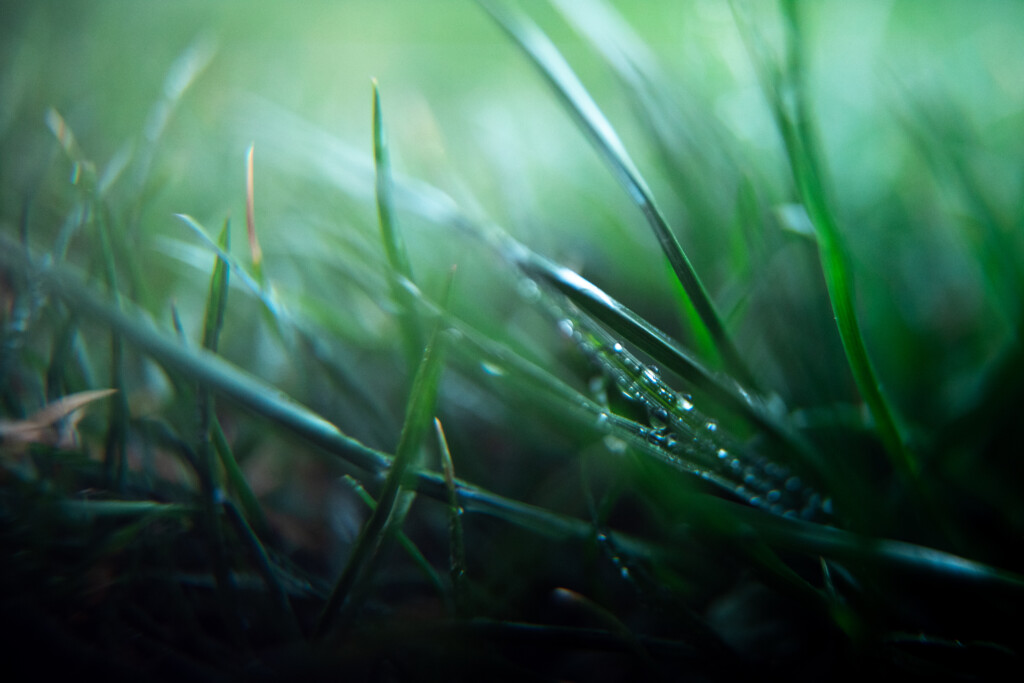 Lens whacking is perfect for getting up close to things. That's because, with a detached lens, you gain a much closer minimum focus distance.
That means you can be an inch away from something and still get perfect focus! If that's not awesome, I don't know what is.
10. Get Out In The Water
Take advantage of the warmer temps and get out on the water. Whether you're physically in the water or kayaking around, you'll set yourself up for some great photos.
There are so many photo opportunities near the water. From cliff jumping, swimming, kayaking, snorkeling, or just lounging in a floaty.
Try to focus on finding candid moments that perfectly capture the spirit of summer. Keep your eyes open and be ready for that perfect moment that immortalizes sunny days and good memories.
After all, nothing screams summer more than smiling faces in the water. That's what makes this another great summer photography idea.
11. Take Advantage Of The Beach
There's no better time to take photos on the beach than during the summer. Especially during golden hour, beaches are a magical place to capture pictures.
One of the best ways to capture the beach is by utilizing lens compression. Using a longer focal length, you can make the beach appear grander and improve the scale of your images. I talk about this topic extensively in my beginner photography ebook.
Besides just being a beautiful place, there are so many things to capture at the beach. From waves, surfing, portraits, fashion shoots, and landscapes, there's endless fun to be had.
With so much opportunity for any level of photographer, getting to the beach is another excellent summer photography idea.
12. Take Your Camera Further Than Before
When late summer hits, the snow has melted from the mountains, and there are more trails to access than ever. If you've been hungry for a place that's stunning beyond words, here's your answer.
Hiking is one of the easiest ways to capture photos of views many people never get to see. By bringing your camera further than most people would, you'll be rewarded with fantastic images.
It's as simple as that.
There are endless opportunities to find hikes that few people go on. Rather than sticking to the most popular trails in your area, take a good look at a map.
Topographical maps are an incredible way to see the lay of the land and discover trails you've never heard of. There are thousands of trails, lakes, and mountains that are easy to access, but few people know anything about them.
Take full advantage of this by planning a trip and bring your camera along. With no snow to worry about, hiking is a great summer photography idea to capture mind-blowing images.
The Best Places To Take Pictures In The Summer
Now that you're full of summer photography ideas let's talk location. Below is a list of the best places to take pictures in the summer. These places may help give you extra motivation to get out with your camera and find the ideal shot!
– Harbors Or Docks
Going down to a local harbor or dock is a perfect place to take pictures in the summer. Here you'll find a ton of unique colors, scenery, and even wildlife if you're on the ocean.
Docks can provide a great place to capture portraits or to use as an element in your landscape photography.
– The Forest
On a beautiful sunny day, the forest can be a wonderland. Especially if you luck out on conditions, you may be fortunate enough to find some light rays.
Forest photography is both fun to capture and therapeutic for the mind. Walking around a quiet forest with your camera is extremely relaxing! That's what makes it such a great place to take pictures in the summer.
– In The City
In the summer months, cities begin to bustle with more activity and people. If you love taking street photos, this is a great opportunity.
Take a day to explore around your city and see what sights and sounds you come across. There's always something to take photos of in the city so you'll never run out of ideas!
– In The Mountains
Get out hiking and head into the mountains. With less snow and more accessibility, the mountains become a playground for photographers.
Mountains are such a great place to take photos in the summer because they offer views you won't find elsewhere. You're above it all, and you get to see things many others don't want to put the work in for.
This location may require a little more effort, but it's always worthwhile.
– Rivers
The river offers a playground for photographers to practice long exposures or find new waterfalls.
Rivers are such a diverse location for any photographer with endless opportunities for all genres of photography.
– Lakes (Especially Alpine Ones)
The lake is a great place to take pictures in the summer for one simple reason.
They perfectly emulate summer!
When you see a photo of someone having fun at a lake, it probably makes you think of summer. On top of that, lakes are just plain beautiful. If you arrive early enough in the day, you'll be rewarded with mirror-like reflections.
How much better can it get?
If you live in an area with alpine lakes, be sure to take full advantage! Alpine lakes offer even better surroundings and more beautiful colors. Most of them tend to be the color of blue Gatorade, which makes them extra satisfying to photograph.
Summer Photography For Inspiration
Are you looking for some images to ignite a fire of excitement this summer? Here's a series of some great summer photography ideas to inspire you!
Conclusion
There are a ton of ways to photograph the summer season. With these summer photography ideas, you'll be well on your way to having a very successful summer with your camera!
Try to look for new ways to capture moments that are unique to summer. There are countless activities out there that only happen during the summer months. By capturing these moments, you'll guarantee that your pictures will perfectly capture the spirit of summer.
What is your favorite part about taking photos in the summer? Let me know in the comments below!
Ready for a challenge this season? Download my 12-Week Photography Blueprint to improve your skills and challenge your creativity all summer long!