Whether you need a memory card for your camera, phone, or gaming device, it can get overwhelming with what brand to choose. As a photographer and videographer over the last 10+ years, I've gone through my fair share of memory cards and remember that feeling of total confusion. But after some hard lessons learned and thousands of hours spent shooting on many memory card brands, there are a few brands I wholeheartedly trust when looking for new memory cards.
So let's take a look at the top 5 memory card brands you can trust, no matter what device you plan to use the memory card with.
The Top 5 Best Memory Card Brands
1. SanDisk

Founded in 1981, SanDisk is known for creating the first flash Secure Digital (SD) drive in the early nineties. It has developed and maintained a reputation as one of the most reliable digital storage brands in the data storage market, with a market share of 1.04%. 
These cards are my favorite memory cards due to their extreme reliability, durability, speed, and price point. Many brands come close but I still believe Sandisk offers the best value for your money for most people, especially for those shooting photos and videos.
SanDisk has a wide range of memory card options for all users, making the brand an excellent go-to for data storage across a range of devices. They produce high-quality, long-lasting cards, and you can always rely on the company to efficiently replace cards that have issues. For example, I had a defective memory card once that I was able to claim under warranty. Within a couple of weeks I had a brand new replacement, and I have never had an issue since!
2. Lexar

Lexar was founded in 1996 and has since made a name for itself offering high-quality and reliable data storage products. Despite its relatively small market share (less than 1%), its reputation as a trusted brand makes it one of the leading providers of memory cards.
Lexar cards are generally cheaper than other brands and relatively durable too. Personally, I've never had problems with Lexar cards while shooting photos and 4K videos. Still, the brand will always replace faulty cards, and their cards are high-speed and compatible across a range of devices, making Lexar a great choice for creators looking for a high-quality product on a tighter budget. Overall, I like to consider Lexar a good alternative to Sandisk.
3. Samsung

Samsung is a South Korean company that has been producing a wide range of electronics since 1969. The company entered the data storage market in the late 1980s and has since established a reputation for high-quality and reliable data storage. Samsung's Solid State Drives (SSDs) are some of the fastest and most popular on the market.
Samsung creates high-quality memory cards at a slightly more affordable price than many other leading brands. The cards are versatile, particularly when it comes to their microSD cards, making Samsung cards a great choice for use in tablets, phones, or dashcams. Samsung cards are also a popular brand choice among GoPro users as well.
4. Sony

Sony is well known as one of the top media and entertainment brands in the world, with an extensive history spanning 80 decades. While the first Sony product was a rice cooker in the 1940s, the brand has since branched out into cameras and data storage, with a 22% market share.
Sony has made a name for itself through its consistent innovation. Sony memory cards are known for their reliability, performance, and durability, making Sony a great brand for professional photographers and videographers. They also have one of the fastest and most durable SD cards on the market, making it an ideal brand choice for serious professionals regularly shooting in bad conditions.
5. Kingston

Kingston was founded out of necessity during a shortage of memory chips in the 80s. With a continuing commitment to reliability, the company has grown significantly and, in 2019, was the leader in channel SSD shipments. The market share now sits at 24%.
Kingston cards provide excellent value, as they are high-quality and compatible across a range of devices. They remain one of the most affordable data storage brands on the market. I've been using a Kingston card for many of my photos and videos for the last 4+ years, and I've not encountered problems. This is a great brand to consider if you are tight on budget but still want great performance.
Top Kingston Memory Card Recommendations
Which Memory Card Brand Is The Most Reliable?
With so many leading memory card brands to choose from, you may be wondering which one is the most reliable. Reliability, though, is subjective. When determining reliability, you must take into account a variety of factors, such as usage frequency, storage conditions, device compatibility, and warranty coverage.
While all of the above brands make high-quality, reliable memory cards, there is always a risk that the card may fail. Therefore, there is no definitive answer to which brand is the most reliable.
You can, however, take steps to improve the lifespan and performance of any memory card. You want to protect your cards well, keeping them in a card case when you're not using them and making sure they stay dry. And, of course, it is important to always back up your data to ensure you're covered no matter what.
Are Cheaper Cards Still Reliable?
You may be tempted to go for a cheaper card (think those sponsored cards on Amazon) to save money, particularly if the reviews all seem good enough. However, cheaper cards often have some drawbacks. You may experience lower speed class ratings (affecting video recording), limited storage space, lower durability, and less compatibility. 
It is important to make sure you vet a memory card brand before making a purchase to avoid buying counterfeit cards that may look real, as these cards can harm your device or data. Fake cards can be commonly found on Amazon, as many knock-off brands pay to sponsor their product at the top of the page.
When purchasing a memory card, ensure you're buying from a reputable brand and an authorized seller. Reputable brands will offer a warranty in case of any problems or defects with the card. For instance, when I purchased a SanDisk card that was defective, I informed SanDisk and the company sent over a replacement card within a few weeks.
Which Memory Card Brand Is Most Durable?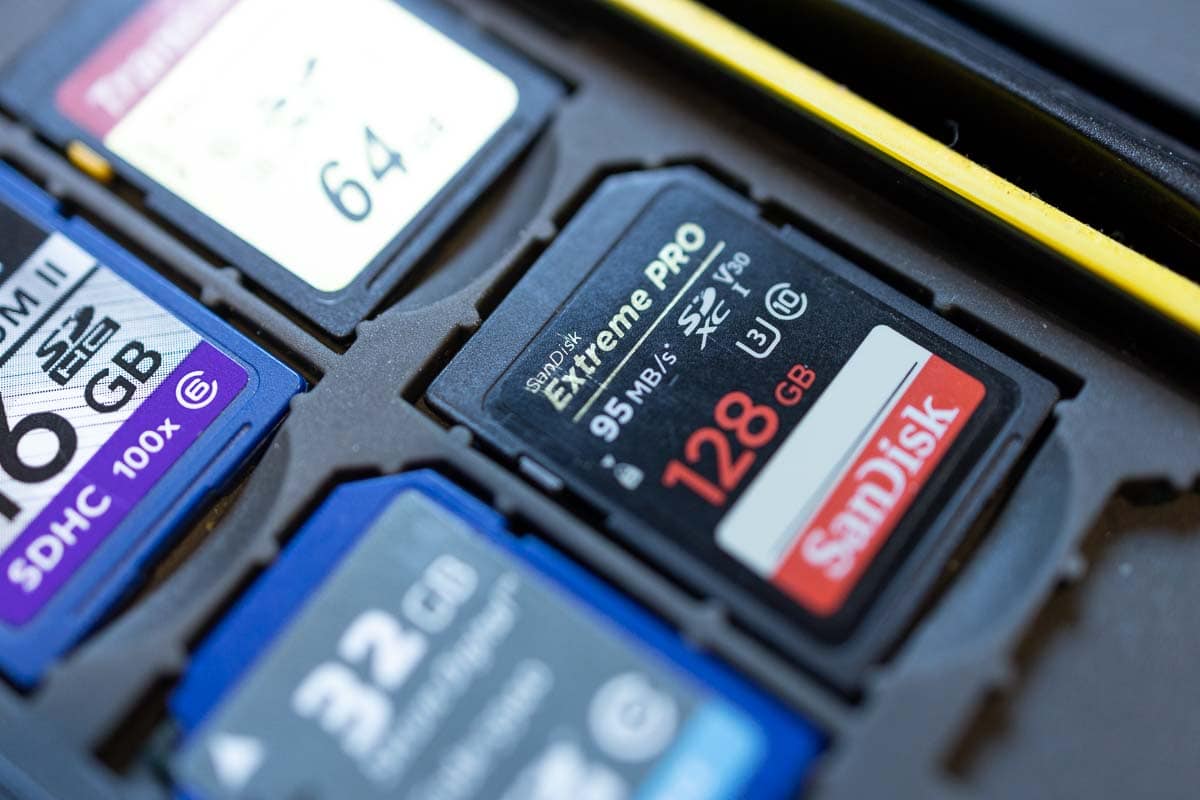 When choosing a memory card, it is important to consider its durability, especially if you often work outdoors or in extreme environments. The degree of durability of your memory card will determine its likelihood of failure or damage due to factors like dust, water, heat, cold, shock, or magnetic interference.
Some memory cards that offer exceptional durability and protection include the SanDisk Extreme Pro, the Sony Tough, and the Samsung PRO Endurance. To provide additional protection for your memory cards, it is recommended to store them in a card case when not in use, avoid placing them near metal objects, ensure that you eject them properly from devices, and format them regularly.
What Brand Is Best For MicroSD Cards?
A MicroSD is like a miniature version of the SD card you'd use in a camera. It is thinner, smaller, and often used in smaller devices such as smartphones, tablets, action cameras, and drones. You'll also find MicroSD cards used in other devices that require compact and portable storage.
When looking for a MicroSD card, you'll want to take several factors into account, such as speed class rating, capacity, performance class, and video speed class. The above brands offer plenty of MicroSD cards that can meet all of your data storage needs.
Kingston's Canvas Go! Plus, is an excellent choice for action cameras and drones. For gaming and multimedia storage, Samsung's EVO Plus is the best on our list. SanDisk offers the Extreme Pro card for 4K video recording and fast app loading, while the Lexar Professional MicroSDCX is good for high-speed burst shooting and data transfer in a microSD.
Overall, just like any data storage, you want to make sure you're treating your MicroSD card with care. To maintain and protect a MicroSD card, you want to ensure you're using an adapter or card reader that is compatible with your card and device. And, of course, back up your files regularly to prevent losing data.
What's The Fastest Memory Card Brand?
Speed is an important quality in a memory card, as some devices require a card that can handle high-resolution video recording, fast burst shooting, or transfers of large files. Memory cards are categorized by their speed ratings and video speed classes.
Memory Card Speed Ratings
UHS-I: This is the most common speed rating for memory cards, with a maximum transfer speed of 104 MB/s (Megabytes per second). It has two speed classes: U1, which has a minimum write speed of 10 MB/s, and U3, which has a minimum write speed of 30 MB/s.

UHS-II: This speed rating offers faster data transfer speeds than UHS-I, with a maximum transfer speed of 312 MB/s. UHS-II cards have a second row of pins for higher data transfer rates. These memory cards are a U3 class.

UHS-III: This is the fastest speed rating for memory cards, with a maximum transfer speed of 624 MB/s.
Video Speed Classes: V30, V60, and V90 are designed specifically for recording high-resolution video. V30 has a minimum write speed of 30 MB/s, V60 has a minimum write speed of 60 MB/s, and V90 has a minimum write speed of 90 MB/s. These ratings mean that the memory card can keep up with the fast data transfer speed that recording high-quality video requires.
In general, the higher the speed rating and class, the faster the data will transfer and the better the overall performance of the memory card. It's important to choose a memory card that meets the requirements of your device and is suitable for the type of work you'll be doing. Many cameras may only be compatible with UHS-I memory cards, meaning that the extra cost of a UHS-II card would be totally unnecessary. So just keep that in mind before spending on the fastest and greatest memory card. It may be overkill for your camera.
Fastest Memory Card Brands
SanDisk's memory cards are known for their high-quality and fast transfer speeds, and the company has consistently received good reviews and ratings for its products. With read speeds of up to 300 MB/s and write speeds of up to 260 MB/s, SanDisk's UHS-II cards are some of the fastest cards on the market and are particularly useful for mirrorless cameras.
Lexar's memory cards are a popular choice among professionals due to their reliability and fast speeds. Their products have also received excellent reviews and high ratings, and their Professional 2000x cards have read and write speeds comparable to SanDisk and are perfect for recording video in 4k.
Samsung's Pro Plus line offers read speeds of up to 100 MB/s and write speeds of up to 90 MB/s, and while this may not be as fast as some of the other options, Samsung's cards make up for it with their compatibility across an impressive range of devices.
Sony is another leading electronics company with a good reputation for creating reliable products, including memory cards. The Sony SF-G Tough line, in particular, offers speedy transfers but with the added benefit of durability – these cards are designed for extreme conditions and can last a long time.
Kingston is a popular brand that produces various memory products and has built a reliable reputation over the years. Kingston's memory cards have received positive reviews for their performance and affordability. In particular, the Kingston Canvas React Plus excels in video recording and high-speed burst shooting.
The memory card you choose will ultimately depend on your device and performance needs, as each situation may require something different. However, choosing any of the five memory card brands mentioned here is a safe bet to guarantee your data stays safe.