If you're a photographer, you likely work or will at some point work with raw photos, which means you'll need to know how to use Camera Raw. Camera Raw allows you to make basic edits to raw photos before you begin working on them in Photoshop. To edit these images in Camera Raw, you need to first know these two easy ways to open them.
The first way to open an image in Camera Raw in Photoshop is to open a RAW image into Photoshop and Camera Raw will open automatically. The second option is to select a layer in an existing Photoshop project and go to Filter > Camera Raw Filter. This will open your layer to be edited in Camera Raw.
Photographers often take advantage of Camera Raw as the editing process is much easier and faster than if you were to do the same edits using Photoshop's tools. Camera Raw is a part of the Adobe Suite and is easy to integrate into your photo editing process regardless of which Adobe photo editing program you work with.
Let's explore how to open images in Camera Raw from both Photoshop and Adobe Bridge if you're still culling images.
How To Open Images In Camera Raw
When working with Photoshop, you may prefer to make basic edits in Camera Raw instead of using Photoshop's tools, both to save time and file space. Editing images in Camera Raw is faster and the adjustments are non-destructive, meaning you can easily undo or change them without completely altering the file.
Camera Raw is integrated into Photoshop seamlessly, so it's fairly easy to use. There are two simple ways to open images in Camera Raw when using Photoshop.
1. Open A RAW File Into Photoshop
The easiest way to open an image in Camera Raw is to open a raw image file into Photoshop. RAW image files differ depending on which camera you use. Nikon's raw files are NEF or NRW, while Canon's are CR2. Certain laptops may prevent you from viewing this format until you open the image in Photoshop or Bridge.
Once you've saved RAW images onto your computer, you can open them in Photoshop by going to File > Open.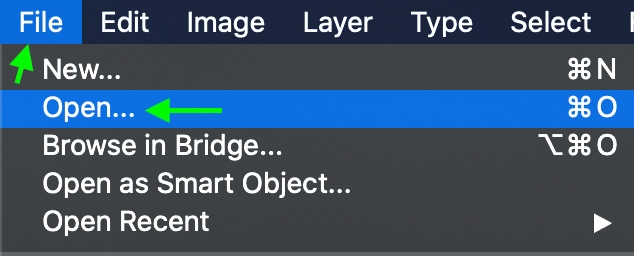 Select a RAW file, and Camera Raw will automatically open as a new window. Here you can make basic adjustments to your photos such as exposure and tone. Click Open to save the edits and open your image in Photoshop.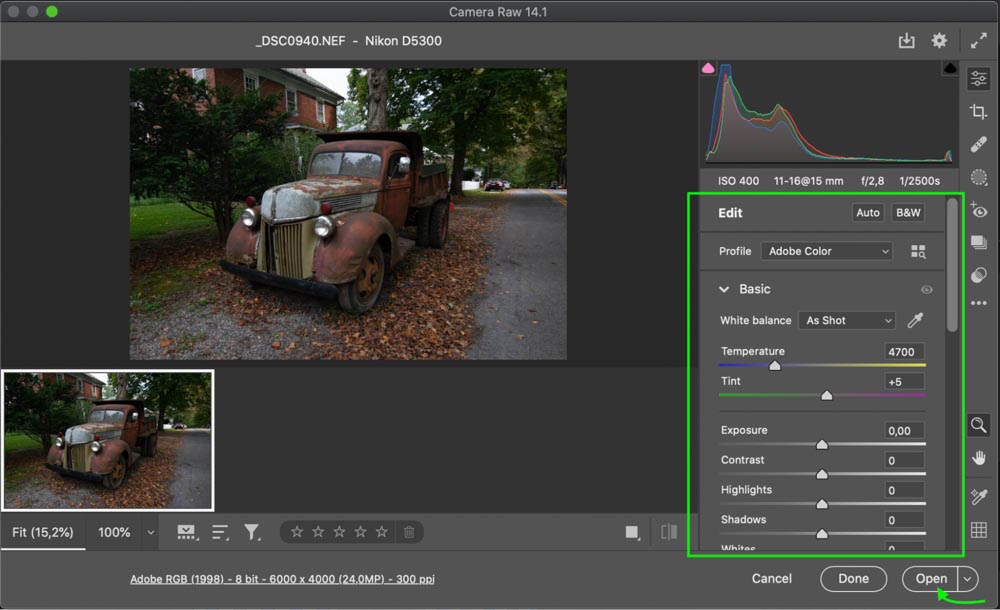 2. Apply A Camera Raw Filter To A Layer
The other way to open an image with Camera Raw in Photoshop is a good method to use if you want to edit a jpeg image with the adjustments in Camera Raw. You can access Camera Raw to edit the photo by applying a Camera Raw filter to the layer.
To do this, first, open up your image and remember, this method works if your image is already opened in Photoshop as a layer. With your image open and the image layer selected, head to Filter > Camera Raw Filter.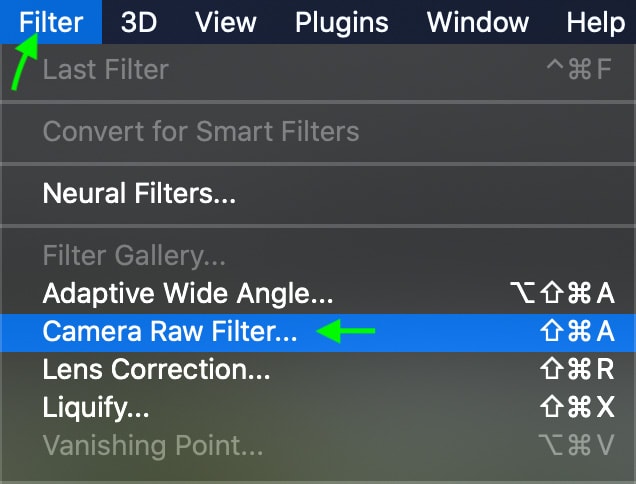 This will effectively open up Camera Raw, giving you access to all the adjustments that come with Camera Raw to edit your selected layer. This is useful if you'd like to make basic adjustments easily in Photoshop but the photo you're working with isn't a RAW file.
Using Adobe Camera Raw With Smart Objects
You can also use Camera Raw while working with Smart Objects in Photoshop. Many photo editors like to do this because converting a layer to a Smart Object means that any adjustments you make to that layer will be non-destructive. As a result, you can make and save edits without changing the file information. This makes it easy to undo any edits you make.
To use Camera Raw as a Smart Smart Filter, first, duplicate the layer you're working on with Control + J (Win) or Command + J (Mac). You'll then see the duplicate layer show up in the Layers Panel – if the layer you duplicated was Layer 1, the new layer will automatically show up as Layer 1 copy.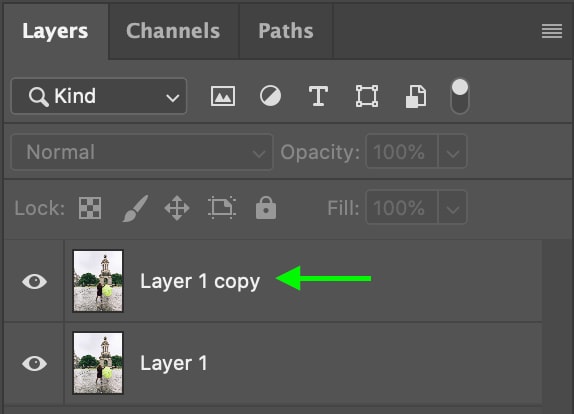 Now, right-click the new layer and choose Convert to Smart Object. 
Now that the layer is a smart object, you can head to Filter > Camera Raw Filter.
The Camera Raw window will appear. Here, make the edits you'd like to the photo and click OK.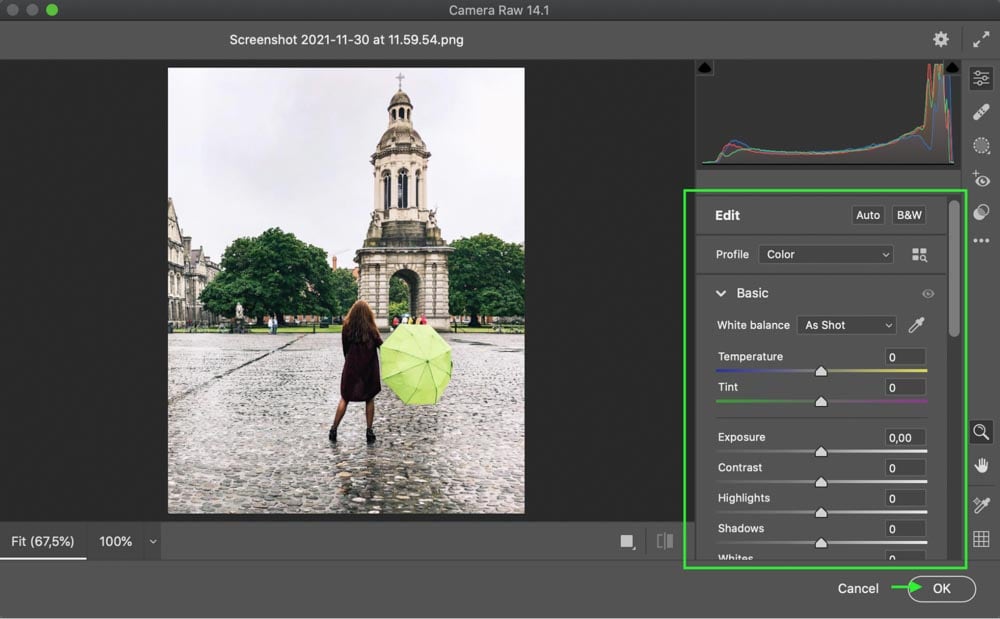 You can easily return to the Camera Raw window by double-clicking the smart filter beneath your smart object layer.
Using this method, the edits you make in Camera Raw will be visible beneath the layer once you save them, labeled Camera Raw Filter, making it easy to get rid of the edits by deleting this adjustment.

Using Camera Raw with a Smart Object is a great way to reduce the number of layers you'd need to accomplish the same edits using other Photoshop tools, which in turn reduces the file size allowing you to save space on your computer.
How To Open Camera Raw From Adobe Bridge
You can also work with Camera Raw while in Adobe Bridge. The biggest advantage of using Adobe Bridge instead of Photoshop is that Bridge is less work for your computer. Photoshop takes up a lot of space and CPU, so Camera Raw might run faster if you're opening it from Bridge.
To use Camera Raw in Bridge, first, open Adobe Bridge. Then click the photo you'd like to edit. The quickest way to open it in Camera Raw is to click the Open in Camera Raw icon in the top toolbar.

If you double-click a RAW image, it will also open Camera Raw automatically. With the image selected, you can also head to File > Open in Camera Raw.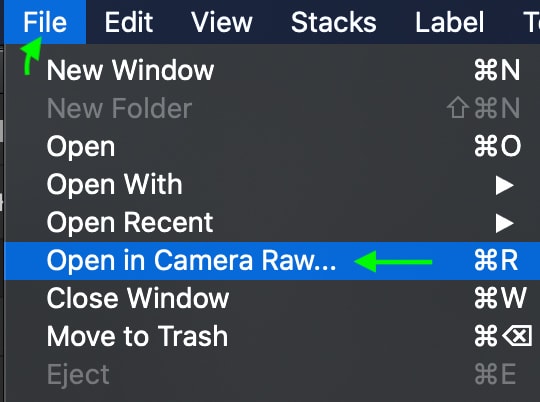 Now, edit your photo the way you'd like, and click OK when you're finished. You'll notice Adobe Bridge stays open in the background so you can still access the Bridge interface when you finish using Camera Raw.
Camera Raw provides enough tools to make basic edits to your photo, which might be all you need if you don't need detailed edits. Luckily, even while working in Adobe's other programs you can still access Camera Raw for fast, easy, and non-destructive editing. 
Happy Editing!