If you found a font online that you love, but Canva doesn't have it, you're not out of luck. That's because it is actually possible to add new fonts you find into Canva with a few quick steps.
Learning how to upload fonts in Canva can be a great way to give your designs a unique style others won't have. Not only will this help you create stunning visuals for social media, websites, and presentations, but the process is surprisingly simple. 
In this guide, I'll show you exactly how to get those new fonts you found into Canva and start putting them to use.
Plus, I'll share the best websites to find fonts that don't have copyright issues if you don't know where to look.
How To Upload Fonts To Canva 
Step 1: Download Your New Font
Before you can add a font to Canva, you need a font to download. There are plenty of websites to find great fonts. I'll go over the best sites later, but for now, I'll use Google Fonts, for example. 
First, go to the website where you wish to download your font. You can use the search bar to find the type of font you're looking for. Or, scroll down and browse the most recent fonts.
Once you find a font you want to try, click on it. Click on Download (or Download Family) on the page that opens up.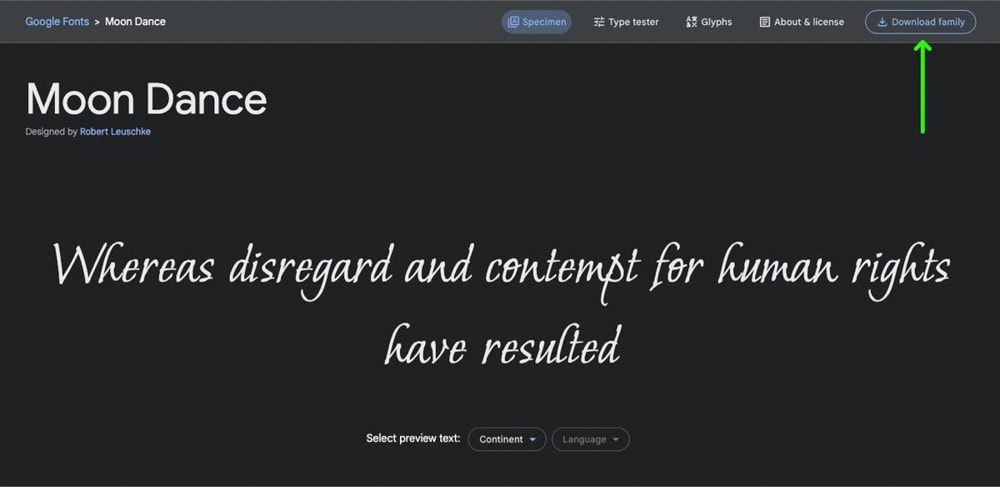 Your font(s) will be downloaded to your computer's hard drive. It may be downloaded as a zip folder. Before you add it to Canva, you will have to unzip the folder. You can do this with most computers by clicking on the zip folder (which will automatically open it) or right-clicking the folder and selecting Open or Extract.
Step 2: Choose Your Brand Kit Or Create A New Brand Kit
When you add a new font to your Canva account, you don't just add it to a universal font book within Canva, but instead to a specific "Brand Kit."
A Brand Kit is a way to store logo files, color palettes, and fonts so that you have access to them when you want to keep your designs consistent with your brand. It's also important to note that you can only upload up to 500 fonts to a single Brand Kit.
To choose your Brand Kit, open up Canva in a browser or with the official Canva App. Then, click on Brand, found at the side of the home page.
You will be presented with all of your available Brand Kits. If you haven't made a Brand Kit yet, click on Add New to create a brand new Brand Kit.

Step 3: Click The Add New Button
Now that your Brand Kit is open click on the Add New button next to the Brand Fonts section.
Step 4: Upload The New Font To Canva
After clicking the Add New button, you will be prompted to locate the font you downloaded on your hard drive. Once you've found the font, click Open.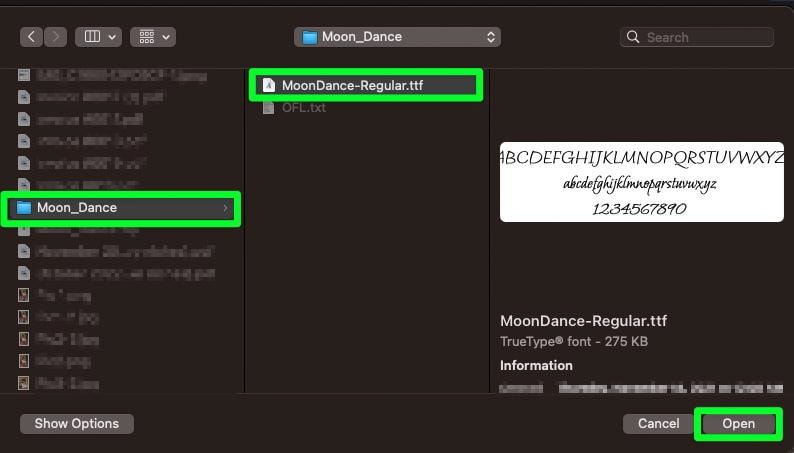 You will be asked to confirm that you have permission to use the font you're about to download. Make sure you don't lie about having permission. Doing so could come back and haunt you in the future. Always make sure you have access to the proper license before uploading a font.
Click Yes, Upload Away to confirm.

You will now see your new font under the Uploaded Fonts tab. You can use the trash icon to delete any uploaded fonts at any time.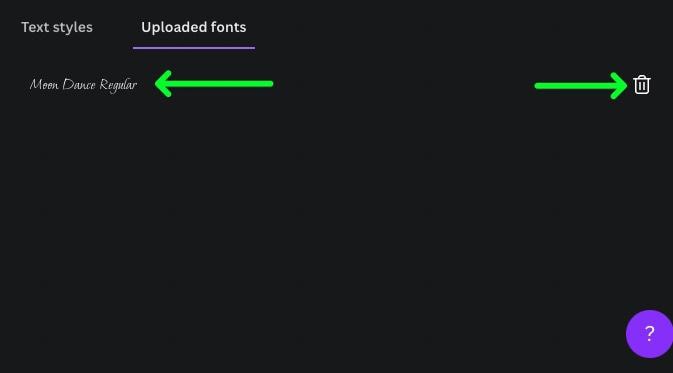 Step 5: Switch To The Correct Brand Kit
The first thing you need to remember when using a new font is to switch the Brand Kit in which the font is located. You won't find the font if you're in the wrong Brand Kit.
To switch to the correct Brand Kit, select the text and click on the Font Drop Down Menu.
In the Font Panel that opens up, click on the Brand Kit Selector. You can now select the Brand Kit that your font is in.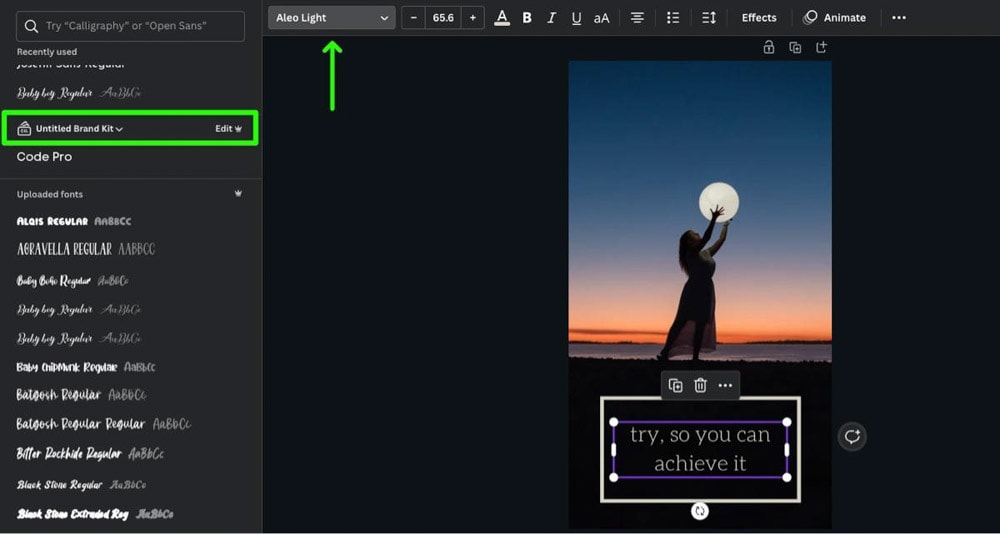 Once you select the correct Brand Kit, you will find your new font under Uploaded Fonts.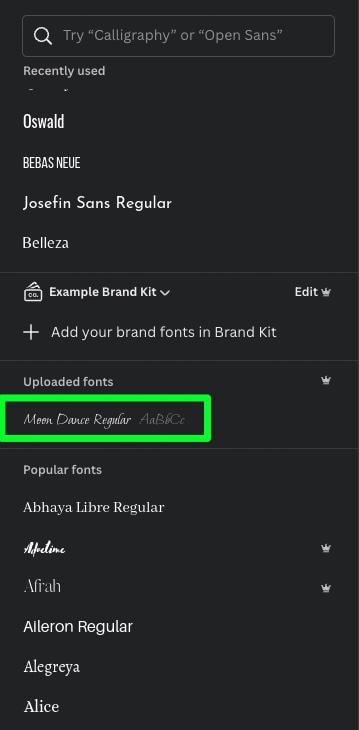 Step 6: Adjust Your Font
Once you change the font of your text, you will have limited options as to how you can edit it.
You can change the size of your font with the size controls in the Options Menu. You will be able to do this with any font that you upload.
However, when it comes to using Bold, Italicize, and Underline with your downloaded font, you can only make these customizations if there is a version of said customization in the font family.
For example, if you click the Bold button and there's no bold version of your font family downloaded into Canva, then nothing will happen.
When it comes to adding Effects to your downloaded text, only some effects will look great with your new font. Basic effects like Shadow will usually work fine.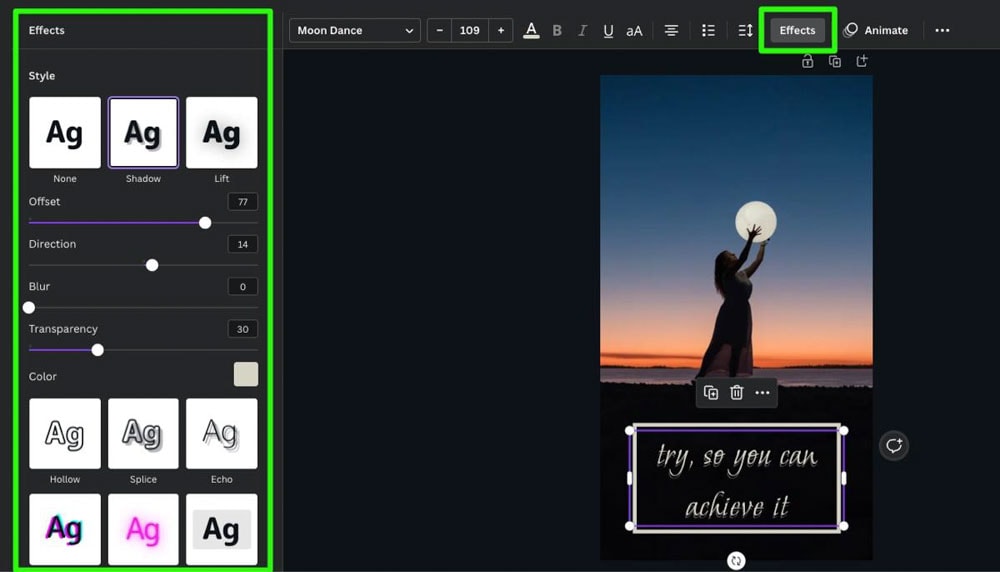 How To Add Fonts On Canva Mobile
Adding a font to Canva on your mobile device is similar to doing it on the desktop version.
Step 1: Launch Canva On Your Mobile Device
You can upload fonts to your Canva account through the official Canva app and the Canva website through your favorite web browser.
Step 2: Tap On Brand Kit
At the bottom of your screen, tap the Menu button.
On the page that opens up, tap Brand.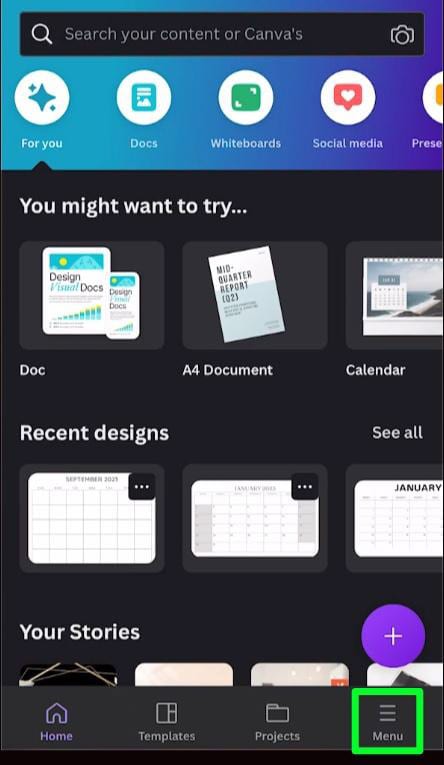 Step 3: Click The Plus Button In Your Chosen Brand Kit
After tapping the Brand button, you will be presented with a list of all the Brand Kits created with your account. Choose the kit that you want to add your new font to.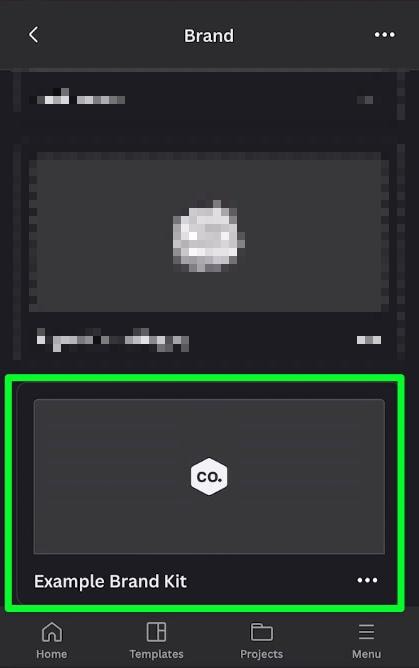 Step 4: Locate Your Font On Your Device
To add your font to the Brand Kit, tap the Plus button next to Brand Fonts.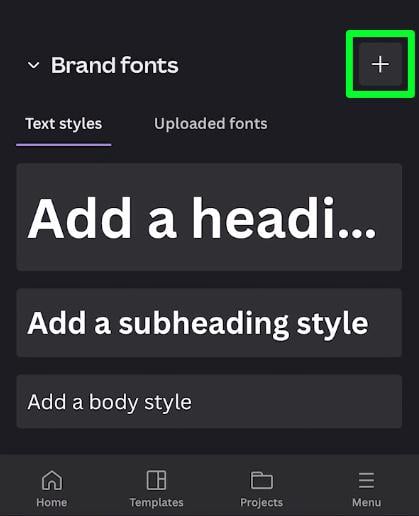 You will be prompted to locate the font you wish to upload. Once you find the font, click on it, then tap Open.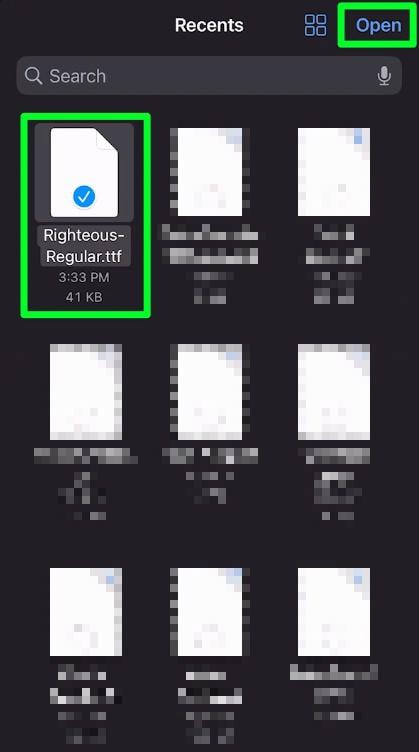 You will be asked if you have permission to use the font you're uploading. Tap Yes, Upload Away to confirm.
You will now see your new font under the Uploaded Fonts section.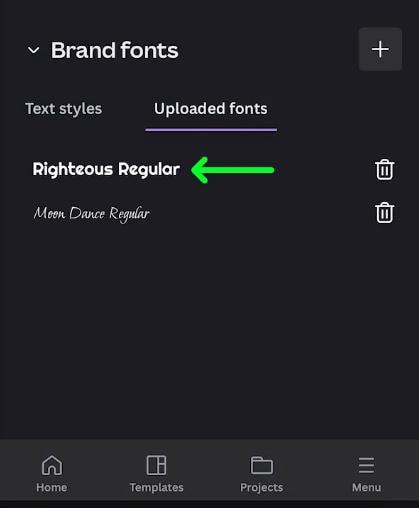 Step 5: Test Out The Font
The last thing to do to ensure everything went smoothly is to use your font in a design.
First, select a text block. Then, tap the Font button at the bottom of the screen.
Scroll down to the Uploaded Fonts section and tap on your newly downloaded font.
Where To Find New Fonts For Canva
There are tons of different websites where you can go to find the perfect font. Here is a list of some of the best websites you can find free fonts.
Google Fonts is an online library of free, open-source font families created by designers worldwide. Anyone is allowed to download and use these fonts for any type of visual project, from web pages to documents. There are over 1,400 fonts on Google Fonts.
Some of the fonts you find on this website will already be included with Canva, but hundreds of fonts are not. Whether you're looking for a modern serif, an elegant script, or a classic display font, you should be able to find a great font that's not already on Canva. Check out the official website to start browsing.
Envato Elements is a subscription-based service that gives you unlimited access to a growing library of creative digital assets. This includes fonts. There are over 17,000 fonts on this site. 
Envato Elements uses a simple license structure. As long as you're a subscriber, you're free to use as many fonts in as many projects as you'd like.
Creative Market is an online marketplace that provides access to hundreds of thousands of digital goods, such as fonts, graphics, photos, templates, and more. There are over 69,000 fonts to choose from on this site.
With a Creative Market account, you can browse and purchase items from their library to use in your own projects.
Do You Need Canva Pro To Upload Custom Fonts?
Yes. If you want to use custom fonts in Canva, then you will need a Canva Pro subscription. With the Pro subscription, you get access to over 10,000+ fonts and more cool features like advanced photo editing tools, brand kits for consistent branding, unlimited downloads of designs, and a lot more.
Check out Canva's price plans here. 
What Font File Types Are Supported In Canva?
Canva supports the following font file types: TTF (True Type font), OTF (Open Type font), and WOFF (Web Open Font Format).
The size of each file must also be a maximum of 50MB.