Whether you're creating wedding invites, printables for your table decor, or anything in between, choosing the right wedding font for the big day is important. Luckily, this guide has you covered with the best wedding fonts in Canva to help any wedding feel a little more beautiful. 
The Best Fonts For Weddings In Canva
The following fonts are judged based on a few elements, including how the font sets a mood, how legible the font is, visual appeal, and uniqueness. 
You will also want to consider the wedding's theme, how traditional or formal it is, and the bride's personality.
Some of these fonts are only available for Canva Pro users, and those fonts will be mentioned as such.
1. Kenao Sans Serif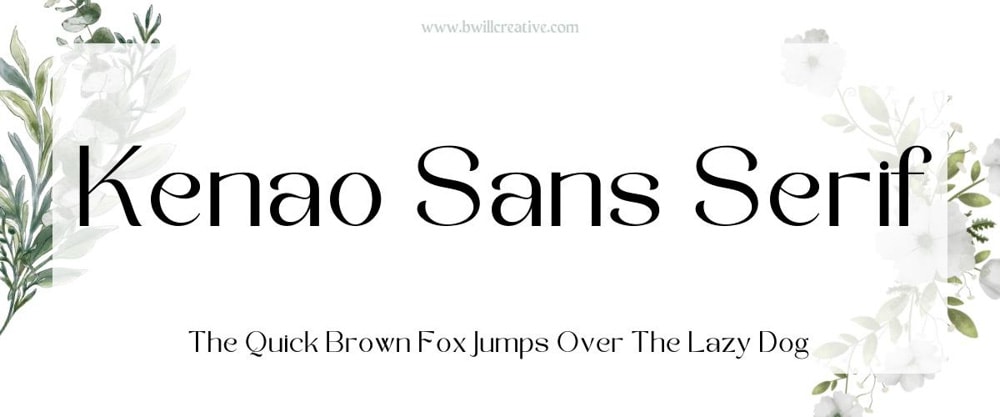 Kenao Sans Serif is a stylish and elegant font that exudes wedding energy and can add a touch of sophistication. This font pairs with most others on this list and can work well on wedding invitations and save-the-date cards.
2. Cinzel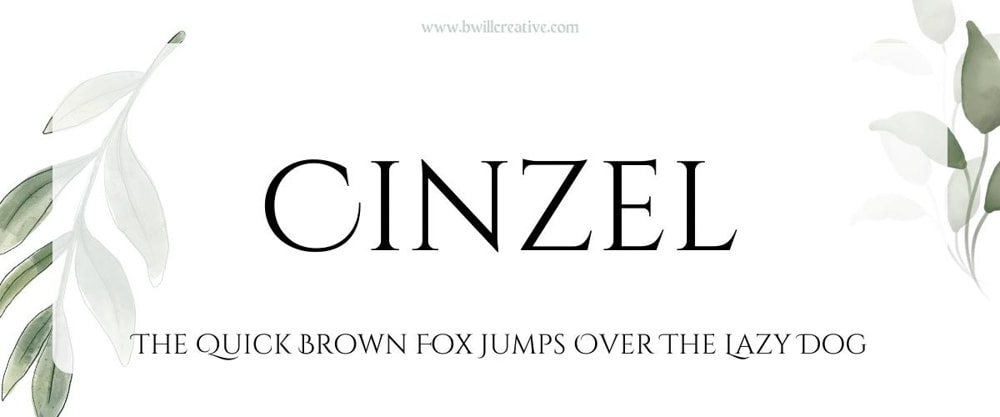 Cinzel is a font that shines with a certain timeless elegance. It can be used in formal and traditional wedding designs and is web and print-friendly. This font presents clear legibility and works very well as a secondary font. Cinzel is an all-caps font that can add a touch of grandeur to a wedding project.
3. Pinyon Script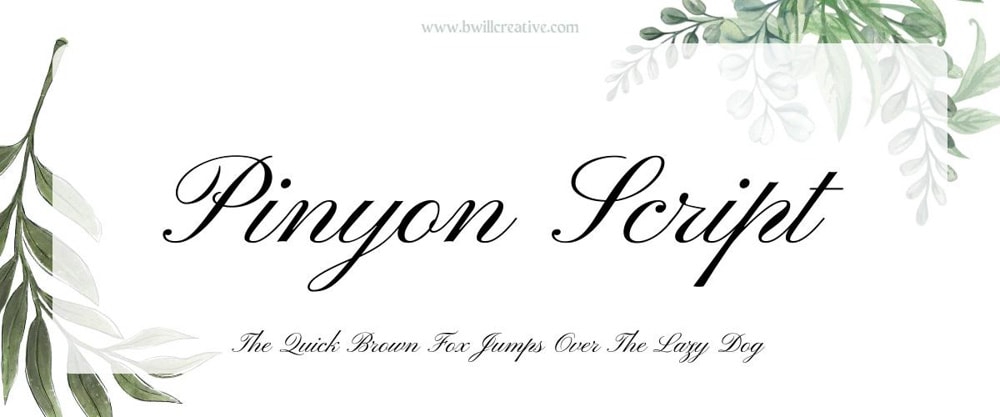 Pinyon Script is a beautiful and romantic handwritten font that can complement various wedding aesthetics. The elegance of this font makes it perfect for wedding invitations and thank-you cards.
4. Higuen Elegant Serif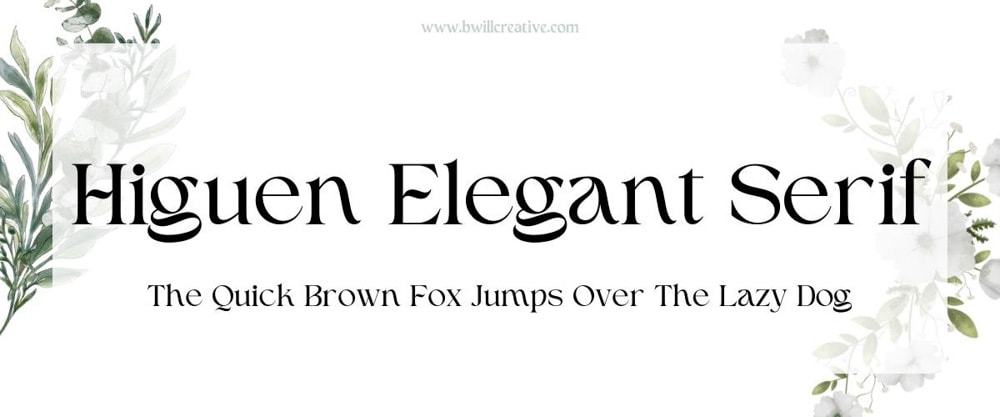 Higuen Elegant Serif is a stylish, refined font that combines elegance, legibility, and versatility. When using this font, it's best to consider the overall theme and ambiance of your wedding, as it may not work for everyone's tastes. This font works very well when used as an attention-grabbing header and combined with one of the script fonts on this list.
5. Shadow Script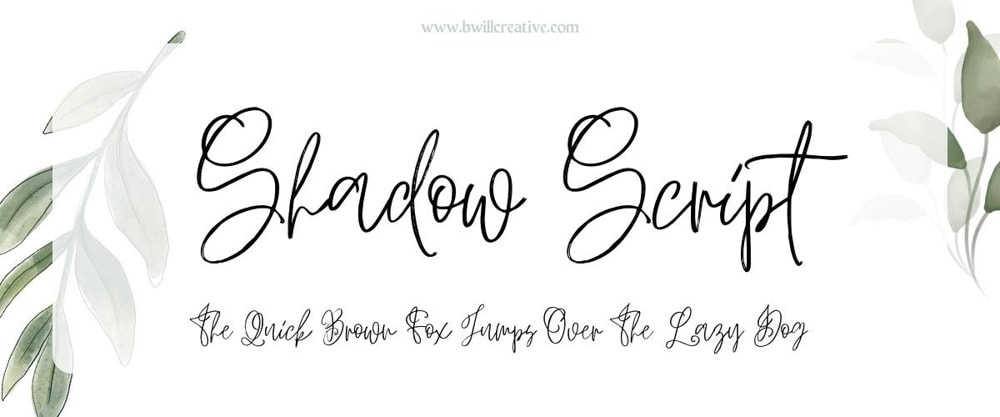 Shadow Script is a font that works well for those who want something that looks handwritten but not super fancy at the same time. Shadow Script works very well for table signs and other text-based wedding decorations. For those looking to bring some modern, fun vibes to their wedding, Shadow Script is a good pick.
6. La Luxes Script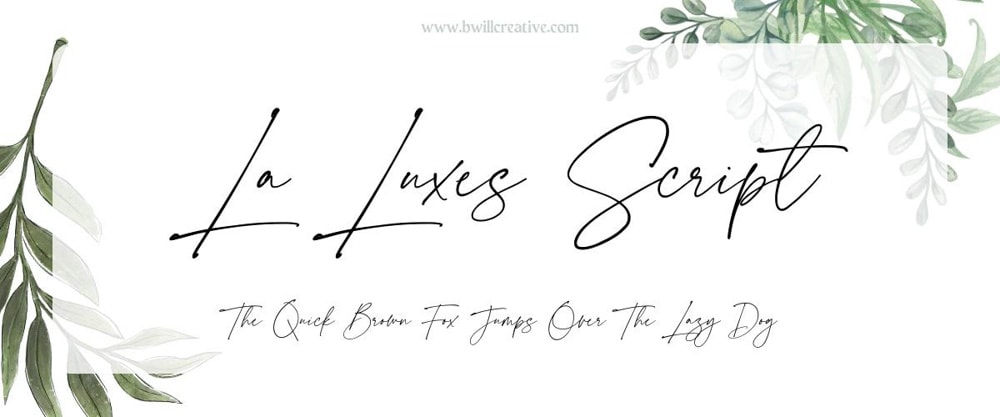 La Luxes Script is a stunning font with delicate curves and flourishes, giving it a romantic and whimsical quality. This font is perfect for evoking feelings of love and enchantment and is well-suited for couples seeking a dreamy, fairy-tale-like atmosphere for their wedding celebrations. La Luxes Script is best used with one of this list's simple and clean fonts for a balanced, harmonious composition.
La Luxes Script is only available for Canva Pro users.
7. La Luxes Serif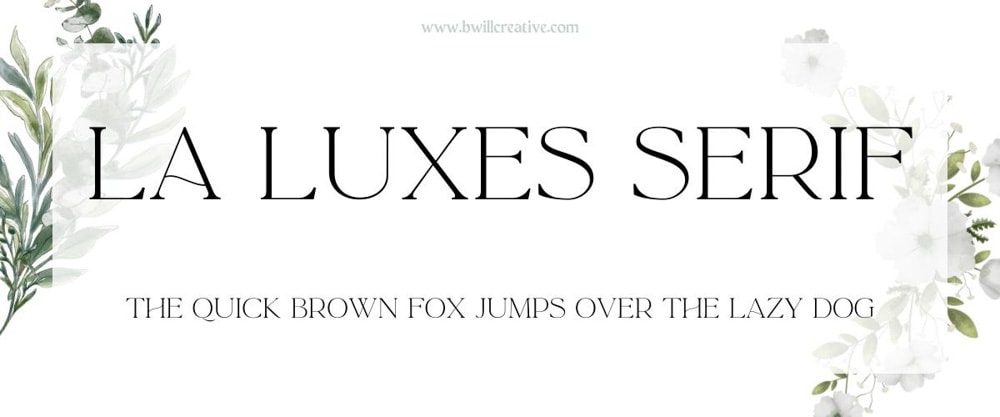 La Luxes Serif is the serif version of the previous font. La Luxes Serif is an all-caps font that feels elegant and is excellent for titles and headings. This font is a great option if you're creating a wedding-based logo. Play around with different colors and graphic elements to get the most out of this font.
La Luxes Serif is only available for Canva Pro users.
8. Snell Roundhand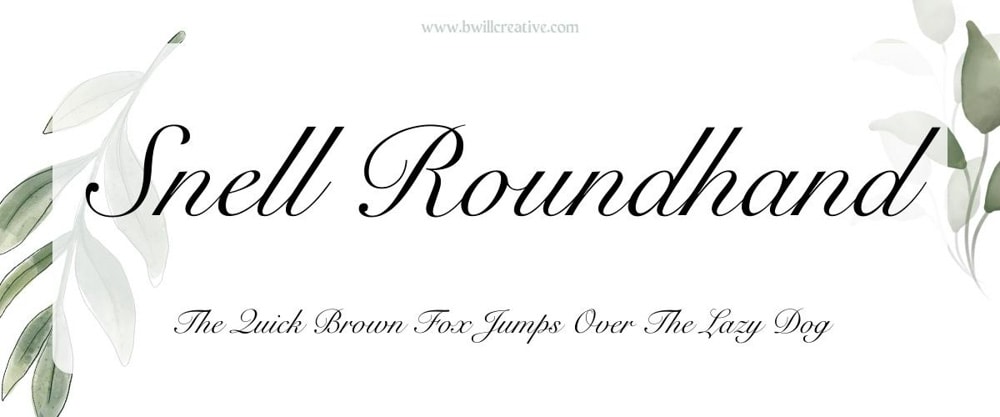 Snell Roundhand may have a strange name for a font, but it has a very classy and elegant appearance. Snell Roundhand is a good pick if you're looking for something traditional, especially as a secondary font, as its legibility is very high. This is a wonderful choice for couples seeking a classic and sophisticated ambiance.
9. Quattrocento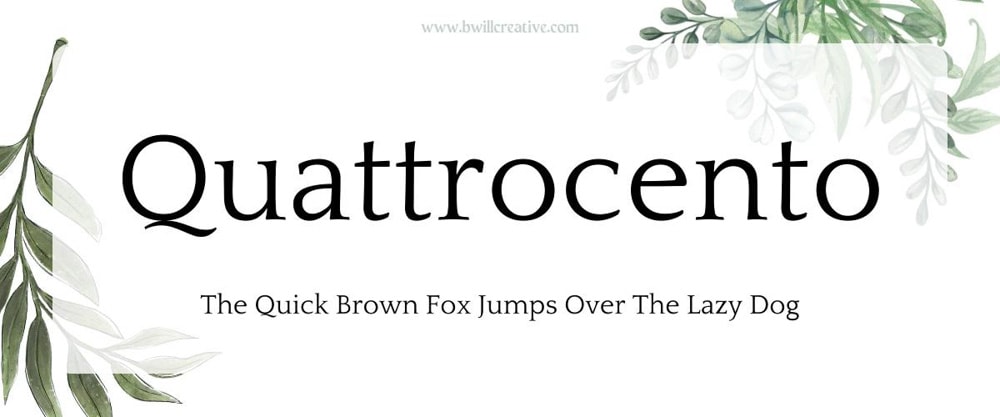 Quattrocento is another classy-looking pick for those who want to avoid script fonts. Quattrocentoo's legibility suits almost any type of wedding stationery, from invitations to programs and menus. Pairing Quattrocento with one of the fancier font options on this list will produce a nice sense of contrast.
10. TAN Vivre Libre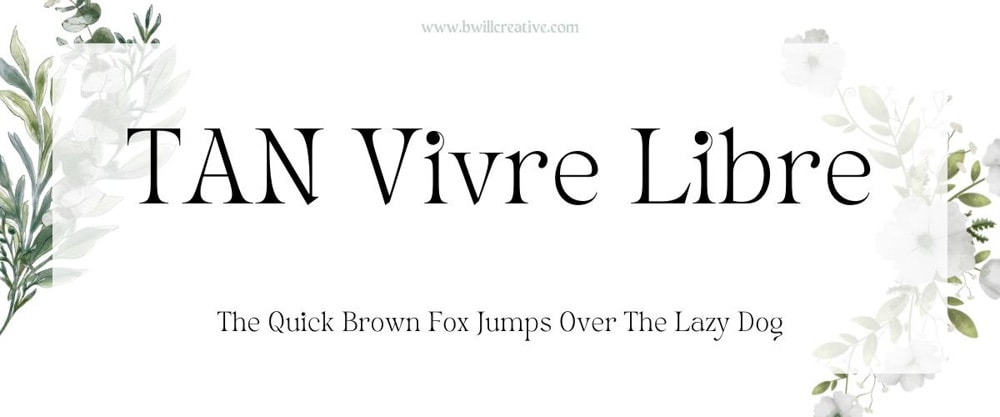 TAN Vivre Libre is a font perfect for a classy wedding while adding a touch of style. The standout here are the unique ligatures that swoop around most of the letters. TAN Vivre Libre has very high branding potential and can establish a cohesive identity for your wedding. This includes invitations, menus, save-the-date cards, signs, and thank-you cards.
TAN Vivre Libre is only available for Canva Pro users.
11. Juana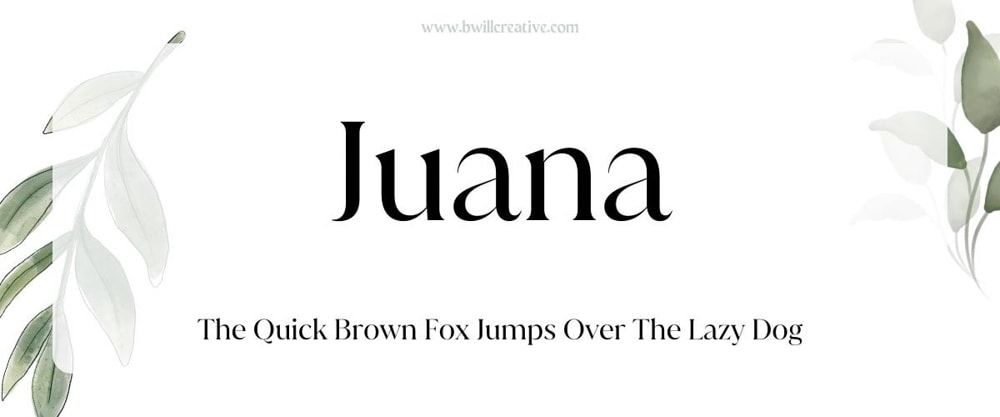 Juana is an elegant and romantic option that's pleasant due to its curvy nature and slight calligraphic influence. Juana comes in different styles and weights, allowing for versatility in your wedding designs. The font is legible and pairs well with a clean sans-serif font for a modern twist or a complementary script font for a more traditional look.
Juana is a font only available for Canva Pro users.
12. Roxborough CF
Roxborough CF is a serif font with a dramatic flair. Its rich letterforms can add character and visual interest to most wedding designs—an excellent choice for any signage or stationary. Roxborough CF captures attention while conveying a sense of timeless beauty.
13. Cotoris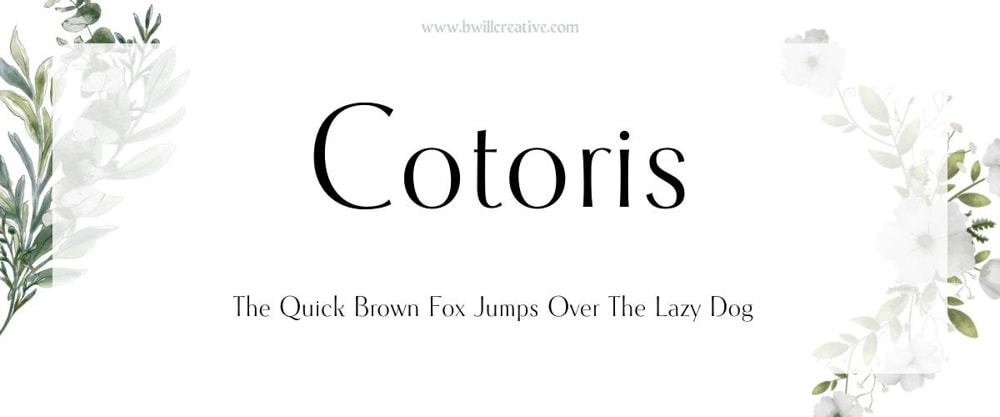 Cotoris is a go-to choice when you need a reliably legible font. This font somehow feels both vintage and modern at the same time and can be used in almost any type of design. If you're looking for something classic, Cotoris may be what you're looking for.
14. Black Mango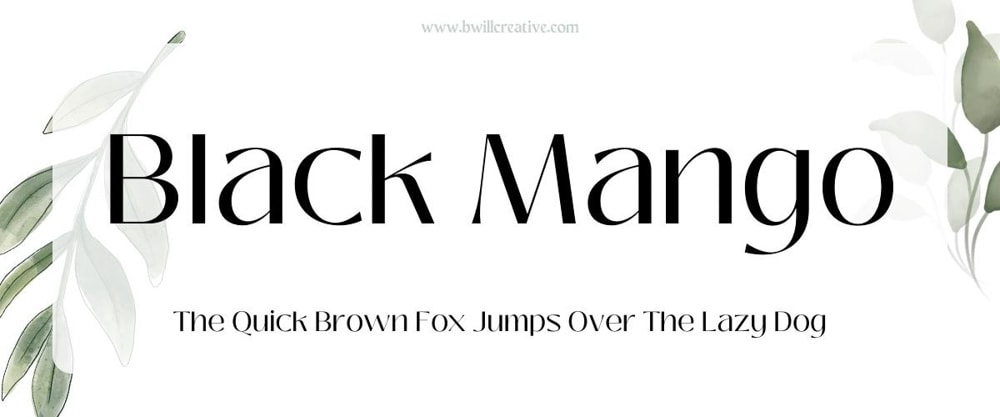 Black Mango is a font that exudes modern style while still feeling elegant and sophisticated. Due to its distinct style, consider the overall theme and mood for your wedding before choosing it, as it may be a bit too bold for your tastes. But if this is the style you're looking for, you can pair it with a script font for a more romantic feel or a serif font for a more classic one.
15. Euphoria Script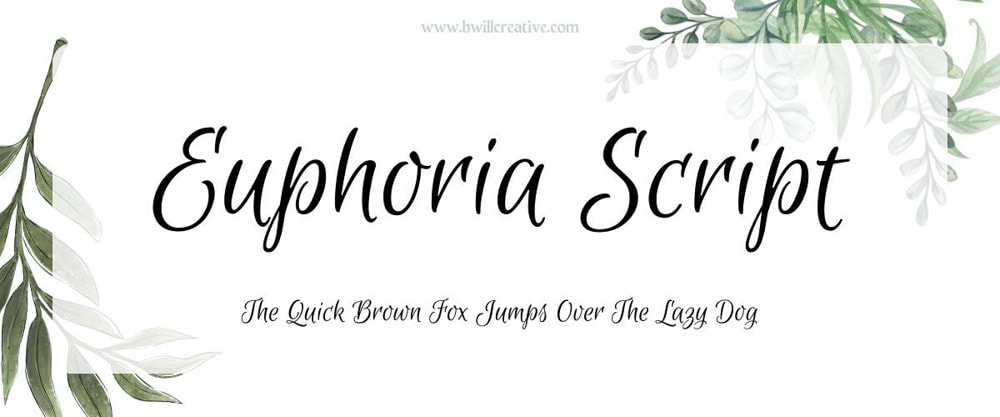 Euphoria Script is an exquisite wedding font that shines thanks to its romantic calligraphic strokes and flourishes. Each flowing letterform and detail is an ideal font for wedding invitations, save-the-date cards, and thank-you notes. Euphoria Script is perfect for those who aim to convey a sense of love and celebration at their wedding.
16. Kage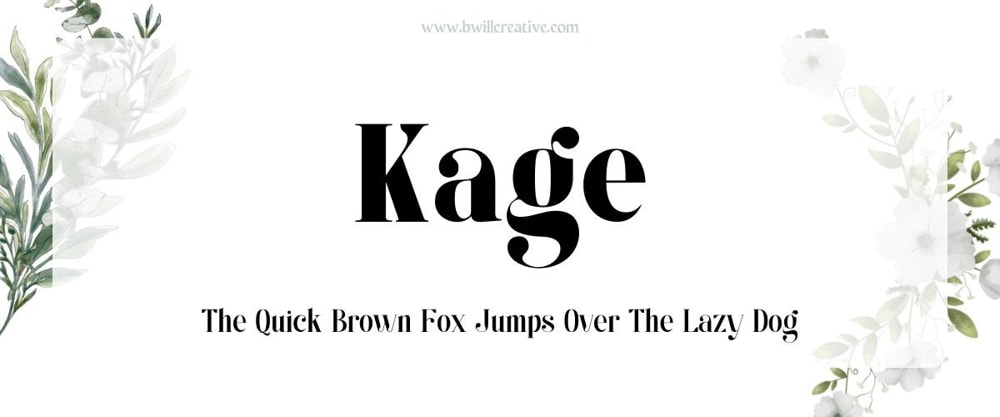 Kage is a font best used by those looking for something different for their wedding. Kage may be a bit bold, but it's also quite whimsical. This font is best used for headers, or anywhere you want to grab attention.
17. Noto Serif Display ExtraC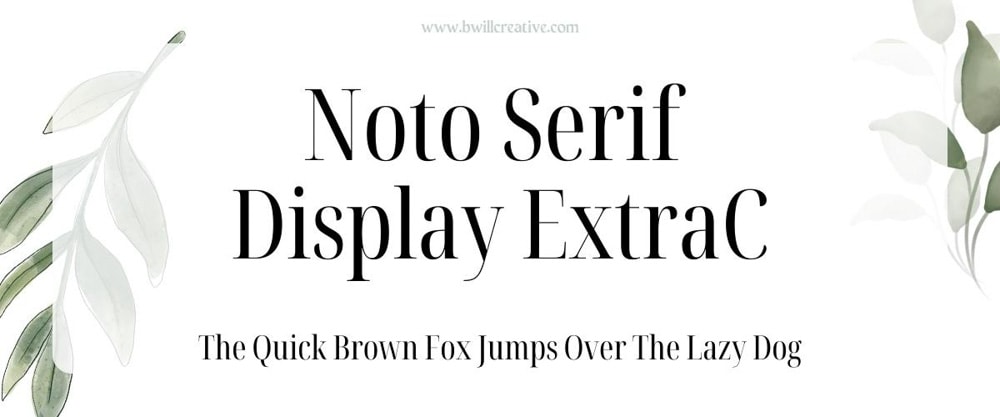 Noto Serif Display ExtraC is a formal, elegant, and classy font. This font is clear, readable, and can adapt to various design elements in wedding materials. Noto Serif Display ExtraC is best paired with one of this list's more romantic and whimsical fonts to promote a nice balance of contrast.
18. Maldina Script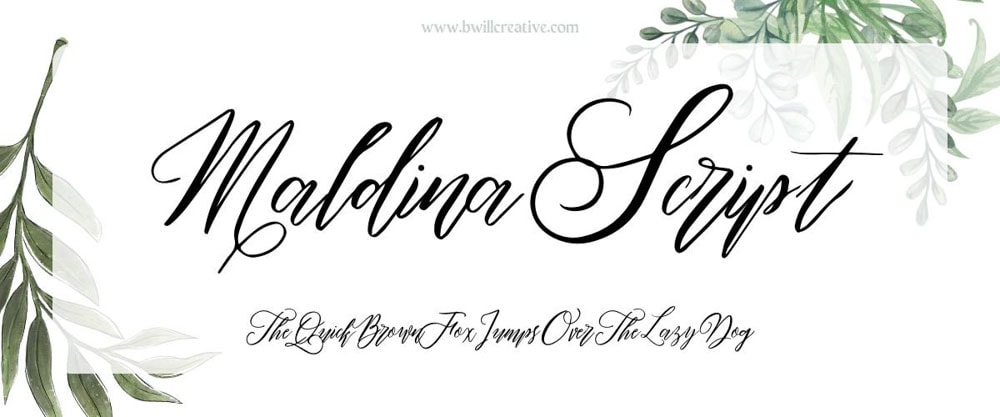 Maldina Script is a classic calligraphy font with timeless appeal. It's not a font you want to use if readability is your main concern, but if you want to add some handwritten charm to your wedding design and look fancy while doing it, this is a great pick.
19. Parisienne
Parisienne is for those who need a font that looks handwritten and legible at the same time. Parisienne can also bring a sense of elegance and sophistication to any wedding design with its flowing letters and vintage appeal. If you're looking for a font that evokes romance, this is an excellent pick.
20. Allura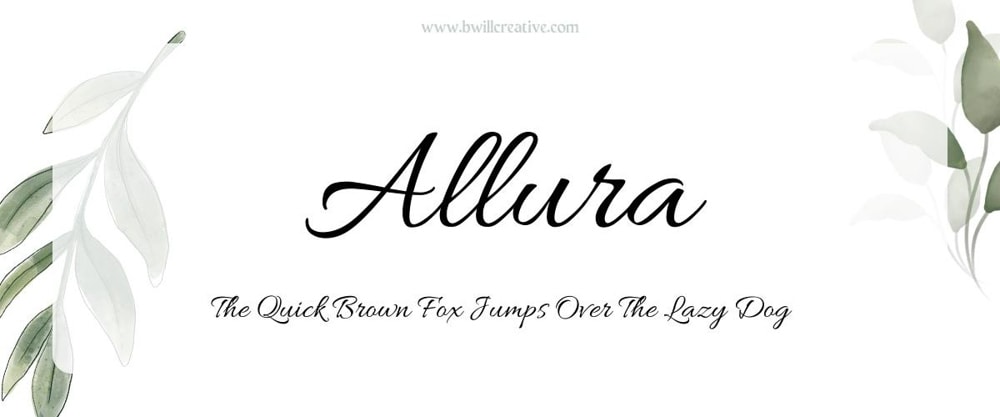 Allura is another romantic font that works well for a wide range of applications. Allura can be used for wedding invitations, menus, programs, stationery, etc. This font works well when paired with a clean and simple sans-serif font to create a modern and elegant design.
21. Great Vibes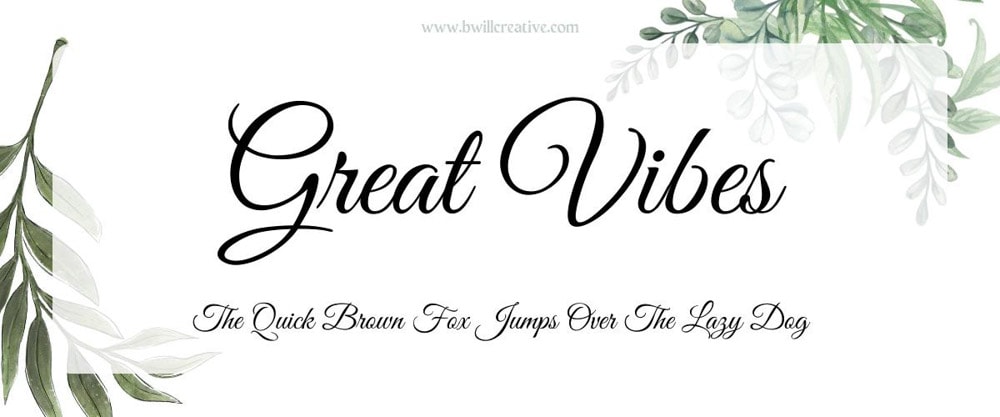 Great Vibes is a graceful font that can add a touch of luxury and charm to any wedding invitation, program, or printed material. Despite its decorative elements, Great Vibes remains highly readable, ensuring that recipients can easily understand important wedding details. Its gigantic swooping capital letters are bound to catch someone's attention.
22. Niconne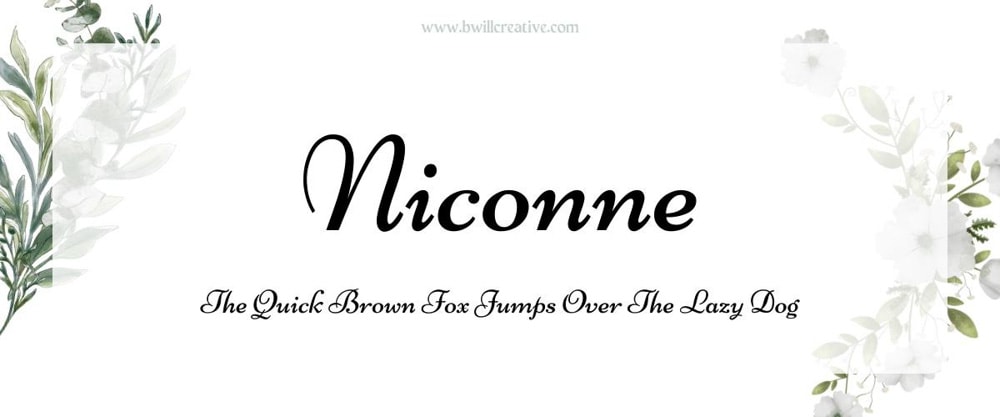 Niconne is a delicate font with thin, graceful strokes that exude a sense of romance and feminity. Niconne has a charming handwritten look that adds a personal and intimate touch to any wedding materials you design. Pairing this font with a modern sans-serif one produces a relaxing contemporary feel.
23. Playfair Display SC
Playfair Display SC is an all-caps font that's clean, formal and feels traditional. There's a timeless elegance to this font that makes it versatile for many different wedding-based design elements and materials. Playfair is perfect for headings and pairs well with clean, modern sans-serif fonts.
24. Engagement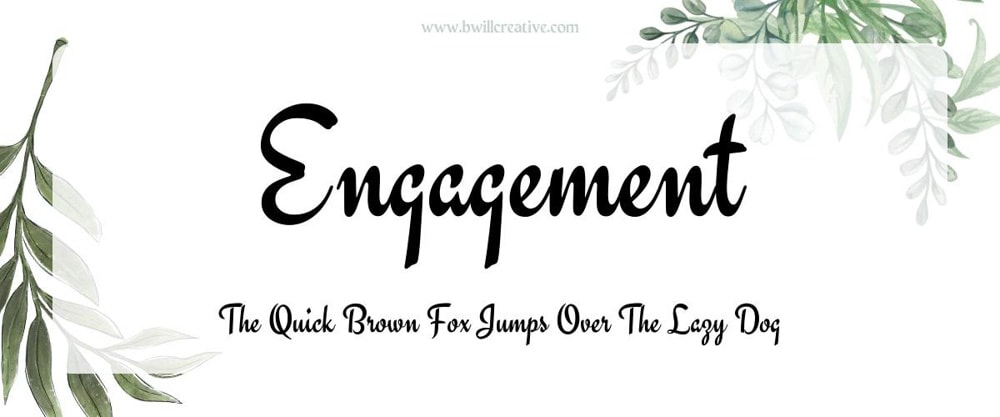 Engagement is not only an appropriately titled font for a wedding celebration, but it also has a romantic and elegant feel. This font is surprisingly easy to read, both for headings, as well as for body text. When it comes to wedding fonts, it's tough to go wrong with Engagement.
25. 29LT Zeyn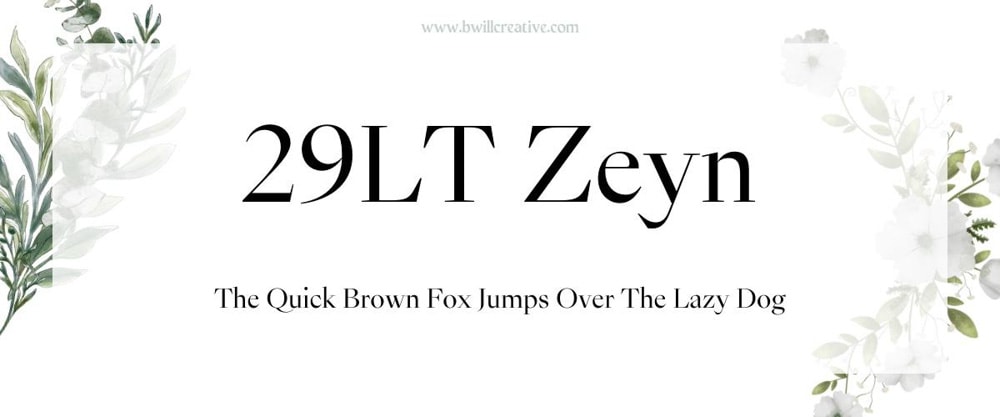 29LT Zeyn is a very balanced typeface that's legible and sophisticated. This versatile font works well for everything from headers to body text to monograms. 29LT Zeyn is best paired with a more elaborate font on this list for contrast.
26. Lovelace Text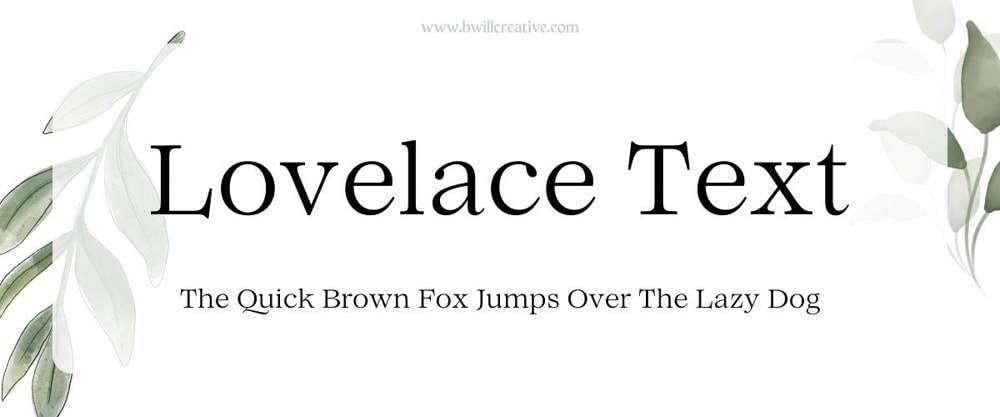 Lovelace Text is a font that looks like it was produced by a fancy typewriter. If you're looking for a modern font that's legible and slightly romantic, Lovelace Text may have you covered. It's an excellent choice for branding and logo design, as it's highly readable.
27. Morva
Morva is a font with a mix of thin and thick lines incorporated with each letter. Overall, this font is elegant and feels original compared to similar fonts. If you're looking for a modern typeface, this is a good option.
Morva is only available for Canva Pro users.
28. Lucy Rose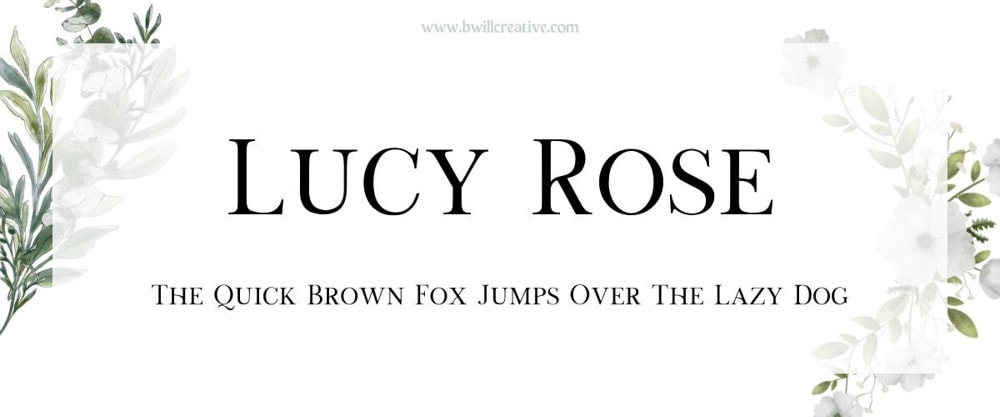 Lucy Rose is a sleek all-caps typeface that can provide a solid foundation for almost any wedding design. Lucy Rose is a hybrid of a serif and display font that can be seamlessly incorporated into wedding invitations, save-the-dates, place cards, and more.
Lucy Rose is only available for Canva Pro users.
29. The Artist Script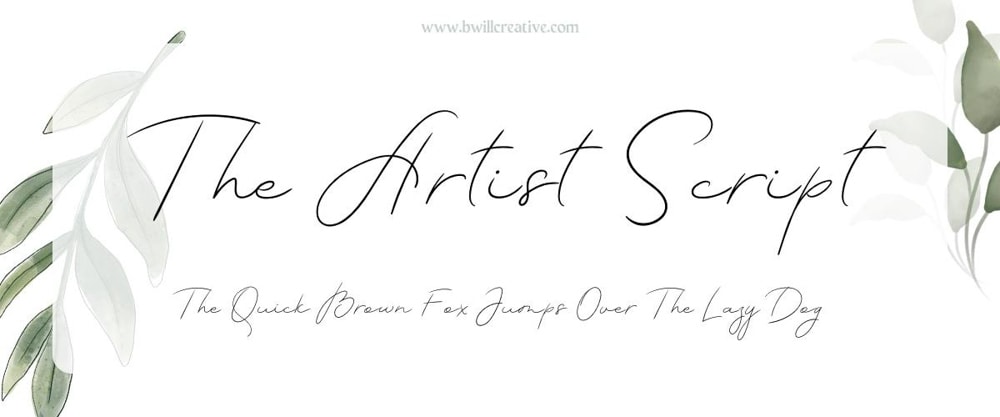 The Artist Script font has an old Hollywood feel, which can also bring a romantic and sentimental quality to a wedding design. Its graceful curves and flowing lines evoke a sense of love and joy that can add a personal touch to your special day.
The Artist Script is only available for Canva Pro users.
30. Warm Script
Warm Script is one of the best fonts you can find if you're looking for something with a handwritten feel. Warm Script may not be the most legible in every situation, but it makes up for it by exuding warmth and elegance with every letter—an excellent choice for wedding signage and decorations.
Warm Script is only available for Canva Pro users.
31. Sloop Script Pro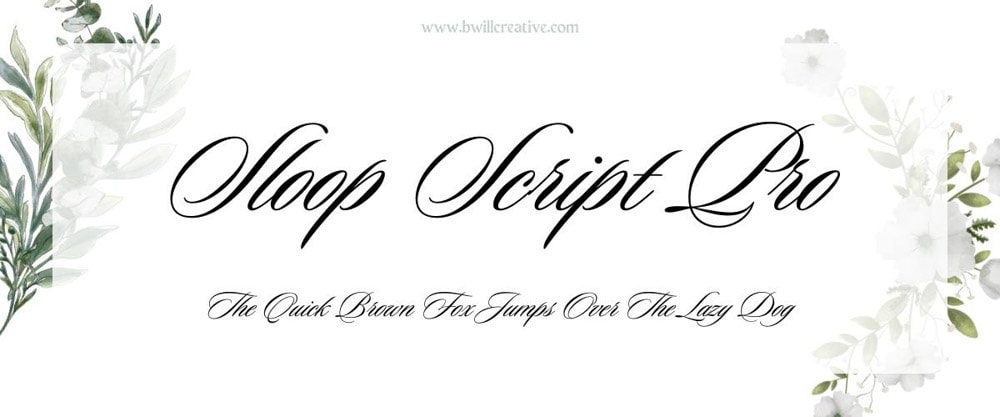 Sloop Script Pro is the perfect font choice when you're looking for something to make your wedding invitations look as fancy as possible. This font is not very legible, but that's almost the point. When you need a stylistic alternative that still produces timeless appeal, Sloop Script Pro is a go-to choice. Also, this font is free despite "Pro" being in the name.
32. Faraz Modern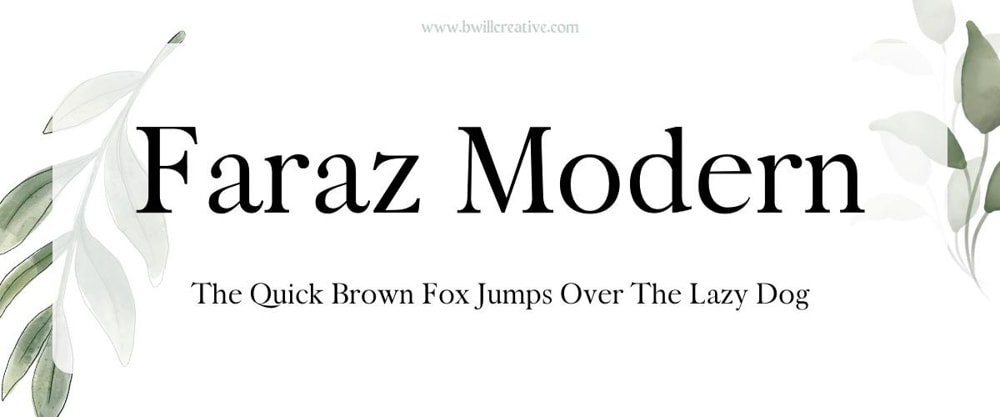 Faraz Modern is a font that's both elegant and modern. This font has a minimalistic aesthetic that lends itself to more contemporary and modern wedding themes. Its clean and crisp letters allow the focus to remain on the content while adding a touch of sophistication. Faraz Modern also includes non-English characters for those who require typographic diversity.
Faraz Modern is only available for Canva Pro users.
33. Rumble Brave Script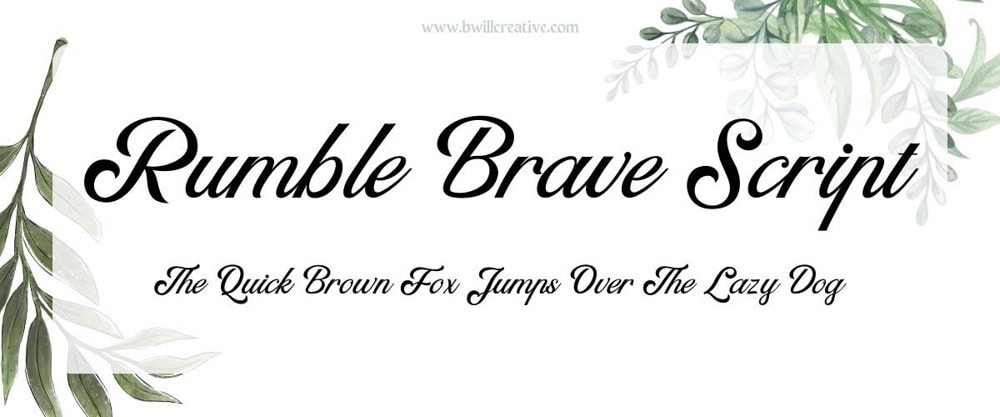 Rumble Brave Script is a font with high legibility and beautifully handcrafted quality. This font features decorative flourishes and swashes that can enhance the romantic atmosphere of a wedding and can be used to embellish initials and names.
Rumble Brave Script is only available for Canva Pro users.
34. Herr Von Muellerhoff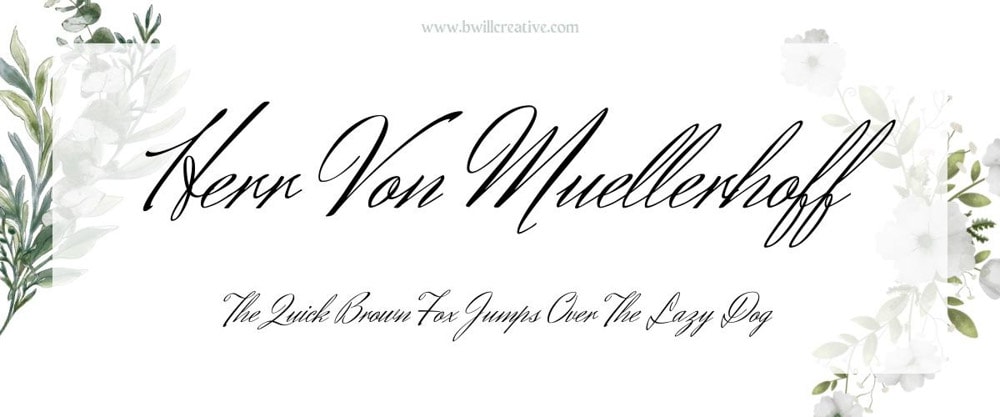 Herr Von Muellerhoff is an ornate script font suitable for a rustic, bohemian, or vintage-themed wedding. There's a sense of romance to each letter, making the font's slight legibility issues easier to accept. This font is another great choice for highlighting names on wedding invitations or save-the-date cards.
35. Charlton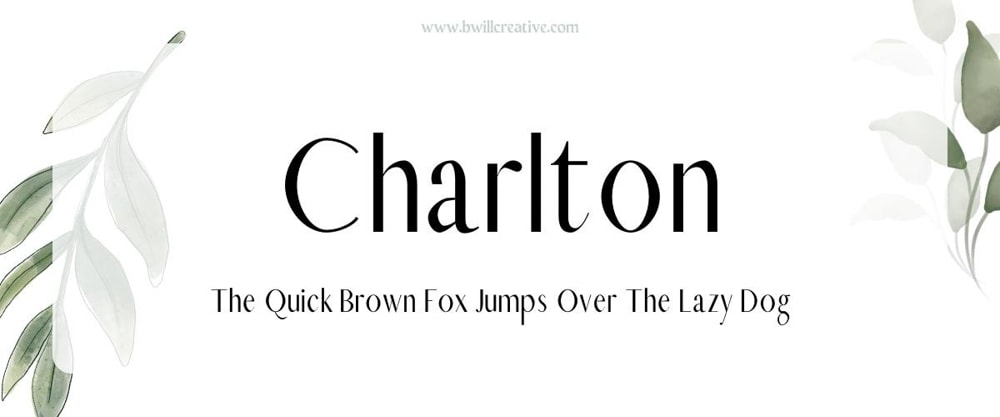 Charlton is a classic-looking font with just the right amount of sophistication and formality. With its clean lines and balanced proportions, Charlton is a font that can complement many different wedding decors and themes and pairs well with traditional and modern design elements.
Charlton is only available for Canva Pro users.
If none of these fonts match your idea for your wedding stationery, have a look at the best cursive fonts in Canvas, or you can add fonts to Canva from elsewhere online to use in your designs.