As a teacher, choosing the right font can make all the difference in capturing your students' attention and enhancing their learning experience. So, to make your life easier when creating your next worksheet, here are the best fonts for teachers in Canva so you can focus on what you do best. 
The Best Fonts For Teachers In Canva
The following 35 fonts were chosen for various reasons, including legibility, engagement potential, and creative expression.
Some of these fonts are only available for Canva Pro users, and these fonts will be mentioned as such.
1. Lato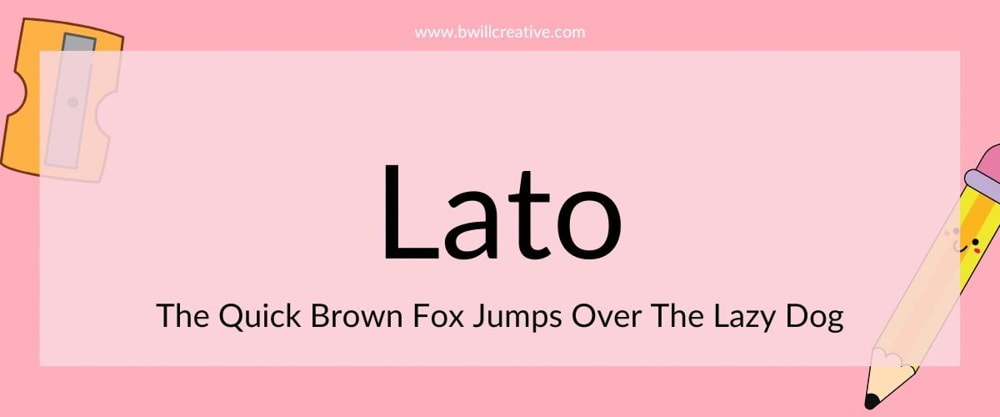 Lato is a versatile sans-serif font with clean and crisp legibility. This makes Lato an excellent choice for handouts, worksheets, and presentations. If you're looking for a font that's both functional and visually pleasing. Lato is a gold standard.
2. League Spartan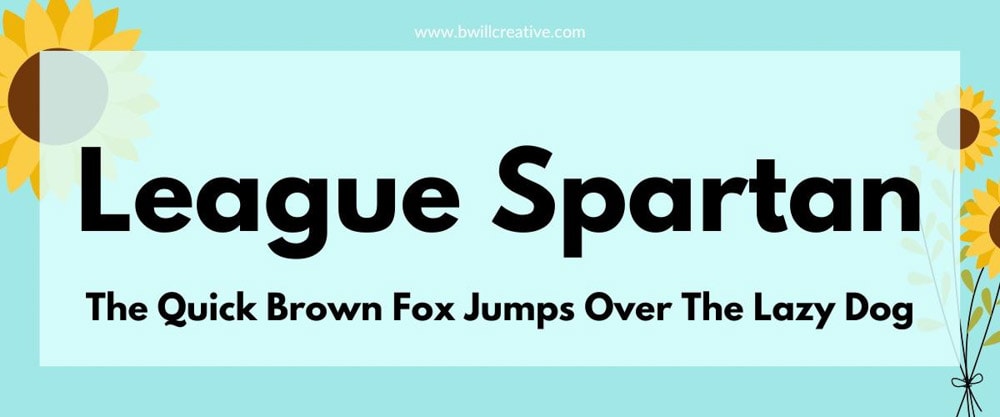 League Spartan is a bold font that's best used when you need to grab your student's attention. League Spartan's clean and well-defined letterforms are able to communicate your message clearly and effectively, which is crucial for any teacher.
3. Black Bones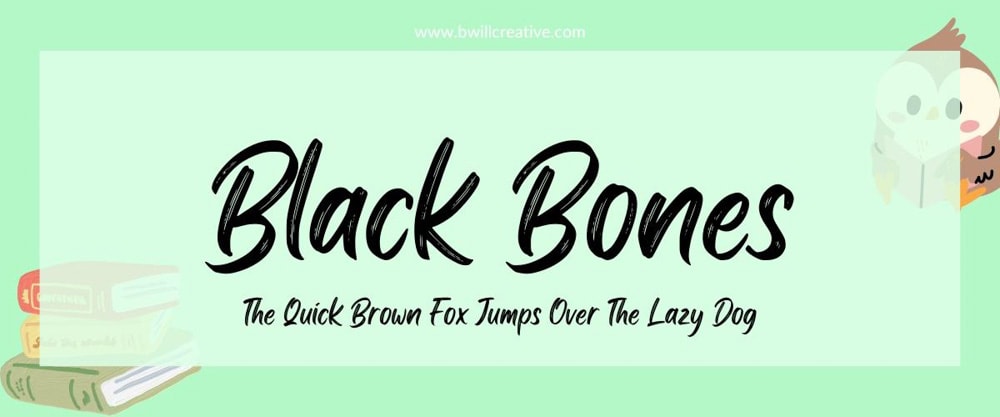 Black Bones is a display font that works for teachers who are looking for a unique and appealing brush style option. Black Blones can be utilized in various ways, including posters, bulletin board displays, presentations, and slideshows.
4. Schoolbell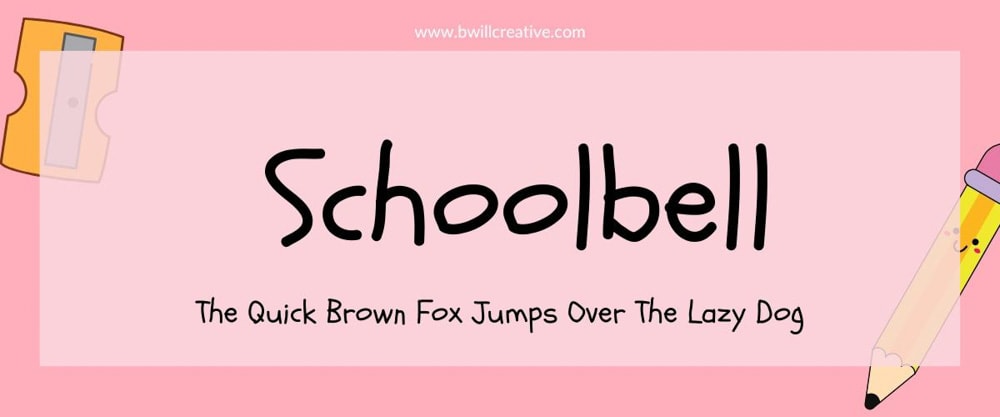 Schoolbell is a well-named font for teachers that acts as a highly readable yet slightly stylistic choice. Schoolbell is child-friendly and approachable with a whimsical appearance, making it best suited for younger students. Its rounded letterforms can create a warm and inviting atmosphere in your educational materials.
5. Nunito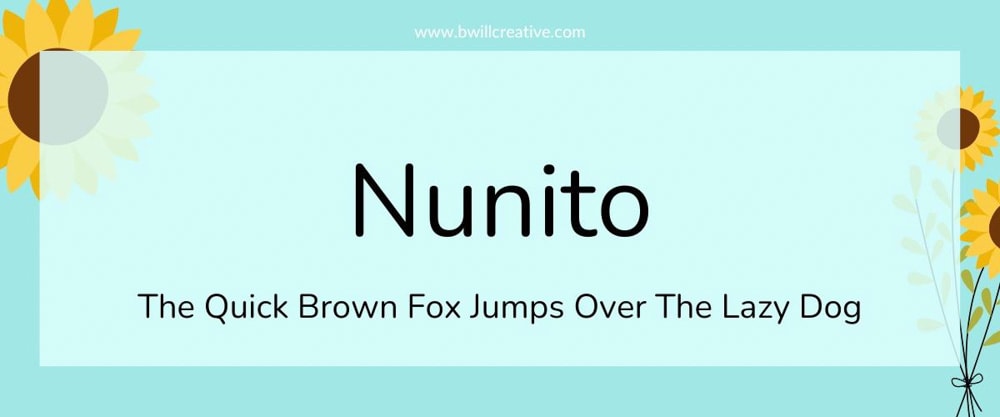 Nunito is a versatile and modern font that offers clarity and readability for your students. Nunito has a very polished and professional appearance, making this font an ideal choice for lesson plans, presentations, and other types of handouts. Nunito also offers a range of weights and styles, including regular, bold, italic, and condensed variants.
6. Dreaming Outloud Sans A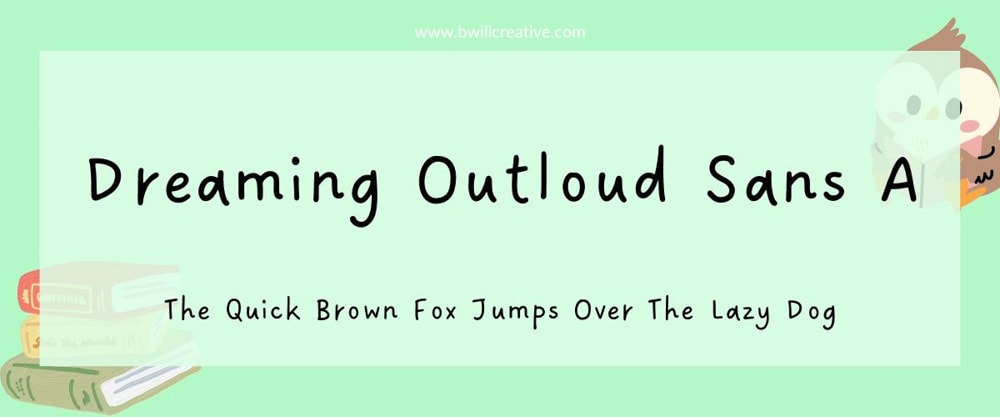 Dreaming Outloud Sans A is an approachable and friendly font with rounded edges and soft curves. This font has a unique and eye-catching design that can capture a student's attention in headings, titles, or posters.
7. KG Primary Penmanship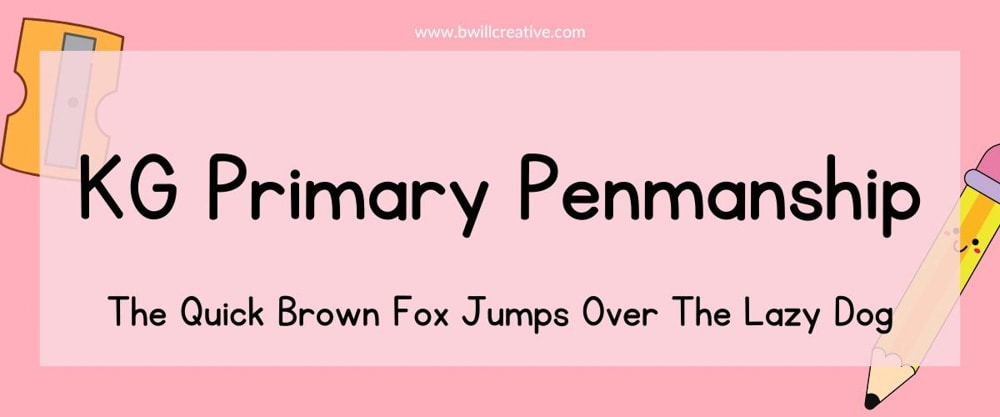 KG Primary Penmanship is a font that mimics the look of traditional handwriting, making it an excellent way to teach young students how to write. This font can be used to create worksheets and flashcards to help students understand letter formation and improve their penmanship skills.
8. Roboto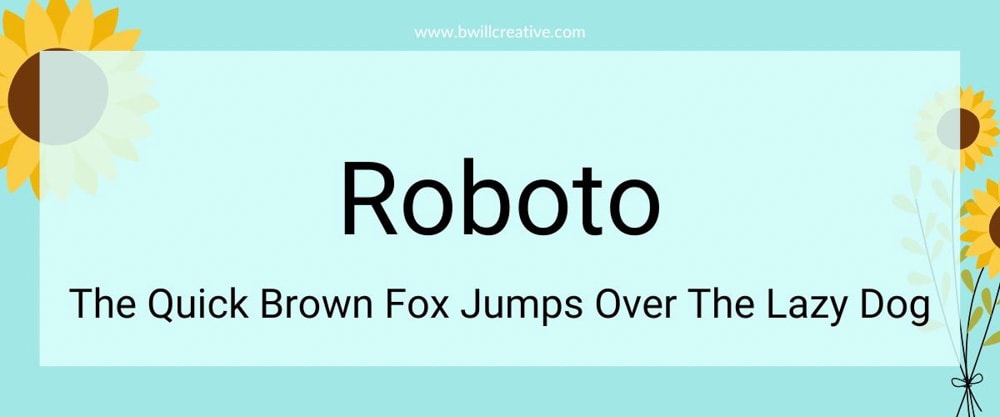 Robots is a popular font with well-defined letterforms, making it highly readable in print and on-screen. This typeface has a modern and professional appearance, reflecting a sense of credibility and authority.
9. Alegreya Sans SC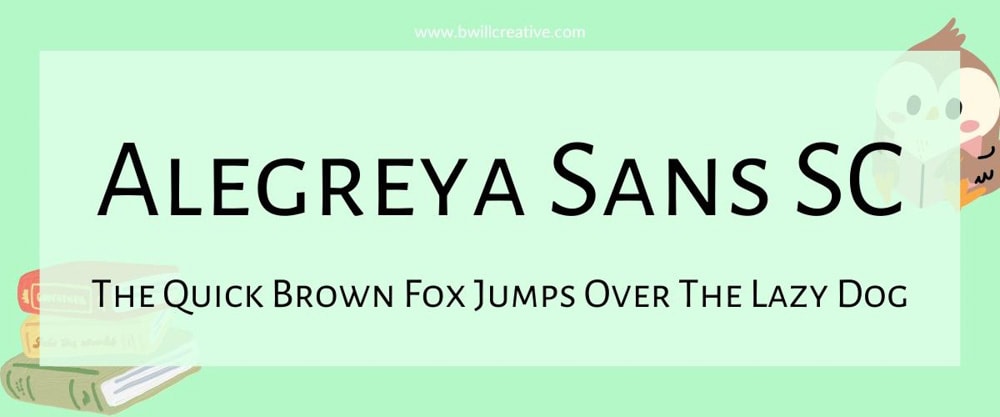 Alegreya Sans SC is a professional-looking font that looks like it came straight out of a textbook. This font can be used for any type of homework, notice board, or anything else that requires clear, legible text. Alegreya Sans SC can also be used for progress reports or any other kind of communication with parents to be as professional as possible.
10. Irene Florentina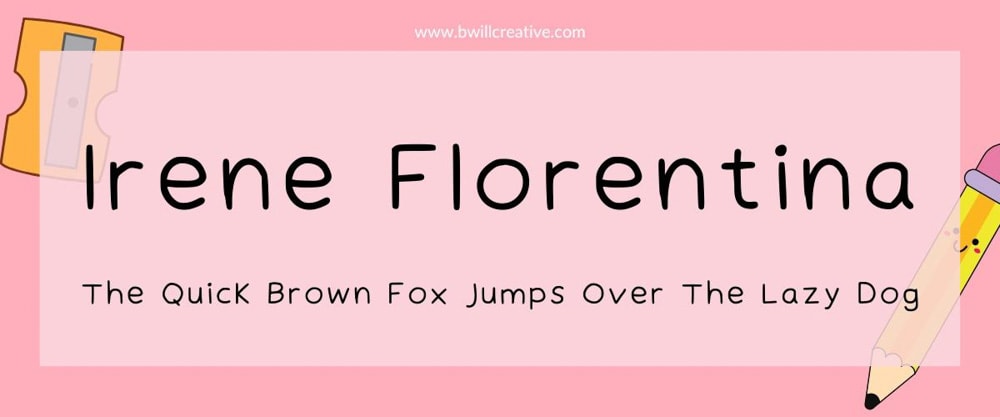 Irene Florentina is a font that perfectly replicates the handwriting of a professional. This font can be used for handouts and worksheets to keep your students relaxed while working, or it can be used for special notes or messages.
11. Open Sans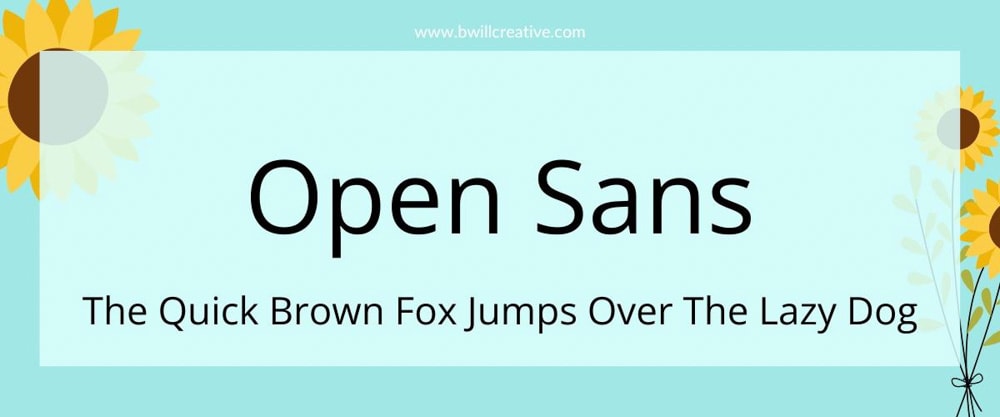 Open Sans is a classic font that's a classic for a reason. Open Sans offers a professional and polished appearance, which can lend credibility to any written communication from teachers. From worksheets to official documents, Open Sans conveys an attention to detail you can use to come off as professional as you are.
12. Bebas Neue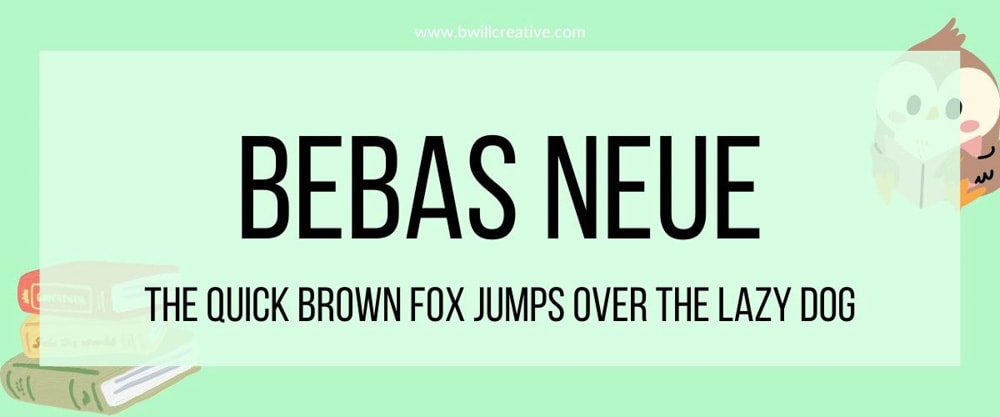 Bebas Neue is a bold and impactful all-caps font designed to capture attention. As a teacher, you can use this font to emphasize important headings, titles, or key points in your teaching materials or as a way to highlight critical lines in a presentation.
13. Tallow Sans Pen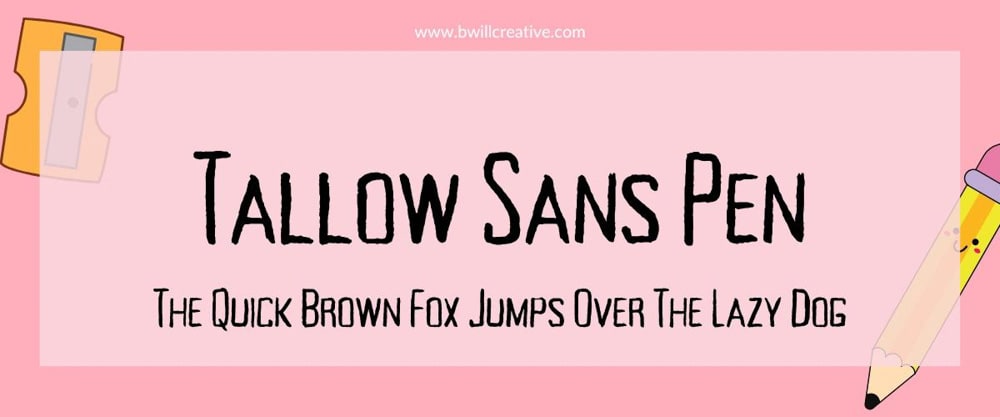 Tallow Sans Pen is a display font that replicates chalk drawings on a chalkboard. The main use for this font would be for messages on a notice board where you want to grab your students' attention immediately or any other type of text-based display in your classroom.
14. Poppins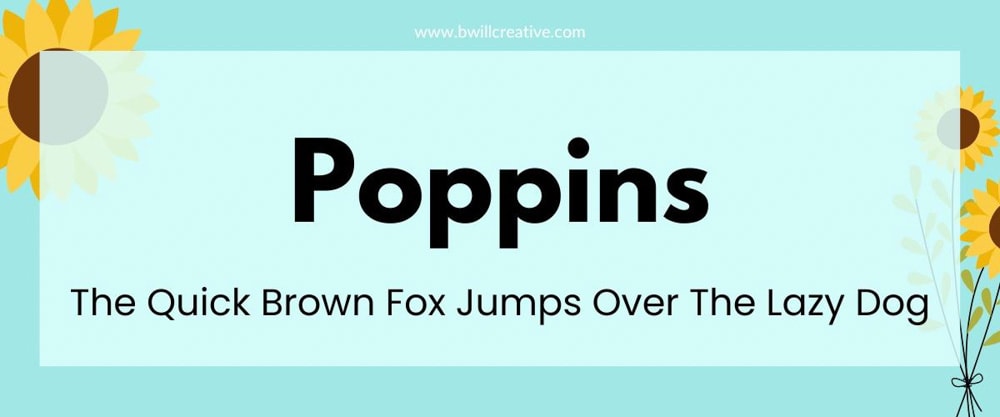 Poppins is a clear, legible font, even in smaller sizes. This font ensures that your text will be easily readable for students and other teachers, whether used in a presentation, handout, or other classroom materials.
15. Norwester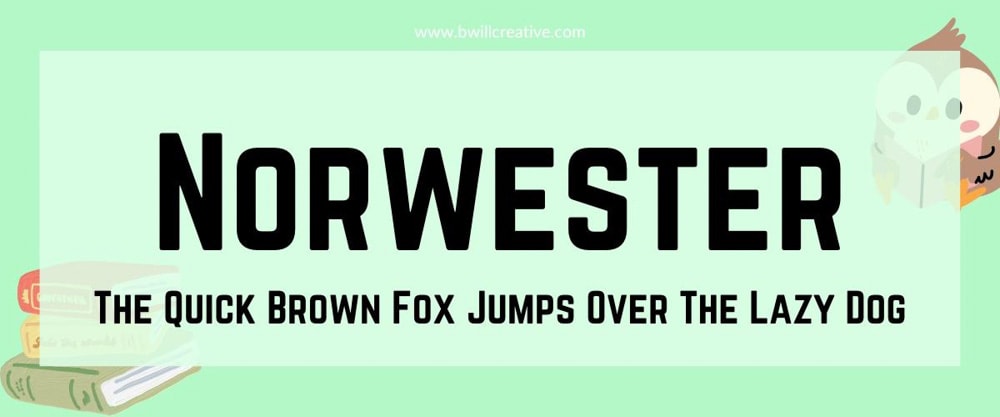 Norwester is a strong, bold display font bound to catch your students' attention. Norwester is an interesting all-caps option, where each letter is capitalized; however, holding Shift will make your next letter taller than the rest. This font is perfect for notice boards and posters to make important information easily visible from a distance.
16. Antio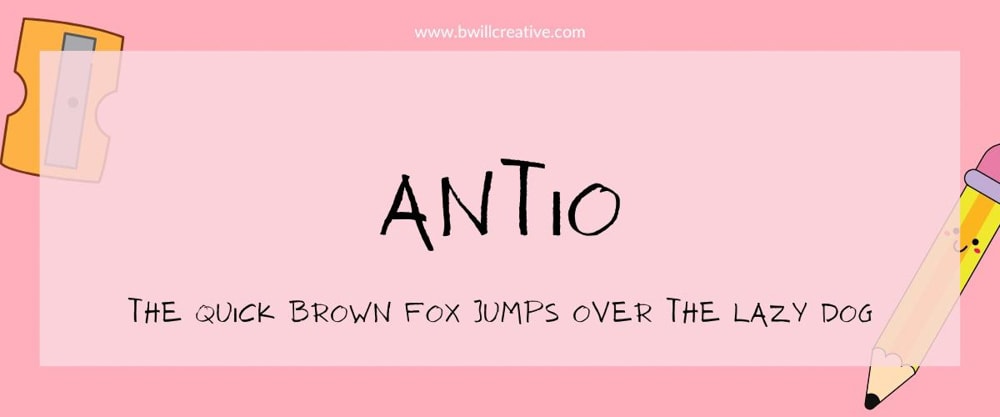 Antio is a font that simulates a child's penmanship during the early stages of writing practice. This font can be used as a way to sympathize with your younger students as they learn how to write. It can be used on practice sheets to show children that their writing doesn't have to be perfect at their age.
17. Cerebri Bold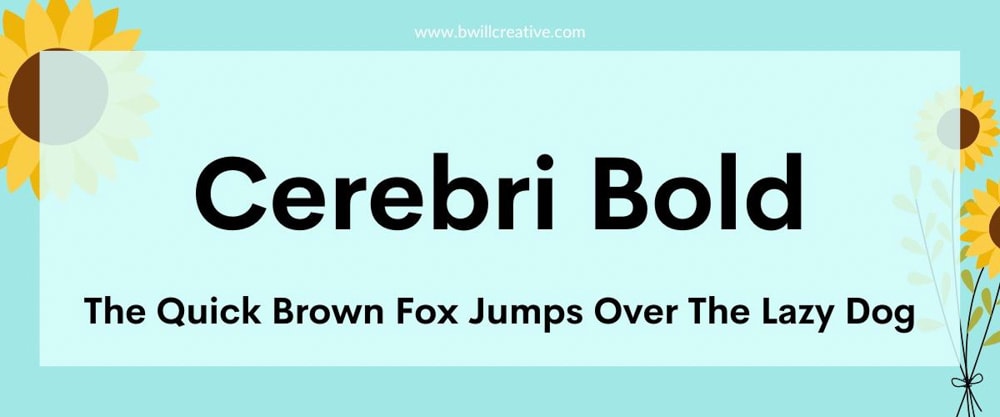 Cerebri Bold is a crisp and clean font that's great for printed and digital presentations. Cerebri Bold is also versatile, as you can use it for headings, subheadings, and key phrases. This can create a more organized and engaging learning experience for students.
Cerebri Bold is only available for Canva Pro users.
18. Chewy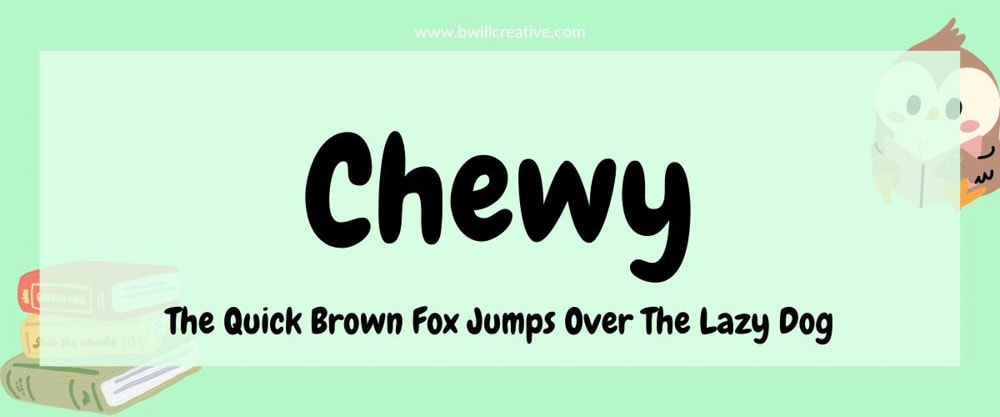 Chewy is a font with a unique and bouncy appearance that makes it perfect for creative projects within the classroom. This font is ideal for posters, banners, or any other type of signage. This font also works for certificates and awards you may hand out to congratulate your students.
19. Bakerie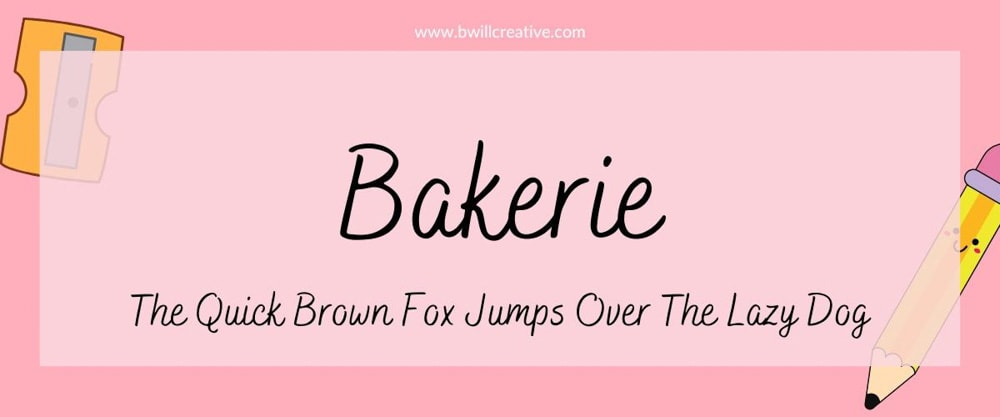 Bakerie is a font that may look like cursive, but it's not. Many of the rounded letters extend outward and connect to the next letter in some cases, but not in every case. Bakerie has a clean, well-defined design that is readable even at smaller sizes. If you're looking for a thin font that's friendly and approachable, Bakerie is what you need.
20. Sue Ellen Francisco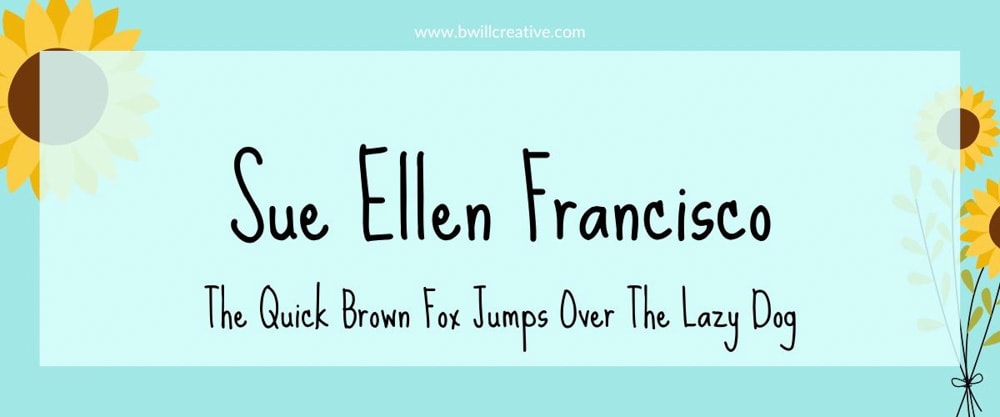 Sue Ellen Francisco is a handwriting font that grabs attention due to its uniquely tall capital letters. This font is a great way to showcase the differences between upper case and lower case letters, and it can be used very effectively for classroom displays.
21. Fredoka One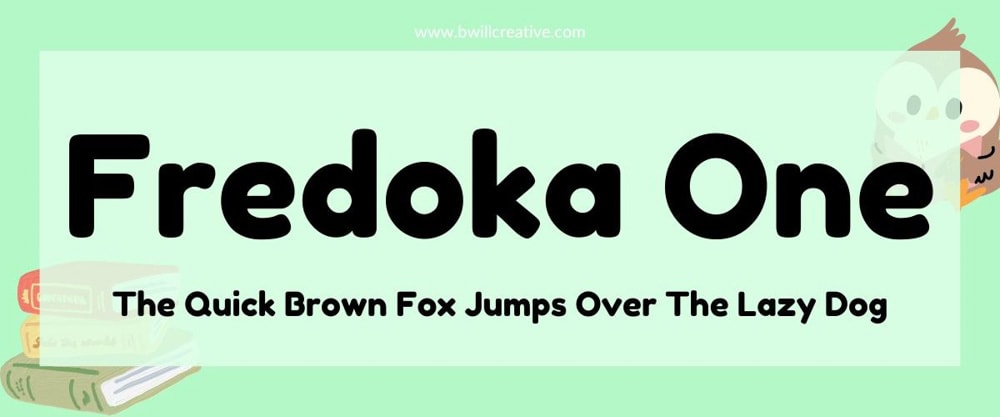 Fredoka One is a font that appears playful and engaging while remaining bold and eye-catching. Each bold stroke and distinct letter ensures that text will be easily readable, even from a distance or in smaller sizes. This font can be used to create worksheets, handouts, presentations, or online resources without sacrificing readability or visual appeal.
22. Finger Paint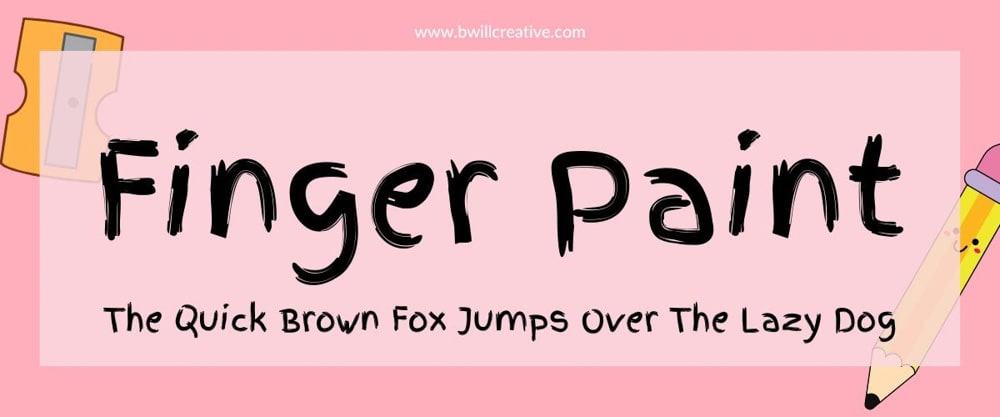 Finger Paint is a display font that simulates a child drawing with finger paint. This font is best used in classroom displays, but it can also be used on worksheets for younger kids to add some fun. This font also works great for any type of signage for younger classrooms.
23. Nice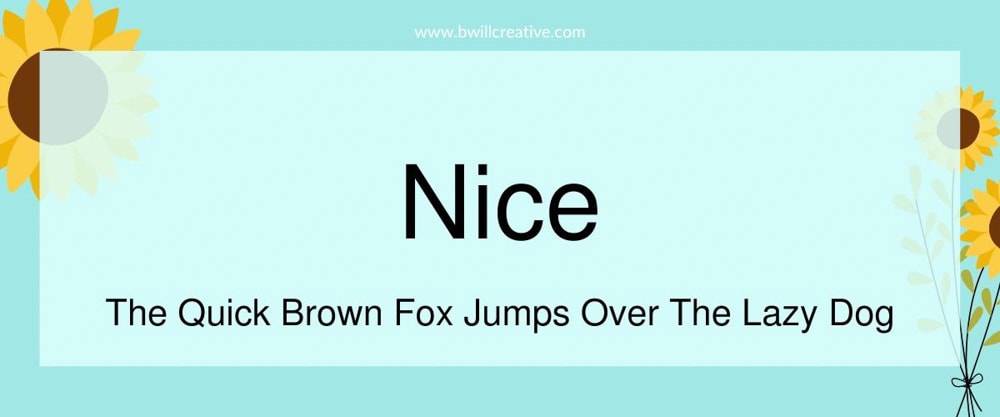 Nice is a font with the perfect name, as it's very nice on the eyes. This works in your favor as a teacher for presentations and slides. Nice also works well as a clean font for communicating with parents through newsletters, emails, or written messages.
24. Freckle Face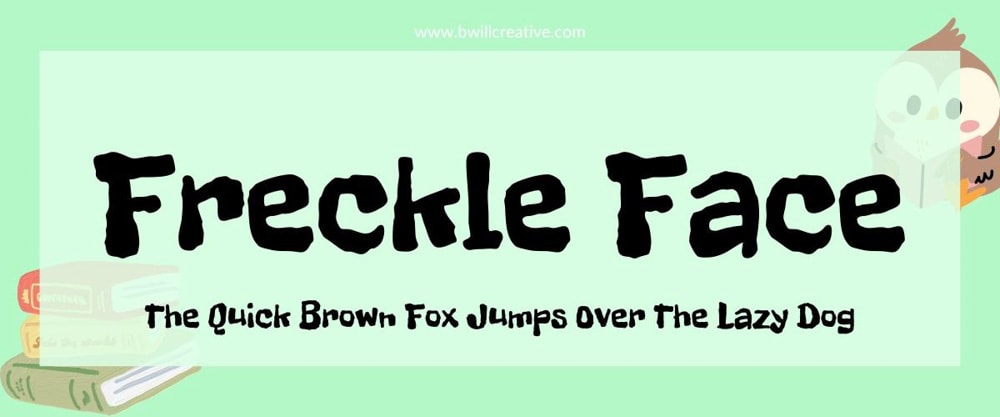 Freckle Face is a display font that you can use to put a smile on your student's face. The irregular letterforms and whimsical design of Freckle Face give it a playful and childlike appearance that can capture young students' attention. This can make learning materials more engaging and relatable, especially for younger students.
25. Canva Student Font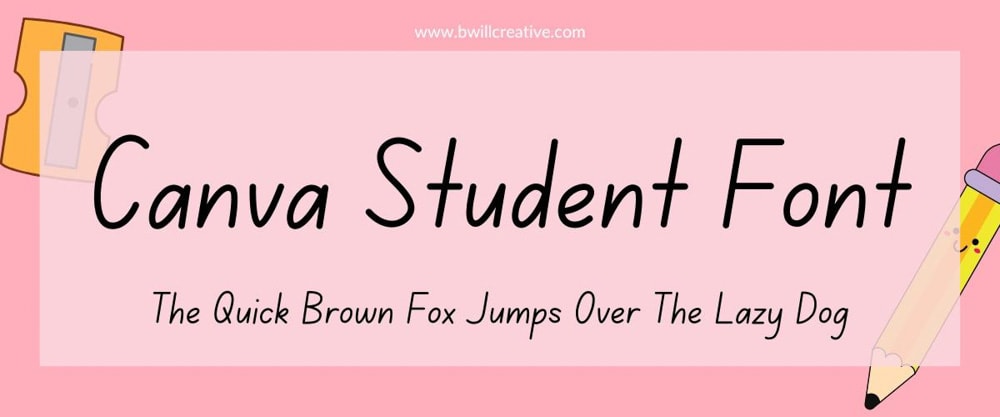 Canva Student Font is another aptly named font, as this typeface is specifically designed to be visually appealing to help engage students. This font is useful for worksheets, handouts, or study guides. This font mimics a handwritten style that can be used to provide notes or feedback to students.
26. Zico Sans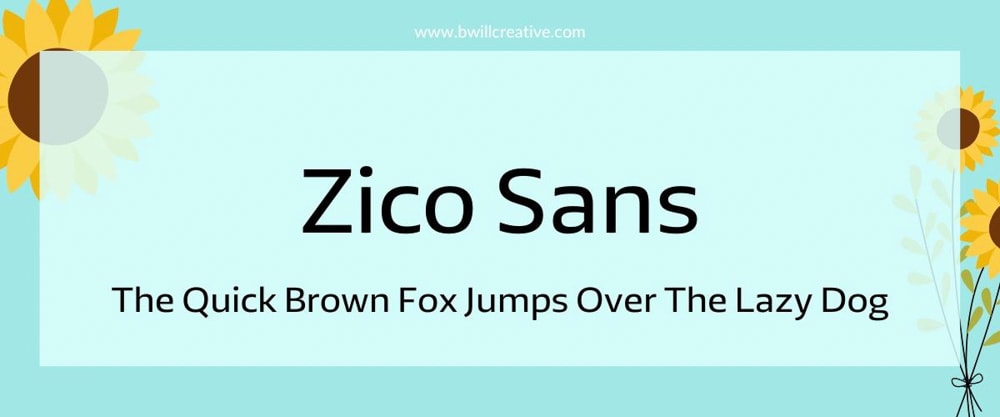 Zico Sans is a good choice when you need a font that ensures high readability. Each character is easily distinguishable, with a clean and modern design, creating a professional and polished look. The balanced proportions and moderate stroke widths keep this font easy on the eyes for both teachers and students.
27. Mansalva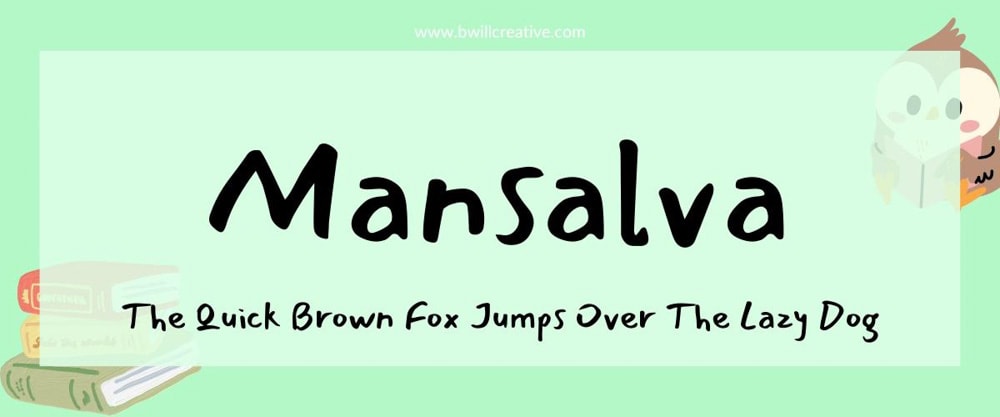 Mansalva is a font designed to replicate a more relaxed handwritten style. Mansalva can convey more personalized communication with students for notes and notice board messages, giving the text a more unique and heartfelt feel.
28. Pluma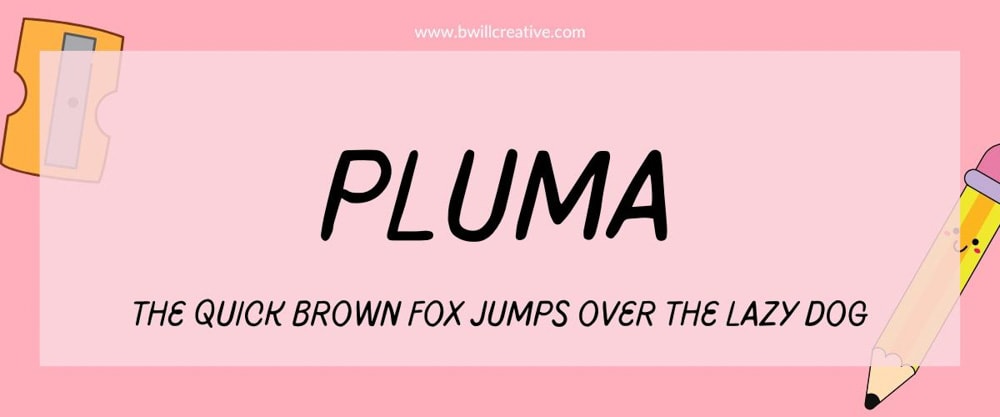 Pluma is a font that has a friendly and inviting appearance, which can help create a positive and welcoming learning environment. The font's soft curves and warm design make it visually appealing and engaging for students.
29. Bangbang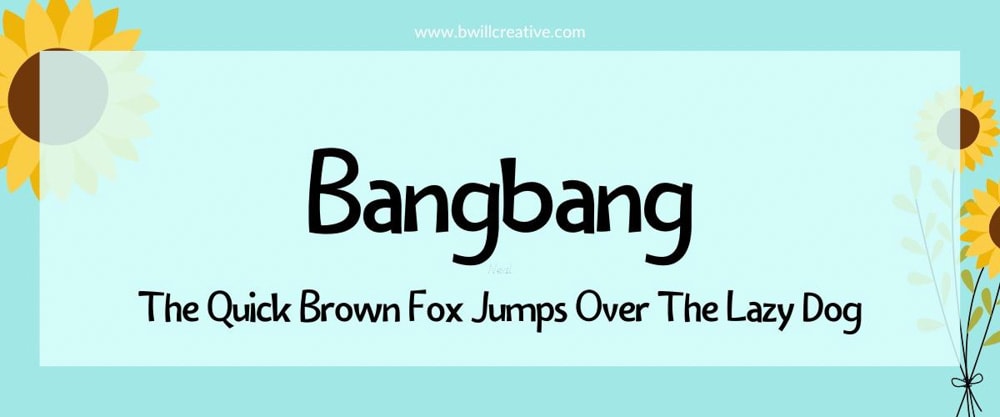 Bangbang is an attention-grabbing font due to its unique spacing and relaxed style. Bangbang is best used for posters and visual aids but also for classroom games and activities like flashcards or activity sheets. Bangbang is an excellent choice if you're looking for a font that can add a sense of fun to a project.
Cerebri Bold is only available for Canva Pro users.
30. Le Petit Cochon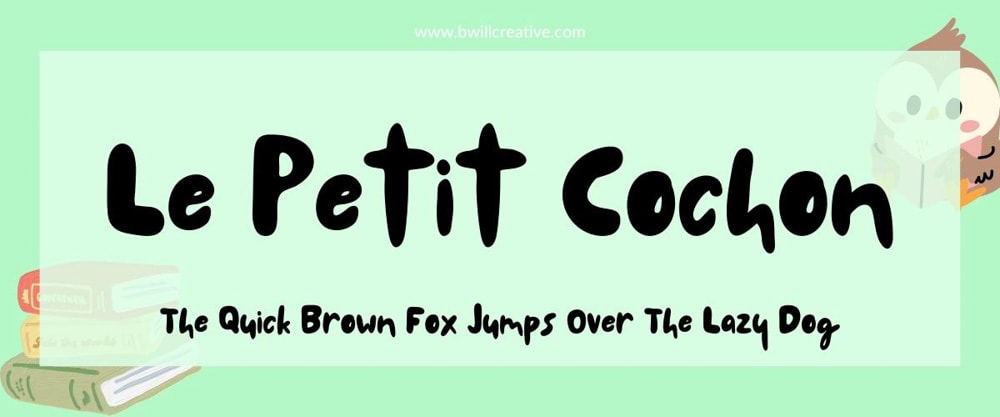 Le Petit Cochon is a playful and engaging font that can capture your students' attention with its unique letterforms and quirky style. Despite this font's creativity, it's still very legible and can be used as a way to highlight important points on a worksheet or in presentations and classroom displays. Le Petit Cochon invites a more positive atmosphere to the classroom, keeping your students at ease by providing a sense of comfort.
31. Coming Soon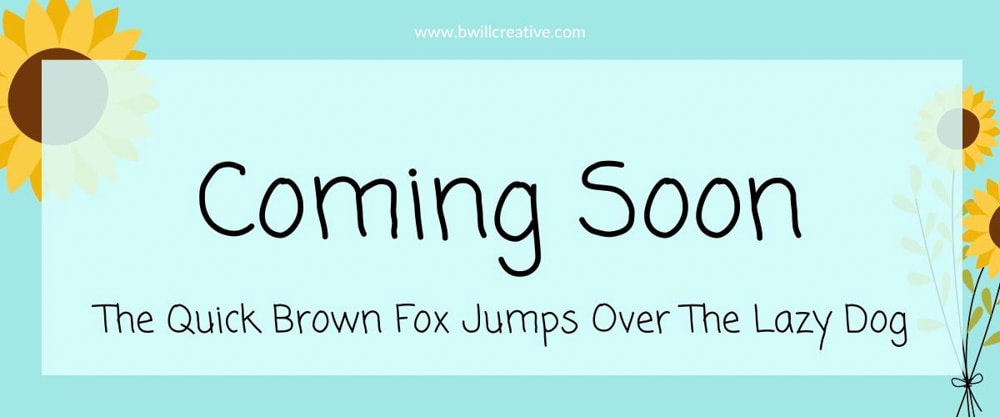 Coming Soon is a relaxing font that can be used in various ways in the classroom. You can use this font to announce upcoming events, field trips, or special activities, or you can use this font for bulletin board posts and presentations. Coming Soon also works very well as a font for awards and certificates to help recognize your best or improving students.
32. More Sugar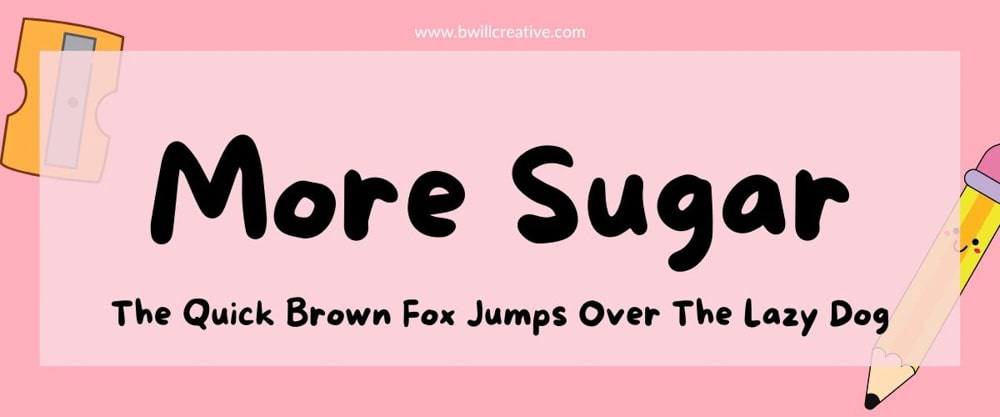 More Sugar is a Canva font that can add a cheerful appeal to any creative and artistic project. It's a bit of a bold font, but it can also add a touch of playfulness to your teaching materials. Its bubbly style creates an inviting and enjoyable learning environment for your students, especially for early education and primary grades.
33. Bryndan Write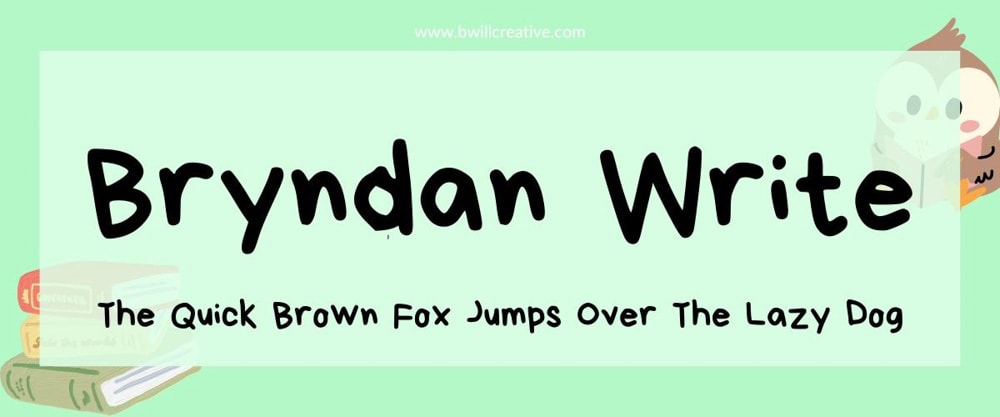 Bryndan Write is a slightly less bold font with a handwritten style that manages to strike a balance between artistic style and legibility. For students learning how to write, this font can be used to show them that each letter doesn't have to be exactly perfect. Bryndan Write can also be used in worksheets and handouts to give them a more authentic and personal feel.
34. Childos Arabic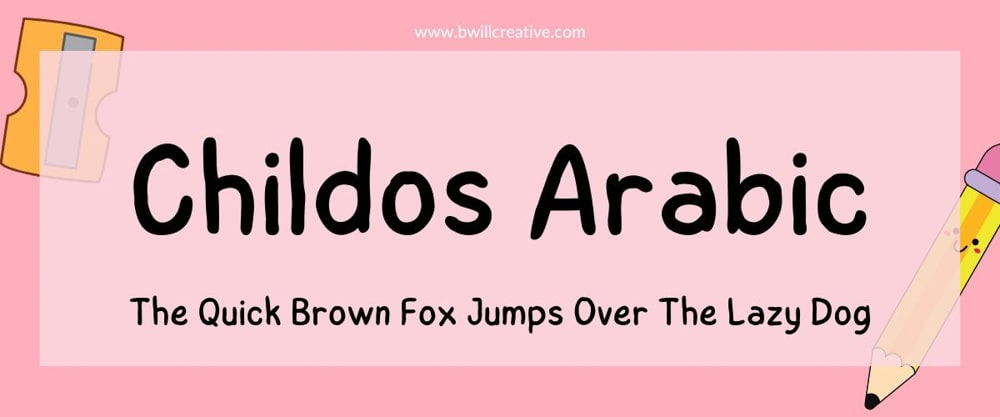 Childos Arabic is a font that simulates a child's handwriting at an advanced stage of learning. The font itself is consistently legible and visually appealing. Its simple and straightforward design is perfect for young learners and can add a bit of realism to a project.
35. KG Primary Dots Lined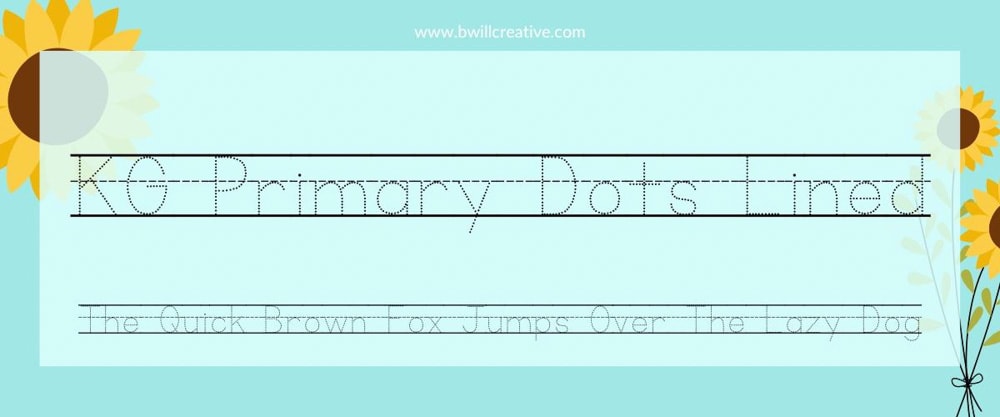 KG Primary Dots Lined is a font that simulates how writing practice sheets look. This makes KG Primary Dots Lined the perfect font to create handwriting practice sheets, saving you a lot of time. This font can also be used for name tags or desk labels so that students can practice writing their names at the beginning of class.
If none of the fonts on this list work for you, have a look at the best fonts in Canva or add fonts to Canva to upload your favorite downloaded fonts.