Photoshop has so many tools and capabilities that the program has regular updates to ensure everything is working properly and all tools are available. Normally, these updates occur every couple of months with standard bug fixes or with yearly program overhauls. Everyone with a Photoshop subscription can access the updates for free as they come, so it's important to be aware of them!
You'll probably know it's time for an update when you notice some tools aren't working properly or aren't fully available. Luckily, Photoshop makes it easy to update the software with just a few clicks.
Video Tutorial
How To Update Photoshop
You'll be able to update your Photoshop subscription through Adobe's cloud software, Adobe Creative Cloud (Adobe CC). You'll likely see the icon for Adobe CC in the taskbar of a Windows OS or the top right area of a Mac OS.


Click this icon, and the Adobe CC window will appear.
You can locate your creative cloud updates in the Updates tab to the left.
Here, you'll see the different programs you have downloaded and the available updates for each (as I have already updated Photoshop, it doesn't appear here but would appear above the Updated recently section in the example below.) Click the Check for updates button at the top to make sure you're seeing all the available updates.

To update Photoshop, click the blue Update button. You can also click See More or View More to learn exactly what new features, bug fixes, and tools each update will bring, a pop-up window appears detailing what the updates contain. You may also be directed to the Adobe website online for more information.
How To Make Sure Photoshop Updates Automatically
It will probably make your life much easier to ensure Photoshop is updating automatically. This way, you don't have to go in and do it manually each time you think you may need an update.
To ensure Photoshop is set to update automatically, head to the Creative Cloud app by clicking the icon on your computer and then click the Updates tab on the left.
At the top of the tab, you'll see Enable auto-update.

Click this, and a window will appear confirming that you'd like to enable auto-update for all apps. You can check the first box to ensure any automatic updates keep the preferences you've set in previous versions of Photoshop, while the second will automatically uninstall old versions of Photoshop, keeping the space free on your drive. It is best to leave both of the preferences checked.
Click Continue to save your preferences and ensure Photoshop will update automatically from now on.
Can You Update Photoshop For Free?
You'll be happy to know that updating Photoshop is free — as long as you've paid for your subscription for the month, of course. You might need to clear some space on your drive, but beyond that, you shouldn't have any roadblocks to updating Photoshop.
However, if you've been working on an older version of Photoshop (that pre-dates the Creative Cloud) or Photoshop Elements, you may need to buy the current version of Photoshop to get the free updates or pay for updates as you go. For Photoshop Elements specifically, you'll notice it is cheaper to update the program than buy the current, most up-to-date version of Photoshop.
How To Check Your Active Version Of Photoshop
In some situations, you may need to know what version of Photoshop you're using currently. Maybe you're not sure if you're using the version you need, or you'd like to keep track of what edits you make in which versions.
In older versions of Photoshop, you could view the version you're currently using by ensuring you've fully exited out of Photoshop and opening it back up to view the information on the Splash page that appears while the program loads. However, this may not work for the most current versions.
Instead, you can check what version of Photoshop you're currently using after opening Photoshop in one of several ways. You can head to Help > System Info and view the information at the top of the System Info window.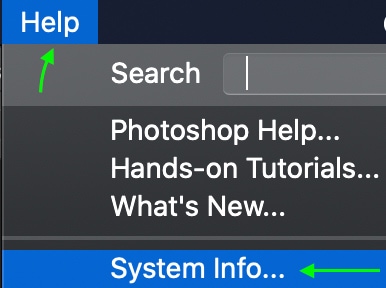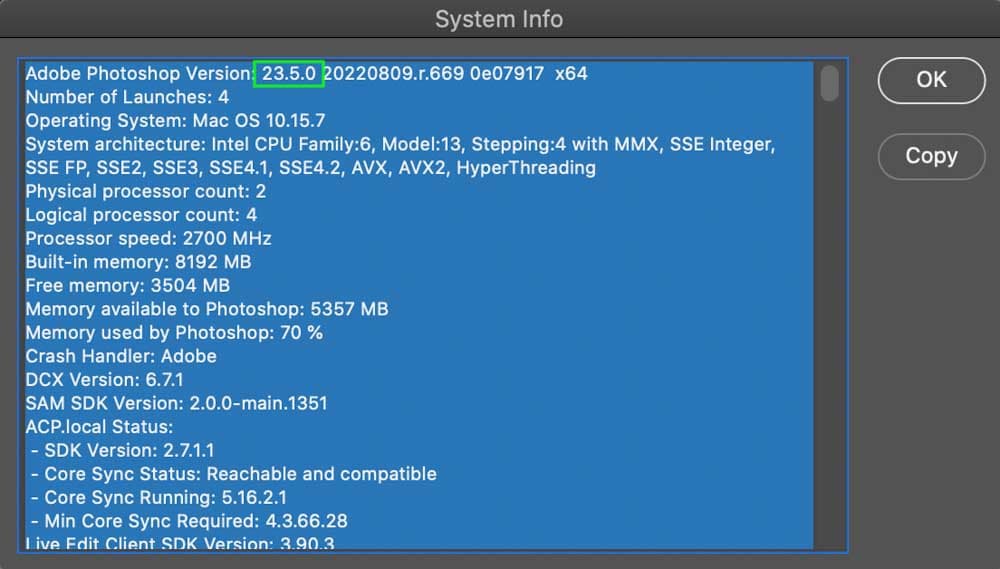 Or, you can head to Help > About Photoshop (Win) or to Photoshop > About Photoshop (Mac).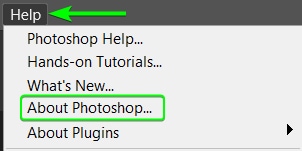 Here, you'll be able to see the version number right below the Adobe Photoshop logo in the window that appears.