Decades ago, the internet was like the wild west. You could use any image or element you got your hands on however you'd like without much thought of the consequences. Today, internet laws are much stricter. If you use an image without citing the original source, you risk getting fined. What about Canva images? If those images are free, do you need to cite them?
Suppose you have a blog, YouTube channel, or anything similar where you make money repurposing other people's content. In that case, you must ensure you can use the images without breaking any license agreement. The good news is that using images with Canva is much easier than with other websites. Today, you will learn if you need to cite Canva images, when to cite Canva images, and the proper way to cite an image you use from Canva.
Do You Need To Cite Canva Images?
Here is a direct quote from Canva about what is allowed when using their Free Media License Agreement:
"All free photos, music, and video files on Canva can be used for free for commercial and noncommercial use. Attribution is not required but always appreciated."
So, according to this statement, you can use any element Canva provides without citing Canva or the original creator as a source.
However, it's not that simple. If you keep reading through Canva's Licence policy, you will find certain situations where you need to cite the images you use from Canva. 
Also, all of this goes for the free version of Canva and Canva Pro. You do not need Canva Pro to avoid citing images, but having it is the easiest way to know you are clear regarding this matter. 
When Do You Need To Cite Your Images?
Most of the time, using Canva images does not require a citation. However, there are a few exceptions.
Pixabay And Pexels
Only some of the pictures found on the platform are from Canva. Many of the images found on the platform are sourced from Pixabay and Pexels.
When it comes to the images that are not from Canva itself, Canva would like you to follow the license agreements for those websites.
Here is the license agreement for Pixabay.
The license clearly states that you do not have to cite the images used. Pixabay says that citation is appreciated, however. It also states what is not allowed when using the images, such as portraying any people within the photos in a negative light or reselling the images as is.
Here is the license agreement for Pexels.
The Pexels license agreement is very similar to Pixabay's. You don't need to cite the images used, but Pexels would appreciate it if you gave a citation for the original creator's sake. You are also not allowed to resell the photos without manipulating them first, and you can't portray any subjects in a negative way.
It's best for your sake not just to skim the top of each license agreement. You should take the time to read through each website's license agreement. There may be something in the fine print that you need to know.
How do you know if the image you're about to use is from Pixabay, Pexels, or Canva?
The easiest way to find out is by clicking on the Three Dots in the top right corner of each image.
If the image is from Pixabay or Pexels, it will be displayed under the picture's name.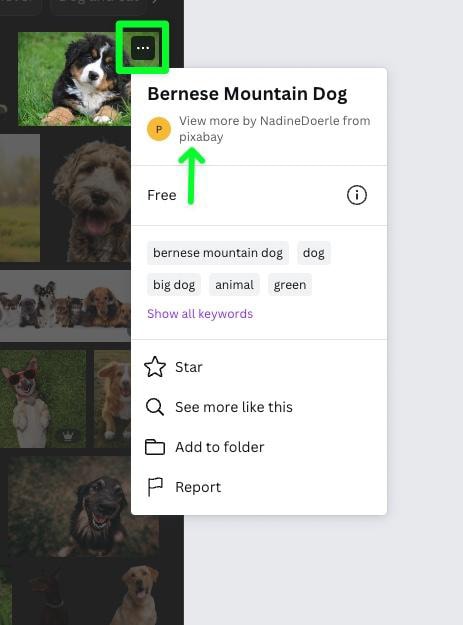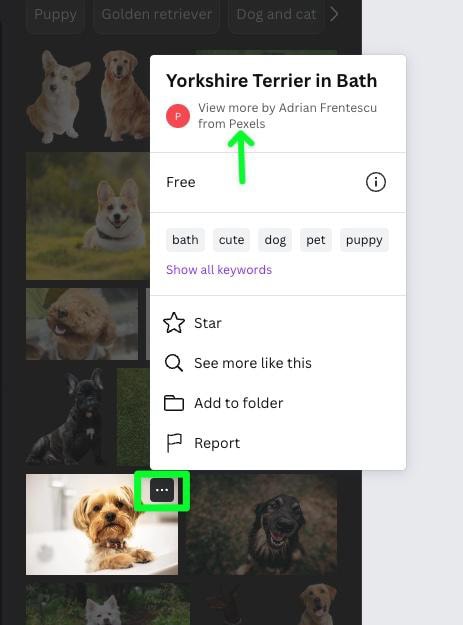 If the image is from Canva, you will see the original creator's name under the image's name. You can click on the name to see more content from that creator.
You will also see Free For Canva Pro. If you click on the Information icon, you can read more about how the licensing works. This will give you some reassurance on what you can do with images you find on Canva.
You can click Learn More About This License to read the full license agreement.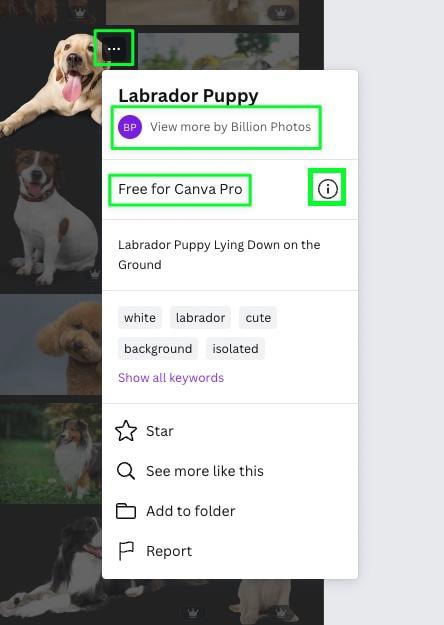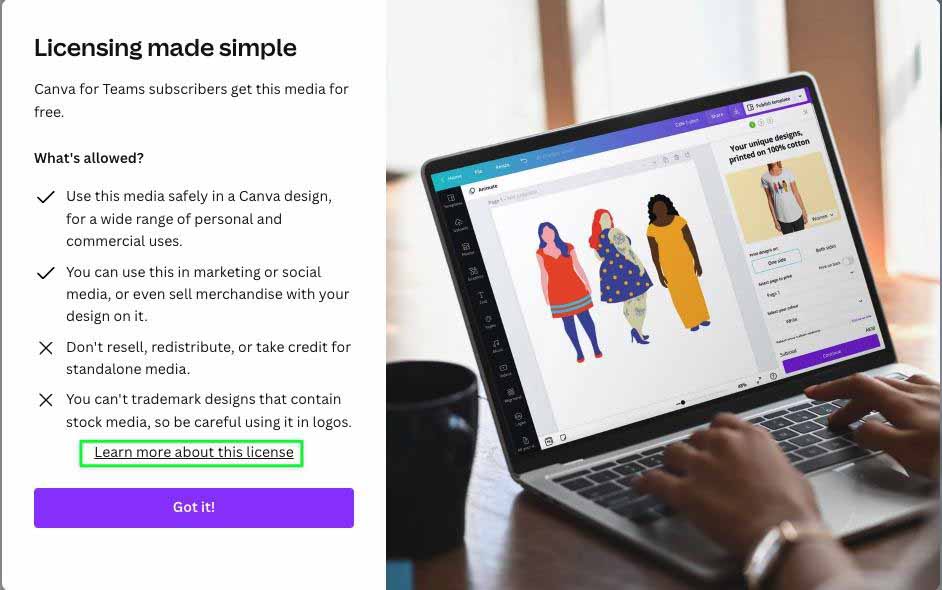 Identifiable Persons, Places, Logos & Trademarks
According to Canva, they can not guarantee that any free images that showcase a trademark of some kind can be used for commercial use without a citation.
It's best to be as careful as possible when using an image with a trademark. You may want to add a citation, just in case.
School Assignments And Other Projects
Canva also has a citation rule about using Canva images with school assignments and other projects. Make sure to add a citation if you are working on either one of those situations.
How To Properly Cite Images You Download From Canva
When citing your images, you must ensure you get all the information required to protect yourself.
Where can you find all this information? By clicking the Three Dots on the corner of each image.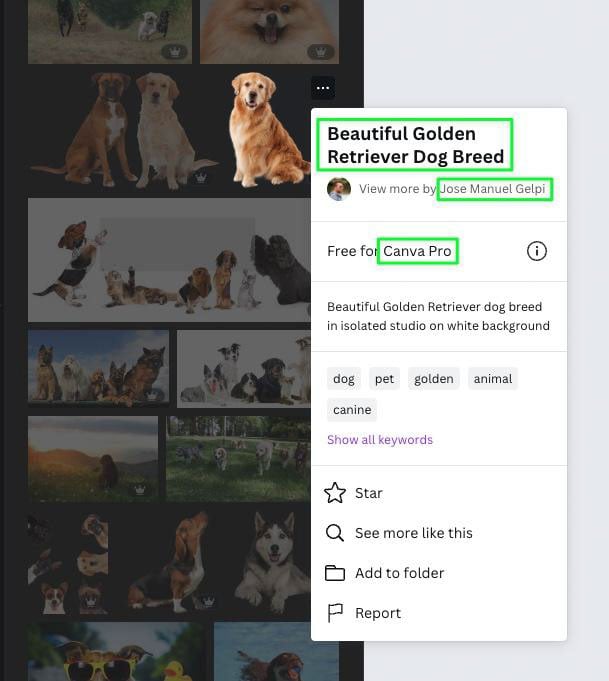 Here is the information you need to cite the image correctly:
Author of the image (if available)
The year the photo was produced (if available)
The title of the image (or a description you create if there is no title)
The format and details of the image (if applicable)
The name and place (Canva in this case) of the sponsor of the source
Accessed date (the date you viewed or downloaded the image)
The URL, formatted between pointed brackets
You don't need all this information, just what is available to you. So in the case of the example above, a proper citation in the Reference list of the paper would look like this:
Gelpi, J.M, Beautiful Golden Retriever Dog Breed, Canva.com, accessed October 18, 2022, <https://www.canva.com/>. 
If there is no author, or you can't find it, then put the title first and follow it up with the date. Everything else stays the same.
So although Canva does not require citation, it can be a grey area for copyright depending on where the image is sourced. If you are ever unsure, citing your image sources doesn't hurt, and all the information you need can be found in the Canva media library.