Learn How To Change Color In Photoshop
If you want to learn how to change colors in Photoshop, there are a few great tools you'll want to remember. In this article, I'll cover how to change any color in Photoshop using 3 different methods.
Learning how to change colors in Photoshop is extremely easy once you understand how to use the hue saturation adjustment layer. Today I'll share how to master the hue saturation adjustment layer, isolate specific color ranges, turn colors into a selection, and even change white into a different color in Photoshop.
Let's get started!
How To Change And Replace Color In Photoshop – Video Tutorial
If you prefer written tutorials, continue on below!
1. Using The Hue Saturation Adjustment Layer To Change Color In Photoshop
The hue saturation adjustment layer is the easiest color changing tool in Photoshop. This tool works by breaking down your photo into different color values that can be altered by hue, saturation, or lightness.
Between these 3 sliders, you can change nearly any color in your photo with extremely minimal effort.
How To Select And Replace A Colour In Your Photo Using The Hue Saturation Adjustment
When you first open the hue saturation adjustment layer you will be sitting in the master channel. The master channel will affect all the colors in your photo. For example, if you change the hue slider values, you'll change every color hue in your photo. See below:
Step 1: Select A Color Range To Affect
The master channel will be really useful if you want to change all the colors in your photo at once. This tab will not work to adjust specific color ranges.
To adjust a specific color range you'll need to select an individual color channel. Click on the master tab to reveal the other color channels.
In this example, I want to change the color of the pink toque. Pinks often sit in the red channel so I will select that one.
Step 2: Boost Saturation To +100 To See Which Colors Are Being Affected
It's nearly impossible to know exactly what a specific color range is affecting. That's where the saturation slider becomes very useful.
Boost the saturation slider to +100 to make all the colors in that channel extremely saturated.
In this example, you can see how the saturated areas are on her face, toque, and sweater. At this point, adjusting the hue slider would change the hue of all these saturated areas.
Since I don't want to affect the color of her skin or sweater, I'll need to adjust my color range. Below the lightness tab, there is a color range slider. This slider dictates what specific areas are being selected in a color channel.
Step 3: Adjust Color Range Slider
Since I'm using the reds channel, the color range slider sits among the reds and similar hues. To help get rid of the saturation around her face, I'll move the slider away from the yellows to adjust the selected color range.
With a little bit of refining, you can more accurately select a color range using the color range slider in the hue saturation adjustment layer.
Step 4: Adjust Color Hue
Now that you have adjusted the color range, you're ready to start changing some colors!
Go up to the hue slider and drag it around to find the color-changing effects you're looking for. In this case, I want to pick a light brown color.
Once I have changed the hue to something more orange, I can use the saturation and lightness sliders to further adjust the look of my color.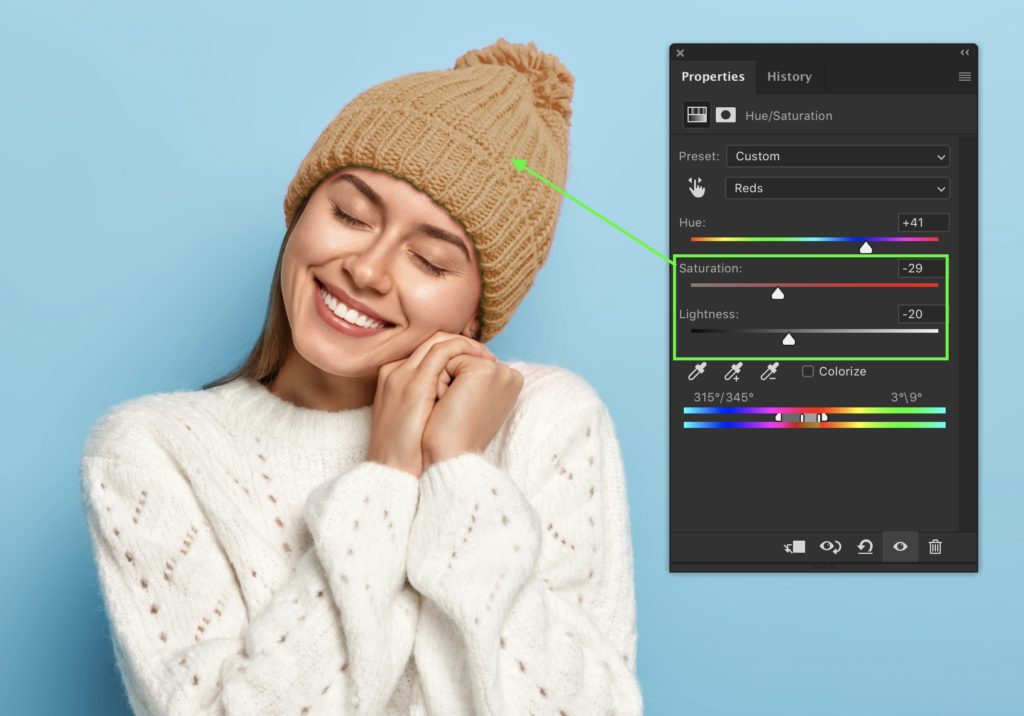 Together, these three sliders really help to create the exact look you're going for.
Things To Remember When Using The Hue Saturation Adjustment In Photoshop
Depending on how broad your color range is, you may find a loss of quality if you push the hue of your colors from one side to the other.
This loss of quality can be seen by grain, noise, or most often, banding. See below:
The hue saturation adjustment in Photoshop is best used to change the overall color in your photos. Although you can isolate color ranges, this tool is best used for more general adjustments where you don't need to be too specific.
For example, I love to use this tool when I am wanting to change the colors in my landscape photos and portraits. It helps me to adjust the mood of certain aspects in my photo.
Overall, the hue saturation adjustment tool in the easiest way to change a color in your photo in Photoshop. If you felt a little overwhelmed or confused, make sure to check out my video tutorial on mastering this tool. Now let's dive into a couple more methods.
2. How To Change Color In Photoshop Using Colorize
The colorize tool can be found once again through the hue saturation adjustment layer. Rather than going to change the color of a specific color range, the colorize tool applies a single color hue over your entire image.
Colourize works great to change the colors of backgrounds or clothing in your photo.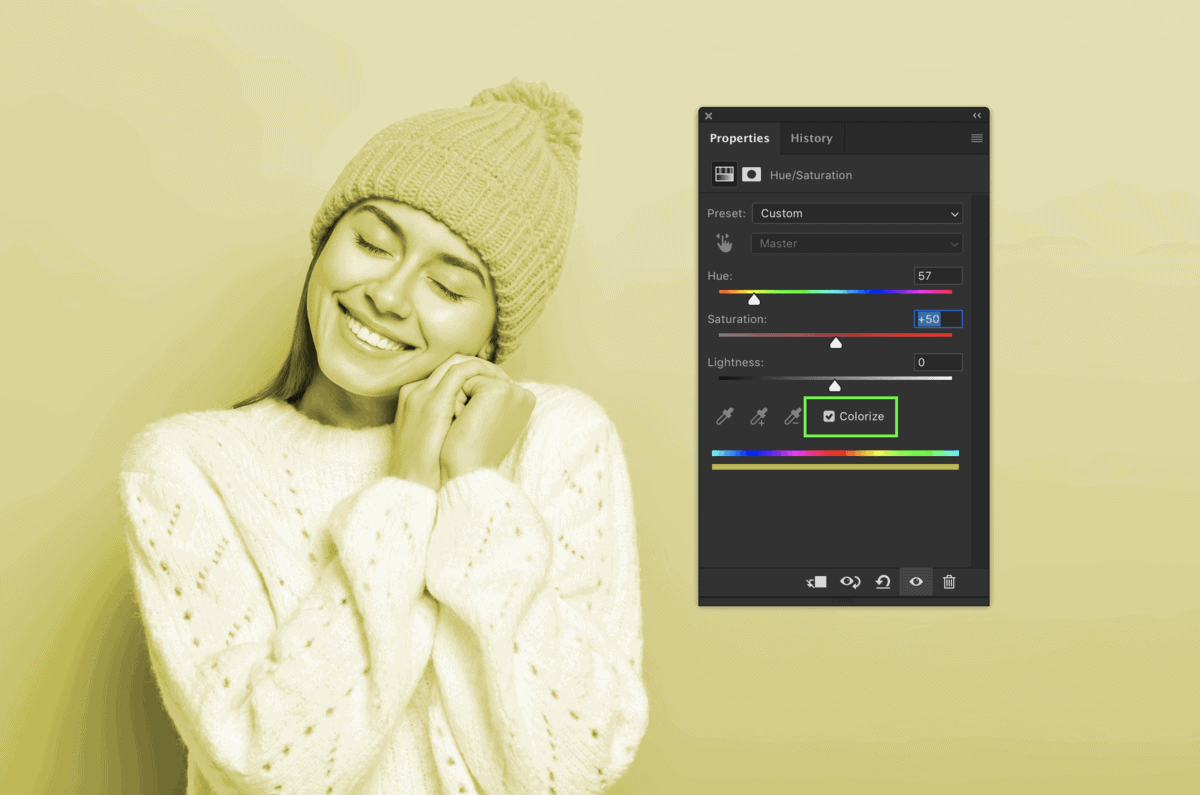 How To Change A Color In Photoshop With Colorize
Since the colorize tool will apply a single color hue over the whole photo, you want to first make a selection of the color range you want to affect. In this example, I want to change the background color of the photo. Luckily there's an easy tool to make this selection painless.
Step 1: Select Your Color Range
To accurately select my background color, I can use a great color selection tool called 'Select Colour'. This tool allows you to sample a color range and turn it into a selection.
To access the select color go up to SELECT > COLOUR RANGE.
A dialogue box will appear and your eyedropper tool will be automatically selected. You can click on any color in your photo to sample it, but notice how it changes the preview.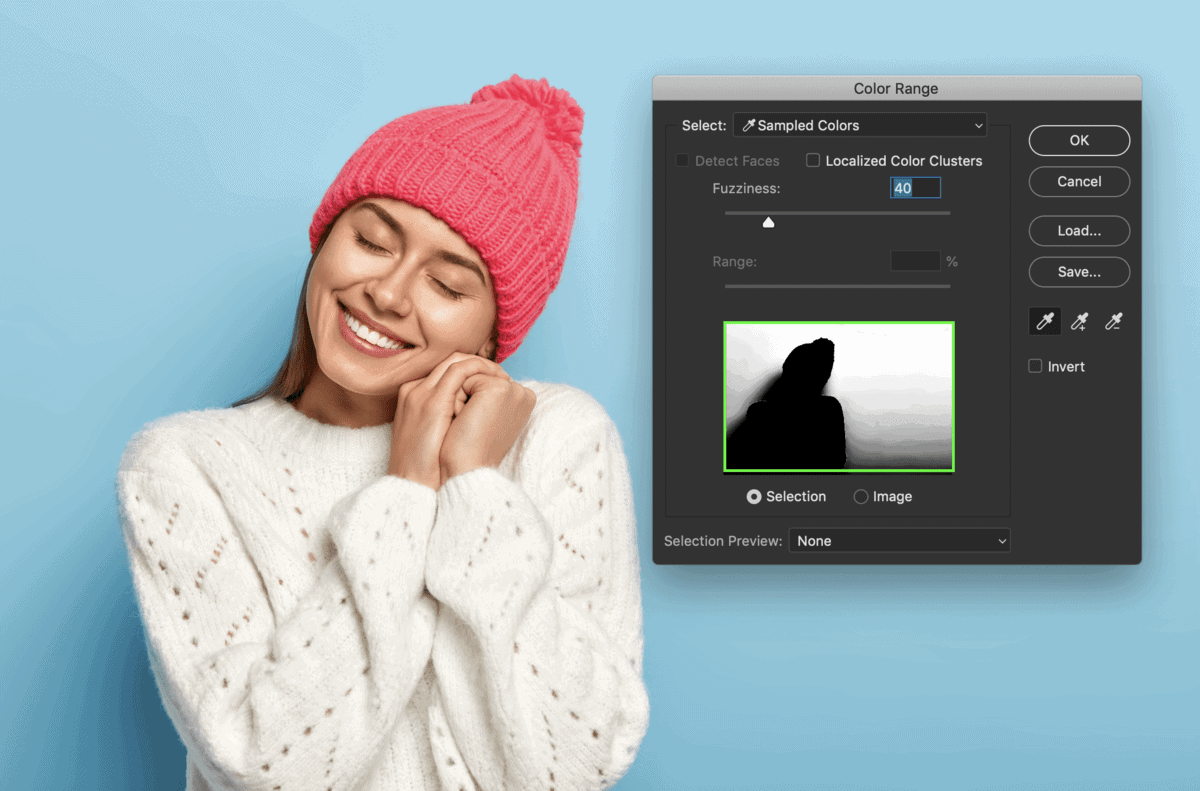 The preview represents the selection you are working to create. Try to think of it like a layer mask where black in 100% transparent and white is 100% visible.
Once you choose your first sample, you can add to it by holding SHIFT and clicking around the photo. You can also click on the eyedropper tool with the plus located in the select color dialogue box if shortcuts aren't your thing.
Continue clicking around your image until the desired color range is completely white. In this case the background of the photo.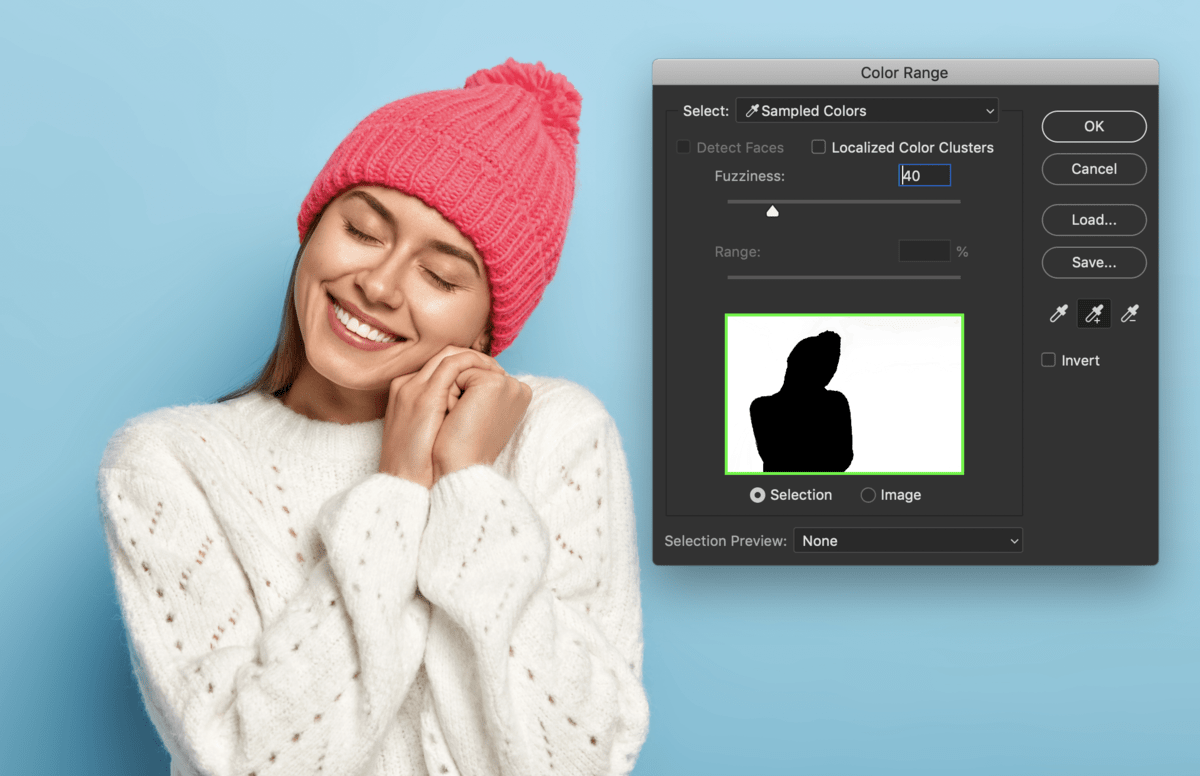 Step 2: Adjust Fuzziness
The fuzziness is the amount of tolerance in your sample. The higher the fuzziness, the more similar colors will appear in your selection.
For this example, I will leave my fuzziness at 50. Play around with this slider to see what works best for you.
Once happy with your selection, press OK.
Step 3: Add Selection Onto Hue Saturation Adjustment Layer Mask
An active selection will appear around the sampled color range and is ready to be applied onto a hue saturation layer mask. With your selection active, add a hue saturation adjustment layer to automatically add the selection onto your layer mask.
Step 4: Colorize Your Photo
Since I have a layer mask now isolating my desired color range, I can easily adjust the color of the background in my photo. Open up the hue saturation adjustment layer and click colorize.
Now adjust the hue to whatever color you see fit. Only the selected color from previously will change color since you have it applied a layer mask.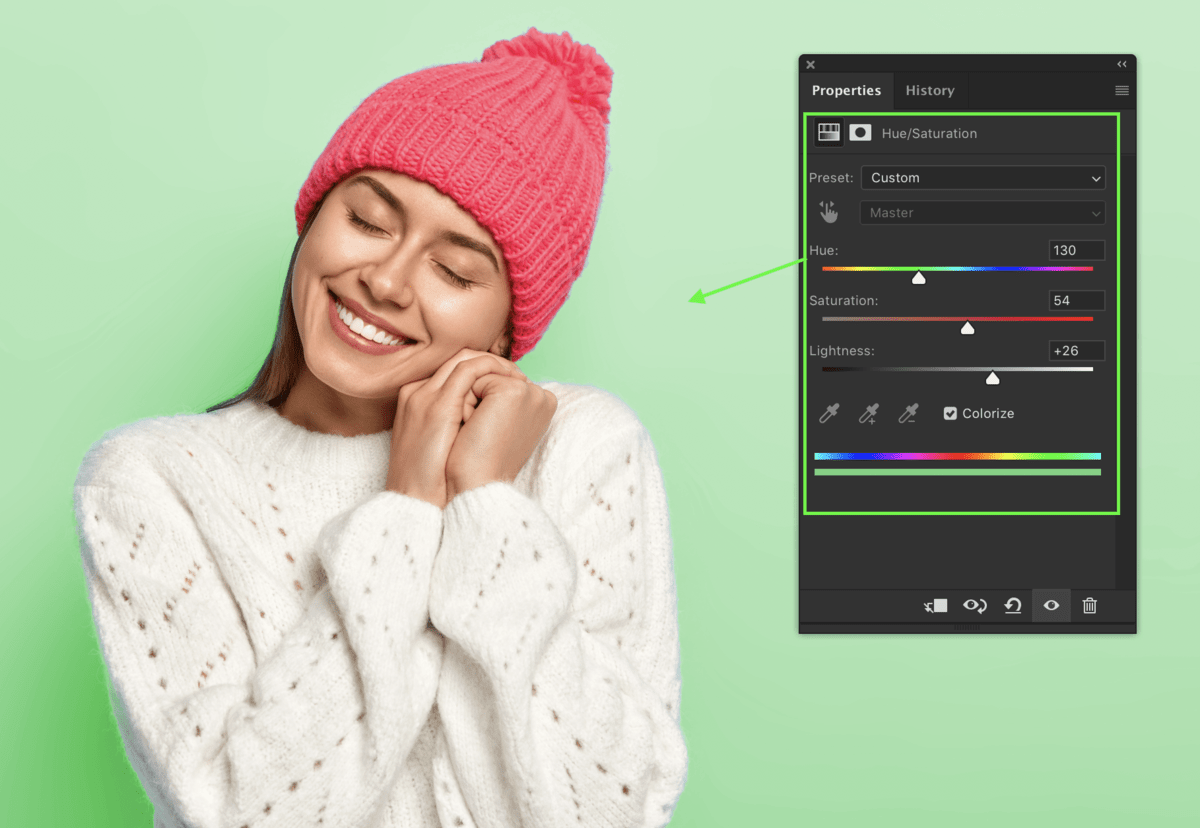 If any areas are missing, you can paint white or black onto your layer mask to make any necessary adjustments.
How To Change White Into A Different Color In Photoshop
Unfortunately, the above methods won't work to change the color of white. Since white has no hue or color to change, it's going to remain the same color no matter what hue adjustments you add.
So how the heck are you supposed to change the color?
There's a sneaky workaround that you can use to change white into any color using a color fill layer. With a change in blend mode, you can make the results look extremely realistic!
Here's how to do it:
Step 1: Select Your Color Range
Go to SELECT > COLOR RANGE and select the color you are wanting to change. In this example, I'll be sampling the white t-shirt.
Hold SHIFT to add to your sample, then continue sampling until all of the white is selected. You can try changing the preview to greyscale to make sampling even easier. Once happy with selection click OK.
Step 2: Add Color Fill Layer
You can create a new color fill layer by going LAYER > LAYER FILL > COLOUR FILL. Select whatever color you'd like, you can always change this later.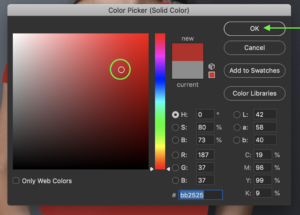 Step 3: Add Active Selection Onto A Layer Mask
Select the color fill layer and add a layer mask by clicking the layer mask icon at the bottom of the Layers panel.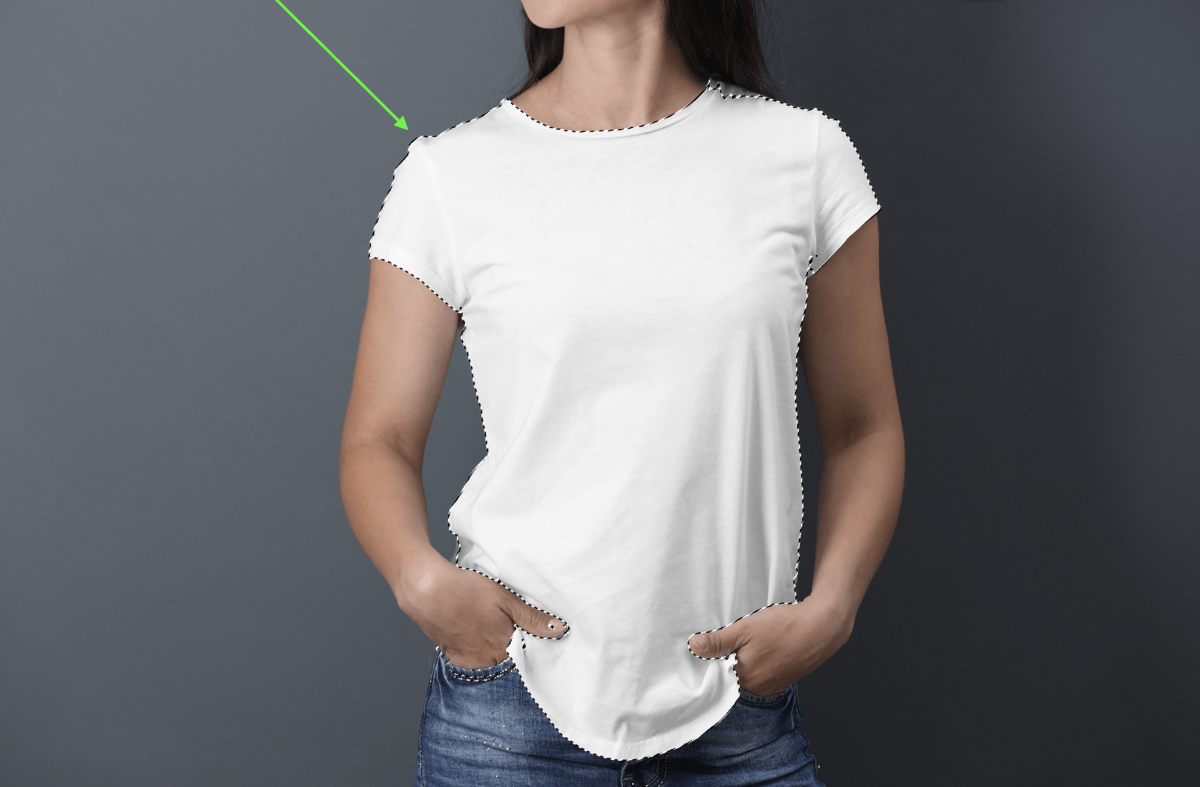 Step 4: Change Layer Blending Mode To Multiply
Select the color fill layer and change the layer blending mode from NORMAL to MULTIPLY. This will allow the lights and darks from the white shirt to show through your color fill layer. This is a great way to make the new color look more natural.
At this point, you can experiment with a few different colors and see what will work best. You can double click on your color fill layer to change the color of your selection at any time.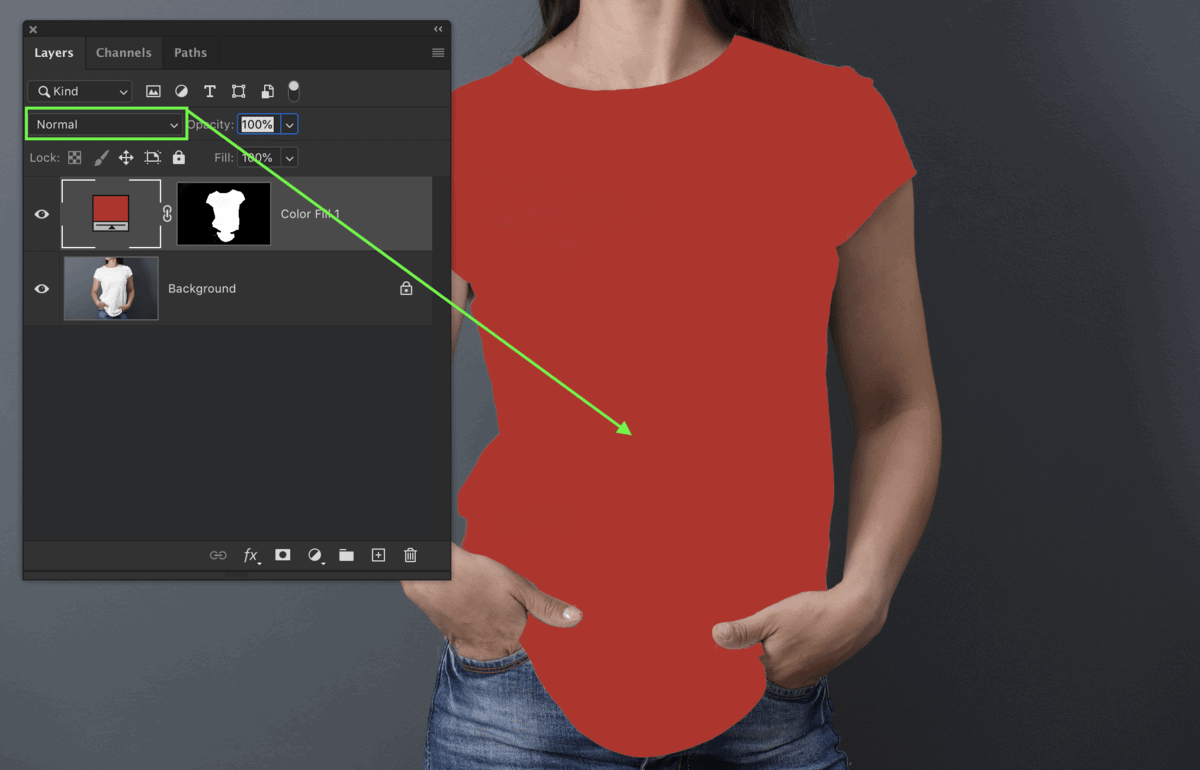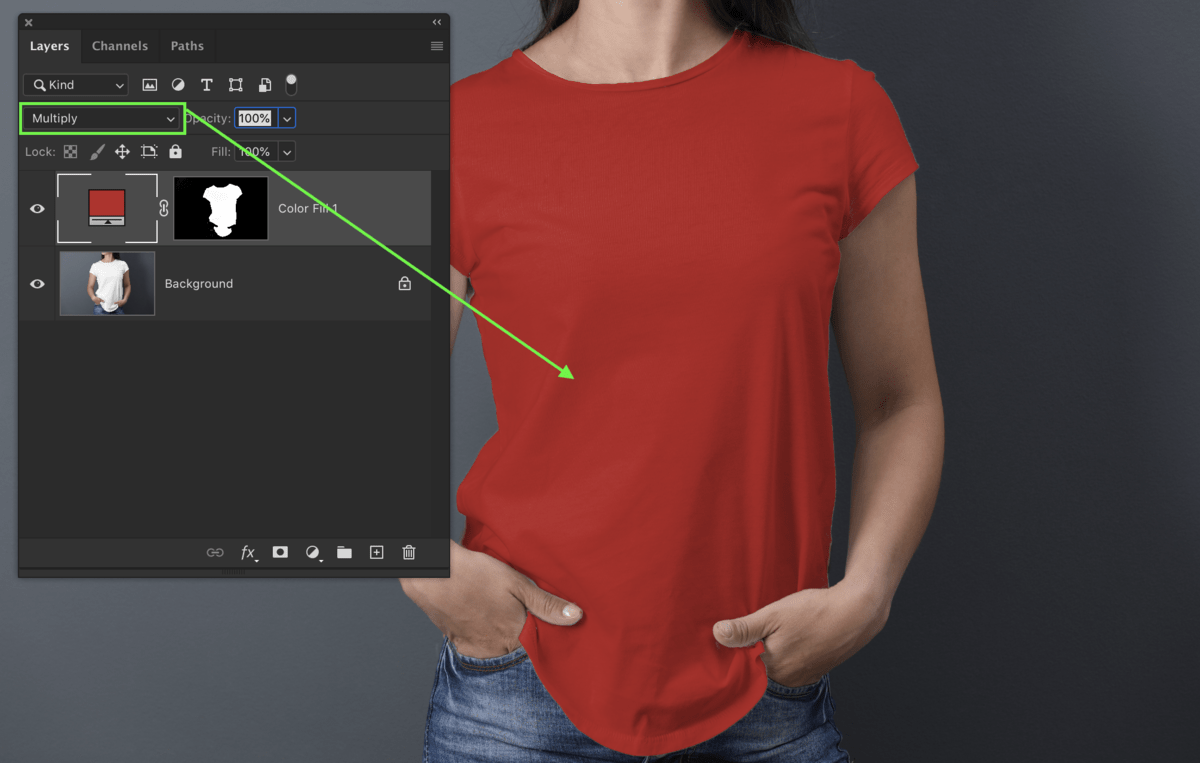 Final Thoughts On How To Change Color In Photoshop
Now that you've learned how to change color in Photoshop, you're probably realizing how many options you have.
All the color-changing methods we talked about in this article are great options to change the color in any photo. I love to use all of these methods constantly since some techniques work better for certain images than others.
With a little bit of practice with the hue saturation adjustment layer and select color, you'll be able to change any color in your photo using Photoshop in no time!
If you love changing colors and unique color effects, you'll love hearing about a photo effect called the color splash effect. Rather than changing a single color in your photo, it isolates one color and turns the rest black and white. It's an insanely fun effect that you definitely need to try!
Learn how to create the color splash effect here.
Want more posts like this? Subscribe to my weekly newsletter for more photography and photo editing tutorials delivered straight to your inbox!
Happy editing!
-Brendan 🙂