Do you use Google Slides to present slideshows but hate how difficult it can be to make them? Canva is a much easier way to create your slides, and you can always import your Canva design into Googles Slides once your slideshow is created.
If you've got a presentation for school or work that needs to be done quickly, this guide is here to help. In the first two sections, I'll explain how you can import your finished presentation from Canva to Google Slides by connecting your Canva account to Google Drive or without connecting these two accounts.
In the last section, I'll guide you through creating your design with a Canva Template, all the way to displaying your presentation with Canva itself.
How To Import A Canva Presentation To Google Slides
Importing your Canva presentation to Google Slides is easy but not very intuitive. This option is hidden within Canva. This part of the guide will show you exactly how to find this option.
Note: this part of the guide assumes that your presentation is made and ready to go. If you aren't sure how to make a presentation, see my guide to creating slideshows in Canva first.
Step 1: Click The "Share" Button, Then Click The "More" Button
Once you're ready to import your design to Google Slides, click the Share button in the top right corner.
A list of options will drop down. Click on the very last option labeled More.
Step 2: Choose Google Drive
After clicking More, you will be presented with additional options.
Scroll down to the Save section, then click the Google Drive button.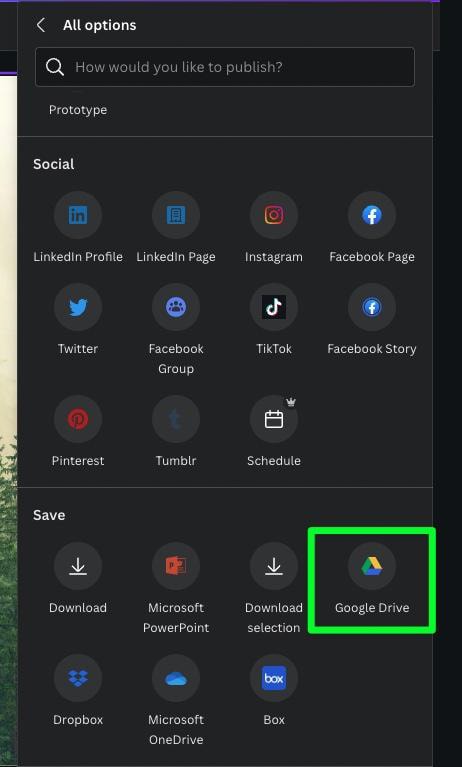 If you haven't connected your Google Drive account with your Canva Account yet, you'll be prompted to do so.
Click Connect Google Drive, then fill in your email and password.
When asked if Canva should access your account, click Allow.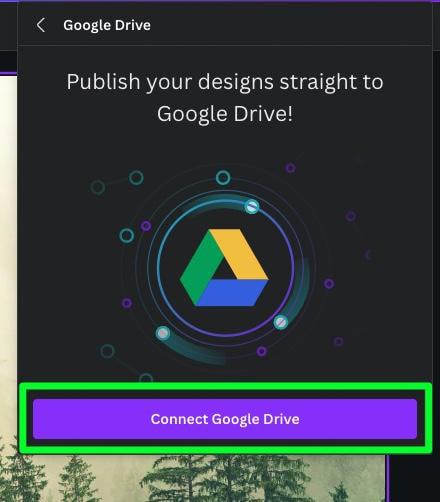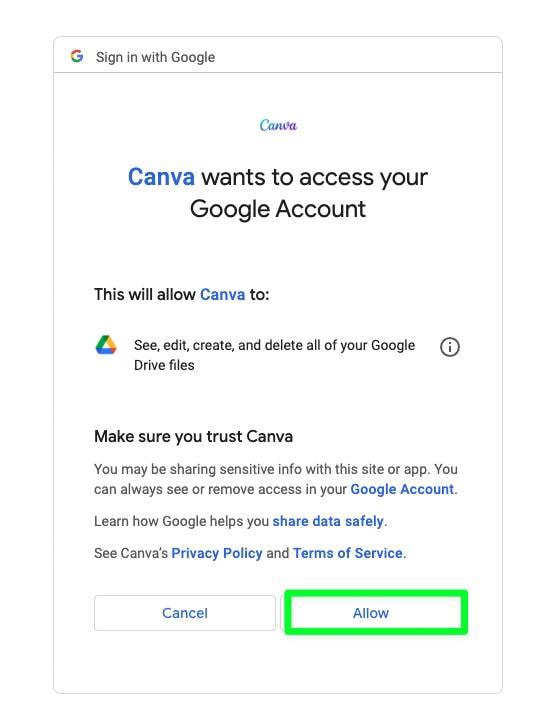 Step 3: Choose Where You Want Your Design To Be Saved
You will now see all the folders in your Google Drive account. Select the folder to which you want to add your design, then click Choose.
If you don't have any folders in your Google Drive account, just click Choose to add the presentation to your Google Drive account.
Step 4: Save Your Design As A PPTX File
There is one more step before importing your design. In the last options menu that pops up, choose PPTX under File Type. PPTX stands for PowerPoint Presentation.
Ensure all your pages are selected (or select the pages you want to export), then click Save.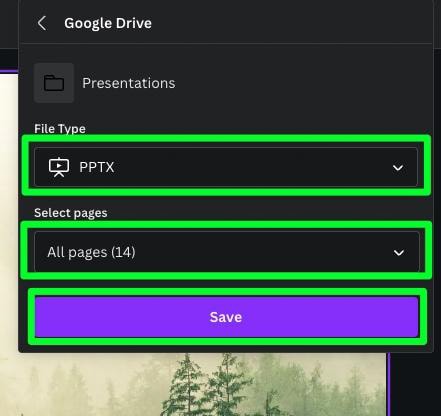 Step 5: Open Up Your Design In Google Slides
Now that you've saved your design to your Google Drive account through Canva, you can open up Google Slides and find it.
Double-click the file inside your Google Drive to open it in Google Slides.

One of the coolest parts about importing your Canva design to Google Slides is that you can move elements around as much as you'd like.
Just click on one of your elements, and drag it where you'd like. This means you can send this PPTX to someone without Canva, and they can edit it however they'd like.
How To Export A Canva Presentation As A Powerpoint (To Open In Google Slides)
You may not want to connect your Google Drive Account to your Canva Account, or you may not have a Google Drive account.
Don't worry. You can still export your Canva Presentation to Google Slides by downloading a PPTX file.
Note: This part of the guide also assumes that your slideshow is finished and ready to go. 
Step 1: Click The "Share" Button, Then Click The "More" Button
To save your file as a PPTX, click the Share button in the top right corner, then click More at the bottom of the list. PPTX is not available under the Download section.
Step 2: Choose The Microsoft PowerPoint Option
With the More options menu open, scroll down about halfway to find the Save section.
Click on the Microsoft PowerPoint button.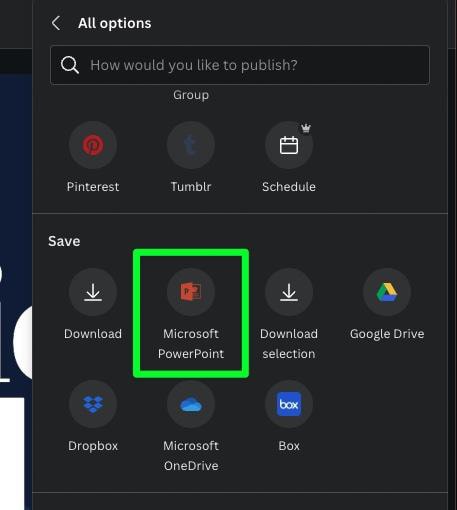 Step 3: Choose Your Pages And Click Download
Before you download your PPTX, make sure that All Pages is selected under Select Pages. Or, if you only want to download certain pages, open up the drop-down menu and check the pages you want to download.
When you're ready, click the Download button.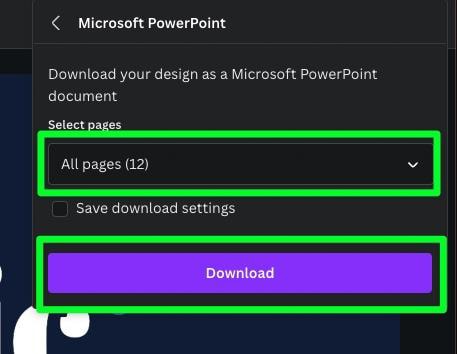 Step 4: Open Up The File In Google Drive / Google Slides
Your presentation is now downloaded to your hard drive, and your goal is to get that file onto your Google Drive Account.
To start, open up Google Drive, then click the New button in the top left corner.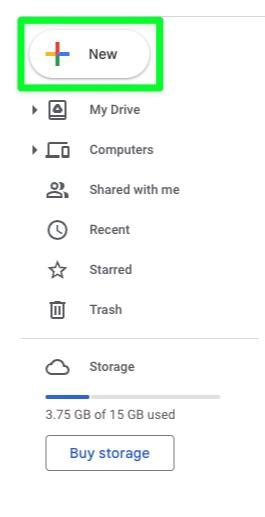 In the list that pops down, choose File Upload. Navigate through your hard drive and double-click on the PPTX file.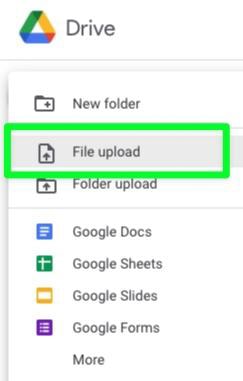 The presentation you made in Canva will open up in Google Slides. You can now review your entire presentation and change any element.
How To Save Time & Create Your Slideshow Directly In Canva
Why use a third-party platform when you can showcase your slideshow in Canva? Building a slideshow is easy, and displaying the final product is even easier.
Step 1: Choose Presentation On The Canva Home Page
Open up Canva and stay on the home page. Under the You Might Want To Try section, click on Presentation.
A blank canvas will open up in a separate tab.
You will find a long list of templates you can choose from in the Side Panel. Browse through the list to find one that works for your presentation.
Alternatively, you can use the search bar at the top to search for a specific type of template.
Once you've found the best template that works for you, click it to preview all the slides available.
To use the template slides in your presentation, click Apply All [Number] Pages at the top of the Side Panel.
All of the required pages will be added to your projects. You can easily switch between the slides by clicking the thumbnails at the bottom of the page.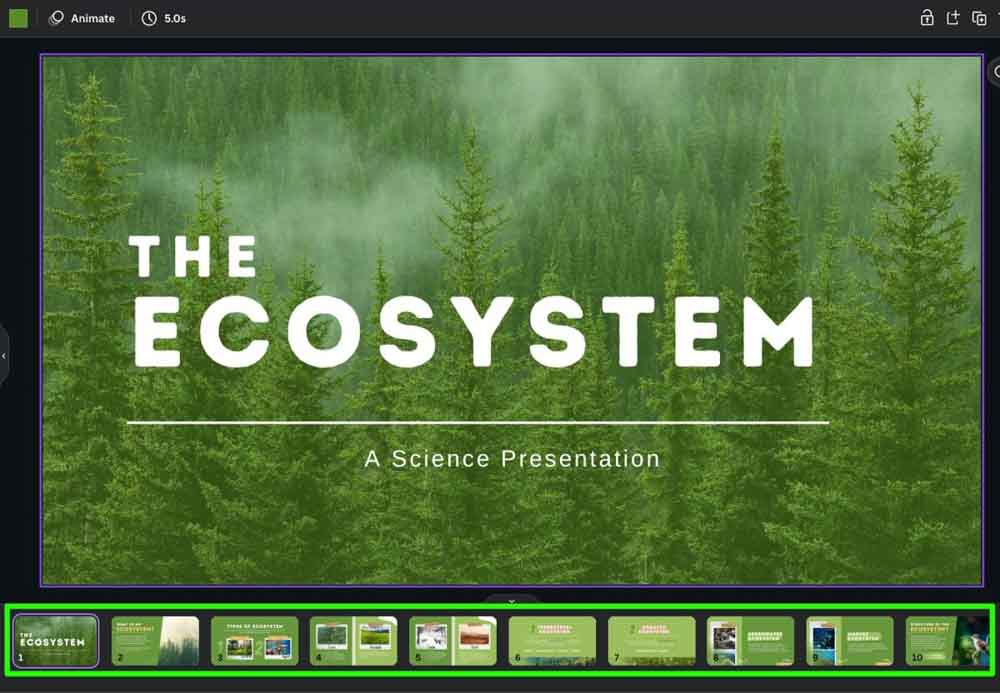 Step 2: Search For Your Theme In The Elements Panel
One of the main aspects you need to change to make this template your own is the imagery.
You can find royalty-free images on sites like Pexels and Pixabay that you can use with your template or simply use images from Canva itself. You can also add your own photos to Canva to use.
To use Canva's images, click on Elements, then search for the theme of your presentation in the search bar at the top. In the Graphics or Photos sections, click See All to browse all your options.
Note: If you're a free user of Canva, you may want to steer clear of images for Canva Pro users. To make this easier, click the Options button next to the search bar. Click on Free under the Price section in the options that pop down.
Also, while this options menu is open, click Static under Animation to avoid any animated images during your search.
Step 3: Replace All The Images On Your Template
Now that you have all the images you need, it's time to replace each image on your template.
To replace a background template image, click on the image you want to use to add it to your canvas.
To make this image your background, double-click it, then choose Replace Background at the bottom of the list.
The image will be sent to the back and fill the entire canvas. The best part is you won't have to worry about selecting the image by mistake, as it's automatically locked in the background.
When you need to replace an image that only takes up part of the canvas, click on the image you want to use, then resize the image with the corner handles to fit over the template image.
If you need to, press Command + [ (Mac) or Control + [ (Win) as many times as necessary to send your image behind the rest of your elements.
For some images, you can easily switch out the template photo by dragging the image you wish to use from the Side Panel to the image on the canvas.
Repeat this process as many times as you need to. Make sure to replace all the images on your template.
Step 4: Replace All The Text
The next element to change in your template is the Text. To do so, double-click each text box, then type your new message.
Chances are, a ton of text needs to be replaced on your template. Don't make the mistake of missing some of your template text. Go through each page and ensure every text box is replaced with your own text.
Step 5: Adjust The Color Scheme Of Each Slide
As far as appearances go, the only thing left to change is the general color scheme of each slide. You can also change the color of any element.
To start, select Design, then click Styles. Find the Color Palettes section and click See All.
By clicking See All, you will be presented with a long list of color palettes in the Side Panel.
You can experiment with the many available color palettes by clicking on each one separately.
Once you're happy with the color scheme of your first slide, move on to the rest of your slides and repeat the process.
Step 6: Add Transitions For Each Slide
To add a little flair and movement to your presentation, consider adding transitions between each slide.
To do this, select your first slide in the timeline, then click the Three Dots in the upper right corner. In the list that pops up, click Add Transition.
In the side panel, you'll see all the transitions you can choose from. Hover your mouse over each one to preview what your slide will look like with the transition.
Also, as you add transitions between each slide, look in between each slide in the timeline. Each transition will be represented as a different-looking icon.
Step 7: Show Off Your Presentation With The Present Menu
Your presentation is ready. To start the presentation, click the Present button in the top right corner.
You will be presented with four options:
Present Full Screen – Show your presentation in full screen and flip through it at your own pace.
Presenter View – Show your presentation with notes for each slide.
Present And Record – Show your presentation while also recording your voice.
Autoplay – Let the computer show your presentation at a set pace.
Choose one of the four options, then click Present to display your presentation on your screen.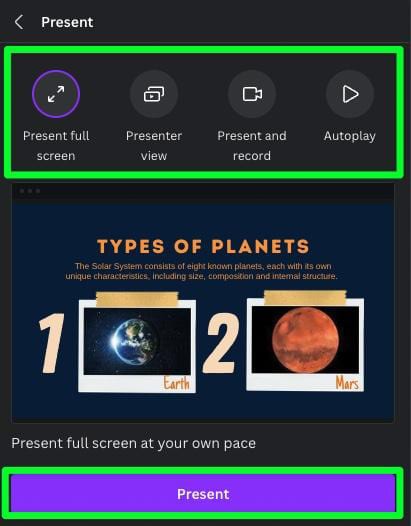 So rather than going through the hassle of moving your presentation over to Google Slides, it might be easier to create and display your presentation in Canva. Either way, you now have all the tools at your disposal to pick the option that best suits your style!
Happy Editing!