What To Do When Your File Exceeds The 2GB Limit In Photoshop
So you've just finished your masterpiece in Photoshop, but you've run into a serious problem… it won't save! No matter how hard you try, you end up with an error warning reading "could not save because file exceeds the size limit." Does this mean your Photoshop file is too big to save? Is all your hard work out the window? Fortunately not.
Here you'll learn what to do when a Photoshop file is too big to save. With a simple file settings option, you can change your save limit from 2GB to 4GB and higher! Here's how to do it.
What Causes A File To Be Too Big To Save In Photoshop?
As you start to add more layers to your project, it inevitably increases the file size. These sizes tend to jump up, even more, when you're working with multiple raw images in the same project.
By default, Photoshop will save your document as a .PSD file, which stands for 'Photoshop Document.' Just as Microsoft Word saves files as 'Word Documents,' Photoshop does the same thing. It's merely a native file format to the program.
PSD files are perfect for most situations, but they do have their drawbacks.
The major one being that it has a limit of 2GB.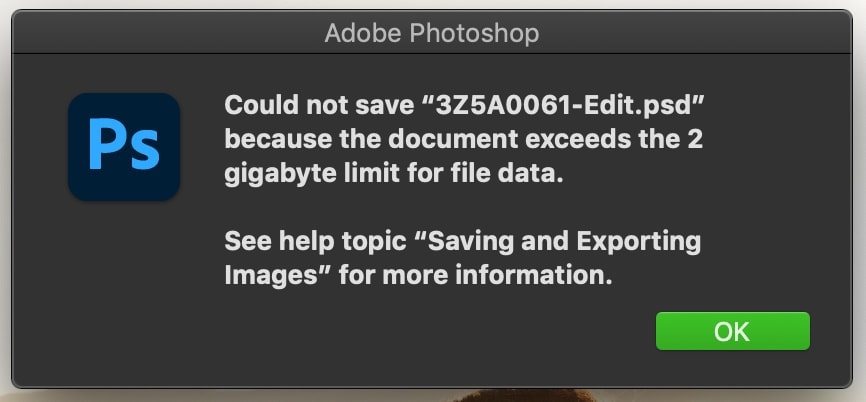 That means that the moment your Photoshop project exceeds that 2GB limit, you're out of luck. If that's the case, it's time to switch to a different file format.
What File Formats Let You Save Larger Photoshop Projects
Since PSD files are off the table, what other options do you have to save large documents in Photoshop? The answer is TIFF and PSB files.
– TIFF Files
TIFF files are something you may already be familiar with since they're common across all photo editing programs.
The major advantage of this file type is it can be read across many platforms. Rather than being limited to Photoshop, you could edit or upload the TIFF file almost anywhere.
With that said, it's important to remember TIFF files can get pretty darn big. It's not uncommon to have a 1GB TIFF file just for one project. This can make it slow if you have to upload TIFF's online to a file transfer service.
Beyond its versatility, TIFF files don't compress your image and maintain the highest quality possible. Better yet, it will even contain things like layers, transparency, and tags left behind from your edit.
The size limit for a TIFF file is 4GB, which will likely solve your issues if your Photoshop file is too big to save. This makes it a versatile and worthy option to save your project!
– PSB Files
PSB files are the big brother to a PSD. They have the same versatility of a PSD file, but with a much larger file capacity.
PSB files are best used when you know your project is going to be very large. If you're just getting started and already have crossed the 2GB project size, it's best to skip TIFF all together,
This file type is native to Photoshop, making it slightly less versatile. However, if you operate entirely in the Adobe Creative Cloud, you won't run into any problems.
PSB files will support your data to any size you get it to. The odds are your computer will crash long before you max out a PSB file. Since it can hold so much information, I often find myself using PSB over TIFF, so I am never limited to a specific file size.
Now, if you're like me when I first started, you may get confused between PSD and PSB files. The easiest way to think about a PSB file is as a "Photoshop BIG" file. If you have a large Photoshop file, just look for the 'B' to solve all your worries!
How To Save Images In A Larger File Format
Now that you know your options let's dive into how actually to save a large Photoshop file. If your Photoshop file is too big to save, following these steps will be your solution.
Go up to File > Save As.
A new window will appear, asking you where you want to save the document. After you've set a location, click on the Format menu.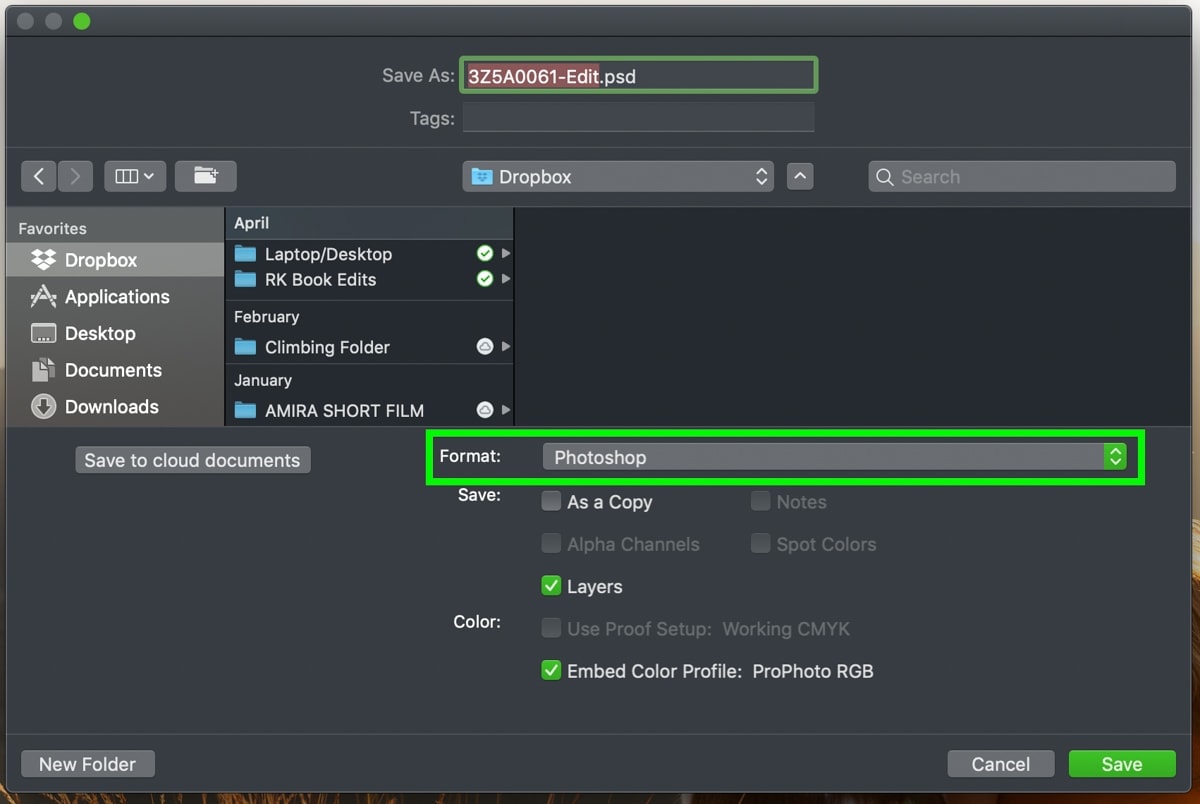 To save your file as a PSB, select 'Large Document Format.'
To save your file as a TIFF, select 'TIFF.'
Once your format is selected, click Save.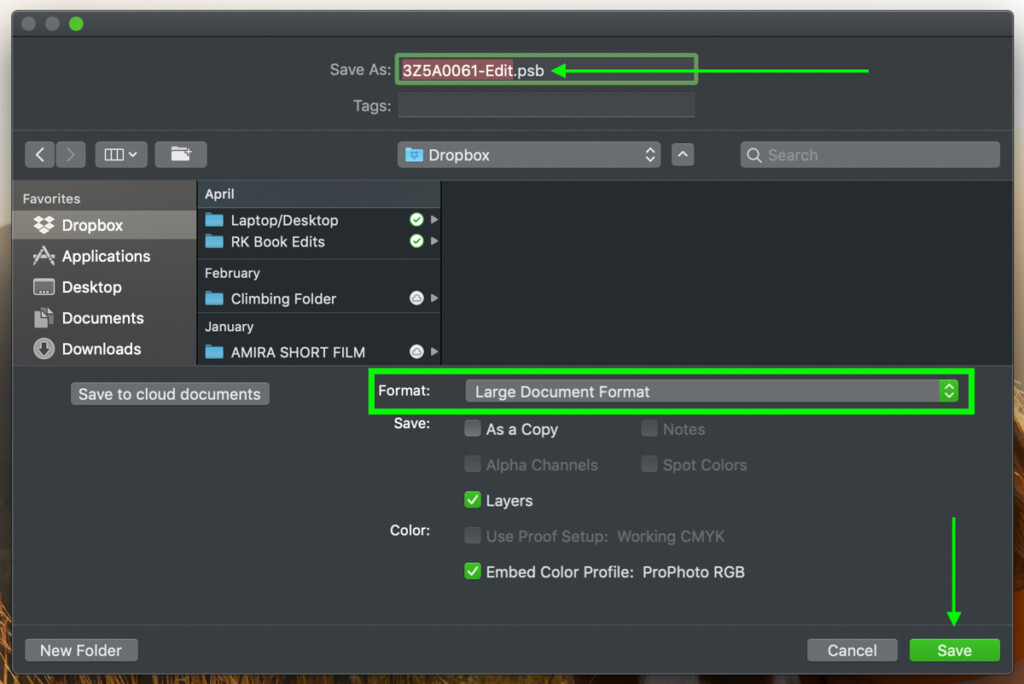 Now you'll have a new way to save a large Photoshop file, and you won't get the size limit error anymore!
How To See Your Project Size Before You Save
It's nice to be able to see the actual file size of your project while you're working. That way, if your computer starts running slow or your document won't save, you can spot the cause.
In the bottom left corner of your Photoshop workspace is what you likely know as the 'save progress bar.' Along with your save progress, this bar can also display the current file size of your project.
To do this, simply click on the arrow to open the view options.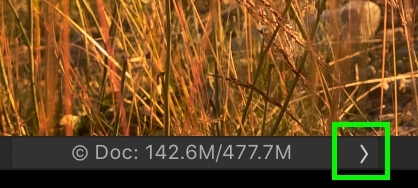 Go to the top of this menu and select 'Document Size.'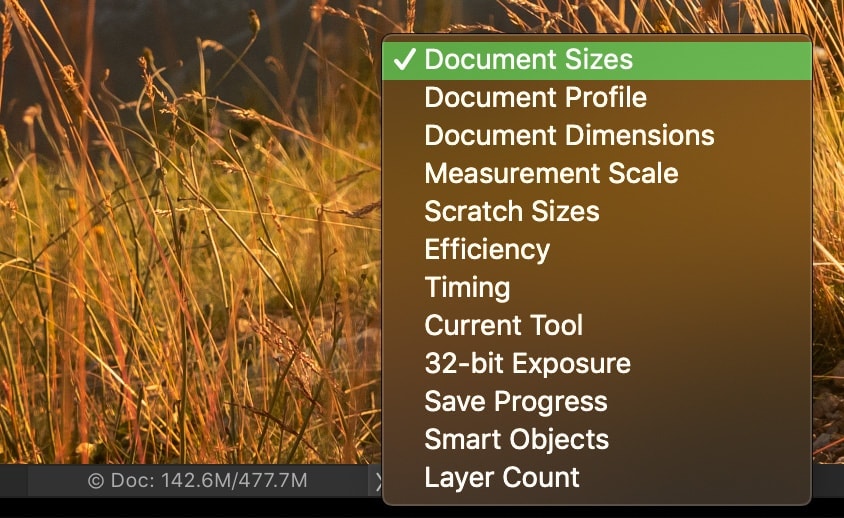 Now you'll see the project size displayed in the corner of your Photoshop screen at all times. This is a great way to keep tabs on your project as you work.
Conclusion
Now that you know what to do if your Photoshop file is too big to save, you can take your image even further. Without the worry of file size, the opportunities are limitless for the adjustments you can create!
Although there are two file options to save large documents in Photoshop, I prefer to use PSB files as my default choice. Even though TIFF is more versatile, I prefer to have virtually unlimited file capacity. After all, you can always re-export to a TIFF file later on in the project!
Want more tutorials like this? Subscribe to our weekly newsletter for more photography, and photo editing tips delivered straight to your inbox!
– Brendan 🙂