Sometimes, you'll find Lightroom is working slower than usual, but luckily there are a few solutions to fix it. This slowness can come in a variety of issues. For example, you might find it nearly impossible to slide the toggle of a slider or add a mask to an image while Lightroom is running slowly. Maybe the image will not update in a timely fashion, and you might experience Lightroom freezing up entirely.
The list goes on.
It is important, then, to explore the various reasons Lightroom could be running slow. Even if you're not dealing with performance issues, you could experience them in the future — almost everyone does at some point. Read on to understand some of the main reasons Lightroom could be running slowly and what you can do about them.
Reasons Why Lightroom Is Slow & How To Fix Them
The most common reason for Lightroom to run slowly is due to low disk space. It is recommended to keep at least 20% of your disk space free for Lightroom to run optimally on your computer. By clearing unwanted and old files from your disk, Lightroom will often begin running faster.
Since this is just one of several reasons why Lightroom could be running slowly, let's look at some other culprits as well.
1. You're Running Low On Disk Space
Because of all the data Lightroom stores — from image previews to preset files and raw image data — the program requires a certain amount of available disk space and RAM to run correctly.
You'll likely notice that if you've ever had a bunch of programs open and running simultaneously, some of them will start to run slowly or even freeze and crash. So the first thing to do if you notice Lightroom taking its time to complete actions is to close any other programs you might be running.
You can also make sure your disk isn't getting full. Lightroom needs at least 2 GB of available disk space to run, but I suggest keeping more than that open to ensure everything runs smoothly. It is recommended to have at least 20% of your disk space free for Lightroom to operate at its best.
2. Your Internal Drive Isn't Fast Enough
As we've stated in the above point, Lightroom needs lots of RAM to run smoothly, and it could be that your drive just can't handle the amount Lightroom needs. There is a specific amount required, but it depends on various factors.
If you use Lightroom for professional purposes or are often working with many images, you may want to have additional power. It might be wise to look at Lightroom's minimal requirements and make sure your drive is up to speed. In general, a faster processor with more RAM will help with many performance issues.
Check out the table below to see the basic requirements for Lightroom on both Windows and Mac operating systems.
| | Minimum RAM | Recommended RAM | Minimum disk space available | Recommended disk space available |
| --- | --- | --- | --- | --- |
| Windows OS | 8 GB | 16 GB or more | 2 GB | More than 2 GB |
| Mac OS | 8 GB | 16 GB or more | 2 GB | More than 2 GB |
3. You Need To Update Lightroom
If your Lightroom isn't up to date, this is an easy one to fix. Lightroom will always run best while working in its most up-to-date version. To check for updates, head to Help > Updates and download any outstanding updates.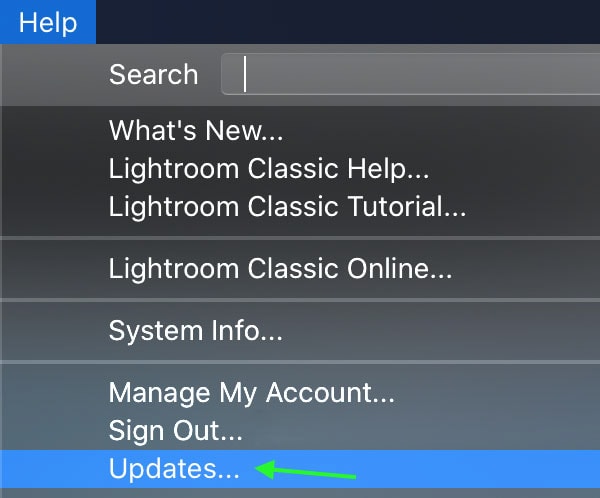 This will keep Lightroom moving fast and ensures you have access to all the latest features in the program.
4. You're Not Using The Official Version Of Lightroom
Most people download the program from the official Adobe website after creating an Adobe account and purchasing a license for the software, but some users may have tried to save a bit of money by downloading a fake torrent version of Lightroom.
This may seem like a cheap alternative to the official, licensed Adobe Lightroom product, but if the software isn't verified, there will likely be issues with the source code. This could result in performance issues and more, so make sure you're running the official program, and you downloaded it straight from Adobe's website.
5. Your Catalog Isn't Optimized
Because Lightroom keeps track of all the changes you make to an image, the files that represent these changes (which use the format .lrcat) can quickly add up. Luckily, Lightroom allows you to easily optimize the catalog by heading to File > Optimize Catalog.
A window will appear telling you the last time you optimized your catalog and that the process may take a few minutes. Click Optimize. You can do this regularly to ensure your catalog stays as optimized as possible.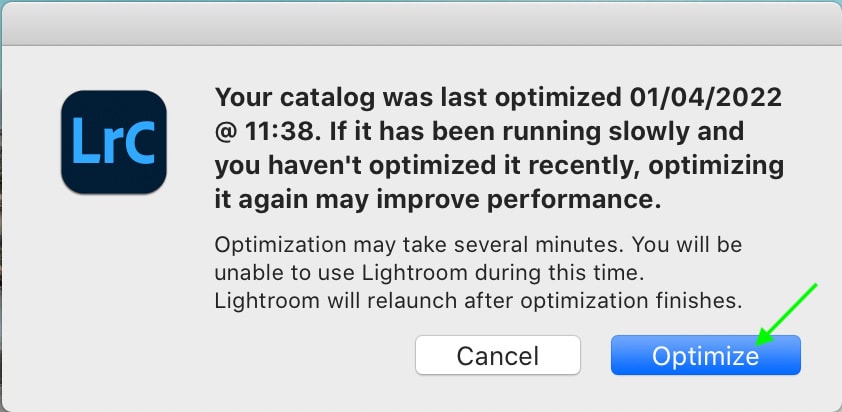 6. Your Cache Is Too Small
Lightroom will create a preview for every image you click on from the film strip and view in the preview while working in the Develop module. As you've probably noticed, the preview updates automatically with every adjustment you make. This requires the image preview to be of the highest possible quality, which means the bigger the size of the cache, the better. The default is 1 GB, but I suggest increasing the size to 5 GB if your system can handle it.
Head to Edit > Preferences (Win) or Lightroom > Preferences (Mac).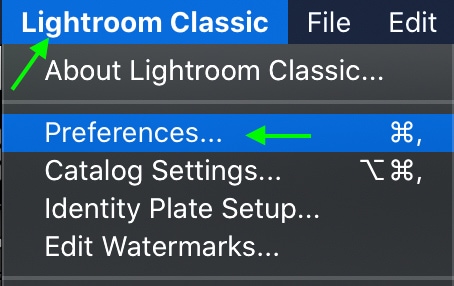 Then, head to the Performance tab at the top.

Under the Camera Raw Cache Settings section, you can set the cache size you'd like by entering a value in the box next to Maximum Size.

7. You Have Too Many Presets
Presets are great, as they help you make quick and easy edits to images with one click. However, it's best to make sure you only have the created presets you actually plan to use. Otherwise, you might just experience Lightroom start to run slowly.
Don't worry; the limit here is relatively high — typically, as long as you have less than 500 or so presets, the performance won't be affected. But adding any more than that could slow things down a bit. Each preset is, after all, a file full of data, and each comes with a small preview in the Navigation panel. While this may seem insignificant, the space that each preset takes really adds up after a while.
To make sure the presets aren't the problem, head to your Presets tab on the left of the Library module.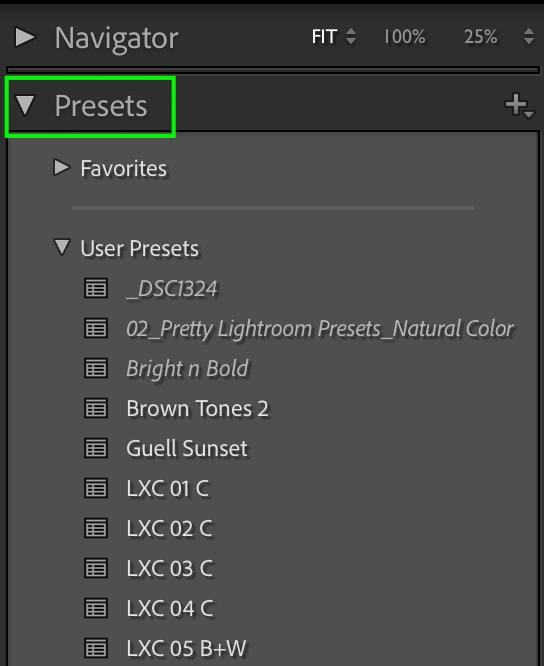 Delete the ones you don't use often or don't plan to use by right-clicking or Control + clicking a preset and selecting Delete.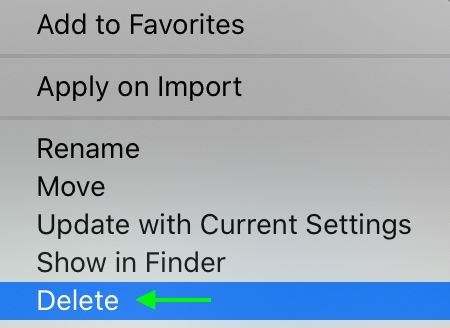 You'll likely notice Lightroom responding better once you've gotten rid of some of the presets you don't need or want. You can always reinstall them if you end up needing them later on.
8. You're Automatically Writing Changes Into The .XMP File
There is a specific setting that, when turned on, will automatically write every change you make — that's each time you change a develop setting or adjust the toggle on a slider — into its own text file. This can take time if you're making a lot of edits to an image.
Luckily, you don't have to have this setting on. You can turn it off by heading to the Lightroom Classic menu > Catalog Settings.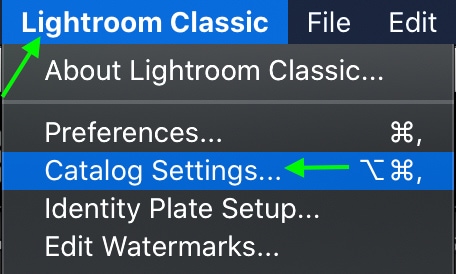 Then, head to the Metadata tab and uncheck Automatically write changes into XMP. Once the system no longer needs to do that, you might notice things running more smoothly.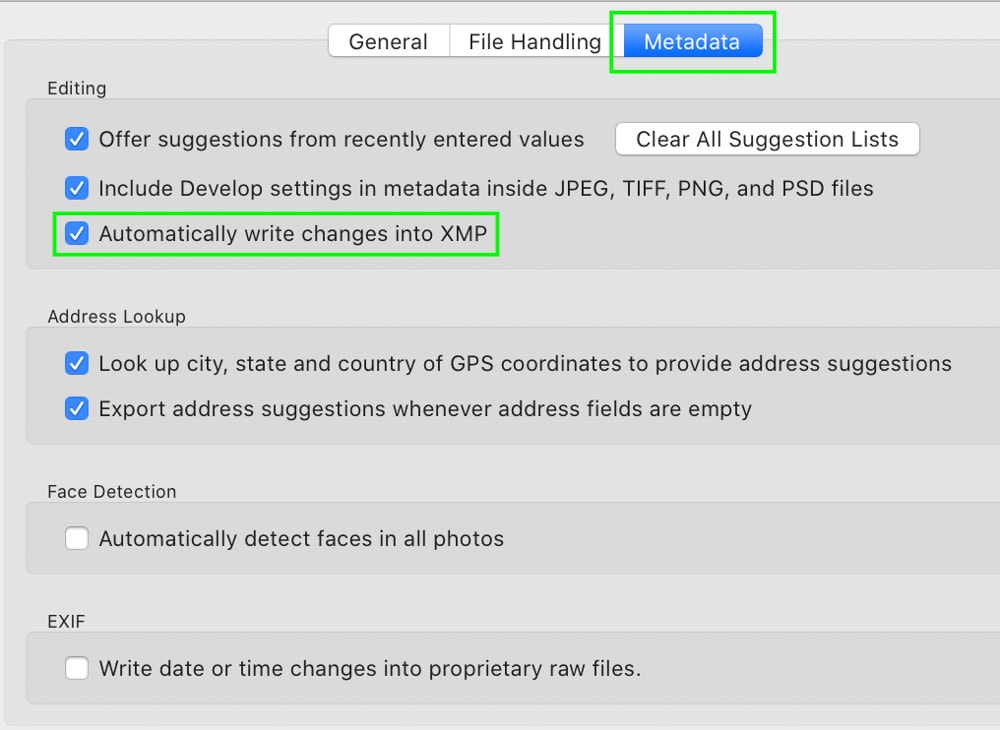 With the help of these eight tips, you can get Lightroom back up and running quickly in no time. Whenever I have this problem it usually comes down to my disk space being low. After clearing up some files, the speed performance is night and day.
Happy Editing!
Brendan 🙂