If you want to get more creative in Photoshop, downloading a new brush pack is the perfect solution. If you're like me, you like to take advantage of all the freebies you can find online, especially when it comes to Photoshop brush packs. Over the years I have gone to a handful of websites to download free brushes, and I want to share some of my favorites with you here!
Later in this post (hopefully after you've found some awesome brush packs), I'll share how to import and use your new brushes in Photoshop too! For now, let's start out with 12 of the best websites for downloading free Photoshop brushes.
12 Best Places To Find Free Photoshop Brushes
These 12 websites are in no particular order and all offer something of value. I have used most of them on a regular basis since I began using Photoshop for my business. You can't go wrong with any of these options!
Brusheezy is one of the most popular brush sources on the web. It will be hard to leave the website without finding what you want because it has thousands of high-quality brushes.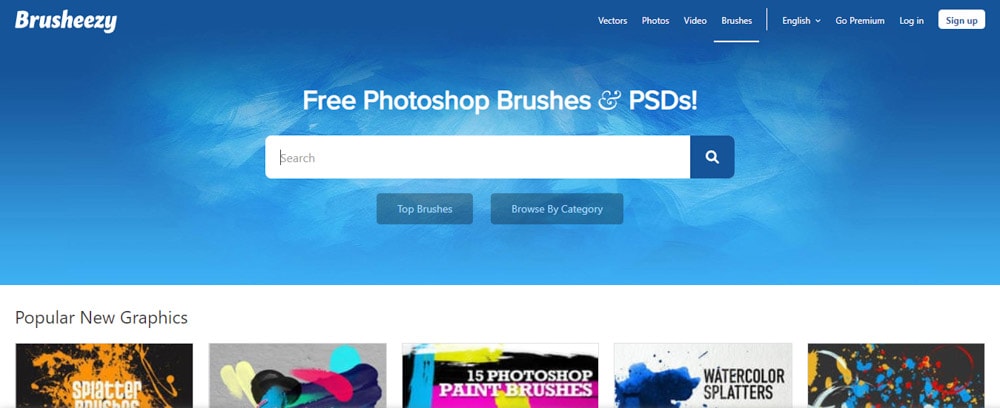 On its homepage, you can find the newest brushes. You can also browse brushes by category. When you are logged in to the website, you can even favorite and share brushes.
Brushes from this website are free for personal and commercial use, but you have to give credit to their authors. If you don't want to do that, you can get one of the website's premium accounts or buy credits. This way, you will get licenses for brushes you want without having to credit the author.
Brushlovers offers several top-quality brushes for you to use. The website is pretty easy to navigate since there are tags on the homepage for the most searched brushes. You can use the search bar to find what you want too.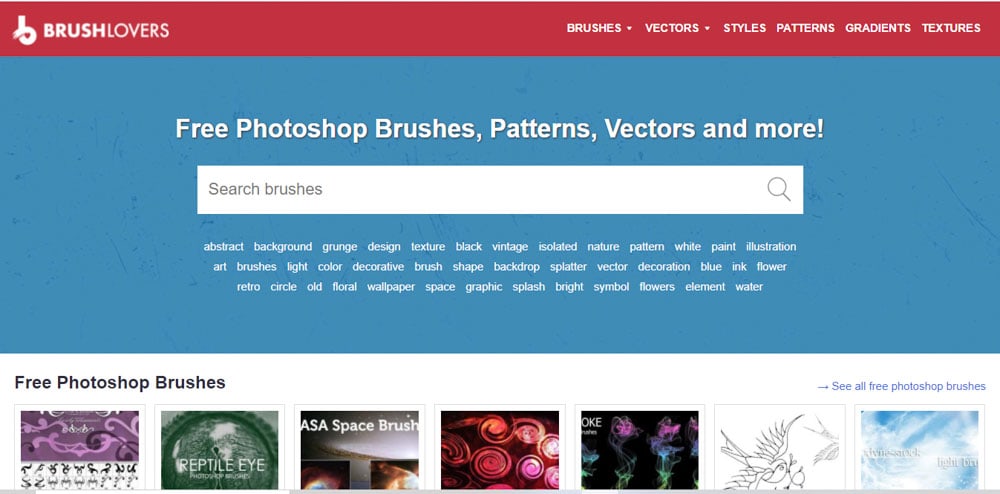 On each brushes' download page, you can find information such as the size of the file, and the number of brushes included in each brush set.
MyPhotoshopBrushes.com has provided free brushes since 2007. The digital painting brushes are amazing and are one of the website's gems. If you are not sure what you're looking for, you can browse the trending categories to get fresh ideas.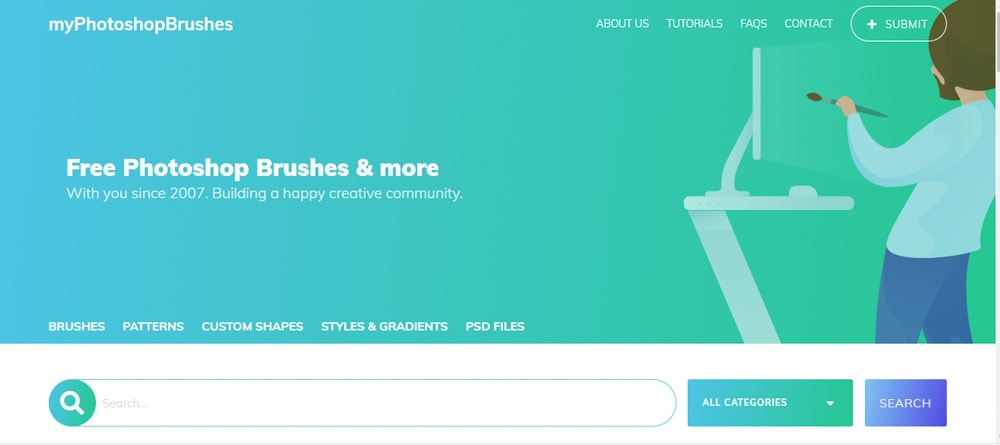 The website's brushes are made by artists from all over the world. You can also join My Photoshop Brushes and upload your own custom brushes if you feel like you have something to share with the creator community!
DeviantArt is a social network for artists. You can find several resources there to use in your projects. Besides, you can post your work and get inspired by other people's art too.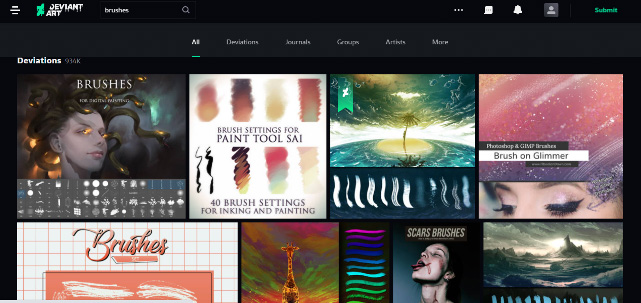 Brushes from DevianArt are some of the best ones you can find on the internet. They are made by the website's users, so you will always find new brushes there.
Most brushes on the website are free, but you can also download paid brushes if you like. To download any brushes, you need to create an account.
Brushking provides lots of free Photoshop brushes. You can also find free PSD files and tutorials on the website. There are almost ten thousand high-quality brushes for you to download.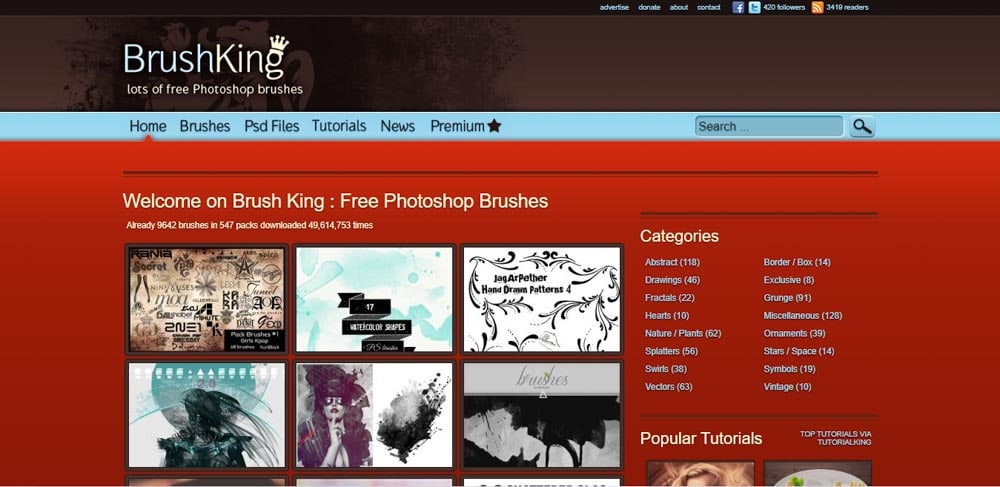 On each brush's download page, you can find information such as the number of brushes in each set. You can also find information about the licenses available for each brush on the same page.
Fbrushes.com offers a selection of top-quality brushes on the web. You can find information about the number of brushes in each set in their descriptions on the home page. The website also offers free textures and patterns.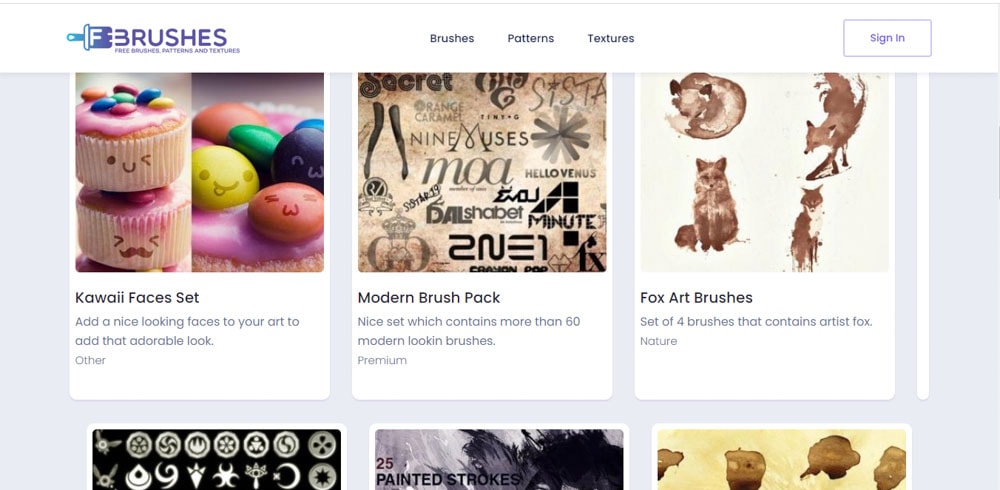 Media Militia, post tutorials, and articles related to graphic design. You can also find free resources to use in your projects there. Free brushes are in the website's freebie section.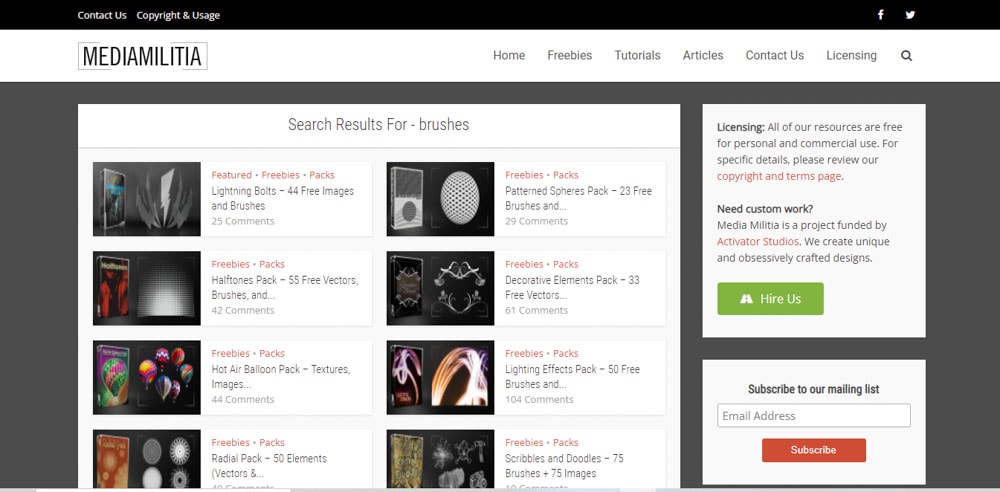 Brushes usually come in a pack with other resources, such as images and textures. All resources on the website are free for commercial and personal use.
Freedesignile is dedicated to providing free vectors to its audience. There are Photoshop brushes in the "Photoshop" section of the website. The website has over 2000 free brushes available for you to download.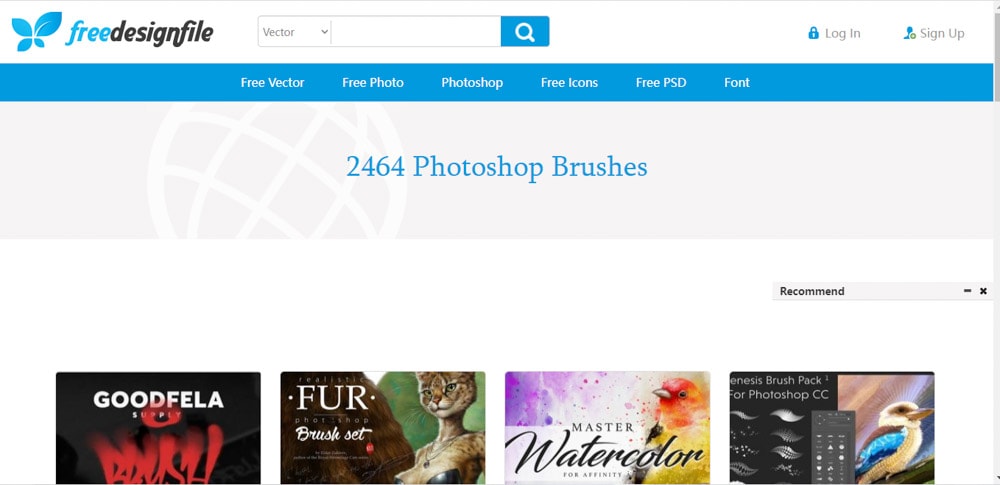 Obsidian Dawn is individually run by an artist named Stephanie. She offers many resources she makes herself, such as Photoshop brushes and patterns. Her brushes are very unique and beautiful, and many of them are in high resolution.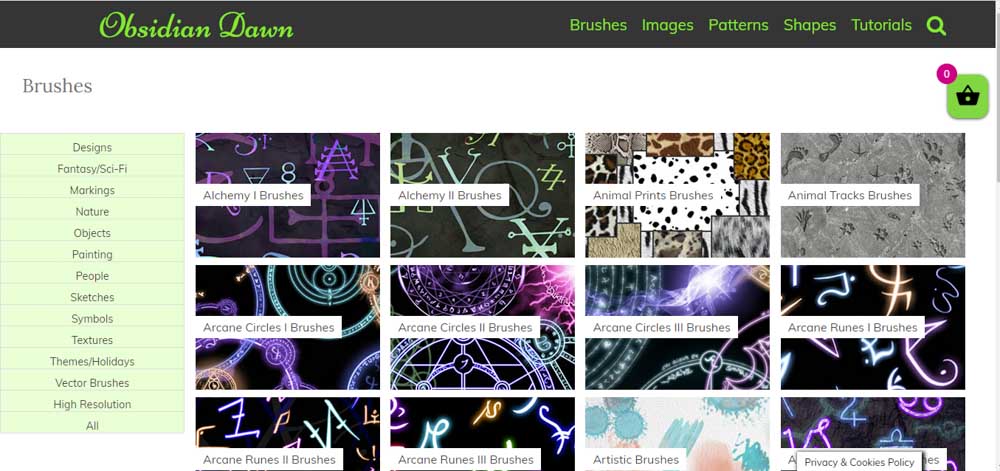 You can download brushes there for free, but you have to give her credit. She also offers commercial licenses for those who, for any reason, prefer not to give her credit. Luckily, the licenses are not expensive.
123 Free Brushes has a huge collection of brushes that you can browse by categories, such as insects, letters, and objects. There are thousands of brushes for all tastes. In the Letters category, for example, there are almost 2000 brush options.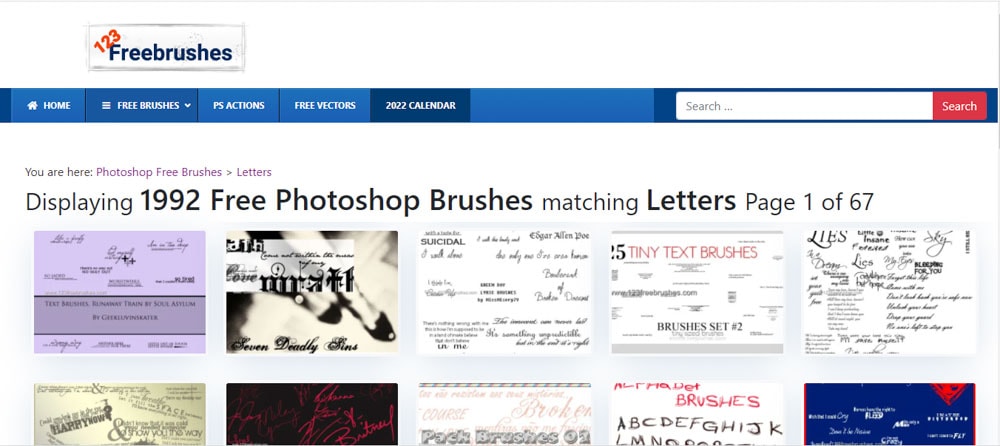 The website has an interesting variety of brushes, sorted by categories such as grunge, decoration, and nature. In the brushes descriptions, you can read suggestions on how to use them, which is quite useful to have new ideas.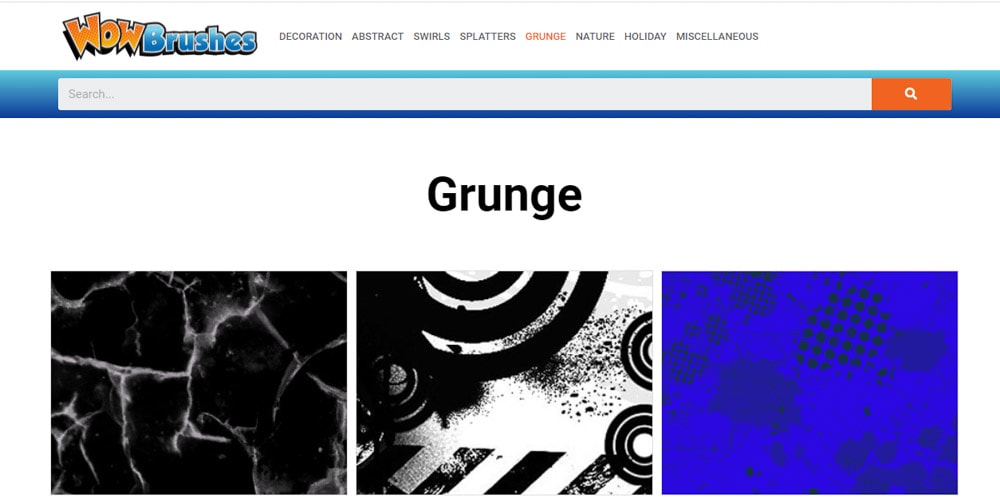 12. Adobe Photoshop
Last but not least, we have Photoshops free brushes. There are many built-in brushes presets available for you to use in the software. But they are not suitable for every project, so you will need more brushes sooner or later. The good news is that Adobe offers additional free brushes for its users that are separate from the default brushes in the program.
To find those brushes, do the following:
With Photoshop opened, go up to Window > Brushes.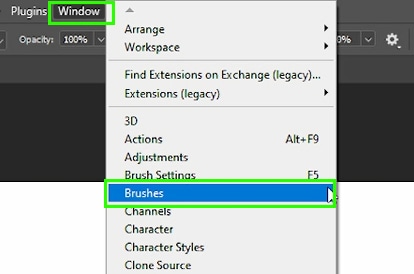 Then click the hamburger menu on the top left side of the brushes panel.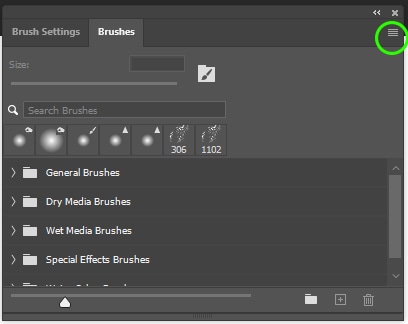 Next, choose 'Get More Brushes.'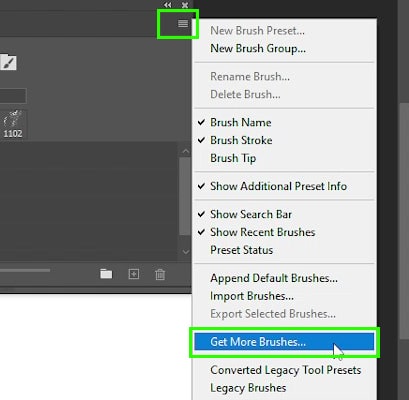 Photoshop will redirect you to the free brushes page on the Adobe website. (You have to be logged in to your Adobe account to download brushes).
On the brushes page, you will see high-quality modern brushes. They are totally free, and you can download as many brushes as you want as long as you have an Adobe subscription.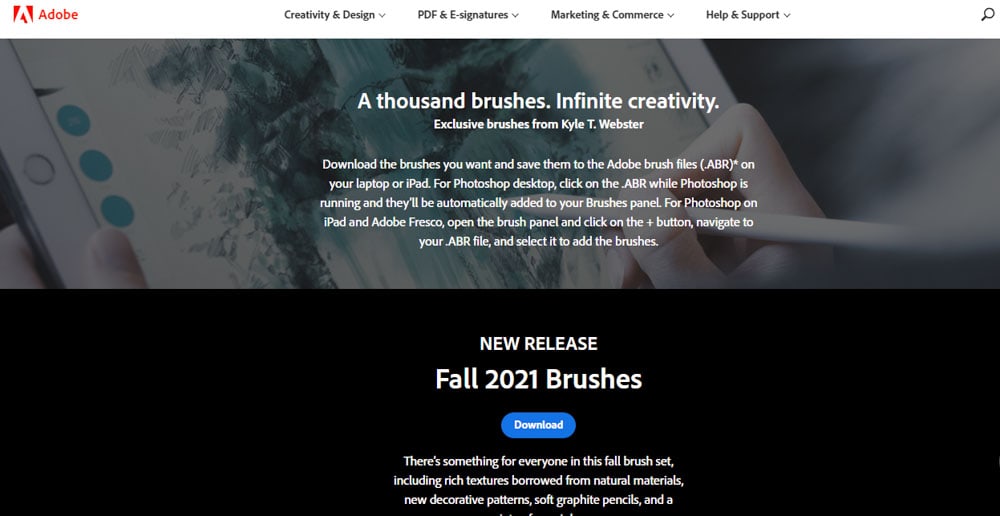 After clicking on the 'download' button, you won't have to worry about anything. The brushes will automatically download and install on your computer.
So when you open Photoshop again, you will find the new brushes in the brushes menu.
I downloaded the megapack set of brushes, for example.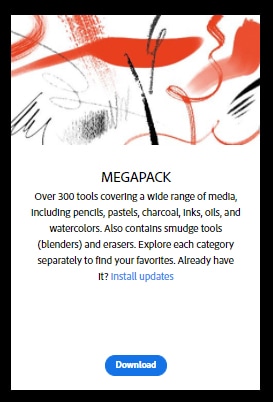 And I found them in the brushes menu in Photoshop a few seconds later.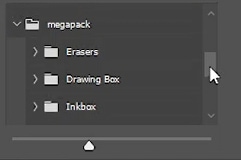 How To Import Brushes Into Photoshop
When you see a free brush, you probably want to download it and start using it immediately. However, in most cases, you need to install the brush back manually. Luckily that's easy to do using the following steps.
First, you need to know the file extension of brushes you install in Photoshop, which is .ABR. Most brushes you download will come in a compressed zip folder containing these files.
If your brush came in a .zip folder, go where you downloaded it on your computer. Then, extract its files by right-clicking the folder and choosing 'extract all'.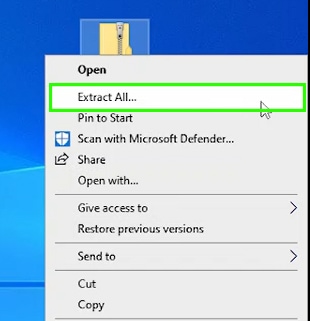 A new folder will be created with all the files that were in the zip folder, including the .ABR file

You can make sure a brush was imported to Photoshop and is working using either of the two methods:
Option 1: Go where you downloaded and extracted the .ABR file on your computer, and double click it. 

After that, when you open Photoshop, your new brush will appear in the brushes menu. Simply select the brush from the Brush Preset Panel start using it.
Option 2: In Photoshop, go to Window > Brushes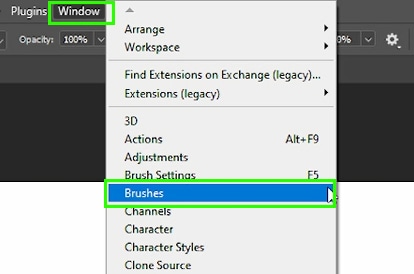 Then, click the hamburger menu on the top left corner of the panel and choose 'Import brushes'.
In the window that will pop up, locate the .ABR file you want, select it, and click 'Load.'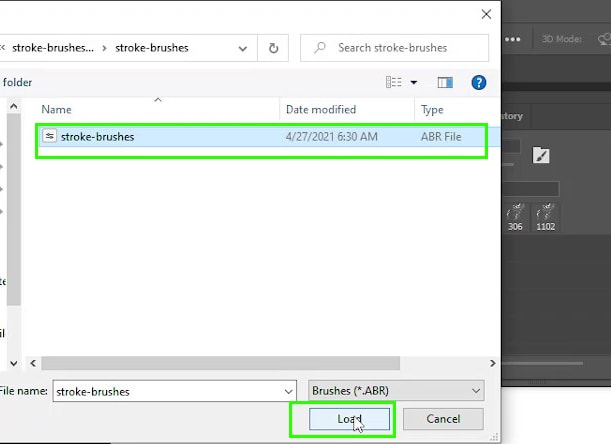 When you open the brush panel again, the new brushes will appear (usually in a group folder). So you can start using them.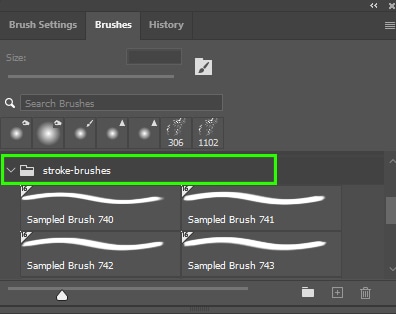 Brushes make your life easier in Photoshop and allow for more creativity with your graphic design and digital artwork. There are brushes for all tastes, and several places offer them for free. With this list of 12 websites offering free Photoshop brushes, you're guaranteed to find the perfect brush pack for your project!
Happy Brushing!