Sending out newsletters to customers and clients is one of the best ways to stay in touch and keep them informed about your brand. If you're looking for a way to take your newsletters to the next level, embedding a Canva newsletter into an email can be an effective technique. It may sound like a bunch of coding is involved, but actually, it's much more simple than that.
Nothing keeps your business running quite like an email list. In this post, you will learn how to make professional-looking newsletters that will grab attention and lead to the links of your choice. Not only that, but you'll learn how to use Canva and Mailchimp together to speed up the process once your business gets off the ground.
How To Embed A Canva Newsletter In Your Email
The process of embedding a newsletter into an email can be confusing the first time you do it, so let me summarize the process quickly.
Your newsletter will be presented in your email as a PNG image. When your reader tries to click on one of the links on your image, they will be directed to a PDF version of your newsletter. This PDF will allow them to click all of the links that have been embedded in your design. This is, unfortunately, the only option you have when designing a newsletter in Canva. Otherwise, you will need to rely on one of the pre-made templates from your email list provider.
You'll have a better understanding of this as you continue reading.  
Step 1: Create Your Newsletter Template
Before you can embed a newsletter in an email, you first need to create a newsletter. Canva makes creating a newsletter easy by providing thousands of newsletter templates to use as your base.
To find a good template for your newsletter, open up the Canva home page and type Newsletter in the search bar. Press Enter, and you will be presented with over 3,000 newsletter templates to choose from.
From here, you can click on one of the templates to start or select Create A Blank Newsletter.
This will open up a blank canvas with the exact size you need for a newsletter.
With the blank page open, you can create your newsletter design from scratch as you usually would with any other design.
If you want to speed things up, you can still access the newsletter templates that Canva provides. First, click on Elements, then click on the Templates tab. You can now click on one of the many template pages to add to your design.
Once your newsletter is laid down, you can quickly change up the template's look by selecting the Styles tab and then clicking See All in the Color Palettes section. You will then be presented with a series of Color Palettes that will change all the colors of your design with just one click.
Step 2: Add Your External Links
When creating a newsletter, there's one thing you need to add for every one you make: links.
The point of designing a beautiful newsletter is to get your reader to one of your websites. That's why it's important to know how to create a clickable link.
Creating a clickable link is simple. First, select the element. The element can be a shape, text block, graphic, or photo. A shape with some text is often the best choice, as it acts as a "button."
Click the Link button in the top right corner. Then, add the website you want to link to in the box below. When you're finished, click Done.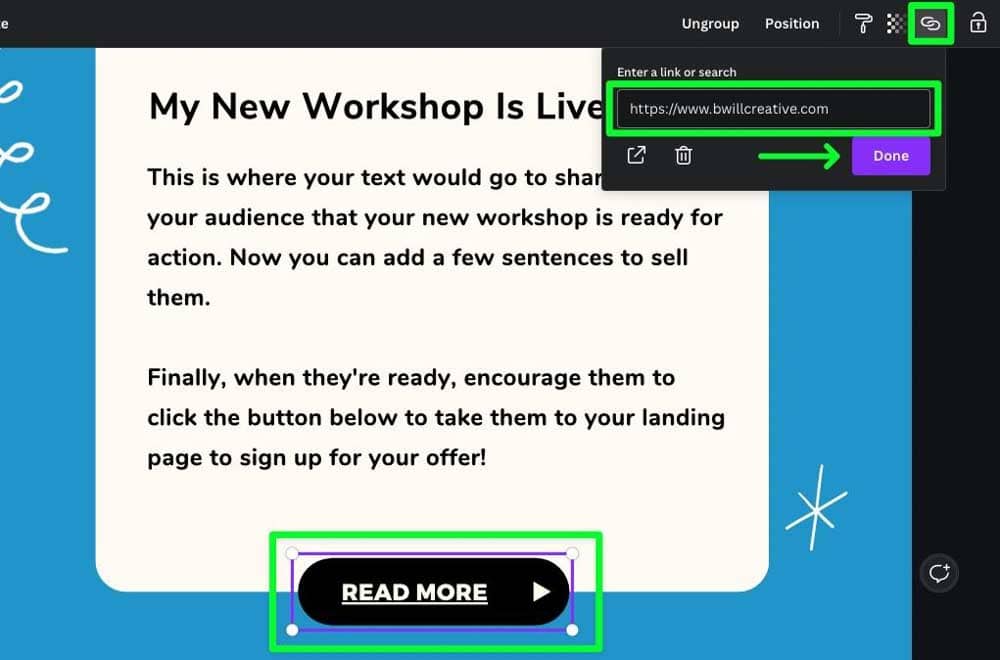 Step 3: Save Your Newsletter As A PNG
Once the design of your newsletter is complete, you will need to download it in two different formats to embed it in an email. The first is a PNG file.
To start, click on the Share button at the top right corner of the screen.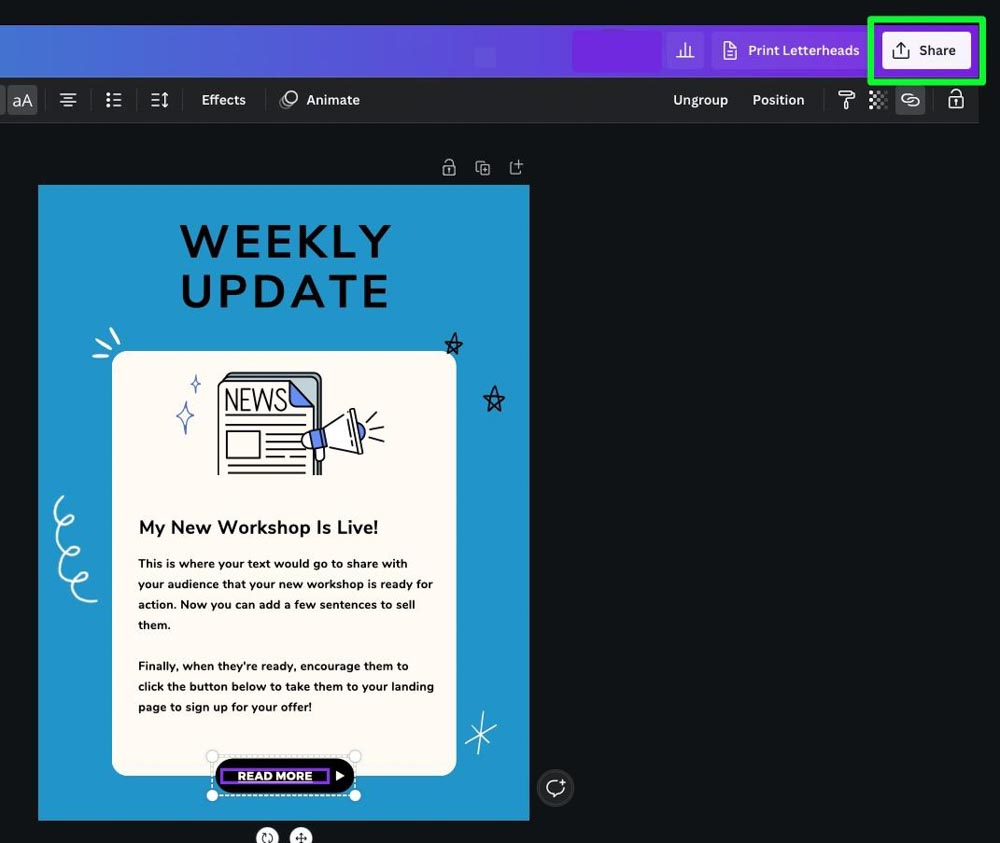 In the menu that drops down, click Download.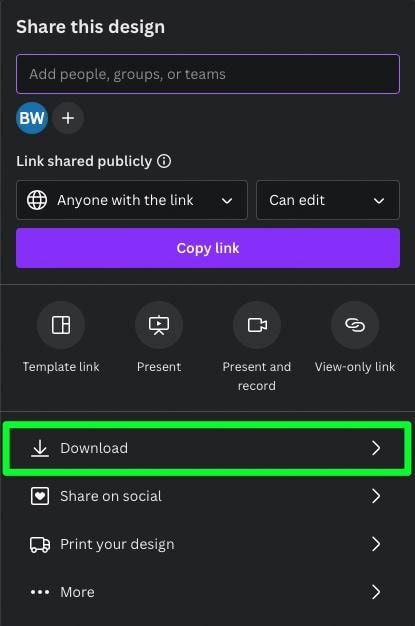 Under File Type, choose PNG. Leave all the other settings blank, then click Download.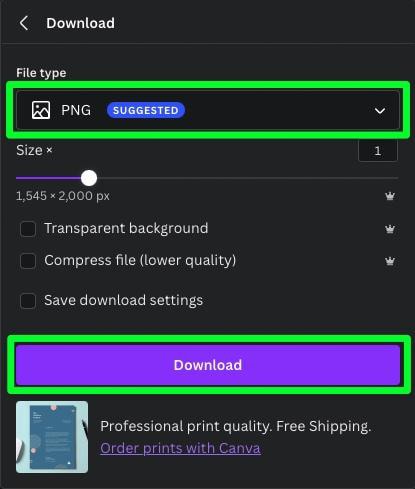 The PNG file will be downloaded to your hard drive, most likely your downloads folder.
Note: If you want to, you can save your design as a JPG, but the quality of the image won't be as impressive. However, if space is a concern, you can go with JPG.
Step 4: Save Your Newsletter As A Standard PDF
The PNG file you just downloaded is just a flatted image. The links you added during the designing process will not work on the PNG.
You will need to download your design as a PDF so that the links inside your design will remain clickable.
To start, click the Share button once again. Under File Type, choose PDF Standard.
Note: PDF Print is a better-quality file (ideal for printing out), but it also takes up much more space. You can choose PDF Print if you wish, but PDF Standard is usually more than enough for a design made for a computer screen.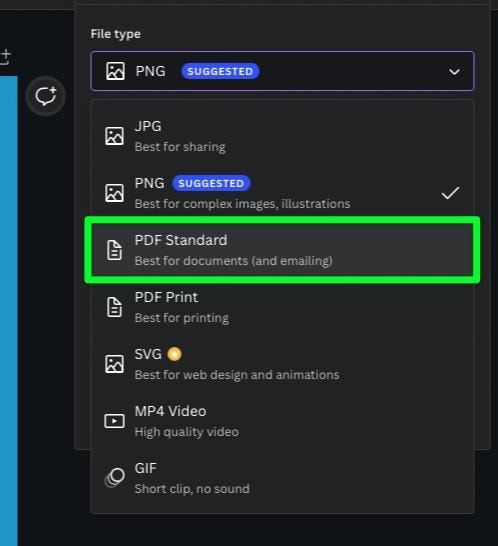 Once you have selected your file type, leave the rest of the settings blank, then click Download. Your PDF will be downloaded to your hard drive.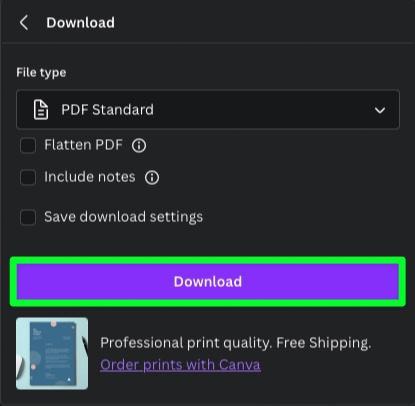 Step 5: Upload Your PDF To Your Cloud Storage System
Now that you have your PDF version downloaded, it's time to upload it to the cloud storage system of your choice. The goal is to create a file you can link to when you embed your newsletter into an email. 
You can use any cloud storage system you want to use. Google Drive is probably the most popular choice. This guide will demonstrate with Google Drive.
You may also want to create a folder for your newsletters. This is optional, but it will keep your newsletters more organized.
To do this, click the New button, then select New Folder.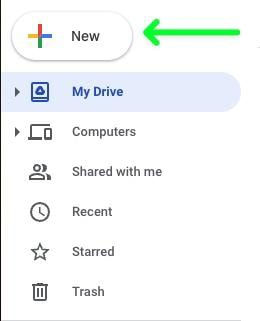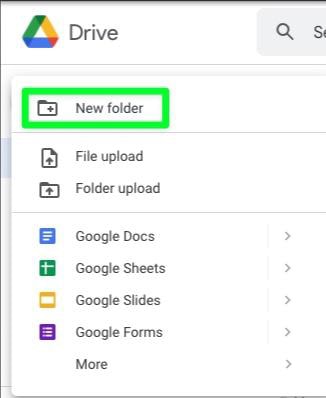 Name your new folder, then click Create.
Now that you have a newsletter folder, you just need to add your PDF file.
The easiest way to do this is to drag your PDF file from a separate window into the folder.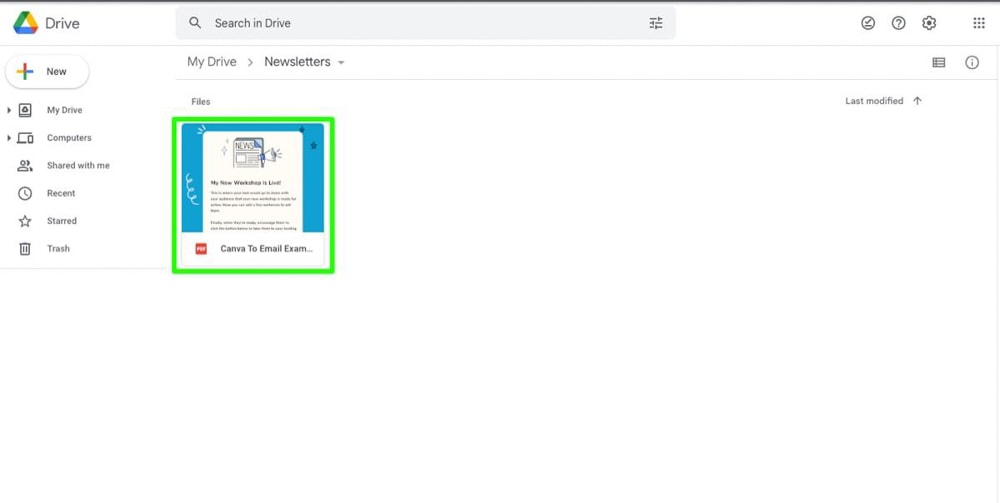 Step 6: Copy The Link
The goal is to link the email with your embedded newsletter to the file you just added. To do this, you will need the link to this file.
To get the link, right-click the file. In the options that pop up, select Get Link.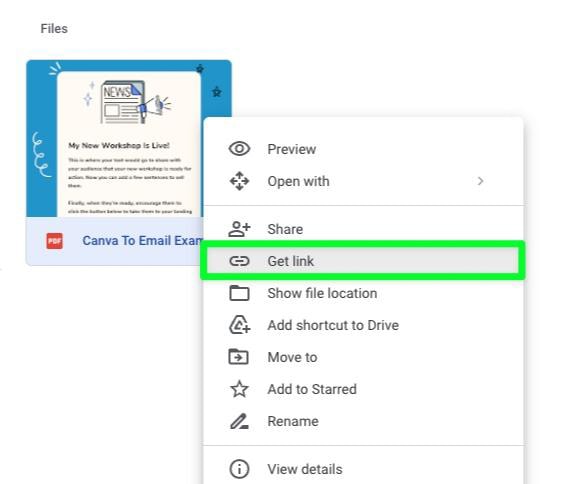 An options menu will pop up. In the General Access drop-down menu, choose Anyone With The Link. This option guarantees that anyone who uses this link can open the file. This is very important for a newsletter, where you want as many people as possible to see your design and click on the links.
When you're ready, click Copy Link, then click Done. The link to the PDF file has now been copied to your clipboard.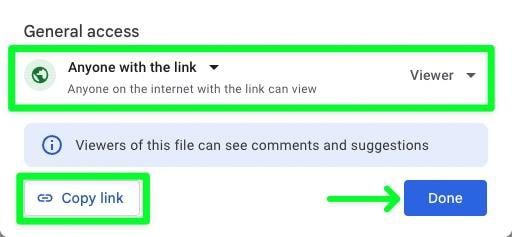 Step 7: Add The PNG To Your Composed Email
Now that you have your PNG and the link to your PDF file, you can compose your email.
To begin, create a new email just as you usually would by clicking the Compose button.
Once your email opens up, you can add the title of the email and write an intro if you'd like to. When ready, click on the Insert Photo button.
You will be prompted to choose a file from your hard drive. Click the Select File From Your Device button and locate the PNG of the newsletter you created earlier.
Click Open to confirm.
Your newsletter PNG will now be below the subject of your email.
Step 8: Link The PDF File To Your PNG
Now, you just need to set things up so that when your reader clicks on the photo, it will be sent to the PDF in your cloud storage system.
To do this, first select your image. To select your image inside the email, you must drag your mouse over the image from inside the email.
Don't just click on the image. This is not the same as selecting it while you are in the email.
You will know when you have selected the image when there appears to be a blue tint over it.
Once you know that your image has been selected, click the Link button below it. Alternatively, you can press Contol + K (Win) or Command + K (Mac) to add your link to the image.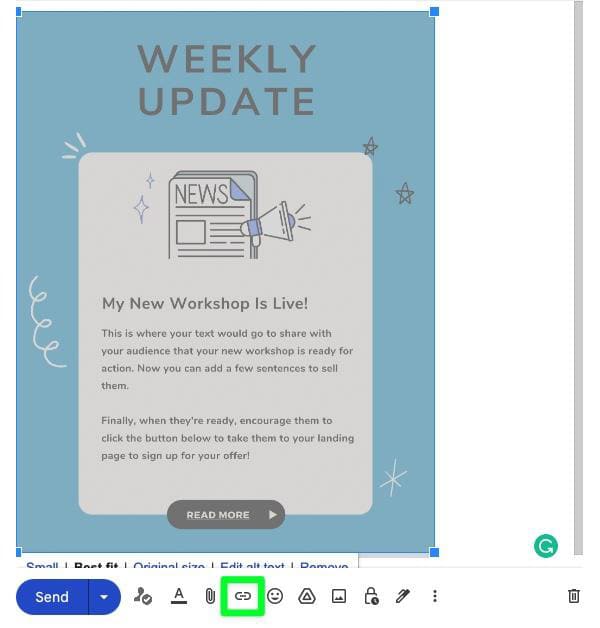 In the Edit Link menu, paste the link to your PDF (that should still be copied to your clipboard) in the second box by pressing Control + V (Win) or Command + V (Mac). Make sure that Web Address is checked beside it.
If you want to, you can check and ensure your link is working by clicking the Test This Link button. This button will open your PDF in a separate window, allowing you to see your design and test the links inside the PDF.
If you test the link and nothing happens, or you get a 404 error, you may have copied the link to the PDF incorrectly. Go back to Step 6 to copy the link again.
For the Text To Display box, you can add something if you'd like, but it is unnecessary. When you're finished, click OK.
Your image is now "clickable." Meaning when your reader clicks on the PNG in the email, they will be directed to the PDF of the Newsletter (that's in a folder in your cloud service). Once that PDF is open, they can click on any elements linked to your websites and be directed to them. 
Just make sure that your file-sharing permissions in your cloud storage allow viewing outside of your organization. I have made that mistake before…
Step 9: Change The Size Of The PNG
The last thing you want to do before sending your email is to ensure that the image is readable from within the email.
When you first paste your PNG into your email, it will be set to Best Fit. This size will be too small for your newsletter. Instead, click on the image, then select Original Size at the bottom of the image.
The image itself will appear too big for the email, but when your reader receives it, it will be a perfect size. 
Click Send to send your email.
Exporting Newsletters From Canva To MailChimp
Sending out newsletters manually using Canva and Google Mail (or any other email service) is fine for a while, but eventually, you will want to turn to a more automated process.
Once you have more than a few dozen people on your email list, start thinking about using a service like Mailchimp. Mailchimp is an email marketing and automation tool designed to help small businesses reach their customers. It's an affordable and easy-to-use starting point to begin your email list.
With Mailchimp, users can set up automated campaigns using newsletters you design in Canva or templates that Mailchimp provides. It's a versatile service that can save you a lot of precious time.
The best news is if you want to design your newsletters in Canva, you can automatically send them to your Mailchimp account!
To do this, click the big Share button in the top right corner of the design interface.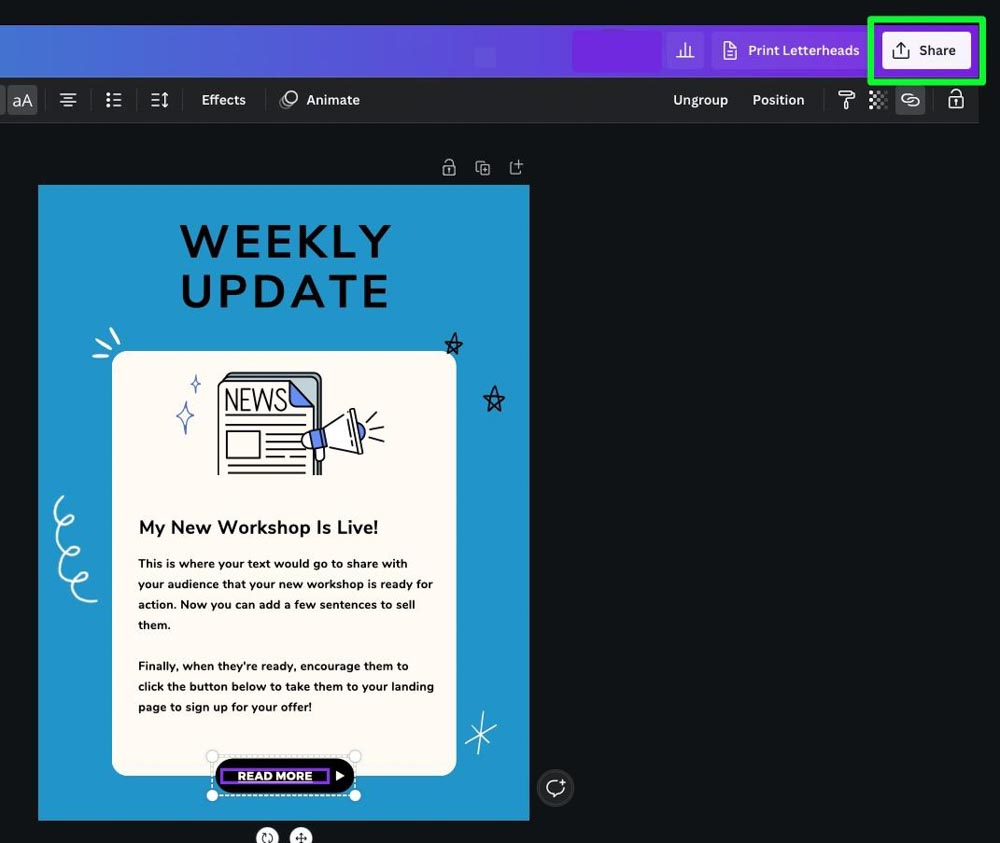 Then, click the More button at the bottom of the menu.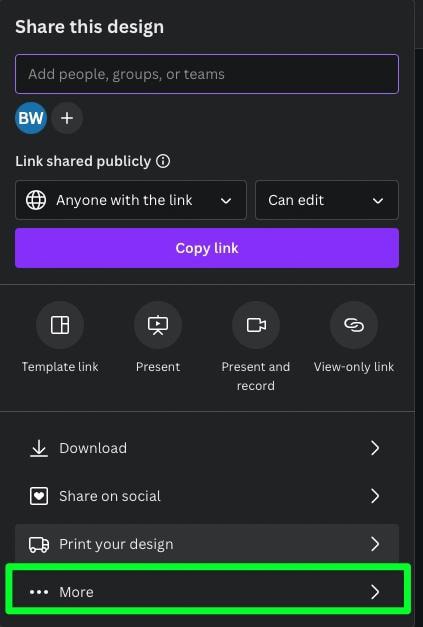 From here, you will find a ton of buttons that allow you to send your design to almost any app that you can think of, including Mailchimp.
If you're doing this for the first time, you must link your Mailchimp account to your Canva account. Click on the Mailchimp button.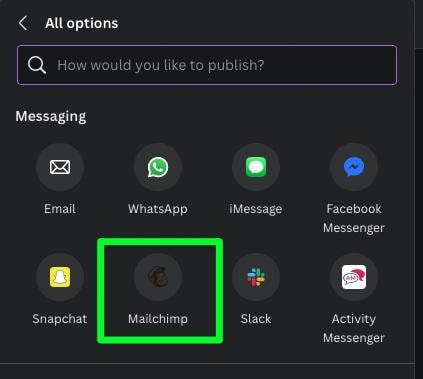 You will then be asked to connect your Mailchimp account to your Canva account. Enter your Mailchimp Username and Password, then click Log In.
You will then be asked if you trust the app you're trying to connect to. Click Allow to connect your Mailchimp account to your Canva account officially.
From this point on, whenever you want to send a newsletter to your Mailchimp account, you just need to click Share, More, and then the Mailchimp button!
So ultimately, the newsletter templates in Canva will work, but they are limited after your email list reaches a certain size. I personally use Convertkit for my email list, but Mailchimp is a cheaper starting point (starts off free until a certain number of subscribers). Inside just about any email list provider are templates that you can use and design as well, so you have options once you outgrow this Canva method in the future!