When you need to blend text or images into a texture or even create a texture from scratch, such as when creating a water reflection, displacement maps are your best friend. This handy adjustment allows you to distort layers based on the contrast in an image to blend two layers in Photoshop professionally.
Displacement maps are easy to make but can be confusing when you first use them. Luckily, by the end of this tutorial, you will not only know what a displacement map is and how to make one but also how to use one to blend an image seamlessly into a detailed background.
What Are Displacement Maps In Photoshop?
A displacement map is a grayscale version of your texture image saved as a PSD file. The file is usually used to apply a detailed texture to an image using the Displace Filter.
Common uses for displacement maps are:
Adding a logo to a product or object that requires detailed, crisp textures
Adding graphics to a mock-up that you wish to blend perfectly with the mock-up
Distorting an image or graphic to the detailed fabric of an image
How To Make A Displacement Map In Photoshop
Using a displacement map can be a complicated process, but making the displacement map is pretty easy to do. Here's the best way to make a displacement map.
Step 1: Duplicate Your Image
The first thing you need to do is duplicate your image layer. You can do this by dragging your layer to the Create A New Layer button or selecting the layer and pressing Control + J (Win) or Command + J (Mac).
Step 2: Desaturate Your Layer
An essential part of creating a displacement map is desaturating your layer. To do this, go to Image > Adjustments > Desaturate.
This action removes the color from your image, leaving it grayscale.
Step 3: Adjust The Curves Of The Desaturated Layer
Now that your layer has been desaturated, you need to ensure that your image's texture is as sharp as possible. The best way to do this is to add a Curves Adjustment Layer.
Click on the Create New Adjustment Layer button in the Layers panel and select Curves.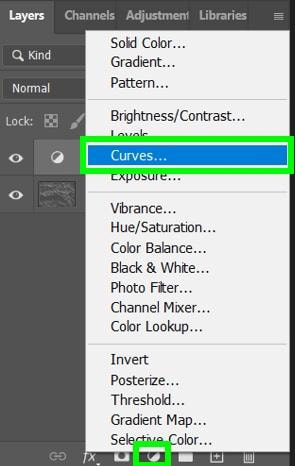 In the Curves Properties Panel, experiment with moving the anchor points so that the contrast enhances your image between the highlights and shadows of your image. You can add anchor points and bend them however you need to.
You should see a big difference between your original picture and the one with the curves adjusted.
Step 4: Save A Copy As A PSD
Now that you've desaturated your image and added contrast, it's ready to be saved on your hard drive to be used later.
Go to File > Save A Copy. Choose whether you want to save on your computer or save to the Creative Cloud.
You will now be prompted to choose the type of file you wish to save your image as. Your instinct may be to save your image as a JPG or PNG but make sure not to do that. For this to work, you need to save this image as a PSD.
Step 5: Delete Your Duplicated Layer In The Layers Panel
Your displacement map is now created and saved onto your hard drive, so you no longer need the desaturated layer or the curves adjustment layer above it.
Select both the curves layer and the desaturated layer, and then click on the Trash Icon.
As you can see, creating a displacement map is simple. Now I'll show you how to blend an image seamlessly into a displacement map.
How To Use A Displacement Map To Blend Images
Before you start your displacement map, you will first need to prepare two images: the background image that you will create a displacement map out of and a second image that you wish to blend into your background, such as a company logo.
Step 1: Duplicate Your Background Image
You must duplicate your photo to create a displacement map out of your background image.
Click and hold your layer and drag it to the Add A New Layer button. You can also press Control + J (Win) or Command + J (Mac).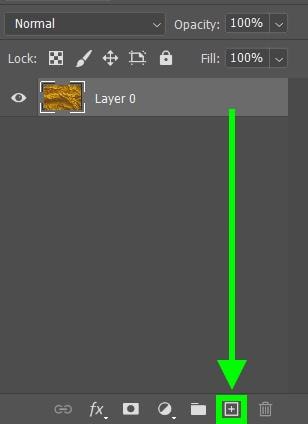 Step 2: Desaturate The Duplicated Layer
Now you need to desaturate the duplicated layer. This step is critical for creating a displacement map.
First, desaturate your image by clicking on Image > Adjustments > Desaturate to turn your background image from color to black & white.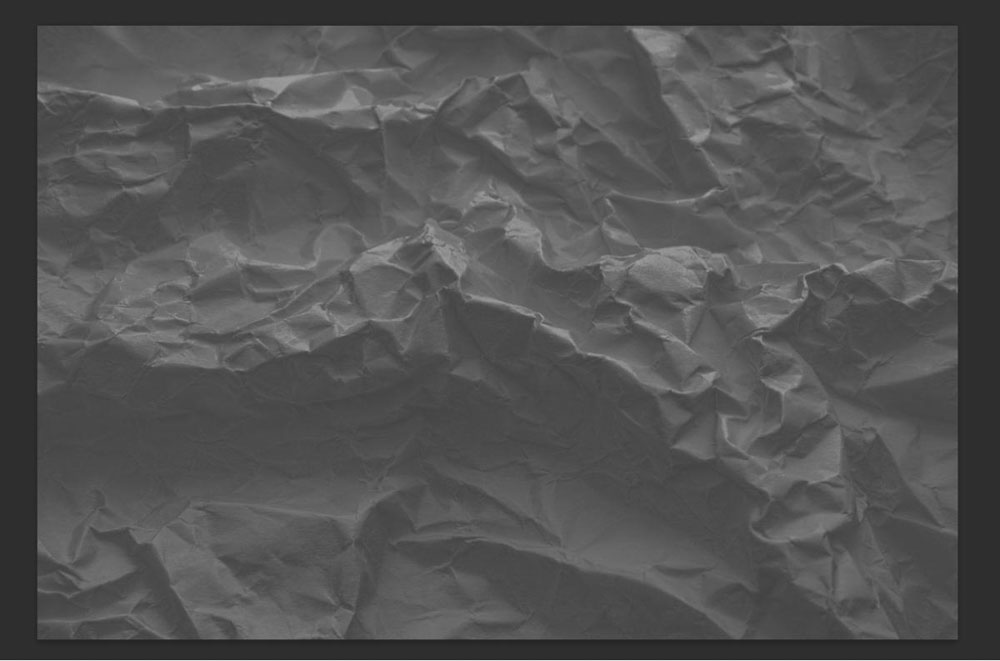 Step 3: Adjust The Curves Of The Image
The goal of using a displacement map to blend an image into a textured background is to have the final piece showcase the rich texture of the background and shine through the second image. To ensure this happens, you need to make the texture of your desaturated image as crisp as possible.
To achieve this, use a Curves Adjustment Layer to adjust the contrast between your highlights and shadows.
Select your desaturated image and click on the adjustment layer button in the Layers Panel. Choose Curves from the list.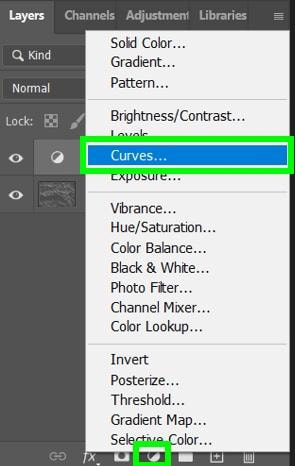 In the Curves Panel, you want to make your dark colors darker and your light colors lighter.
Every project is different, so you will have to experiment with how you adjust your curves to bring out the contrast of your background.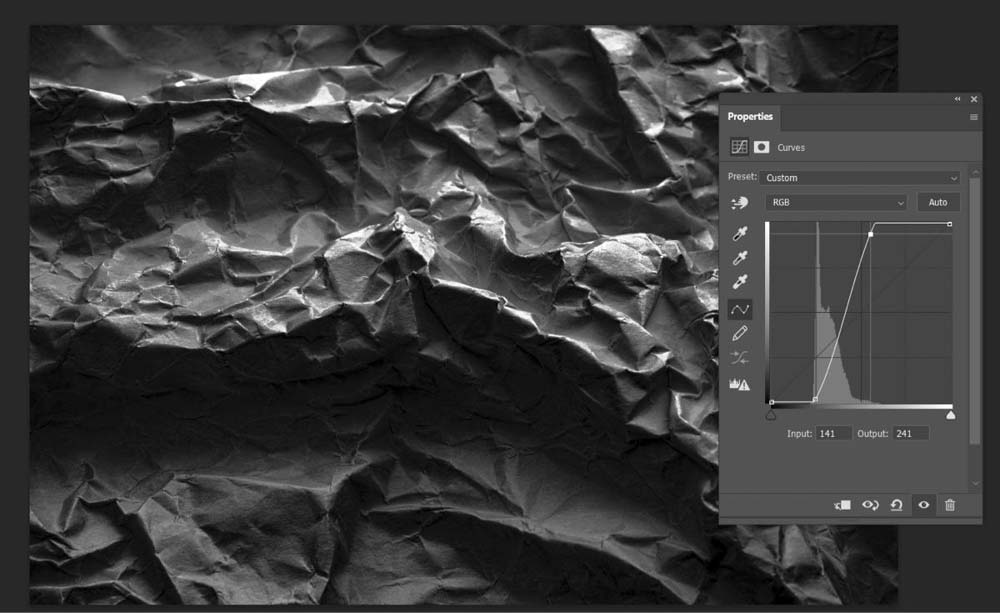 When you're done adjusting your curves, there should be a significant difference in contrast between your original background image and your adjusted one.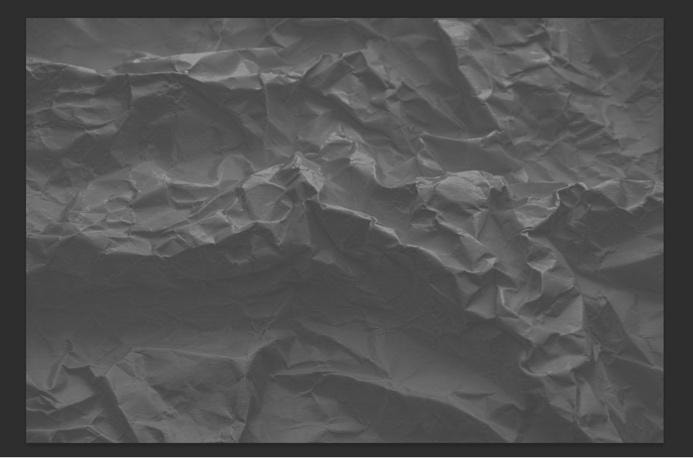 Step 4: Save A Copy Of Your Image As A PSD
Once you feel that your desaturated layer is ready, you will save it to your hard drive. To do this, go to File > Save A Copy.
Then, choose PSD under Save As Type.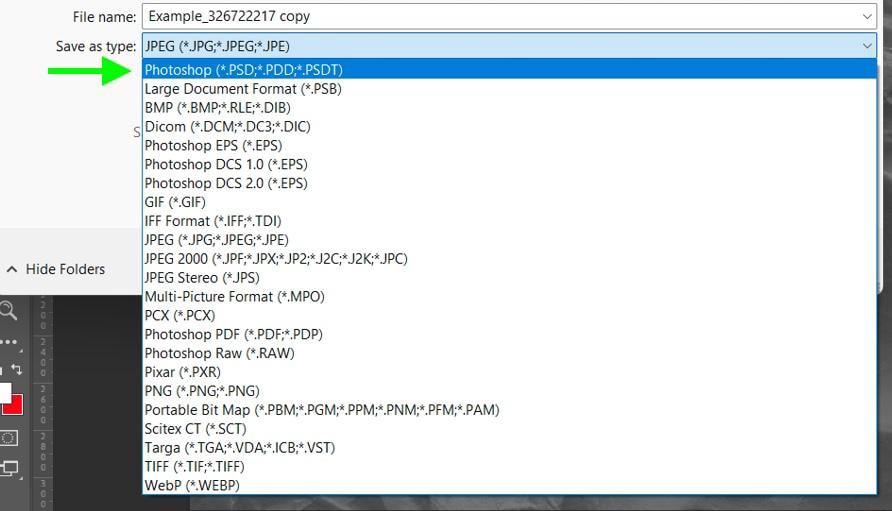 Once your saturated image is saved to your hard drive, delete the layer from the Layers panel. Click on the layer and then click on the Trash Can Icon.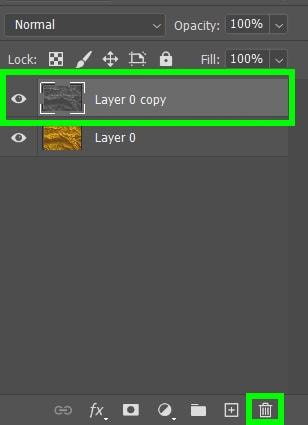 Step 5: Import Your Image And Convert It To A Smart Object
Now it's time to import your second image if it's not already there. You can do this quickly by dragging the image from the Layers panel to the tab that contains your background image.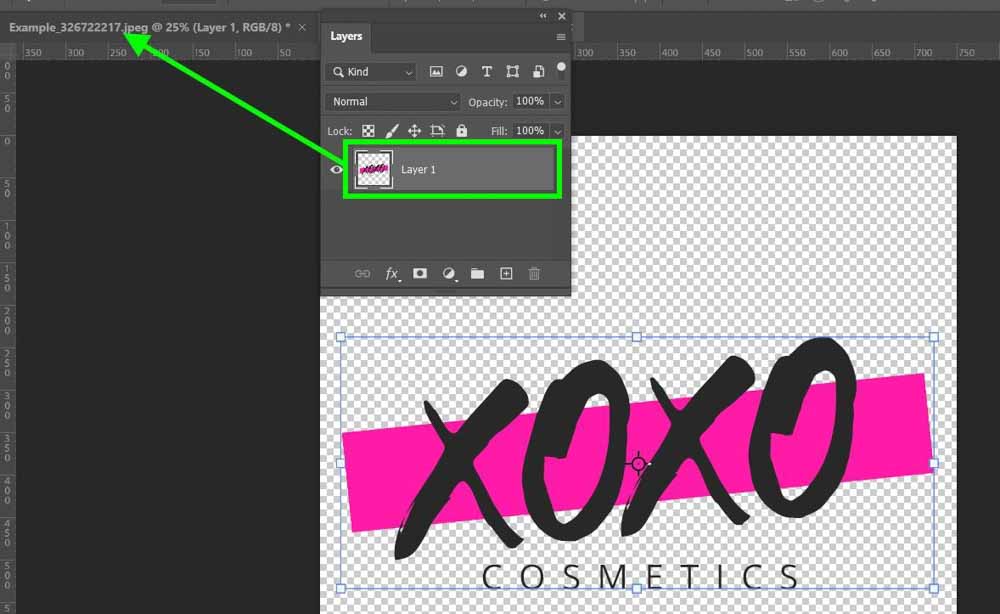 Now that your second image is on your canvas, you need to convert it to a smart object. This allows you to add smart filters and edit them later.
Right-click (Win) or Control + click (Mac) on the new layer and choose Convert To Smart Object from the list of options. You will know this works if there's a symbol in the corner of the layer in the Layers panel.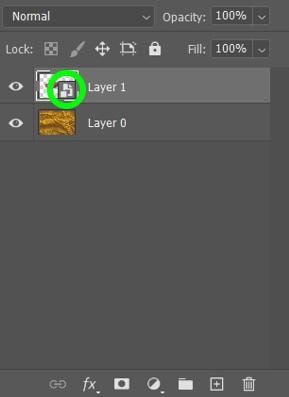 Step 6: Apply Your Displacement Map
Now to apply the displacement map, select your new layer, then go to Filter > Distort > Displace.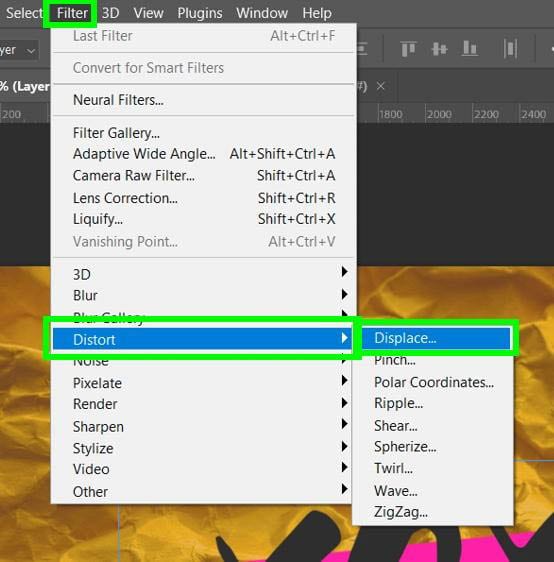 The Displace Options Menu will pop up with some options to pick from.
Horizontal Scale / Vertical Scale: This option determines the magnitude of the displacement. The higher the numbers, the more stretched out your foreground image looks.
Displacement Map: This option determines the size of the displacement map itself. You can either stretch your displacement map to the size of your image or Tile the displacement map so it is laid out in a repeating pattern.
Undefined Areas: This option will determine how the AI fills in the voids that the Displace Filter creates.
A good baseline for these options is to make sure that under Displacement Map, pick Stretch to Fit and under Undefined Areas, pick Repeat Edge Pixels. Experiment with these settings if you wish, of course.
However, ensure Embed File Data In Smart Object is checked, as this will attach the displacement map with your foreground layer.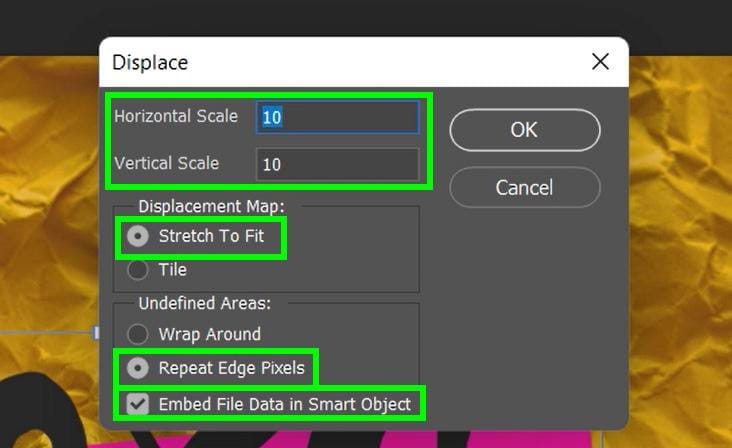 The most important option here is the Horizontal Scale and Vertical Scale. You need to experiment a few times with this option to make it work with your project. Try out different combinations: 10 x 10, 25 x 25, 20 x 40, or 40 x 40. This may take a while to do, but it will be worth it.
Hit OK when you're ready.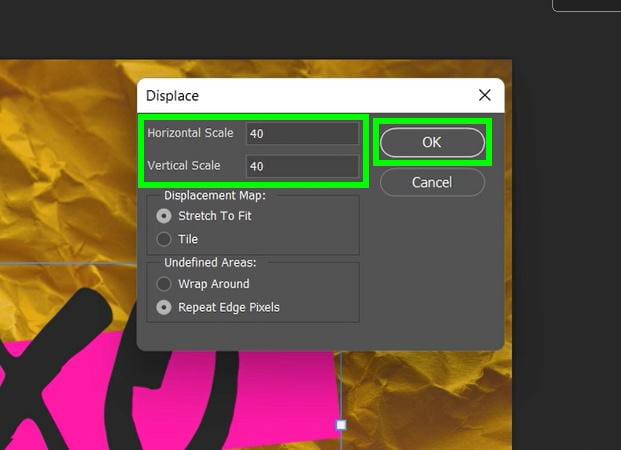 You will then be prompted to choose the displacement map you made earlier. Locate the PSD and click Open.
You will only notice a small change to your image, but there's still more work to be done. You will also notice the Displace Filter added to the layer in the Layers panel.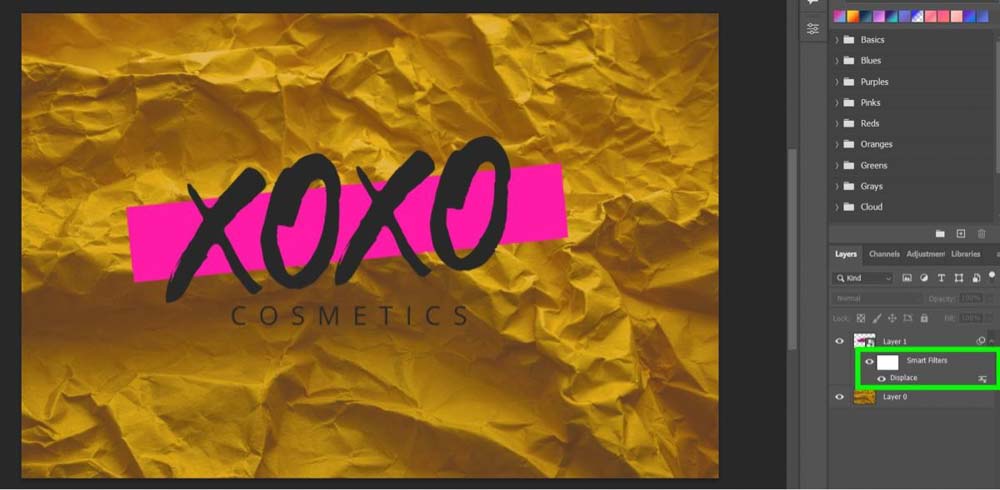 Step 7: Adjust The Curves Of Both Layers
So you now have a background layer and a foreground layer, with a displacement map attached to the foreground layer. Now it's time to tinker with the curves for both layers to make the textures really pop.
Select the background layer and apply a Curves Adjustment Layer by clicking the New Adjustment Layer button in the Layers panel.
As in step 2, when you applied the curved adjustment layer to the displacement map, adjusting your curves here will depend on your project, so experiment while adjusting your curves. Focus on bringing out as much contrast as possible to make the textures pop.
You can clip your curves adjustment layer to your background layer to only affect that layer and not the entire project. You can do this by clicking the Clip To Layer button in the Curves Adjustment Properties Panel.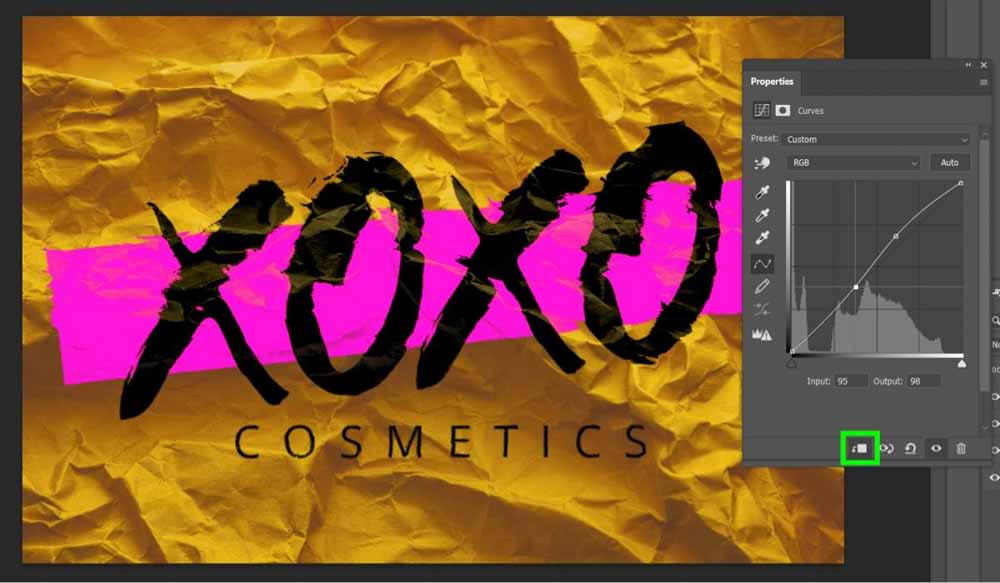 When adding an adjustment layer to the Smart Object layer, navigate to Image > Adjustments > Curves to add the adjustment as a smart filter, which only affects the smart object.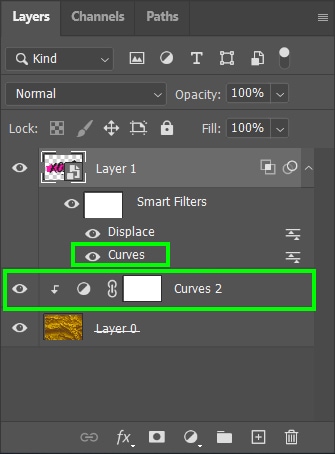 Step 8: Blend The Two Layers Using Blend If
It's possible that your image will look perfectly blended after you've made your curves adjustments. You should try Blend If to finish the job if it doesn't.
To start this process, right-click on the foreground layer and select Blending Options from the list. You can also double-click on the layer to bring up the Layer Style panel.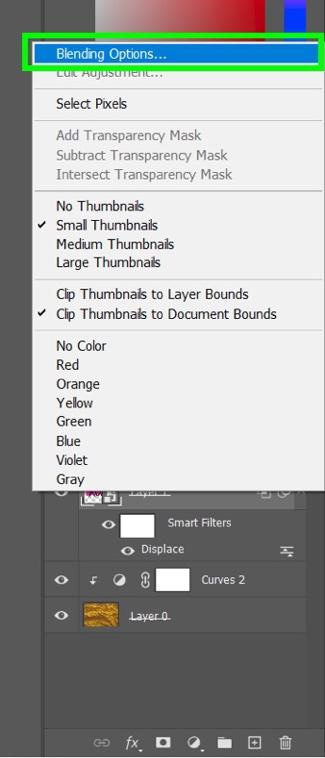 In the Layer Style panel, the slider you're looking for is the Underlying Layer option.
The black areas of the slider represent the shadows of the layer, and the white areas of the slider represent the highlights. If you move these sliders closer to the middle, you will notice your image distorting.
Most likely, this is not the effect that you're going for in your project. The reason is that adjusting the handles like they currently are is too strong for the image. You must split each handle and feather the blending effect.
To do this, hold down Alt (Win) or Option (Mac), click on one handle, and drag it. This will split the handle in half, allowing you to adjust each part of the handle individually, which adds a feather to the blend.
Where you should place these handles depends on your project. It's a good idea to spend a reasonable amount of time adjusting these handles. This might be the step that truly makes or breaks your final design.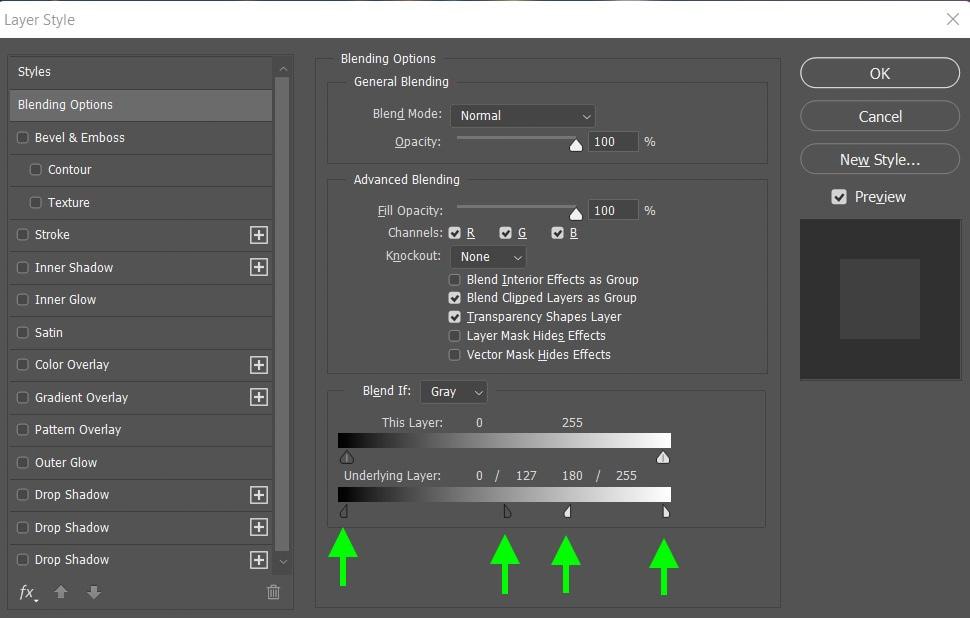 Your foreground layer should look blended into the texture of your background layer, almost as if your image was originally made that way.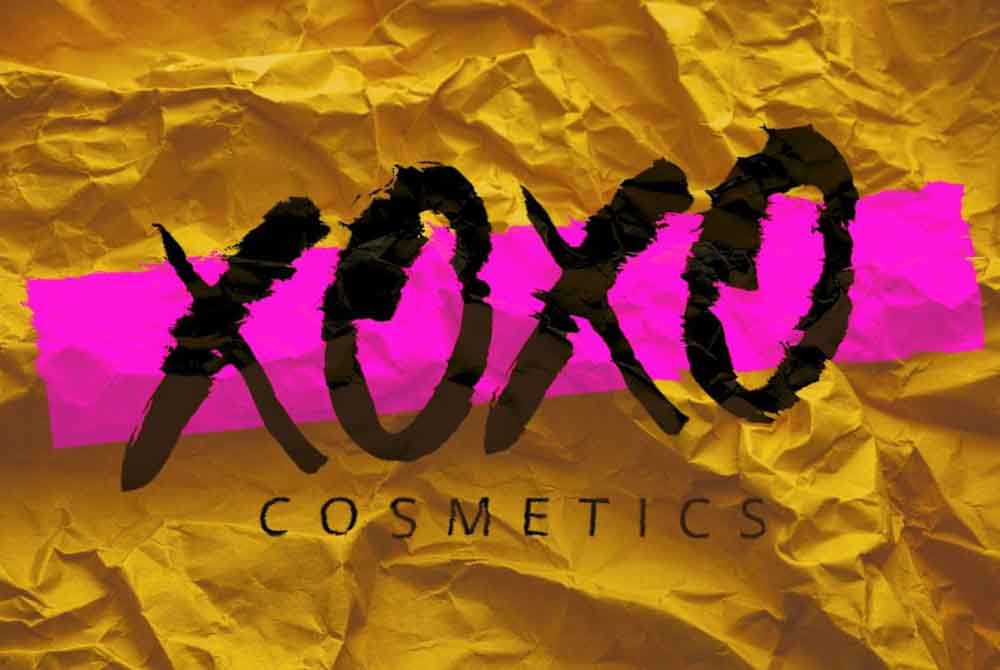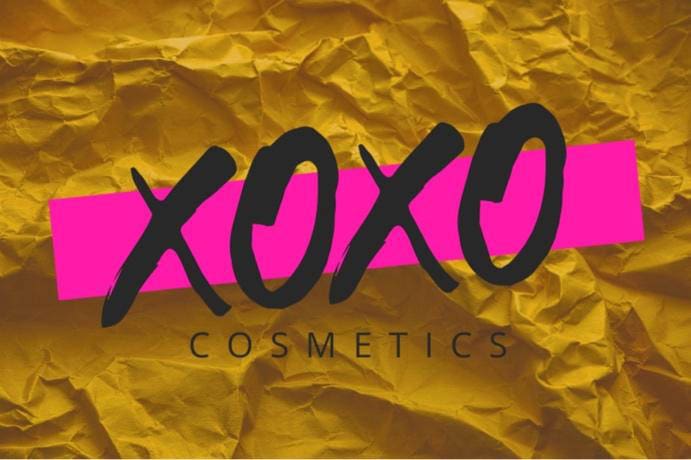 Displacement maps can be finicky, but with some patience to experiment with the scale values, you can get some awesome results.
Happy Editing!