The Best Ways To Export Photos From Lightroom
So you've just finished editing your masterpiece in Lightroom, and it's time to export. The trouble is, with so many different options and panels, where do you even begin? Not every image should be exported in the same way. That's because it all depends on where you intend to use the photo! It's important to remember the best ways to export photos from Lightroom for all kinds of uses.
The guide will share the best ways to export photos from Lightroom for a variety of purposes. Whether that be print, social media, or your website, this post has all your answers.
How To Select Photos To Export In Lightroom
Luckily you have the option to choose how many images you export at once from Lightroom. Imagine if you could only export one image at a time after editing hundreds of photos from an event? Yikes.
To select multiple images individually, hold command (Mac) or control (PC) and click on your desired files.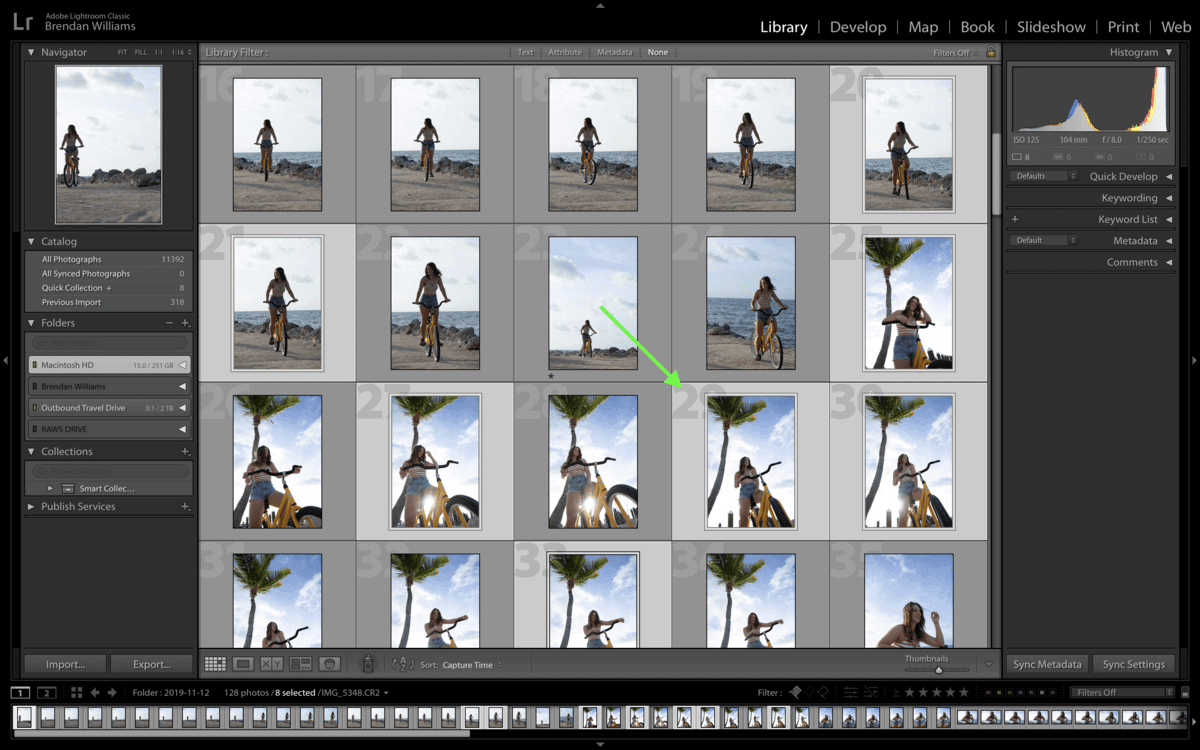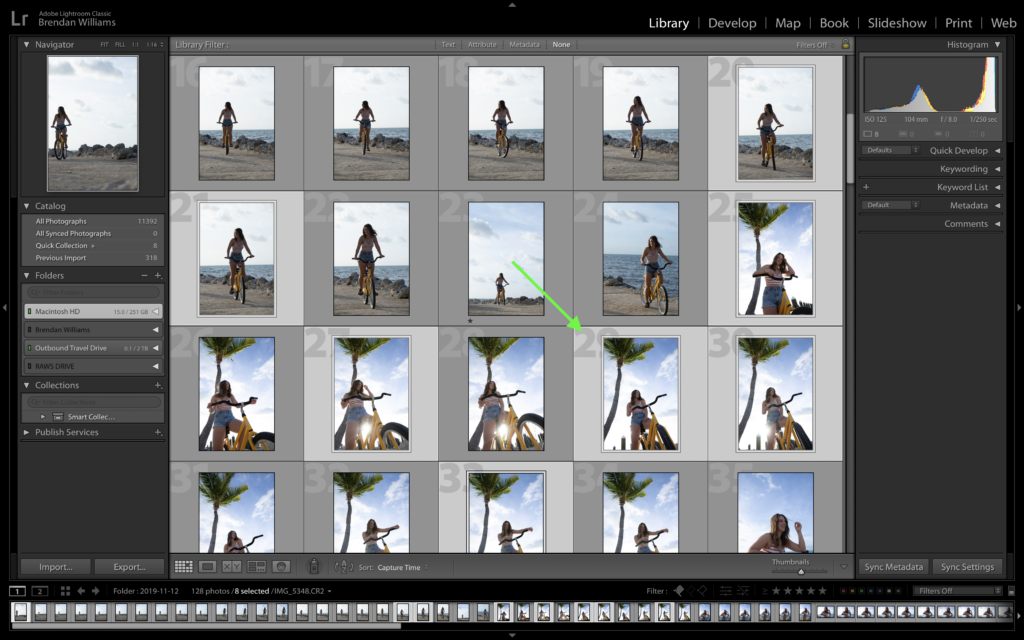 If you want to select a row of images, hold shift, and click between the first and last photo in the row.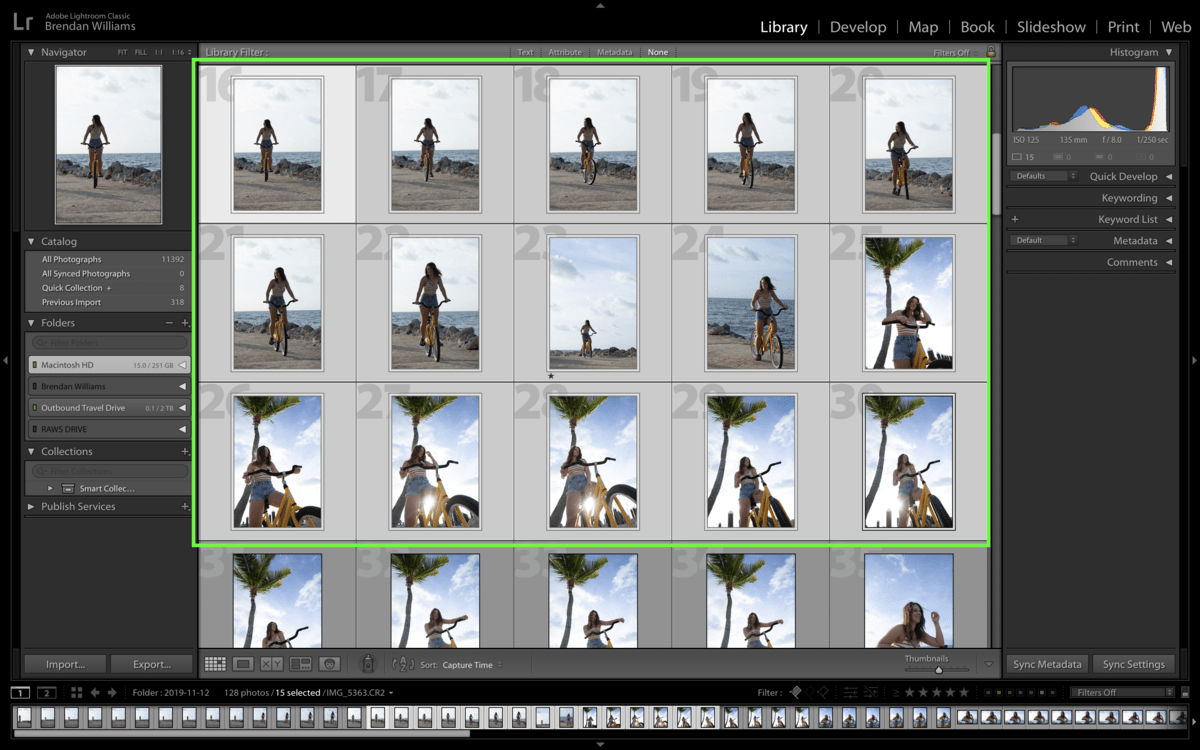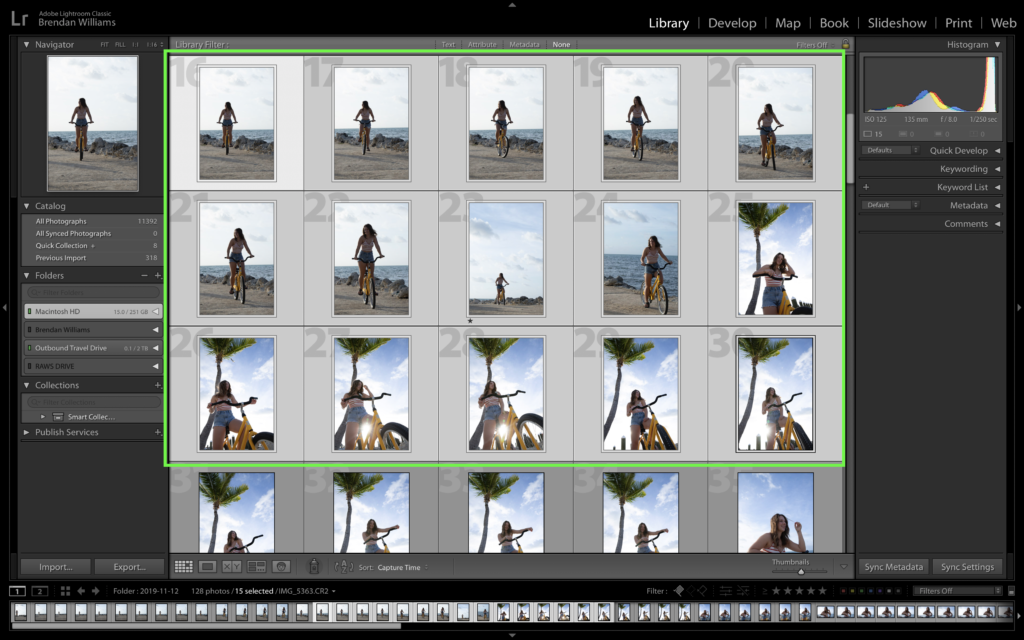 When a photo is selected, it will have a lighter colored highlight around it.
There isn't a limit to how many photos you can export at once. However, your Lightroom export will take longer the more images you have!
Remember that when batch exporting photos from Lightroom, your export settings will be the same across every photo. If you need to change specifics of individual files, it's better to export them separately.
Once all your photos are selected, go up to File > Export to begin exporting your images from Lightroom.
You may notice an additional option called 'Export With Previous'. This is a handy tool to remember if you want to export in the same way as before. Rather than going through the Lightroom export dialogue box, it will automatically use the same settings as before.
When you choose the 'Export With Previous' method, your photos will be saved into the location you specified in your previous export!
Where Should You Save Your Lightroom Exports To?
That's totally up to you! There's no wrong answer with this one, besides somewhere that's secure and organized. If you are exporting a series of images from a particular location, consider making a dedicated folder for them. Something like "Vacation Pics 2020" or "Wilkinson Wedding" for example. This way, you can easily find your Lightroom exports long into the future.
I personally save all my files to an external SSD drive. The primary reason being that it keeps the files off my actual computer storage. The fewer files you have bogging down your computer, the better your machine will operate!
Of course, this won't make much of a difference if you're just exporting a few JPEG images. However, if you're dealing with thousands of photos or TIFF files, an external hard drive may be a good investment.
Understanding The Export Dialogue Box In Lightroom
To make your life easier going forward, let's quickly take a moment to break down the export dialogue box in Lightroom.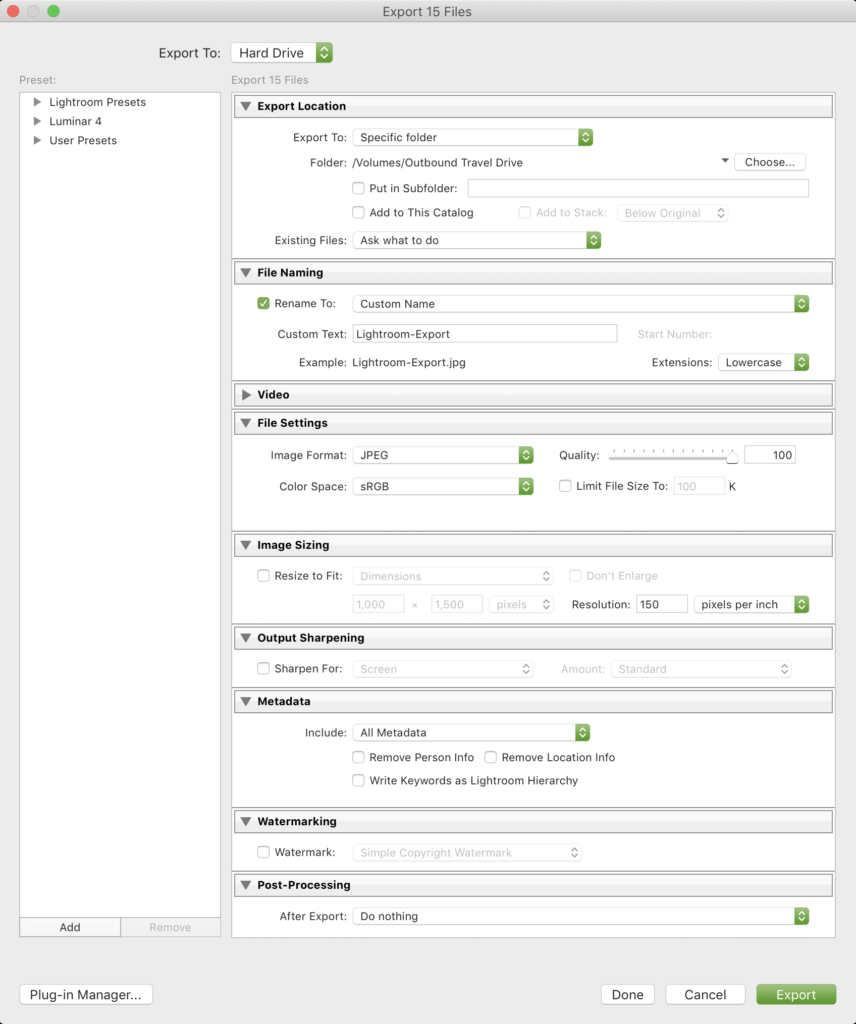 1. Export Location
The Export Location tab lets you choose where your file will be saved. You can also create a sub-folder to export your files into through this tab.
2. File Naming
Renaming your exported files to any name you wish. There are a variety of preset options available to rename your exports—things like file name, date, sequence, or custom naming. Here you can choose whatever best suits your needs.
3. Video
Not applicable for exporting photos from Lightroom. You can ignore this tab.
4. File Settings
This tab allows you to specify the file type, quality, and color profile of your exported images. Here you can choose to export between JPEG or TIFF for example, and even select the final file size!
5. Image Sizing
Here you can adjust the resolution and dimensions of your exports. This is useful in scenarios that require a low-resolution image or a particular image dimension.
6. Output Sharpening
Adds an additional sharpening to your image to enhance the details, depending on where it will be displayed. There are different options for web or print finishes.
7. Metadata
Metadata is all the information behind your photo. Things like camera settings, author, copyright info, location, and more can be found here.
8. Watermarking
Watermarking will place a custom watermark over your photo. You can upload your own custom watermark or create one by selecting 'edit watermark' in this tab.
9. Post-Processing
Let's you choose what happens after the export is finished. If you want to immediately see your files in their saved location or open them in a new application, you can choose that here.
How To Export Images From Lightroom
Now that you understand the purpose of each tab let's go over the general workflow you should follow when exporting images from Lightroom. After you've selected your desired images, follow the steps below each time you export photos from Lightroom. The settings you choose will depend on the intended purpose of the picture. I'll get into the specific settings in the next section. For now, let's just focus on the process!
Step 1: Set Your Export Location
The first step when exporting photos from Lightroom is to choose an export location. This place will be the new home for all the files you're about to export.
Set your 'Export To' option to Specific Folder.

Choose a destination folder on your computer to save your Lightroom exports. To do this, simply click the 'Choose' button and select a folder on your computer.
If you are exporting a large number of photos, consider creating a subfolder. Check off the 'Put In Subfolder' option and choose the name of your new folder. With this checked, all your exports will be saved to their destination inside your new subfolder.
Leave the 'Existing Files' option set to 'Ask What To Do'. This way, a prompt will appear asking you what to do if there are duplicate file names in the destination folder.


Step 2: Rename Your File
Unless you just want your file to be named to something like IMG_4756, check off the 'Rename To' option.

Choose one of the options from the drop-down menu that best suits your tastes. There's no right or wrong with this, just whatever you prefer!

Step 3: Choose Your File Settings
Do you want to export your file to JPEG, TIFF, or something else? Now's the time to choose! If you just want something for general use and posting purposes, select the JPEG option.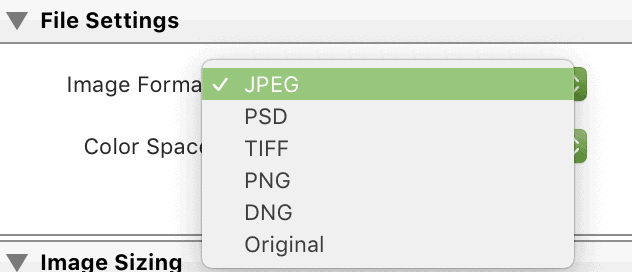 Set your quality slider to anywhere between 85-100. This is an excellent general range if you aren't sure exactly what you'll be doing with your exports yet.
Leave your Color Space set to sRGB.


Leave the limit file size option unchecked. This is only useful for specific purposes that I'll touch on later.
Step 4: Image Resizing & Resolution
If you're not sure, leave the resize image option unchecked. This way, your files will be exported from Lightroom in their original dimensions.


As for resolution, set it to somewhere between 100-150 pixels per inch. This will create a nice resolution image for general, all-around use.
Step 5: Output Sharpening
Leave the output sharpening option unchecked. It's best to use the sharpening adjustments in Lightrooms Detail Panel. In that panel, you'll have far more control over your sharpness rather than a preset sharpening amount.

Step 6: Choose Metadata and Watermark Options
The last step to take when exporting an image from Lightroom is to choose your metadata and watermark options. In most cases, I tend to leave my metadata set to 'All Metadata'. This will include my copyright info, location data, camera settings, photographer info, and any keywords I tagged it as.
If you don't want to have certain bits of information in your photos' metadata, check off the necessary boxes in the Metadata tab.

As for watermarks, it's up to you whether to include them or not. Unless you want your name/logo stuck to your Lightroom exports, I'd suggest leaving this option unchecked.
Best Settings For High Resolution Exports From Lightroom
Now let's get into the meat and potatoes. What are the best settings for high resolution exports from Lightroom? The answer will all depend on what you intend to use the images for. Whether that be exporting images for print, web, or social media, there are some unique settings for each. Let's go over the best export settings in Lightroom for a variety of scenarios.
The Best Lightroom Export Settings For Print
When you want to print a photo, you need to have the highest resolution possible. After all, the more available detail, the better your print will appear! Since file size and load speeds aren't a concern here, you can use a higher PPI (Pixels Per Inch) for prints. Try the Lightroom export settings for print below and get the highest resolution possible from your photos.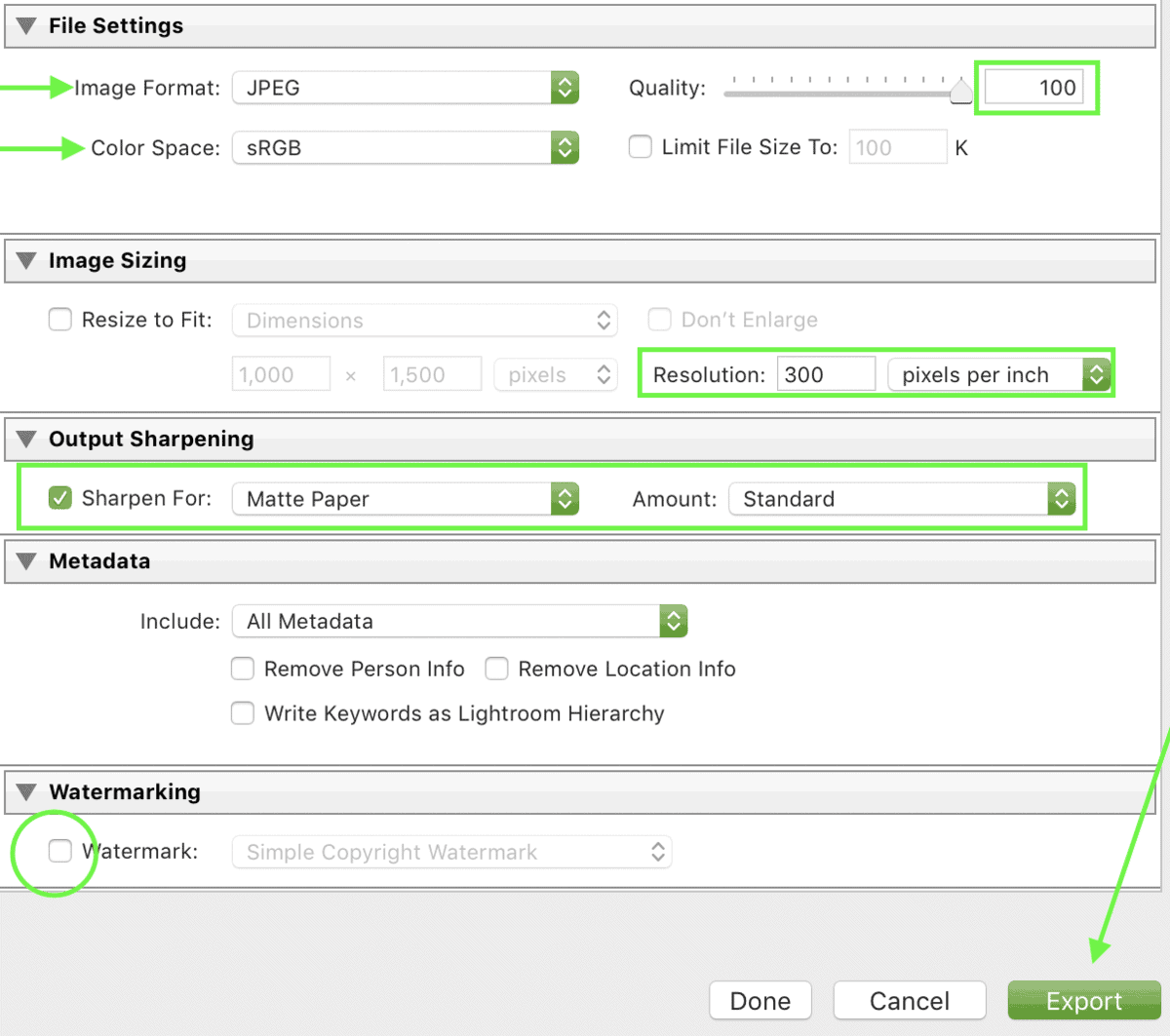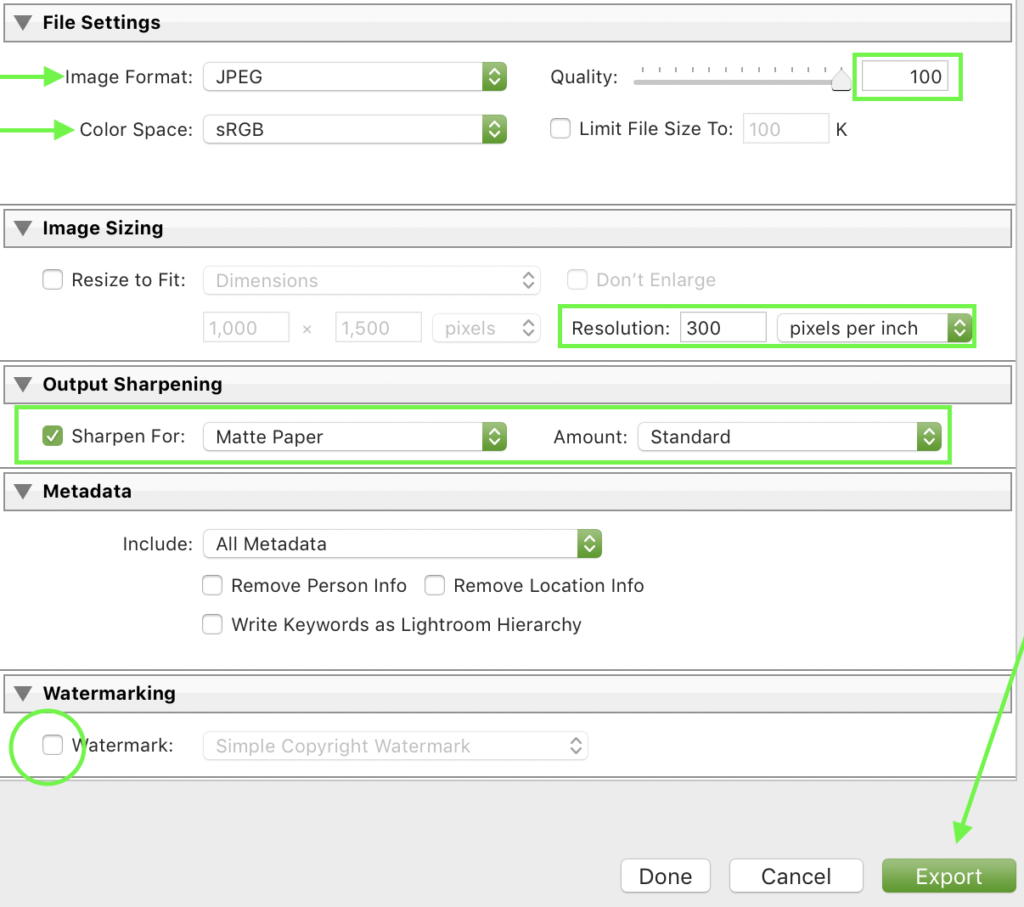 #1. Set file type to JPEG and Color Space to sRGB. Leave your quality slider at 100 and do not limit file size.
#2. Set your resolution to 300 pixels per inch. Leave the resize to fit option unchecked.
#3. Depending on the type of photo paper you intend to use, select the 'Glossy' or 'Matte' sharpening option. Leave the amount set to standard.
#4. Make sure you do not have a watermark on your image. Otherwise, you'll end up with your name/logo permanently printed on your photo.
#5. Click Export.
The Best Lightroom Export Settings For Web
When you want to share your photos online, exporting for web is the best option. This outline will provide the best general settings for any online upload you see fit. The trick here is to limit file size to improve load speeds on different websites. This is especially important when it comes to blogging! Below are the best Lightroom export settings for web use.
#1. Set file type to JPEG and Color Space to sRGB. Leave the quality slider and select 'limit file size'. Set the size limit to 1000K (1Mb).
#2. Set your export resolution to 100 pixels per inch. Select resize to fit and choose the 'long edge option'. Set the long edge dimensions to 2048 pixels. You can adjust this amount if you want different dimensions to better suit the style of your site.
#3. Leave output sharpening unchecked. Make all your sharpening adjustments in the Detail Panel while editing your photo instead.
#4. Click Export.
The Best Lightroom Export Settings For Instagram
When you upload a photo to Instagram, it automatically compresses the file. This means you want to export with the best image quality possible so that the compressed upload still looks good. With Instagram automatically doing most of the work for you, it doesn't really matter how you export your photo for this medium. With that said, there are a couple good rules of thumb to follow.
#1. Set your file type to JPEG and choose the sRGB Color Space. Put the quality slider up to 100 and do not limit the file size.
#2. Set your image resolution to 100-150 pixels per inch. This creates a good balance between image resolution and file size.
#3. Leave the output sharpening option unchecked.
#4. Click Export.
The Best Lightroom Export Settings For Facebook
Just like Instagram, Facebook will automatically compress your image file. The difference is Facebook displays a wider variety of photo dimensions and is viewed across many devices. To make your images load better and retain a high resolution, you can use a blend of the web and Instagram export settings. Below are the best Lightroom export settings for Facebook images.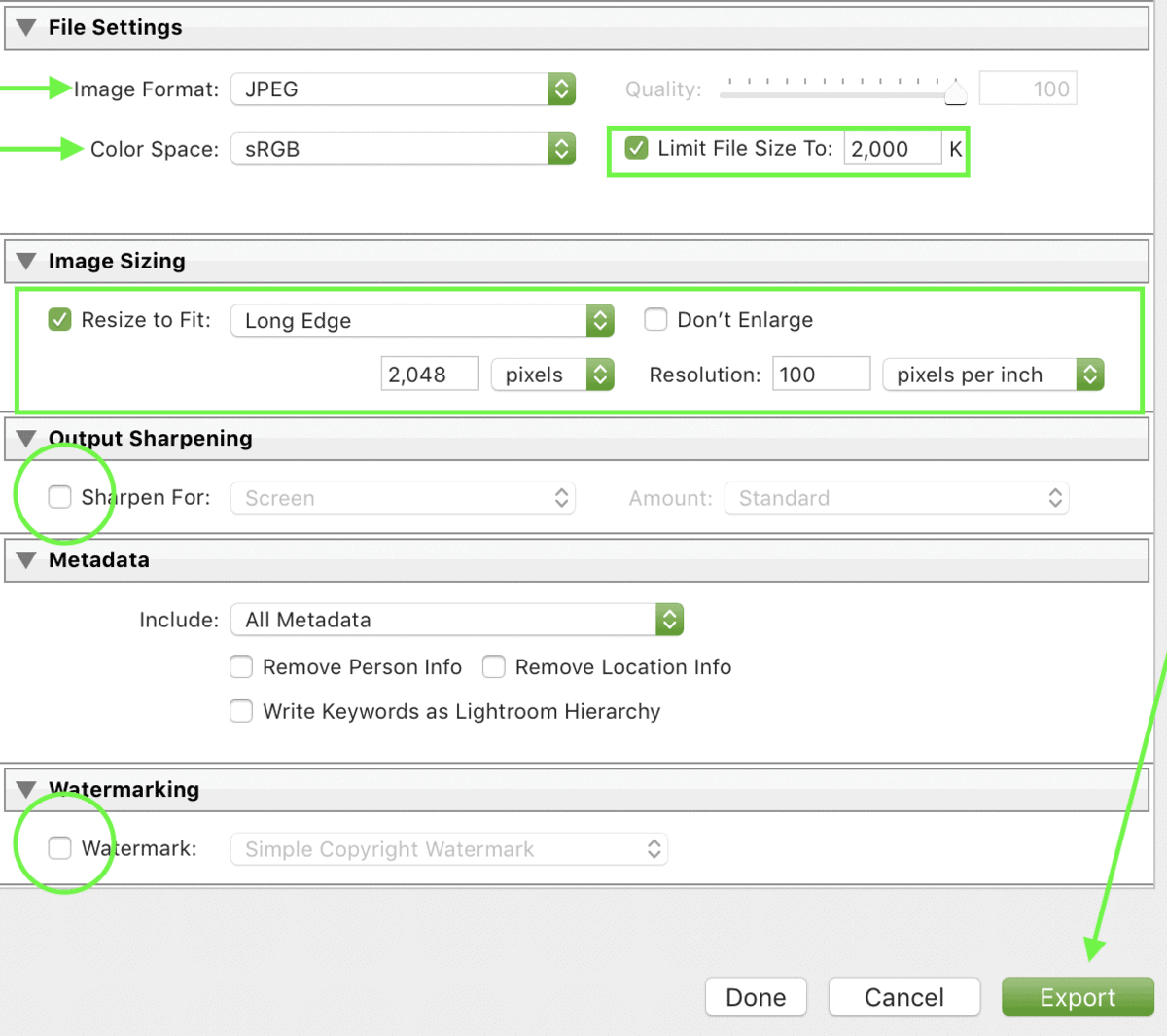 #1. Set the file type to JPEG and select the sRGB Color Space. Limit your file size to 2000K (2Mb).
#2. Put your image resolution at 100 pixels per inch and select the resize long edge option. Set the long edge dimensions to 2048 pixels.
#3. Leave the output sharpening option unchecked.
#4. Click Export.
How To Create Export Preset In Lightroom
Over time you'll find yourself exporting thousands upon thousands of photos from Lightroom. Chances are, you'll continue to use the same few export settings each and every time you export. Rather than manually selecting every setting for all your exports, you can make a preset to speed up the process!
For example, you could create a preset with the best export settings for web, Instagram, and Facebook. That way, you can quickly access those specific settings without any additional brainpower.
Here's how to create an export preset in Lightroom:
Step 1: Set the export settings that you wish to create a preset with
Depending on what type of Lightroom export preset you want to make, this will differ. For example, you could put together the best export settings for web to create a preset with.
Step 2: Click ADD at the bottom of your export preset panel
Once happy with your export settings, click the ADD button to create a new user preset.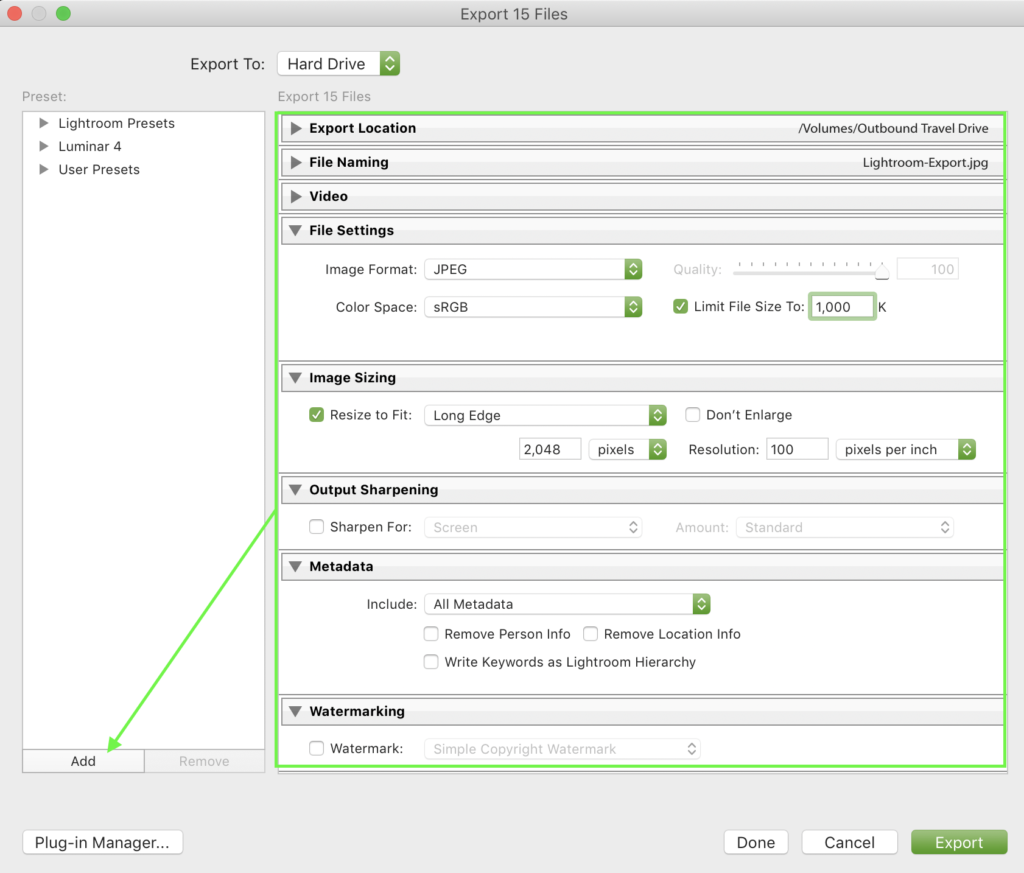 Step 3: Name your export preset and click create.
In the new dialog box that appears, set the name of your user preset. Once happy, click create.

Where To Find Your Lightroom Export Presets
You can create a number of different export presets to use in Lightroom. Luckily they'll all end up in the same place for easy access! You can find your export presets under the 'User Presets' tab in the preset bar of your export window.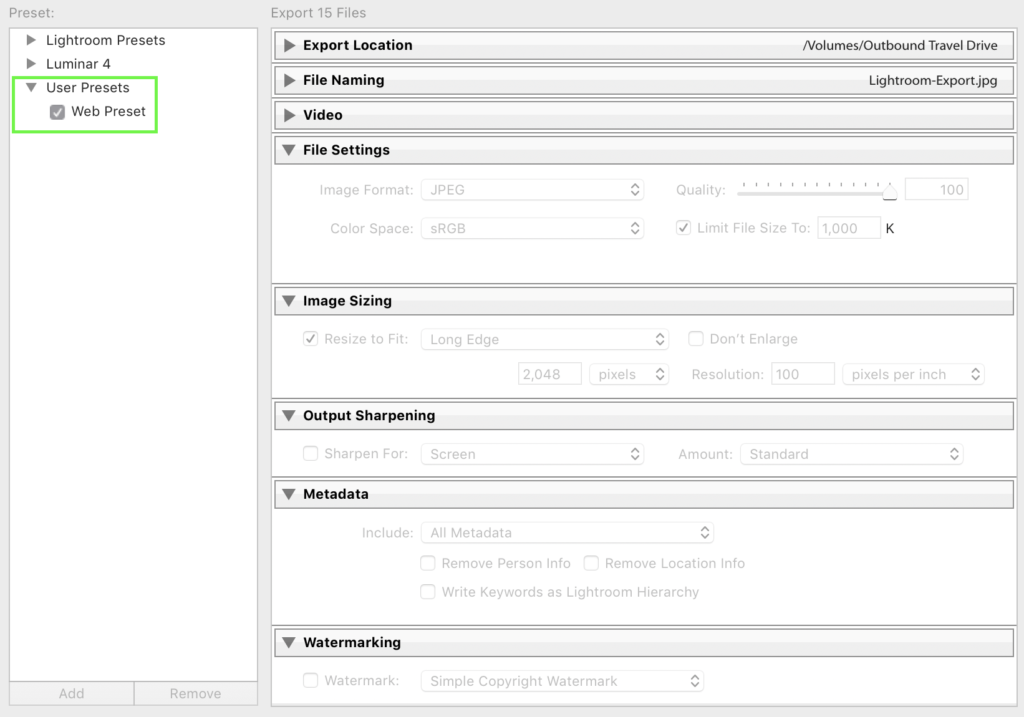 More Lightroom Tutorials You Might Like:
Conclusion
Now you know the best way to export photos from Lightroom in a variety of scenarios. Whether you're exporting images for web, social media, or print, there's an option in Lightroom for you. To make your life easier down the road, take advantage of and create your own export presets in Lightroom. That way, you won't need to remember all these specifics each time you're exporting an image.
If you found this post useful, be sure to share it with a friend and support this blog!
If you want more tutorials like this one, be sure to subscribe to my weekly newsletter for more photography and photo editing tips!