Once you've imported your images into Lightroom, you might feel a bit stranded when it comes to seeing the actual file size of your photos. Although not completely obvious, there's a simple trick to making your file sizes viewable inside the Library Module.
To see the size of a file in Lightroom, select a photo while in the Library Module and open the Metadata Panel. After changing the metadata set to "EXIF and IPTC" you will see a file size displaying your image size in MegaBytes (MB) and pixels.
Depending on what file size information you want to see, there are a few different viewing options available in Lightroom. In this post, I'll share all of the options available, along with how to change these image file sizes. Let's get started!
3 Ways To See File Sizes In Lightroom
1. EXIF and IPTC Metadata Set View
The best way to view the size of a file in Lightroom is with the EXIF and IPTC metadata set preview. This option changes what metadata information is displayed to include both the megabytes and dimensions of your file.
To access this option, first, make sure you're in the Library Module of Lightroom. This will not work in any other module.

With the photo you want to view the size of selected, click on the arrow beside to Metadata panel to reveal it.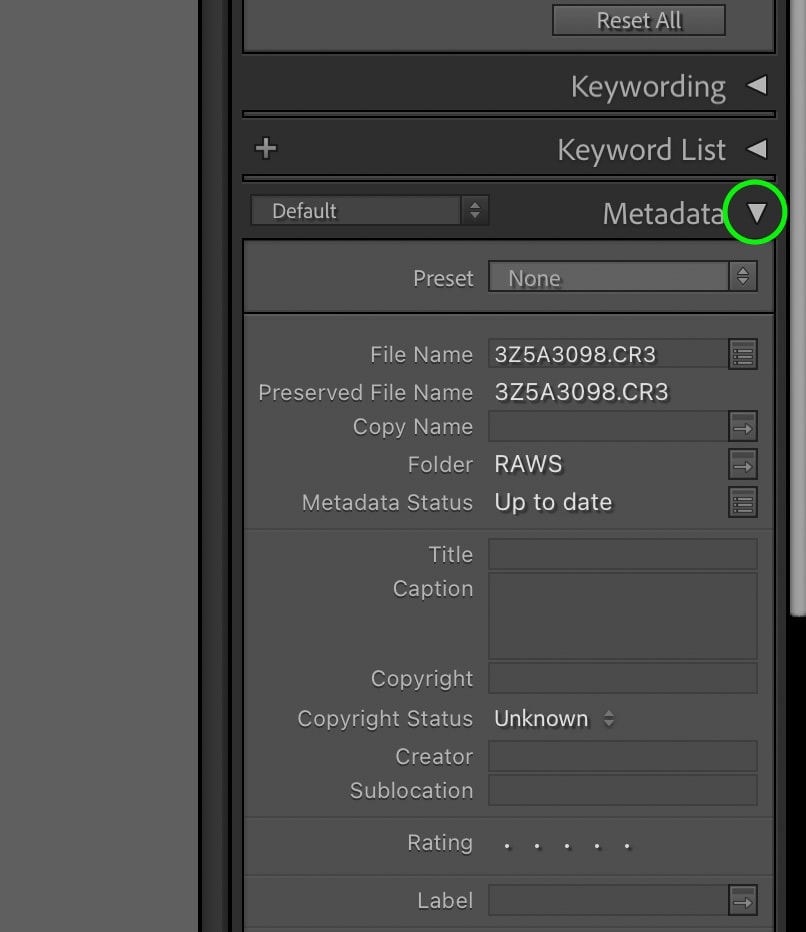 In the default metadata set, you will see basic information such as file names and camera settings. This isn't much help for actually viewing file sizes. So instead, you need to change the metadata set by clicking on the dropdown menu found beside the word "Metadata."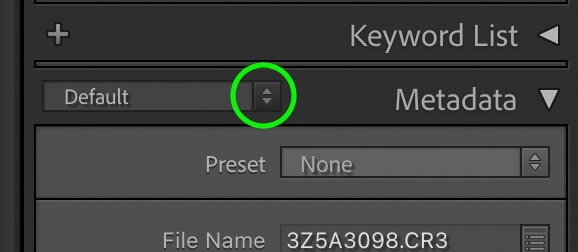 Then select the "EXIF and IPTC" option to select that new metadata set.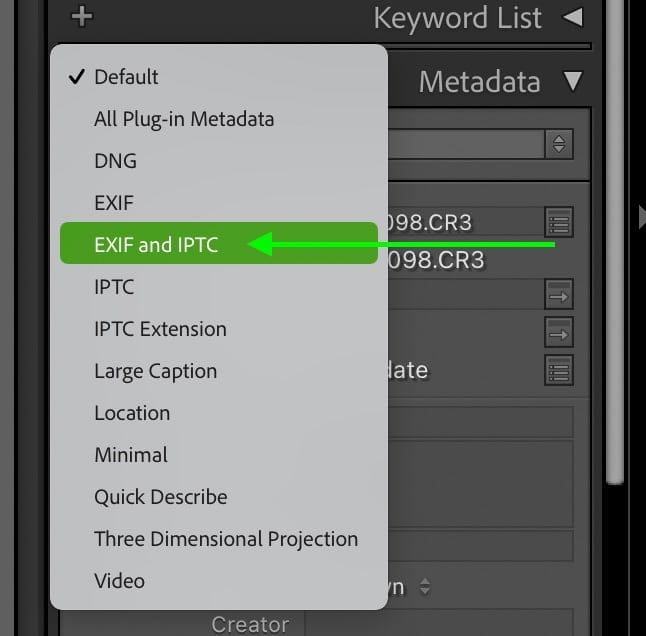 Now you will see some different options in your metadata panel, including the file size and image dimensions. The file size will be listed near the top of the metadata panel, often as MB (megabytes). If you are working with a tiny file, you might see something like 400K instead, which represents Kilobytes. Lastly, if you have a large file, such as a PSD, you may see GB (Gigabytes) listed.
Regardless of the format, this option will show your selected image's current file size.
The photo's file size represents the amount of space it takes up on a hard drive. On the other hand, image dimensions share how large the width and height of your photo are in pixels. This is listed further down the metadata panel in the EXIF section. For your original image dimensions, simply look at the values listed beside "Dimensions."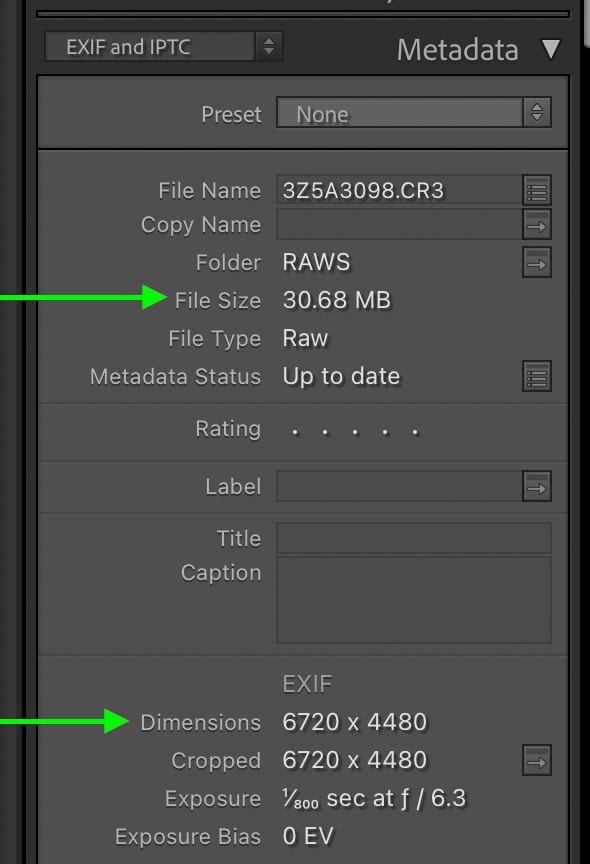 2. File Info Overlay
If you don't need to view how many megabytes your photo is in Lightroom and want to focus on image dimensions, then there's an easier option to try. In Lightroom, there is something called info overlays to show you image dimensions and camera info with a single click.
First, make sure you're using the Loupe View in the Library Module, or you can use the Develop Module instead.
Then press I on your keyboard to bring up your file information. You will toggle between two different info overlays or hide the overlay completely by pressing I multiple times. The overlay you want to use is the one that reads your image dimensions—something such as 4326×6274, for example.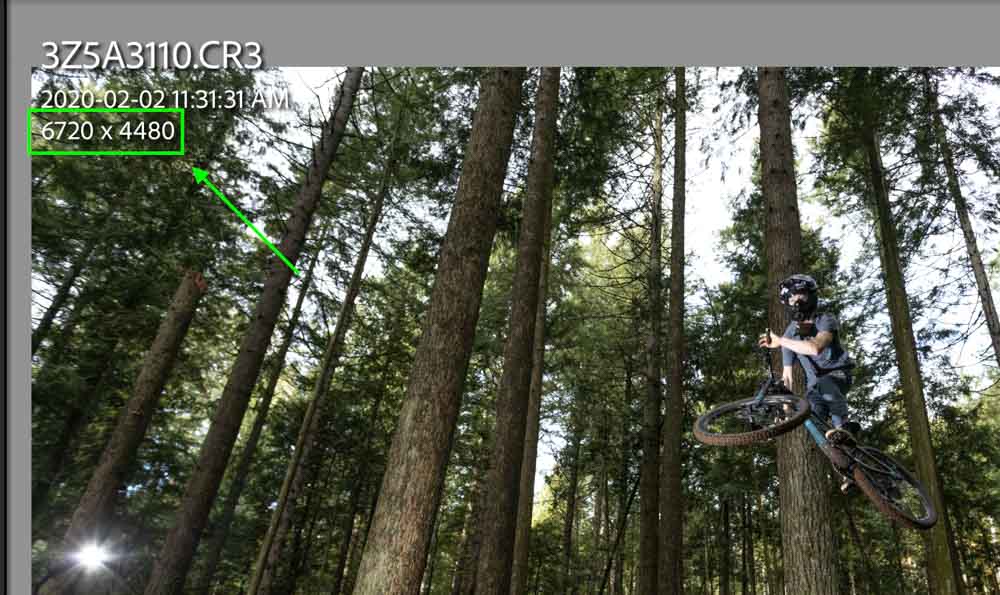 By leaving this info overlay turned on, you can switch between different photos in your filmstrip to see their file dimensions as well. That way, you can view multiple image dimensions really quickly in any particular Lightroom folder.
If you're not into keyboard shortcuts, you can also bring up this info overlay by going to View > Loupe Info > Info 1.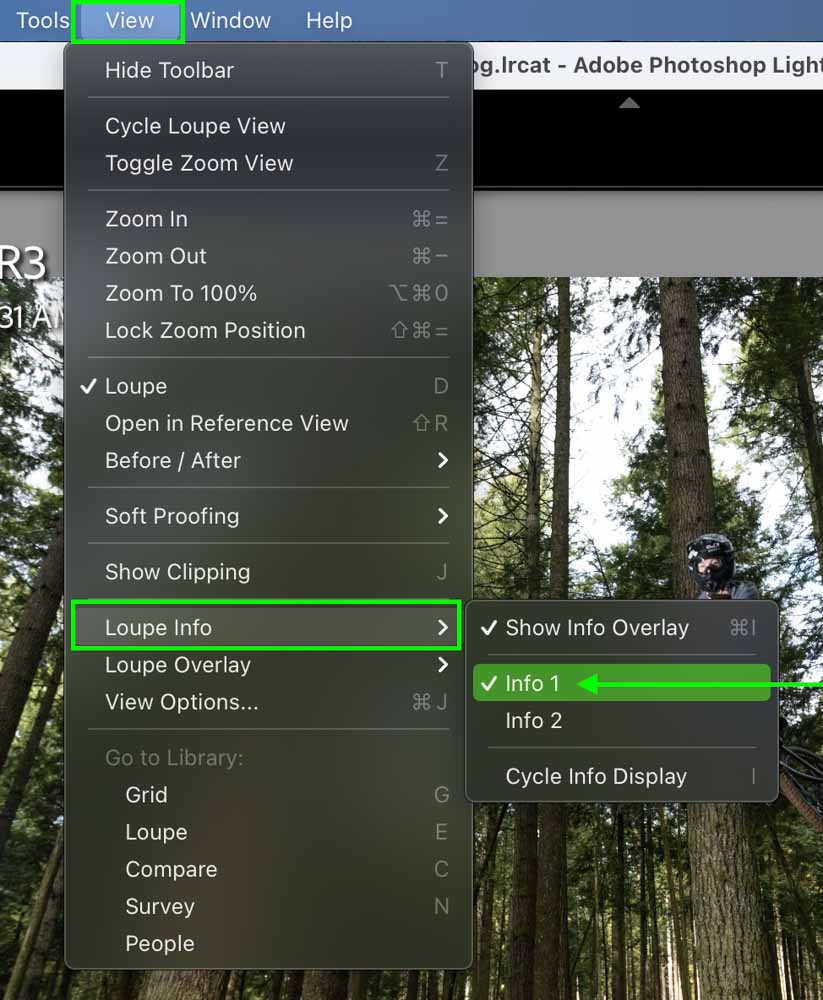 3. Viewing The File Directly On Your Computer
As a last resort, you can directly view the file on your computer to see the total file size. Although this isn't inside of Lightroom, it will still get the job done. There are two ways you can go about this.
The first is to right-click on your image and select "Show In Finder." On PC, this will look slightly different reading as "Show On Computer."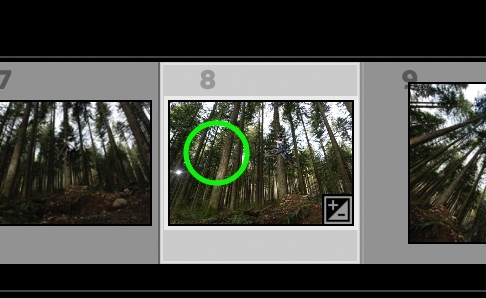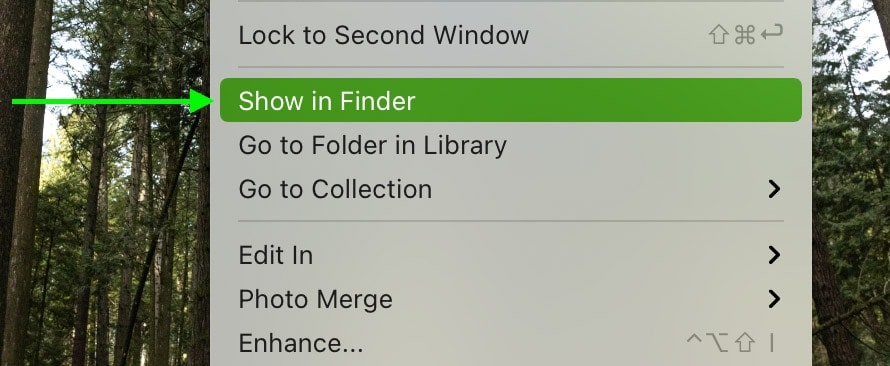 Lightroom will then locate your selected file on your computer, where you can find the file size listed directly beside the photo.

If you want to check on the file size of multiple files inside a single Lightroom folder, it can be a better idea to search the entire folder instead. By right-clicking on your folder and selecting "Show In Finder" (Mac) or "Show On Computer" (PC), it will locate the selected folder on your computer.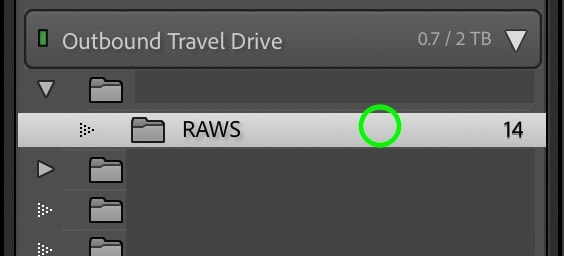 Once inside, you can view all of your imported files and their file sizes at once.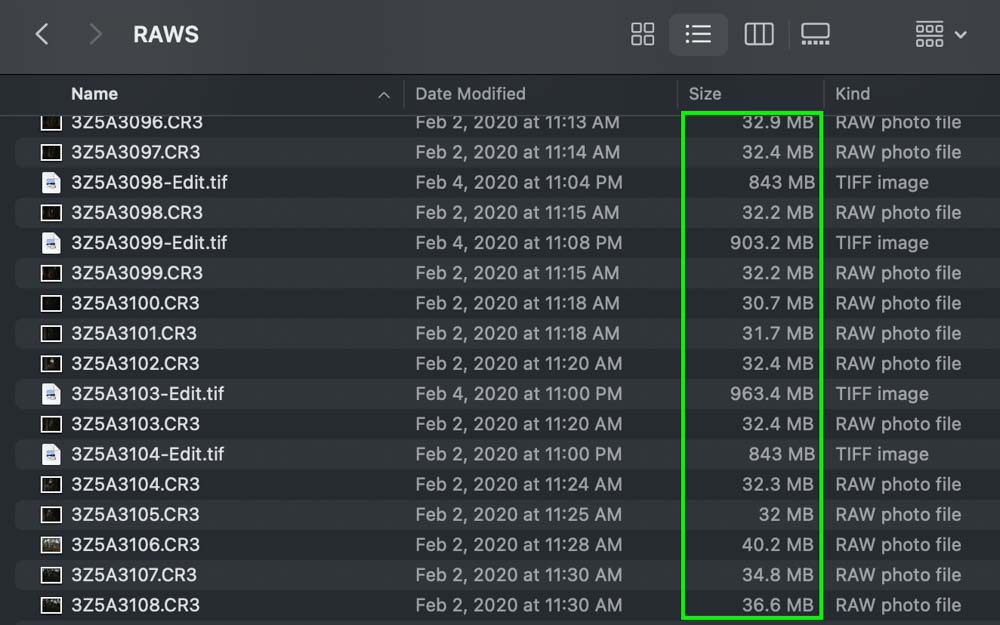 If you want to check on a specific set of files in a folder, simply look at the file name inside of Lightroom found above the filmstrip.
Then locate that file name in the folder on your computer.
How To View Cropped Image Size In Lightroom
After cropping a photo in Lightroom, you can view the new image dimensions in the Metadata Panel in the Library Module. Changing the Metadata Set to "EXIF and IPTC" will reveal the cropped image dimensions, as well as the original. You cannot see the file size of a cropped image without exporting.
Let's break that down in a more step-by-step approach.
First, you'll need to crop your photo inside of the Develop Module. Selecting the Crop Tool, changing your cropping area, and committing to your changes, you will have successfully cropped your photo. If you're unfamiliar with this process, check out this guide to cropping and straightening photos in Lightroom.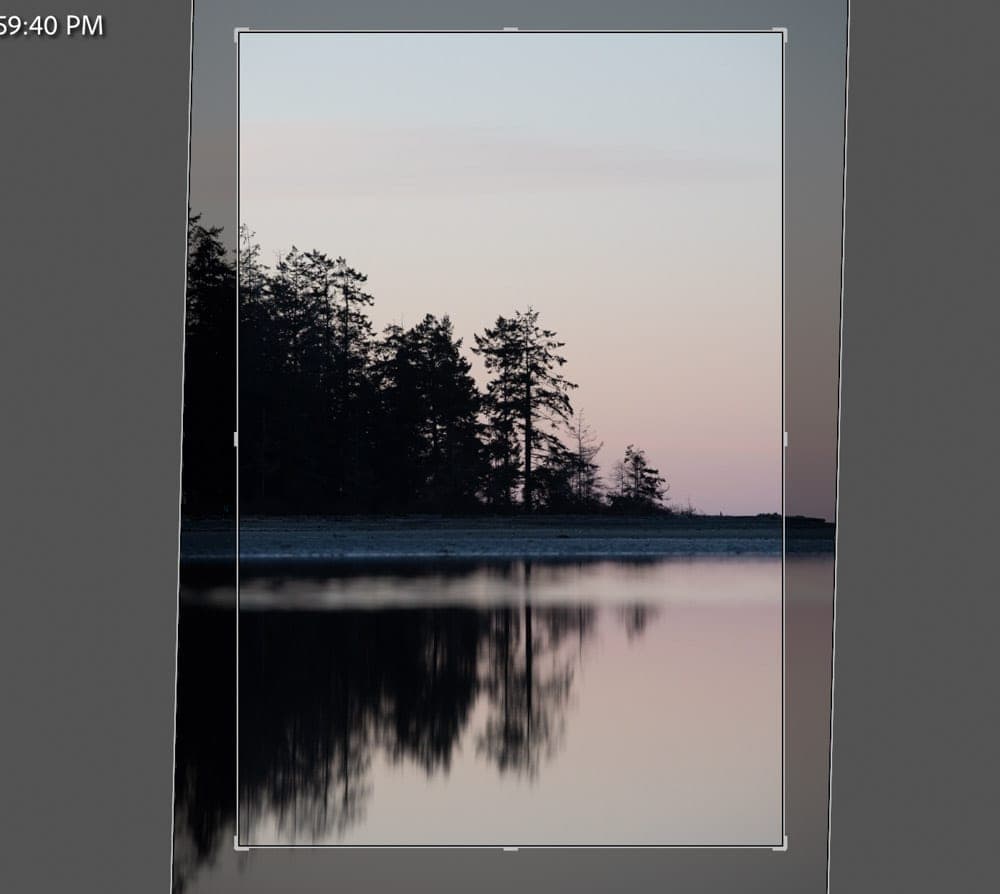 Once your photo is cropped, switch back to the Library Module to view your metadata options.

Like before, to view your file sizes, change the Metadata Set to "EXIF and IPTC."
Under the EXIF section, you will see two different values called "Dimensions" and "Cropped." The Dimensions option shows your original file dimensions, while the Cropped option displays your current dimensions based on the crop adjustments made in Lightroom.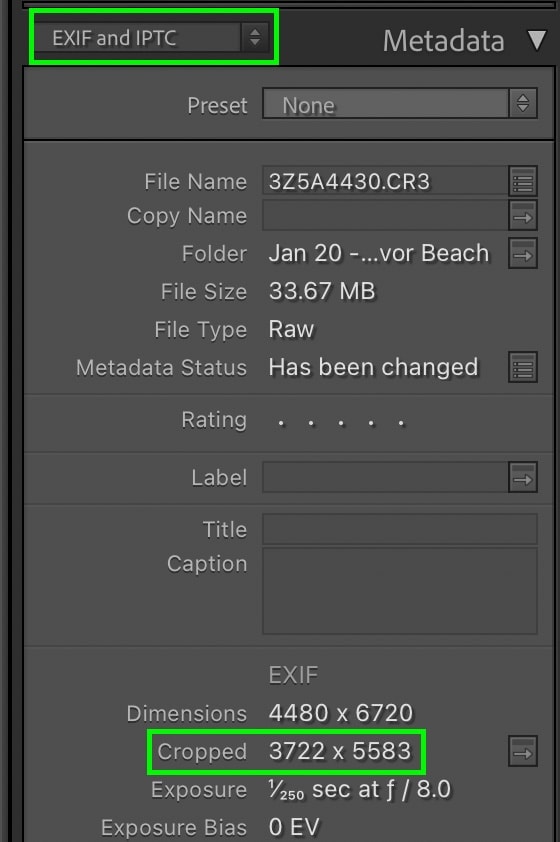 As you'll notice, the file size for your image will not change after cropping your photo in Lightroom. Since Lightroom works non-destructively,  it only displays the original file size of your image. You will not be able to see the updated size of the cropped image until you export it.
How To Change File Sizes In Lightroom
To change a file size in Lightroom, go to File > Export and access the File Settings panel. Set the format to JPEG, check off the "Limit File Size To" option, and type in your new desired file size. Once complete, click export to change the file size of your photo.
Unfortunately, there is no way to change the size of your file directly in Lightroom. However, with the file settings panel, you can control the exact file size of any exported photo.
Just as with any export from Lightroom, select your images and go to File > Export.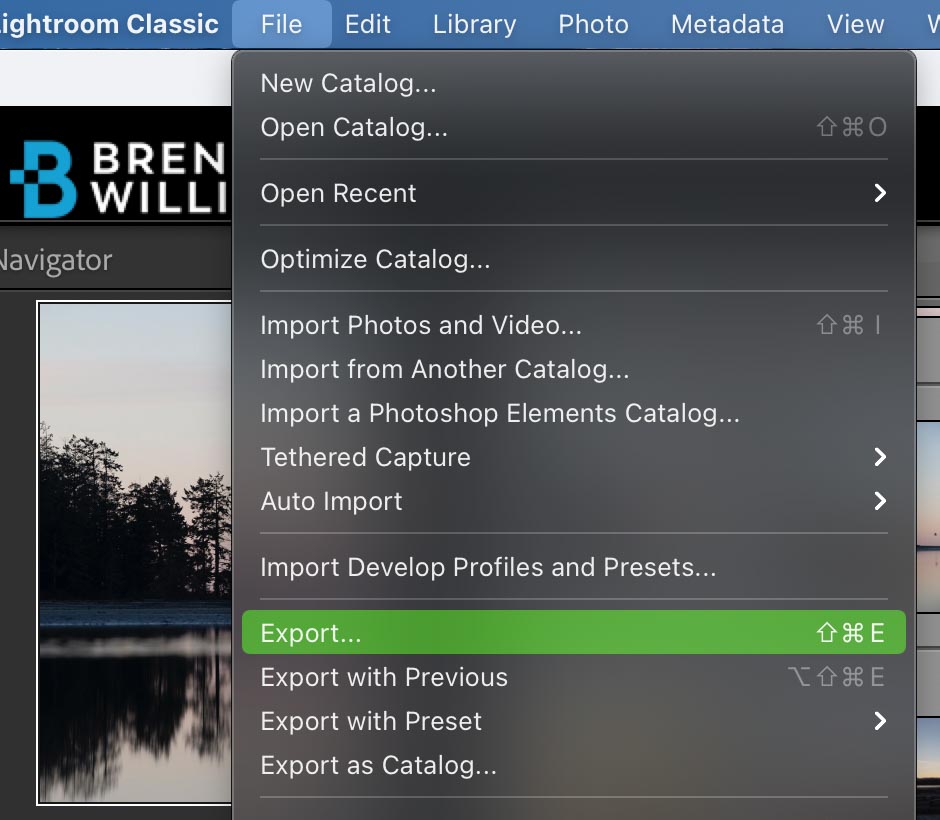 For changing the file size, the File Settings panel is where all your options will be found. As a general image export, set the format to JPEG. Now, to change your file size, check off the "Limit File Size To" option.

Here you can type in how large you want your photo to be in Kilobytes. For example, if you wanted your photo to be 1MB, you could set the limit to 1000K (1MB).
Once your file settings are in order, click export to change the file size of your photo. It's important to remember that this newly created file will exist only on your computer, not in Lightroom. If you wanted this exported file to appear back in Lightroom, you would need to reimport.

This method is the most straightforward as it gives you control over the exact size of your photo. Let's take this one step further and look at other factors that can change the size of a file in Lightroom.
Factors That Will Change Exported File Sizes
– File Type
The first thing that will affect the size of your image export is the file size you choose. The more compressed your file, the smaller the file will be.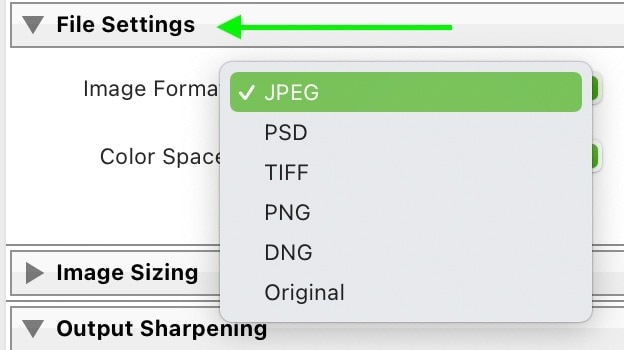 For example, a TIFF file will be significantly larger than a JPEG simply because it stores more color information. Below is a list of export types in Lightroom from largest to smallest file sizes.
Original (RAW)
TIFF
DNG
PSD
PNG
JPEG
If you want the smallest file size, JPEG is the option to choose. However, if you want more file information and store your editing data in one file, a TIFF will be better suited.
– Resolution
The second factor that will adjust the size of your files in Lightroom is the resolution. This doesn't play as big of a role when viewing an image on a screen but makes a very noticeable difference in print. With a higher resolution, there are more pixels per inch (PPI), making the file size slightly larger and look better when printed.

For most exports, I keep my resolution between 150-250 PPI for general use. For low-res files that I need to limit the size of, I'll opt for a 25-50 PPI resolution instead.
This can all be easily changed inside the Image Sizing panel under Resolution.
In short, a lower resolution will reduce the size of your file, while a high resolution will make it slightly larger.
Easy peasy.
– Image Dimensions
Finally comes image dimensions. Depending on the width and height of your photo, it will change in file size accordingly. If you are looking to save on file space, you can reduce the image dimensions inside the Image Sizing panel.
Here you can choose between various sizing options depending on which aspects of your photo you want to adjust.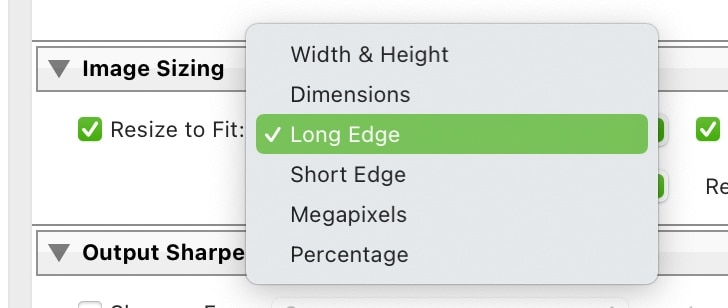 I like to use the Long Edge option to set the longest part of my photo to a specific length. By typing in 1200 pixels, the longest edge of my exported image will be resized to that option, regardless of its orientation.

One important thing to remember is to check off the "Don't Enlarge" option. This way, any image that is smaller than your specified image dimensions will not be scaled up to fit them.
This can lead to a lower quality image in some cases, so it's best to avoid this by checking off "Don't Enlarge."

Now you have a handful of new skills to help view the size of a file in Lightroom and change file sizes before your export. File sizes can be important for certain project requirements or simply to save space on your computer. Whatever your reason, now you have the know-how to make it happen!
Happy Editing,
Brendan 🙂