Canon EF and EF-S lenses can be very easy to confuse if you're first getting into photography, but these two lens types are significantly different from one another. Purchasing the wrong one can be the difference between capturing a great photograph and not capturing one at all! Here is my quick guide to help you understand what a Canon EF vs. an EF-S lens is and how to pick the right one for your photography kit.
What's The Difference Between Canon EF VS EF-S Lenses?
Canon's camera bodies come in two distinct types: full frame sensor cameras and APS-C (otherwise known as a crop sensor) cameras. I could get into the differences between a full-frame sensor and a crop sensor, but you'd be stuck reading for hours — so the short of it is the full-frame sensors capture a full field of view, and the crop sensors capture a cropped view. 
This leads directly to the difference between Canon EF and Canon EF-S. In short, Canon EF lenses are made for full-frame sensor cameras, and Canon EF-S lenses are exclusive to APS-C or crop sensor cameras. Both EF and EF-S are for Canon's DSLR cameras.
The above is certainly the most significant difference, but these lens mounts also break down into other differences.
Canon EF VS EF-S In Quality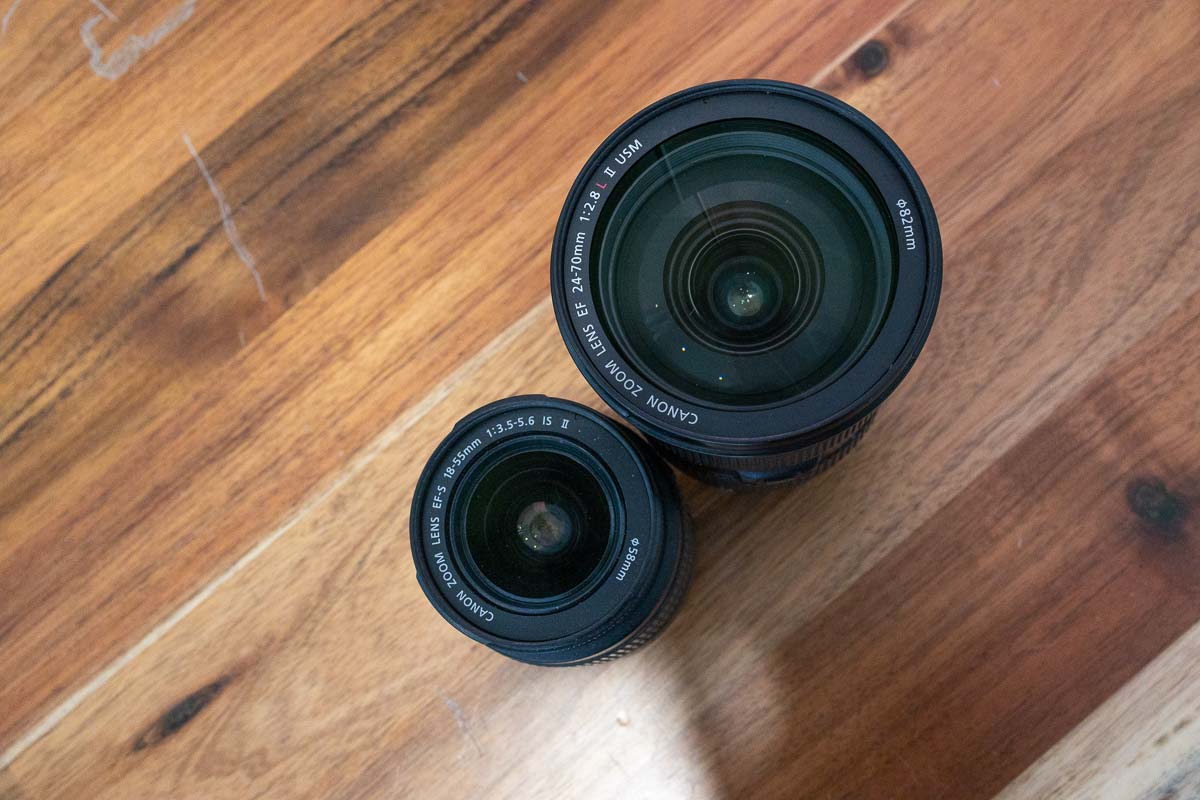 Similar to the differences between a full-frame camera and a crop sensor camera, Canon EF lenses tend to be better quality than EF-S lenses when pixel-peeping into the photographs.
If you zoom in on a photograph taken with an EF lens, you'll find that the subject is sharper and clearer than that of an EF-S lens. However, this isn't noticeable when viewing a photograph in a more average capacity (like on the web or just not zoomed in).
Canon EF VS EF-S In Construction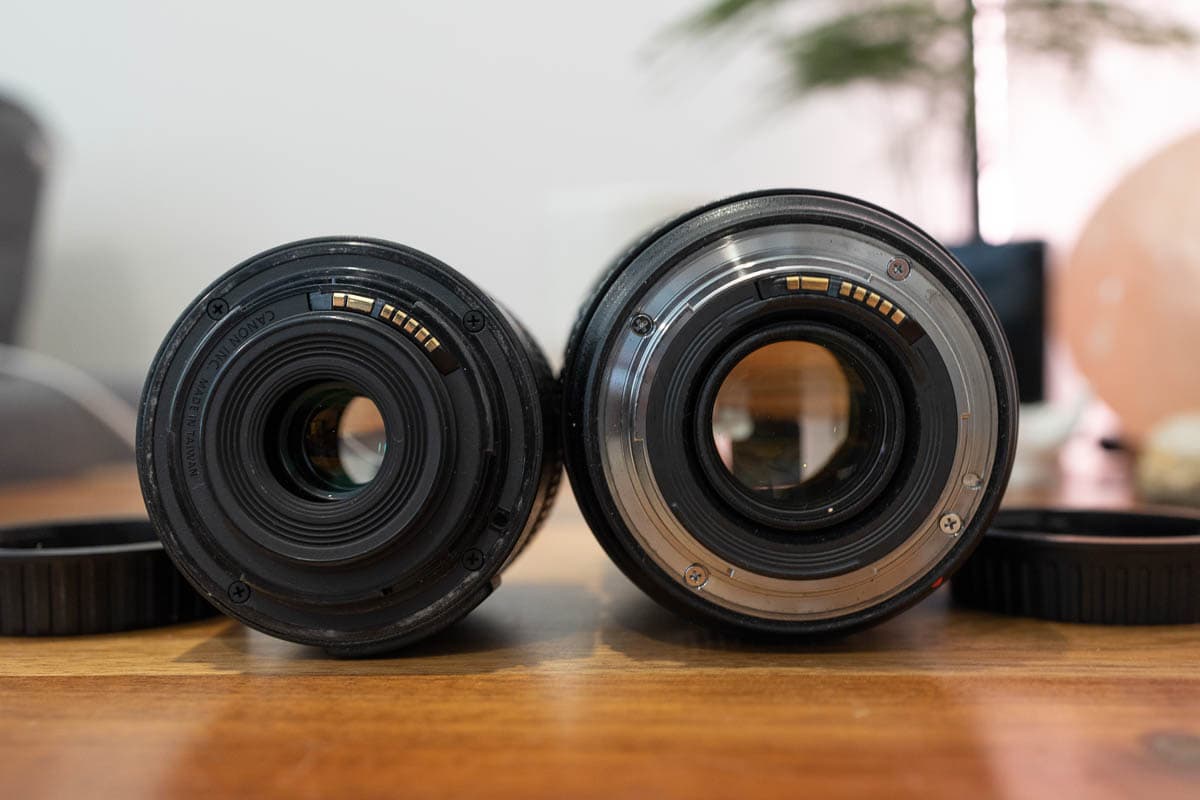 Full-frame lenses are constructed more for the professional photographer than crop sensor lenses. The glass, lens build, and lens features are traditionally better on a Canon EF lens than on a Canon EF-S lens. EF lenses are more durable against bumps and weather. Some dust or splashes of water won't be a problem as long as you clean the lenses regularly. EF-S lenses may not survive the elements as well.
That being said, Canon EF lenses are much larger and heavier than Canon EF-S lenses. Crop sensor cameras are smaller in stature than full frame, and their lenses also tend to mimic this size discrepancy. This can make a significant impact if you're shooting for hours on end, as even a 1lb difference can be felt after a while.
Canon EF VS EF-S In Price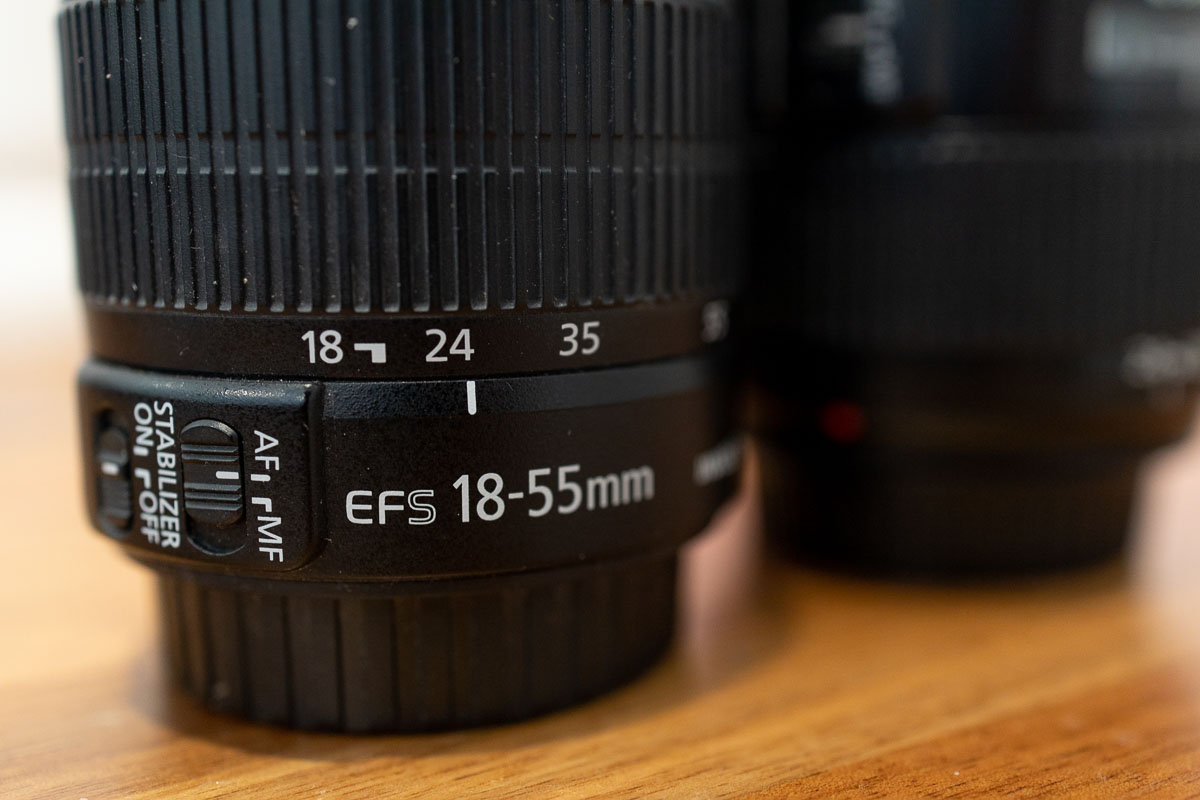 Canon EF-S lenses are much more budget-friendly than Canon EF lenses, often with hundreds of dollars in price difference. Canon EF-S lenses are aimed towards entry-level, hobbyist, and enthusiast photographers and are much easier to afford.
Canon does not produce a luxury or professional line of lenses for EF-S mount, but the company does this for EF mount. As a result, Canon EF lenses are much more expensive, but they also retain their cost value over time.
Photographers have been re-selling used Canon EF lenses close to their original value, while EF-S lenses lose their value quicker.
Can You Use EF Lenses On Crop Sensor Cameras?
Short answer: yes, you can!
Long answer: you can, but the lens will not retain its original properties. The full-frame EF lens can fit a crop sensor camera with ease, but the focal length will be altered due to the smaller sensor size.
For example, the popular 70-200mm EF lens on a full-frame camera will be 70-200mm, but it will become a 105-300mm lens on a crop sensor camera. Your field of view will be narrower and more zoomed in.
This is because the sensor size of the APS-C/crop sensor camera has a crop factor of 1.5x. To figure out how an EF lens focal length will change on a crop sensor camera, simply multiply the magnification amount (1.5 in this case) by the focal length level of the lens.
This can be of benefit to some photographers or a detriment to others. Wildlife photographers often love the focal length change, while landscape photographers may not. If you use an APS-C camera and want to ensure that your focal length is the one shown on the lens, you'll want to use an EF-S lens.
This being said, some photographers would argue that it's still a great idea to invest in EF lenses rather than EF-S lenses if photography is something you plan to pursue long-term. When you can upgrade your APS-C/crop sensor camera to a full-frame one, you won't need to buy new lenses.
Can You Use EF-S Lenses On Full Frame Cameras?
Short answer: no, you cannot.
Long answer: technically, you'll be able to fit an EF-S lens into the full frame mount, but you're not going to want to.
Because EF-S lenses are constructed to work perfectly on a crop sensor camera, if you attach this type of lens to a full-frame sensor, you'll see a significant vignette or ring around your shot. This is because the lens is too small for a full-frame sensor, so you'll see the size difference in the shooting circle.
This is why EF-S lenses are considered incompatible with full-frame cameras, even if you can technically attach them.
Other Common Lens Mounts For Canon Explained
In recent years, Canon has released new types of cameras that (as you can guess) feature new types of lens mounts.
EF-M Mount
The Canon EF-M mount is for Canon's EOS M cameras. Announced initially in 2012, EF-M never really gained popularity like the EF and EF-S lenses, primarily because Canon EOS M cameras were not as favored. Even to this day, some photographers consider this system a bit of a dying art, heavily overshadowed by EOS DSLRs and the R mirrorless cameras.
EF-M lenses aren't bad, but they're crop sensor lenses, so they suffer from some quality issues in construction and image result, similar to EF-S lenses.
RF Mount
Much like all of the major camera brands, Canon has stepped into the world of mirrorless systems. The company's full-frame mirrorless camera uses the RF mount.
Canon's RF mount lenses are faster, smaller, and lighter in weight than their EF mount equivalents because mirrorless technology allows for such advancements. Based on the same principles as EF mount for full-frame DSLRs, the RF lenses are aimed at the professional photographer as they feature a luxury/professional line of products.
RF-S Mount
The RF-S lens is designed for Canon's APS-C/crop sensor mirrorless cameras. Much like RF mount, the RF-S lenses also mimic their DSLR EF-S counterparts by being more cost-effective and smaller than RF lenses.
However, mirrorless technology is still pretty new, so the quality discrepancy between RF-S and RF lenses is much less noticeable than when EF and EF-S lenses first hit the market.