After editing a photo in Lightroom, you can easily copy and paste the settings to speed up your workflow. There are a few different ways you can do this, depending on which settings you want to copy. However, the most simple way of doing things is with this one keyboard shortcut.
To copy and paste settings in Lightroom, select a photo in the filmstrip with your edits applied. Then press Command or Control + C, press the "Check All" option from the copy settings window and click "Copy." Now select your next photo and press Command or Control + V to paste the settings.
This keyboard shortcut makes copying and pasting your edits as easy as working in a word document. However, the problem with this is it applies every adjustment from one photo to another. What if you only want your exposure adjustments to copy over and not your color adjustments for example?
Well, that's exactly what we're going to talk about in this tutorial, along with other ninja tips to make you a master at copying settings in Lightroom.
How To Copy & Paste Settings In Lightroom
Within the Develop Module, click on one of the images you want to copy the settings from. Remember that you need to have adjustments already applied to the photo to actually copy anything!

With the image selected, press the "Copy" button found in the bottom left corner of the window.

In the dialogue box that appears, you can control exactly what settings you will be copying. Each section is broken up into its corresponding panels, with individual adjustments labeled within.
For example, the Basics Panel is represented by the "Basics" section in the copy settings window. Beneath this adjustment is all the related adjustments found within that panel such as exposure, contrasts, highlights, shadows, whites, blacks etc.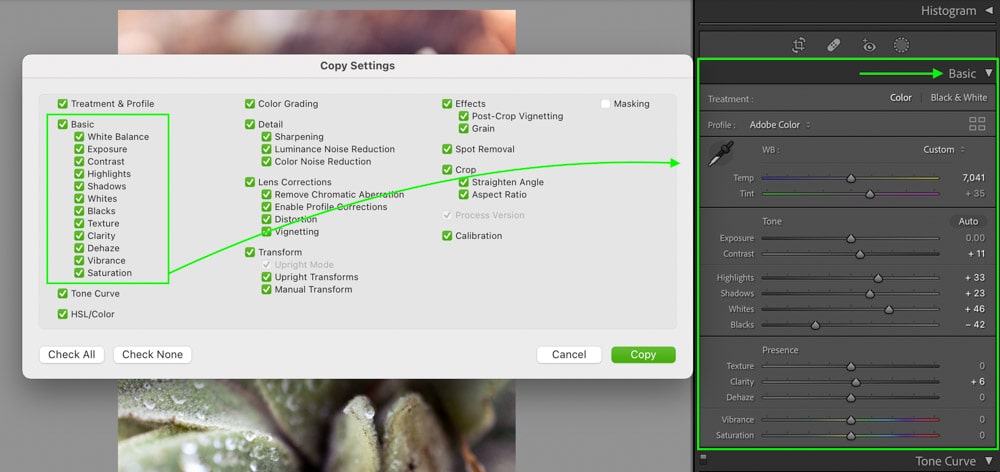 By unchecking the Panel name, you will uncheck all of the adjustments within it as well.
However, you can also choose to uncheck each individual setting for more exact control over which adjustments will be copied. Now I'm sure you have already figured this out, but if there is a checkmark beside your adjustment, that means that it will be copied. If there is no checkmark beside an adjustment, it will be excluded.
If you know that you want every little adjustment copied from one photo to another, it's fastest to click the "Check All" button. This way every adjustment will get copied with a single click.
Alternatively, if you only want one or two adjustments to be copied, I'd recommend clicking "Check None" and then manually checking off the adjustments you need.
With everything in order, press "Copy" to copy your selected settings.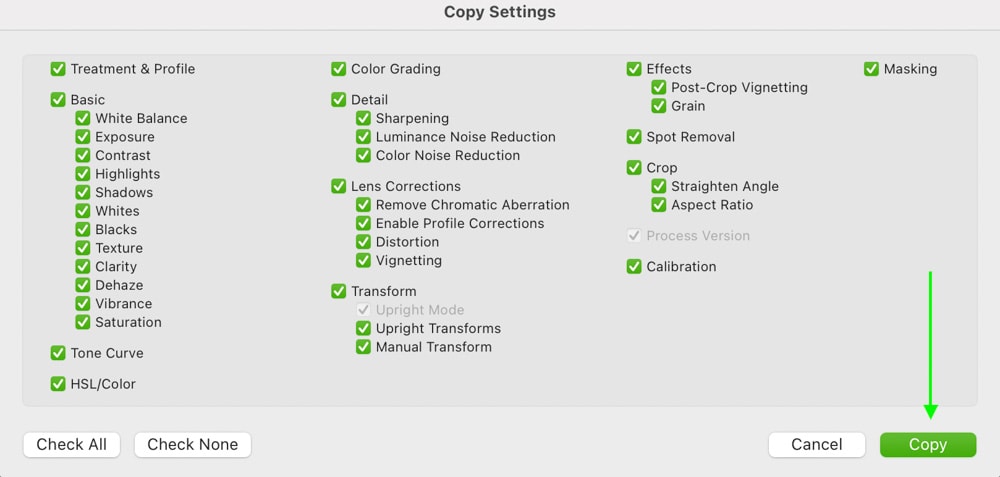 Next, to paste your settings, select another photo in your filmstrip. Then press the paste button to paste your copied settings onto the new photo. Now your settings will update to be a perfect match to the ones you copied previously!
The Copy & Paste Keyboard Shortcut In Lightroom
Similar to a word document, you can copy the settings you've added to a photo by pressing Command + C (Mac) or Control + C (PC). This will bring up the copy settings dialogue box where you can once again check off which settings you want to copy.
To then paste your copied settings with a shortcut, select a photo to paste onto within the filmstrip, then press Command + V (Mac) or Control + V (PC). Now you don't have to do any clicking and can copy and paste fully with keyboard shortcuts!
How To Paste Settings Onto Multiple Images In Lightroom
To copy and paste settings to multiple photos, you need to sync the settings. With your edited image selected in the filmstrip, hold Command (Mac) or Control (PC) and click between the photos you want to add your settings to. Then click "Sync" within the Develop Module to paste your settings.
Unfortunately, you cannot use the keyboard shortcut for pasting settings to multiple photos. Instead, the sync option will synchronize your settings to as many photos as you wish.
The Sync button is found within the Develop and Library Modules of Lightroom. In either module, they are found in the bottom right corner of the screen.
With that said, it's worth noting that in the Library Module, you will press "Sync Settings" to paste your settings between multiple images.
Meanwhile, in the Develop Module, you will press the "Sync" button for the same result.

Similar to when you copy your settings, a Synchronize Settings dialogue box will appear for you to choose which settings you want to synchronize. Just like before, leaving any adjustment checked off will mean it will be applied across all your selected photos. Any adjustment that is unchecked will be excluded from the synchronization.
With all your settings in order, click "Synchronize" to update all your selected images with your currently active photo. To select multiple photos simply hold Command (Mac) or Control (PC) and click between the images you want to sync the settings with.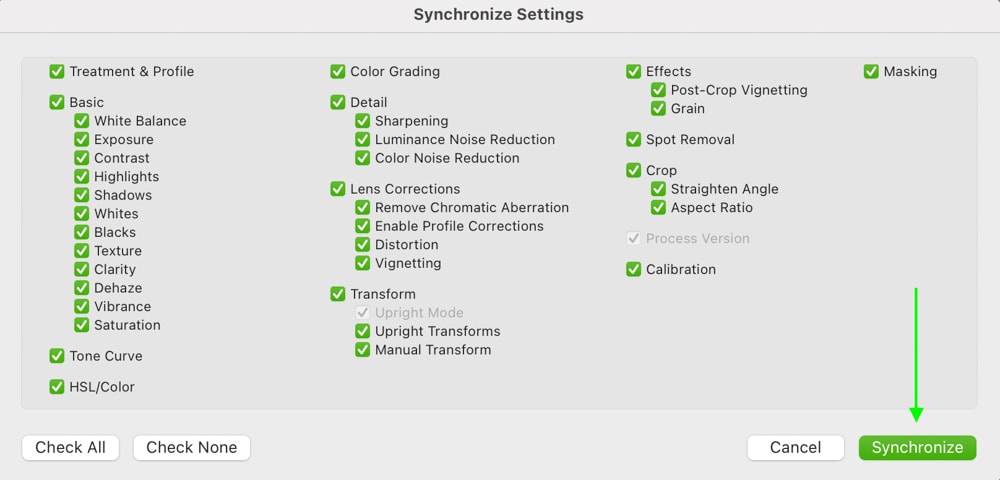 Learning how to copy and paste settings between large numbers of photos is an essential part of batch editing in Lightroom. Now before you start batch editing, it's important to ensure all your photos are organized so you aren't wasting time with less-than-perfect images. Luckily this guide to culling photos in Lightroom will get you up to speed!
Happy Editing!
Brendan 🙂