Have you ever dragged an image into Photoshop that was too big or too small for the canvas you're working on? Are you confused about adjusting your canvas, so you don't have any excess canvas showing? Resizing your canvas to fit an image in Photoshop is straightforward once you know how to do it.
There are five easy ways to resize a Photoshop canvas to fit your image. Each one of these methods is tailored to a specific type of Photoshop user. Some of these methods are for users who prefer to keep things simple, and others are for people who want things to be perfect down to the last pixel.
How To Resize A Canvas To Fit An Image In Photoshop
Deciding which of these five options is the best comes down to your preference and what you want to achieve. Just pick your favorite method and use that method.
Option 1: Go To Image > Reveal All
Sometimes when you drag an image onto your canvas, the photo is much larger than the canvas itself. This results in your image being cut off.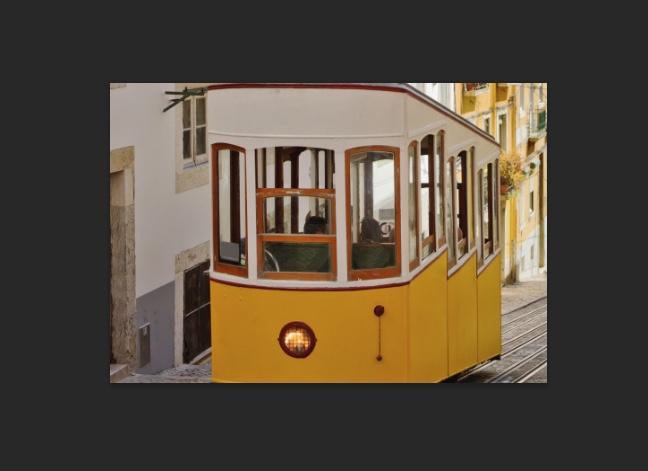 To confirm how much of your image is cut off, click on the image, then zoom outward until you see the blue lines around the perimeter of the picture.
The parts of the image you can't see are the areas where you need to adjust your canvas size.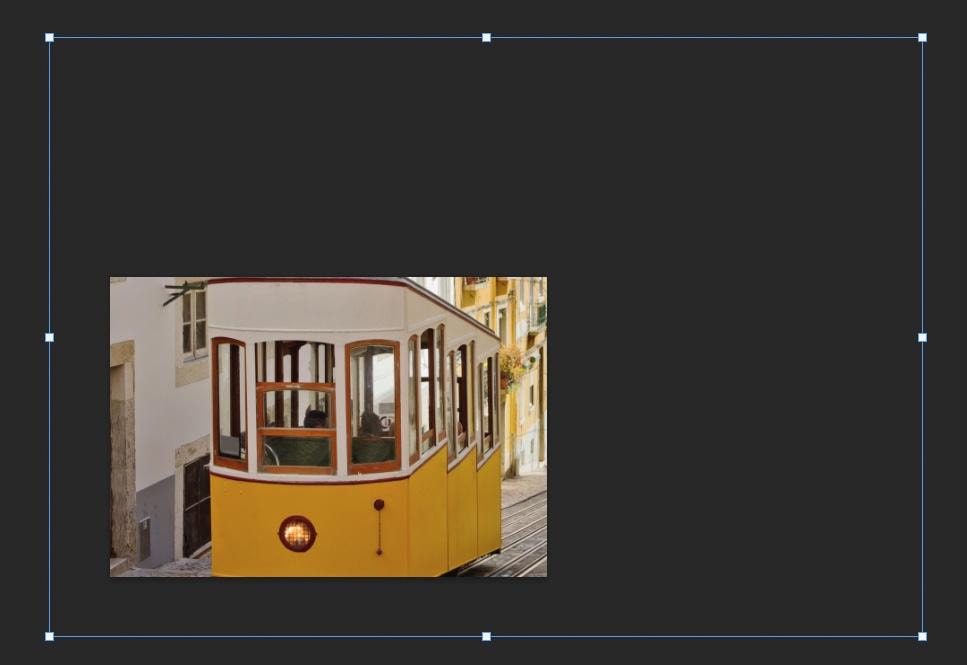 The quickest and easiest way to reveal the rest of your image is to go to Image > Reveal All.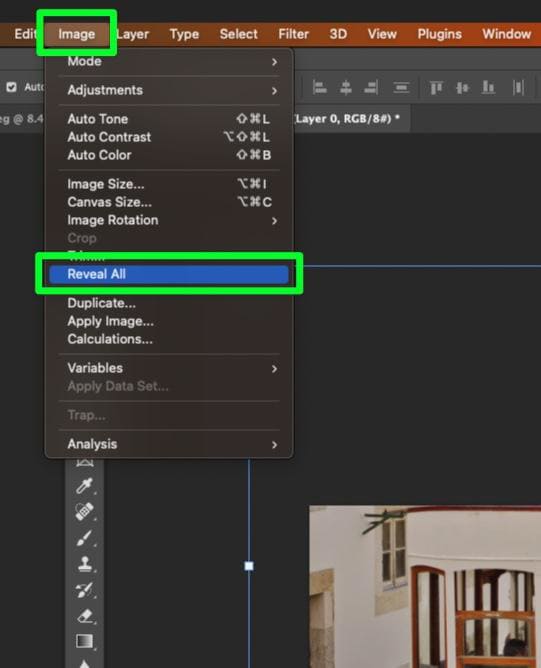 Your canvas will automatically expand to the edges of your photo and its exact dimensions.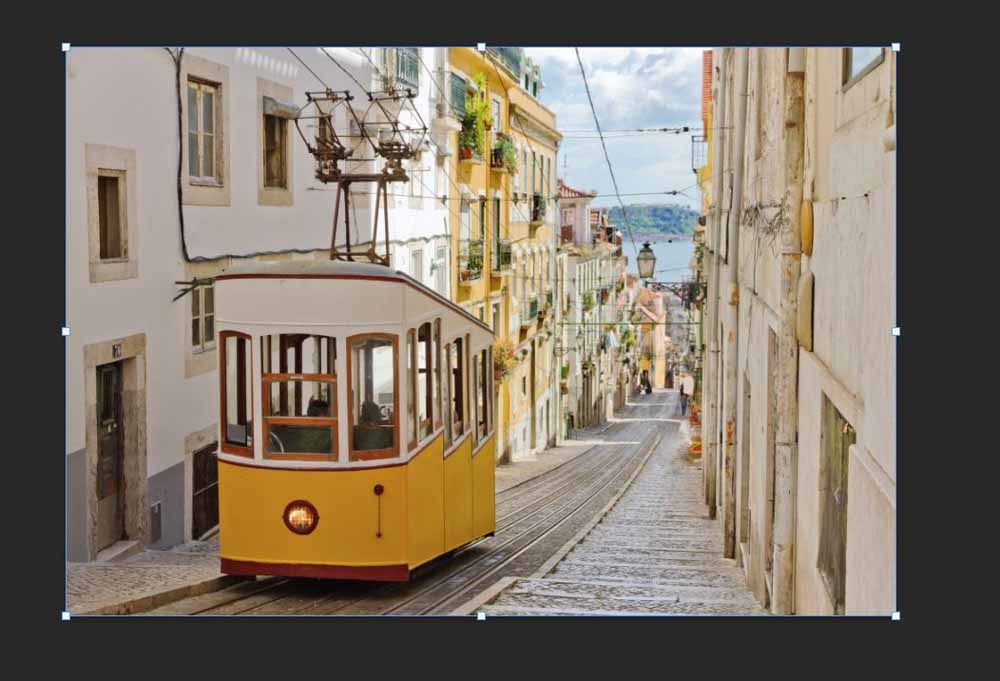 Option 2: Go To Image > Trim
This technique is best used after you cut out an area of your photo and you no longer need the rest of the canvas.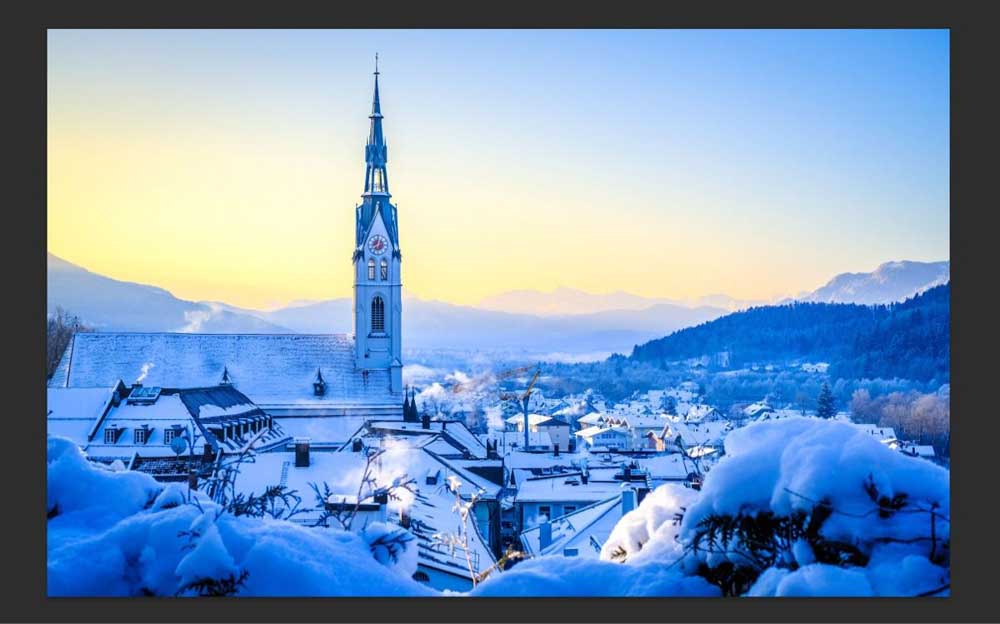 To start, grab one of the Marquee Tools (M) or any tool to select an area of your photo.
Drag the tool of your choice over the area you want to keep.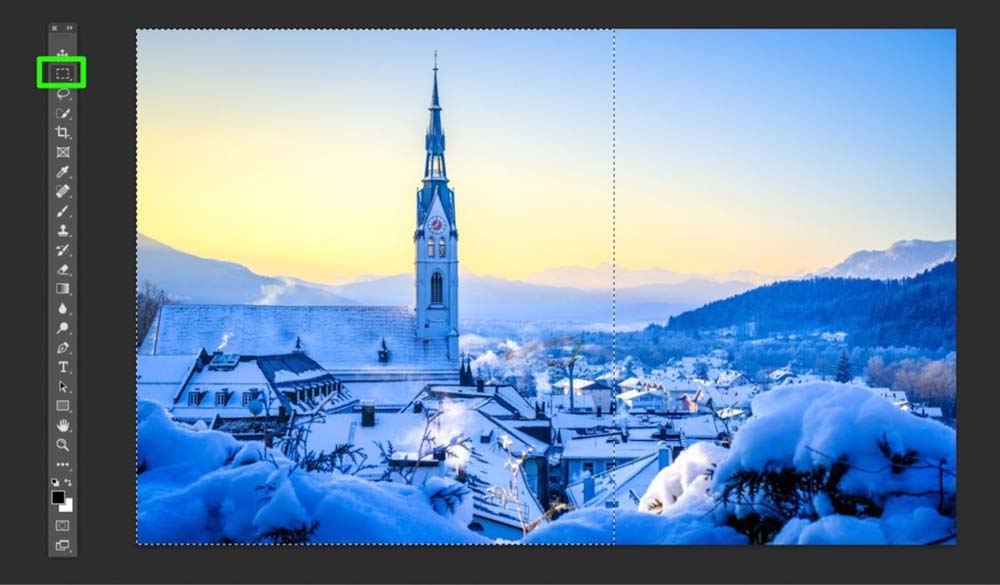 Once you're happy with your selection, click the Add A Layer Mask button at the bottom of the Layers Panel.
This will non-destructively remove the areas around your image that were not selected.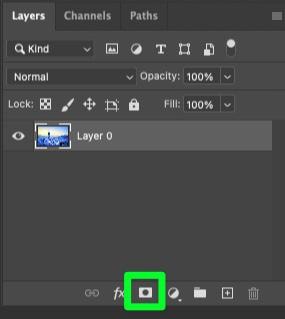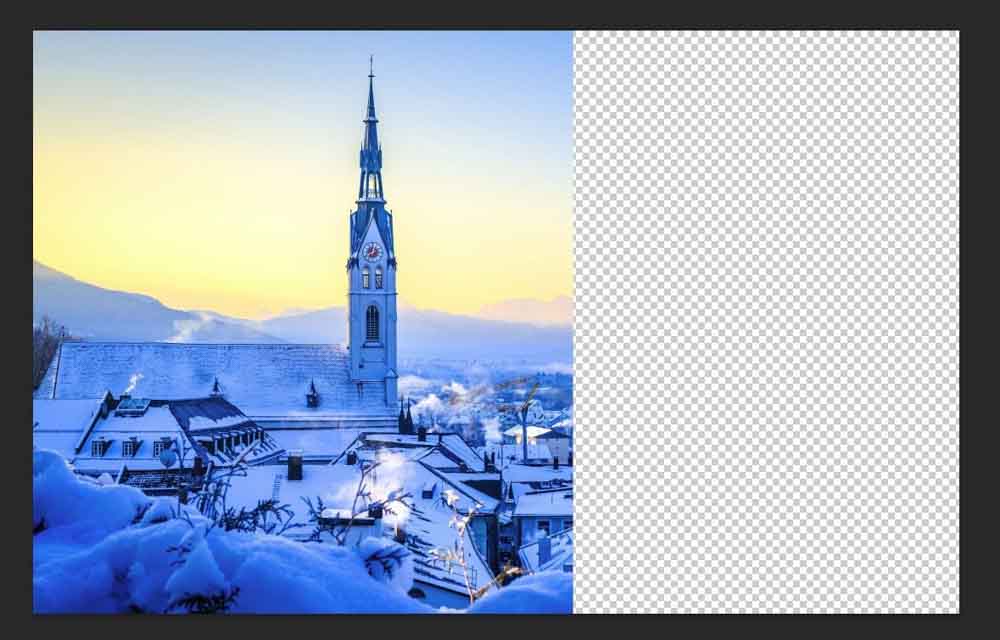 Once you're satisfied with your selection, go to Image > Trim.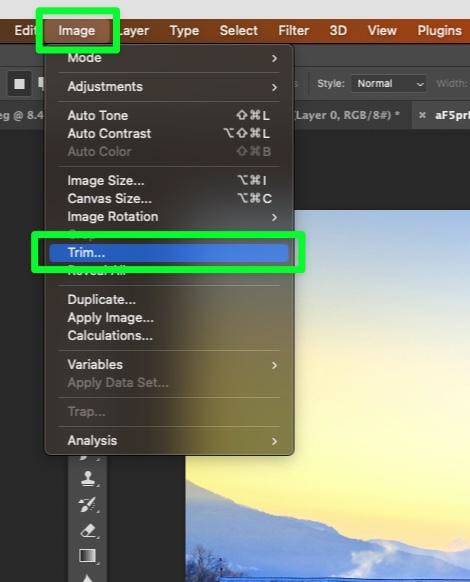 A window will pop up with a few options:
Make sure Transparent Pixels is checked on. Transparent pixels are the checkerboard pattern areas that appeared after you added your layer mask.
Under Trim Away, ensure that each of the four directions are checked on.
When you're ready, click OK.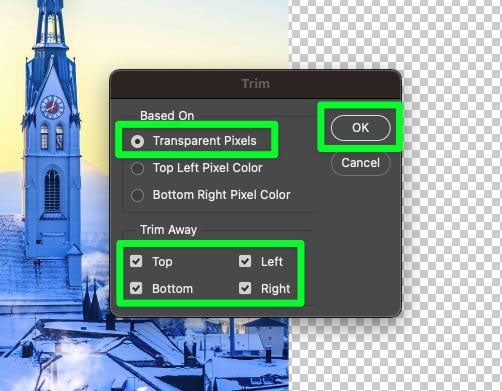 Once you click OK, the empty area on your image will be deleted, and the canvas will automatically snap to your selected pixels.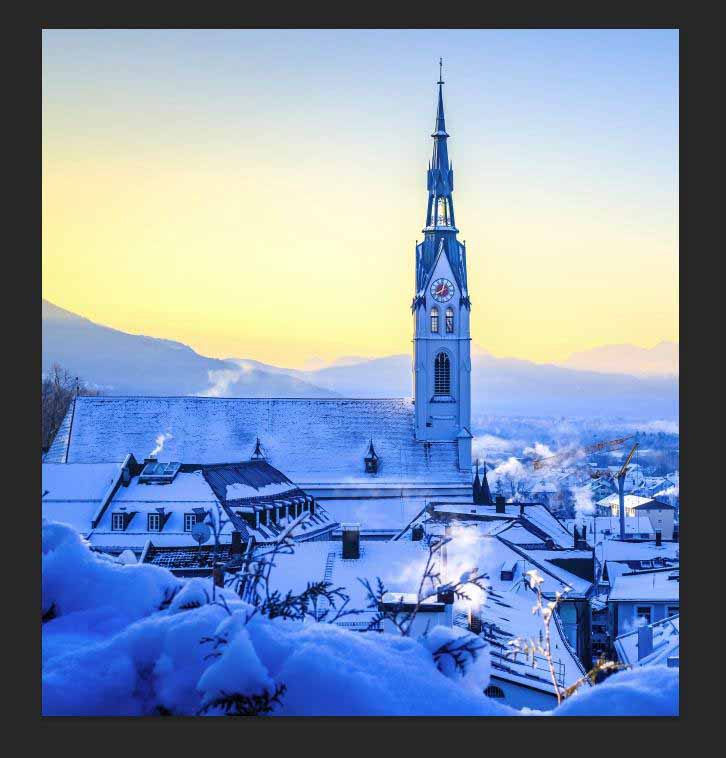 Option 3: Open Your Image Directly Into Photoshop
When you drag a photo onto a blank canvas in Photoshop, chances are, you'll end up with a lot of blank canvas around your image or with the picture too large for the canvas.
You can use the Image > Trim or Image > Reveal All techniques detailed above to solve this issue, but there's a much faster, more convenient way.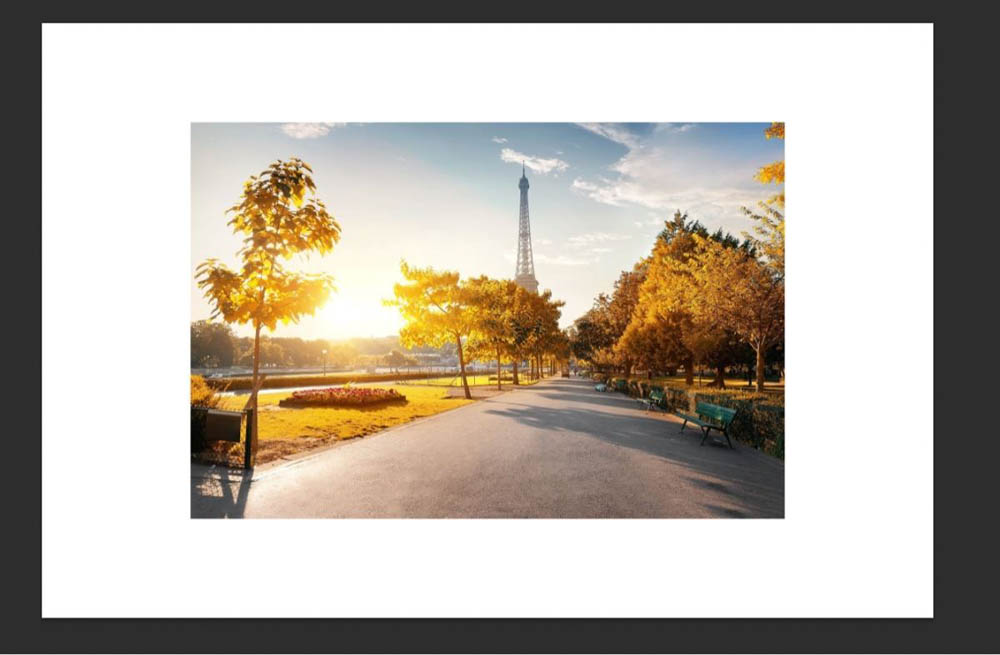 Instead of dragging your image onto your canvas, open your image directly in Photoshop.
To do this, locate your image on your hard drive. Then, right-click the image and go to Open With > Adobe Photoshop.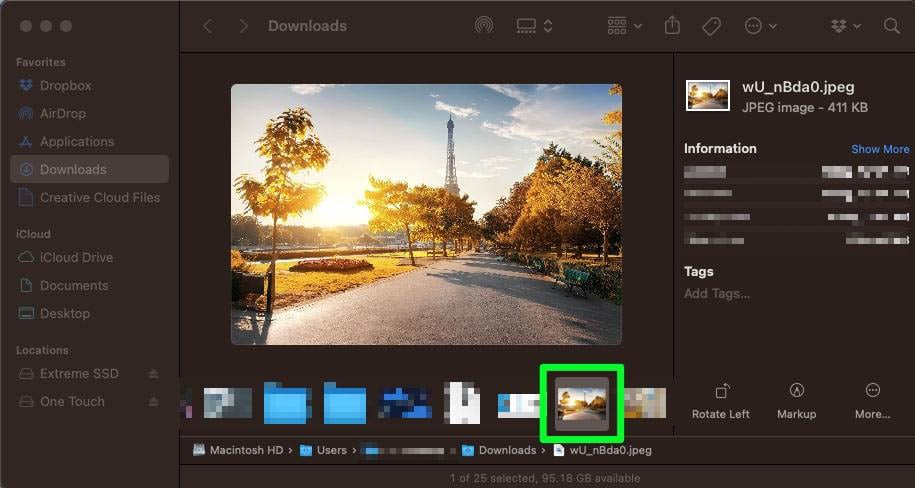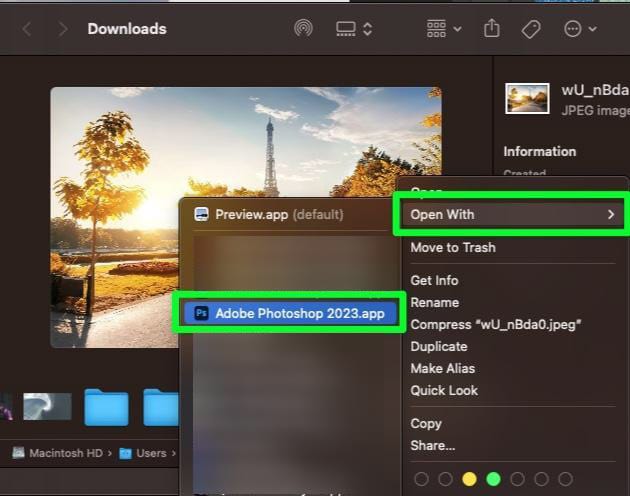 This will open the image directly in Photoshop. When the image opens up, the canvas will be the exact dimensions of the image itself. Alternatively, you can go to File > Open in Photoshop and select your desired image from your computer. The new document that is created will be the same dimensions as your selected image file.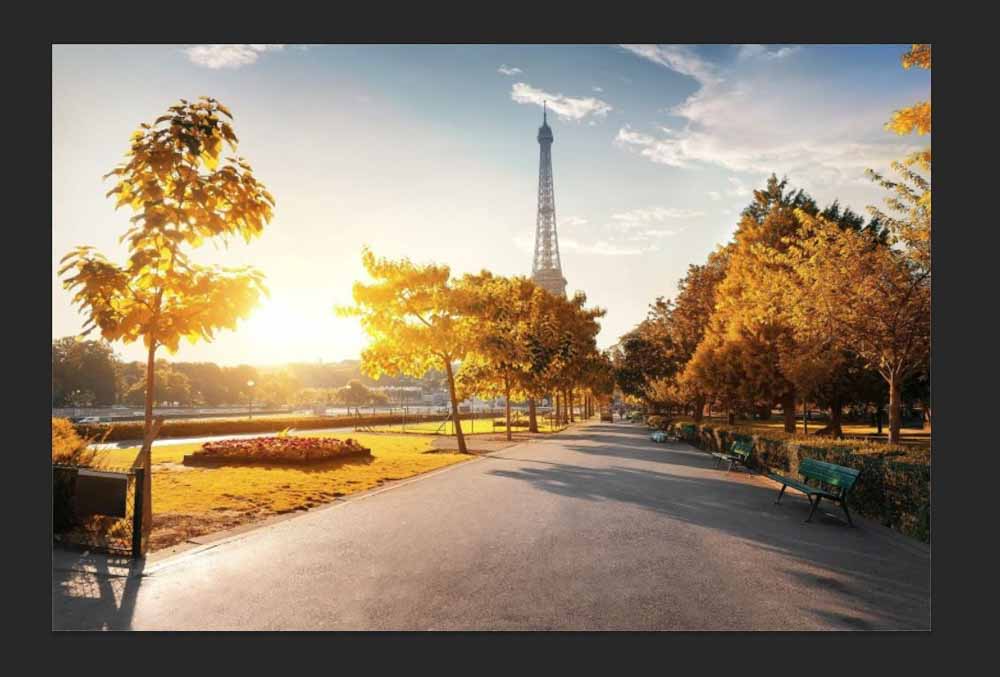 Option 4: Resize Your Canvas Manually
If you need to ensure that your canvas is an exact size, then this technique is for you.
Note: you can achieve this using one of the first two methods, but this way is useful if you want to reduce the image size by a few pixels or leave a slight bit of the canvas as a border by adding a few pixels.
This option is mainly used in niche situations.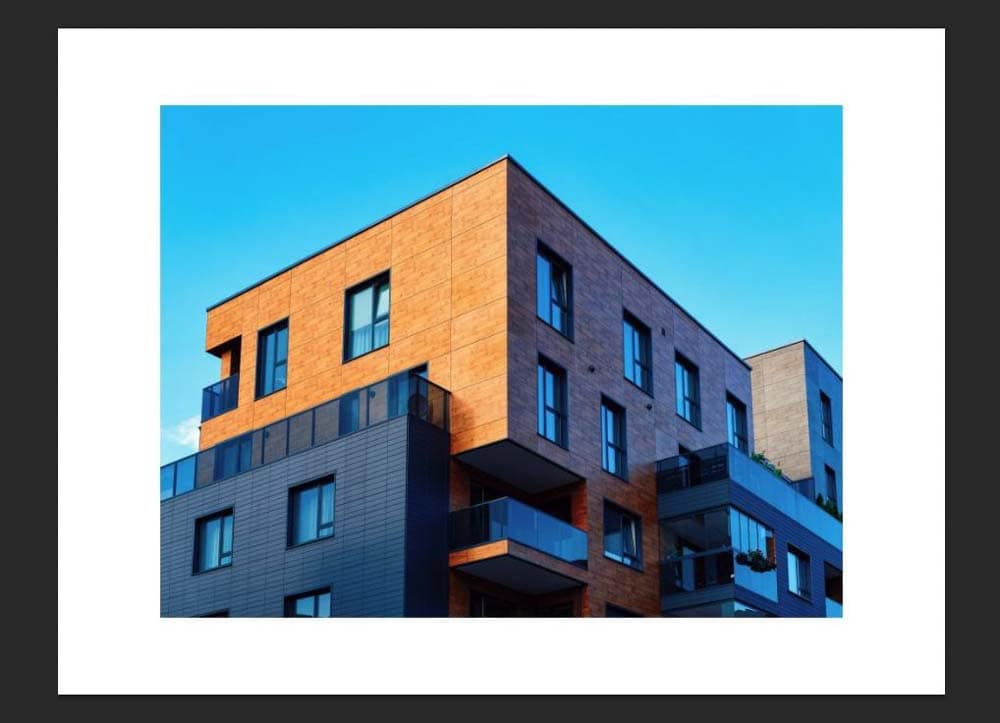 Before manually adjusting your canvas size, you must know your image's exact dimensions.
To find this information, locate your image on your hard drive, then look at the info panel. Under Dimensions, take note of the width (the first number) and the height (the second number).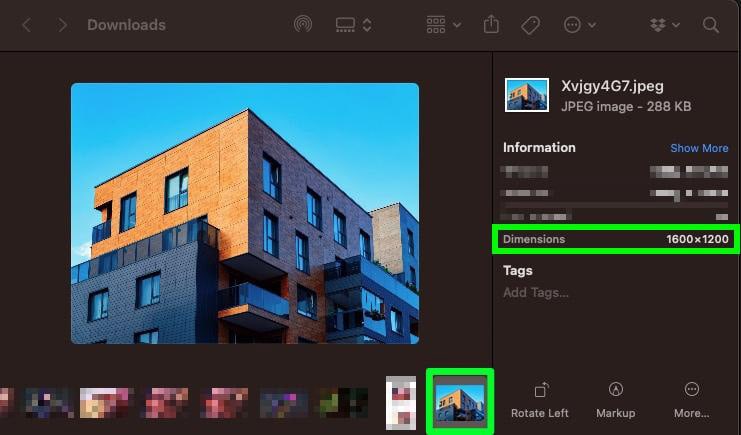 To manually adjust your canvas size, go to Image > Canvas Size.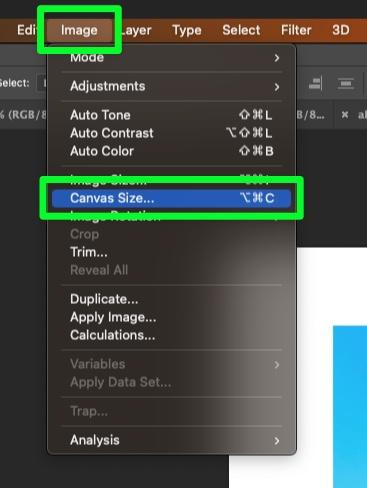 In the Options Menu that pops up, input the Width and Height of your image in their respective boxes under the New Size section. Increase or decrease the number of pixels if you need a slightly different size.
When you're finished, click OK.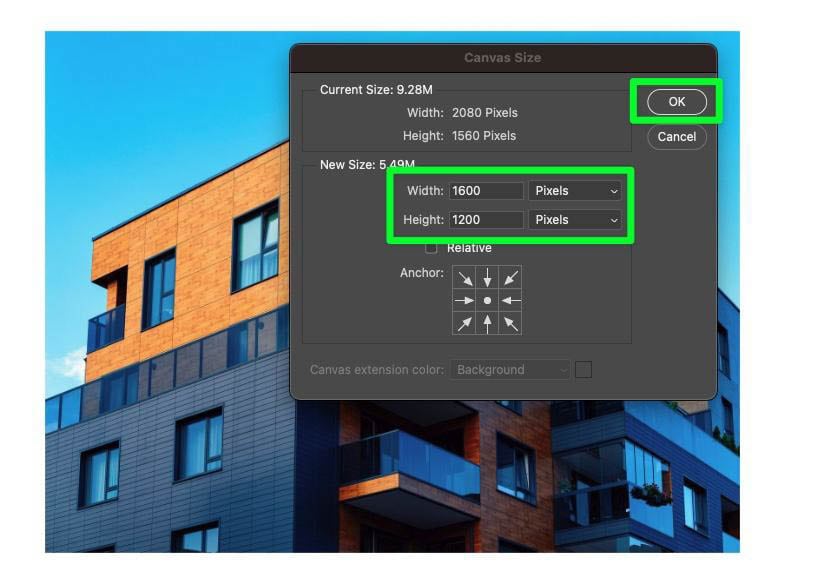 Once you press OK, your canvas will shrink or expand to the exact size of your image.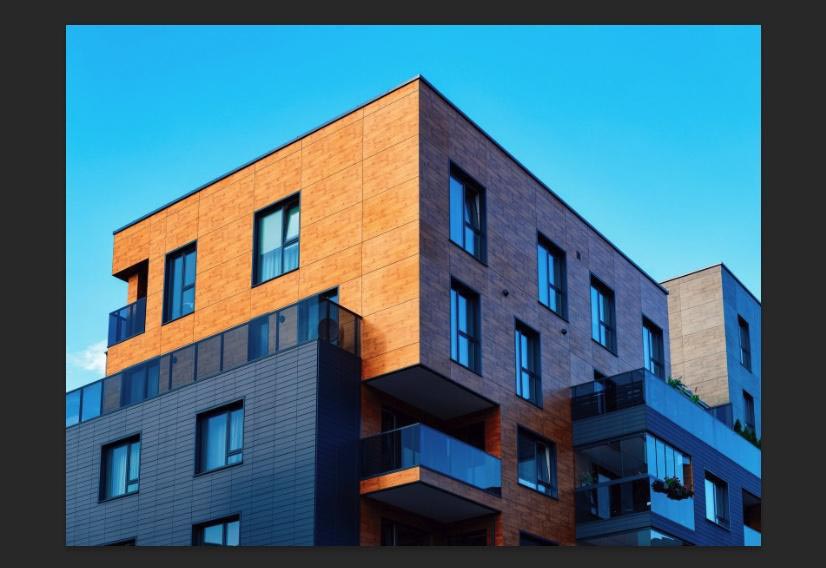 Option 5: Manually Crop Your Image
The final way to resize your canvas to your image is by manually cropping it.
This method is more tedious than the Image > Trim method but is helpful if you want to crop a bit of the edge of your image or adjust the image's aspect ratio rather than keeping it as it is. It's also helpful if you want to leave a slight border on some edges.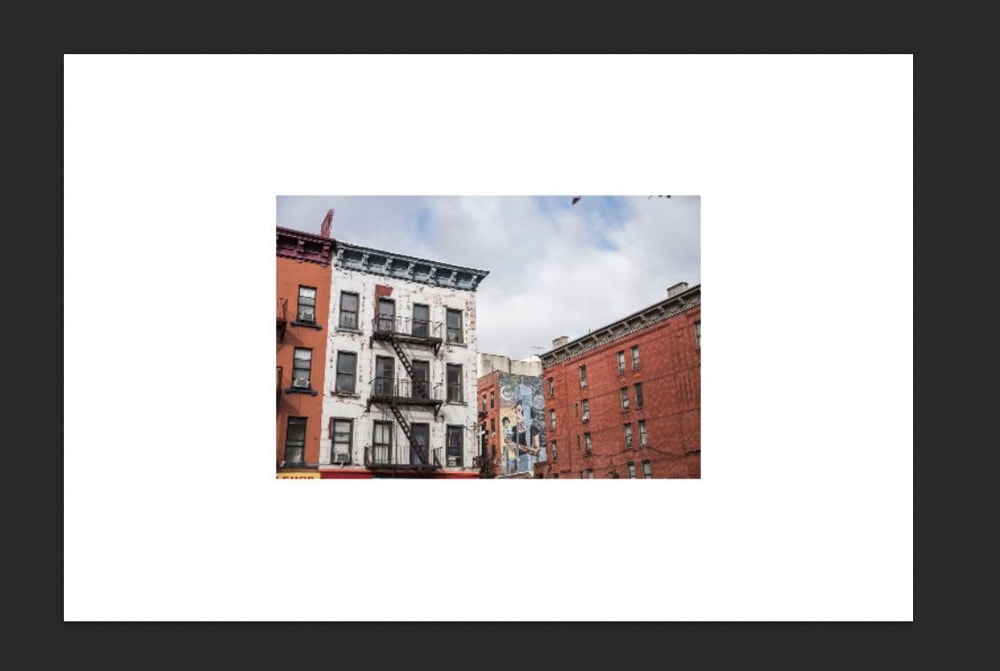 You can find the Crop Tool (C) in the Toolbar. For this method, just click on the Crop Tool once.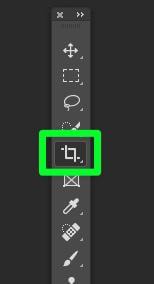 After you click on the Crop Tool, you'll notice crop handles all around your canvas.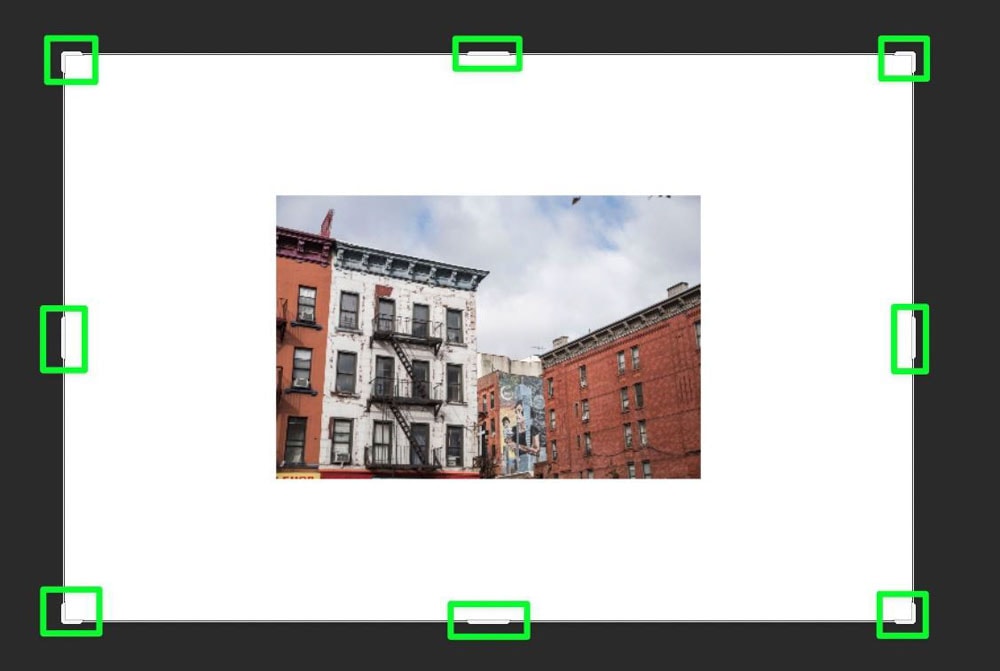 To crop the canvas, drag any crop handles toward your photo and stop at the edge or slightly into the image if you want to crop a border or distracting objects.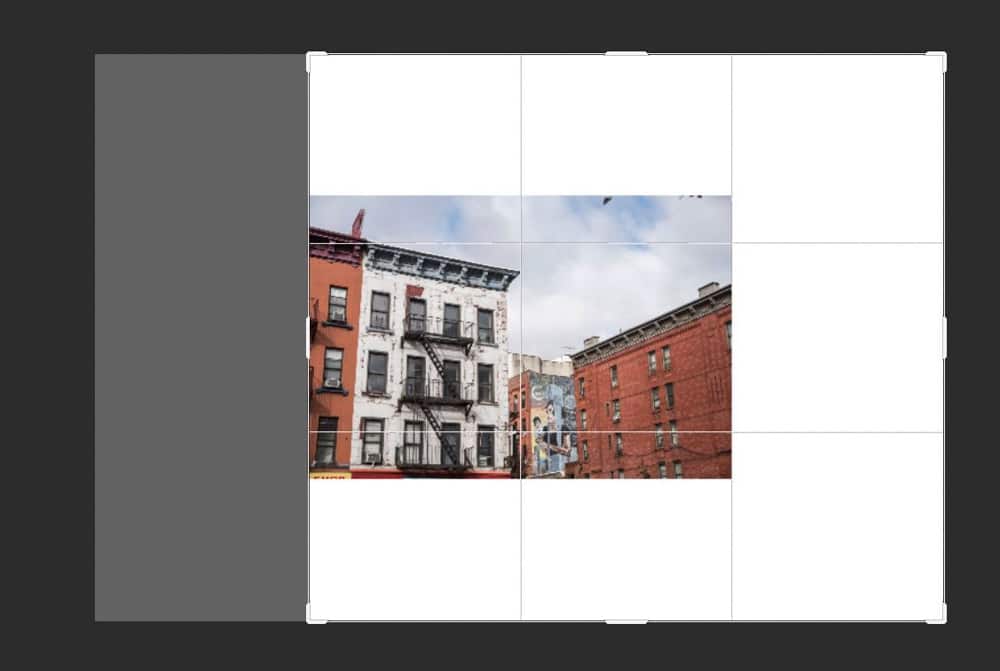 Repeat this process for each side of your image.
Note: There is no snapping with the Crop Tool. That means the crop handles won't automatically stop at the edge of your image. Just be careful not to cut off part of your actual image if you don't intend to.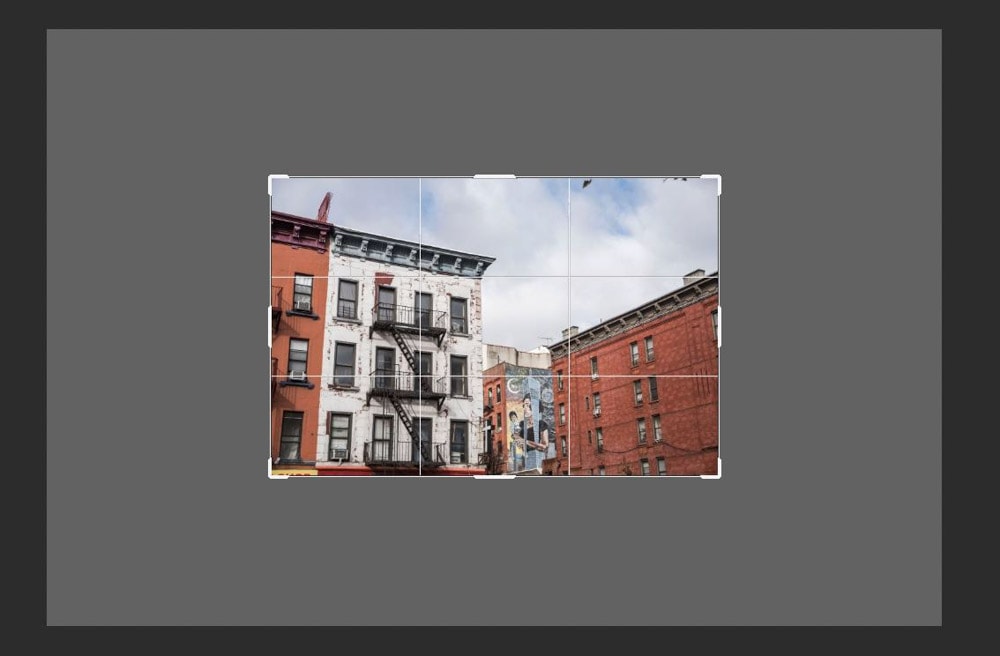 Once you've lined up all your crop handles, press Enter to confirm.
Your canvas will now be the exact size of your image.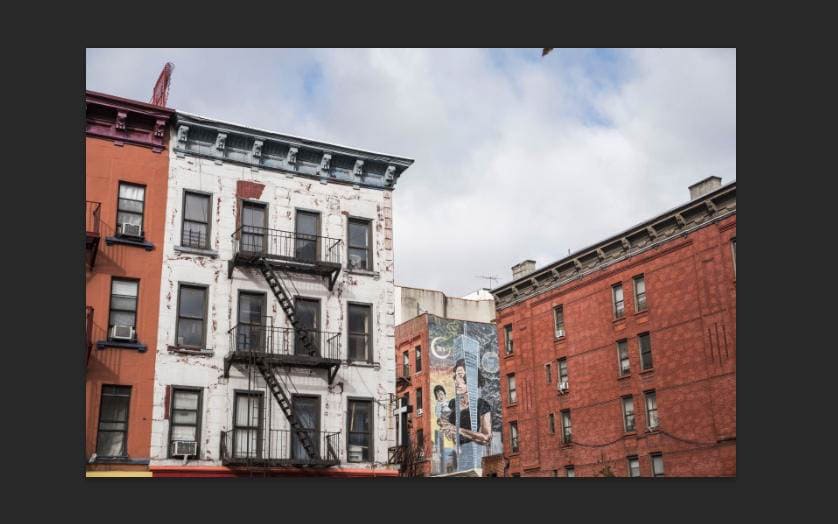 Keeping each of these methods in mind will come in handy across any Photoshop project you work on. After all, resizing images and layers is kind of important for anything you do in the program!
Happy Editing! 🙂