Two of Adobe's most popular programs in the digital art world, Photoshop and Illustrator, are both excellent tools for artists to have in their toolkits. While they each serve a specific purpose and offer different capabilities, understanding how to move a project between them will give you endless possibilities for your project. 
You can open an Illustrator file in Photoshop like any other file by going to File > Open. With that said, the AI file will open as a rasterized document making it impossible to access your original layers. To preserve layers between Illustrator and Photoshop you must export the AI file as a PSD.
However, it is important to know the different options for opening an Adobe Illustrator file in Photoshop, because certain methods will result in better quality and more editing capabilities once the file is exported. Let's explore the different ways to do this, and which purpose each can serve.
AI Files VS PSD Files
While Illustrator and Photoshop may seem similar at first glance—both allow you to create and edit images using a wide variety of tools—a closer look at their respective file formats reveals how the two programs differ, as well as which programs are best for working on different types of projects.
Both Illustrator and Photoshop allow you to edit and create different projects. However, the files differ in what they are composed of—pixels or vectors. So, while Photoshop is great for working with images that have already been created, such as photos, Illustrator is great for creating graphics.
Photoshop File Format
The file format Photoshop uses is PSD, which is a raster file, meaning the files in this format are composed of pixels. Raster files are commonly used for working with photos, and as they are often layered, the files can get quite big. Photoshop is commonly used for photo editing too—the program's capabilities give you control over how each individual pixel in an image behaves and appears. The only potential issue is that pixel-based images tend to lose a bit of quality when resized. Admittedly, there's not much you can do about that as a photographer!
Illustrator File Format
The Illustrator file format, AI, is a vector format, meaning the files are made of dots connected by an algorithm. Illustrator allows you to create high-quality, easily mutable graphics using advanced mathematical equations; this means that you can resize them and they won't lose their quality. AI is best for creating graphics and logos, or even cartoons and fonts while keeping file sizes fairly small.
These differences also mean that opening an AI file into Photoshop can be tricky. In some cases, the layers may not translate correctly into Photoshop and the project will appear in a single layer. Certain methods will give you better quality and allow you more control over editing your AI file in Photoshop.
How To Open AI Files In Photoshop
The quality and editing capabilities of an AI file opened in Photoshop rely on how you export and open the file. Let's take a look at the two different options for opening an AI file in Photoshop.
Option 1: Opening An AI File As A Rasterized Layer
The quickest way to open an AI file in Photoshop is to simply open the file in Photoshop. Once you've exported your project from Illustrator, open up Photoshop and click Open on the welcome page, or head to File > Open.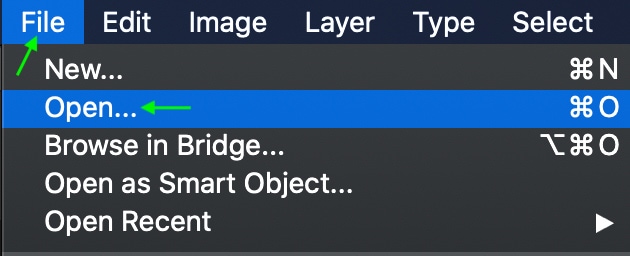 Select the AI file from your folders, and edit any settings you may wish to in the Import window that appears. Click OK when you're finished.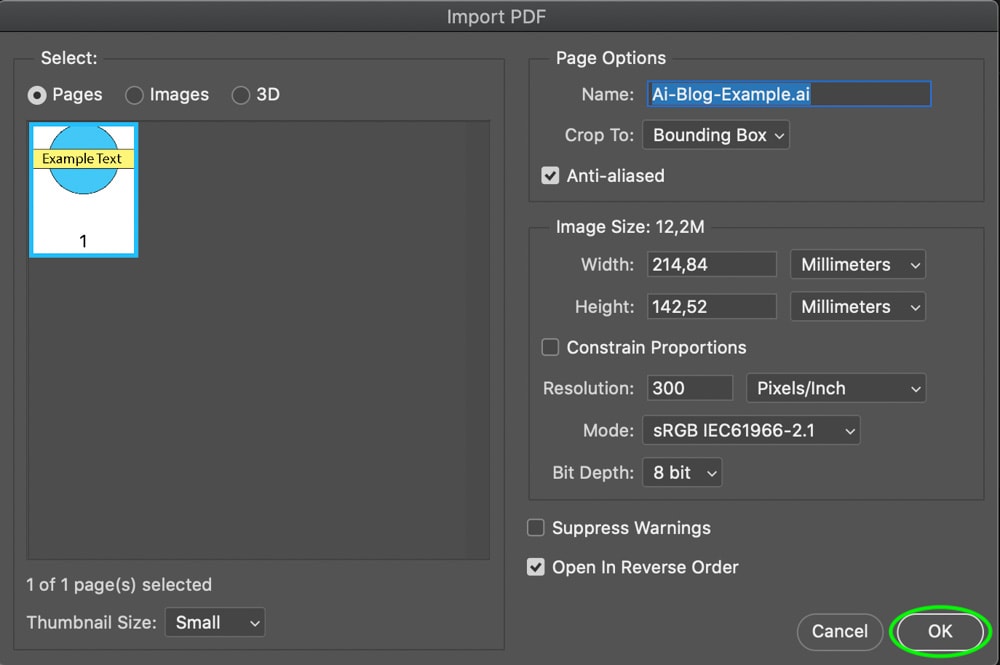 The file will open as a new project in Photoshop. However, you'll notice that this project will open as a single rasterized layer, meaning that all the layers from the AI file are condensed into one. You cannot edit the individual elements and layers created in AI.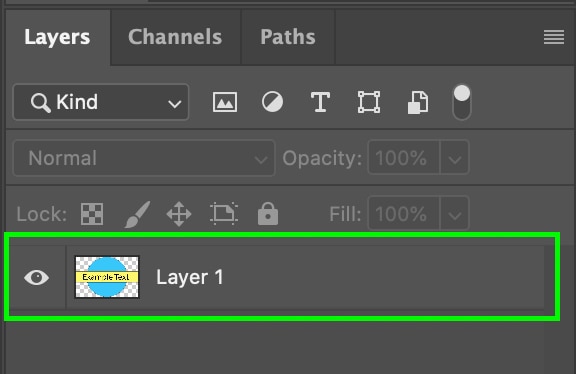 If your project only had one layer in Illustrator, this is not a problem, as you can continue working on the layer almost as you were. However, if your project has multiple layers, you will not be able to edit the specific layers in Photoshop using this method. Luckily, option 2 solves this issue.
Option 2: Save The AI File As A PSD To Preserve Layers
The other method of opening an AI file in Photoshop will correctly preserve the different layers of the AI file and allow Photoshop to recognize each layer in the project. This means you'll need to export the file correctly from Illustrator, saving it as a PSD file to allow Photoshop to easily read it.
To do this, once the file is open in Illustrator head to File > Export > Export As.
In the Format area, select Photoshop (PSD) to export the file as a PSD file. Then click Export.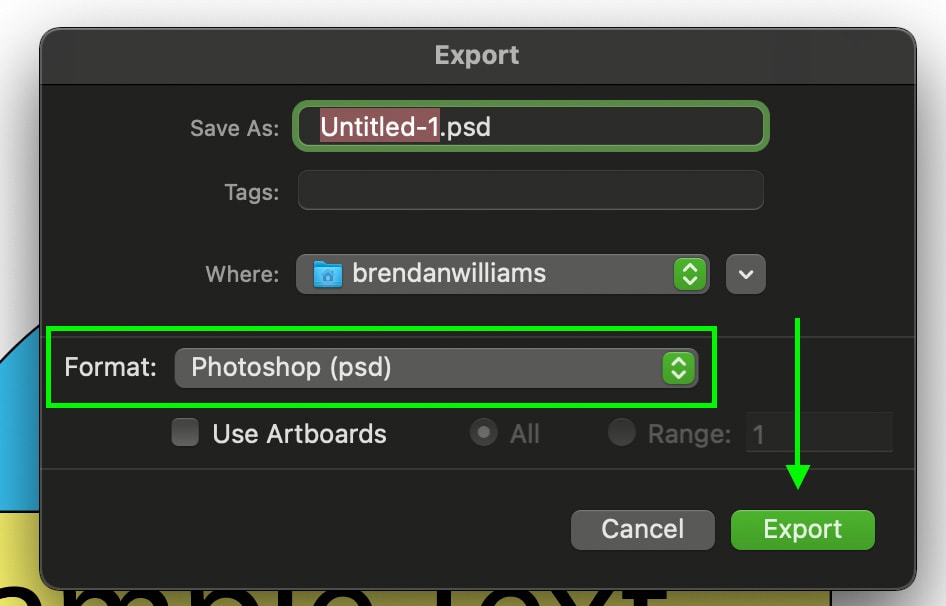 When you hit Export, the Photoshop Export Options window will open. Make sure Write Layers is selected, and under this, make sure the options Preserve Text Editability and Maximum Editability are both checked as well. Then click OK.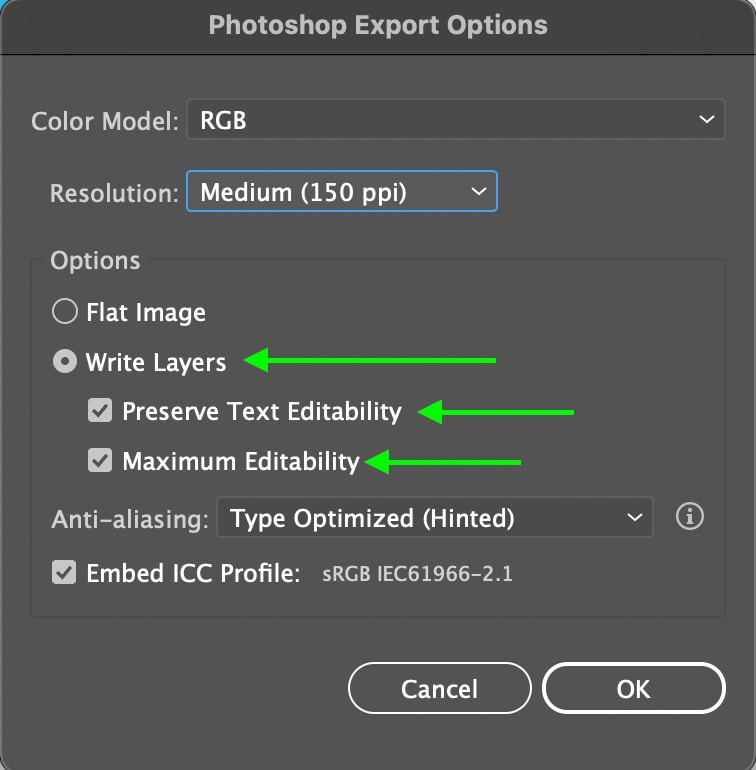 These options ensure that you can work with the same layers in Photoshop as you were in Illustrator by allowing Photoshop to recognize those layers.
Now you can open the file in Photoshop. To do this, head to File > Open.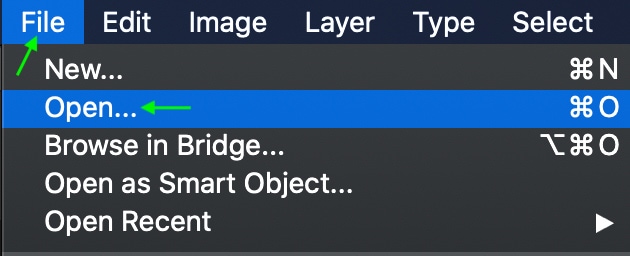 Then select the PSD file and it will open automatically as a new project. You'll notice that here, unlike in the previous method, all the layers are visible and ready to edit in the Layers panel.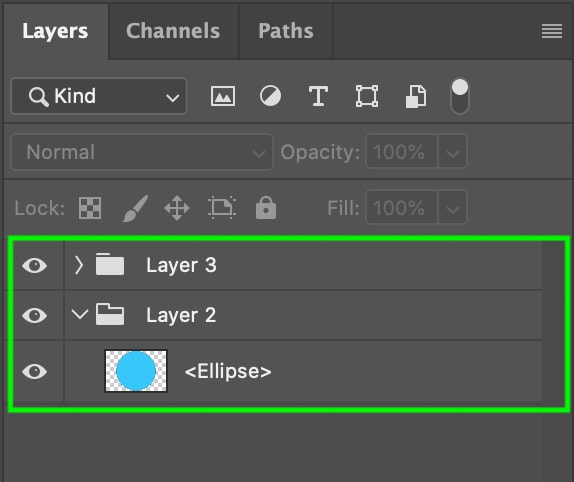 How To Open AI Files In Photoshop Without Losing Quality
If you'd like to preserve the maximum quality of your Illustrator project when moving it to Photoshop, you can do so by taking advantage of Smart Objects.
What Is A Smart Object
A Smart Object is a photoshop layer that can be edited non-destructively, meaning edits made to a Smart Object won't permanently alter the file and can easily be changed or undone.
Smart Objects will also retain their original quality regardless of whether they are scaled up or down. For instance, if you shrink a normal layer using Photoshop's Transform tool, the resolution will decrease. If you were to increase the size back to normal, the image will appear blurry or pixelated. However, if you first convert that same layer to a Smart Object, you can resize as much as you want without losing any quality.
So, how can this be applied to keep the quality of AI files? Well, you can export your AI file as a Smart Object into Photoshop by simply copying and pasting the project. But you'll first need to set the copy and paste preferences in Illustrator in a specific way.
Opening An AI File As A Smart Object
In Illustrator, on a Mac, click Illustrator in the top toolbar and head to Preferences > Clipboard Handling. On a PC, you head to Edit > Preferences > File Handling & Clipboard.
In the Clipboard Handling preferences, make sure to check Include SVG Code on copy and AICB on quit. These preferences allow you to paste the project as a Smart Object into Photoshop.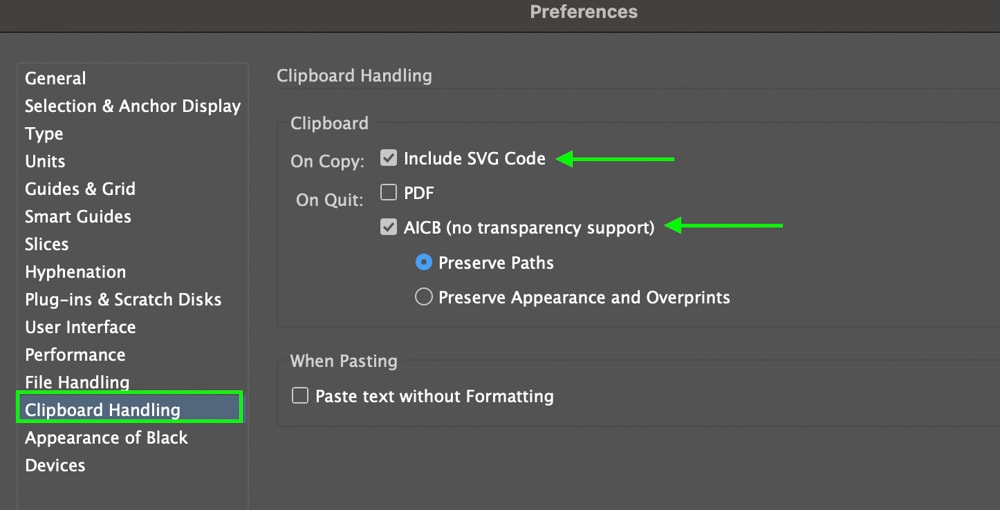 Now, still in Illustrator, make sure you've opened the elements you'd like to copy and paste into Photoshop and head to Edit > Copy.
In Photoshop, open the document that you want to paste the Adobe Illustrator art into and then choose Edit > Paste.
A window will open allowing you to select how you want to paste your layer. Select Smart Object and click OK.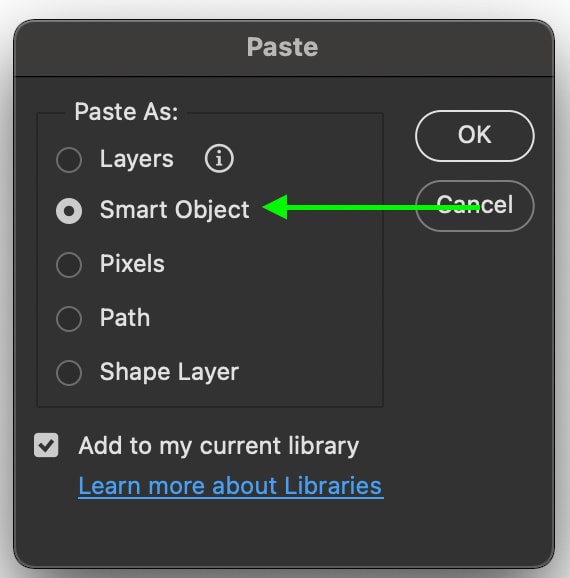 The project will appear in Photoshop, under the Layers panel, as a Vector Smart Object.
Now, when you double-click to edit the layer, it will appear in Illustrator for you to edit there. Any changes made in Illustrator will automatically be saved to the project you've opened in Photoshop, allowing you to make whatever edits you'd like quickly and easily in either program.
Working in both Illustrator and Photoshop brings the benefits of both programs, and allows you to make additional edits to your project. It may seem complicated to move a project from Illustrator to Photoshop, but using the methods outlined above you can do so without compromising quality and without too much additional time or energy.
Happy Editing!