Photography portfolios are an important thing to have for every photographer, but where can you create one for free? I'm sure you've seen a handful of popular paid portfolio websites, but the idea of shelling out cash every year doesn't really appeal to you. Luckily, there are a wide array of great professional photography portfolio websites that are totally free to use.
The 10 Best Free Online Portfolio Websites For Photographers Are:
Online portfolio websites are the easiest way to share your photos in the online era. Now that you know which sites we are going to cover in this post, let's dive into the unique advantages each of these portfolio websites offers!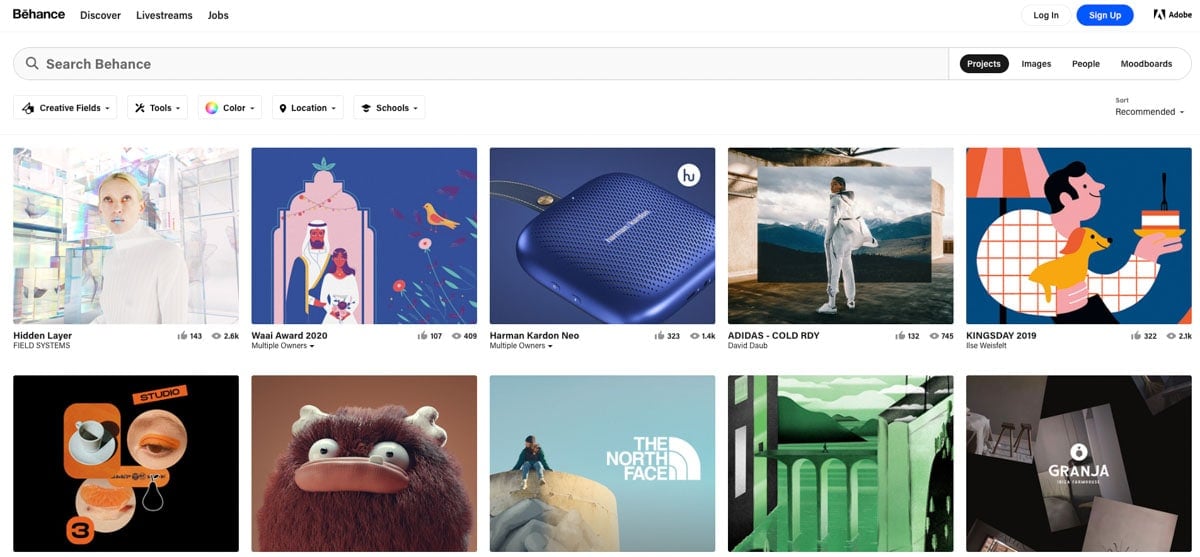 Behance is one of the better-known names in this field, and it's backed by one of the top companies in the photography space, Adobe. If you're someone who already makes frequent use of other Adobe products such as Lightroom and Photoshop, you might be interested in Behance because you can use it with the account that you already have. In fact, Adobe has even integrated things so you can upload to Behance directly from their products.
The site is stylized as a social media platform and not just a simple photo hosting site – you can gain followers on it just like you would be able to on a regular social media site, and you can showcase your work in the form of structured projects. For those of you who don't want to go through the hassle of making a website, this is one of the better options out there for making sure you can still get eyes on your photos.
– Behance Photography Portfolio Example: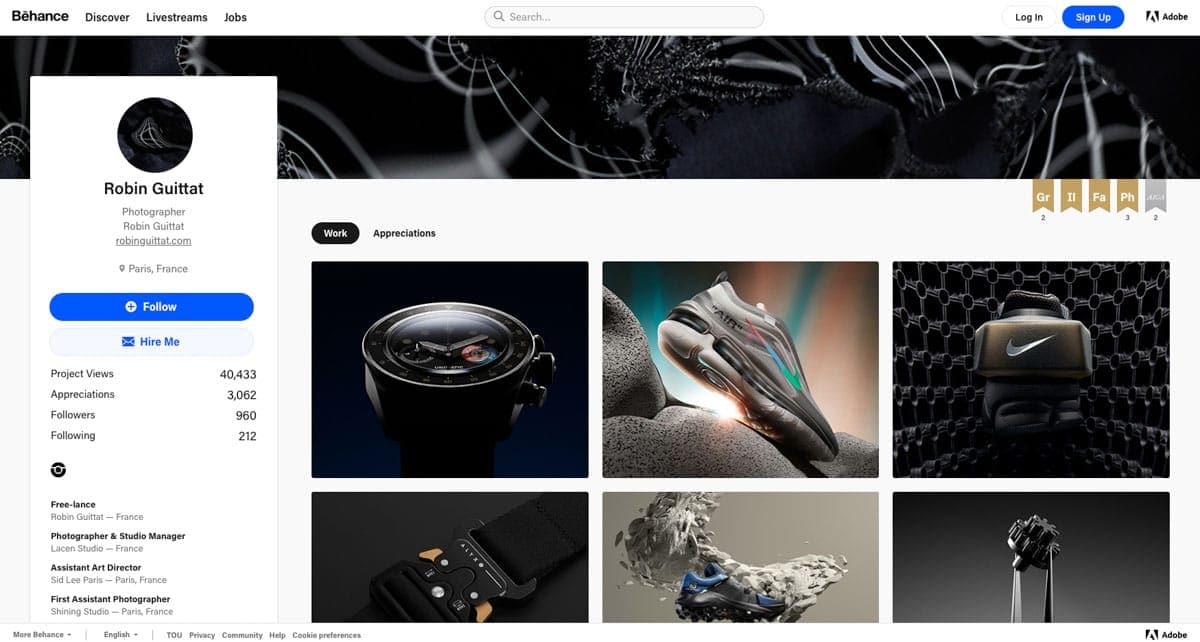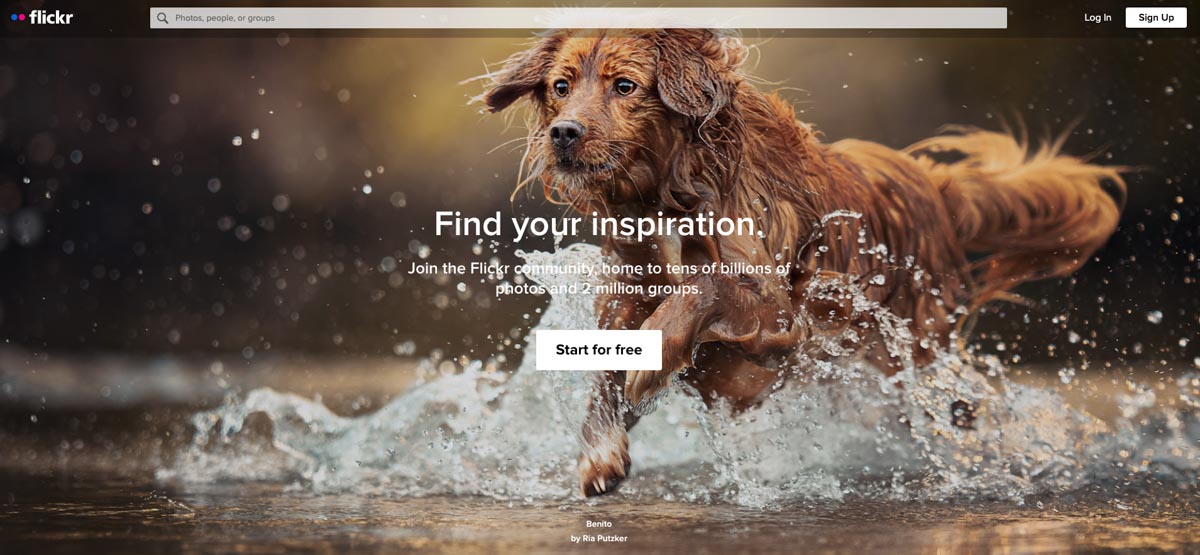 Flickr is one of the oldest names in the internet photo business. The site was founded back in 2004 and has changed hands several times, but it is still one of the largest photo hosting sites for photographers on the internet. As of 2015, it had over 3.5 million images uploaded every day, which says something about the scale of it all.
It's also one of the best portfolio sites because it's easy to use, straightforward, and also makes it possible to share your photos with someone quickly. Your photos will go into your photostream by default, but if you want a more specific grouping of pictures, all you have to do is create an album to put them in and send the link off to the person you want to show it to.
There's no need to deal with creating a website, but you can still showcase thousands of your photos without having to worry about storage space either once you pay for a premium subscription.
– Flickr Photography Portfolio Example: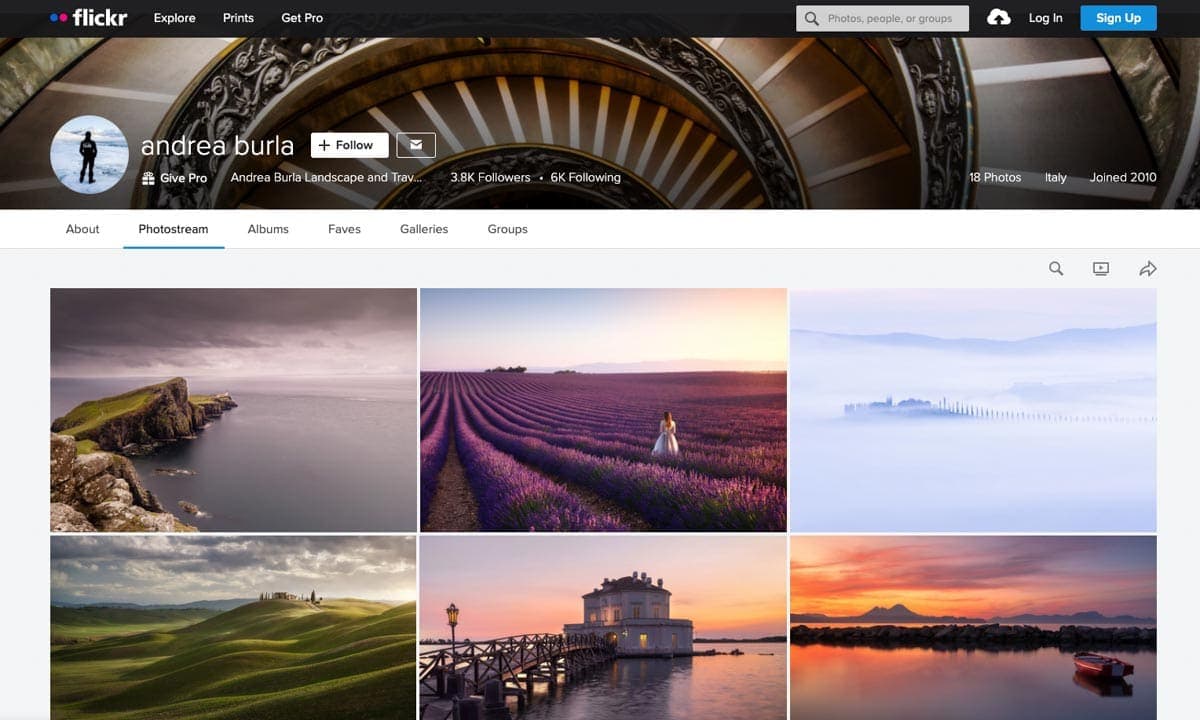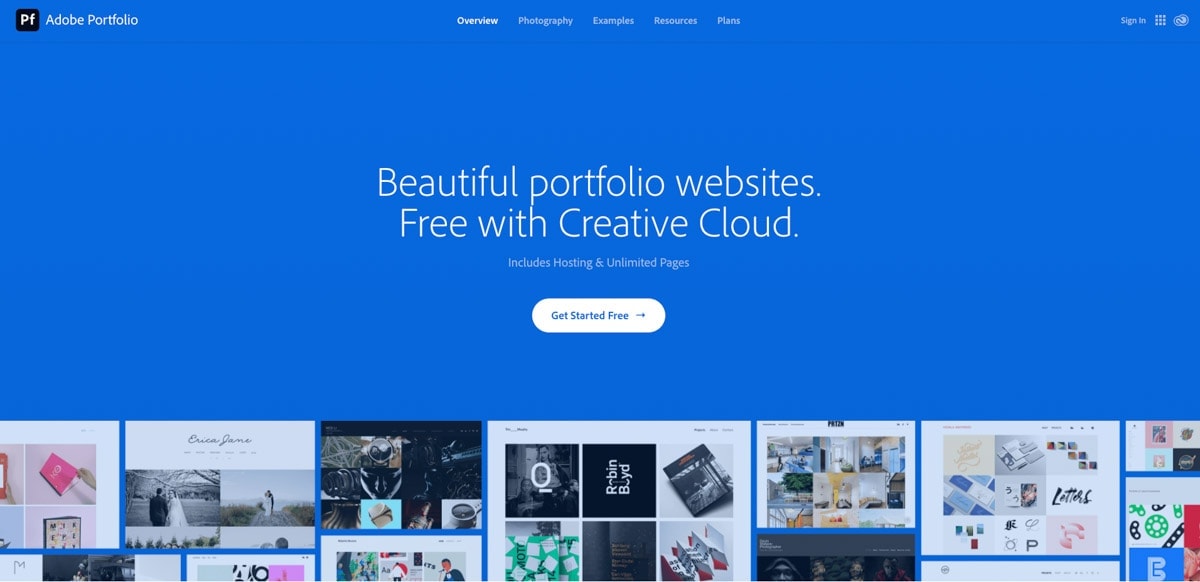 We already have one site on this list that's from Adobe. However, Adobe Portfolio is a little different from that one. While Behance is more focused on people that don't want to make their own website, Adobe Portfolio is the other way around. This site will help you make your own photography portfolio hosted by Adobe, and the process is much simpler than it would be if you were doing the same thing on your own.
The website for Portfolio displays several samples from professional photographers who use the site. All of them look fairly good and professional – the one commonality all of them have is a smooth and clean design, often featuring white as the primary color, so if you like this kind of style, this might be something worth checking out for you.
It's especially useful if you know you need a website, but you don't want to do it yourself or wrestle with a website creator site designed more for bloggers than photographers.
– Adobe Portfolio Example: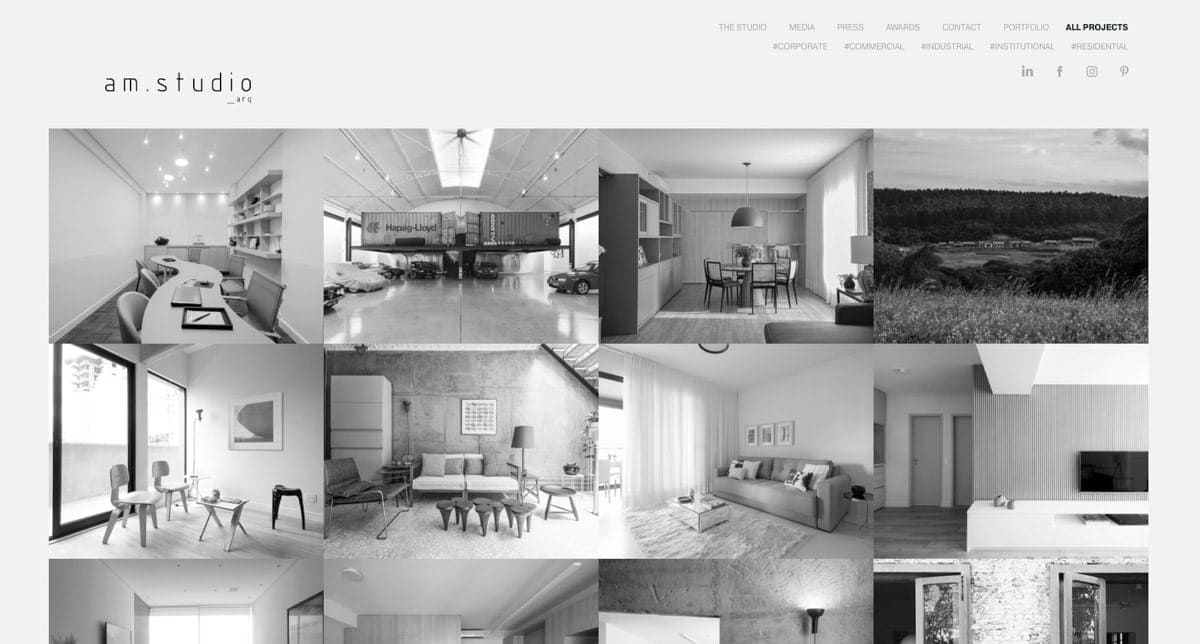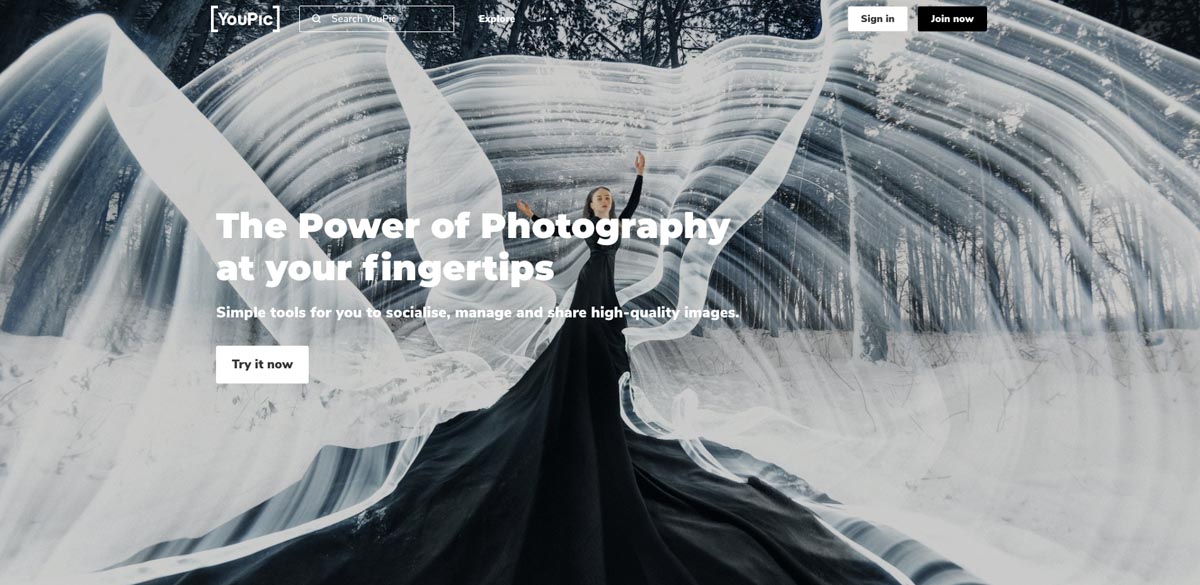 For those looking for something a little less cut and dry than just uploading your photos and leaving them there, YouPic is one option that claims to focus on the social side of photography. At least, that's the impression the company gives off by branding itself like a social network and reminding everyone that it's not just a site; it's a community.
One of the first things you'll see when you take a look at the homepage of YouPic is photos from other users, and YouPic boasts of having a more detailed feedback system that allows others to get more specific when rating your pictures. Also, you can sell or buy photos on this site, and so if you want a photography website with the intention of selling images, YouPic might be one to consider.
Interestingly enough, another service that you can handle without ever having to leave the website is getting hired. YouPic claims that you can get hired for new projects right from the site, and the benefit here is clear – you can send someone to your portfolio and get hired by them without having to send them to multiple places. With interactive courses to offer also, there's a lot of good reasons for a newer photographer to check this place out.
– YouPic Photography Portfolio Example: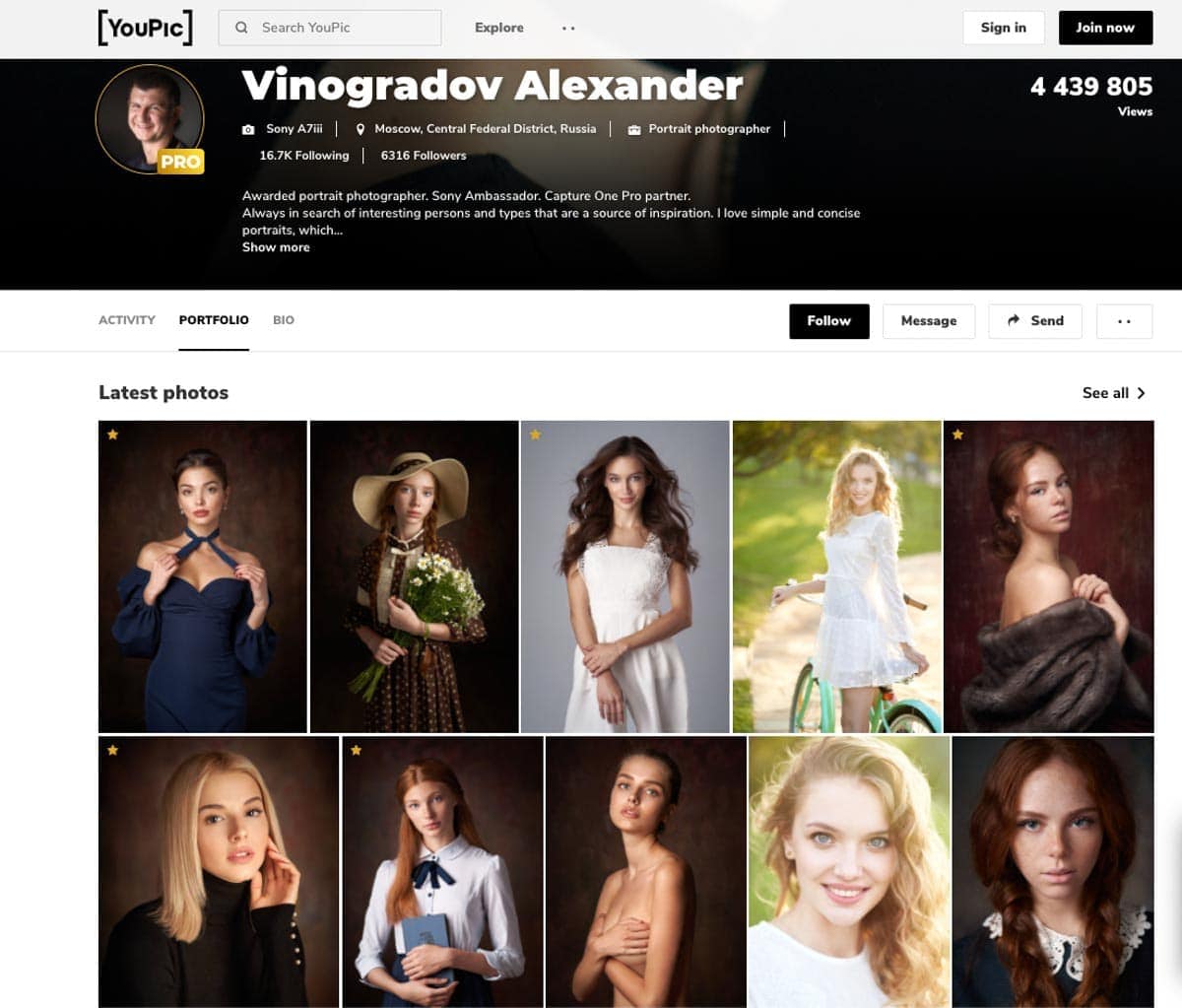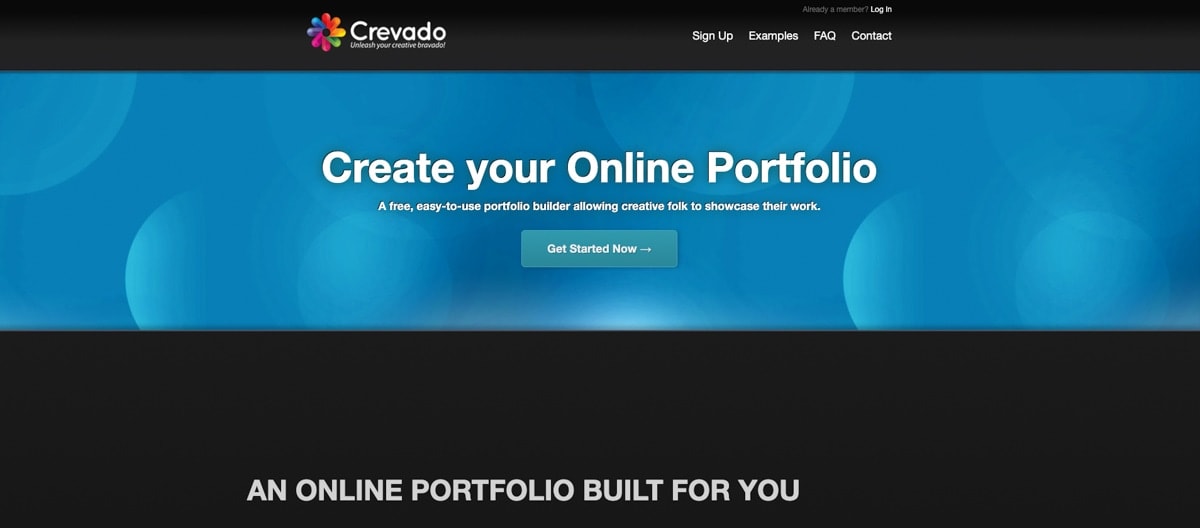 This one doesn't have the sleekest UI compared to some of the other sites on this list, but the main draw to it isn't the looks – it's the fact that Crevado brands itself as a free and simple to use site, where you don't need to pay to get the core functionality.
There are enough expenses in photography even without paying for a portfolio, so if you don't want to spend extra cash on that, this may be one of the better options for you. There is a premium plan, but it doesn't appear to be required to use the site's main features.
– Crevado Photography Portfolio Example: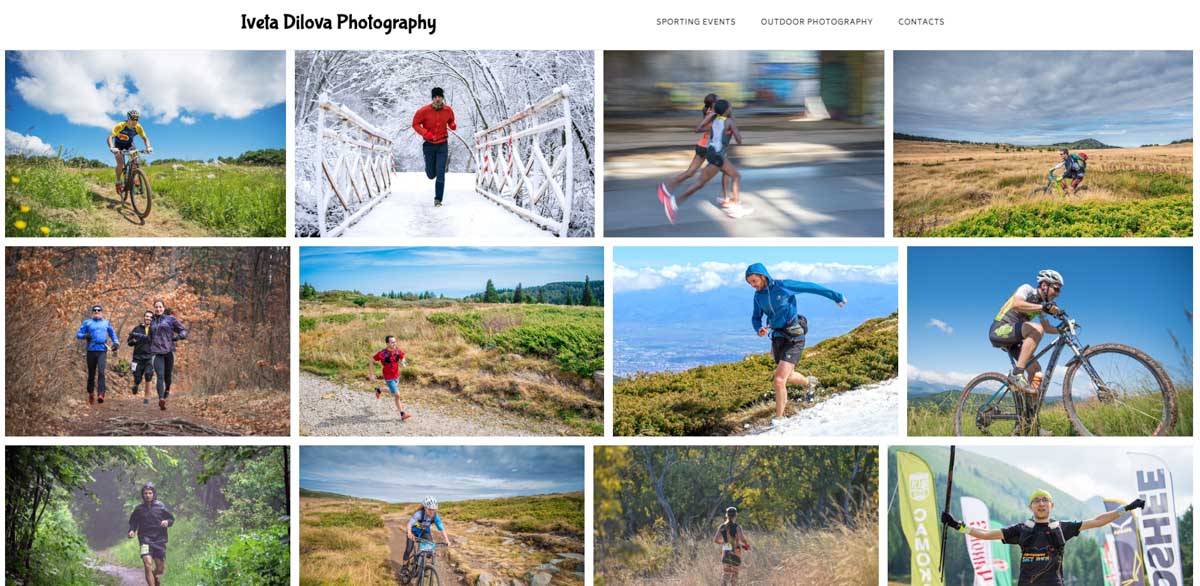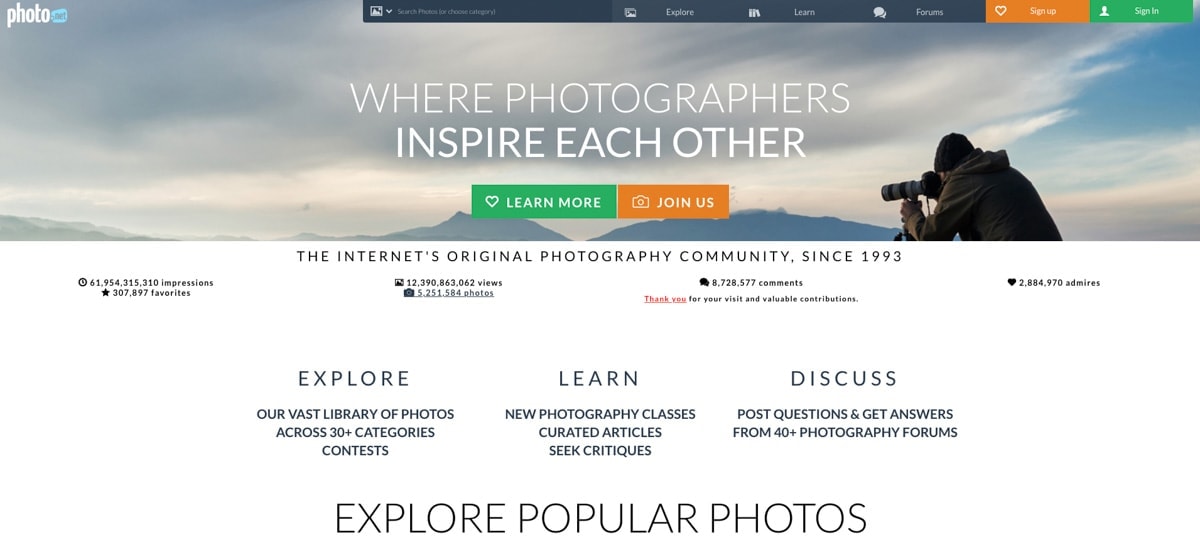 Earlier on this list, I mentioned Flickr as one of the oldest photo sites on the internet. However, Photo.net goes beyond Flickr by about a decade and started impressively back in 1993. It doesn't cost anything to join the site on their basic plan, and while you'll have to pay if you want to go further, you can host up to 100 photos for free. The free plan also gives you a limited amount of critique submissions to help you get better at photography. If you want a very established site with an active community, you need to look no further than Photo.net.
– Photo.net Portfolio Example: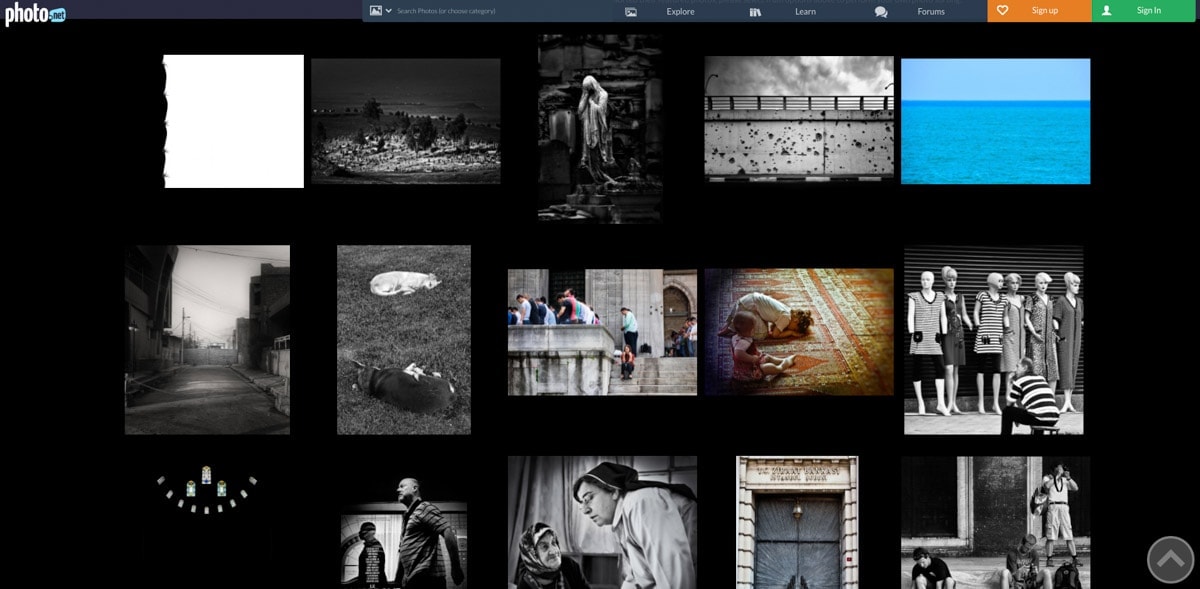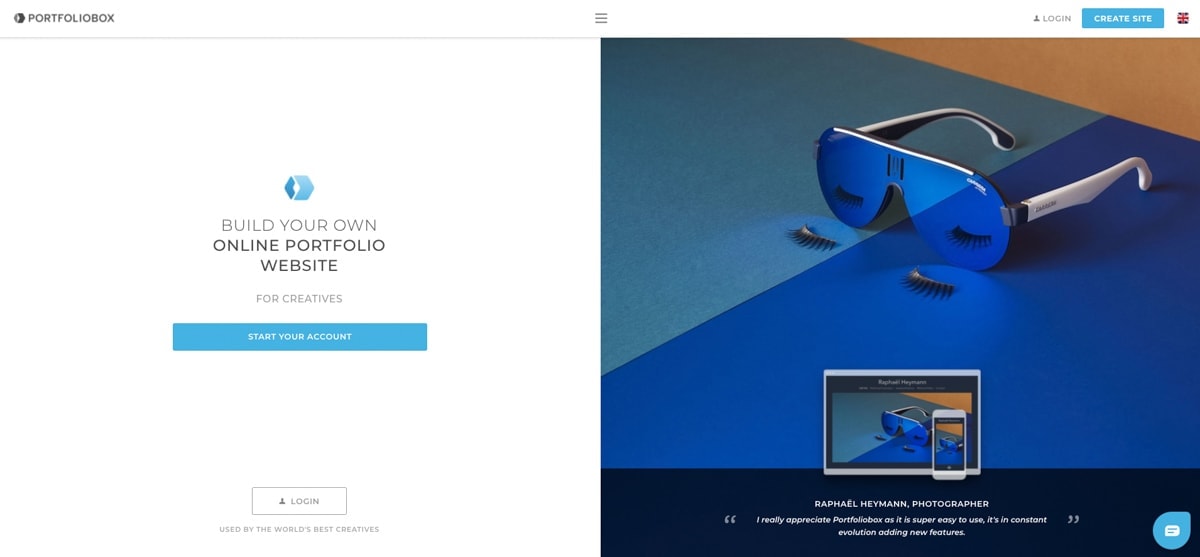 This one isn't exclusive to just photographers. It's similar to some of the other website builders targeted at the e-commerce market, but this one is aimed specifically at creatives. That includes photographers, and if you want a website builder that's focused on showcasing portfolios, this one is a good option.
You can sell your photos on this site, too, without losing part of the profit to commissions and fees. Also, you can add a blog to your website to add a bit more depth to it if you desire. For a site with this many features, there surprisingly is a free option, and you can upload up to 50 images with that plan.
This site also provides a domain name for free, which is a feature that most similar services don't offer. The advantage is that you'll stand out more, and you can more easily send someone to check out your portfolio site.
– Portfoliobox Photography Portfolio Example:
500px is far from the oldest site on this list, but it's also been around for long enough at this point that you can have some faith in it to be more than a trendy startup. It was founded in 2009 and brands itself as a global photo-sharing community.
Instead of just allowing you to make a portfolio, it's also notable for helping professionals, both new and old, to build their careers and display their services to clients. They also claim their Pulse algorithm gives exposure to new photos instead of just ones from established photographers, which could help if you don't already have a big following for your work.
If you want to have all the features, you'll need a membership. But just a free account still allows you to upload seven images per week, which could be enough depending on the type of photography you do. You can also license your work for free and create and share galleries. With those features available without a membership, you don't really need to pay up to start building your portfolio here.
– 500px Photography Portfolio Example: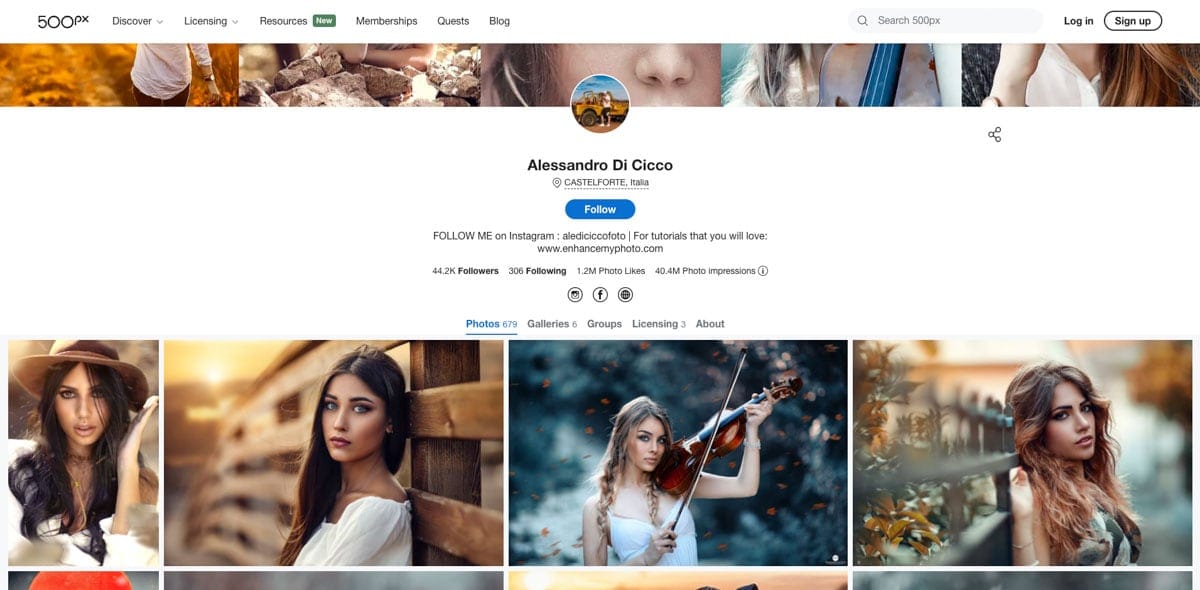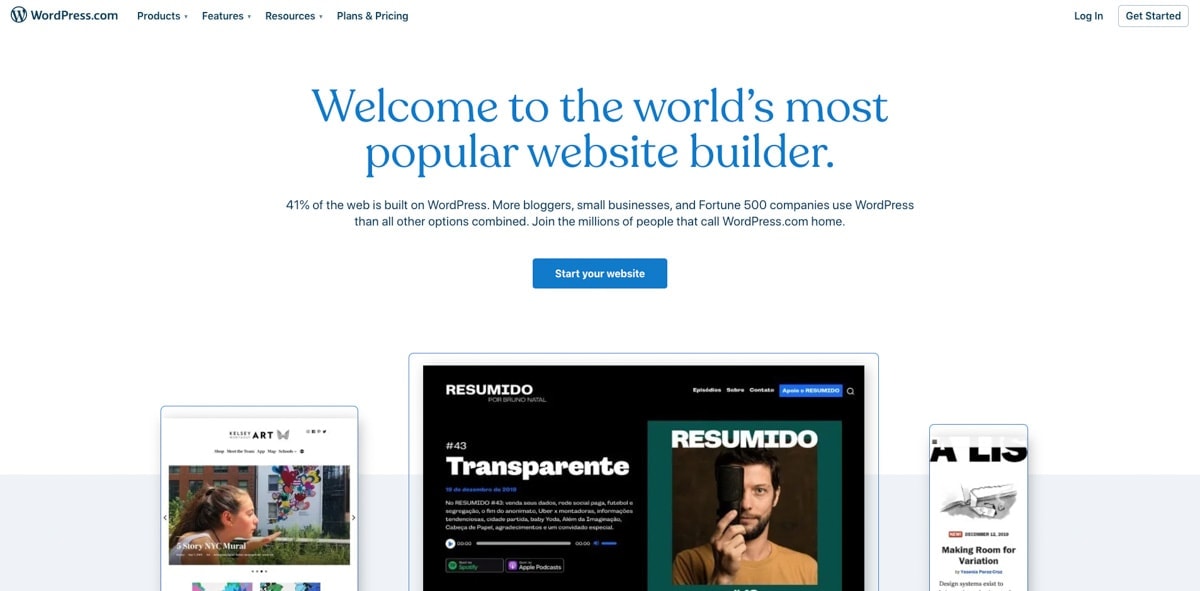 WordPress is far from being specific to photographers or even designed with photography in mind. Still, if you want the most options for customization and you have the technical knowledge to make it work, it will give you more options than a specifically targeted site meant for photographers.
That's because WordPress is used for creating blogs. Photoblogs are just one type you can make with it, and the platform is flexible enough that you can get any look that you desire, and you can integrate a number of advanced features with your portfolio website. The downside, of course, is that you have to have some technical skills to get these parts working.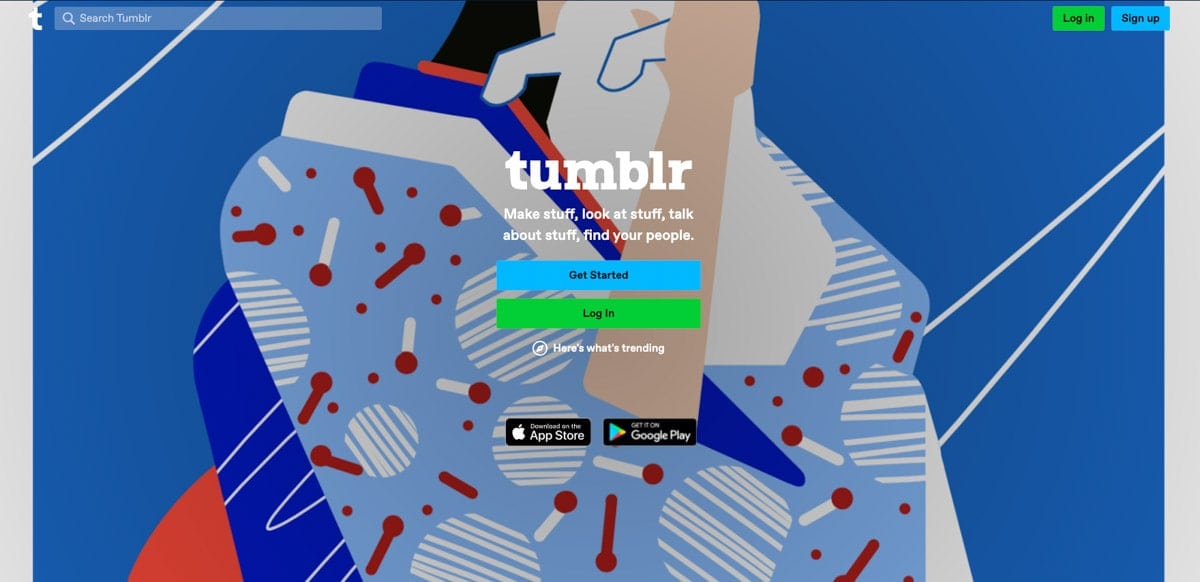 Another blogging option that allows customization and doesn't cost anything to start with is Tumblr. The site has seen better days, but it still does have enough users to make it a worthwhile consideration. If you want your own portfolio site instead of one designed in a drag and drop website builder, you may be interested in the customization Tumblr offers.
However, customizing a Tumblr blog is an easier and less technical process than doing the same for a WordPress one, which will make it a more attractive option for some. Also, another advantage is the community. If you like to do photography in a certain niche or aesthetic, you may gain exposure with other like-minded people on Tumblr through tags that let others find your photos naturally and share them through reblogging.
It's not the first option that will come to mind when you think of building a portfolio – but it does have the advantage of being free, and it's very flexible in looks for a site that doesn't cost anything to set up.
– Tumblr Photography Portfolio Example: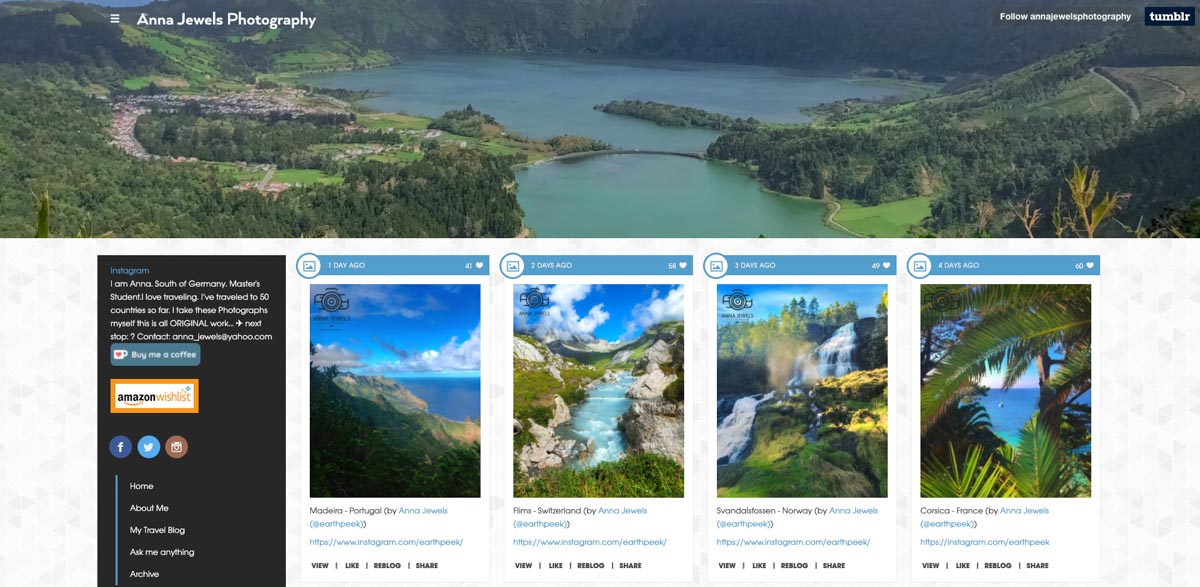 (Bonus) 11. Pixpa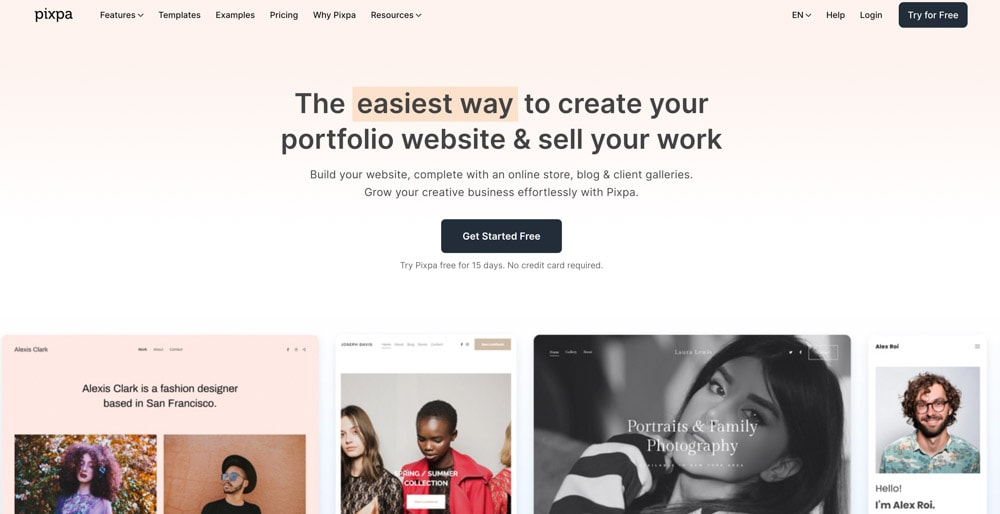 Pixpa is an easy-to-use, all-in-one website builder platform for photographers, creative professionals, and small business owners. The handy part about this site is that it uses a drag and drop builder to make it insanely easy to create a unique portfolio.
Besides portfolio and website building, Pixpa has e-commerce galleries so your fans can order prints directly from your site. Now if you've ever tried to fulfill print orders all by yourself, you know how much of a pain it is. Luckily Pixpa auto-fills all your print orders through the printing lab of your choice. If you offer additional services beyond prints such as in-person photo sessions or physical products, Pixpa can be integrated to handle those bookings and orders as well.
Lastly, Pixpa has a client proofing platform so you can easily send your images to clients for picks, or even deliver them entirely through Pixpa. Rather than sending a regular Dropbox folder of images, Pixpa gives your clients a customized and professional gallery all to themselves.
Pixpa is one of those epic all-in-one platforms for photographers, but with so many features, this one does come at a cost. Starting at just $3 a month on an annual plan, it's an affordable solution packed with some incredible features you won't find in other free portfolio platforms. If you want to give it a try for yourself, they offer a free 15-day trial + 10% off on any plan by clicking here.
So those are 10 (plus one) of the best free photography portfolio options for photographers. Whether you want a simple drag and drop portfolio, or one with more customization, there's a little bit of everything on this list.
Now since you're looking to build a photography portfolio, you're probably curious how to make it the best it can be. After all, your portfolio is what will help you land potential clients in the future!
To help get you started creating your portfolio (without having any clients) check out this complete guide.
Then once your portfolio is up and running, all that's left is to network. Check out this post sharing some important networking tips to make sure you don't lose out on clients after the first introduction!
– Brendan 🙂