At times Photoshop may not be the best editing program for your needs, whether it's due to the cost of the Adobe Suite or you need a more straightforward interface. Sometimes it may just be a preference that moves you away from Photoshop. Luckily, there are several free and paid alternatives for photo editing and graphic design.
Best Photoshop Alternatives
Here is a mix of paid and free alternatives for image editing, graphic design, and other digital editing projects. Choose the right one for you based on the cost, ease of use, and general preference.
Luminar AI is an Artificial Intelligence (AI) powered image editing processor owned by Skylum, available on PC and Mac. The program pairs traditional photo editing with AI technology geared for beginner and professional editors. This process provides a quick and effective method of editing pictures in just a few clicks.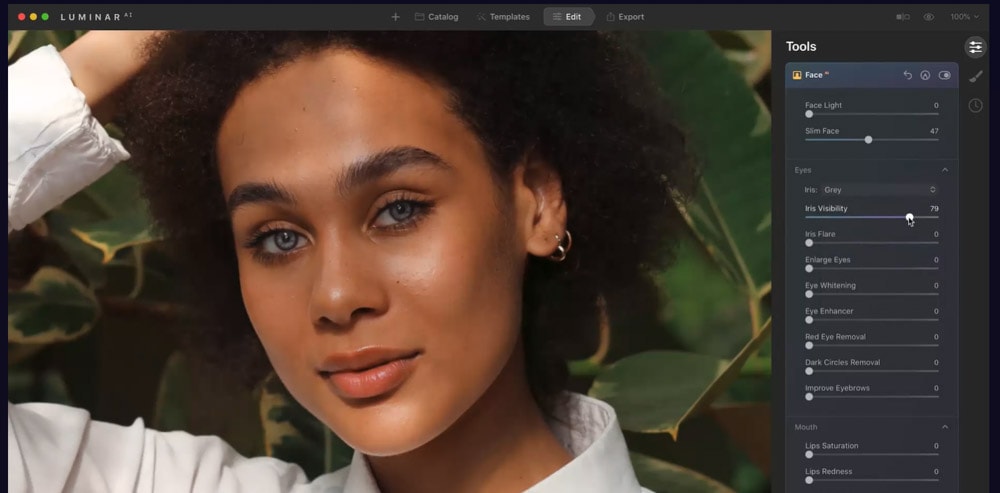 Photos are automatically analyzed once opened in the program, and in-depth edits are suggested to speed up the workflow. The program is primarily targeted at landscape and portrait photographs because of the instant detection and masking to enhance skin, replace the sky, and the smart contrast tool. The edits can then be synced across multiple photos.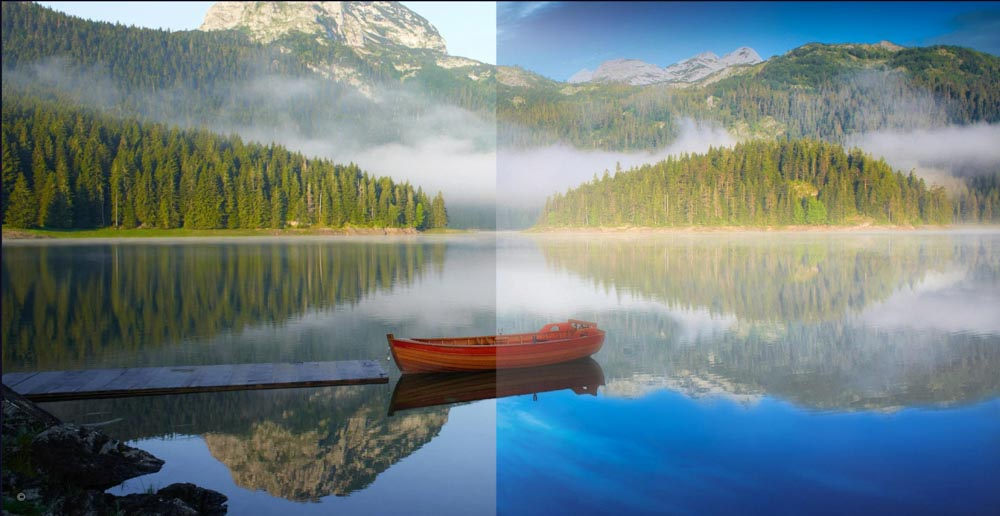 The program works on templates added to your image after an AI analysis, which may create a similar edit on different pictures. However, you can easily customize a photo once the program has added the suggested corrections. Luminar AI supports RAW and other file formats, and with a one-time payment, you can use the program as a stand-alone or a plug-in to Photoshop (PS) or Lightroom Classic.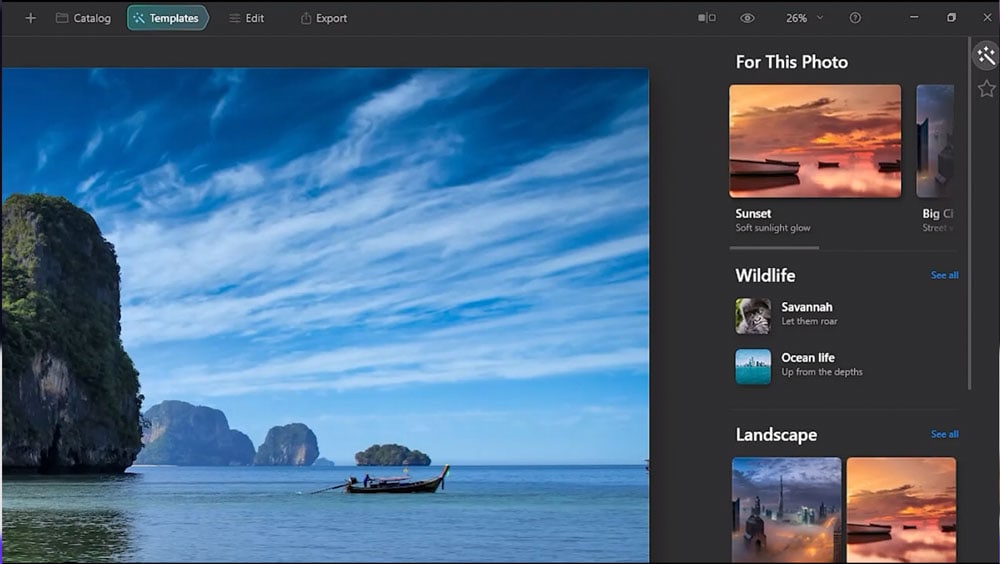 Luminar AI falls short in many aspects, including speed and lack of layers. The program doesn't support viewing images side by side or batch editing. It is also more expensive upfront than Photoshop. There is a more recent program from Skylum called Luminar Neo (you can read my review here), but Luminar AI is still my go-to.
Pros
User and beginner-friendly
One-time cost with free updates included
Uses AI and machine learning effectively
It can be used as a stand-alone app or a plugin
Quickly edit photos with complex masks
Cons
Heavy system requirements to run
No mobile versions
Inability to use layers in the program
---
Affinity Photo is a photo editing software built specifically for Mac but is now available on Ipad and PC. This program is likely the closest to Photoshop in editing capabilities and features. The program requires a one-time payment that works out cheaper than Photoshop in the long run.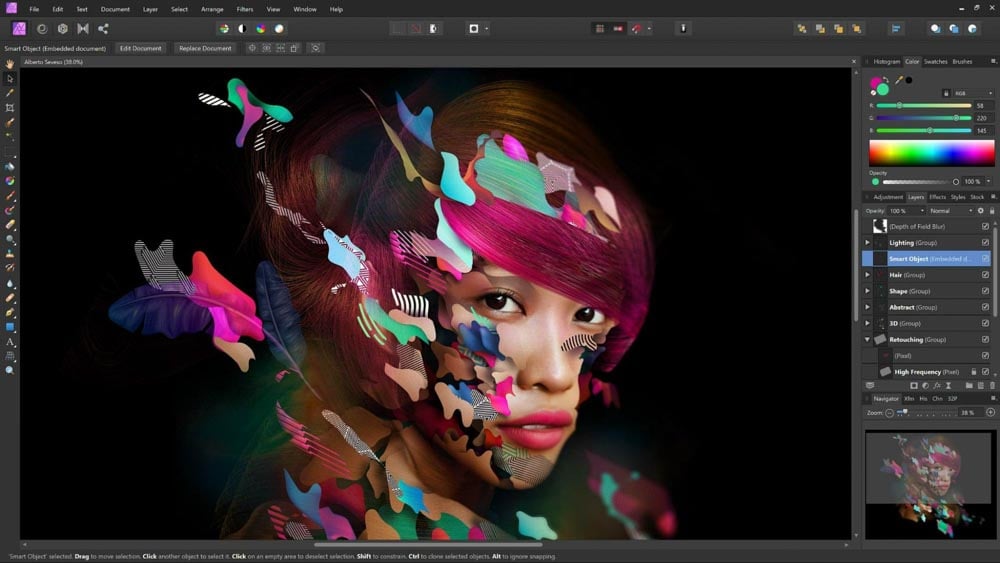 Affinity Photo offers a similar interface to Photoshop and shares certain key features. Affinity Photo can edit RAW, PSD, and other file formats. The program also works with layers to allow for non-destructive editing. The program shares other features with Photoshop, including adjustment layers, blend modes, effects, and masks.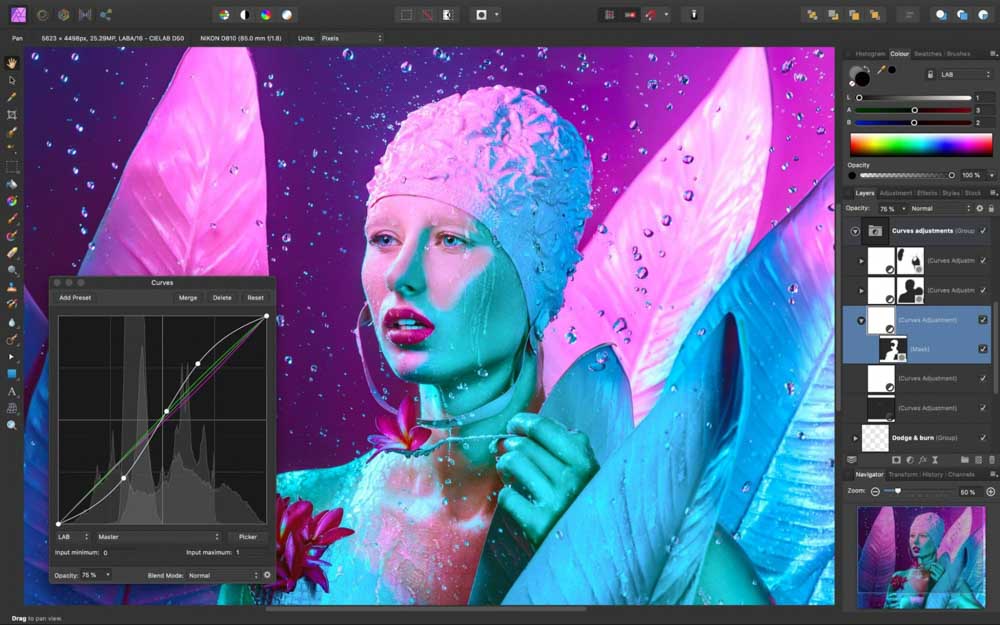 Affinity Photo offers extra features such as a dedicated space for tone mapping and a frequency separation filter, and unlike Photoshop, it has unlimited undo. However, the program lacks organizational structure since it doesn't allow for customized workspaces and has fewer advanced editing capabilities.
The program, owned by Serif, is designed for professional photographers, digital artists, and graphic designers. The brand also offers Affinity Publisher (an alternative for InDesign) and Affinity Designer (likened to Illustrator).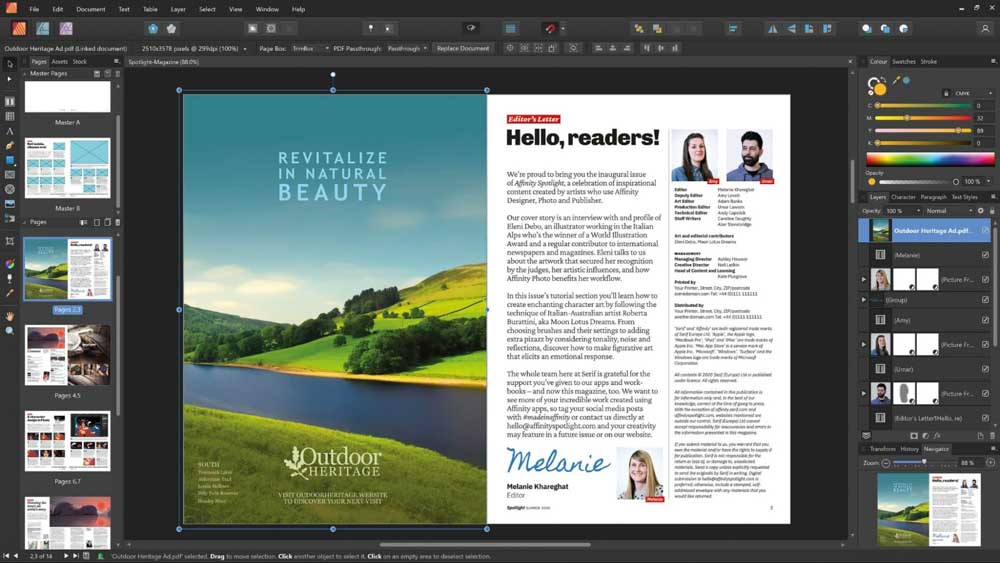 Pros
Similar processes to Photoshop
Supports layers and smart objects
Once-off fee (no subscription charges)
Easy to set up
Supports PSD and RAW files
Cons
Lacks organization structure
Fewer advanced features than PS
The iPad version is sold separately
---
Capture One Pro is a comprehensive image editor closer to Lightroom than Photoshop. 
If the plan is to move away from Adobe, then Capture One Pro is an excellent option, especially for professional photographers and editors. Beginners may have some trouble navigating the program if they aren't familiar with Lightroom.
The program is owned by the high-end camera manufacturer Phase One and has plenty of tutorials to help new users navigate the interface. Capture One Pro has various customization options and focuses on image management. However, there are multiple editing capabilities that rival Photoshop.
The program features lens correction, layer-based editing, color grading, adjustments, masking, and spot removal. However, it lacks layer blend modes and retouching tools and doesn't offer panorama or HDR editing.
The program works with RAW and other file formats and is available on Windows and Mac. The latest version, Capture One Pro 20, offers a one-time fee or a subscription plan.
Pros
Layer-based editing
Less expensive than Adobe products
Efficient photo management
Excellent color grading
Supports RAW file formats
Cons
Difficult interface to navigate
Limited advanced editing tools
No HDR editing
---
PhotoWorks is a user-friendly photo editor for PCs filled with functional editing capabilities. The program features AI processes that work well on landscape and portrait images, along with an intuitive interface and several tools that are also found in Photoshop.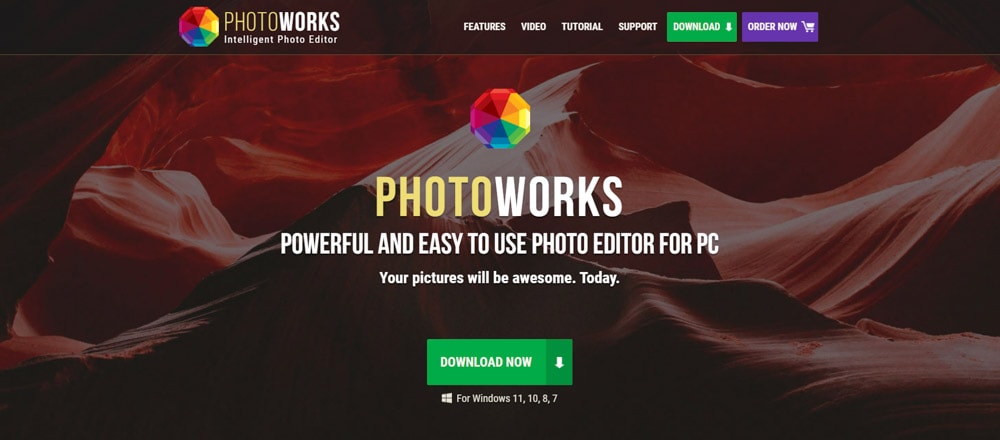 The program works well on high and low-spec PCs and is suitable for beginners and casual photo editors. PhotoWorks offers non-destructive editing with tools such as the clone stamp, filters, brushes, and the capability to process RAW images.
The AI features in the program let you correct landscapes with one click as PhotoWorks determines the best way to fix up the photo or remove backgrounds on other images. There are also an array of presets and filters that work on portraits, allowing the user to add further edits.

PhotoWorks doesn't offer as in-depth editing capabilities as PS as it has no drawing tools and has limited layer tools. The program also lacks noise reduction and sharpening editing processes.
Pros
User and beginner-friendly
AI features for landscapes and portraits
Quick background removal and replacement
Abundance of presets and filters
A handful of pro-level tools
Cons
Only available on Windows
It can't save work on the trial version
It doesn't support PSD file formats
---
PicMonkey is a collaborative online-based photo editor with design capabilities. The program allows you to expertly edit images and design basic layouts for posters, flyers, or digital media. Users can choose from several templates to create complete designs. PicMonkey is suitable for beginner and intermediate graphic designers and photographers. 
The photo editing tools are pretty limited compared to PS, but there are several tools to alter images. The program offers layers, masking, exposure adjustments, resizing, and cropping. In addition, PicMonkey offers intuitive facial editing tools to remove blemishes and wrinkles, alter skin tones, and add make-up.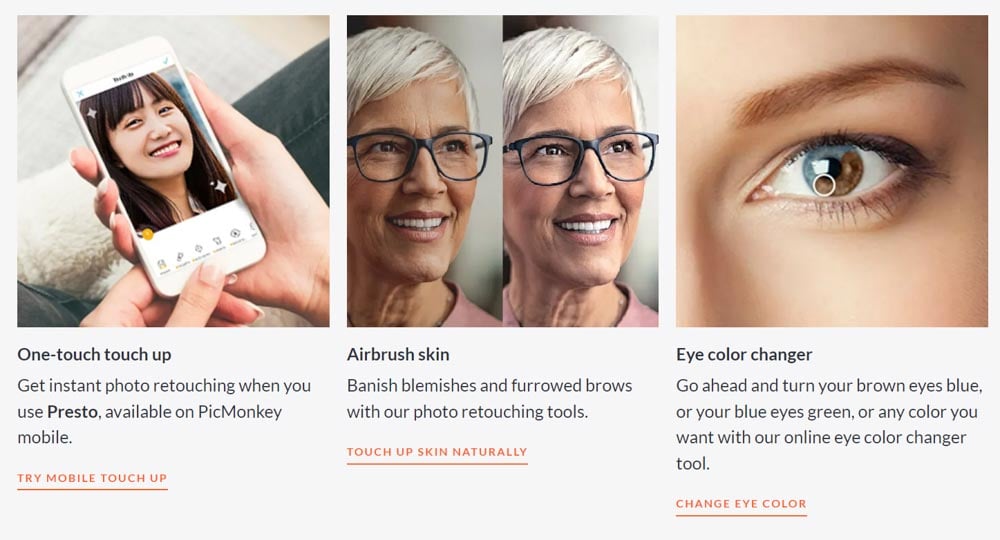 Other editing features comparable to PS are the automatic background removal, filters, and color gradients. A considerable benefit of the program is the ability to share work among team members, where others can comment and edit in the shared workspace.
PicMonkey is a relatively basic image editor compared to PS and lacks pro-level editing tools. However, it is an excellent program for making basic photo edits before creating layouts for print or web. The program offers a web platform across all browsers and apps for Android and Apple.
Pros
Beginner-friendly platform
Photo editor and layout creator
Free trial available
Collaborative workspace for multiple team members
Web-based and mobile apps
Cons
Features differ between the web platform and mobile app
Relatively shallow editing capabilities
It doesn't work across multiple projects or pages at the same time
---
GIMP, which stands for GNU Image Manipulation Program, is a free, open-source photo editor and graphics creator that works on Windows, Mac, and Linux. The program offers several tools to rival Photoshop and is noted as the best free alternative for editing.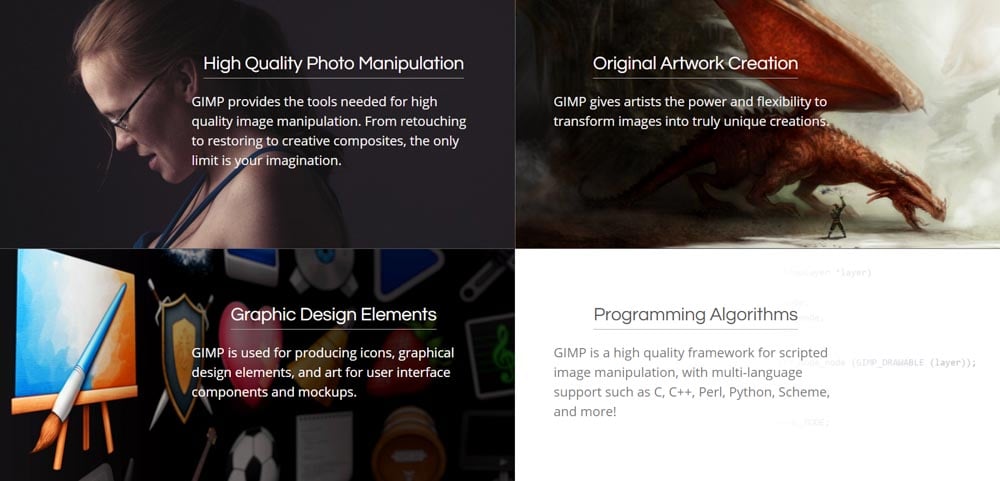 The program is suitable for intermediate and professional editors and graphic designers looking for a quick method of editing photos and designing graphics. The open-source software is continuously updated by various developers who have added multiple plugins to the program.
The interface is user-friendly and offers several customization options to streamline your workflow. Users familiar with Photoshop won't have any problem navigating the workspace and learning the tools. GIMP offers editing features such as working on layers, masking, cloning, color correction, and color adjustments.
GIMP supports multiple file formats, including TIFF, GIF, and PSD, although certain layers may not be readable if the program doesn't support the layer. The program doesn't offer the entire arsenal of editing tools that you will find on Photoshop, and specific processes require plugins to function.
Pros
Free, open-source software
No distracting ads
Layers and blend modes are available
Several editing tools are available
A vast array of plugins to add on
Cons
It doesn't support RAW files
No drawing tools
It needs plugins for certain functions
---
Photopea is a free online photo editor that allows you to jump straight into editing as you open the website. The interface is almost a carbon copy of Photoshop, with a few minor tweaks here and there.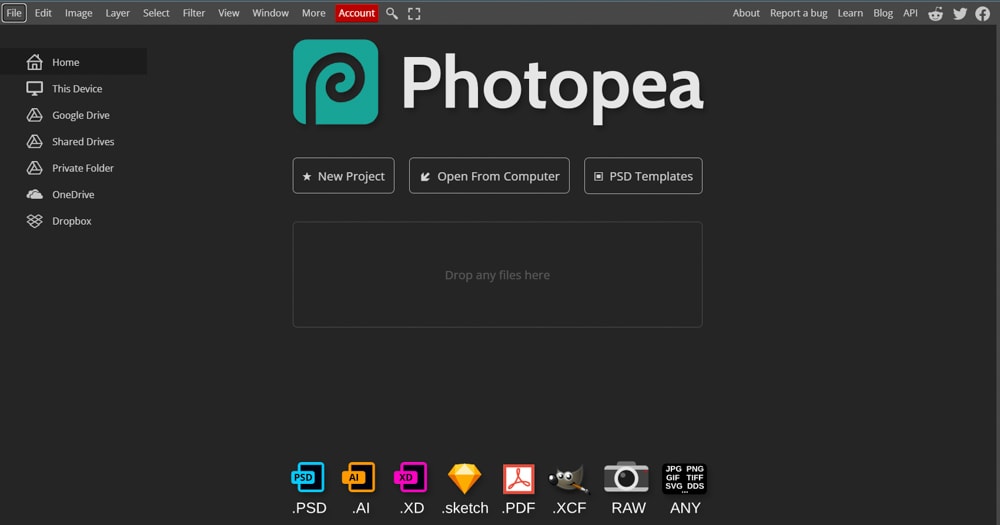 The program is an excellent choice for beginner photographers looking for a trial run of something similar to Photoshop before buying. It will also suit professionals who need a quick editor if they are away from their primary laptop.
Photopea doesn't require you to sign up, so you can simply get straight to editing using cropping, color adjustments, blur tools, adding text, filters, layers, and masking. Unlike Photoshop, Photopea doesn't have lens correction or content-aware tools.
The program supports various file formats, such as PSD, GIMP, PNG, and SVG, and exports files in these formats.
Pros
Free and no sign-up is needed
A paid ad-free version is available
Supports various file formats
Extensive editing tools
Non-destructive editing
Cons
The free version contains distracting ads
No content-aware tools
It may take time to learn for users not familiar with Photoshop
---
Krita is a free, open-source editing platform focused on digital drawing for photographers, illustrators, conceptual artists, and animation creators. The program was designed as an affordable tool kit for digital artists to use and develop further.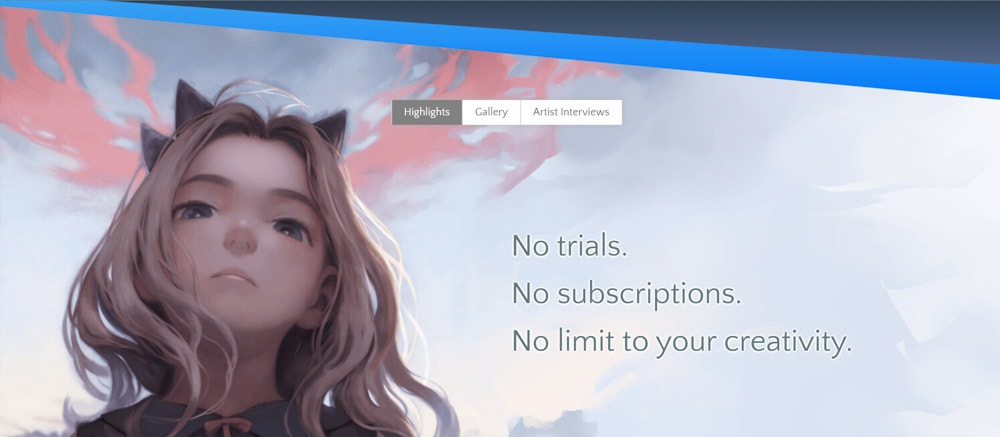 Krita offers vector and raster capabilities in an interface that resembles Photoshop's workspace. Familiar tools in the program include layers, shapes, and selections. However, the program's key features are more than 100 brushes and nine brush engines.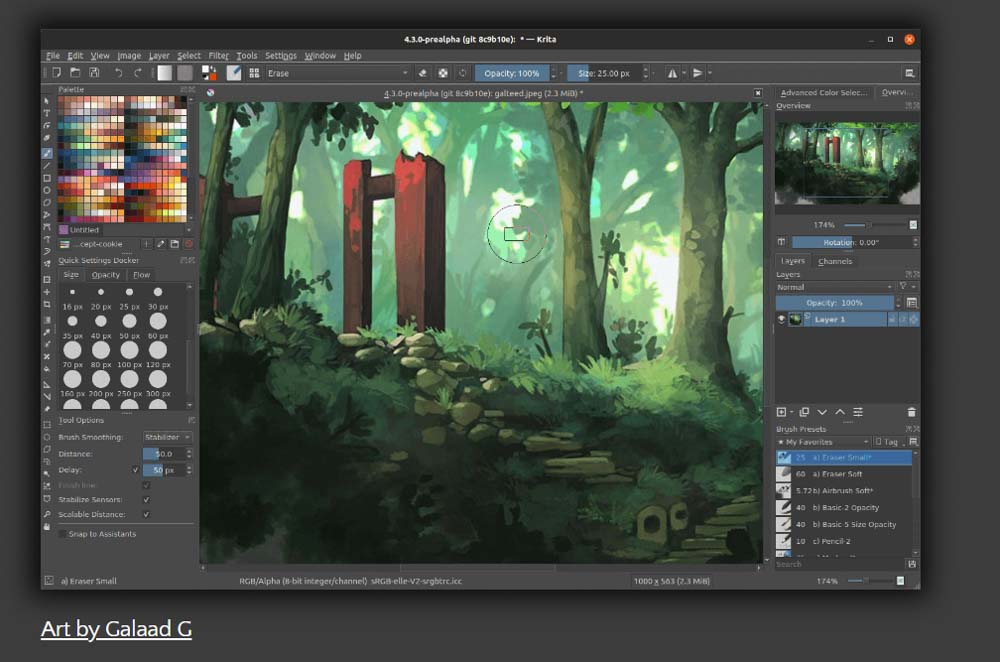 The program focuses on drawing tools such as drawing assistants to perfect shapes, brush stabilizers, and the option to share new brushes with other creators. There is a large community within Krita, where digital artists share their work and share tools and brushes.
While similar in look and feel to Photoshop, Krita lacks photo editing tools such as limited filters, no healing tools, and no RAW filter. The program supports various file formats, including PSD files.
Pros
Similar interface to Photoshop
Intuitive layer management system
Free and open-source
Pro-level drawing tools
Large community
Cons
Lacks photo editing tools
Few updates
The mobile version is severely limited
---
Pixlr is a group of three editing and designing programs based on the web. The free program consists of Pixlr X, which offers quick and easy design tools, Pixlr E, an intuitive photo editor, and Photomash Editor to make visual assets.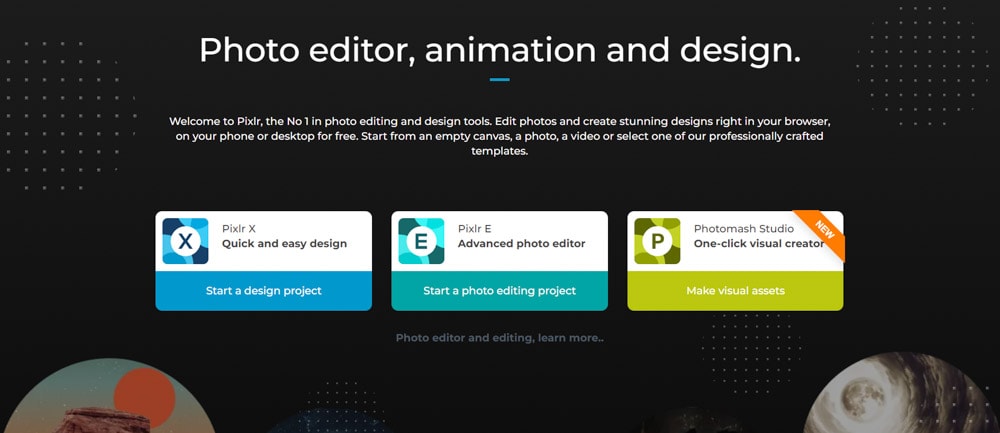 The program uses AI technology to cut out objects or backgrounds from pictures with one click. Pixlr also offers comprehensive photo editing tools such as cropping, filters, layers, lasso, eraser, and brush tools. To begin editing an image, you can simply drag and drop pictures in the platform or use a URL to add a photo.

The program offers limited features for free users and more in-depth tools for premium users. Pixlr lacks Photoshop's vital features, such as custom brushes and limited touch-up capabilities.
Pixlr is relatively new, and due to beta testing, specific tools are slow like the healing brush, and other features are only in the pipeline and not available yet. The program is well suited to beginner to moderate photographers, graphic designers, and animators looking for an easy-to-use interface.
Pros
Operates on any device through the web
Intuitive AI tools
Open an image directly from a URL
An array of templates for design
Animation capabilities
Cons
No adjustment layers
Advanced editing tools are limited
Distracting ads in the free version
---
Canva is a free online editing program that offers basic entry tools and an array of templates to choose from. The free version allows 10 members to work collaboratively with over 250,000 templates. You can also choose from a paid version which allows for more members, templates, and storage space. 

The program is excellent for basic photo editing with frames and filters, although it doesn't offer AI tools and in-depth editing capabilities. Canva is great for designing simple layouts for social media and other digital platforms.

Canva allows users to add text, icons, badges, stickers, and design grids to the project or image. This is well suited for beginner graphic designers and photographers looking for a user-friendly interface without in-depth editing tools. I wrote a direct comparison between Canva and Photoshop here if you'd like to learn more.
Pros
The free version offers several templates
Lots of free storage
Quick graphics editor
You don't need ample processing power to run
Collaborative capabilities
Cons
Basic photo editing tools
Requires an internet connection
Limited customization options
---
Darktable is a free, open-source photo editing software and raw developer. Photographers developed the program to create a simple non-destructive workflow to develop and enhance RAW files while keeping a copy of the original.
The program is similar to Lightroom Classic and offers a clean interface and quality photo management capabilities. Editing features include advanced color management, cropping, curves, lens correction, sharpening, and much more.
Darktable is an excellent option if the goal is to keep raw files organized while working between the lighttable tab and the darkroom tab, which is essentially the processed and unprocessed image files.
The program does fall short in precise editing, including healing, retouching, and spot removal tools. As a free program, Darktable experiences glitches and runs slower than Photoshop.
Darktable is best suited for beginner to professional photographers looking for a program to store and organize pictures while adding basic edits.
Pros
Free and open-source
RAW editing capabilities
Tethered shooting for specific cameras
Non-destructive editing
Professional color management
Cons
Slow and crashes often
Advanced editing features are severely limited
No detail-orientated editing tools
---
Design Wizard is a paid design and editing online program offering thousands of templates created by graphic designers. The platform allows users to quickly create stunning graphics for social media, web posts, invitations, book covers, and posters.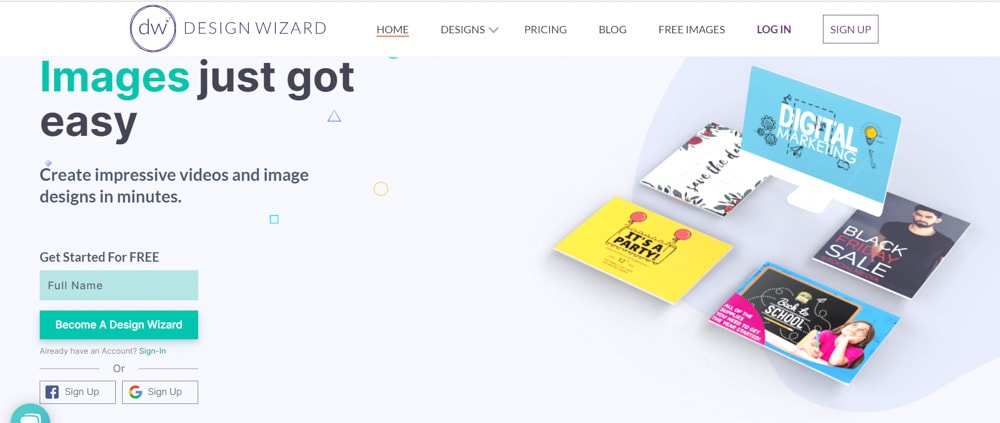 Design Wizard offers template creation and a built-in stock photography database for users to choose images from. The quality photos are then used to create stunning visuals using simple and easy-to-use tools. In addition, you can enhance the project by uploading logos, graphics, and other elements to add to the project.

The program also offers a photo editor where users can crop, adjust saturation, change contrast and color balances, and add filters to pictures. Design Wizard lacks finer detail editing such as spot healing, background removal, and brush tools.
Design Wizard also features a basic video editor, which could be improved as there are issues with this feature. The program is suitable for beginner and intermediate graphic designers looking for a quick solution to create digital layouts.
Pros
Free version with an option to pay per template download
Thousands of high-quality template designs
Can lock down elements during the design process
Large stock image database
Basic image and video editors
Cons
Limited photo editing capabilities
Buggy video editor
The free version adds a watermark to projects
---
Which Should You Choose?
With so many options to consider, let's make it easy. If you're a photographer, I would recommend Luminar AI or Luminar Neo as an alternative to Photoshop. These programs are incredibly good at making complex tasks simple with the help of AI-powered tools not found anywhere else.
Although both of these programs are paid, they can be purchased with a lifetime license making them extremely cost-effective in the long run. You can get a free trial of Luminar AI here.
Now, if you're a graphic designer or need basic image editing tools, I would suggest Canva since it's the easiest to learn and can be free for life. By upgrading to Canva Pro, you get more assets and templates to choose from. However, many people can get everything they need with the free version.
You can sign up for Canva here for free to see how easy it is for yourself.
Happy Editing!
Brendan