Whether you're new to the Luminar ecosystem or you're a previous Luminar 4 or Luminar AI user, it's very likely that you're confused about Skylum's newest release of Luminar Neo. With flashy advertisements and big promises, at the core level, it's hard to really tell what the differences are between Luminar Neo and Luminar AI. So to help you get a better idea of the differences let's make it simple.
The main difference between Luminar Neo and Luminar AI is the implementation of Layers and Relight AI which are only found in Luminar Neo. Layers allow you to add basic overlay effects such as light leaks or film grain while Relight AI allows you to adjust the foreground and background separately.
After using Luminar AI and Luminar Neo since their respective launch dates, I can now confidently say which program I find more useful for my workflow. So whether you are looking to use Luminar AI or Luminar Neo as a plugin for Lightroom and Photoshop, or as stand-alone editing software, this post will break down everything you should know before deciding.
What Is Luminar AI?
Luminar AI is a photo editing application and plug-in that uses AI-powered software to offer unique photo editing adjustments not found in other editing programs. With the help of its AI-powered tools, things such as skin retouching, sky replacements, or overlay effects are possible with a single slider.
When the program first made its debut a lot of its features were unlike anything available in other editing software. Since then, Lightroom and Photoshop have come out with their own set of AI-powered tools that rival what's available in Luminar AI.
With that said, Luminar AI still proves advantageous as a stand-alone photo editing program with a one-time fee, unlike other subscription-based editing programs. It has enough features to sort images, edit your photos quickly without needing much experience, and has a simple exporting process too.
For beginner and intermediate photographers, this program has everything you need. For professionals, it serves as a valuable plug-in for programs like Adobe Lightroom and Photoshop which offer more professional workflow features.
What Is Luminar Neo?
Luminar Neo is an AI-powered editing software with many of the same features as Luminar AI. However, Skylum has made clear that Luminar NEO is not a replacement for Luminar AI. Instead, it set out to fix issues with the Luminar AI and problems that users were wanting to be improved.
Although many of the features remain the same as in Skylum's previous release, Luminar Neo has the addition of Layers as one of the primary differences. These allow you to stack multiple overlay effects onto your images such as lens flares, texture effects, and more.
For those used to using layers in Photoshop, the layer features in Luminar Neo are nothing short of lackluster with limited editing options for individual layers. However, for those just wanting to add basic overlay effects to their images, the layer system in Luminar Neo is straightforward and easy to use. Ultimately it's better to think of Luminar Neo having the option to use layer overlays, rather than having a truly advanced layer system.
The second feature unique to Luminar Neo is the Relight AI tool which allows you to adjust the foreground and background independently without masks. This is a highly valuable tool for all levels of photographers but isn't necessarily something to base as your sole reason for using the program, as I will highlight in the next sections.
To learn more about this program, check out my Luminar Neo review here.
Luminar Neo vs Luminar AI – Differences Compared
To give you the broadest comparison of Luminar Neo vs Luminar AI, let's break each program down into each stage of the editing process.
– Importing & Catalogs
Luminar Neo and Luminar AI have a very similar library and catalog systems making Luminar Neo easy to use if you're already familiar with Luminar AI. In Luminar Neo you can simply click "Add Photos" while in Luminar AI you click the + icon and choose to import a folder or a single image.
Once imported your images will appear either as the folder it was imported in, or within the single image edits group when importing individual photos.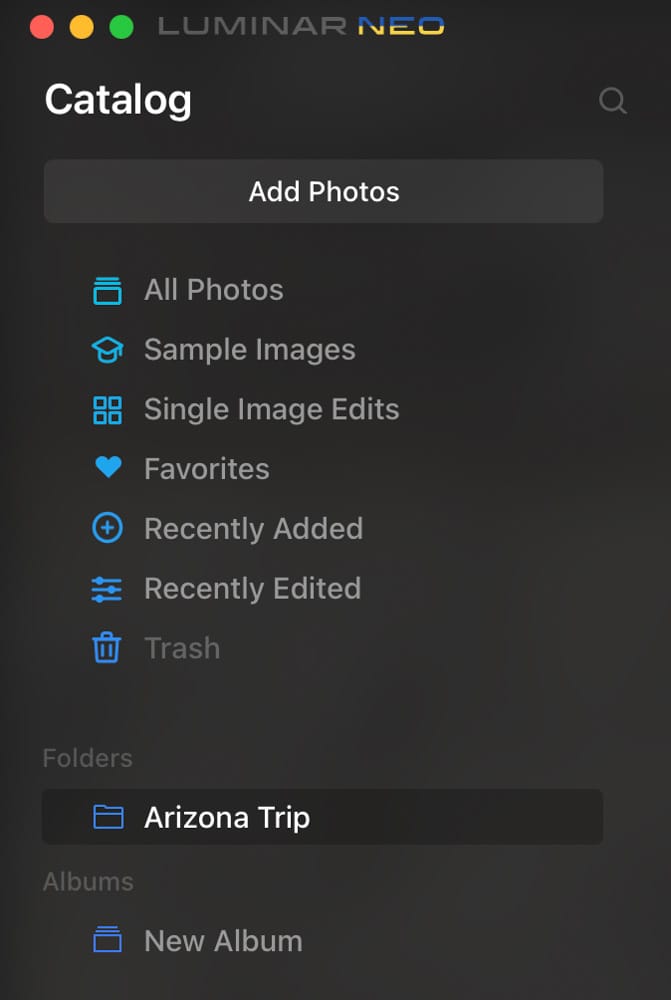 Viewing your images in both programs is identical, with options for grid view and full-screen view. You can add picked or reject flags to images in both views to easily sort your photos between the best and worst photos from a shoot.
Within full-screen view, you cannot change the filter settings to view only picked or reject images within a folder. You must be in grid view to change these settings. This is something that's always annoyed me about both of these programs, but may be a bit nit-picky if you're not one to sort your photos in a folder.
In both Luminar Neo and Luminar AI you can view the file information about your photos, but the metadata cannot be edited. As I mentioned in my previous articles about Skylum software, this is a bit of a sticking point for any professional wanting to use these programs as their primary editing platform.
Ultimately, both programs are exactly the same in this area and there's not more to discuss here.
Winner: Tie
– Templates & Presets
In Luminar Neo you have a "Presets" module while in Luminar AI you have a "Templates" module. Despite the difference in names, they do the exact same thing which is adding quick editing adjustments to your photos.
You're likely familiar with what a preset is, but if not, it's a set of pre-made editing adjustments that are applied to your photo with one click. They are great for saving time and applying professional editing adjustments without needing any experience.
Unlike presets in other editing programs, the template and preset options in Luminar Neo and Luminar AI offer some cool overlay effects beyond standard editing adjustments. For example, you can add lens flares or film grain overlays to your photos with these preset adjustments. You can also add more advanced effects like skin smoothing or face enhancements with their AI-powered tools built into certain templates and presets.
Both Luminar Neo and Luminar AI use AI to scan your photo and offer recommendations on the best presets to use. If you're editing a landscape image, both programs will recommend landscape-specific presets. Likewise, if you edit a portrait, each program will recommend portrait presets too.
The one difference here is that Luminar AI offers an adjustment slider to alter the intensity of any template you apply. I find this extremely useful as not all templates fit my tastes at full intensity, but tend to work well at a reduced intensity. The only issue here is that when you reduce the intensity of a template, any adjustments you add to your photo manually will also appear at a reduced intensity.
In Luminar Neo, whatever preset you choose is what you get and the only way to alter the intensity is to manually adjust the image. For one-click editing this makes life a bit harder, however, this is more user-friendly since you can edit your photo normally without worrying about an intensity slider messing with your adjustments.
Because Luminar Neo limits confusion by removing an intensity slider that could affect your manual adjustments like in Luminar AI, I have to give this win to Luminar Neo.
Winner: Luminar Neo (7-Day Free Trial)
– Photo Editing Capabilities
Rather than going through all of the editing adjustments available in each program, let's focus on what differences there are.
And before you start wondering if there are any essential adjustments missing, both Luminar AI and Luminar Neo have all your standard editing adjustments. Things like exposure controls, curves, HSL, sharpening, lens corrections, and all that good stuff.
Both programs also have a wide range of super useful AI-powered tools like Skin AI, Body AI, Portrait Bokeh AI, Atmosphere AI, Glow sliders, and more. These are just a few of the tools I regularly use these programs for since they reduce a lot of typically complex tasks in Photoshop, into the work of a single slider.
Now, where the differences come in is first with the cropping adjustment. In Luminar AI this is called Composition AI, while in Luminar Neo it's called Crop AI.
Both tools do the exact same thing and pleasantly surprise me with the adjustments they offer. With one click they fix any crooked horizons and adjust the crop to focus more on your subject. It tends to work best with images of people, but can work decently with landscape photos too.
Besides that, let's break down the four big tool differences between these programs.
Relight AI
Relight AI is only found in Luminar Neo and is an adjustment that uses AI to detect the foreground and background of your photo to apply selective adjustments. Without the need to mask, you can add targeted adjustment in a single click making it a highly valuable tool that I find myself using regularly.
Although Luminar AI does not have this tool, you can get pretty similar effects just by using gradient masks and applying your brightness and contrast adjustment from there.
So if you don't have Luminar AI or Luminar Neo yet, this is definitely a tool that makes Luminar Neo worthwhile. However, if you're a Luminar AI user trying to decide if Luminar Neo is worth it, I wouldn't say this tool will make a big difference to you.
Layers
As I mentioned earlier, Luminar Neo implemented a Layers system into the program which looked and sounded pretty incredible on paper. However, as a Photoshop user for over a decade with heaps of experience of what layers should offer, I was thoroughly underwhelmed.
Although you can layer effects, you really can only add overlays. You can't add a PNG image, you can't create transparent backgrounds, you can't add editing adjustments to individual layers, and the list goes on. Essentially it's a "lite" version of what a true layering system should be in my opinion.
Now admittedly, I am someone who expects a lot from editing software and I want the most control possible. For others in the beginner and intermediate stages, I know how these added customization options can feel confusing and overwhelming. Heck, that's why so many people avoid Photoshop because the learning curve is so steep. In that sense, I believe Luminar Neo does a good job at making the layers system easy and accessible for all skill levels.
Just take a look at this before and after that literally took me two clicks in Luminar Neo:
Compared to Luminar AI, the layers give you more options for adjusting your overlays or even adding your own. They are very simple to use and give you quick results on your edit. The only downside is that they are limited after a certain point, and if you're expecting these layers to act like layers in Photoshop, you couldn't be more wrong.
They are primarily a method of adding layered overlays rather than creating professional composites or doing any level of graphic design work.
The Clone Tool
Now shifting to Luminar AI, this program has the Clone tool which is one of my favorites for removing objects from a photo. Although you can do this automatically with the Eraser tool found in both Luminar AI and Luminar Neo, I like having the added option to manually remove objects with the Clone Tool. I am not sure why it was removed from Luminar Neo, but if you're someone who would like the option to manually remove distractions in a photo, keep this in mind.
Dodge & Burn
Lastly, Luminar AI has a Dodge and Burn tool which is great for enhancing drama in a photo or drawing attention to your subject. Luminar Neo does not have the Dodge and Burn tool so you're left MacGyvering a dodge and burn adjustment using an adjustment brush. Although this is a small thing, it is a tool that I miss when I use Luminar Neo.
Although it's extremely similar to edit a photo in Luminar AI and in Luminar Neo, technically Luminar Neo has a better user experience. There are a few tools that I miss from Luminar AI, but they are made up for in other areas of the program.
Winner: Luminar Neo (7-Day Free Trial)
– Exporting
Both Luminar AI and Luminar Neo have the exact same exporting options. To begin an export in Luminar AI, all you do is click the export tab at the top. In Luminar Neo, you go to File > Export.
Within each program, the export dialogue box you have a few standard settings such as export sharpening, resize options, color space settings, and file type settings.
Now one place Luminar Neo has an upper hand is with its mobile app called Luminar Share. By going to File > Share > Send To Device, your edited image will automatically appear in the Luminar Share app on your phone. From there you can easily share it with friends or upload it to social media in a couple of clicks. You can also add images from your phone to Luminar Neo on your computer through this app which I've found very helpful.
Since there are a couple of extra features with the Luminar Share, Luminar Neo has a superior exporting experience.
Winner: Luminar Neo (7-Day Free Trial)
What's The Price Difference Between Luminar Neo And Luminar AI?
To buy Luminar Neo at a lifetime price will cost $79 USD or it can be purchased as a yearly subscription for $59 USD. Meanwhile, Luminar AI can be bought at a lifetime price of $79 for a single license.
Skylum often gives deals for bundled software with both Luminar AI, Luminar Neo, and Aurora HDR for a cheaper overall price per program. Also, if you have already purchased Luminar AI, you can upgrade to Luminar Neo at a reduced price.
You can also use my discount code BRNWILLS at checkout to save yourself $15 off your order too! Unfortunately, it isn't valid with any other promotions or discounts applied such as bundle offers. To see the latest offers on Luminar AI or Luminar Neo, click one of the buttons below.
---
Should You Buy Luminar AI or Luminar Neo?
Luminar AI is best for beginner or intermediate photographers who don't need advanced adjustments and want a good stand-alone editing program. Luminar Neo is best for all levels of photographers with both basic and advanced adjustments that prove useful as a primary software or as a plug-in.
That isn't to say Luminar AI doesn't have use for professionals, but it does have more features that cater to beginner and mid-level photographers. With Luminar Neo, you get a slightly more advanced workflow with the implementation of layers and less focus on templates like in Luminar AI. If you are wanting to use templates/presets alongside your editing, I have found Luminar Neo easier to use.
Now as someone who uses Lightroom and Photoshop as my primary editing software, I find both Luminar AI and Luminar Neo equally useful as plugins. I don't use either version of Luminar as my go-to editing program and instead, use them for certain features like skin retouching and sky replacements in landscape images. If you're in a similar boat and have yet to purchase either program, I would say you can't go wrong with either one as both will suit your needs from a plug-in standpoint.
Should You Upgrade Luminar AI To Luminar Neo?
On the other hand, you may be a current Luminar AI user who is on the fence about upgrading to Luminar Neo. From my experience, I don't believe Luminar AI is worth upgrading to Luminar Neo. The differences are marginal and the added features force you to lose out on others that you may already enjoy in Luminar AI like dodge and burn or cloning.
With that said, if you use Luminar AI as your primary editing program and are finding certain aspects of it limiting, Luminar Neo fixes most of these issues. If you are currently happy with your experience in Luminar AI, however, I don't think you'll find a noticeable difference by switching to Luminar Neo.
Try Luminar Neo & Luminar AI For Free
You can try both of these programs for yourself and see what you think. Both Luminar Neo and Luminar AI have a 7-day free trial that you can access below:
Cheers,
Brendan 🙂