Many photographers and digital artists, in general, are familiar with at least one of Adobe's products: Graphic designers know Illustrator, Filmmakers know Premier Pro, and photographers know Photoshop and Lightroom.
However, there are so many more apps beyond that that many people completely forget about.
Adobe's creative suite features a massive array of apps that allow for endless creative possibilities. Most people won't need all of them, so it is useful to know which Adobe creative cloud apps are necessary for you.
As someone who has been using many of these apps professionally for over a decade, let's talk about the use of each app, along with the best ways to buy them to save you money.
Every App In The Adobe Creative Cloud Explained
Photoshop is an image editing program that allows photographers and digital artists to create, edit and save images. It is arguably most popular with photographers due to its extensive array of creative adjustments for photos. However, Photoshop can also be used in any type of visual design — from print material like posters to digital art to websites.
Photoshop is perhaps best known for the advanced image editing techniques it allows, such as creating composites and replacing skies or backgrounds. Photoshop uses layers to organize the different parts of an image. The edits are pixel-based, giving the user complete creative control over images and graphics. 
Best for:
Photographers
Graphic Designers
Web Designers
Illustrators
Not right for:
Filmmakers
Lightroom Classic is Adobe's original model of Lightroom, a user-friendly image editing program. While Lightroom features fewer tools and functions than Photoshop, it still contains most of the adjustments a photographer would typically need to make for an image. This makes Lightroom another popular tool among photographers. The program is also vastly equipped for image organization and batch editing.
Not right for:
Graphic Designers
Web Designers
Illustrators
Filmmakers
Lightroom CC (commonly known simply as Lightroom) is the updated, cloud-compatible version of Lightroom Classic. This means all your images are automatically saved in the cloud rather than in your files.
Lightroom CC features the same tools as Lightroom but in a different layout. While some photographers still prefer Lightroom Classic, as it features the most user-friendly design out of the two, anyone used to working with cloud-compatible programs will likely find Lightroom CC more useful. However, many professionals opt for Lightroom Classic with a more robust set of image sorting options.
Not right for:
Filmmakers
Graphic Designers
Web Designers
Illustrators
Illustrator is the ideal tool for graphic designers, illustrators, and anyone looking to design marketing materials like logos and packaging. Illustrator uses vector graphics and allows users to scale the digital art to the size they need without compromising quality. It is considered the industry standard in graphic design and illustration.
Best for:
Illustrators
Graphic Designers
Web Designers
Adobe Acrobat Pro is Adobe's all-in-one PDF software. It allows you to make, edit, and open PDFs. The software is convenient if you often have to deal with PDFs, as you can manage them straight from Acrobat. You can edit and delete information in the PDF and add interactive comments to the document.
Best for:
Business owners
Writers
Anyone who works with PDFs often
After Effects allows you to add text, transitions, VFX, and other digital effects to your videos. This is an integral program for filmmakers and could also be handy for graphic designers. There is a lot to learn with After Effects, as it is quite an advanced program, but filmmakers can master this sophisticated program with some time and effort.
Best for:
Filmmakers
Graphic Designers
Not right for:
Photographers
Illustrators
Adobe Animate is a vector-based animation software allowing users to create 2D animation, including flash. This is a great tool for any filmmakers or designers looking to animate their work.
Best for:
Animators
Graphic Designers
Filmmakers
Adobe Audition allows you to edit and manage audio files. Audition is commonly used in radio production and can also be used by filmmakers for their audio needs. It is also helpful for improving the audio in youtube videos but takes some time to learn properly.
Best for:
Radio Professionals
Audio Technicians
Filmmakers
Not right for:
Photographers
Graphic Designers
Illustrators
Premiere Pro is Adobe's video editing software and is one of the best in the industry, particularly for the price. On Premiere Pro, you can make and edit anything from a social media post to a short film to a feature-length film. This is the program I use daily to edit videos on my youtube channel.
Best for:
Filmmakers
Influencers
Media Marketers
Not right for:
Photographers
Graphic Designers
Illustrators

InDesign is a layout program that allows you to make, manage, and even publish books, web magazines, eBooks, and interactive PDFs. You can also create marketing tools, such as posters, flyers, business cards, and stickers. You can design the layout and pages of your projects and share PDFs so that others can sign them.
Best for:
Writers
Graphic Designers
Web Designers
Marketing Professionals
Not right for:
Photographers
Filmmakers
Illustrators
Adobe Express is an online platform that allows users to make content quickly and easily using a variety of templates. Using Express, which replaced Adobe Spark, you can create social media content, posters, flyers, banners, logos, and other marketing materials. The user-friendly layout makes this an easy program for beginners and experts alike to create beautiful digital content in minutes.
Best for:
Graphic Designers
Web Designers
Marketing Professionals
Influencers
Behance is an online platform that works like a social media site for professional creators. Using Behance, you can create portfolios and discover work made by other artists. Behance is beneficial for graphic designers, photographers, and even filmmakers to display their work and discover work made by others.
Best for:
Graphic Designers
Photographers
Filmmakers
Not right for:
Audio Professionals
Writers
Additional Adobe Apps
Adobe also offers other apps that are best used in conjunction with other programs or as a supplement to a creative project. These are apps you likely won't purchase on their own but will come in Adobe's All Apps package or other relevant packages.
Adobe Fonts offers over 20,000 fonts for users to use and explore.
Photoshop Camera is a mobile camera app that suggests creative filters and lenses while you work.
Adobe Portfolio allows you to make and manage portfolios and websites. It comes free with any creative cloud app subscription, so it's a great tool for artists to showcase their work.
CC Libraries showcase images, logos, and other marketing materials that users can upload and share.
XD is Adobe's user experience program, allowing users to develop and manage web and mobile interfaces. 
Dreamweaver is a platform where you can design and develop websites. 
Dimension allows users to create 3D brand visualizations, such as packaging design.
InCopy is Adobe's word processor that can be integrated smoothly into InDesign for easy publishing.
Character Animator is another animation software, except this one uses motion capture to animate 2D characters.
Capture allows you to convert images into patterns, brushes, shapes, and color themes, which you can use in your projects in other Adobe apps.
Fresco is Adobe's drawing and painting program, which contains a massive collection of vector and raster brushes for artists to draw and paint. 
Bridge is a central location to manage your files from all the different Adobe programs.
Media Encoder encodes video files in various formats and can be used to transcode footage.
Aero is Adobe's augmented reality (AR) design program, offering an intuitive format to allow users to create and edit AR experiences. 
How Much Do All The Adobe Creative Cloud Apps Cost?
Adobe offers a package that includes all 20+ apps above for $54.99 per month.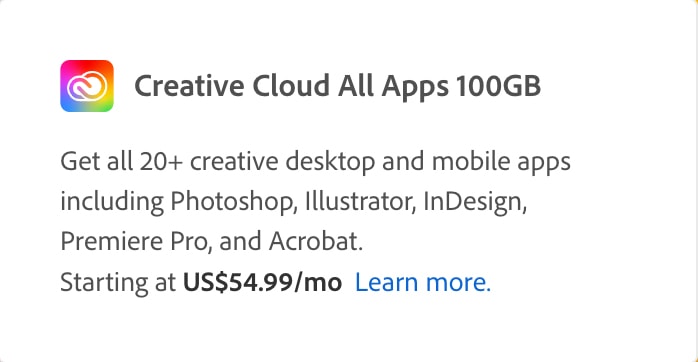 This package is best for businesses and professionals who plan to utilize all or most of the various apps. However, if you only plan to use a few programs, or even just one, other packages are offered for a much lower price.
Cheaper Adobe Creative Cloud Packages To Consider
Based on what type of artist you are, one of the following packages might fit your needs and habits better than the All Apps package.
– For Photography
Adobe has a Photography Plan that is perfect for photographers or anyone who primarily uses Adobe's programs to manage and edit photos. The Photography Plan includes Lightroom CC, Lightroom Classic, and Photoshop for a monthly price of $9.99 or $19.99 if you want more cloud storage.
– For Video Editing
Unfortunately, there is no package similar to the Photography Plan for video editing. However, you can accomplish just about everything you'd need to make and edit films using Adobe Premiere Pro. A monthly subscription to Premiere Pro is $20.99/month — a fair price for one of the best video editors on the market.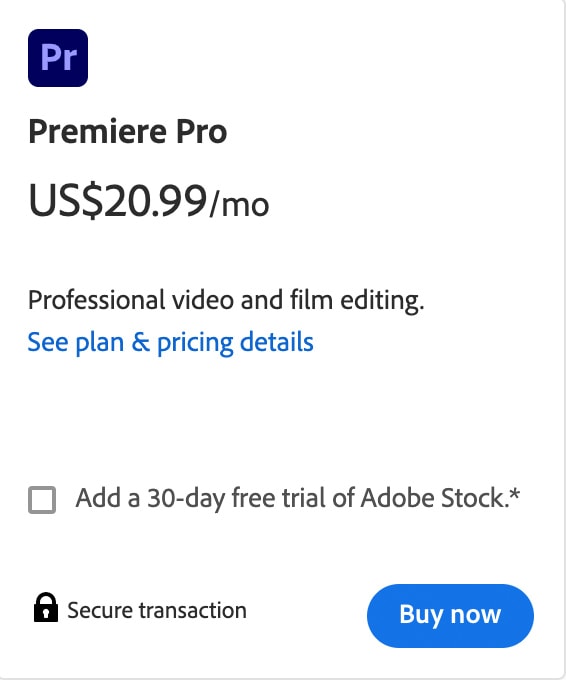 – For Graphic Design
Similarly, there are no combined graphic design packages, though Adobe Illustrator allows you to do almost everything graphic-design related you'll need to. A subscription to Illustrator costs $20.99/month, which is less than half the price of the All Apps plan.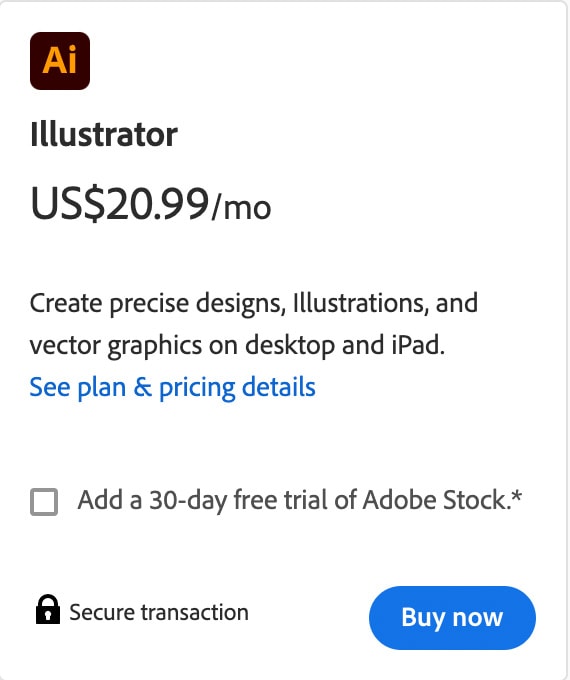 – Student & Teacher Packages
Adobe offers qualifying students and teachers a discount on their All Apps package. Students and teachers can get the All Apps package for just $19.99/month for the first year and $29.99/month after that. That's quite a discount, considering the usual price is $54.99. You can claim your student or teacher discount here.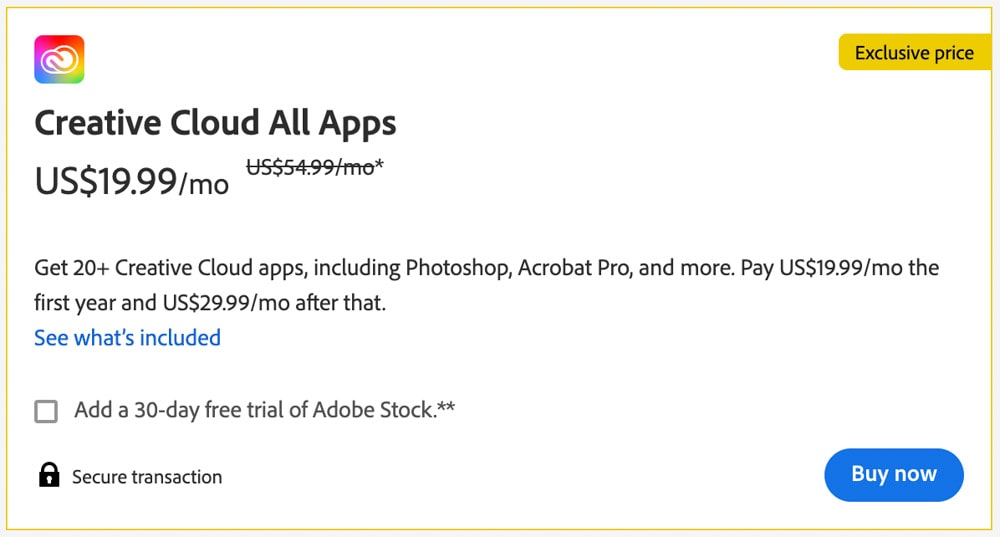 Although there are a ton of different apps available in the Creative Cloud suite, there is likely only a handful that applies to you based on your work. If you're like me and work between photos, video, graphic design, and web design, the all-apps plan is by far the most cost-effective.
However, if you are specifically looking for apps for photography, video editing, or graphic design, opting for single-app plans is more beneficial.