How To Deselect In Photoshop
Selections are the bread and butter of Photoshop. Without them, the program wouldn't be as powerful as it is. For most people learning Photoshop, the selection process is pretty straight forward. There are several different tools to use, and each has its own way of making selections. The trouble is, what do you do after you've made a one? Unlike making selections, learning how to deselect in Photoshop isn't as obvious.
Fortunately, deselecting a selection can be done with the click of a button. Here you'll learn the best ways to do so whether you're dealing with selections, text, or layers.
How To Deselect A Selection In Photoshop
Selections can be made with a wide array of different tools. Regardless of how they're created, a selection ends up as something called 'marching ants.' This black and white line is the indicator to show your active selection area.
Unfortunately, you can't just click away from the selection to get rid of it. Instead, you need to deploy a simple keyboard shortcut.
To deselect an active selection, just press Command + D (Mac) or Control + D (PC). This will turn off your selection and get rid of it completely.
Instead of using this shortcut, you can also go to Select > Deselect.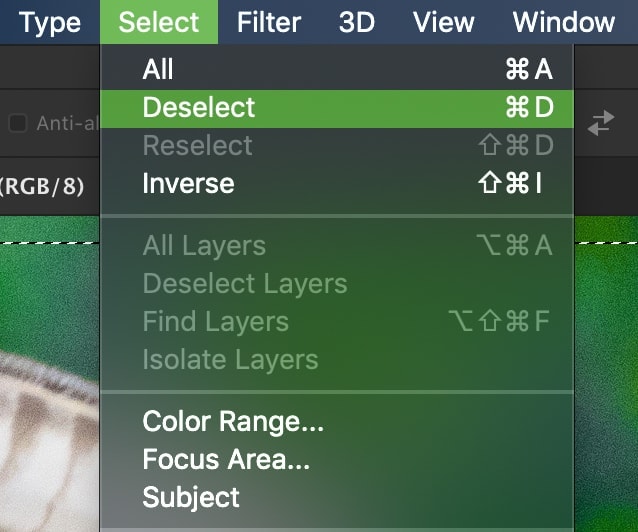 You Might Like: Best Selection Tools To Cut Out Images
How To Deselect Text In Photoshop
When you're editing text in Photoshop, it's not super clear how to commit to it. To deselect text, you can use three different methods.
The best way is to press the ESC key once you're finished with the text. This will save any changes and deselect the text you're working on. This is the fastest option since you don't have to do any extra clicking.
The second option is to click the checkbox at the top of your screen. This will save your changes and deselect your text. The checkbox is also seen across many other adjustments, such as the shape tool, and transform tool.

Lastly, the third option is to click far away from your text. If you click nearby, you'll only be able to reposition it. When you move the cursor further, you will deselect your text in a single click.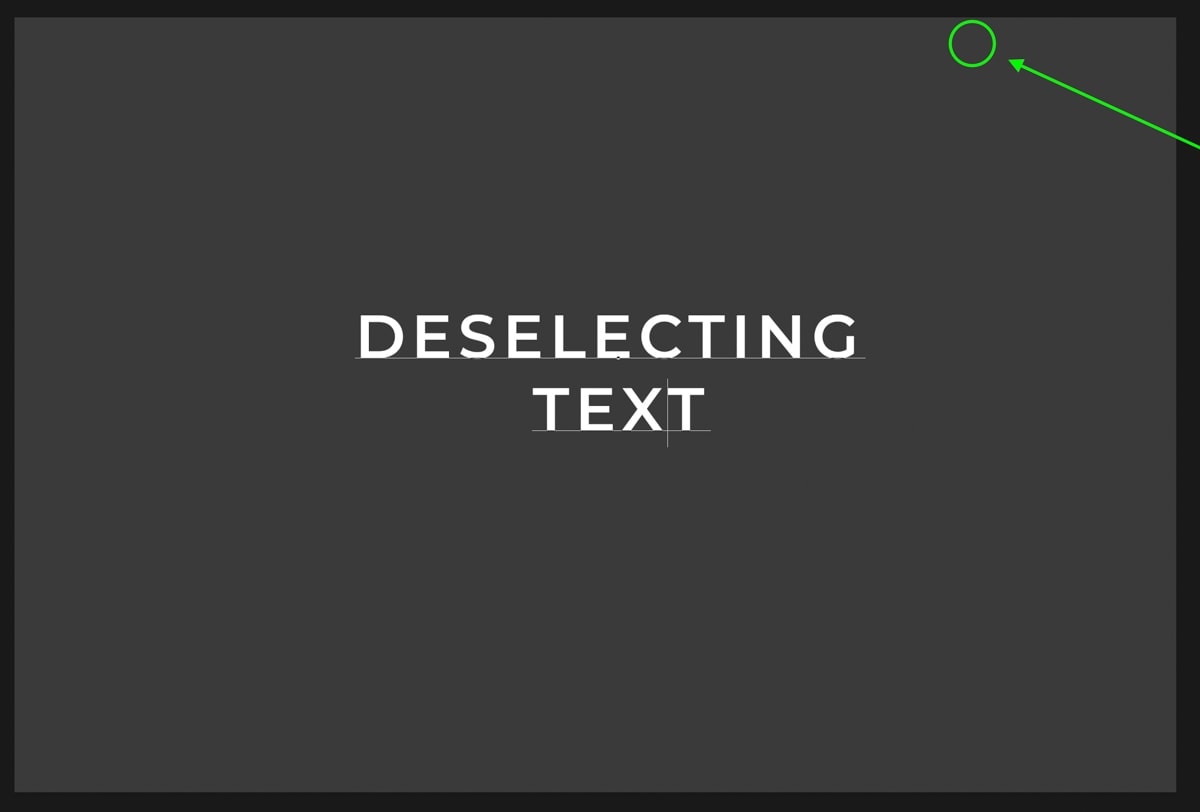 How To Deselect Layers In Photoshop
If there isn't an active selection, layers can only be selected with the move tool or transform tool.
When you're using the transform tool (Cmd/Ctrl + T), press Enter to deselect your layer and commit to your changes. You can also press the checkmark at the top of your screen.
While using the move tool, there isn't any checkmark option. Since the move tool only has one purpose (to select and move a layer), all you need to do is swap tools.
For example, if you press B to switch to your brush tool, the transform box would disappear around your layer since the move tool is no longer active.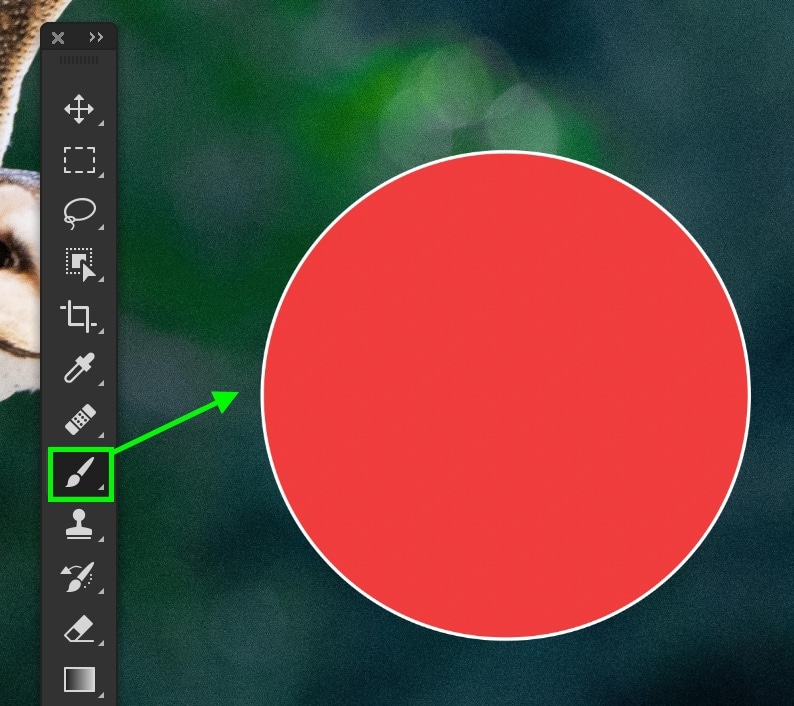 In terms of the layers panel, a layer is always being selected. You can tell which one is chosen by the highlight over the specific layer. You can click between different layers to select or deselect your layers as necessary!
How To Reselect In Photoshop
Don't sweat it if you accidentally got rid of a selection. With one keyboard shortcut, you can bring back any recent selections you've deselected.
Just press Shift + Command + D (Mac) or Shift + Control + D (PC) to reselect your previous selection.
You can do this manually by going to Select > Reselect.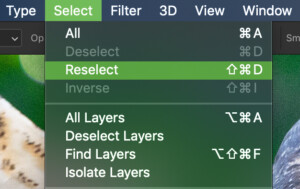 Conclusion
There are a handful of great shortcuts to help you deselect in Photoshop. This process isn't inherently obvious at first, but at least it's straightforward! Now you're a master at deselecting anything!
Want more tutorials like this one? Subscribe to our weekly newsletter for more photography, and photo editing tips delivered straight to your inbox!
– Brendan 🙂