How To Organize Your Camera Bag
It's time to talk about the not so sexy side of photography. Behind every mind-blowing image isn't just the right camera settings and good planning. In fact, it's much simpler than that. Behind every great image you've ever seen or have ever taken is a camera bag. A bag filled with gear and equipment to help you get the shots you want. With lenses, camera bodies, filters, and other accessories, it's easy for your camera bag to get out of control. To help you avoid these issues, let's go over how to organize your camera bag like a professional—the not so sexy part of being a photographer.
Why Keeping Your Camera Bag Organized Is Important
Now before I start, I want to take a moment to speak with those of you like me.
People who hate organizing.
We aren't like all those model human specimens who love to tidy and organize things like their life depends on it.
I naturally gravitate towards orderly chaos. Sure, it may look like a mess, but I know where everything is!
You may be reading this nodding your head in agreement or have sweaty palms thinking about my organizational habits.
Regardless of which camp you're in, keeping a truly organized camera bag is essential.
But why?
– An Organized Camera Bag Keeps Your Gear Better Protected
First of all, camera gear is expensive. If your camera bag isn't properly organized, you'll end up with a gear salad.
A cluster of lenses, lens caps, memory cards, and filters all piled together into one compartment.
This is not only an easy way to lose something but is a surefire way to damage your gear.
If you bought a new sports car, would you leave a bunch of your tools sitting on its hood?
Probably not.
So why would you do that to the camera gear that you've likely spent thousands of dollars on?
– Organization Equals Efficiency
The second reason bag organization is important is to make any item of gear easy to access.
Organization equals efficiency.
Whether you're shooting photos professionally or just for fun, there are always moments where you need to act fast.
Maybe it's shooting the team's reaction of the game-winning goal, or capturing grumpy uncle benny smiling for the first time in years.
Whatever the occasion, if you need something last minute for your photo, an organized camera bag makes it stress-free.
Even when you 'know' where something is, if you have to sift through unorganized gear to find what you need, you're wasting time.
You're missing the shot. Your disorganized bag is hurting your photography.
I'm sorry to break it to you like this, my disorderly compadres.
– You Won't Misplace Your Gear
"It's so small, how am I supposed to keep track of that?"
I'm willing to bet you've said that about some piece of camera gear you own. Whether it's a battery, quick release plate, or memory card, it's easy to make excuses around why you've lost them.
The hard truth is, an organized camera bag would solve this problem. If everything has a home and is never stored anywhere else, it's impossible to lose something.
No matter how big or small.
Keeping your camera bag organized will literally save you money you may have wasted on misplaced gear.
So how can you organize a camera bag in a way that ticks all the boxes of organization, access, and safety?
Luckily it's easier than it sounds.
Picking The Right Camera Bag To Suit Your Organizing Needs
Before I get too far in, let's start with the big picture of camera bag organization:
The type of camera bag you use.
Each type of bag can hold different amounts of gear, and the right option will depend on the photographer.
There are heaps of camera bags on the market to choose from. It's a sensory overload of colors, styles, brands, and sizes. It can feel like a challenge to sift through all that noise and find the bag that truly fits your needs.
In the most basic sense, there are only three different types of camera bags for photographers.
1. Shoulder Bags
A shoulder bag is a camera bag style that has a single strap that goes over your should and sits by your hip. These bags typically will hold 1-2 lenses plus your camera body and other small accessories. The advantage of this bag type is they're more casual to bring around and often have room for your laptop or tablet.
If you don't have mounds of gear with you at all times, a shoulder bag will work. They don't have as much room, but they're much less cumbersome to lug around compared to a backpack. If you're a casual shooter without tons of lenses, these are a great option.
2. Camera Backpacks
Camera backpacks are often the largest type of camera bag you can buy. With incredible amounts of camera storage space, laptop, tablet, and other miscellaneous pockets, you can't go wrong. If you're new to photography, a larger camera bag gives you room to grow, while offering a complete solution for any experienced shooter.
Beyond organization, camera bags are easier to take on the go. If you shoot a lot outdoors and don't always have a chance to put your bag down, camera backpacks are fantastic.
3. Sling Bags
Sling bags are like the narrowed down version of a camera backpack. Rather than having the additional pockets for things like laptops, jackets, or other items, sling bags keep it simple. This type of bag stores your camera gear and not much else. It can still be carried comfortably on your back, and can typically store 2-3 lenses alongside your camera.
If you need a balance between shoulder bags and camera backpackers, sling bags are another viable option for any photographer.
When it comes to organizing a camera bag, the type of bag you use is important. If your bag can't fit the gear you need, you're probably using the wrong kind of camera bag.
Before you put effort into organizing your camera bag, make sure the camera bag you use is a good fit.
Must-Have Gear Inside Your Camera Bag
Before you actually pack a camera bag, you need to figure out what goes inside. The general go-to method for most people is to cram everything they own into one bag.
This method does put all your gear into one place, but you need to ask yourself something.
Do I really need to take all this gear?
Every piece of camera equipment you use is a tool. Whether that's a lens filter, camera, lens cloth, or even a tripod. If you don't have the right tool for the photo, you'll miss the perfect photo op.
With that said, you don't need everything you own at all times. That's why it's useful to narrow down your camera bag to must-haves for every shoot. Things you can't live without no matter what type of photos you're taking.
Here's a list of must-have items to pack in your camera bag:
1. Lenses
It's important to cover all your bases with different focal lengths. The most well rounded focal range to keep in your camera bag is something like a 24-70mm lens. With this type of lens, you can shoot just about anything you need with one lens. At this point in organizing a camera bag, you want to choose only the lenses you'll use all the time.
2. Camera Body
Most people only have one camera body making the choice easy. If you're a working professional or just a gear head, then pick the body you like using for general use.
3. Extra Memory Cards / Memory Card Case
No matter how prepared you are, everything grinds to a halt when you run out of media. Always carry at least one extra card with you in your camera bag. Since memory cards are so small, they can be easy to lose or damage. That's why a memory card case is a worthy investment!
4. Batteries
Just like memory, you won't accomplish much if your camera is dead. Always keep at least one backup battery in your camera bag at all times.
As the saying goes:
"one is none"
So make sure to bring a spare!
If you find yourself away from home, keeping an extra battery charger in your bag is another excellent idea.
5. Lens Cleaning Kit
No matter what you do, your fingers are guaranteed to smudge up the glass at one point or another.
Rather than wiping away dust and smudges with a piece of clothing, it's much better to use a proper cleaning kit. With a cleaning kit, you can rest easy knowing you're not scratching your glass with the rough fabric you're wearing.
If you want to learn more about keeping your gear dirt and dust-free, make sure to check out this post.
How To Pack A Camera Bag
Now there isn't one perfect way to organize a bag. Everyone likes things a little different, so it's hard for me to give you a single definitive answer. With that said, there are some tips that will make organizing your bag easier.
– Put Your Heaviest Gear At The Bottom
Especially with camera backpacks, placing big-ticket items (lenses or camera bodies) at the bottom of your bag is best. That's because it will distribute the weight to your hips while you're wearing the bag, making it more comfortable.
If you're lugging around your camera for most of the day, your shoulders will thank you for this. As you begin to organize your camera bag, start by placing your heavier items first and work around that.
– Use Dividers To Your Advantage
I will admit, those velcro dividers can be finicky to get into the right spot.
But as you grovel over the perfect position, you can find solace in knowing one thing. That once it's done, you won't need to move them again… probably.
These dividers are perfect to create smaller compartments for lens filters, lenses, tools, batteries, you name it. Once they're in place, everything has a perfect home.
These dividers not only keep things organized but also snuggly secured. As your camera bag is getting tossed around while you carry it, these dividers keep everything in place.
Try to position these dividers to fit exactly the same size as the gear you want to put there. That way, there isn't room for your equipment to bobble around and opens up more real estate for more dividers.
– Store Lenses Vertically (Standing Up)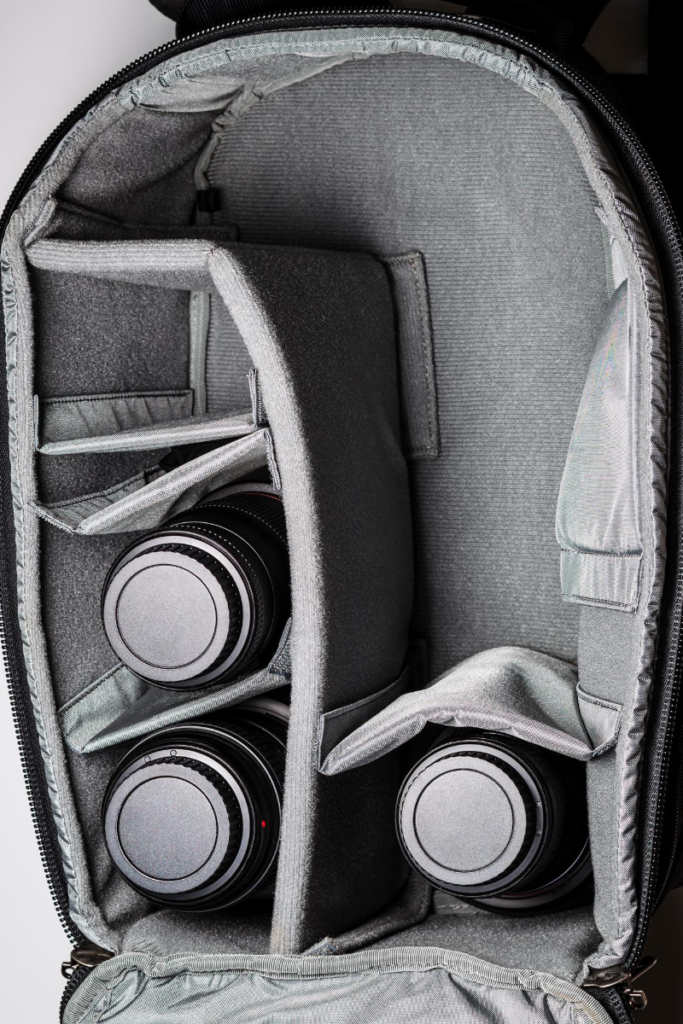 It's easy to run out of room if you organize a camera bag with all the lenses lying down. By standing them up, you save a ton of space for other pieces of gear.
Not all lenses can fit in this orientation if they have a longer barrel, like a zoom lens. However, you can still do this with any other lens you're using that isn't quite as long.
– Keep Smaller Items In Separate Pockets
In most camera bags, there is the main storage area, then additional pockets for extra gear. The main storage area should be reserved for the biggest and most often used pieces of camera gear. That makes those additional pockets the perfect place for smaller items like batteries, memory cards, or cleaning kits!
Keeping these smaller items in their own pockets reduces clutter and consolidates them to one place. Rather than fishing through your entire camera bag, you'll know the exact pocket to find what you're looking for.
What To Do With Gear That Won't Fit In Your Camera Bag
Depending on your camera bag's size, you might not have enough room for all of your gear.
And that's ok!
It's not uncommon for photographers to have more gear than what can fit in one bag.
Fortunately, there are some easy ways to store and organize your additional gear outside your camera bag.
Option #1: Hard Cases
If you're serious about gear storage, buying a hard case is the way to go. Think of these as a suitcase for all of your camera gear. Inside are dividers and pockets to safely secure anything that doesn't fit inside your camera bag. These don't come cheap but are a worthy investment for storing your extra equipment.
Option #2: A Dedicated Gear Shelf
If you cringe at the thought of spending a few hundred dollars on a hard case, consider a gear shelf. Odds are you have a shelf in your home that isn't being used for much. Take advantage of this space and make it a new home for your lenses, filters, and other additional equipment.
Option #3: Shoeboxes
I know what you're thinking, and no, it's not as ghetto as it sounds.
Shoeboxescan serve as a surprisingly great way to organize your camera gear. In fact, I have a few filled with filters, chargers, and batteries as we speak.
Shoeboxes are so convenient because they're made of sturdy cardboard and have a lid. This means the box won't break under your equipment's weight, and the lid will keep everything safe.
Obviously, you don't want to move these shoeboxes around too much since nothing's 100% secure. However, they do offer a good organization solution in your closet.
Conclusion
So that's how to organize a camera bag to help you be a more efficient photographer. Organizing gear isn't just about finding a home for everything. It's about positioning things in a way that is easy to access and is comfortable to work with. As you evolve in your photography, the way you organize a camera bag will change as well. Look for new ways to improve and experiment with different ideas. With the help of the tips outlined in this article, you're well on your way to gear organization mastery!
Want more articles like this? Subscribe to my weekly newsletter for more photography, and photo editing tips delivered straight to your inbox!
– Brendan 🙂