The great outdoors offers a stunning background for various photo shoots, from blue skies to winter wonderlands. So here are over 45 of my favorite outdoor photoshoot ideas to get your creativity flowing! Whether you live in a scenic forest or an urban jungle, every photographer can try versions of these concepts.
Outdoor Photoshoot Ideas To Try
1. Against The Sky
The sky offers a fantastic background, regardless of location or season. This is especially true for days with some clouds to add to the visual texture of the backdrop. To best capture a shot like this, shoot from a low vantage point so that the sky fills the entire frame.
Tell your subject to pull their chin up a bit and turn toward the sun's direction to ensure that the cheekbones are filled with light and the shadows on the neck are more flattering.
Shooting with a narrower aperture tends to be best, as the sunlight can be harsh, and you don't want to overexpose the skin. An aperture of F/4 to F/9 is fantastic. This also allows the clouds in the sky to be more prominent in the shot.
2. Miniatures
If you don't have human or pet subjects to photograph but still want to be creative, grab some toys and miniatures and go outside! Capturing these with either a telephoto or standard lens can make them larger-than-life.
Use wide apertures for the shallow depth of field to help separate your miniature from the background. Pairing a wide aperture with a small subject can also open up location possibilities, as only a small section of the space is at play.
3. Candid Moment At The Park With A Book
Parks are beautiful outdoor locations because of their greenery, familiarity, and sentimental value to most people. Casual portraits, candid moments, and branding photographers all love to shoot sessions at their local parks for the above reasons.
Adding a book as a prop can add a sense of serenity to the image, creating a story all its own. Encourage your subject to bring their favorite novel to the park bench, snap away as they read, take in the scenery, and occasionally peek at you.
4. Using Alleyways
Leading lines is a frequently spoken about concept in photography, referring to the lines in your image leading to the subject. A local alleyway is a great way to use leading lines to enhance your composition and create a visually pleasing image.
Whether your local alleyways are urban with brick or covered in moss, this can make a great outdoor location. You can ask your subjects to stand in the center or lean on the walls as you play with different types of apertures to achieve different looks.
5. Pet In A Backyard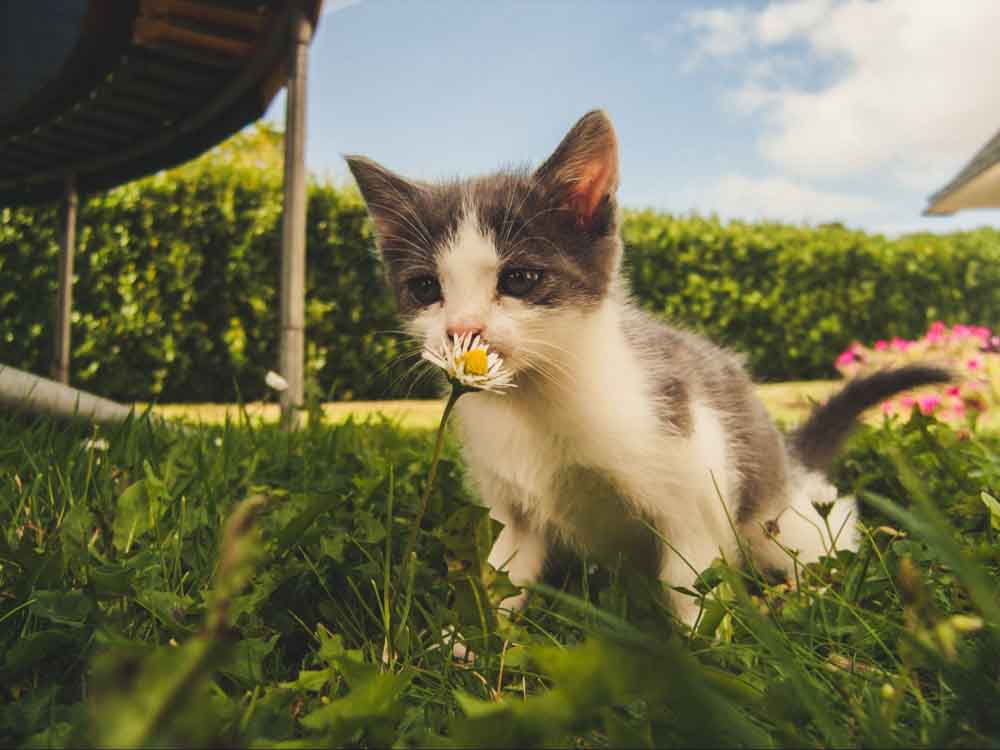 Pets are fantastic outdoor subjects because the outside world is their happy place. Take your pup or kitten into the backyard and follow their exploratory adventures with your camera!
Grab some knee pads and stay close to the ground. Capturing animals from their eye level makes for some of the best photographs. Eye-level compositions are dynamic and empathetic, expressing the world from their perspective.
If your backyard isn't too visually pleasing, use a shallow depth of field to blend the background into a creamy bokeh. An aperture of F/1.2 to F/2.8 should do the trick. You can also shoot from the grass level or through plants to hide some of the backyards and frame your pet.
6. Sunset Maternity Session With Long Dress
Pregnancy is a beautiful time in a woman's life, and documenting this is important. With so much significance between Mother Nature and motherhood, capturing this outdoors works well together. You can add visual sparkle by using a long maternity dress and draping it over a fallen tree.
If you don't have quick access to a maternity dress, a long piece of fabric will do just fine! Use a couple of pins to drape the fabric around your subject and use the excess as the train.
7. Taking The Dog For A Walk
The everyday routine, such as walking the dog, can make a good photoshoot idea. With each walk, you get to explore new parts of a neighborhood and bond together, and photo opportunities are created naturally by just engaging in the activity.
Take a stop every once in a while and capture the moment.
8. Embrace The Rain
Although the rain can naturally make a photographer want to stay indoors, it makes for a fantastic photoshoot (especially when using fast shutter speeds)!
If you don't own water protection, you can create a rain cover from a plastic bag for your lens and camera. Take the plastic bag and place your camera inside, the lens pointing at the closed end of the bag.
Cut a hole for just the front part of the lens to pull through (where the glass and filter thread are). When you put your head in the bag to use the camera's viewfinder, you'll block the rest of the rain from hitting that side of the camera!
Although the exposure will be darker because of the rain clouds, bump your ISO to accommodate a faster shutter speed (around 1/800 or so). The faster shutter speed will freeze the falling droplets around your subject, creating a very interesting shot.
9. Enjoy The Twilight
The time directly after sunset (or just before sunrise) is twilight, where the sky is neither dark as night nor bright as day. The last or first peek of light sits at just the horizon. This beautiful time can create stunning silhouettes.
Because it can be rather dark, you must do a long exposure. Put the camera on a tripod and ask your subjects to stand very still, as the shutter speed will be relatively slow.
10. Golden Hour Magic
If we are talking about twilight, we must discuss the magical golden hour! The sunset makes for an amazing series of photos, especially in which you ask your subject to interact with the sun (see above).
The golden light happens when the sun hits your lens at a specific angle, often when parallel with the subject. You can use this golden light to hide unflattering locations, add an ethereal element to the photo, and shoot flattering portraits because the light does wonders on skin tone.
The golden hour lasts a short period, so be prepared beforehand.
11. Framed In Leaves
Shooting through plants is a personal favorite outdoor idea of mine! A fern, bush, or low tree makes great options to shoot through. Simply place your subject on the other side and push your lens into the leaves, ensuring your subject's face is visible. Try to use the leaves to make a frame.
This idea is easy for anyone because it doesn't require a specific kind of location to achieve. Most of the composition will be taken up by the leaves!
12. The City At Night
Photography is a great excuse to explore the city at night. If you live in or near a more urban environment, use the storefront signs, street lamps, and other ambient light to create moody portraits.
Remember to use lenses with wide apertures because of the low light, slower shutter speeds to let more light in, and a higher ISO to make the sensor more sensitive to the available light.
13. Rollerskates And Other Outdoor Sports
So many great sports and hobbies are outside, such as rollerskating, skateboarding, and more. When your subject is passionate about something, using it in a photo shoot is an excellent idea because not only will your subject feel comfortable, but it can make for a more exciting photo shoot.
Try to time out the shoot with the best lighting possible, such as in the later afternoon during a sunny day or in the morning during a cloudy day. Remember that the location plays a big role in sports, so shoot a bit wider to utilize more space.
14. Enjoying The Local Coffee Shop
Coffee is the staple of modern culture, and enjoying a cup outside a local coffee shop is a familiar pastime. The cute benches and tables at your local caffeine stop can actually be a great photoshoot location, helping capture a serene and candid moment. There is a reason many social media influencers turn to coffee shops for their photo content!
15. Pop Of Urban Color
A lot of cities tend to have at least one colorful wall lurking about somewhere. Finding it can be the photoshoot idea all its own! Have your subject wear something that stands out a lot and place them against the colorful wall that you find. Use that bold color to your advantage with composition by skewing the subject to either side of the frame. This is great for both people and pets!
16. Buildings As Props
In the process of finding colorful walls, you'll be walking past many buildings and structures. The architecture can make for a great photoshoot prop, so try leaning your subject against interesting walls and shooting from a profile angle.
17. Cityscape View
Rooftops make for a fantastic photoshoot location, predominantly because of the cityscape view. If you have access to a cool rooftop or happen to know of a rooftop parking lot, you can use this to your advantage for an urban shoot.
Remember that the light tends to be harsh on the roof because there is no building cover for shadows, so be mindful of the time of day. If you are shooting during the high noon sun, turn your subject's cheekbones towards the sun for a more flattering light.
18. Dancing In The Park
Movies and television shows have done this time and time again to express innocence, fun, and freedom: dancing in public! Use a fast shutter speed to capture the fun movements of dance in a local park framed with greenery.
If there are trees present, try to mimic the flow of the trees by asking your subject to focus on dance moves that have a lot of upward motion.
19. Using A Mirror
Mirrors make for versatile props, creating a very fantasy-esque photo. Take a favorite vintage mirror outside and play with reflections. I find that my human subjects also feel more comfortable using a mirror because they can see themselves in it.
20. Sunset String Lights
String lights are not just reserved for the holiday season. You can use them anytime! Play with putting lights around your subject's face and in their hands during the twilight hour.
The illumination on the face makes achieving your exposure much easier (you won't need to do a long exposure) and matches the lighting in the background.
Spring Outdoor Photoshoot Ideas
21. Portraits In A Flower Field
Flower fields are plenty in the spring, and the abundance of flowers makes for an awesome location. Contact your local nursery or flower field and ask for permission to shoot there.
Remember to be careful not to step on the flowers, which can damage the growth for the next year.
22. Portraits In A Flower Bush
If you don't have access to a flower field, you can just use a flower bush! Put your subject in the bush (gently – remember to respect the flowers) and frame your entire composition with flowers. Since the flowers take up most of the shot, no one has to know there weren't acres of them.
23. Have A Picnic
With spring weather often being lovely, picnics are a common pastime amongst couples, families, and friends. Use this as a photoshoot idea to capture candid moments amongst loved ones. You can also play around with still-life photography by capturing the picnic setup before people get to it.
24. Use Bubbles
Everyone loves bubbles, children and adults alike! Bubbles make for a fun photo prop because of the rainbow reflections the soap produces. Have your subjects blow bubbles at the camera, or have someone blow bubbles in front of the lens as you shoot portraits.
Depending on how your camera does its autofocusing, bubbles can sometimes confuse autofocus because of the contrast. If this is the case, move a bit further away from the bubbles.
25. Use Umbrellas And Parasols
Spring also brings the rains, so using an umbrella or parasol is a prop that really expresses the season. This prop can also help with your composition, ensuring the top of your subject is well-filled in the frame.
Just be mindful to keep the umbrella behind your subject rather than directly overhead, or else you'll be blocking the natural light.
26. Rain Boots
Much like the umbrella, rainboots are also a common feature in the spring! Use these to your advantage as a fun prop that adds charm, pops of color, and lets the kids frolic in the puddles.
Summer Outdoor Photoshoot Ideas
27. Sunset Silhouette
Silhouettes are dramatic, and you can express the warmth of the summertime with one. If you live with access to a beach, go during the sunset time and place your subject against the sun. When you expose for the sky (set your metering to meter from the sunlight), your subject will naturally become very dark – creating a silhouette.
As facial expressions don't matter, play with body movement for your composition.
28. A Day At The Carnival Or Amusement Park
The local carnival, amusement park, or street fair makes for an endless backdrop of color, entertainment, and unique compositions. Play with the movements of the different rides and the backdrops of the various colorful locations.
This is a great photoshoot idea for couples, where you can follow them around for the day and capture the experience. Make sure to use a shallow depth of field (wide aperture) so that the location doesn't become overwhelmingly busy in the shot.
29. Summer Games In The Backyard
Backyard parties are another staple of the summer, so capture the playtime warfare as an actual photoshoot! Just be sure to keep your gear dry.
30. Pool Party With Dogs
Our dogs love summer as much as we do, so why not host a pool party for them? Photographing dogs playing with each other in the water can make for some iconic photos (even shots you can sell as prints or license out to card companies later on!).
31. Framed In A Cove
There are lots of beach photographs that come to mind in the summer, such as surfing, building sand castles, and collecting seashells. But many beaches have beautiful caves and unique coves once you start to explore them.
You can use a cove to create a framed composition that is very eye-catching.
32. Summer Cocktail
A sweet summer cocktail is a favorite part of the season for adults – let the drink take a "selfie" in a fun summer setting!
33. Maternity Session At The Beach
The beach also makes for a great maternity session location because of the beautiful weather. Use the ocean breeze to add movement to the photo, requesting that the mother wear something very flowy as her outfit.
Fall Outdoor Photoshoot Ideas
34. Playing With Fall Leaves
The red, orange, and yellow leaves are a personal favorite of the autumn, and these can make for great props. Throw the leaves, kick them, or use them to hide faces during family portraits! When capturing fallen leaves, use a fast shutter speed to freeze the leaves in the air.
35. Couple's Portraits in the Brush
If you live in a place like California, the leaves may not change, but the brush does turn more brown and tan. This can make a beautiful color combination during engagement and couple's sessions by asking your subjects to wear bright pops of color. This compliments the neutral palette of the location.
36. Puppy Ghost Costume
Our pets can absolutely be included in the best holiday during the Fall – Halloween! Take a white sheet and cut a hole for the mouth and the eyes to turn your puppy into a ghost. Shooting at night with ambient light at night can make for a rather spooky photo session.
Remember to offer lots of treats – reward your dog every time they do something for a photo shoot to make them enjoy the process and cooperate better!
37. Pumpkin Patch
The bright oranges of the pumpkin patch make a great location for portraits, family shoots, and couple's sessions! Request that your subject wear clothing colors that compliment the season, such as lots of earthy tones.
38. Family Hike
With the weather being nice and cool in most of the world during the Fall, going on a hike is not only a fun activity but also a very scenic photoshoot concept.
Use the trees as leading lines and shallow depth of field (wide apertures) to ensure your subjects are well-defined from the background. As tree cover can make the location darker (and the sun sets earlier during the fall), bring a low-light lens with you.
39. Halloween Portrait
This is a classic, but it must be mentioned – costume photos!
Winter Outdoor Photoshoot Ideas
40. No Snow Holiday Photos
Not all places have snow in the winter, but you can make do without it! Tell your subjects to dress in their favorite Santa costumes to get the idea across.
41. Throwing Snow In The Backyard
If it does snow where you live, speed up those shutter speeds and capture the snow falling! Throw it up in the backyard and start to play!
42. Snow Angels
Snow angels are a classic and make a lovely photo. Carry a small step stool and stand above your subject as they make snow angels.
Remember that snow is highly reflective, so it can be easy to overexpose the photo. Shoot with an exposure that is one to two stops darker than your light meter is telling you to preserve the snow details.
43. Holding Hands Walking Through The Town
Couples holding hands already make for a cute photoshoot idea, but doing so in the winter adds that extra layer of warmth. Dress your subjects in comfy winter clothes and have them walk around the neighborhood or city holding hands.
Because relationships are psychologically seen as cuddly and cozy, adding the winter touch makes the shot feel extra warm.
44. Family Portrait On The Bench
On the topic of dressing warm, get the whole family together in their favorite beanies and scarves for a family portrait on the local snowy bench. Pets included!
45. Christmas Tree Shopping
Much like visiting the pumpkin patch in the fall, doing a photoshoot at a Christmas tree farm has the same sentimental appeal. Documenting the experience leads to memorable candid photos.
46. Nighttime Christmas Decor Portraits
Visiting the local town at night close to the holiday season can make for an eye-catching background when shooting with wide-aperture lenses. Not only does the decor provide a lot of ambient light, but it also makes for unique bokeh.
47. Under A Cozy Blanket
Whether your area gets snow or not, take a cozy blanket outside for more winter-themed photos. When else does a winter blanket come into play?
I hope these ideas have inspired you to take the camera outdoors, create art with your clients, and enjoy the fresh air!