Photography Tips For Better Travel Photos
There are only two simple ingredients in travel photography: traveling and taking pictures. Anyone can take a great travel photo, even with their phones.
Only 2 sentences in and I can hear your thoughts already…
This doesn't help me at all. Why don't my photos look like the ones on Pinterest and Instagram?
Well, before you click away, consider this. Capturing stunning travel photos doesn't have to be challenging. With a simple approach and a plan in mind, it becomes easy to capture incredible photos anywhere you travel. Let's jump into 8 proven tips to help turn your travel photography from mediocre to exceptional.
Research The Area
Research and research some more! At any new location you visit it's extremely unlikely you will just show up and find a great place to shoot. That's where a little bit of pre-travel research comes into play.
I know how daunting it can feel trying to find the best places to capture those stunning travel photos. Luckily you have a little thing called the internet to help guide you in the right direction.
Do A Google Search
When researching an area I always make sure to do a quick google search to get a general 'lay of the land'. A simple search will come up with dozens of useful articles mentioning the most popular spots in the area. These popular areas can be great to add to your list but keep an open mind, there may be better things nearby!
Some easy search terms for any travel destination would be:
"Must see places in _______________"
"Most Instagrammable places in ______________"
"Unique things to do in ____________"
Those 3 terms are usually a great start to my location researching.
Use Google Earth
Once you've compiled a few locations, it's time to consult Google Earth! Google Earth is an incredible asset for all travel photographers. You can browse for a specific location, and then discover nearby destinations that likely weren't listed in any blog articles on google.
You can even access images from certain locations by clicking on certain names or photo icons highlighting points of interest.
Using Instagram To Research Areas
Instagram has always been a go-to source for browsing new areas while I'm on the road. Unlike Google or random blog articles, Instagram's location tags are overflowing with recent photos from nearly any location in the world. This makes it quick and easy to decide whether a place is worth visiting or not.
To browse location tags on your Instagram:
Click the explore button on the bottom bar > go to Places > Search for the desired location.
When you first look at a location tag you will be seeing the 'top' posts. The 'top' posts are ones that have gotten the most likes of all the posts under that tag. I prefer to browse under the 'recent' tab to see a more current view of a location. This is also a great way to get an idea of conditions in snowy areas!
While I am traveling Instagram is a key tool for when I want to dig a little deeper and really see what a location has to offer. I often find that blog articles and google searches just show you the 'best and basic' spots from a location. Instagrams location tags are a little more authentic and less curated since anyone and everyone can add to them!
Instagram location tags are best used to research areas found through google. It is hard to find new areas from scratch, strictly through Instagram.
Bring The Right Camera Gear
The obvious necessity of travel photography is a camera. Now, what's the best camera for your travel photos?
Well, the answer isn't to go out and drop a paycheque on a new camera. For many people, a smart phone will do just fine! If you are one of those people, continue to the next steps.
If you are packing your DSLR or mirrorless camera along, you need to consider a few things. What kind of weather will you be in, what types of shots are you envisioning(wide, compressed, night time etc), how much space do you have for kit?
I often like to pack a single camera with two lenses to keep my options open. I talk a lot more in-depth about choosing and managing gear for travel photography in an article that you can access HERE.
Include A Person In Your Travel Photography
Adding a person into your image is a guaranteed way to gain your viewers attention. Showcasing a person in your travel photos adds perspective, scale, and helps your associate themselves in the scene.
The tricky part can be finding someone to be in your photos, especially those traveling alone. The easiest way to solve this problem is with the help of your cameras self timer and a tripod! You can take countless self portraits this way without having to rely on anybody else. Plus it can be fun to play both model and photographer.
If you aren't about those self portraits, you can try to utilize people already walking through your frame. If you are traveling with someone then life's a breeze and they have signed up to be your model whether they like it or not. Just maybe buy them a beer or three in appreciation.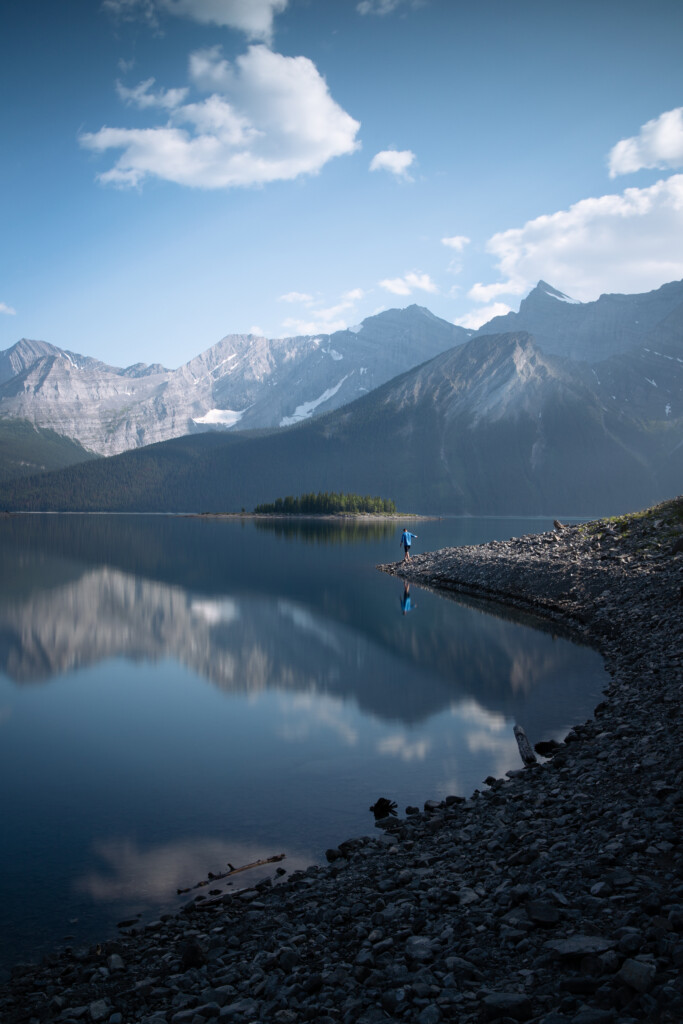 Shoot at Golden Hour
Whenever I am traveling I make a point of planning to shoot every sunrise and sunset. That first and last hour of light is by far the most magical and is where all your best shots will come from.
Since I know the area I'm visiting is guaranteed to offer incredible photo ops, why not capture it in the best lighting possible?
I always like to arrive 30-40 minutes before sunrise to allow some time to get situated. Nothing's worse than struggling to find the best angle while the best light's starting to fade away.
Don't be that person, show up early!
To stay on top of the sunrise and sunset I use an app called PhotoPills. This app is great for travel photography since it shares exact times for golden hour and where the sun will travel through its Augmented Reality feature.
I am not sponsored or affiliated with PhotoPills, I just love it and find it extremely useful. Make sure to check it out to never miss a golden hour while you travel.
You Might Like: The Best Camera Settings For Golden Hour Photography
Include Foreground
As I talk about in my Photography Essentials Ebook, foreground is a compositional element that should not be overlooked; especially with travel photography!
Including foreground helps to add depth to your images by creating 'layered' points of interest in your photo. These layers help to make your image feel more captivating and eye catching!
Here are a few examples of how foreground helps to add more depth and highlight the subject:
Shoot At A Wider Aperture
If you are shooting with your smart phone, the following step won't really apply. Go ahead and skip through to the final step to improve your travel photos!
Now for all you lens wielding folk…
Shooting at a wider aperture means that your background will be slightly blurred out compared to your subject. Now taking better travel photos doesn't mean you need to be shooting wide open at f/2.8. I find that a great sweet spot for images with people in frame is f/5.6 – f/8 while any landscape images I tend to favor f/8 – f/10. 
Of course, this is not a rule by any means. These are just the apertures I have found to help me capture sharper images while highlighting the subject with a shallower depth of field. A slightly shallower depth of field really goes a long way with travel photography.
If you are unfamiliar with how apertures and F-stops work, don't sweat it! You're not alone. I put together an entire section explaining all about aperture and how it effects your images in my free Photography Essentials E-book.
Utilizing Lens Compression In Your Photography
Lens compression is how your lenses perception of depth changes between focal lengths. At longer focal lengths such as 70mm the distance between two objects begins to feel warped. What once looked miles away with your wide angle lens now looks like it's immediately behind your subject. It's a great in camera trick to really make a location feel larger than life.
Below is a comparison showing how compression completely changes how a scale is perceived. A tighter lens size also allows to make places look more intense than they really are.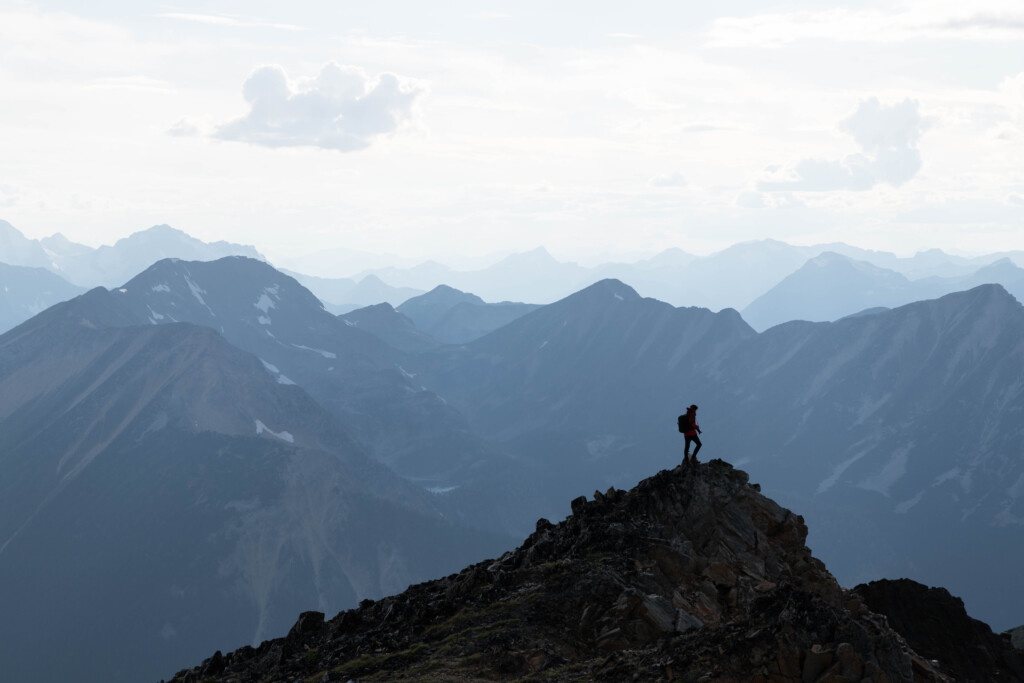 You don't have to be on a crazy zoom lens to get lens compression. For example, I shot the photo below of Lake Bled at just 75mm. This combined with a wider aperture of f/5.6, I was able to blur the foreground while making the island appear larger.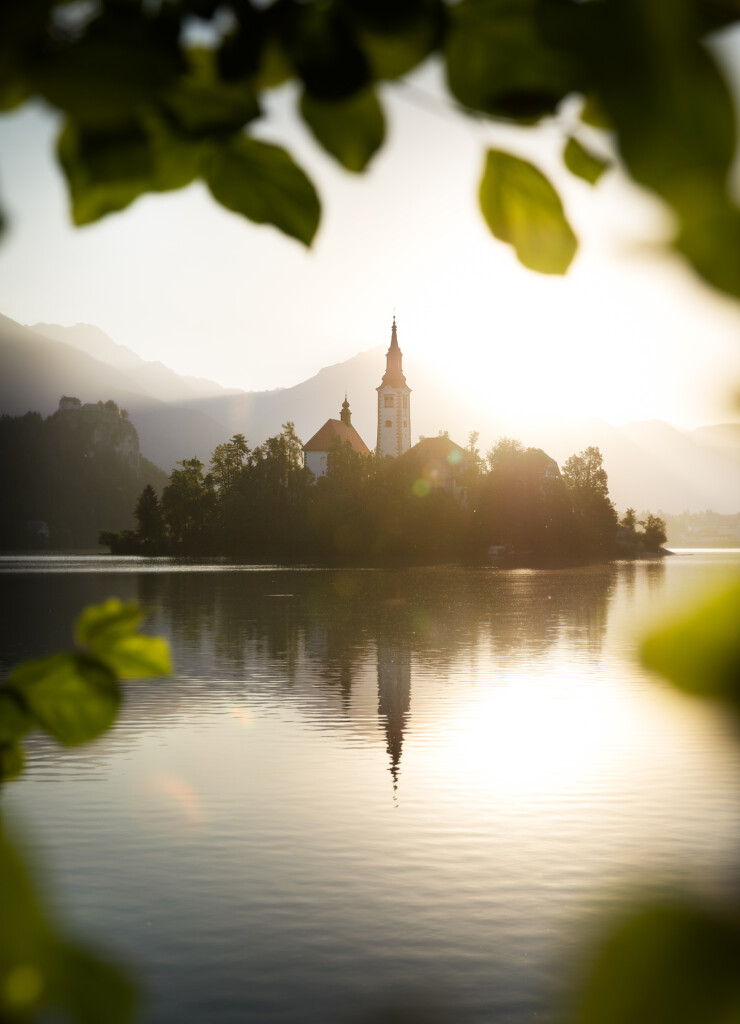 Try to not only experiment with compression but also try to include foreground. Foreground paired with a compressed focal length can make for some really interesting travel photos.
Rethink Cliche Photos
It's easy to take a scroll through social media and find that "classic" Instagram shot of a location. It's also easy to go to that location and take that same "classic" Instagram shot; but that's definitely not going to make your image stand out from the crowd.
Whenever I am shooting travel photography I like to ignore my first ideas for a shot. When I first get to a location my first shot ideas are usually heavily influenced by another image I have seen. Instead, I put that first idea aside and begin to look for something more unique. You'll be surprised how easy it can be to find a more unique shot that you can be proud of. Here are a few tricks to help combat basic travel photos:
– Search for a new vantage point
Nearly any location will have a different vantage point to capture a beautiful photo; you just have to look for it. Keep an eye out for secondary paths or small scrambles that can safely get you to another area.
This should go without saying but do not hop fences, forge your own trail, or act recklessly while looking for a new place to set up a shot. Be safe and remember no photo is worth risking injury.
Ok, I'm done mom-ing you.
– Add a person into your image
A lot of cliche travel photos online are just of a landscape and not much else. Although these photos can be beautiful, try adding a person in a unique location for added interest and scale. Like I mentioned in tip #3, including people in your travel photos is always a good idea.
– Look Around You
I can already hear you roasting me from your computer screen:
What kind of a tip is that?? 
Before you get all worked up, hear me out. I've gone to tons of "cliche Instagram spots" expecting to take that one photo everyone else has. I've often gone to these places to realize that just around the corner is a completely different spot; that's 100% more unique and equally as stunning.
Whenever you are visiting a place to get your basic Instagram shots, explore around a little, and see what else you can find. Having tunnel vision on that one spot isn't going to yield anything unique to you. This is a simple trick that a lot of people overlook.
You have two eyes for a reason, put 'em to use.
Conclusion
Capturing great photos while traveling is one thing, but managing your gear and keeping everything safe is another ball game. Luckily I wrote an article sharing 17 tips for travel photographers to help keep your gear safe, media secure, and still capture those epic travel photos.
Admittedly, travel photography can be intimidating and difficult. You see all these beautiful images online and wonder why the heck your photos don't look the same. By implementing the steps outlined in this article and putting in the practice, slowly you'll discover the 'tricks of the trade' used by countless other creators.
Ultimately taking better travel photos will come naturally if you're just having fun. It's a lot easier to get creative when you aren't putting the pressure on yourself to capture amazing photos like your life depends on it.
So with that, what are some tips you find help you to capture better travel images? Let me know in the comments below!
Happy Shooting!
-Brendan