The Best Filter To Protect Your Camera Lens
If you're going to spend a big chunk of money on a new lens, it's safe to assume you want to keep it protected and scratch-free. The best way to do this is by using a lens filter. The problem is, what's the best filter to protect a camera lens with?
The best filter to protect a camera lens is called a UV Filter (Ultraviolet Filter). Unlike other lens filters, a UV filter is completely clear and has no real effect on your images. Since it creates a secondary barrier between your front element and the outside world, it effectively protects your lens from accidental bumps or scratches.
What Is A UV Filter?
The UV filter was initially created in the film days to protect the film from being exposed to ultraviolet light from the sun. Especially on a sunny day, it was common for certain types of films to get a purply-blue haze from the UV light. By using a UV filter, you could cut out this light and capture a more natural-looking photo.
In modern-day, digital cameras aren't sensitive to UV light, so your photos look largely the same with or without a UV filter. They're still around today because they act as the perfect filter to protect your camera lens. Starting at only $10, it's not as heartbreaking to damage a UV filter compared to your actual lens.
Are There Side Effects To Using UV Filters?
For most situations, using a UV filter won't make any difference in your images. With that said, there are a few exceptions to this rule. When you're shooting into direct sunlight or trying to capture a lens flare, it's possible to experience some double reflections, also known as ghosting.
A double reflection is basically when the light reflects off the inside of the filter and can cause weird light effects in your image. Particularly with sun flares, this can ruin the crisp look of them.
However, this slight change is so minimal that many people wouldn't even notice if you compared two photos side by side. It's purely a personal choice and whether or not an extra light streak in your photo bothers you or not.
For example, I shot this photo below with a UV filter on my lens, and the sun flare doubled itself because of a double reflection. From a technical standpoint, this isn't great, but does it ruin the entire photo? No.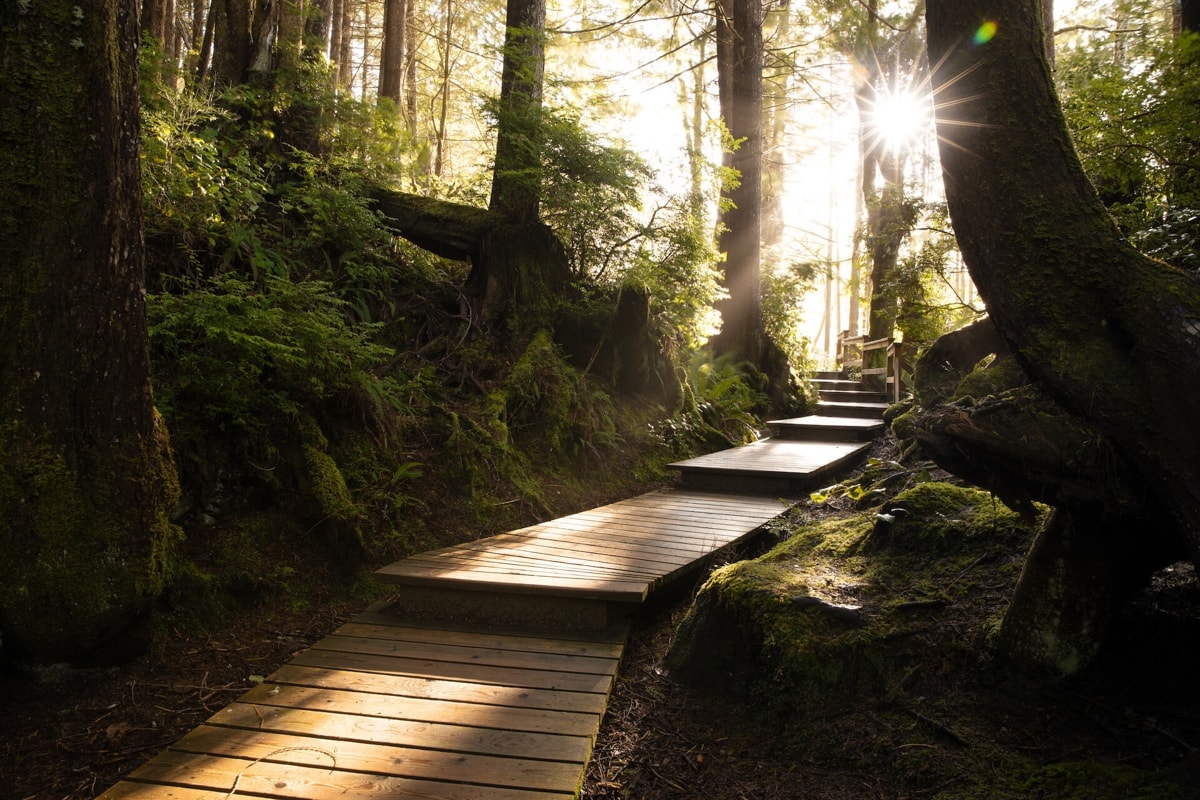 The mild side effects don't make enough of a difference to make me want to get rid of it altogether. If they truly bother you, these filters can be easily screwed on and off, depending on the situation.
Will A UV Filter Protect A Camera Lens From Anything?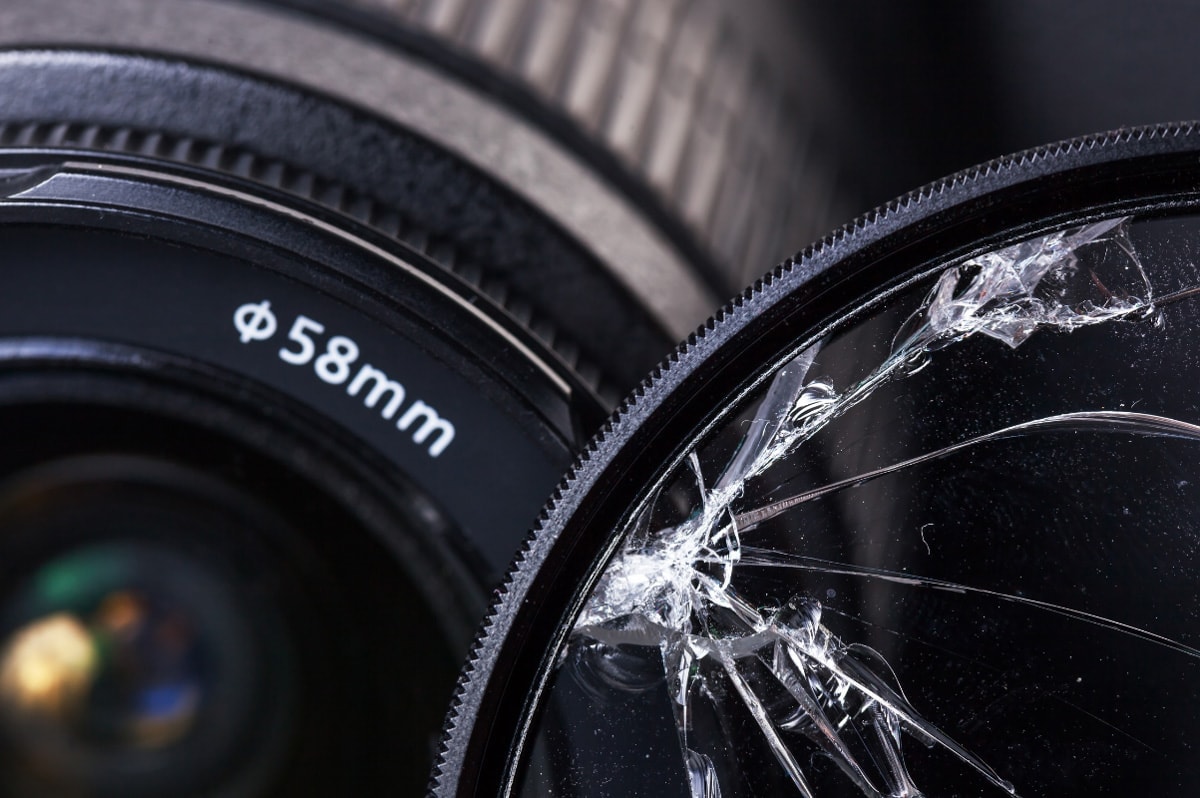 Before you start thinking the UV filter is this bulletproof filter, let's be real for a minute. Yes, this filter will protect your lens from bumps and scratches. However, it will not necessarily protect it from a fall or something significant hitting the lens.
To help give you an example, let's talk about rock climbing photography. Over the years, I've taken my camera up a lot of cliffs, and it's been in some precarious places. It's been bumped by gear and slammed around more times than I'd like to admit. As you can imagine, I've gone through a few UV filters over the years. Little things like a rock hitting the lens or a piece of gear sliding across the filter might cause the filter to scratch, but the lens itself remains unscathed. In that sense, the UV filter has protected my camera lens in all of my experiences.
However, some people have had their camera tip over on the tripod and hit the ground lens first. With that much force and landing on a hard surface, it's totally possible to shatter the filter. If the UV filter shatters, it's open season on your actual lens element. All bets are off whether or not your lens will live to tell the tale. In that sense, UV filters won't always protect your lens.
Just because you have a UV filter to protect your camera lens doesn't mean that it suddenly becomes untouchable. Just like your real lens, a filter can break too. These filters are meant to protect from light bumps and scratches, but there's no guarantee they'll protect you from anything hitting the lens with force.
The Best UV Filters For Lens Protection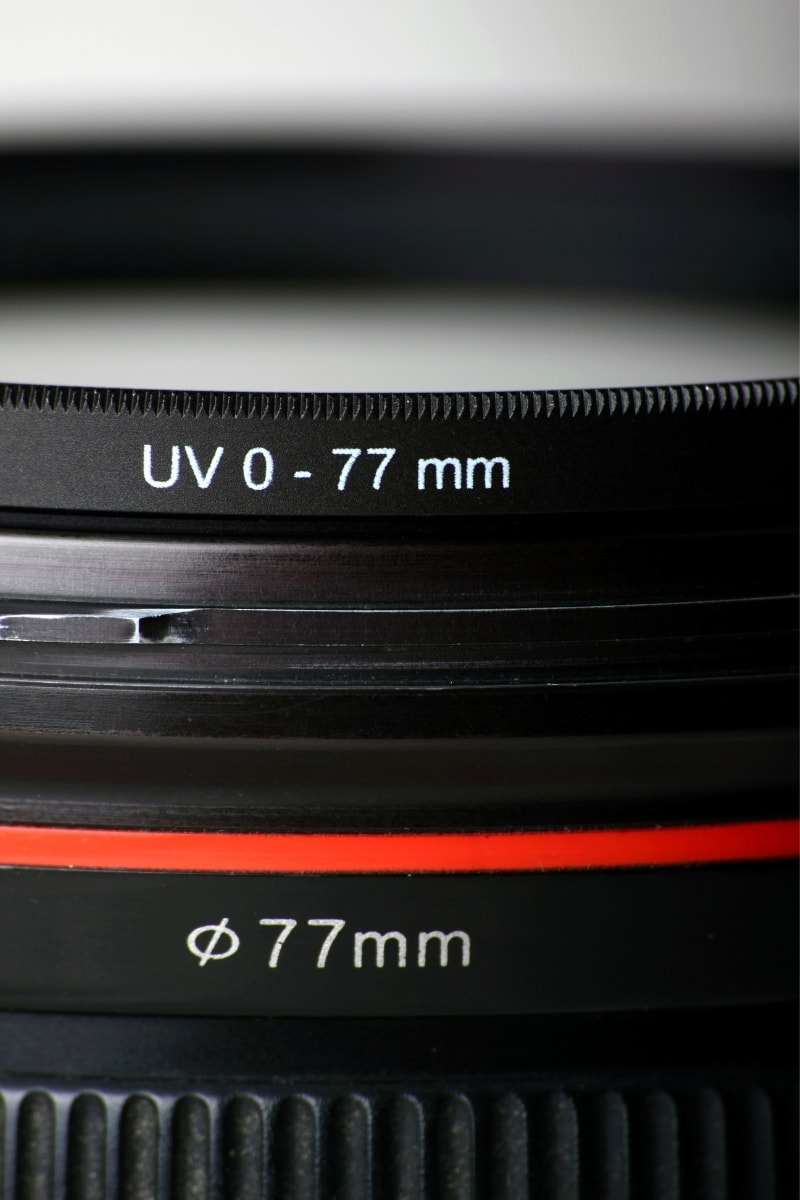 Now let's discuss some of the best UV filters for photographers to use. I'll share some of my personal favorites from experience and other highly recommended ones. The beauty of these filters is that they're dirt cheap compared to other photography filters.
Before you purchase a lens filter, make sure that it's the right size for your lens. Every lens has a different thread diameter, and you can find it printed near the front element of the lens. Make sure to order the right size filter; otherwise, you'll be in for a world of annoyance.
Understanding The Price Difference Between UV Filters
Some UV filters will cost as little at $7, while others cost $150 or more. Besides the obvious price gap, let's go over why certain UV filters are more expensive than others.
– Quality of Coating
Most UV Filters will have some level of coating to help prevent ghosting and improve light transmission. With just a regular uncoated UV filter, light can reflect off your lens element and rebound off of the inside of your filter. This results in ghosting or a double reflection that you should avoid. Secondly, light can reflect off the outside of the UV filter and not actually reach your camera's sensor. This results in a lower contrast photo because there is light transmission loss. One of the big differences between cheap and expensive UV filters is the quality of this coating. It decides how well the filter maintains contrast and combats ghosting.
– Nanocoating Vs. Multicoating Vs. Uncoated
Any higher-end UV filter will be nanocoated. This is a newer form of coating that is designed to avoid light reflection period. Even with the brightest light sources, you're far less likely to experience any kind of transmission loss or ghosting in your photos. However, you'll pay a premium for this type of coating. Is it worth the money? Absolutely.
Multicoating is the step down from nanocoating. A multicoated UV filter refines light to cancel out reflected light particles so that ghosting doesn't occur. This type of coating will do the job, but might not work perfectly when shooting directly into the sunlight.
Finally, a non-coated lens filter is guaranteed to have reflections and transmission loss. With this filter style, you'll experience something called 'blooming', which is a soft glow around highlights. It can be used as an artistic touch but is not ideal for most photos. With cheaper filters, you might be buying something that's uncoated and, therefore, lower quality.
– Filter Material
The final thing that makes a big difference in the price of UV filters is what they're actually made of. A mid-range or high-end UV filter will be made out of optical glass, so you're guaranteed higher image quality. Lower quality filters will be made out of plastic instead, which won't have the same image clarity.
Top 3 UV Filter Picks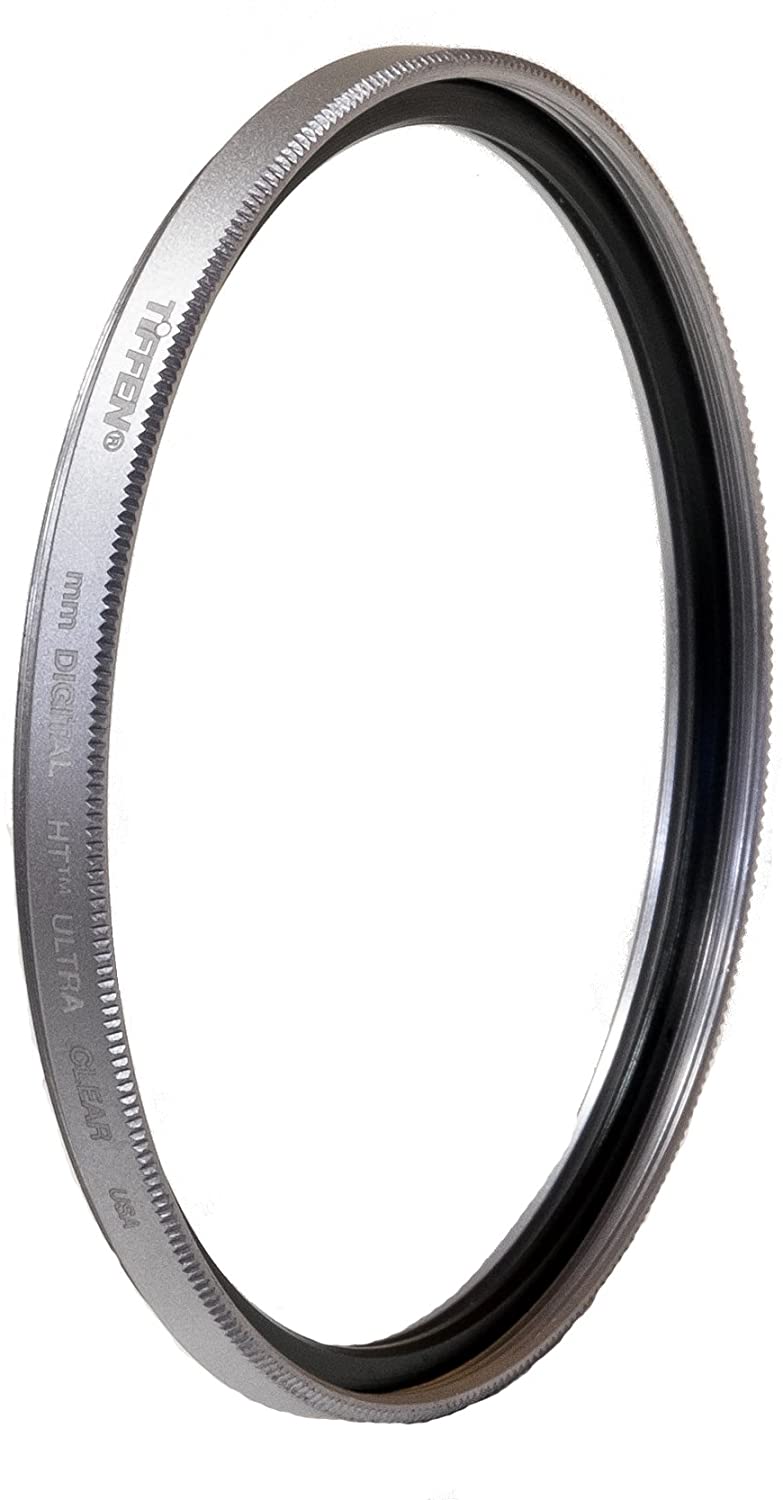 The Tiffen UV Protection Filter offers good lens protection at one of the most affordable prices.
The Gobe UV Protection Filter sets itself apart with a 16-layer nano-coated filter for a fraction of the cost.

Labeled as the "toughest filter in the world", the Hoya HD3 offers the highest standard of quality.
10 Best UV Filters For Photographers
One of the top filters in price versus quality is the B+W Nano Coated UV Protection Filter. This UV filter has a nanocoating on both sides to help with image quality and makes cleaning the filter easier. If you get dust or water on the lens, it will easily bead off and not absorb like in lower-end filters. Whether you're shooting with an entry-level or professional camera body, this filter will protect your camera lens and maintain the highest image quality.
Coating Type: Nanocoating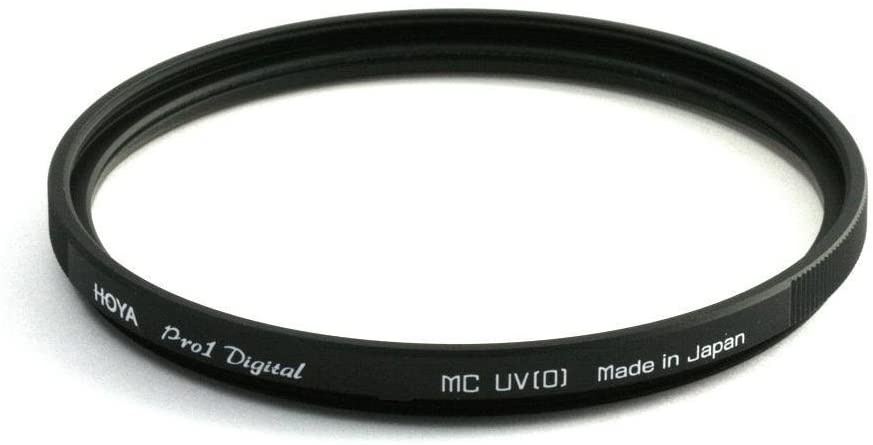 The Hoya Pro1 Multi-Coated UV Filter offers a high-quality filter at an extremely reasonable price. It protects from the usual UV rays and blue light like other UV filters while also preventing ghosting with a multicoating finish. It has a matte black lens ring to prevent extra reflections and a low profile design to eliminate vignetting at wider focal lengths. If you want a great UV filter to protect your camera lens but doesn't lapse in quality, this should be your pick.
Coating Type: Multi-coated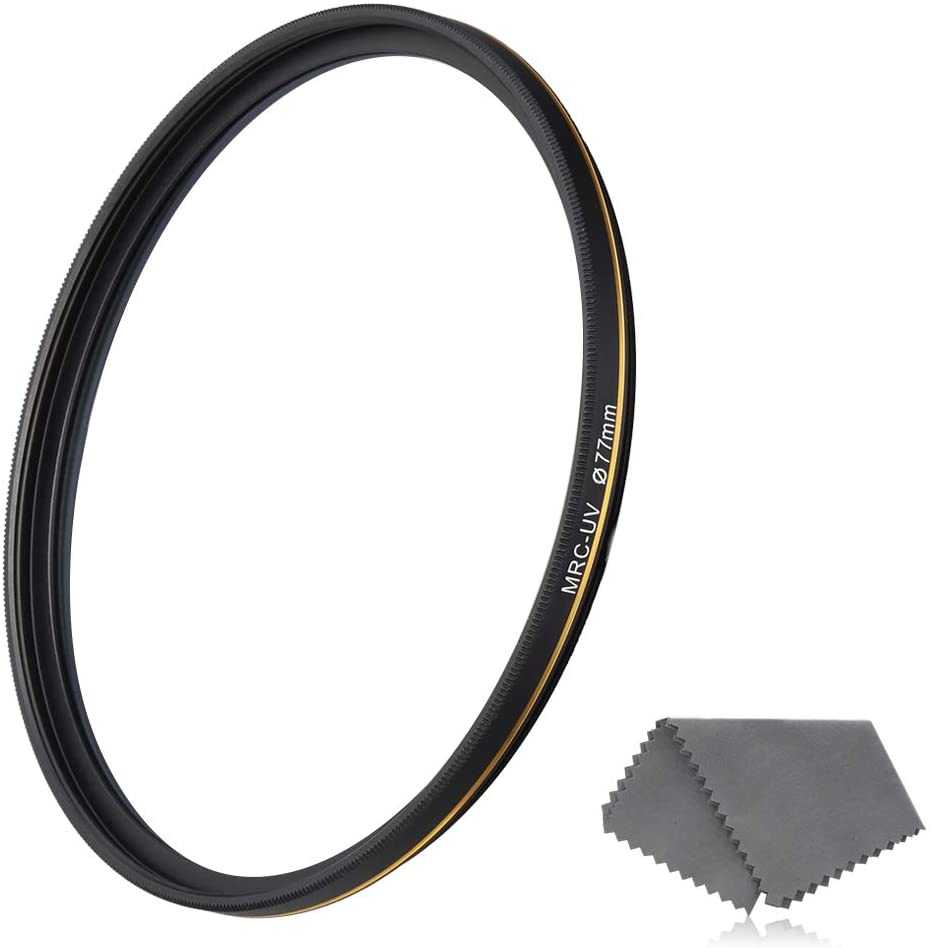 The Lenskins Multi-Coated UV Filter offers 16 layers of MRC coating to protect your lens from oil, dust, water, and more. With these different coating levels, it's exceptionally easy to clean and makes it a perfect filter if you're often outdoors. Being multicoated, it does a good job of reducing ghosting and flaring in most lighting conditions. It has an ultra-slim design, so it doesn't stick out much on your lens and comes with a lens cloth for easy filter care!
Coating Type: Multi-coated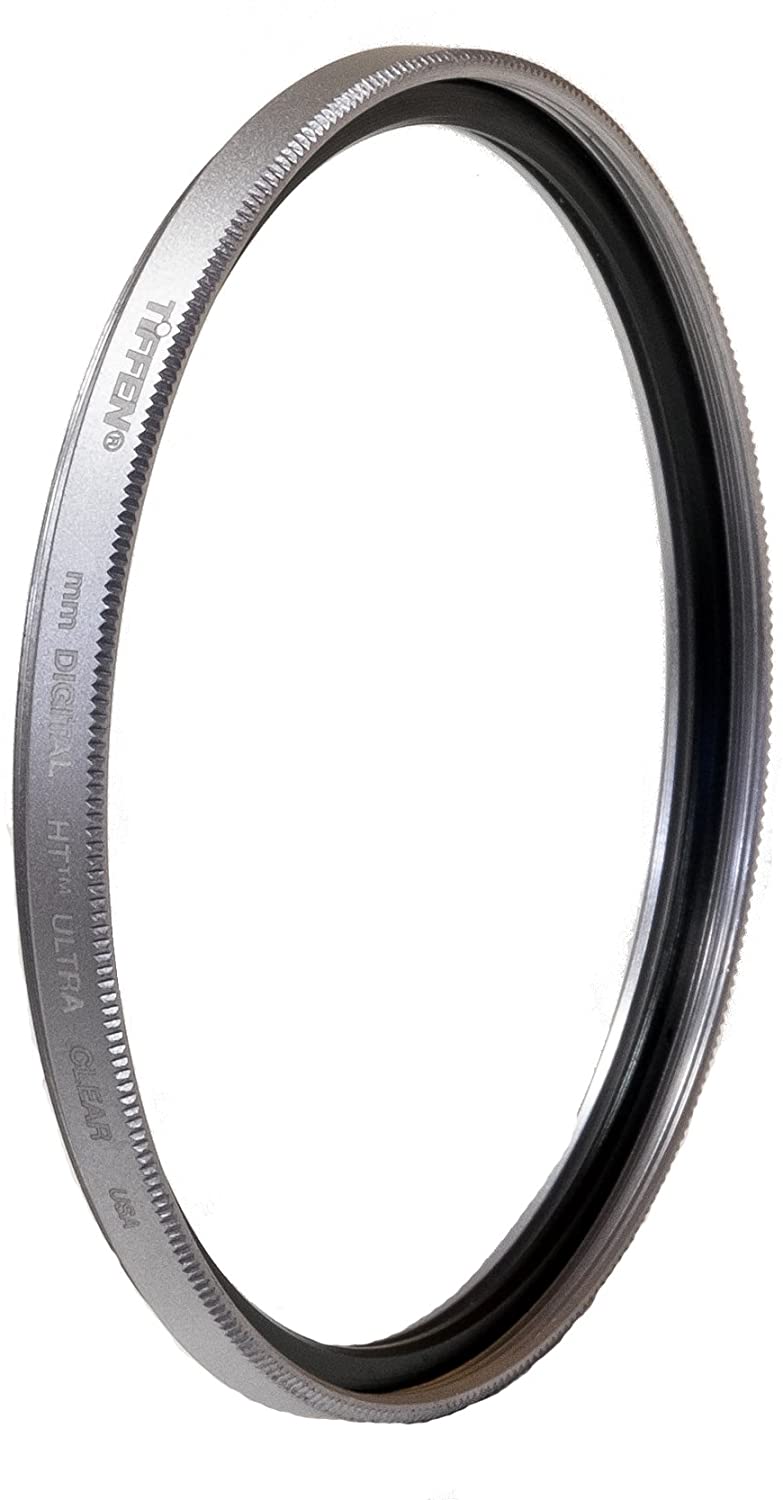 The Tiffen Multi-Coated UV Filter is another solid option to protect your lens without any color shift or ghosting effects. Tiffen has long been an extremely reputable filter company in photography and film, so you can guarantee a quality product from them. With a multi-coated finish, this UV filter effectively cuts down glare and maintains contrast in most lighting situations. This filter also boasts a hardened coating for increased durability if you want some added protection for your camera lens!
Coating Type: Multi-coated

The Hoya HD3 UV Filter was designed to meet any camera's needs up to 50MP in quality. Unless you're shooting on an absolute top of the line camera, you'll be well under this quality threshold. The Hoya HD3 boasts an ultra-hard nanocoating, so you get the best lens protection with nanocoating for better contrast and less ghosting. In fact, Hoya calls this filter "the toughest filter on the planet." That's just how confident they are that they're hardened coating technology works better than any other UV filter on the market. With 32 layers of coating and a 99.7% light transmission rate, this filter is the highest quality, but most expensive on the list.
Coating Type: Nano-coating
Gobe has always been a darkhorse in the world of lens filters, producing surprisingly high-quality products for extremely cheap. The Gobe UV Protection Filter has a superior nanocoating to create one of the highest quality UV filters you can buy. It's made with premium SCHOTT B270 optical glass for perfect sharpness and clarity in every photo. With 16 layers of coating, this filter is tough and can be easily cleaned from dust or water on the lens. Best of all, every purchase of this filter will plant 5 trees in areas affected by deforestation. Now you can protect your camera lens while making the planet a better place!
Coating Type: Nano-coating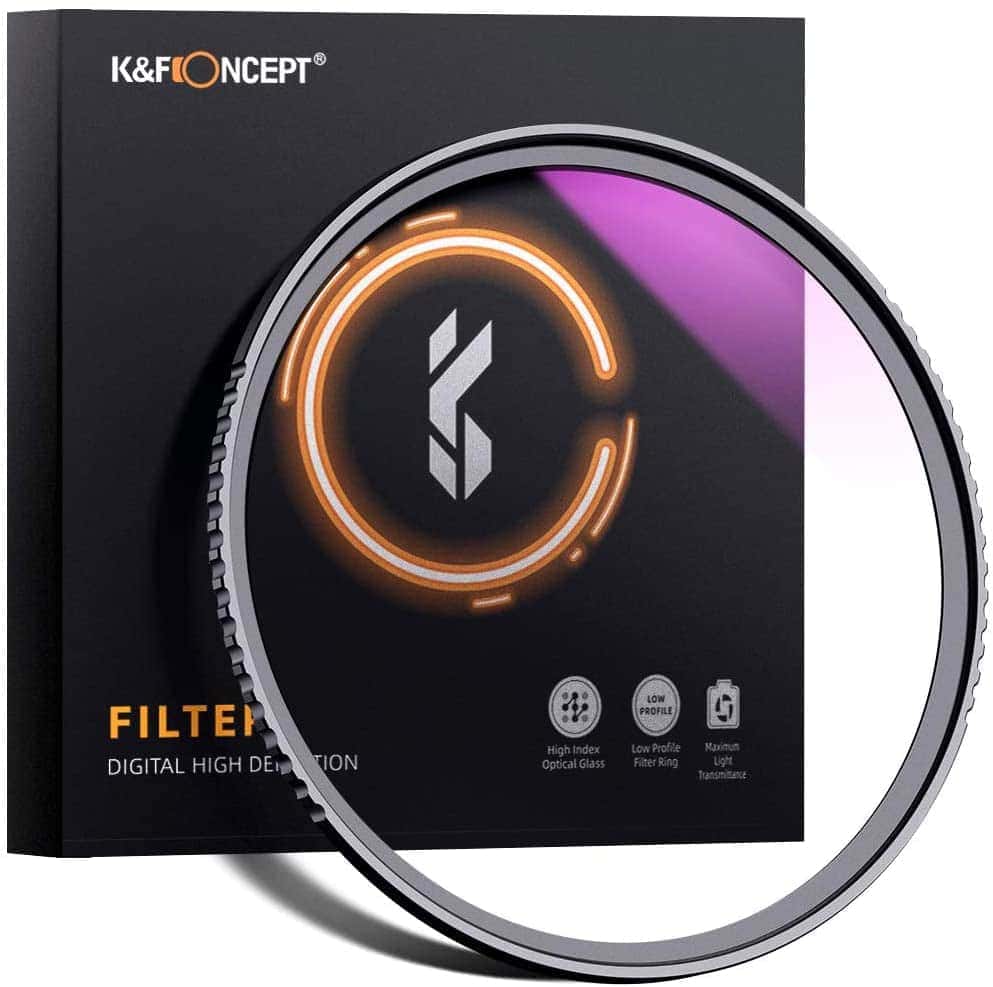 If you want a cheap, get the job done, UV filter, the K&F Concept UV Filter is a reasonable option. Unlike higher-end filters, this one doesn't have an impressive array of coatings on it. However, it does have a single anti-reflective coating to help improve light transmittance and contrast. It has an ultra-slim design, so it doesn't stick out from your lens much, reducing vignetting at wider angles. If you want a filter simply to protect your camera lens, this is a perfect option for only a few dollars.
Coating Type: Anti-Reflective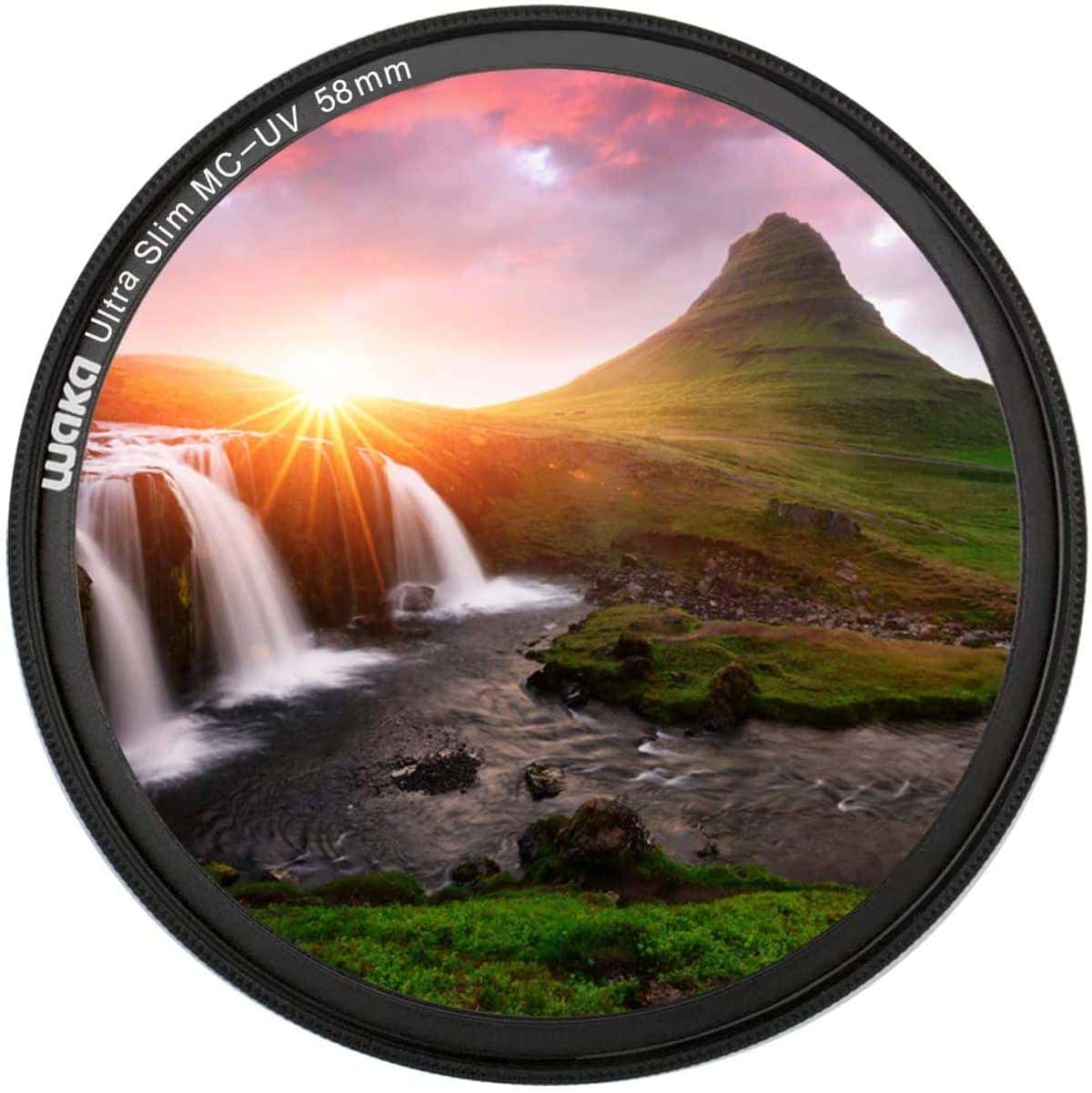 The Waka UV Filter is multi-coated with 16 layers of optical glass. With a solid amount of protective layers, this filter will be slightly tougher than other filters in this lower price range. Besides protecting from ghosting and loss of contrast, it also blocks all UV spectrum light that could affect your images' quality on a film camera. The huge bonus to Waka is that they offer a 2 year 100% satisfaction guarantee. So if you decide the filter isn't good enough, you can send it back without a worry. Considering the specs versus price on this UV filter, I don't think you'll be upset with it!
Coating Type: Multi-coated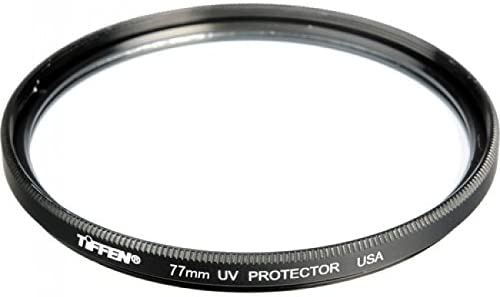 The Tiffen UV Protection Filter is one of the most popular lens protection filters online. It has a great build quality while still serving the sole purpose of protecting your camera lens. The major downside to this filter is that it's not actually made of glass, but instead with plastic. In that sense, this filter isn't ideal for higher-end cameras but could get the job done for an entry-level camera body. If you need something solely to protect your camera lens, this lens filter will get it done.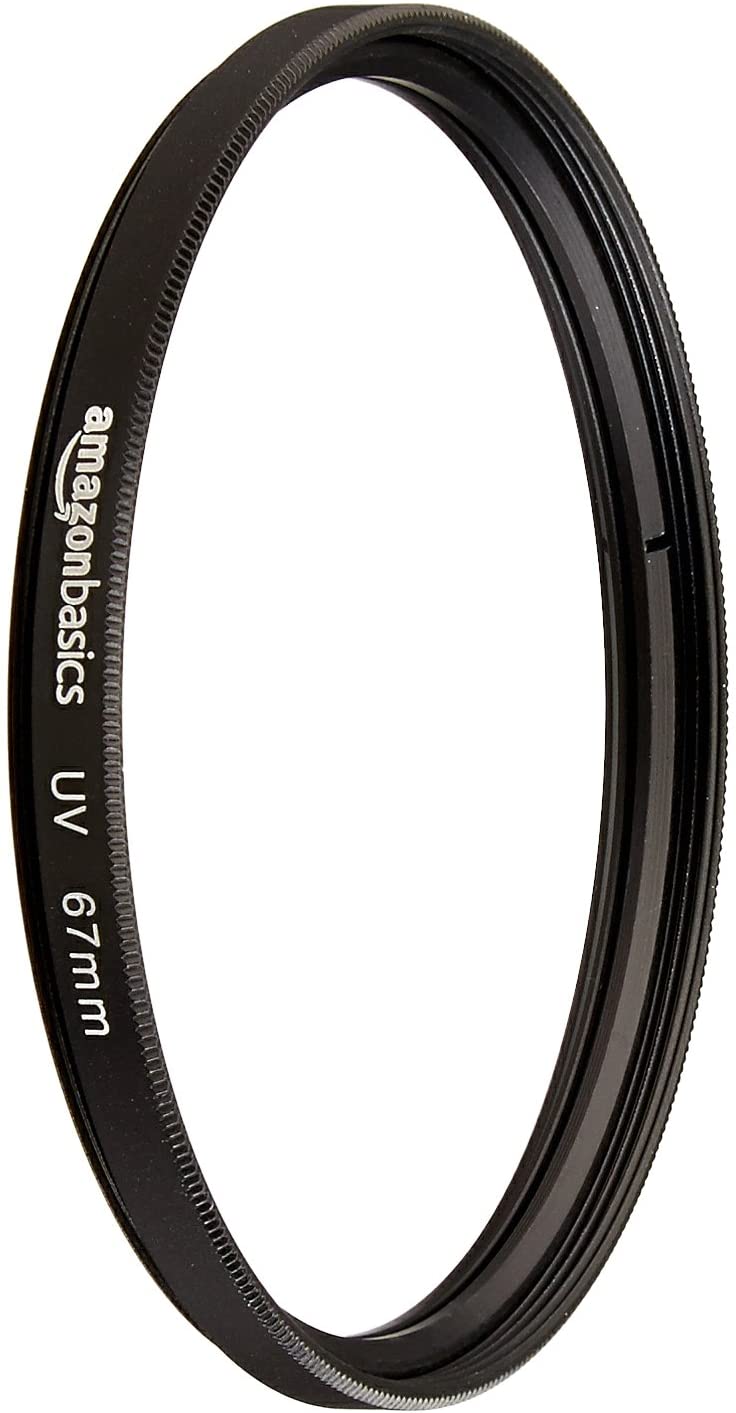 Lastly, the Amazon Basics UV Filter is the most cost-effective option for protecting your camera lens. This filter doesn't have much going for it in terms of special features or coating types. However, it will serve you well to protect your lens from any scratches or dust that comes its way. If you just want the most barebones and basic UV filter money can buy, this plastic filter is your best bet.
Conclusion
Any camera lens can be adequately protected using a UV filter. Although these filters won't stop a bullet, they do a great job protecting your lens from bumps and scratches. No matter what type of photography you do, a UV filter is something you should definitely consider. If you wait too long, you run the risk of damaging your lens permanently. Wouldn't you rather damage a little filter instead of your very expensive lens? To me, the answer seems clear. Get yourself a UV filter for all your lenses and rest easy knowing your lenses are protected!
Besides using a filter, there are other ways you can keep your lens protected. To learn how, check out this article on how to protect your lens from damage.
Want more articles like this? Subscribe to my weekly newsletter for more photography, and photo editing tips delivered straight to your inbox!
– Brendan 🙂