Adobe offers various products and subscription plans for creatives, including the top two options for photographers. If you aren't familiar with Adobe's subscription plans, you may be wondering which is best suited to your needs when comparing the Photoshop vs. Photography Plan.
Adobe has created multiple offers for designers to choose the best product(s) for their specific type of work. If you are a professional designer, consider buying the All Apps plan, which includes every Adobe Creative Cloud app.
However, if you are a beginner or a photographer who only needs to edit photos, there are cheaper options. I will detail the two plans best suited for photographers, whether you are a beginner or planning to go pro, along with the different features and cloud storage options.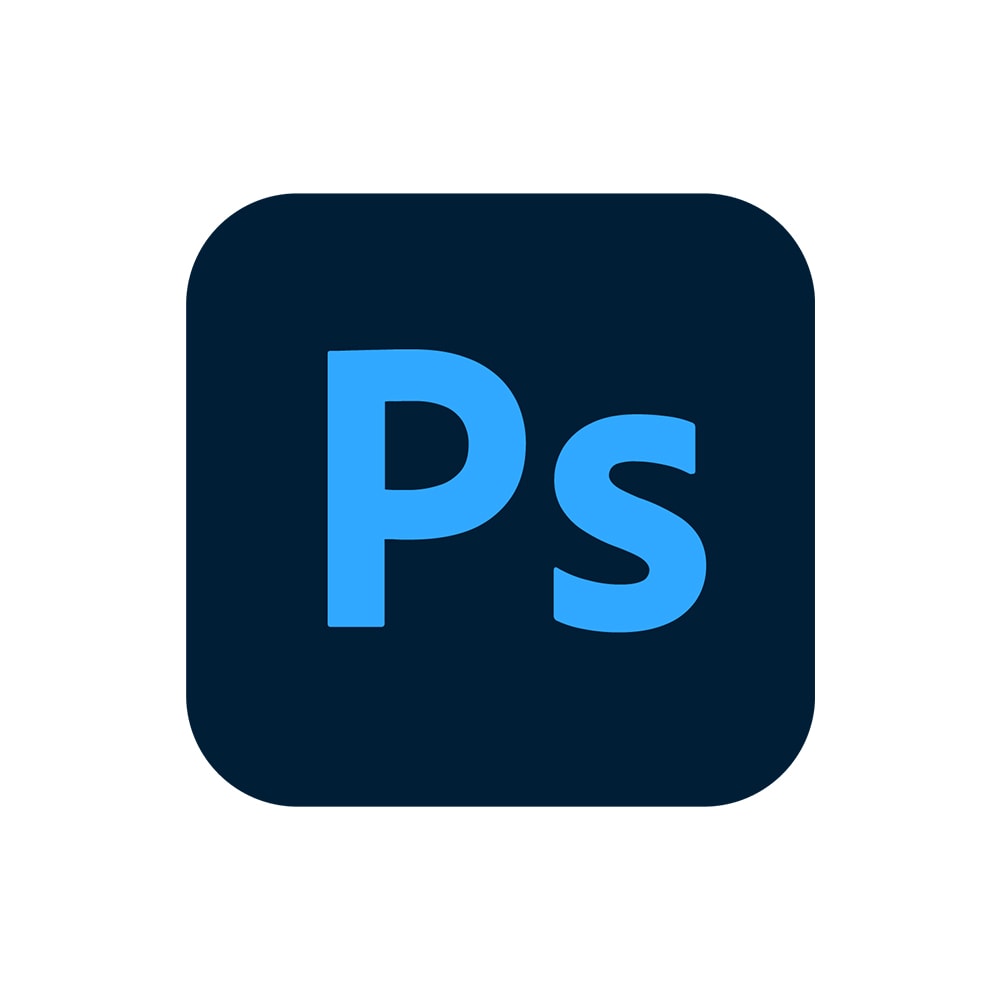 Annual Fee, Paid Monthly: US$20.99
Cloud Storage: 100GB
Apps Included: Photoshop CC, Photoshop Express, Adobe Express
Annual Fee, Paid Monthly: US$9.99
Cloud Storage: 20GB
Apps Included: Lightroom Classic, Lightroom CC, Lightroom Mobile, Photoshop for iPad, Photoshop Express
We review products based on independent experience and research, but we may earn affiliate commissions from buying links on this page.
Photoshop VS Photography Plan – Differences Explained
Suppose you are primarily a photographer who doesn't need an all-inclusive solution with video and illustration programs. In that case, you only need one or two programs from Adobe, which are Photoshop and Lightroom.
Ultimately, the cheapest plan that includes both programs is the Photography Plan, with 20GB of cloud-based storage. If you want a more in-depth comparison, you must first understand what the two main programs offer.
Photoshop offers in-depth raster graphics editing capabilities, where you can manipulate images in many different ways, such as creating a glow effect, adding a realistic reflection, or even adding a tattoo onto a subject. You can also do basic graphic design tasks, such as blending text into photos or adding a sparkle effect to images.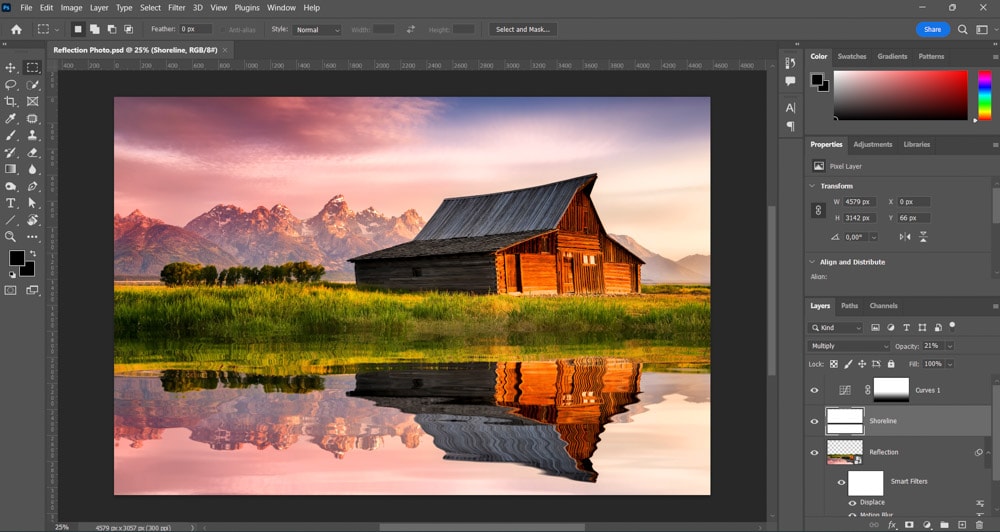 Lightroom is a more surface-level editing program that offers high-level organizational capabilities, such as using Quick Collections and rejecting images to cull unwanted photos. This program is more suited to batch editing images, although it offers individual editing techniques, such as blurring a background, adjusting the white balance, and editing nighttime photos.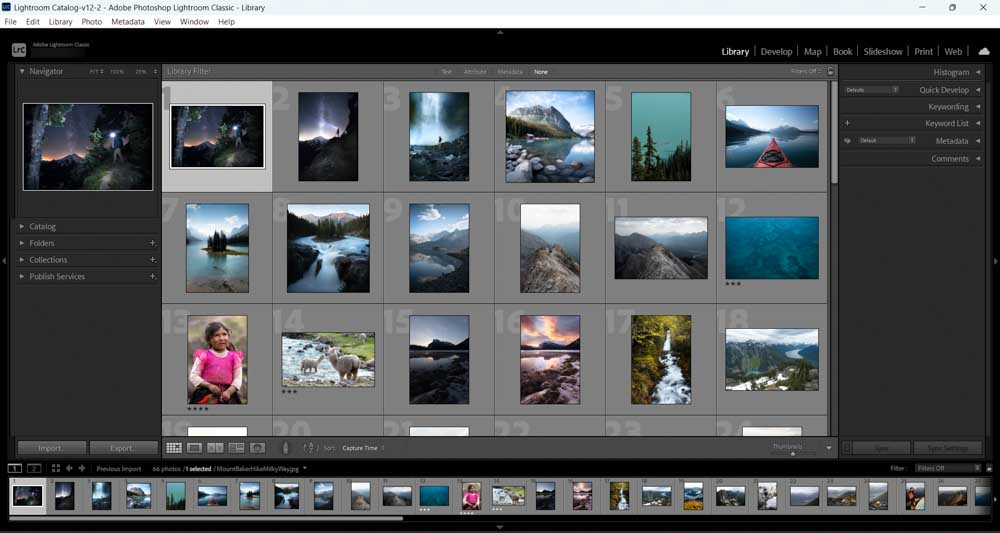 There are two versions of Lightroom, which are Lightroom Classic and Lightroom. Lightroom Classic is a desktop-based program that offers more advanced features. Lightroom is a cloud-based streamlined version available on desktops, tablets/iPads, and mobile devices.
This means that if you only edit single photos and need high-level editing functions, you will only need Photoshop. If you do multiple photoshoots with several images at a time and want batch-editing and organizational tools, then Lightroom is your choice.
While the Photoshop Plan only offers Adobe Photoshop, and the Photography Plan offers both Photoshop and Lightroom, there is a bit more to these options.
The Photoshop package, priced at US$20.99 per month, is more expensive than the Photography Plan, priced at US$9.99. However, the Photoshop option offers Adobe Fresco (which has professional digital drawing tools) and offers more cloud storage than the cheapest option for the Photography package.
Here is a complete breakdown of the plans' differences to help you make the right choice.
What's Included?
Various payment (annual and monthly) and cloud storage options are available within each plan. However, the apps included are the same, no matter how frequently you decide to pay and how much storage you buy.
The Photoshop Plan offers Photoshop as the main app (including Photoshop for iPad), which offers a feature-rich, raster-based editing program letting you edit photos down to individual pixels. The in-depth editing app is perfect for creatives looking to move beyond basic edits, such as color, exposure, and composition adjustments.
The Photoshop Plan also includes the premium versions of Adobe Fresco, Photoshop Express, and Adobe Express to take your editing even further.
Adobe Fresco is a digital drawing program designed specifically for pressure-sensitive touch devices and styluses. While previously exclusive to iPads and iPhones, you can now access the program on Windows devices.
The drawing platform syncs well with Photoshop, making it easy to transfer files or elements between the two programs. Fresco is a cloud-based service to access digital paintings and drawings on your phone, tablet/iPad, or laptop. You can try out the free version but need a paid subscription to access the premium features.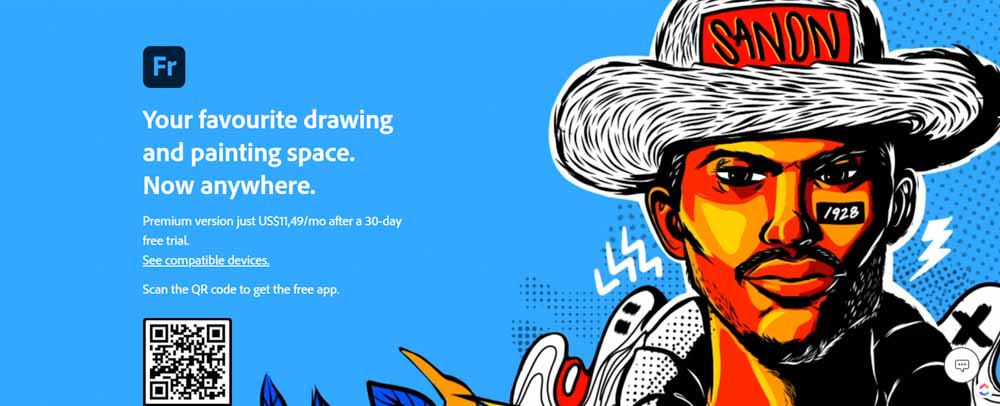 Photoshop Express is a basic photo editing software that allows you to enhance your photos using the basic tools you will find in Photoshop, but it is limited when you want to manipulate and further edit your picture. The program is suitable for mobile devices and online photo editing.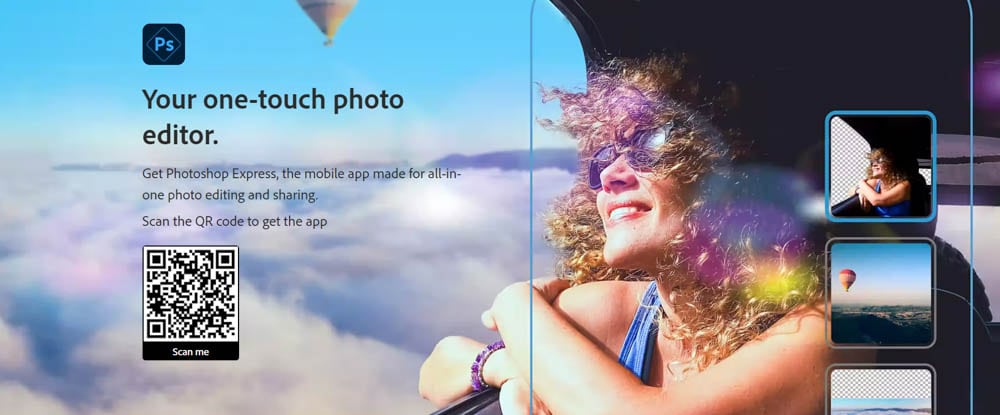 Adobe Express is an updated version of Adobe Spark and offers basic graphic design tools that allow you to quickly and easily create content. You have access to basic video editing tools and graphic design tools to create flyers, social media posts, and so much more. There is a free version, but the subscription-based version offers premium features.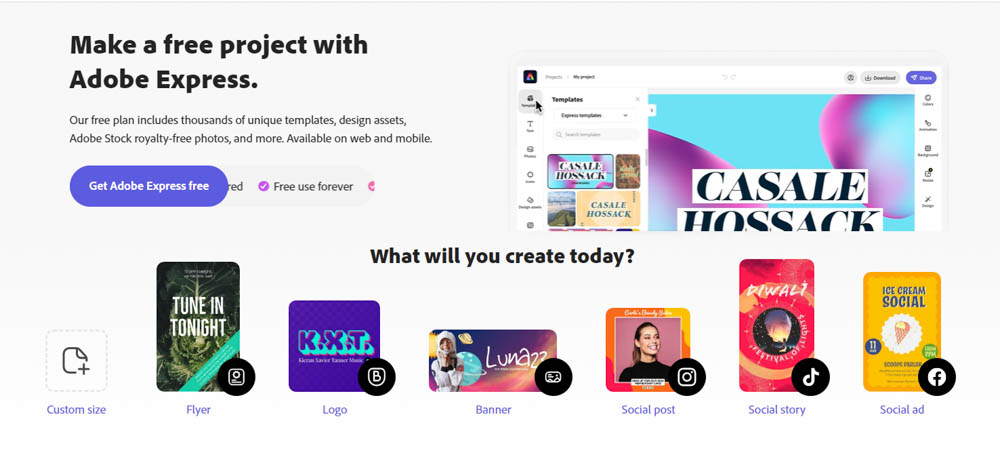 You will also have access to the following Adobe features:
The latest Photoshop tutorials
Behance
Adobe Fonts
Adobe Portfolio
Creative Cloud Libraries
Latest Program Updates
The Photography Plan offers Photoshop and Lightroom Classic as the two main apps, which are both essential for professional photographers. Lightroom offers batch editing for large groups of images and excellent organizational features. Photoshop can then be used for more in-depth manipulation of specific images or to create entirely new compositions and designs.
The Photography Plan also includes Lightroom, Lightroom Mobile, Photoshop for iPad, and Photoshop Express.
Lightroom Classic is a complete version of the program that is only available on desktop but includes the full features and saves the files to a local hard drive. Lightroom is a streamlined version of Classic that is cloud-based and available on web, mobile, and desktop devices.
Photoshop Express, as explained in the previous section, is a streamlined version of Photoshop available online and on mobile devices. The program allows basic image editing and graphic design functions.
When purchasing the Photography Plan, you will also have access to the following:
Latest Photoshop and Lightroom tutorials
Adobe Fonts
Adobe Portfolio
Creative Cloud Libraries
Behance
Latest Program Updates
The Storage Differences
The different plans offer various amounts of storage. The Photoshop Plan offers a standard 100GB of cloud storage. This is useful if you primarily create in-depth edits and photo manipulations and need plenty of online storage space. However, this is the most expensive plan, and there are alternatives to increase your cloud storage.
The Photography Plan offers two storage options. You can buy the basic plan, which is the cheapest and offers 20GB of cloud storage. Alternatively, you can increase the storage for the Photography Plan to 1TB of cloud storage, which still works out cheaper than the Photoshop Plan.
You can further increase the cloud storage by purchasing extra storage, which costs US$9.99/month per additional terabyte.
Cloud storage is useful if you need to save high volumes of large photo files in a secure location. This storage acts as a backup of your work and helps the programs run smoother if you have limited space on your device.
The Cost Differences
Adobe's pricing structure is relatively complicated as there are various options for each plan. Firstly, the Photoshop Plan has one fee with 100GB of storage, but the Photography Plan offers two different prices based on the storage options of 20GB or 1TB.
Furthermore, Adobe breaks the pricing down into different payment options for the Photoshop Plan.
You can choose to pay a monthly fee with the option to cancel at any time without paying a cancelation fee. You can choose to pay an annual fee paid monthly, which allows you to cancel at any time, but you need to pay a cancellation fee. Lastly, you can pay the full annual fee as a once-off payment, but you won't get a refund if you cancel before the subscription ends.
The Photography Plan only offers the Annual fee paid monthly or prepaid.
By purchasing any plan using any of the storage or payment options, you will have full access to the programs I mentioned above, including the extra additions. You will have access to all the features for the duration of your subscription until it ends or is canceled by either party.
The prices for the two plans are as follows:
Photoshop Plan
Monthly fee: US$31.49
Annual fee, paid monthly: US$20.99
Annual fee, prepaid: US$239.88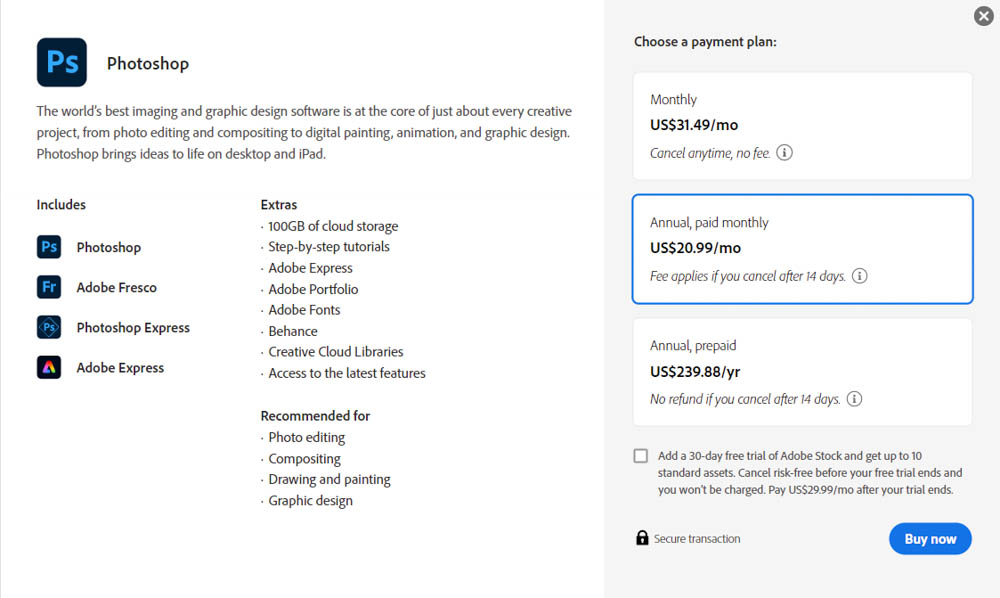 Photography Plan
20GB Plan
Annual fee, paid monthly: US$9.99
Annual fee, prepaid: US$119.88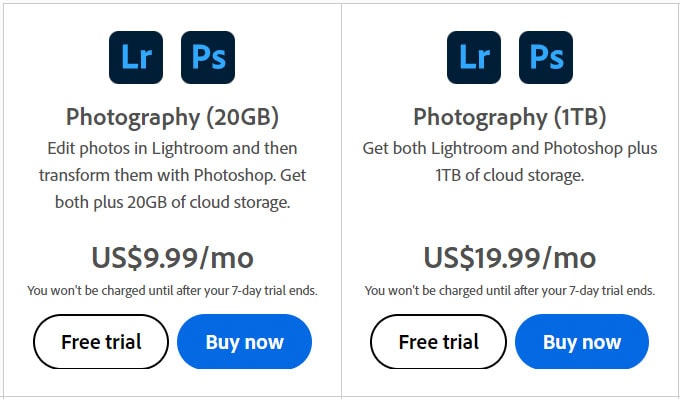 1TB Plan
Annual fee, paid monthly: US$19.99
Annual fee, prepaid: US$239.88
Should You Get The Photoshop Or Photography Plan?
The type of plan you buy should be tailored to your needs as a photographer or creative. However, Adobe has structured the plans in such a way that it's generally more beneficial to buy the Photography Plan. Based on pricing alone, the Photography Plan wins, even if you buy the option with 1TB of cloud storage. You also gain an extra program from it, even if you don't use Lightroom.
However, there are a few cases where you might find the Photoshop Plan better. If you lack space on your hard drive and can't take on two programs, you can opt for the Photoshop Plan and enjoy a decent amount of cloud storage for your files. 
The Photoshop Plan is also a good option if you want full access to Adobe Fresco for digital drawings and Adobe Express for full content-creating abilities online.
Generally, I recommend the Photography Plan with 20GB of cloud storage, especially for beginners. You won't need too much storage when you are starting, and the 20GB is enough to begin with. There are also other storage options, where you can separately buy cloud storage, use other cloud-based storage software, or use hard drives and other solutions for storage.
Ultimately, the Photography Plan is the best-budget option and offers two professional editing programs used by industry-level photography experts. But you can get a free trial of either plan here to see which is right for you: