When you're looking for a new memory card you'll likely see SDHC or SDXC somewhere in the product description. These simple acronyms essentially explain the type of memory card you're looking at, along with their speed and capacity limits. However, they also can be the reasoning behind some price differences in cards as well. So let's take a deeper look at the difference between SDHC and SDXC memory cards to find out which is best for you.
What Is An SDHC Memory Card?
An SDHC memory card, or Secure Digital High Capacity memory card, allows users to store more data than a standard SD card. Users can hold anywhere from 4 to 32 GB of data with an SDHC card. These cards are usually used in portable devices such as digital cameras, camcorders, smartphones, tablets, and handheld gaming devices.
SDHC cards come in different speed classes, which indicate the minimum write speed the card is capable of. SDHC cards come in speed classes 2, 4, 6, 8, and 10, and video speed classes V6, V10, V30, V60, and V90, giving you various speed options depending on your needs. Some SDHC cards are also available in the higher speed classes UHS-I, UHS-II, and UHS-III, though these are less common and will have a higher price.
What Is An SDXC Memory Card?
The other type of high-capacity memory card is an SDXC card (Secure Digital Extended Capacity). These cards provide even more storage than the SDHC cards, with a minimum of 64 gigabytes (GB) of storage. The storage capacity of SDXC cards can reach up to 2 terabytes (TB). SDXC cards also come in different speed classes, such as classes 2-10, video speed classes up to V90, as well as UHS-I, UHS-II, and UHS-III speed classes. 
Because these cards have such high storage capacity, they are often used in devices that require a larger amount of storage space, such as professional cameras and video recorders. SDXC cards are also very versatile, with more abilities for 4K video recording, RAW image capture, and other tasks that write a significant amount of data.
Comparing SDHC VS SDXC Memory Cards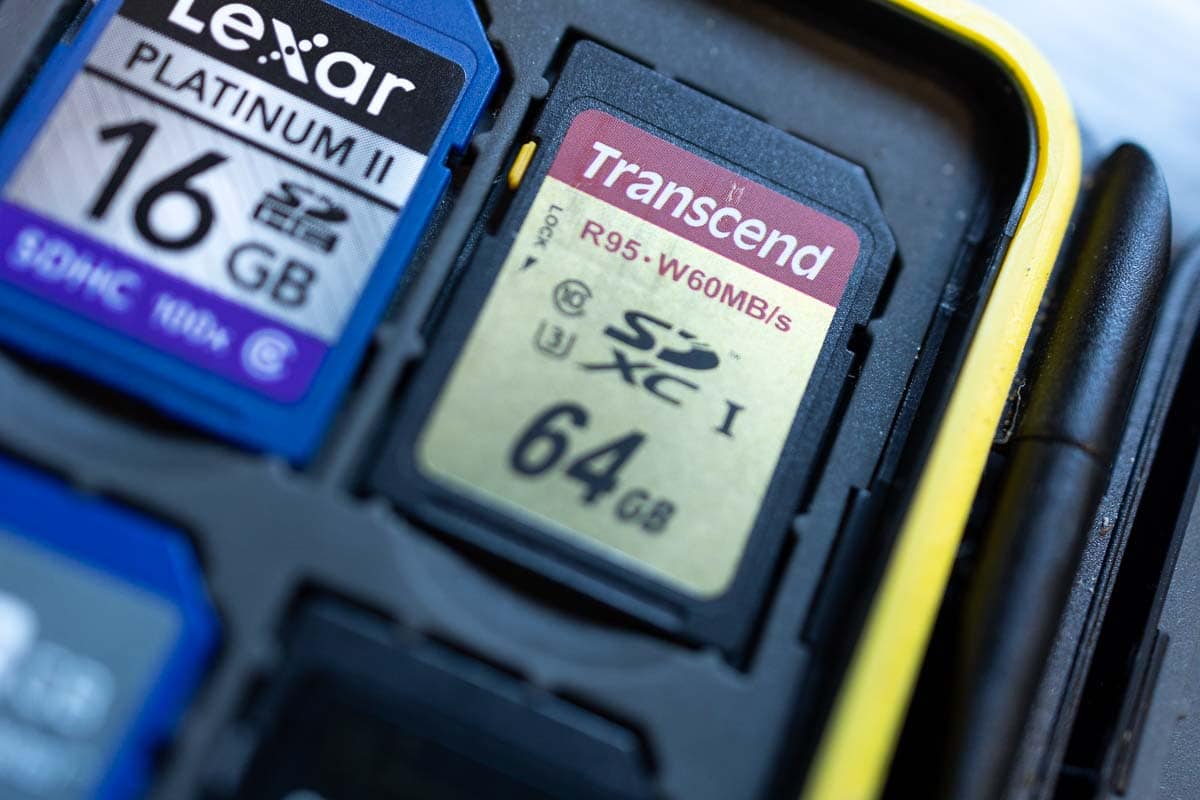 – Speed Differences
Both SDHC and SDXC cards offer speed classes 2, 4, 6, 8, and 10 and higher-speed UHS classes I, II, and III. The number of the speed class corresponds to the card's minimum speed, meaning a Class 4 card can provide a minimum write speed of 4 MB/s, and so on. UHS speed classes are Ultra High-Speed, providing speeds ranging from around 100-700 MB/s depending on the class.
Higher speed classes ensure the data will write onto the card faster, which is important to avoid frame drop, low-quality video, lagging, and buffering. While both types of cards offer the same speed class options, most SDHC cards go up to UHS-I speeds, and you're less likely to find SDHC cards in the higher-speed UHS classes. SDXC cards, on the other hand, are much easier to find in UHS speed classes, making them more suitable for tasks like high-definition video or continuous burst photography.
– Compatibility Differences
Both SDXC and SDHC cards are generally compatible with most devices that support the standard SD (Secure Digital) format. However, older devices designed to work with standard SD cards may not be compatible with higher-capacity SDHC or SDXC cards. It is important to check your device's specifications to ensure it is compatible with the memory card you want to buy.
– Cost Differences
The prices of SDHC and SDXC cards depend on factors like brand, storage capacity, and speed class. SDHC cards typically have lower costs compared to SDXC cards due to their lower capacity, while the larger storage capacity that comes with SDXC cards makes them a bit more expensive.
In general, SDHC cards run from around $5 for lower-capacity cards to about $100 for cards with higher capacities and faster speeds. The cheapest SDXC card options will be about $10, while the most expensive cards with the most storage and fastest speeds can be over $100.
Additional Memory Card Types
1. SD Memory Cards
SD memory cards are the oldest and most basic type of memory card. They come in speed classes 2-10 and offer storage capacities of up to 2 GB. SD memory cards are commonly used in older devices and applications with limited storage, such as older digital cameras, audio recorders, and GPS devices. As these cards are cheaper than higher-capacity options, they are best for tasks that involve storing smaller amounts of data.
2. SDUC Memory Cards
SDUC (Secure Digital Ultra Capacity) cards offer higher speed classes like UHS-I, UHS-II, and UHS-III, which have faster write speeds than a basic SD card. They can also provide higher storage capacities than even SDXC cards, starting from 64 gigabytes (GB) and going up to 128 terabytes (TB).
These cards are commonly used in professional cameras, 4K video recorders, and other high-resolution devices or applications requiring extensive storage. They are ideal for professionals who require large amounts of storage.
3. MicroSD Cards
MicroSD cards are physically smaller in size than other SD cards. Different types of MicroSD cards exist, such as MicroSDHC, MicroSDXC, and MicroSDUC. These will have the same storage capacities and speed ratings as their larger counterparts, except they will be smaller in physical size, so you can fit them in smaller, more compact devices such as smartphones, action cameras, drones, security cameras, and tablets that support MicroSD cards.
Like standard SD cards, MicroSD cards also have speed classes, including regular, video, and UHS speed classes. MicroSD cards come in various capacities, ranging from a few gigabytes (GB) to several terabytes (TB). However, the highest capacities are commonly found in the newer MicroSDXC and MicroSDUC formats.
Should You Get A SDHC or SDXC Memory Card?
The memory card you choose to get depends on what you plan to use it for. While both cards offer high speeds and storage capacity, you should consider precisely how much storage you need. SDXC cards can offer more storage than SDHC cards, as well as faster speeds. While this might not be necessary, an SDXC might be the better option if you plan to take HD video or photograph in continuous bursts.
It is also worth keeping in mind that older devices might only be compatible with SDHC cards, or have limited compatibility with SDXC cards, so you want to make sure your device is compatible with whichever card you plan to use.
Ultimately, I would suggest getting an SDXC memory card so you have more storage. That way, you can save more downloads or capture more images and videos without worrying about filling up the card.